Each day, we learn something new. When it comes to cooking specificaly, you can never say you know everything. Someone will always know something you do not know. That means, we all have something to learn from the other. For the longest time, we used to boil our liver before cooking it. This was until aunty Kabura upgraded us and told us that step was totally unnecessary. I tried it out and this was the softest liver ever. I added a #KK twist to it and this was just elevated to level 100! You will enjoy my thyme and chili liver just as much.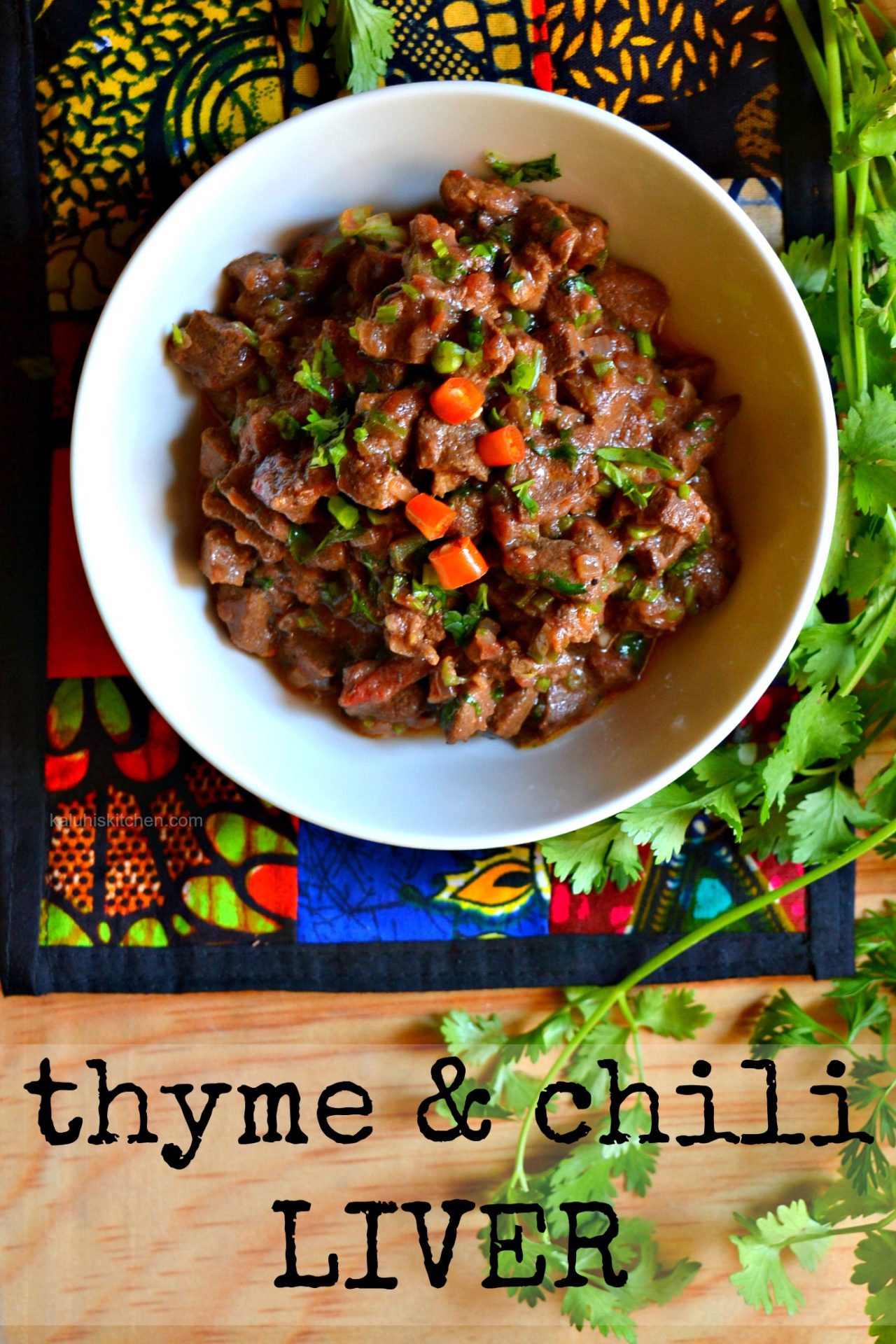 COOK TIME: 30 MINUTES                                                       SERVES: 5
Ingredients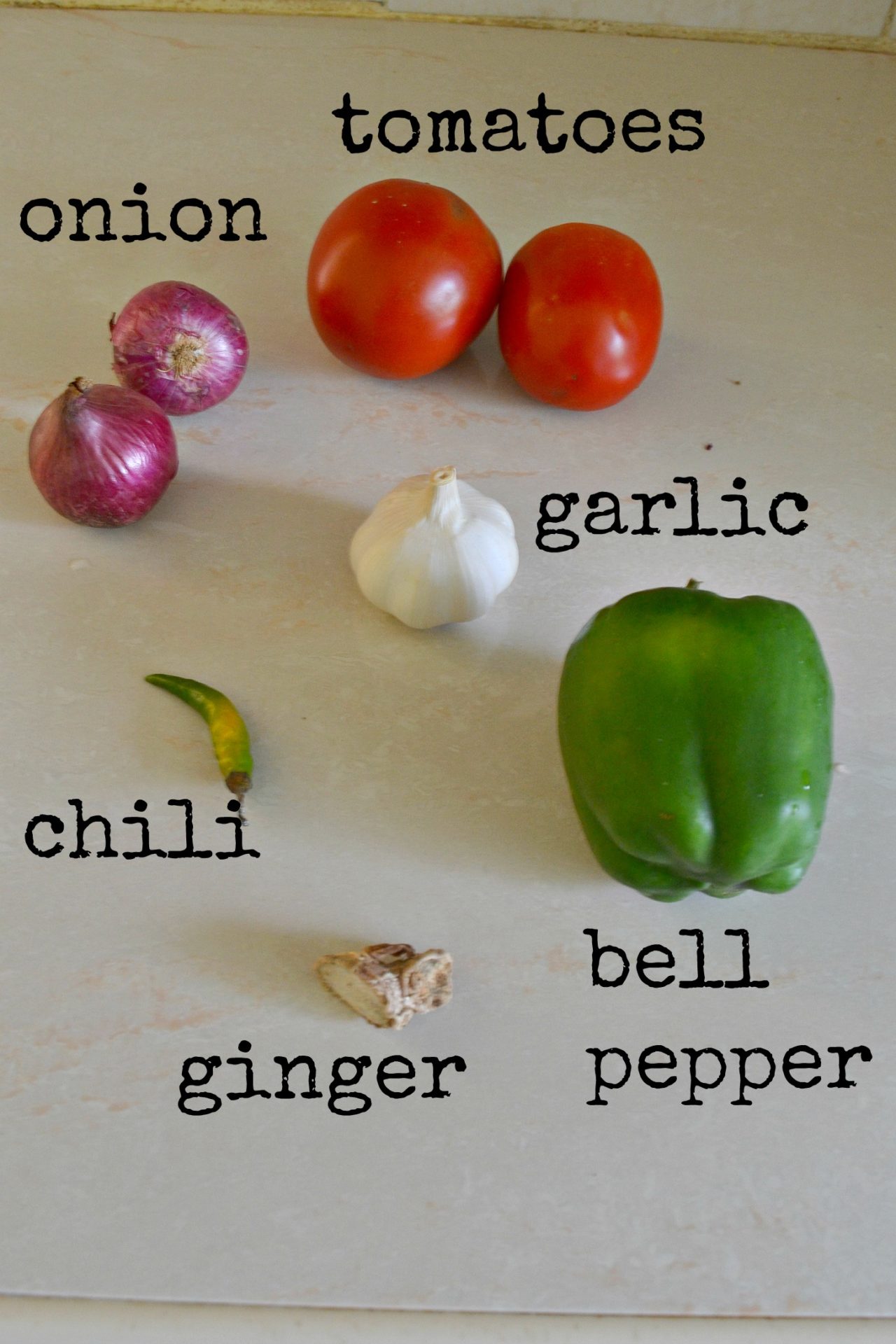 1/2 a kg of liver
1 large tomato, grated
1 red onion, finely diced
6 cloves of garlic
1/2 teaspoon of black pepper
1/4 teaspoon of thyme
1/2 of thumbsized ginger root
1 small birds eye chilli
1.2 a cup of milk
1 tablespoon of tomato paste
1 tablespoon of Worcestershire sauce
1 tablespoon of soy sauce
1 green bell pepper
1 tablespoon of royco
salt to taste
coriander for garnish
Method.
If you look closely, there is a thin membrane coating the liver. Remove that membrane. It peels off like sellotape and makes the liver super soft.Chop it up and rinse it in running water to remove excess blood. Mine took three rinses. Some people like their liver bloody so they may not choose to rinse, but I like mine rinsed. Feel free to do what you feel comfortable doing.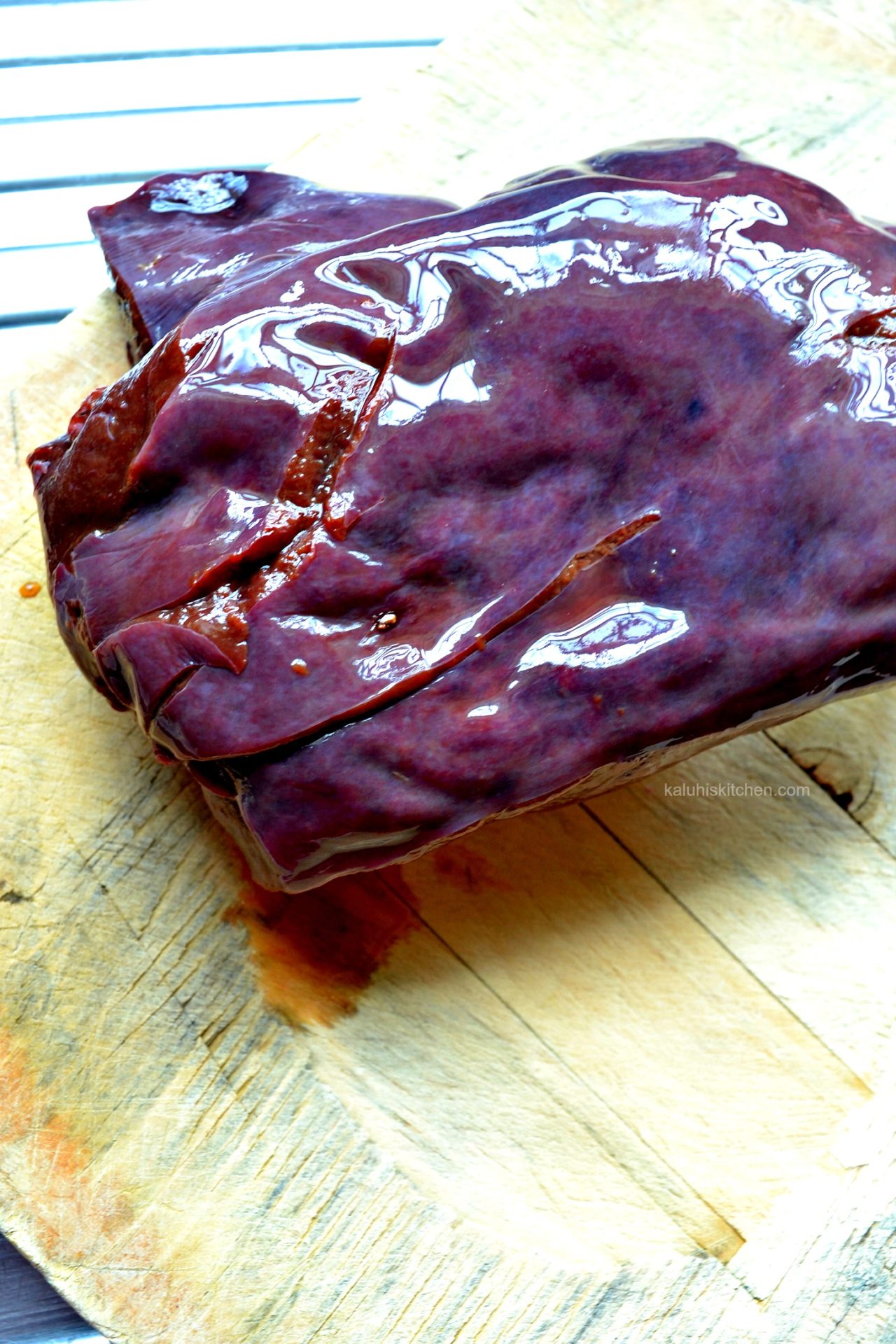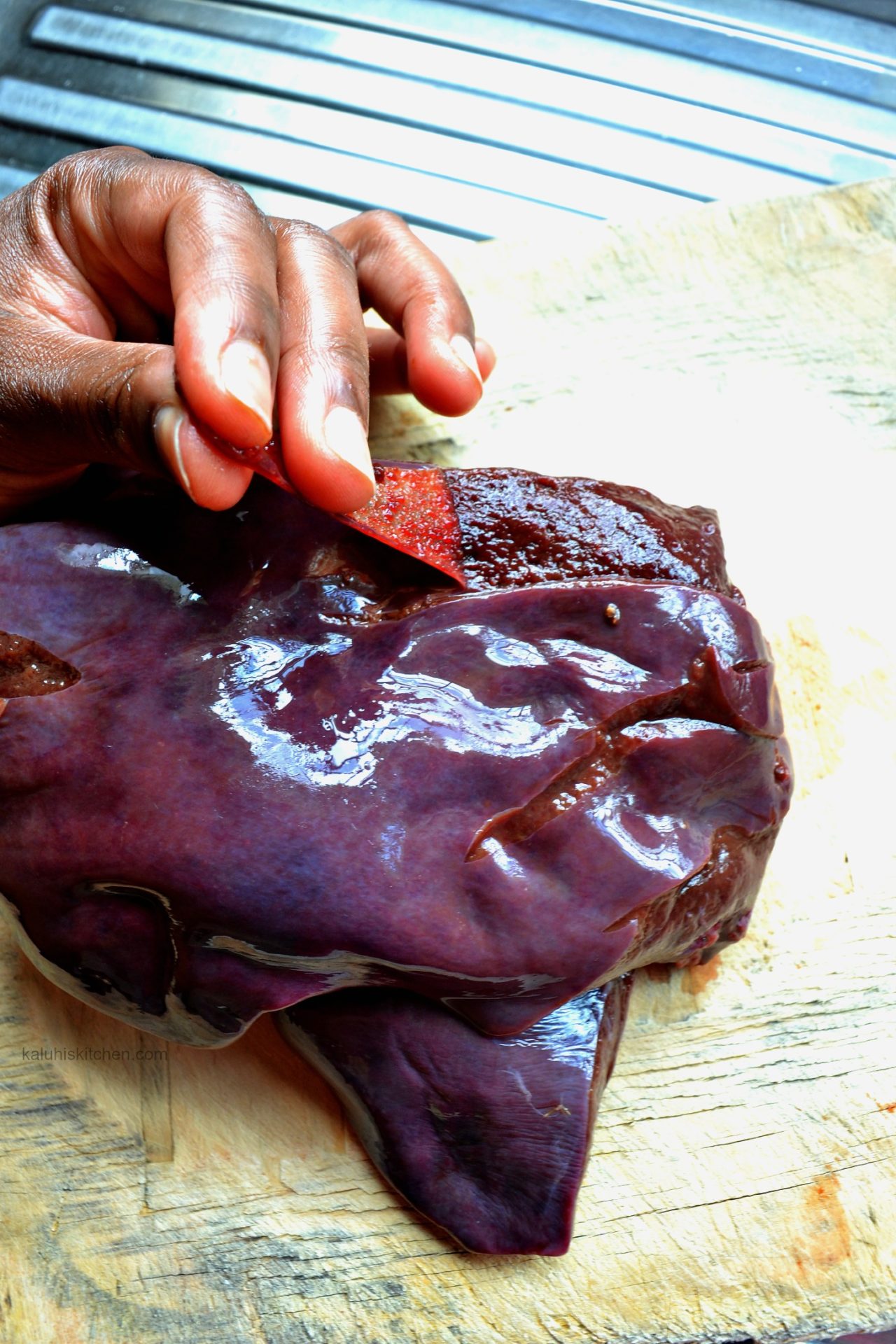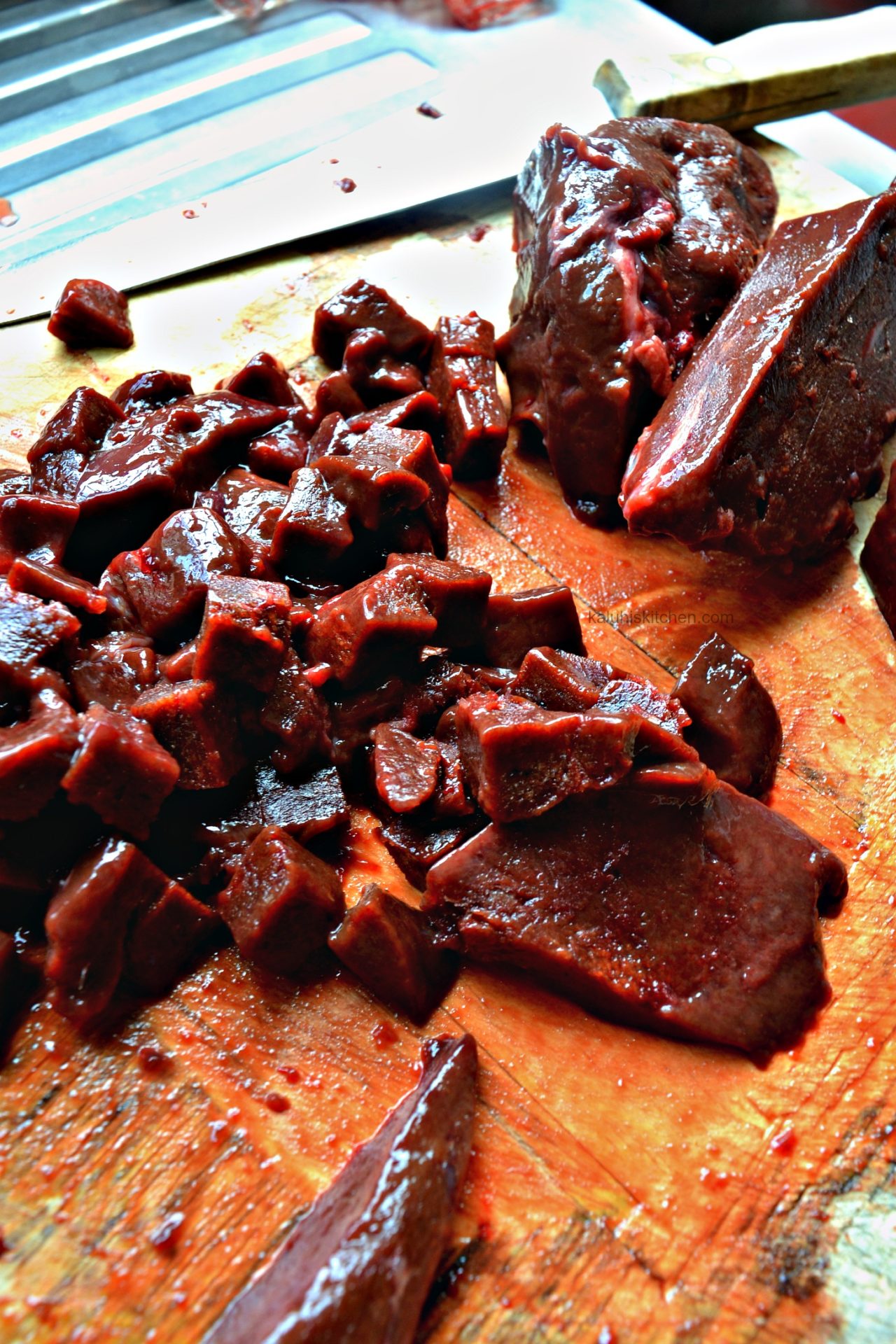 There after, soak the liver in your milk for 30 minutes. I soak my liver in milk so that it can further soften and absorb any toxins that may be present. IMPORTANT step! As that is going, crush your garlic, chili, ginger and dried thyme in a kinu (pestle and mortar) until it forms a paste.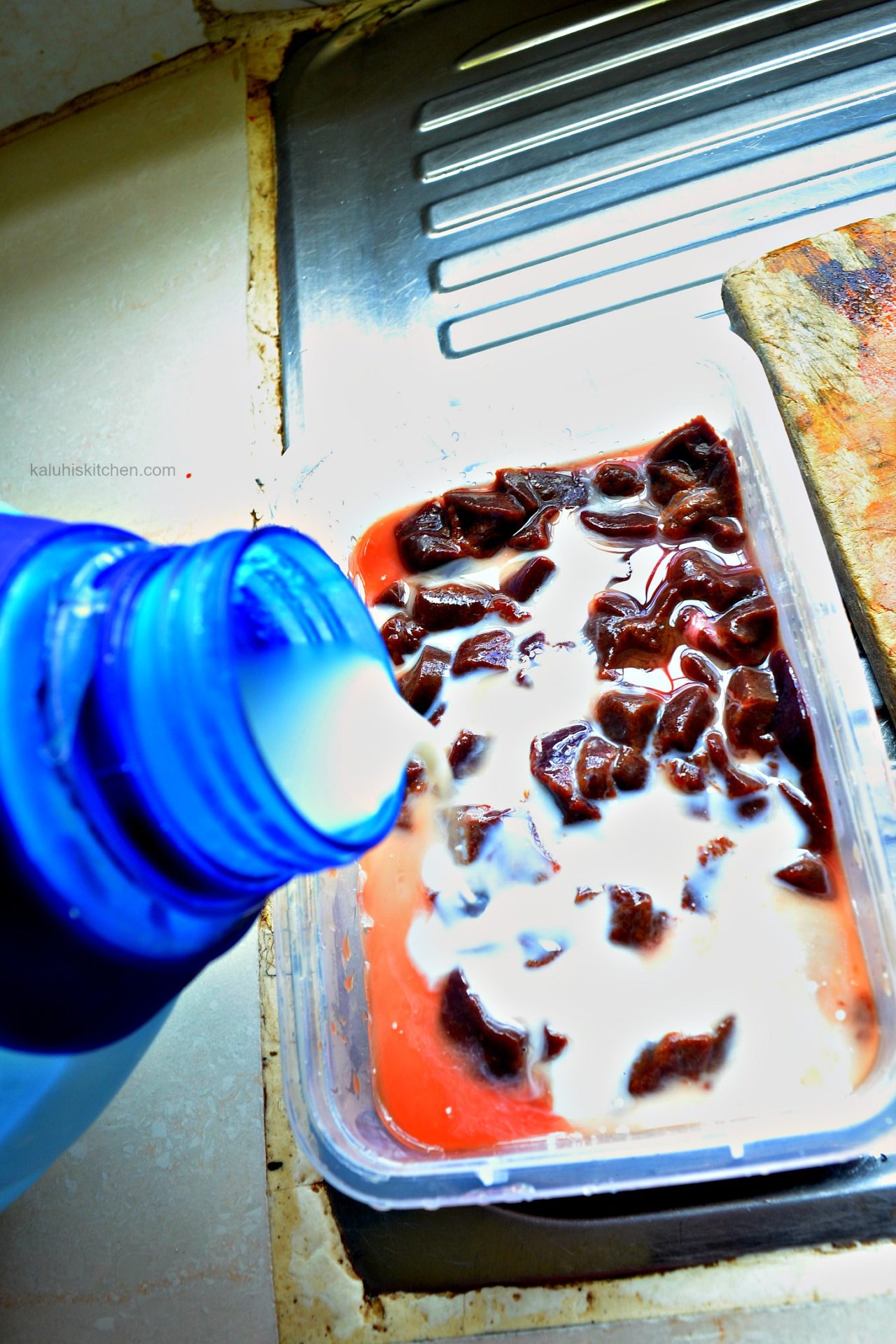 In a pan, heat some vegetable oil. Add your onions, garlic-chili-ginger paste, half of your finely diced bell pepper,salt and pepper. Saute this for about 5 minutes or until it is fragrant. Do not burn this.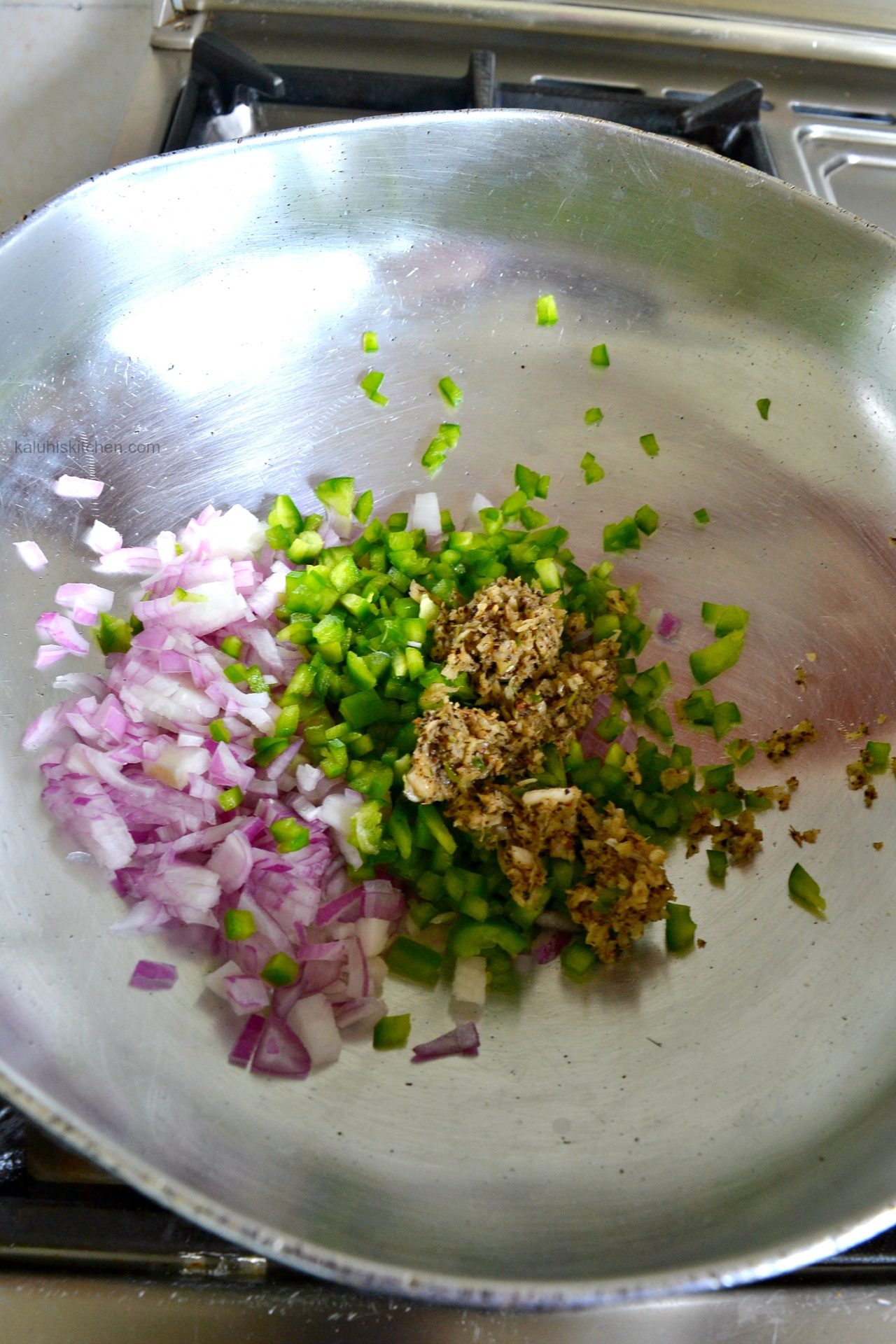 After this, add the tomatoes, your worcestershire sauce, soy sauce and tomato paste and let this simmer down for about 5-8 minutes. This allows all the flavors to meld and for the tomato paste to cook down. When cooking with tomato paste, always allow it to cook down so that you get its richness.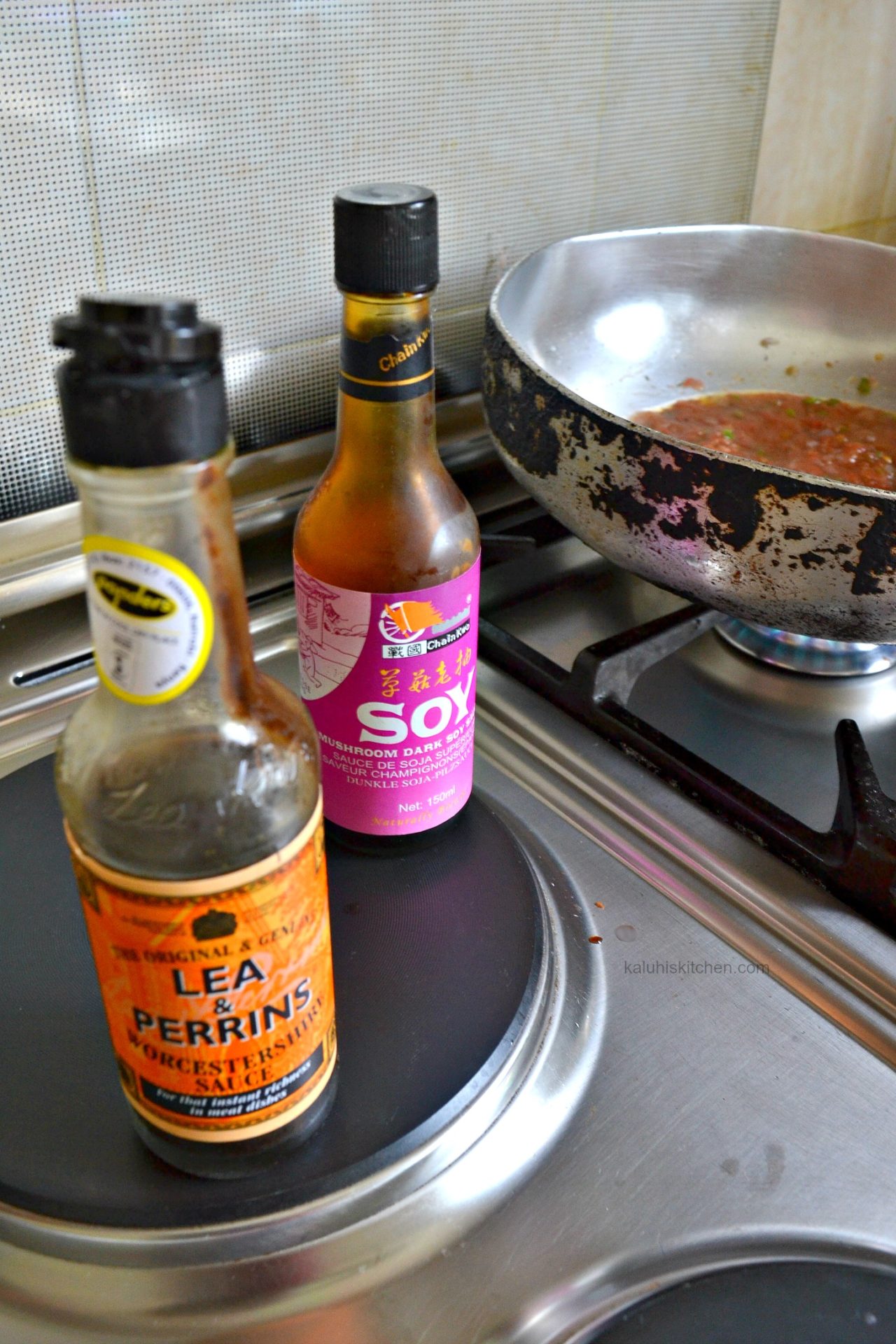 Rinse the milk off your liver, drain the excess water and add this to your tomatoes. Also add the remaining green bell pepper and let this saute for 5-10 minutes. It cooks really fast so keep your eye on it. You can shallow fry this separately then add it to the tomatoes, however I like adding them to the tomatoes at this point so that they soak up all the flavors as they cook through.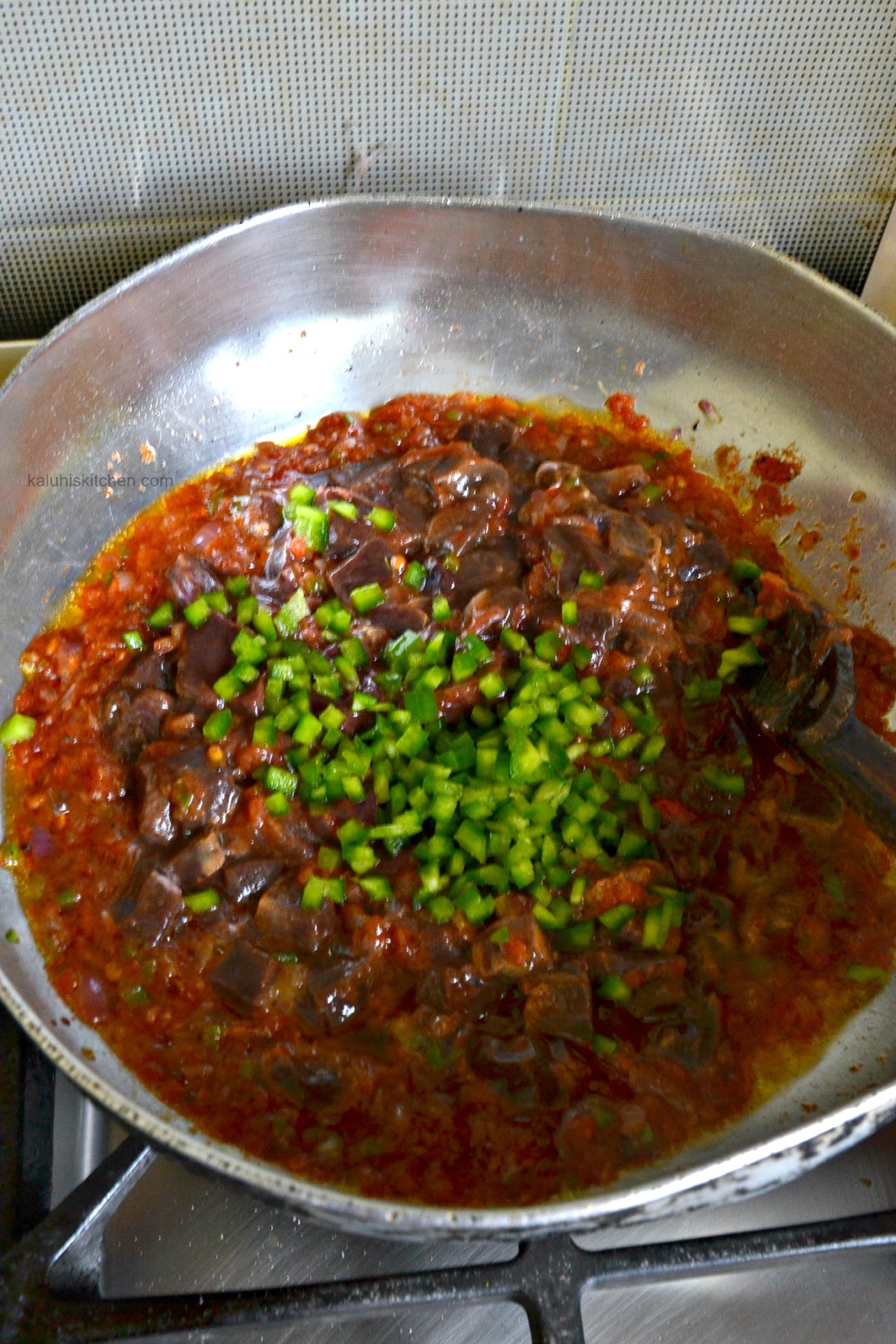 Take one piece and cut it to ascertain that it is cooked through. Once you are certain it is done add your diced coriander and serve.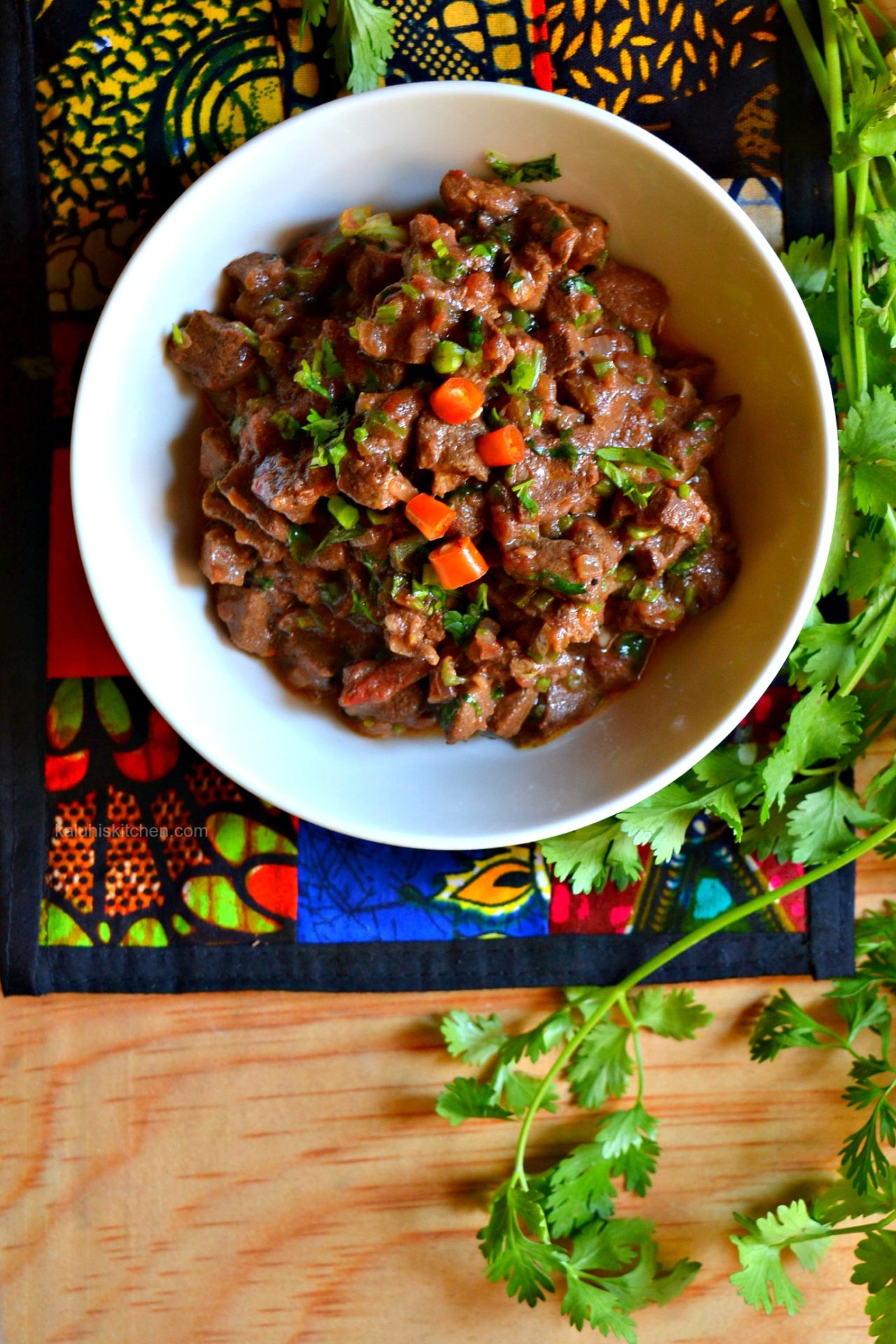 This was the softest liver I have ever made. It was so soft, it almost just melts in your mouth. Looking at this picture makes me want to cook this again and have it with some hot ugali and fresh creamed kunde. You can also have this with rice, mashed potatoes, matoke, chapati or any other starch you prefer.
The taste of liver is fabulously brought out by garlic and red onion. Dried thyme also brings out its savoriness and takes it a notch higher, and goes really well with other meat dishes too. That was my twist to this. Be careful not to go overboard with dried thyme as it can very easily overpower everything. A little goes a long way.
To more kitchen adventures!
-K
---
Get the recipe here: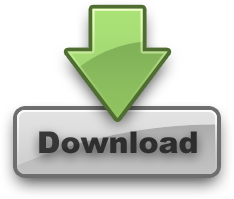 ---
All content and images are copyright protected by



Do not copy in part or whole without giving due credit.