The temperature has been steadily falling. That only means one thing: get a bae and spend the rest of the cold season in a permanent cuddle until sunny September it means we now have a chance to enjoy and savor all the beautiful indulgent, warming foods we can get our hands on. Make those soups, snuggle up to a plate of chicken biryani, let that matumbo na ugali really warm you up!!! Food is comfort and to that, we shall be adding another gorgeous recipe to the mix and that is my muhogo wa nazi.
Growing up, I never used to like muhogo (cassava) but lets thank the gods that with adulthood, I came to love and appreciate the beauty and versatility of this gorgeous, sustainable, complex-carbohydrate root vegetable. We made this delicious spicy muhogo back in 2016, and today let us introduce a creamy, silky one which is bound to become your favorite!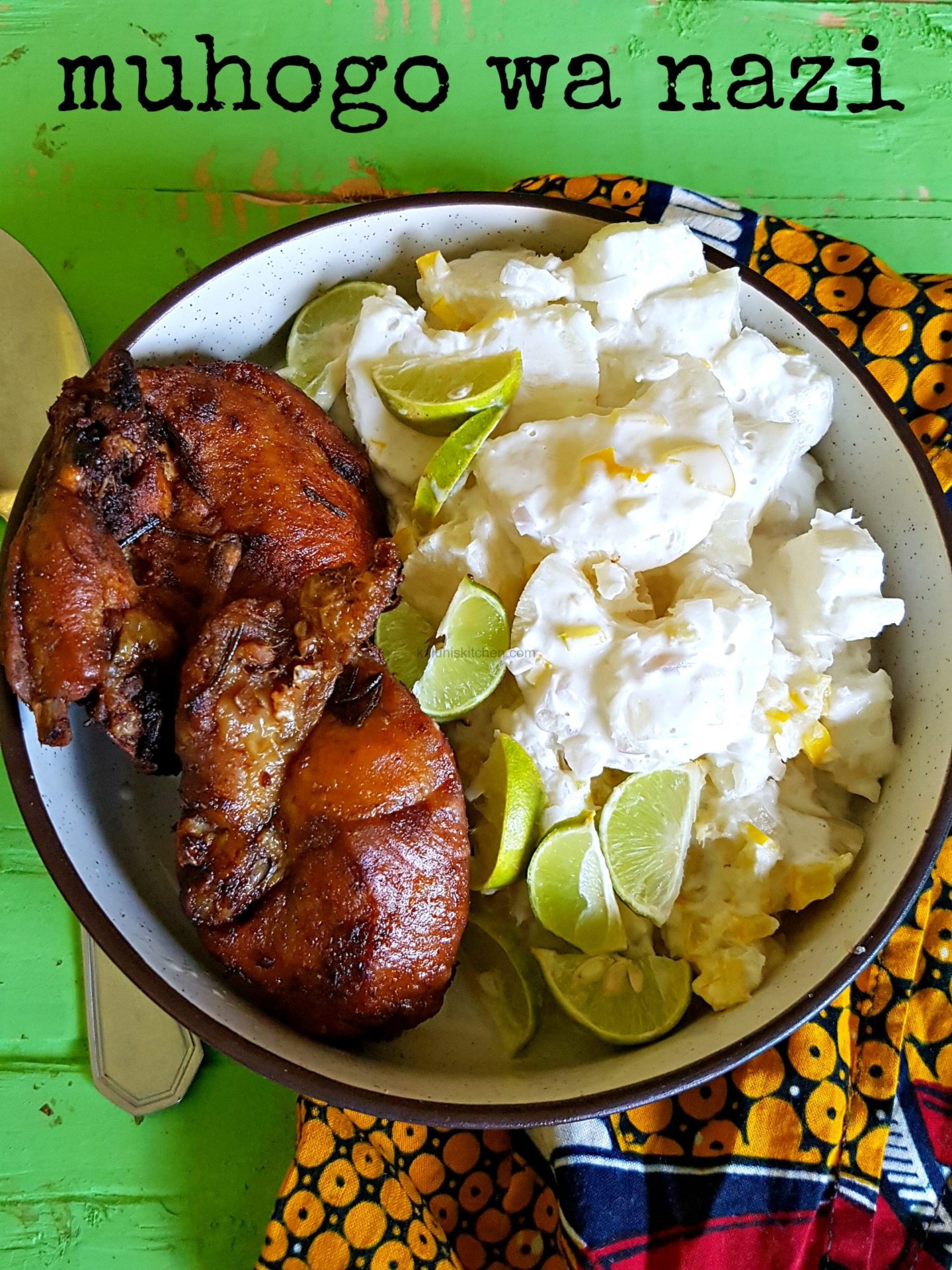 I made a dope vid to accompany the blog post. Do watch below, and subscribe!

PREP TIME: 5 MIN COOK TIME: 15MIN SERVES: 2
Ingredients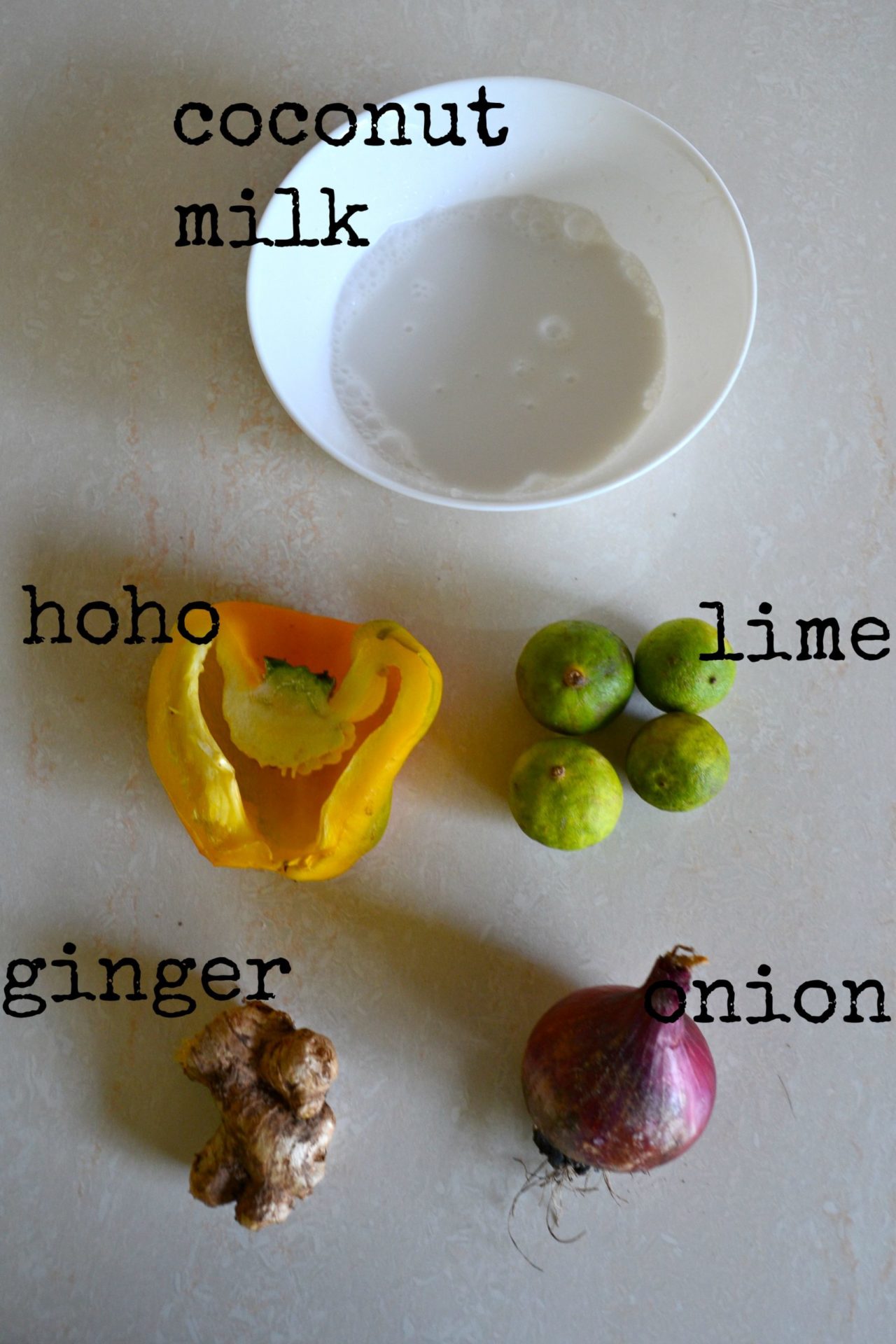 2 cups of coconut milk
1/4 cup of beef stock
2 cups of chopped cassava
1 red onion, finely chopped
1/2 yellow hoho
1/2 a lime juiced
1 teaspoon of ginger
Method
Begin by boiling the muhogo in your beef stock and coconut milk until halfway cooked. We need it to remain half way cooked because it will finish cooking a little later. Usually, the "half-boiling" happens with just coconut milk, but I love using beef stock to as it adds some boisterousness and fullness to this which I love. Veg stock would be fine too and to my fellow Kenyans, the bone broth sold in most kiosk butcheries would be a perfect substitiute for beef stock.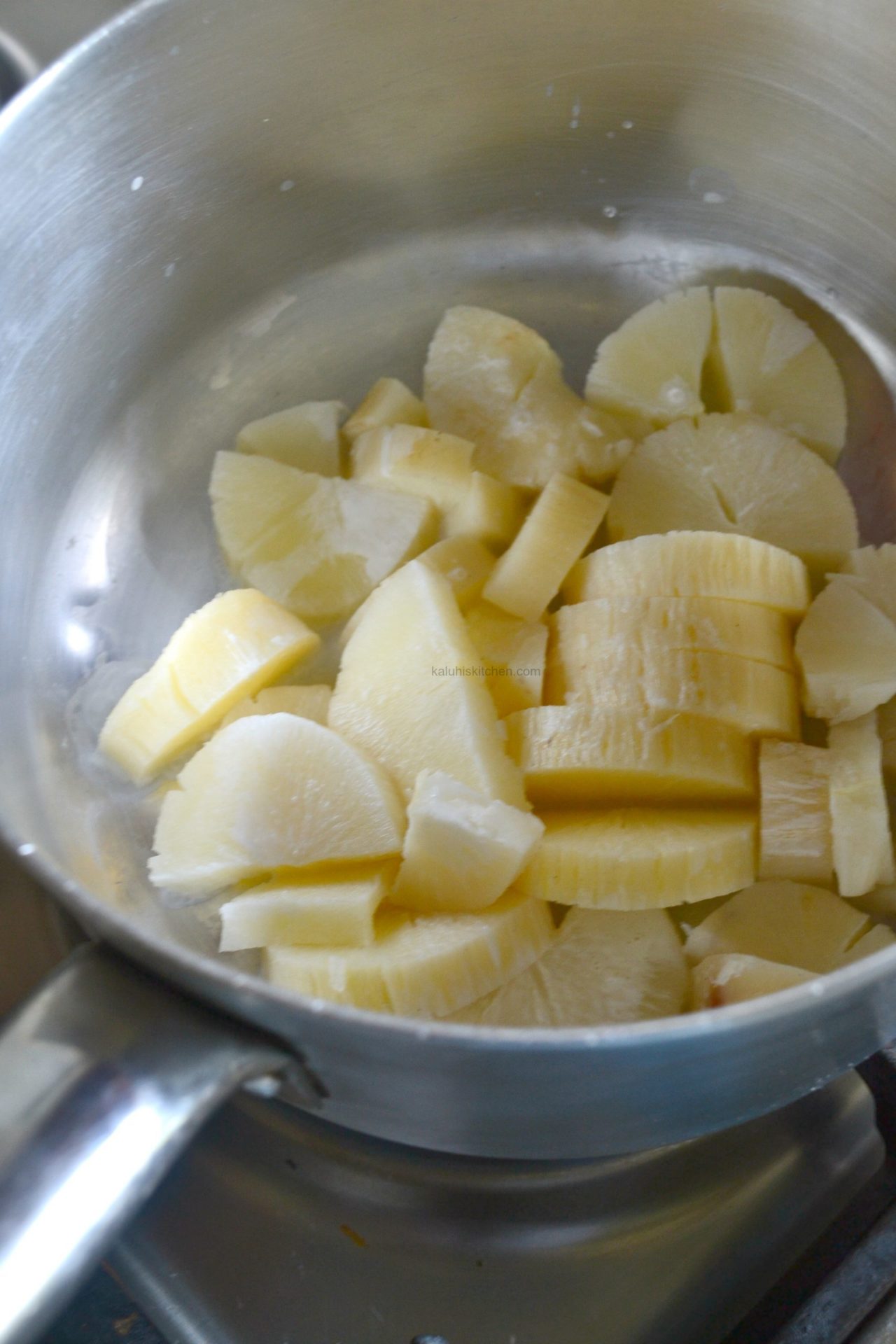 Once the muhogo (cassava) is halfway cooked, The liquid will have significantly reduced but not completely dried up as my Youtube video shows at 1.48.
Next, to that same pot, add the red onion, yellow hoho (bell pepper), ginger and lime. Green hoho is fine too, but yellow and red variety are preferred because of their mild sweetness. Traditionally only onion and hoho are used, but I love the warmth & zing that ginger and lime respectively introduce. If we can add more and make it better, why not boo?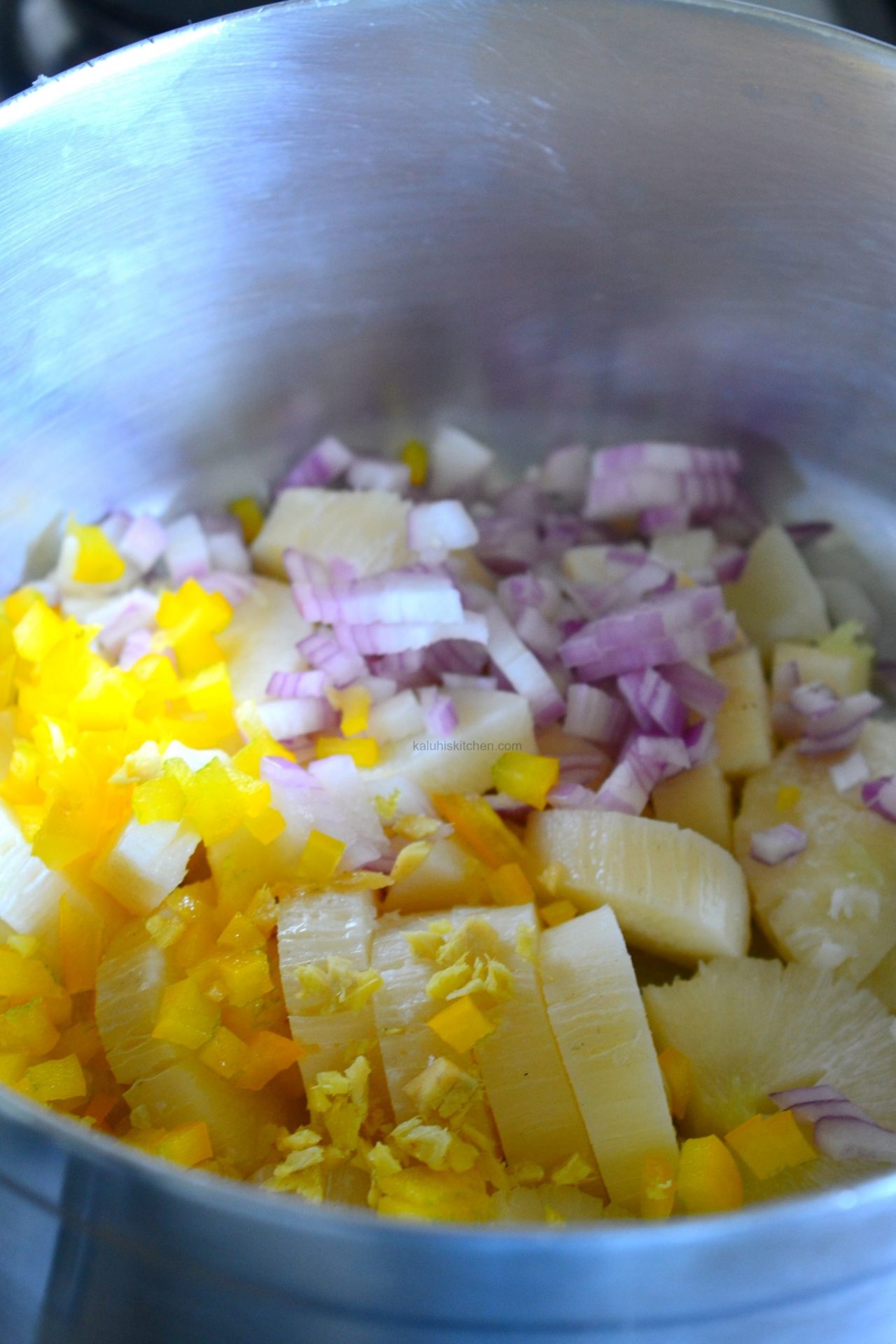 Add the remaining coconut milk and let this cook for another 5 minutes (or less depending on how big or small you chopped your muhogo) until the muhogo is totally soft and both the peppers and onions cooked through.
And with that, we are done! That was easy, right? Such simple flavors but those that go so so so well together!
You can enjoy this just on its own, or with some tea, but I love accompanying some protein with it. Some fish would be perfect for this, so is kuku kienyeji or some chicken curry too. Today I served my muhogo wa kupaka with my golden fried chicken which we made in 2015, and it still rocks today!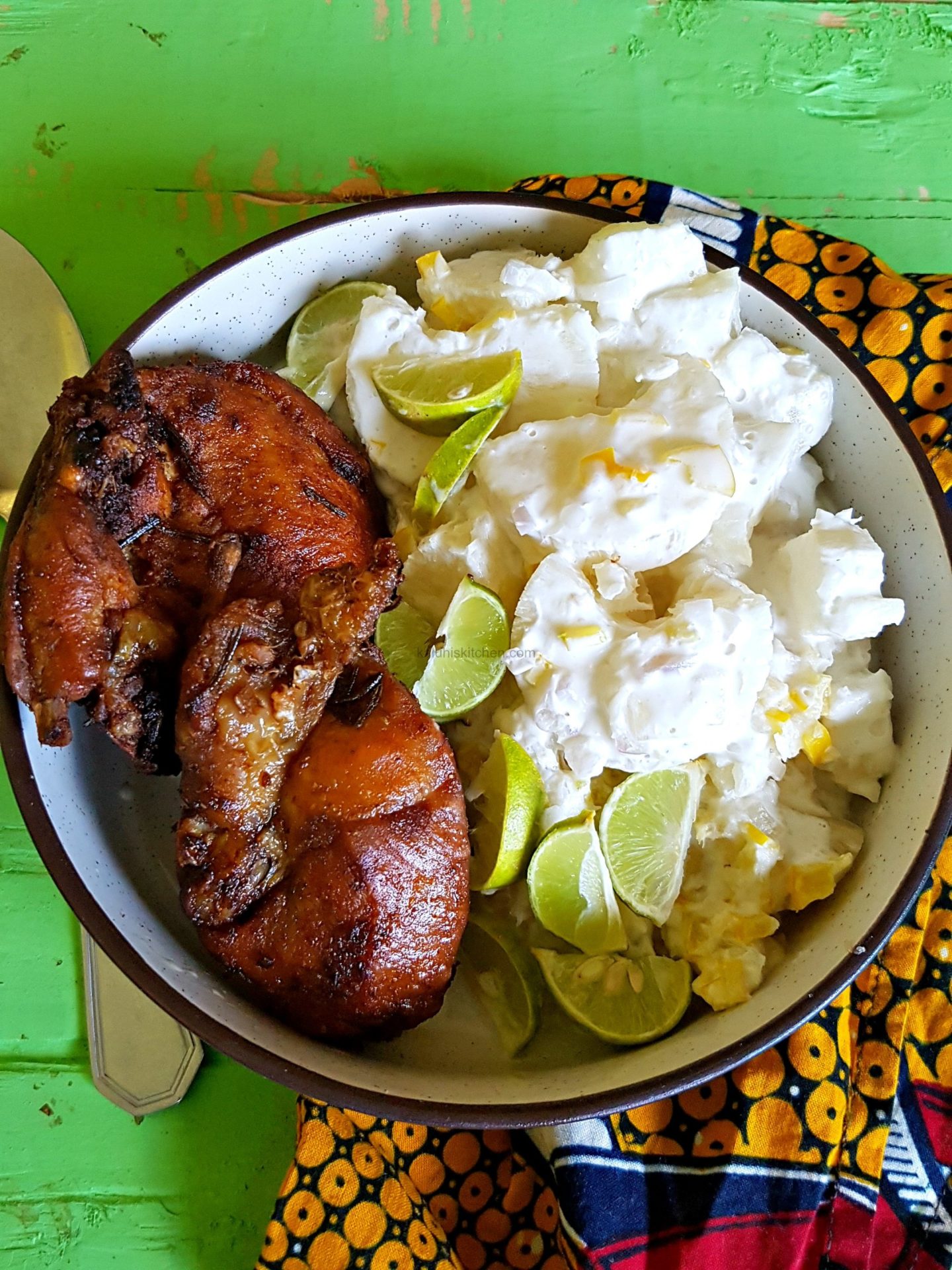 Swap your ugali for some muhogo and give potatoes a break and indulge in this equally beautiful starch. Make sure you make this creamy muhogo wa kupaka a part of your plan especially now that the temperatures are plummeting in Kenya. This is comfort in a bowl and a beautiful complex herb that your body will love!
Watch the complimentary video to this blog post and be sure to subscribe.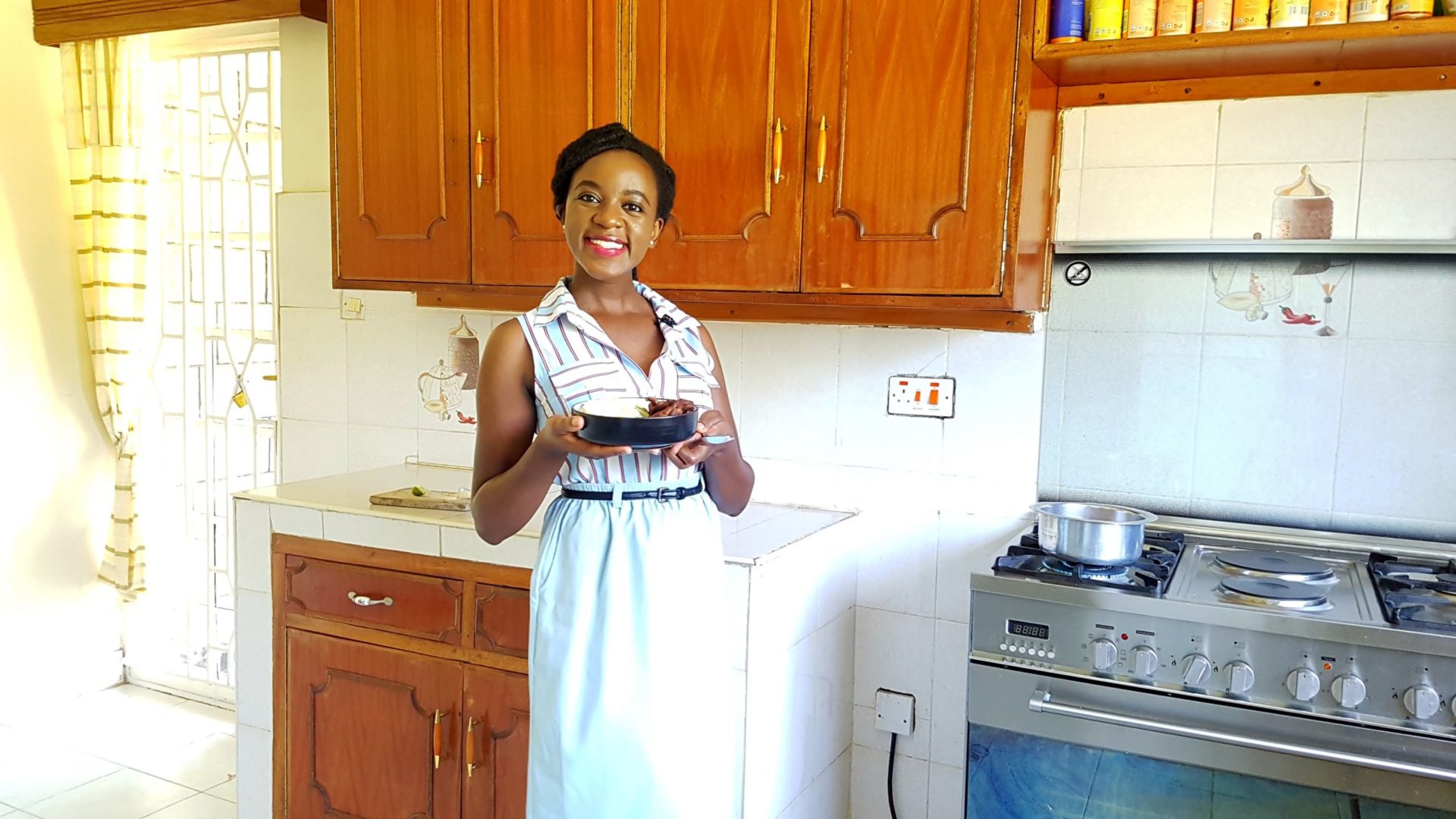 Happy Wednesday my lovies!
---
Get your downloadable recipe here :))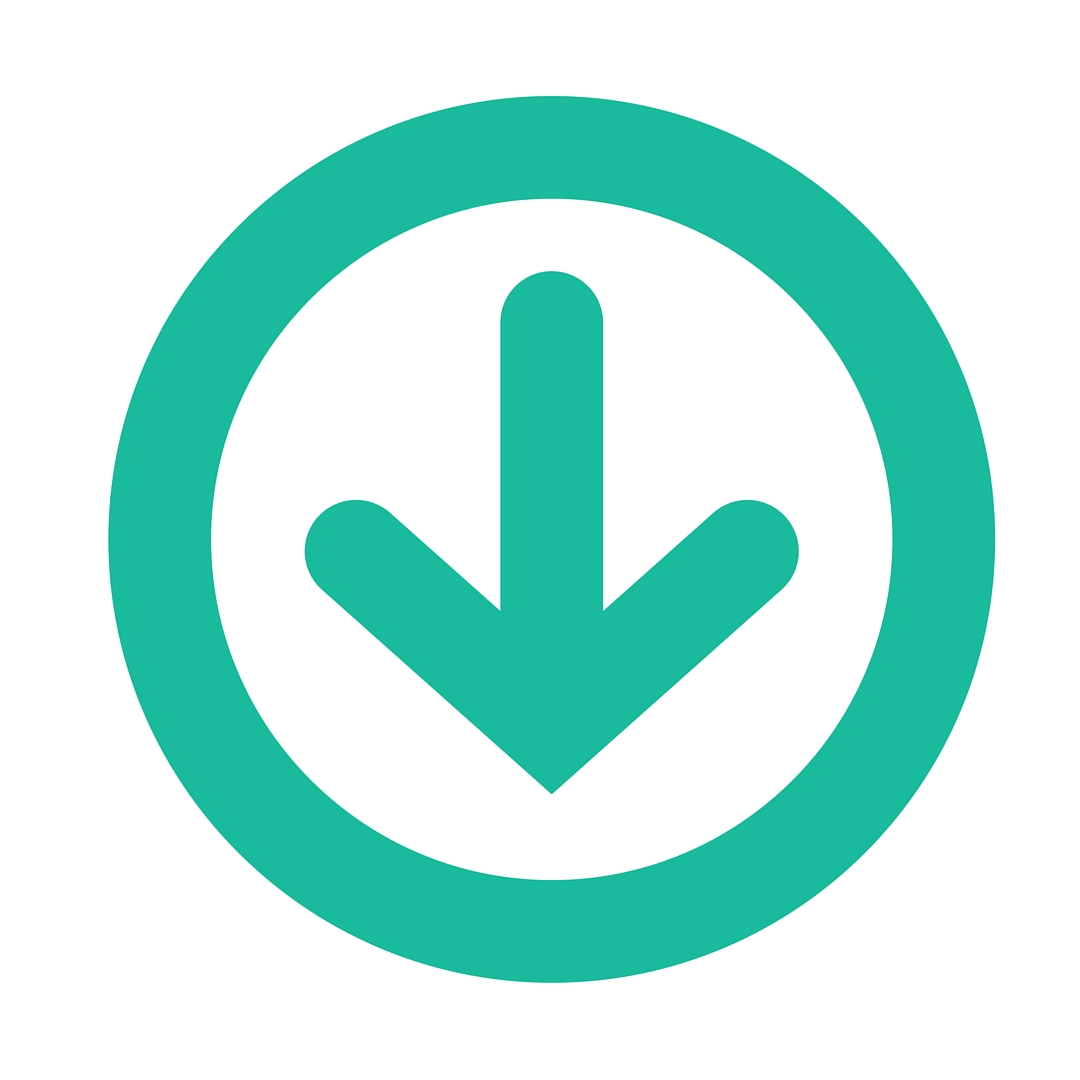 ---
All content and images are copyright protected by



Do not copy in part or whole without giving due credit.
---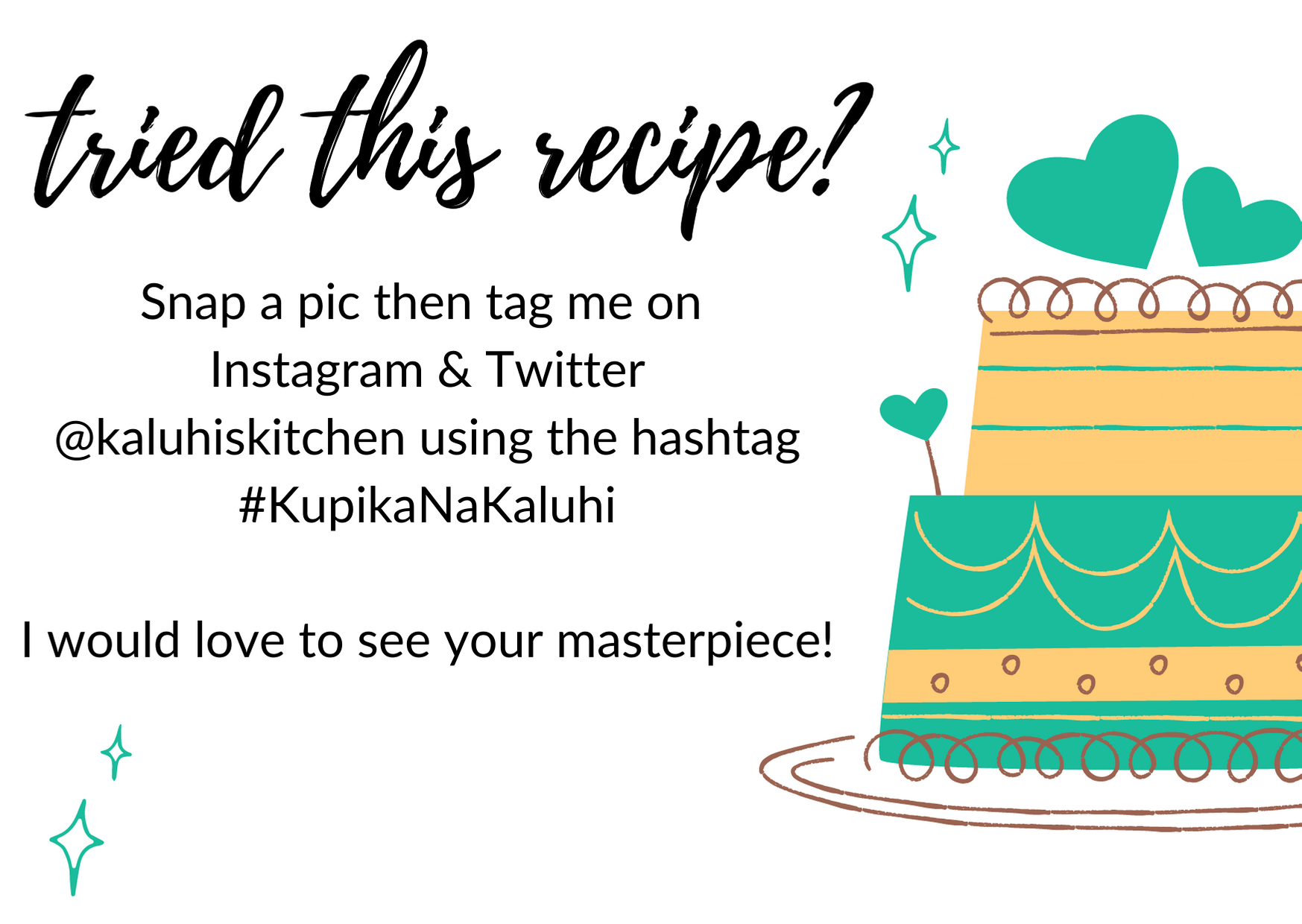 ---