In our home, we love having our chicken. And we prepare it real good.  There are no two ways about having chicken in our home, it always has both perfectly marinated and perfectly seasoned.And I must admit, it is always really good. There are many chicken recipes out there, and this one has been in our family for years. It was formulated by my mom and slightly modified by us through the years and passed down the family. It is crazy good!!
From my heart  to yours, I hope this family recipe brings much delight and joy to your dinner table as it did to my family through out the years 🙂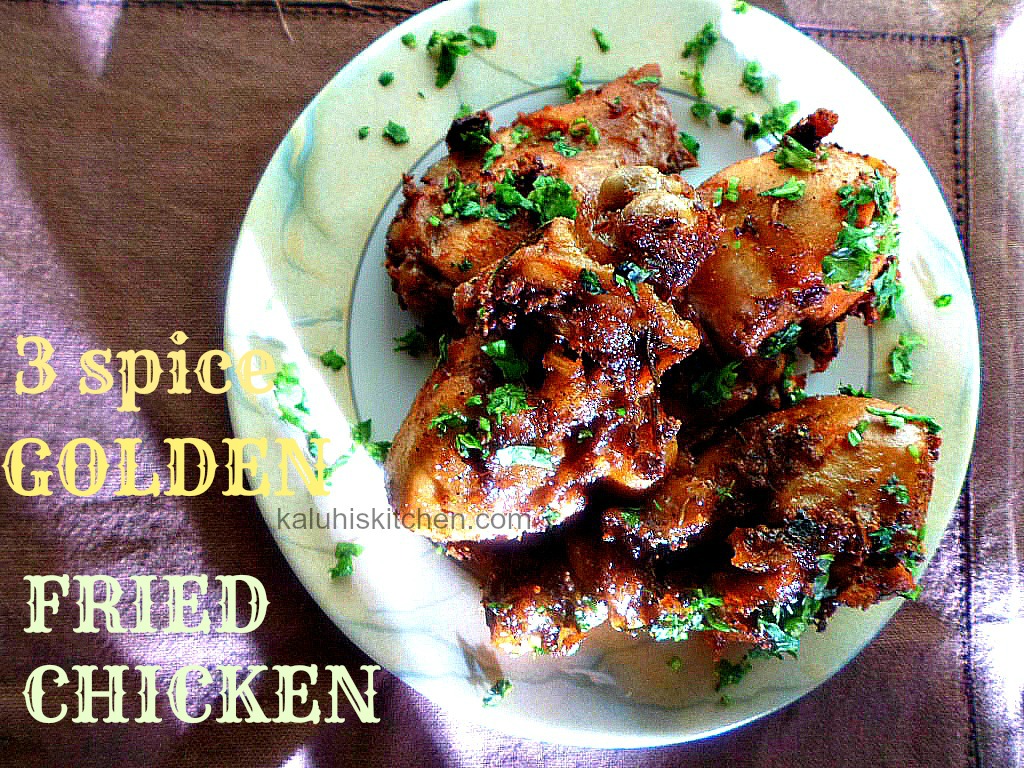 Prep Time:6  Hours                                  Cook Time: 30 Minutes                                            Serves: 8
Ingredients
2 whole chicken- cut into pieces
1 whole garlic- minced
1 handful of fresh/dried rosemary
Salt to taste
½ a cup of apple cider vinegar (or lemon juice)
5 tablespoons of Royco all-spice mix
1 packet of Shalimar Indian Spice blend
1 tablespoon of black pepper
Finely chopped fresh coriander
Oil for frying
Method
Chop your chicken into pieces and put them in a small basin/ bowl. Add your minced garlic, rosemary, apple cider vinegar and salt. Mix it all up and allow this to marinate for not less than six hours.  Remember, the longer the marination, the more intense the flavors.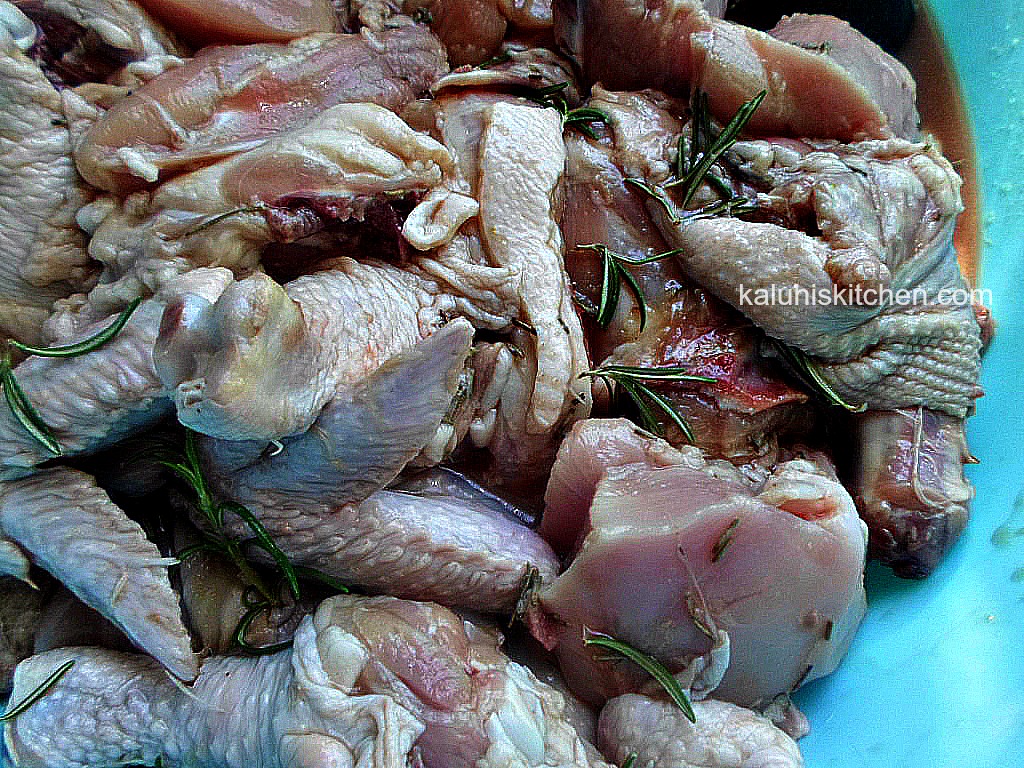 After the marination is over, pour all the contents of the bowl/basin into a sufuria and allow the chicken to boil. Do not add water as this will dilute the marinade. As the chicken is boiling prepare the 3 spice dip, which will have the spices (royco, Shalimar, black pepper) that will season the chicken. The dip should be thick so that it forms a good coating on the marinated chicken. To achieve the right thickness, mix these with some water, adding bit by bit so that it does not become too dilute/light. The shalimar has some whole seeds e.g. cumin, cloves etc. When they cling onto the chicken while dipping, do not shake them off. They make the eating experiece even more better.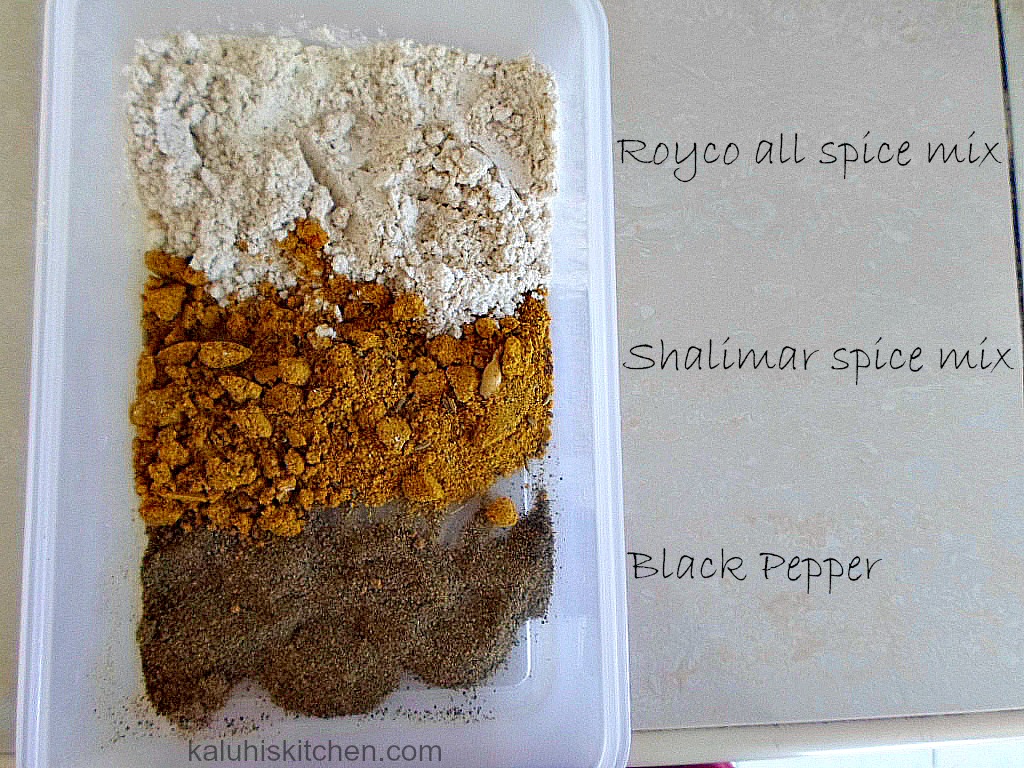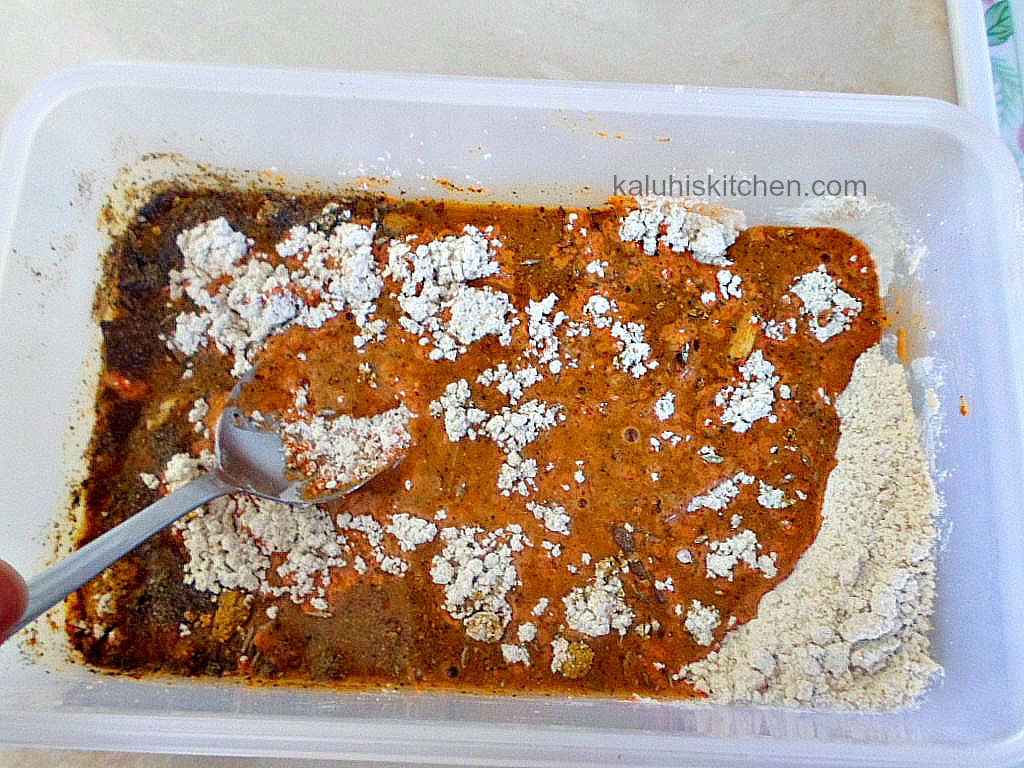 I bought my shalimar Indian spice blend from Nakumatt City Hall, and I have also see them in other retail supermarkets. It costs around sh.95 (approx.  $1.00), so you really have no excuse for not buying it coz its pretty affordable :).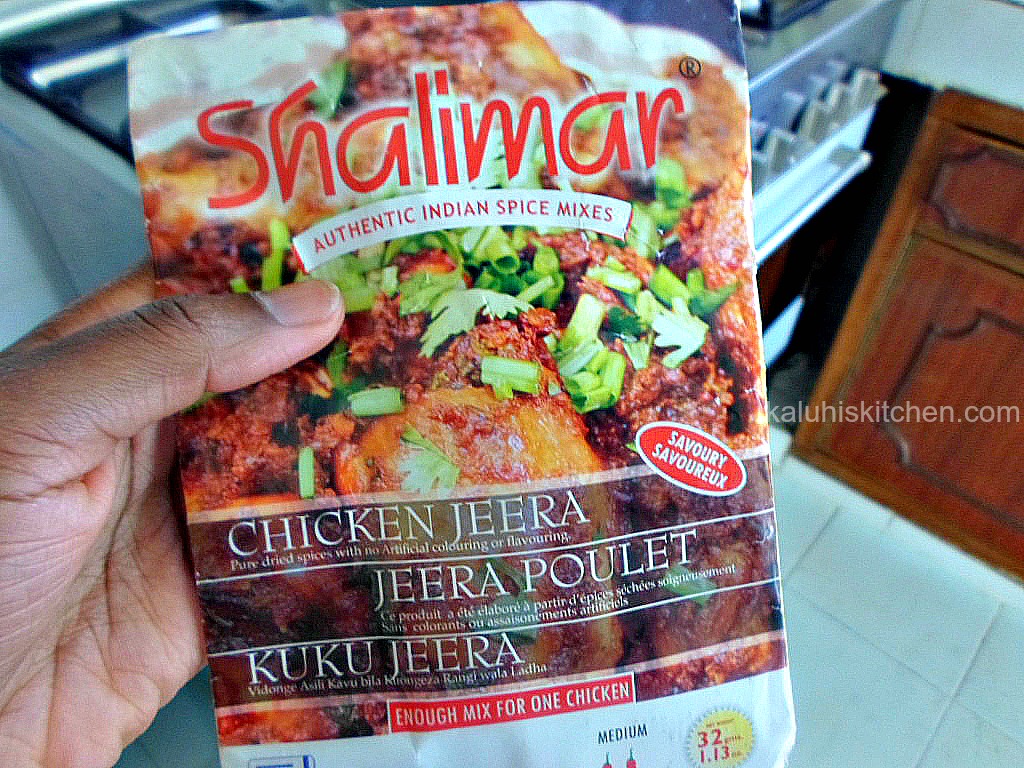 After the chicken has boiled, drain any excess liquid and dip the pieces into the spice mix and set aside for frying.
The dip not only adds flavor, but it also adds color which makes the chicken more appealing. This is evident below where the unseasoned chicken is bland, while the chicken that has been dipped has a deeper color and already looks too tasty even before frying.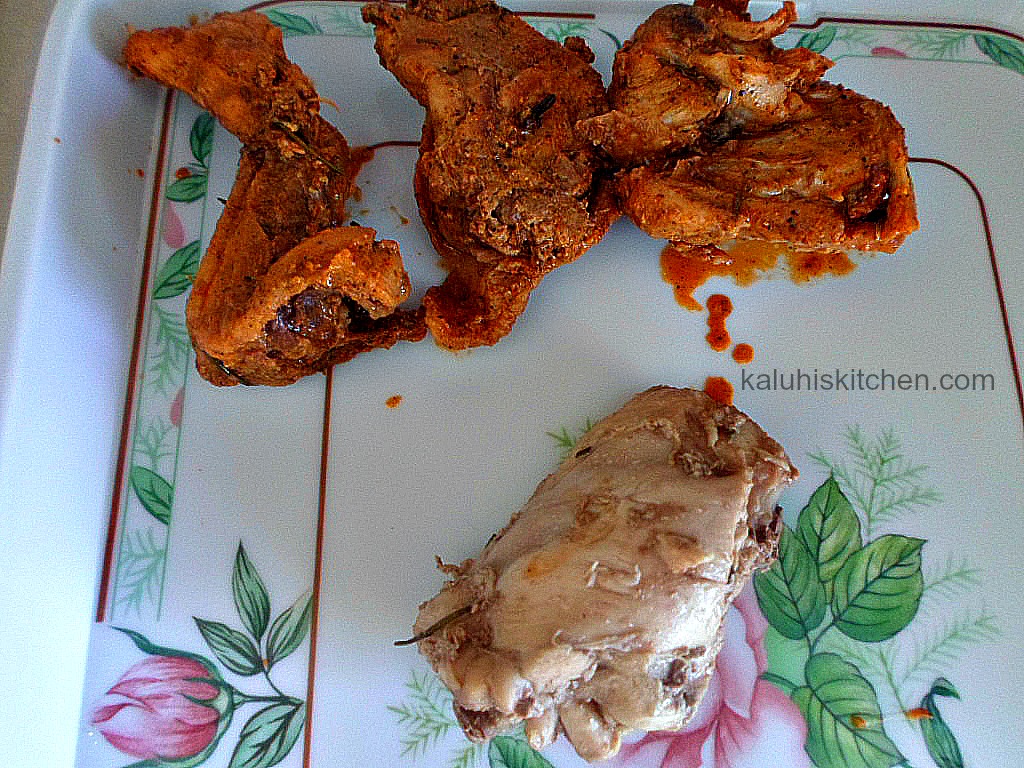 Heat your vegetable oil really hot and deep fry your chicken until they are golden brown. Add your coriander immediately they come from the heat.
Ensure your coriander is finely chopped so that it clings really well to your fried chicken.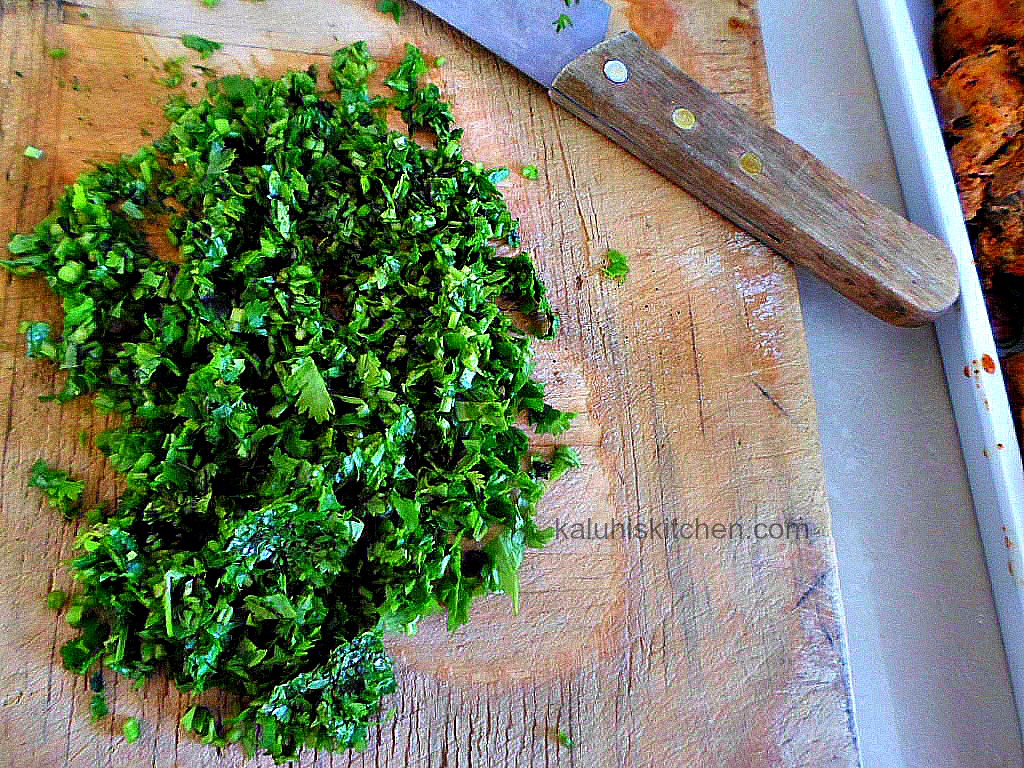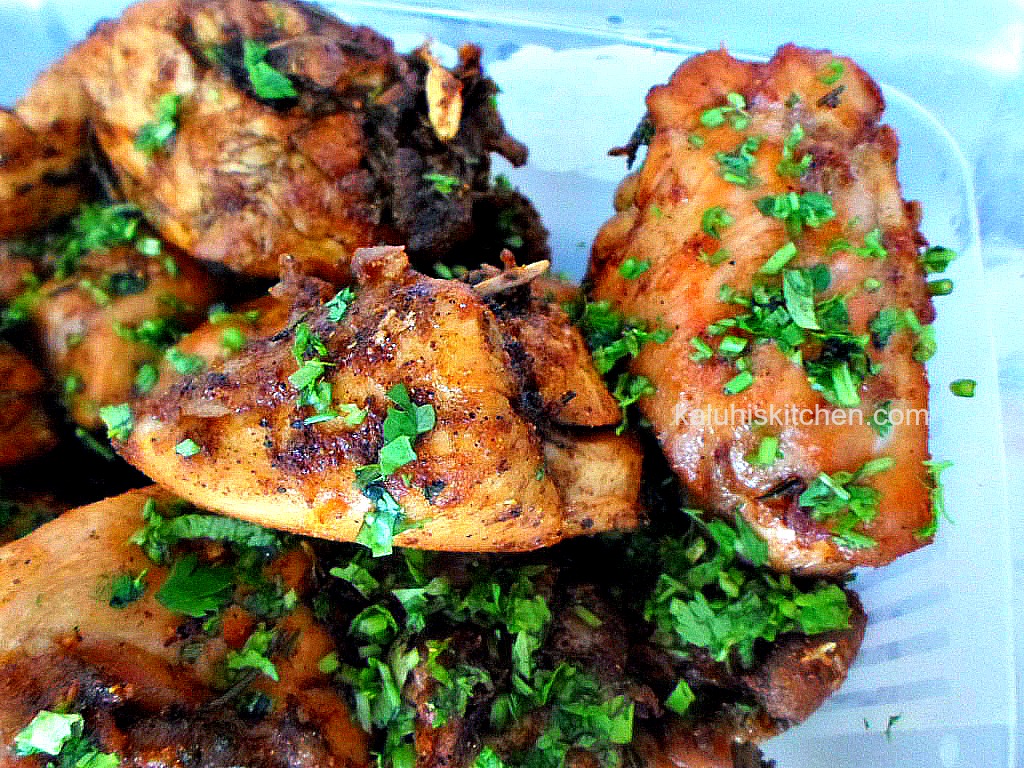 Serve and enjoy 🙂
Do not shy away from spices. Making something outstanding is never that difficult. Like this recipe, all that is required is a bit of effort, some open-mindedness and lots of love and you will have created something no one will ever forget.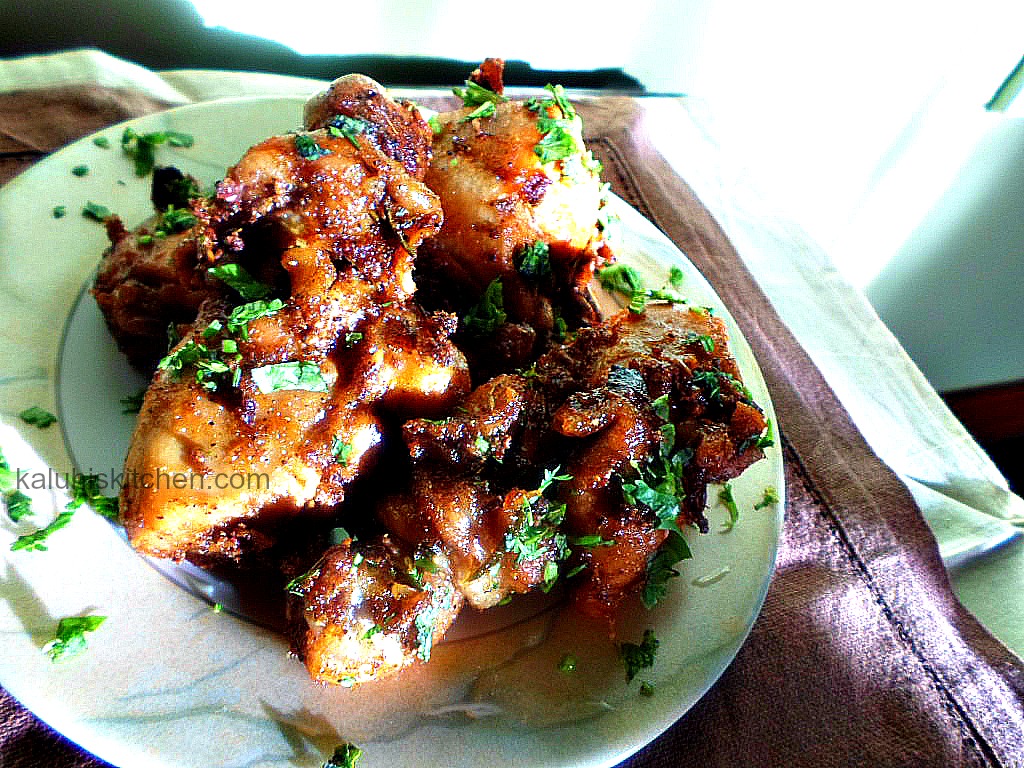 Don't you just wanna sink your teeth into this chicken??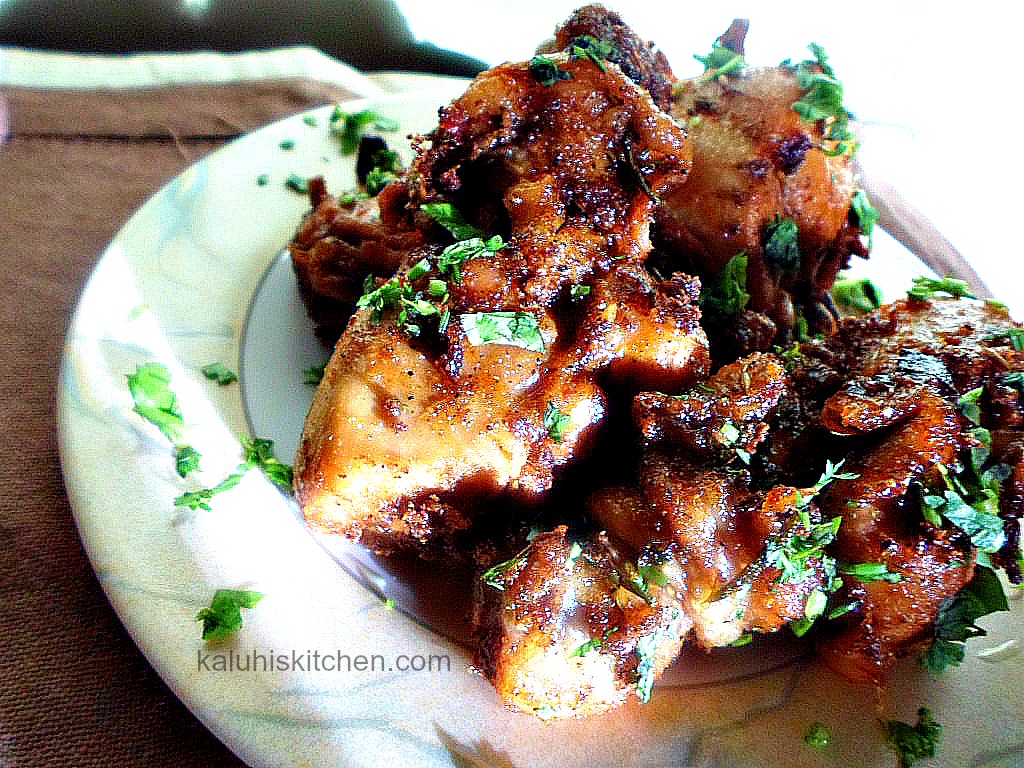 Bless your family with my family favorite :). (Also, check out my kuku kienyeji stew recipe HERE)
XX
-KALUHI
---
Surprise your taste buds and give this a try: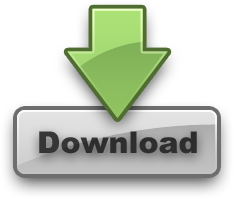 ---
All content and images are copyright protected by



Do not copy in part or whole without giving due credit.