One of the things I love about Christmas period besides precious family time is the food (duh!!). In my family, we all love to cook, and when we come together, it is one hell of a feast! During the past Christmas, my uncle Odemu brought over some goat meat to roast specifically for dinner. Since we were the hosts, we prepared the lunch banquet, but for the goat meat choma dinner, Uncle Odemu wanted to handle it himself. And we  were not complaining, because we knew he could throw down one hell of a choma! As the sun set, the charcoal grill was lit and soon the delicious sizzle of tender meat filled the air. As my sisters and I prepared the kachumbari, my aunt made some ugali and my cousin and namesake basted the done nyama choma as it came hot off the grill in a sweet chili garlic jerk sauce. After everything was ready, we all sat outside, enjoying the warm December night and hearty conversations. I ate like a pig LOL! The meat that was left over was frozen to be eaten at later dates and those who could carried some home with them. For the final piece of meat that we had, I decided to revamp it and incorporate it into my delicious pasta dish: my goat meat garlic penne pasta. Leftovers are never boring afterall!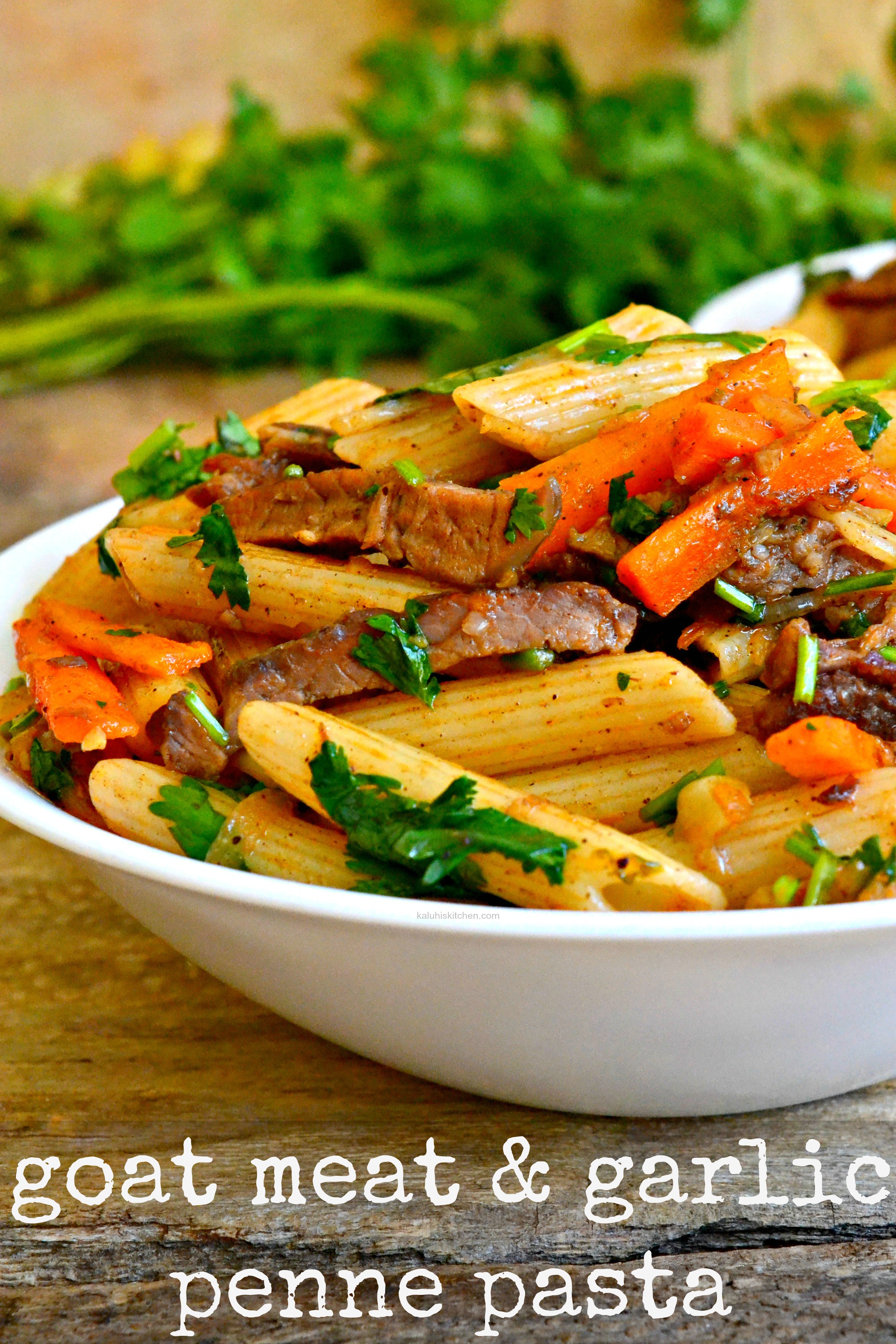 PREP TIME: 10 MIN        COOK TIME: 20 MIN        SERVES:4
Ingredients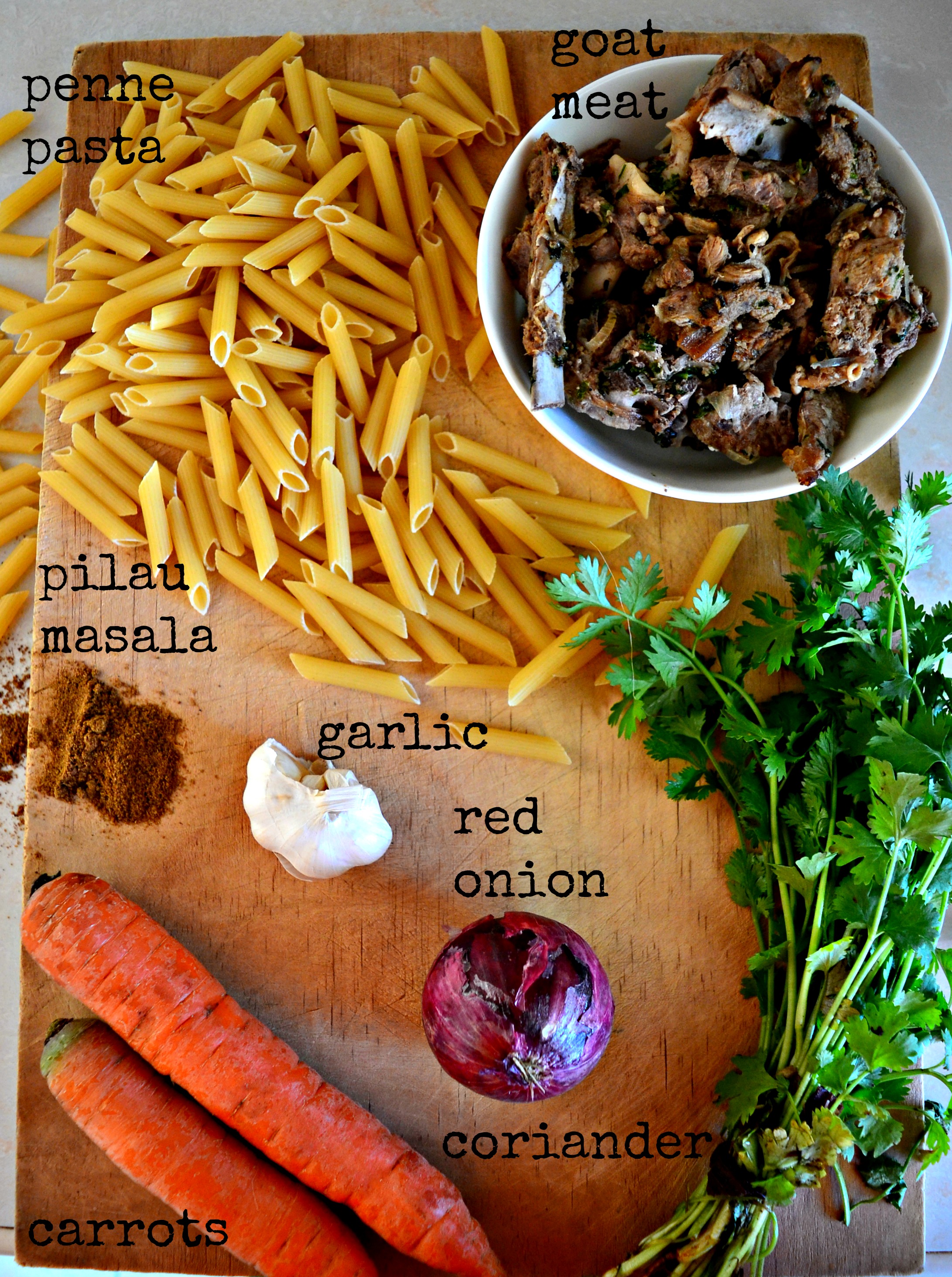 400g penne pasta
1 red onion, finely diced
1 tablespoon of pilau masala
1 1/2 cup of chopped goat meat
2 carrots, thinly chopped
5 cloves of garlic, minced
Fresh coriander, garnish
Salt to taste
Vegetable oil for frying
Method
In a sufuria with boiling water, add your penne pasta to cook. Once done, drain the excess liquid into a cup and set aside. Run the pasta through cold water so that they do not clump together while you prepare your meat.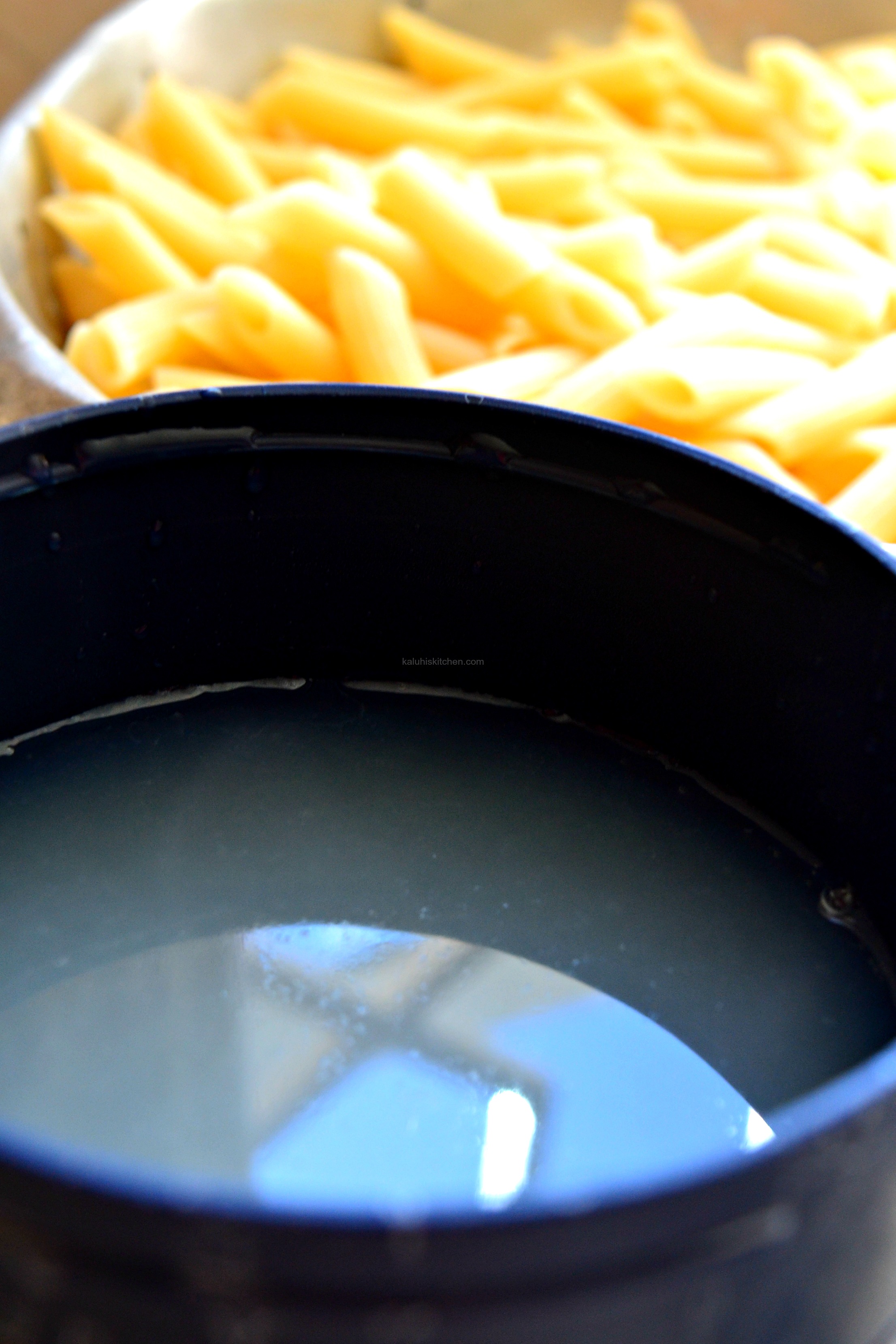 The pasta water is an important component while making any saucy pasta dish because it is very starchy. It aids in the thickening of the meat we are going to prepare and any sauce that you may wish prepare.
For your meat, add your thinly chopped red onion. Let them stay on the heat until softened. Add your carrots, and after two minutes, add the meat. Add the pilau masala and the garlic and 1/2 a cup of the pasta water and allow all this to simmer down for about 5 minutes.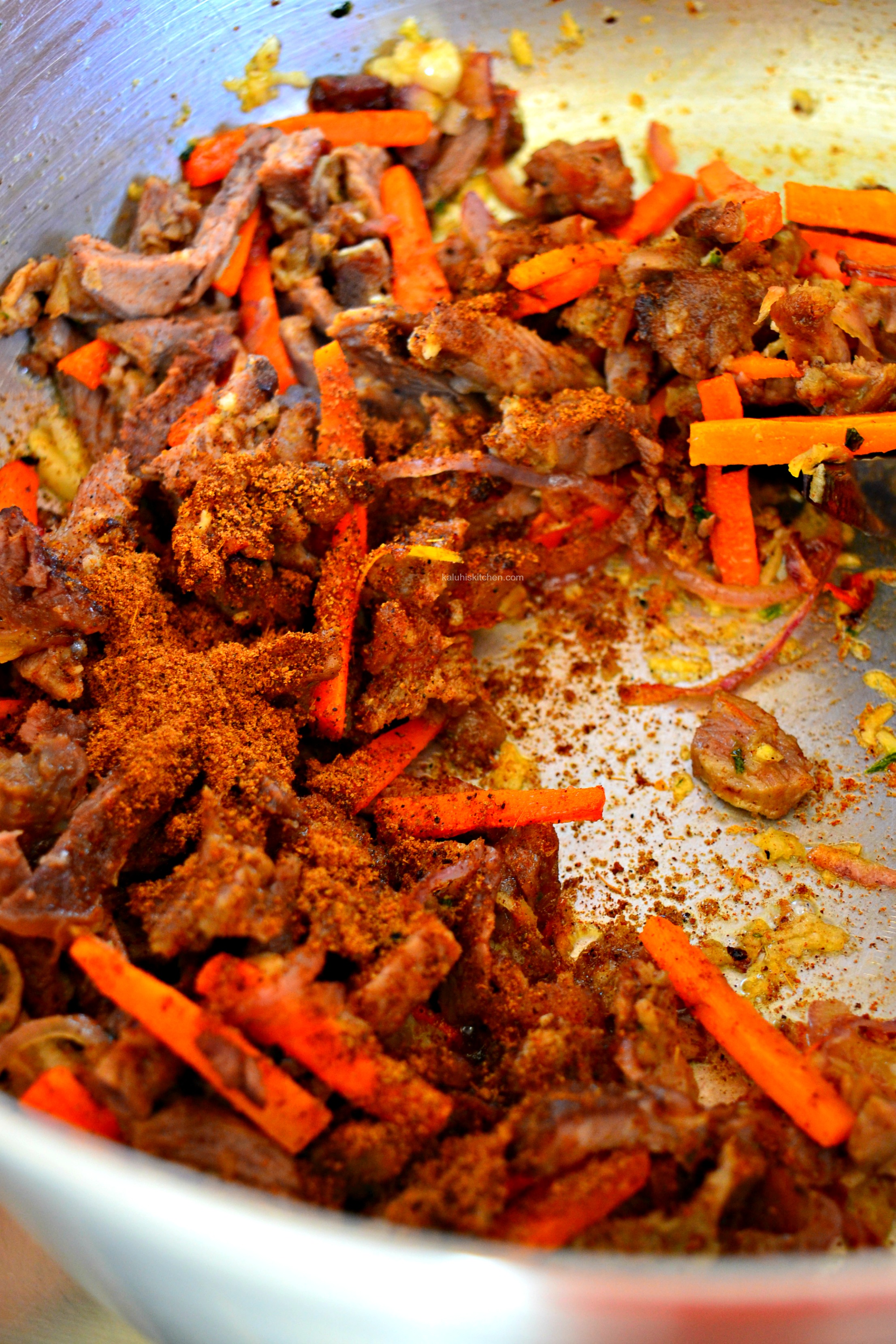 Yes, you can use pilau masala in several other dishes besides just pilau :)). I used just one spice for this dish since the meat I was using was already seasoned and basted so it was already packed with flavor and I did not want to overdo it. If your left over nyama choma is not seasoned before hand, you can add any spice(s) of your choice to give it a kick.
Once your masala is mixed in, add the pasta water bit by bit and let this simmer for about 5 minutes. Because the water is very starchy, thickening of the sauce will not take too much time.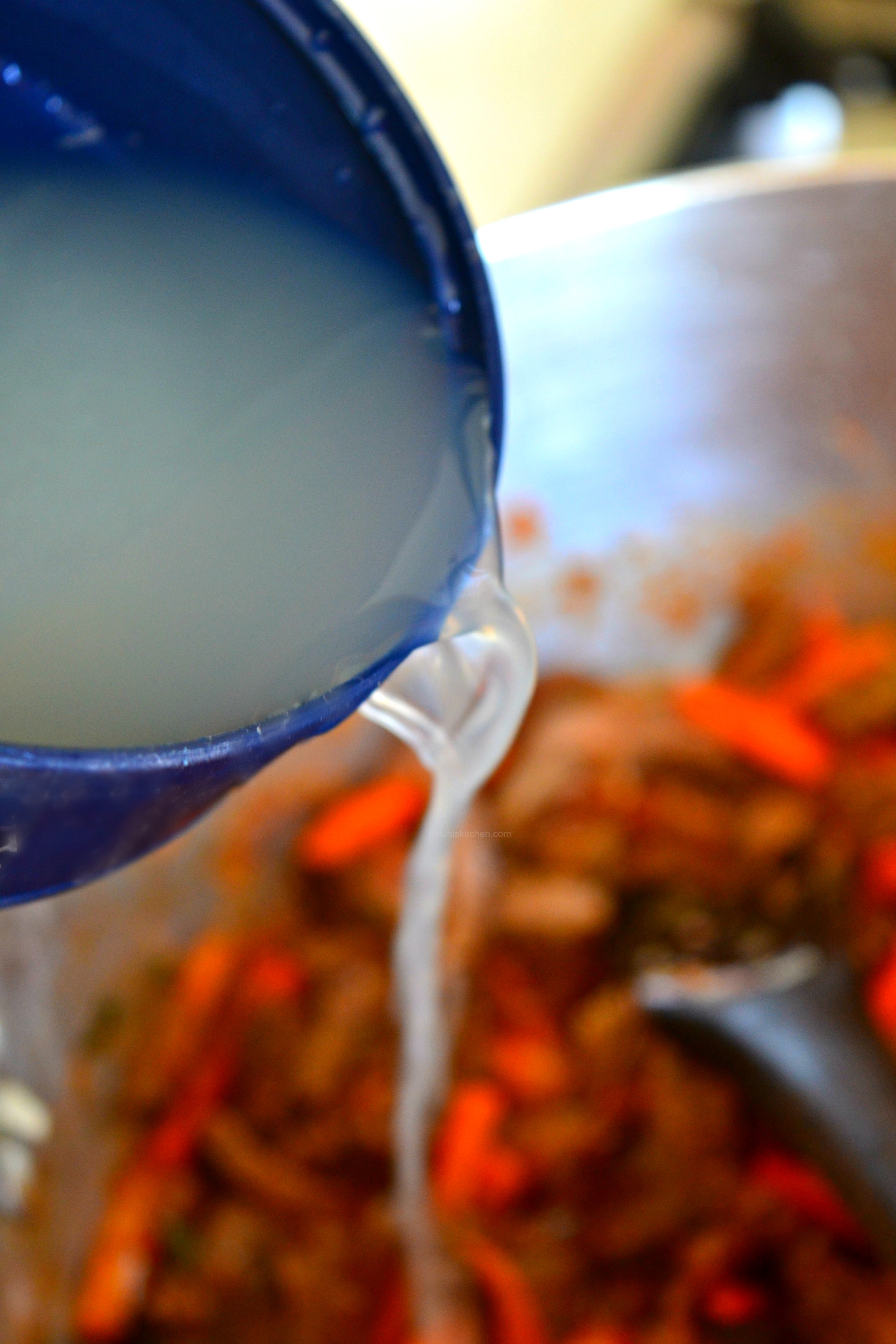 Add the penne pasta to it and toss it all together. I chose penne pasta since they tend not to be as chewy in comparison to other shaped pasta. However, you can experiment with any other pasta shape and let me know how it all goes ;))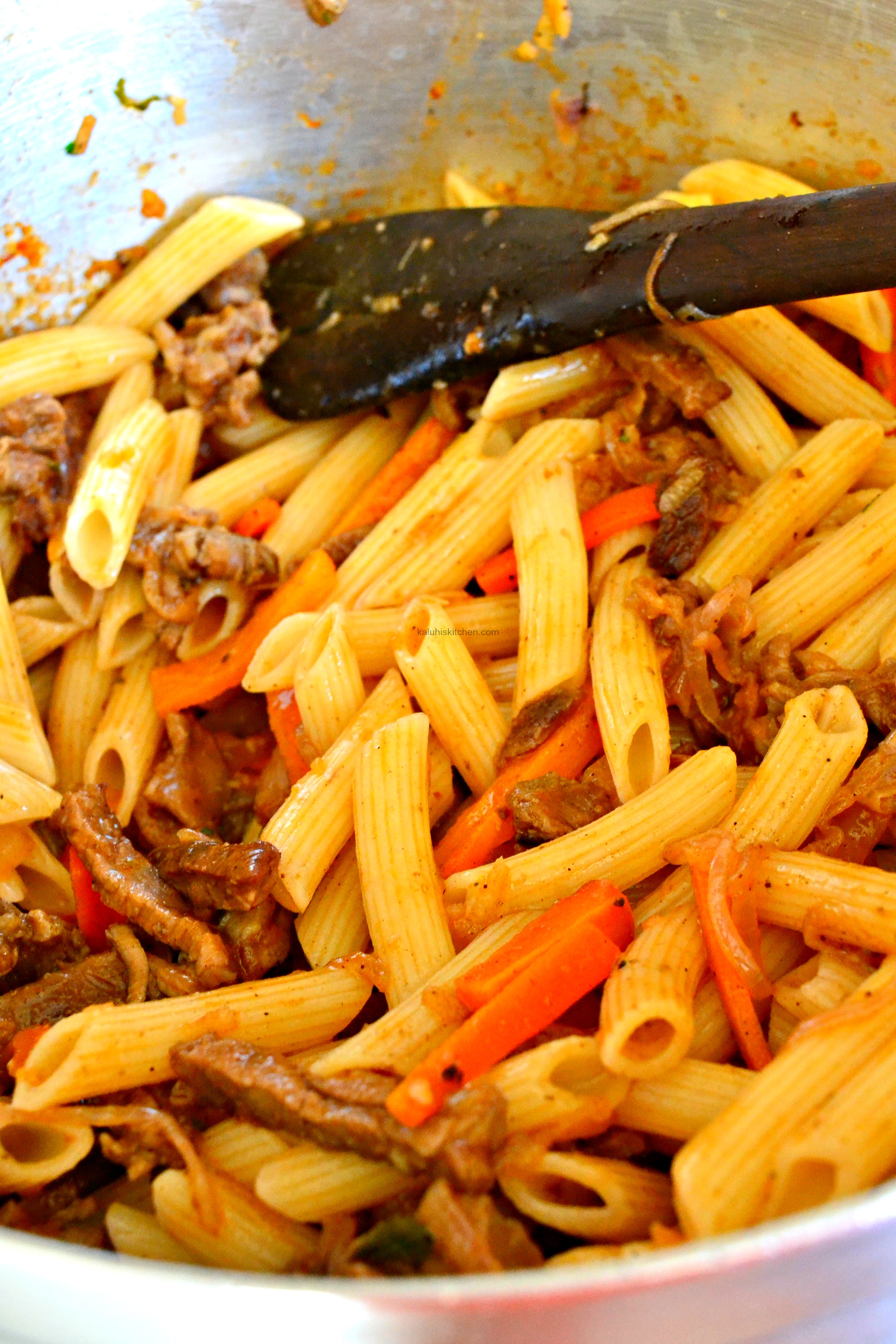 After a minute, remove form the heat and garnish with fresh coriander. Who says leftovers are boring???!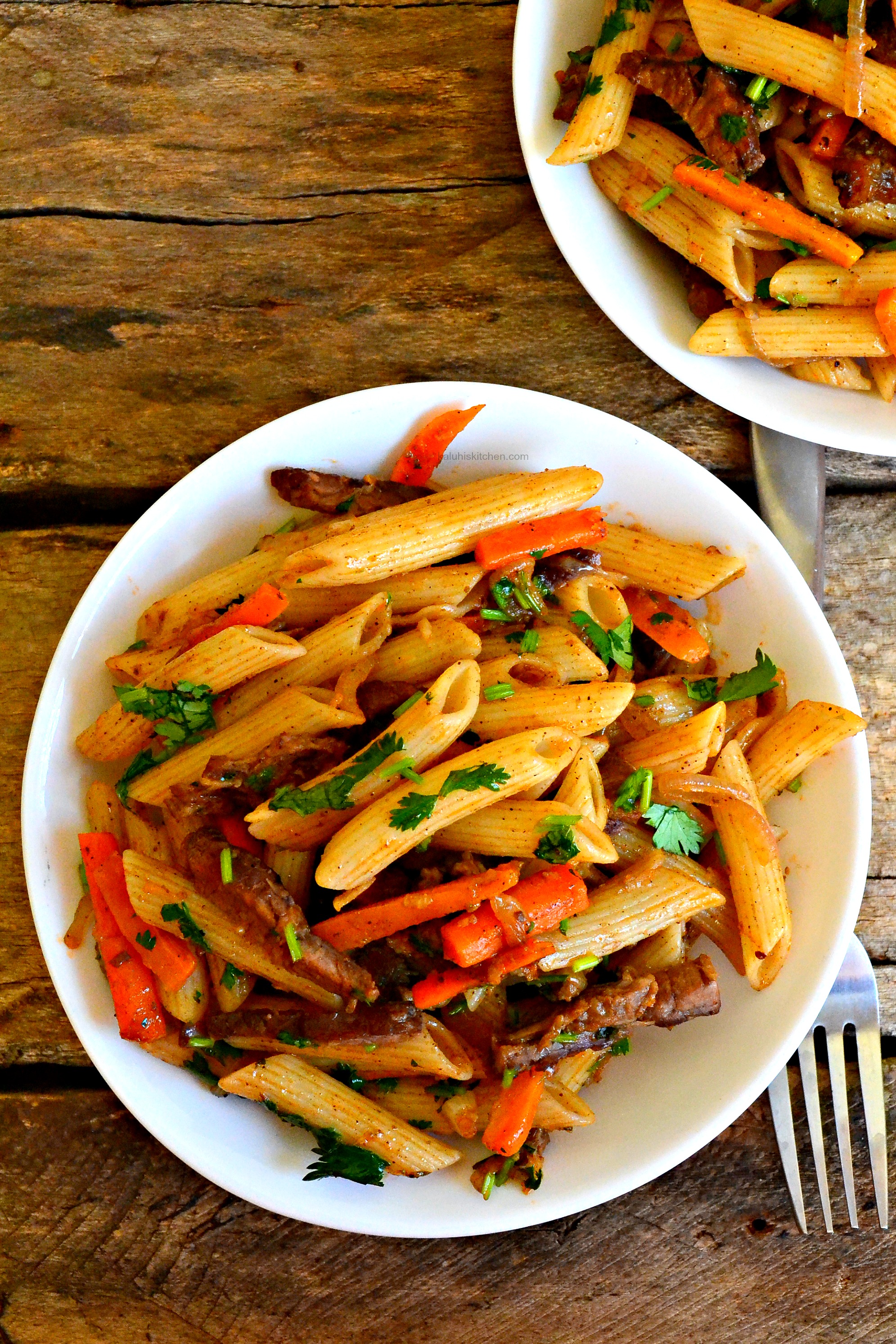 This was beautifully meaty, and the contrast between the slight crunch of the carrots and the tenderness of the pasta made the eating experience even better. Simple flavors yet quite complex ones and to think that this was developed in such a short period of time makes it even better.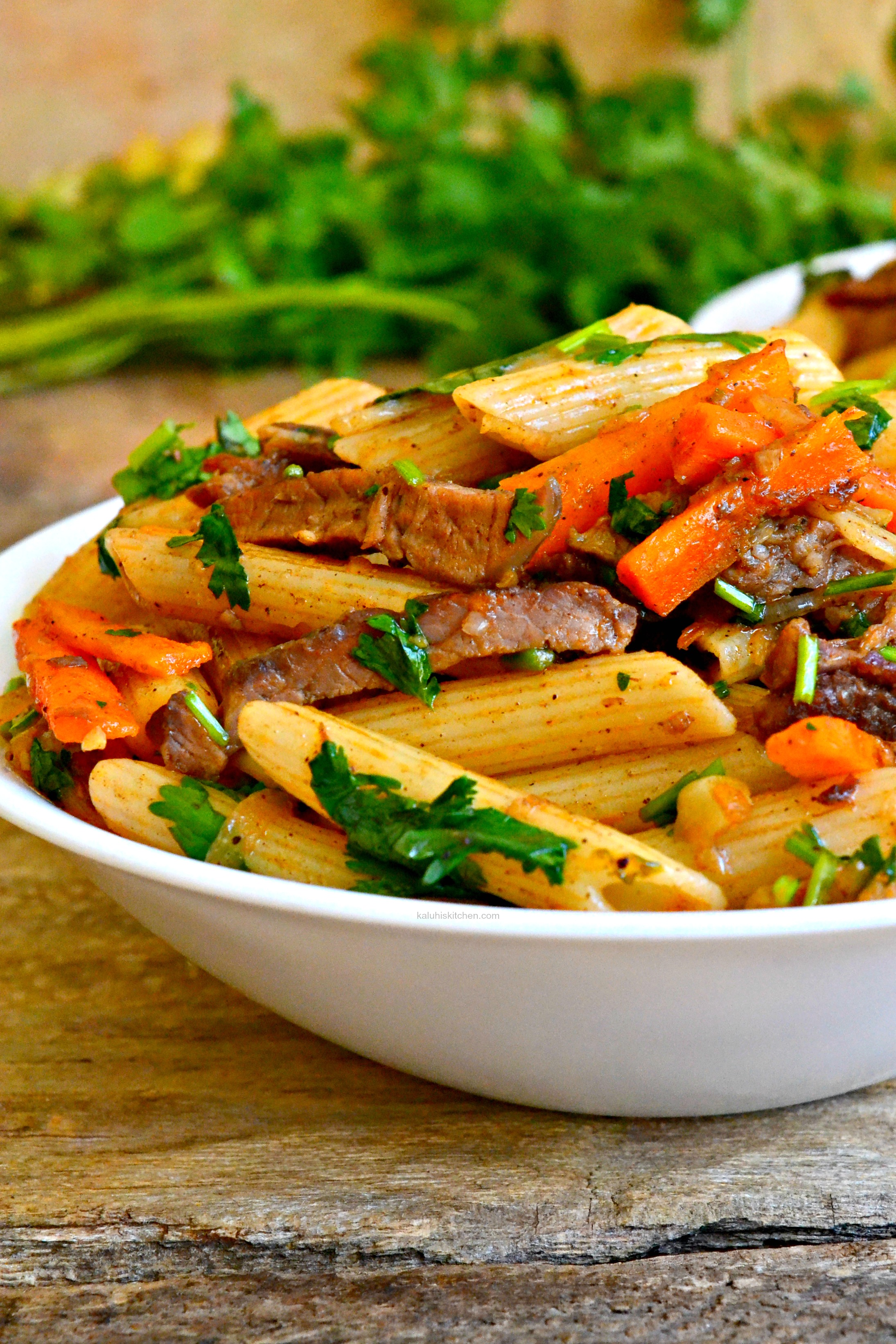 If you have left over rice, why not make my raisin and carrot fried rice. If you have some left over chicken, maybe you should make my grilled chicken sandwich. Left over minced beef? Then this dish is for you! How do you guys revamp your left overs? Which is your favorite left over to upgrade? Let me know in the comments below or join the #Konversation on twitter. I would love to learn a thing or two from you :))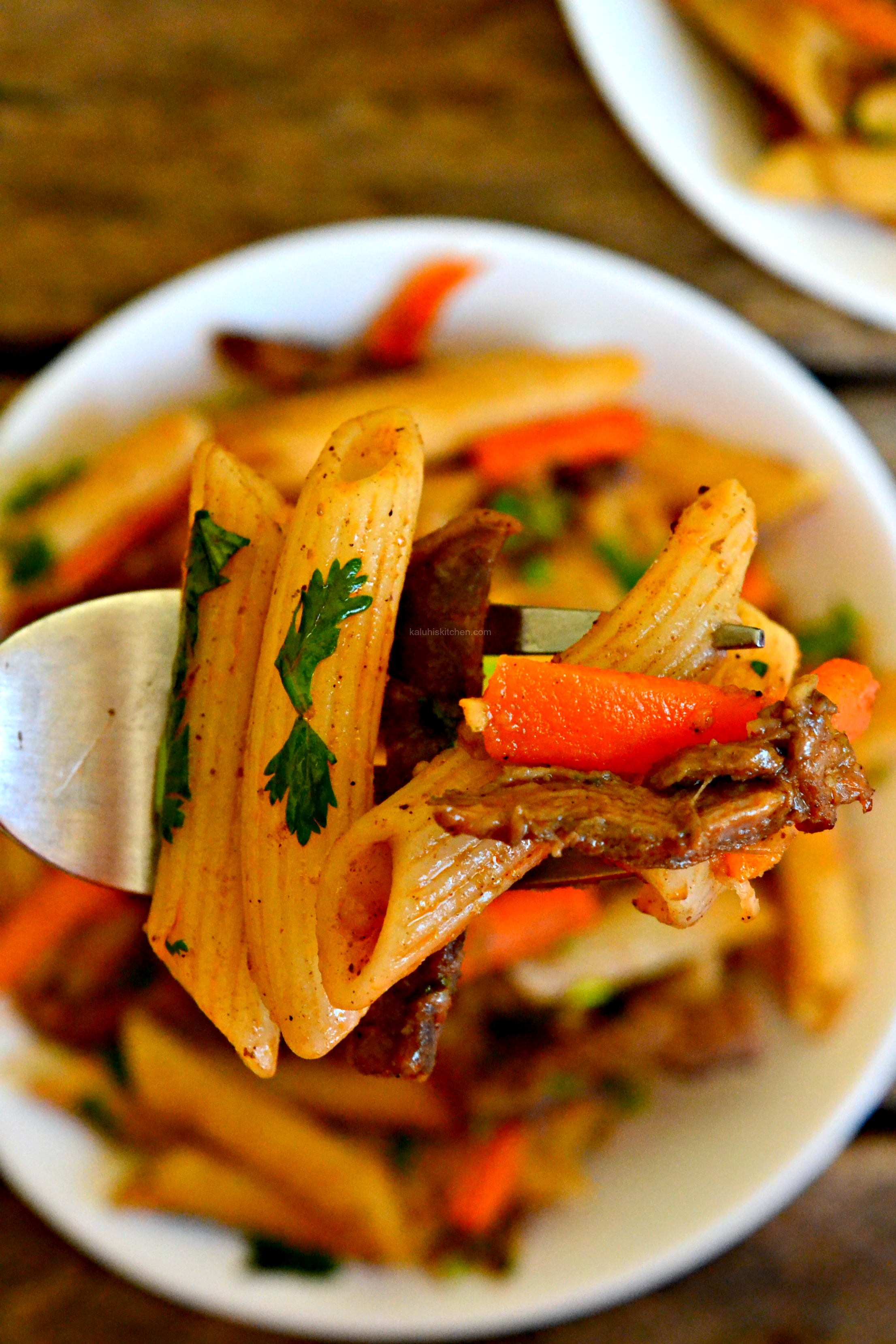 Cheers!
-K
---
Get your downloadable recipe here :))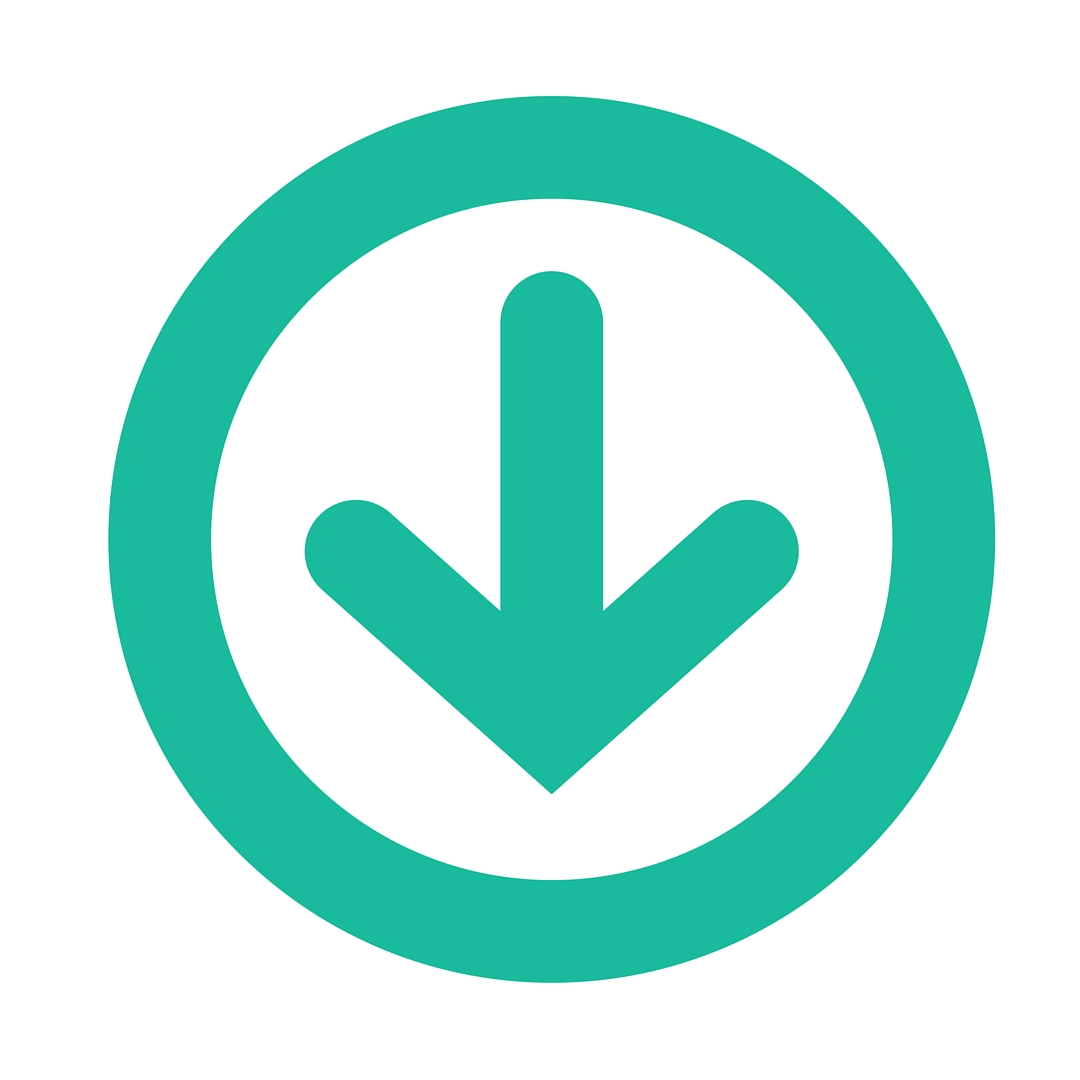 ---
All content and images are copyright protected by



Do not copy in part or whole without giving due credit.