I have had plenty of cheese in my fridge this past month! For some reason, I kept buying some and I ended up with a surplus. Now honey, cheese can be pretty pricey, and because I did not want mine to go to waste, I am using it in many dishes. The first was these cheesy meat pies we had a few weeks back and today we are making some masala fries but not just any masala fries, but loaded, cheesy melty masala fries. We have made honey whiskey masala fries as well as these perfect rosemary garlic  masala fries and today we take things up a notch and introduce this cheesy indulgent beaut!
To my foreign readers, masala fries are smothered fries very common in Kenya and I think through out the East African region. At their essence, the fries are cooked then coated in a hot, spicy sauce and there are many renditions on the same. We have done a couple, today we are adding another one and for sure, plenty more shall be coming in the future!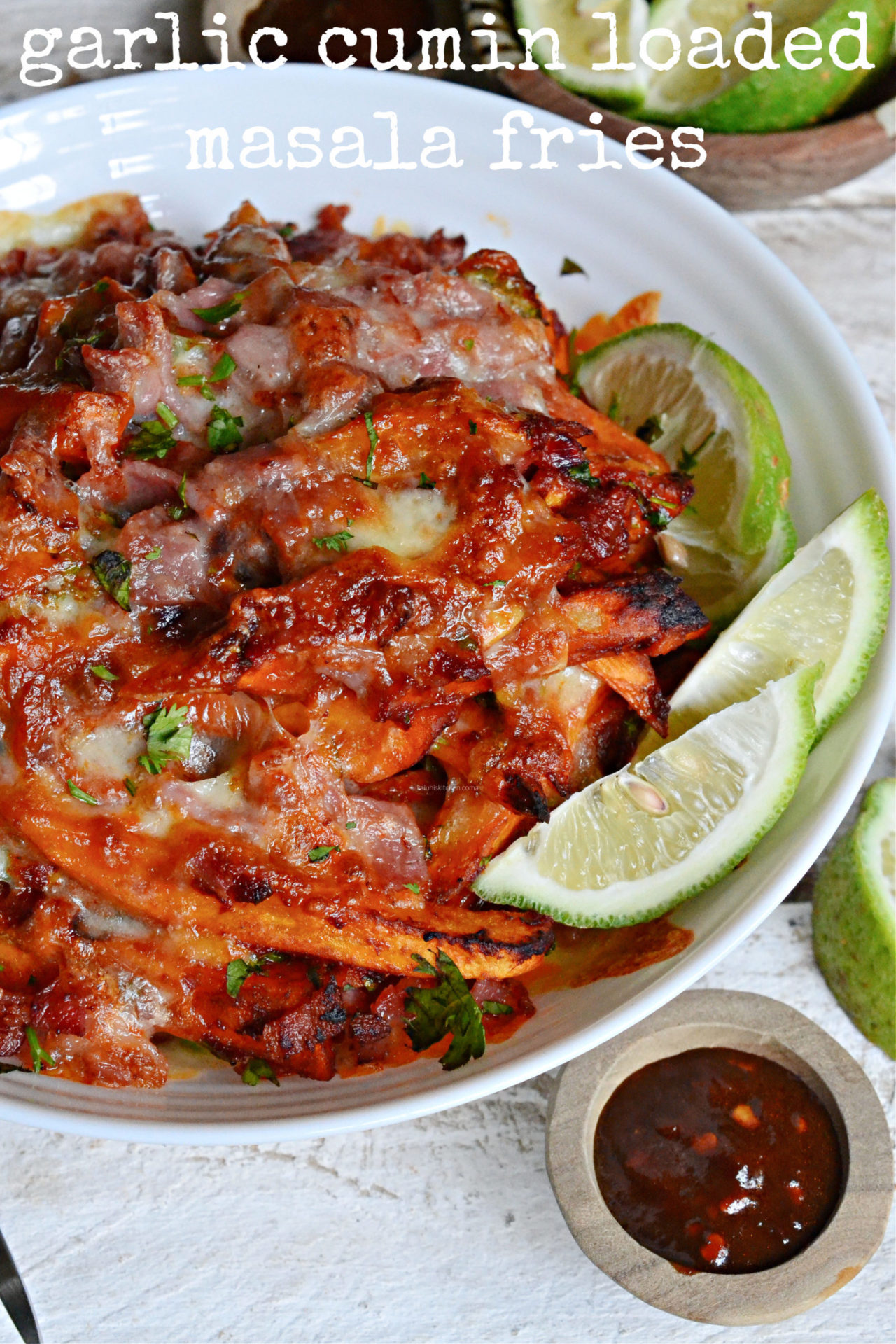 I made a dope vid to accompany the blog post. Do watch below, and subscribe!

PREP TIME: 15 min    COOK TIME:  20 min       SERVES: 2
Ingredients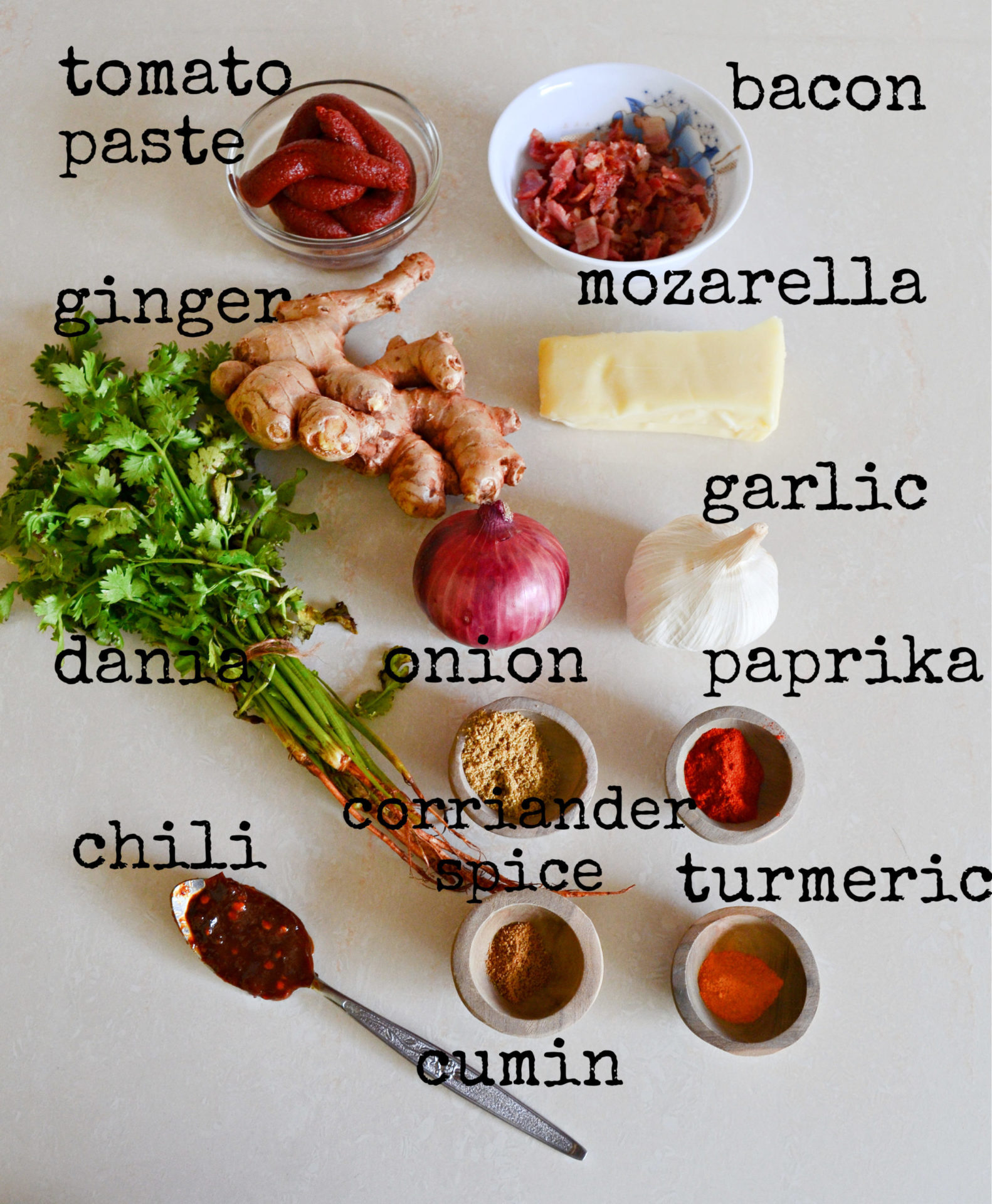 6 medium potatoes
½ cup of chopped red onion
½ cup of chopped dania stems
5 garlic cloves, minced
1 tablespoon of minced ginger
½ teaspoon of chili paste
5 tablespoons of tomato paste
¼ teaspoon of turmeric
¼ teaspoon of cumin
½ teaspoon of smoked paprika
½ teaspoon of coriander spice
125 g of fresh mozzarella
½ cup of cooked, chopped bacon
Dania leaves & lemon slithers for garnish
Method
Begin by preparing the fries. It is pretty straight forward: Just peel, chop and fry the potatoes and then set aside.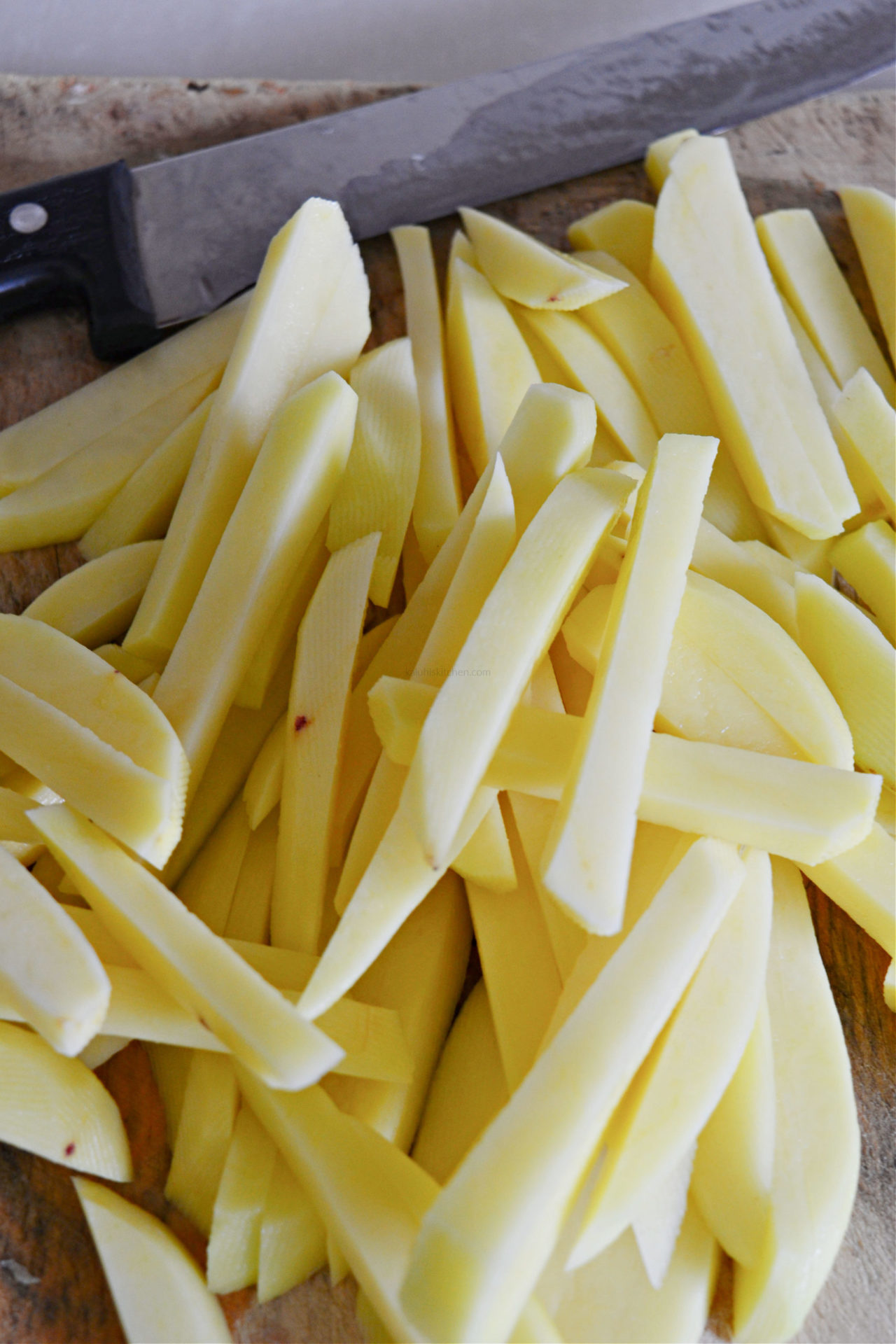 I like my fries as thick as my finger and I like frying mine very slightly burnt. I just love that texture of a crunchy exterior with a soft interior. You can fry yours yo your preferred level of doneness but I would discourage soft fries as they will likely mush up later on while mixing in the mchuzi.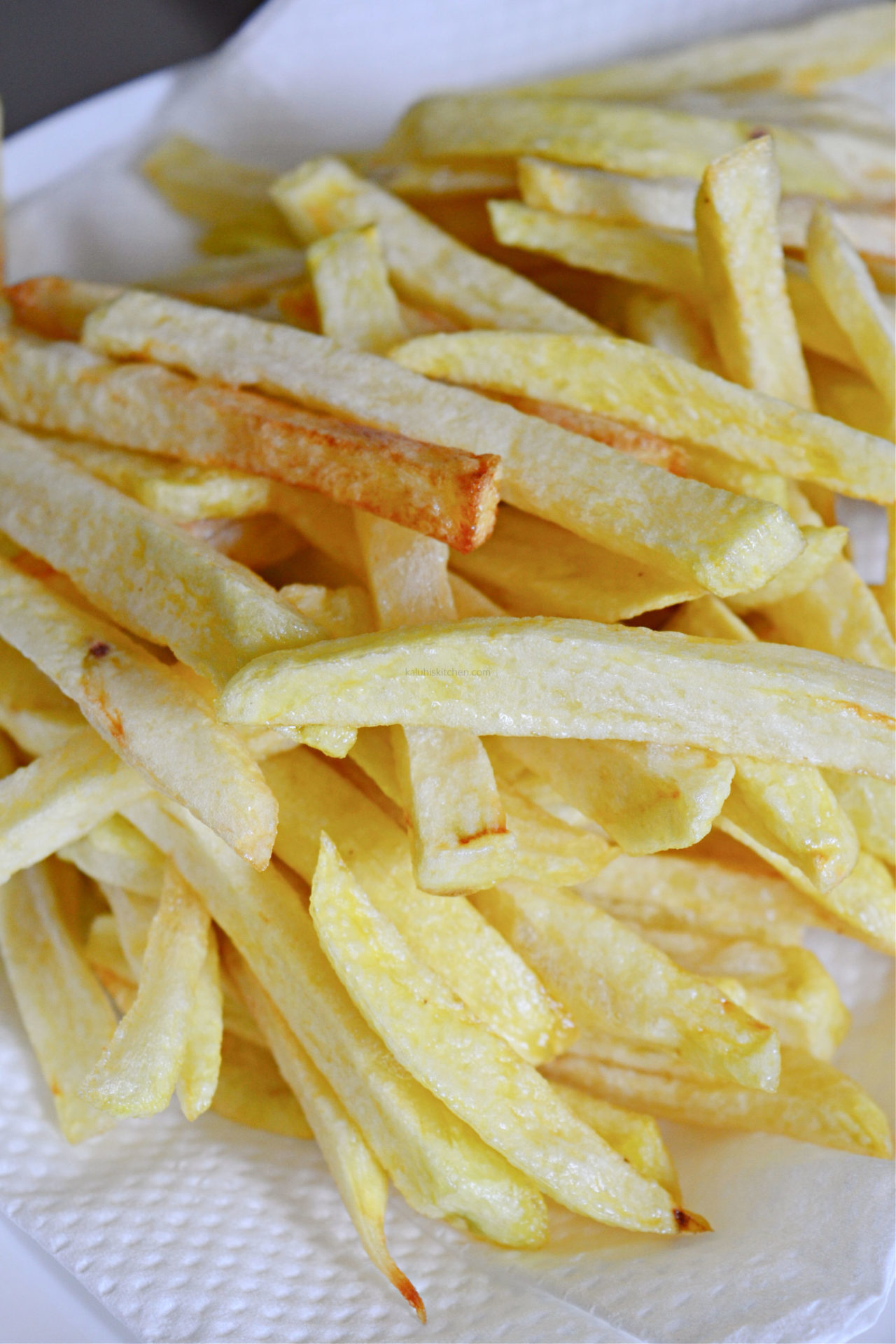 The bacon you will need to load the fries will also need to be prepped at this initial stage. It is equally straight forward, just fry your bacon to your prefer level of doneness. Once done, chop it up. There will be fat that will have rendered off your bacon and collected in your pan. Leave it there as it will be the fat we will use to fry the herbs of the mchuzi. Just add abit of salt to it.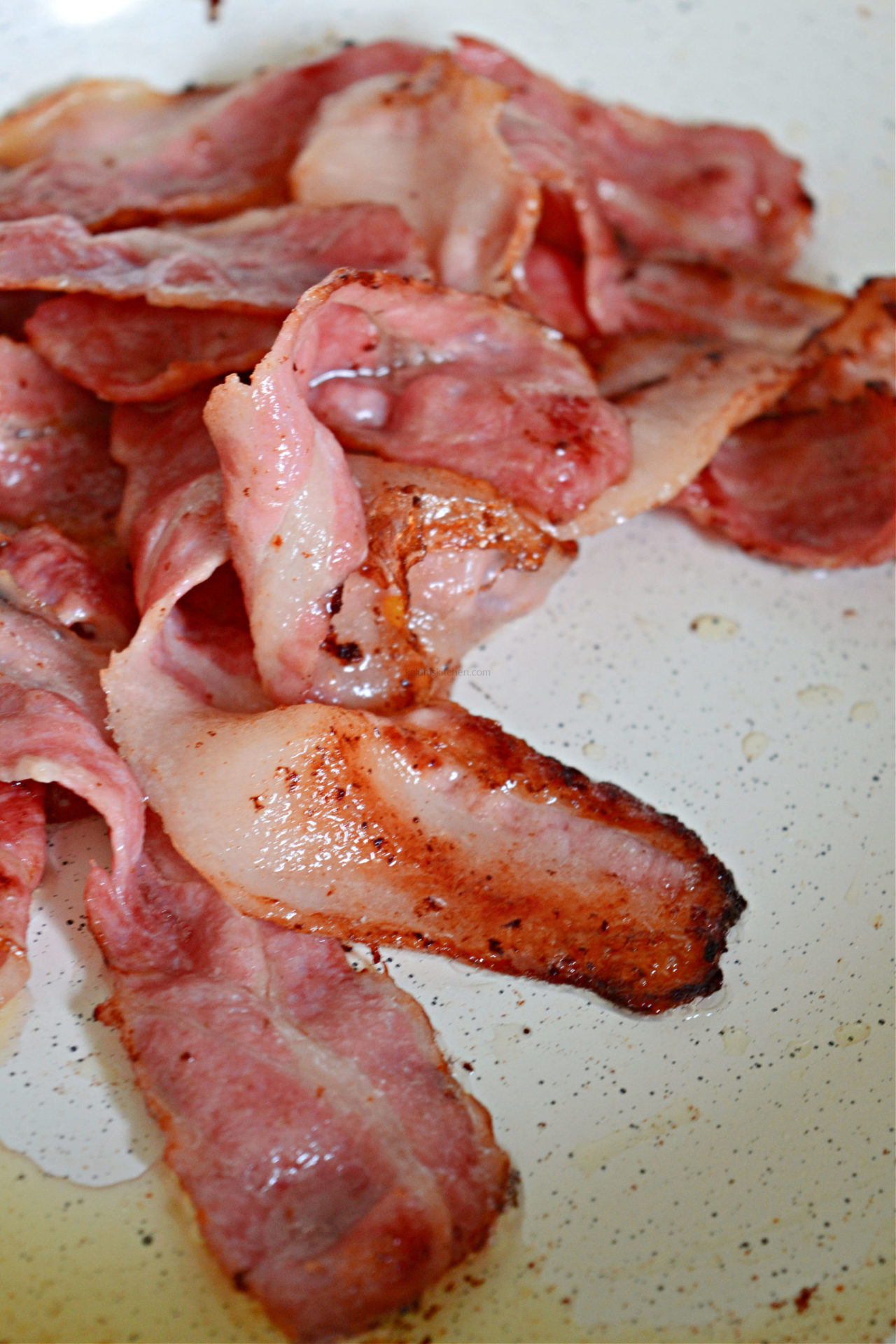 To prepare the mchuzi, begin by cooking the onion, dania stems, garlic and ginger in the bacon fat until softened and fragrant. Dania stems are an excellent ingredient and make for a fantastic flavor booster in the initial cooking stages.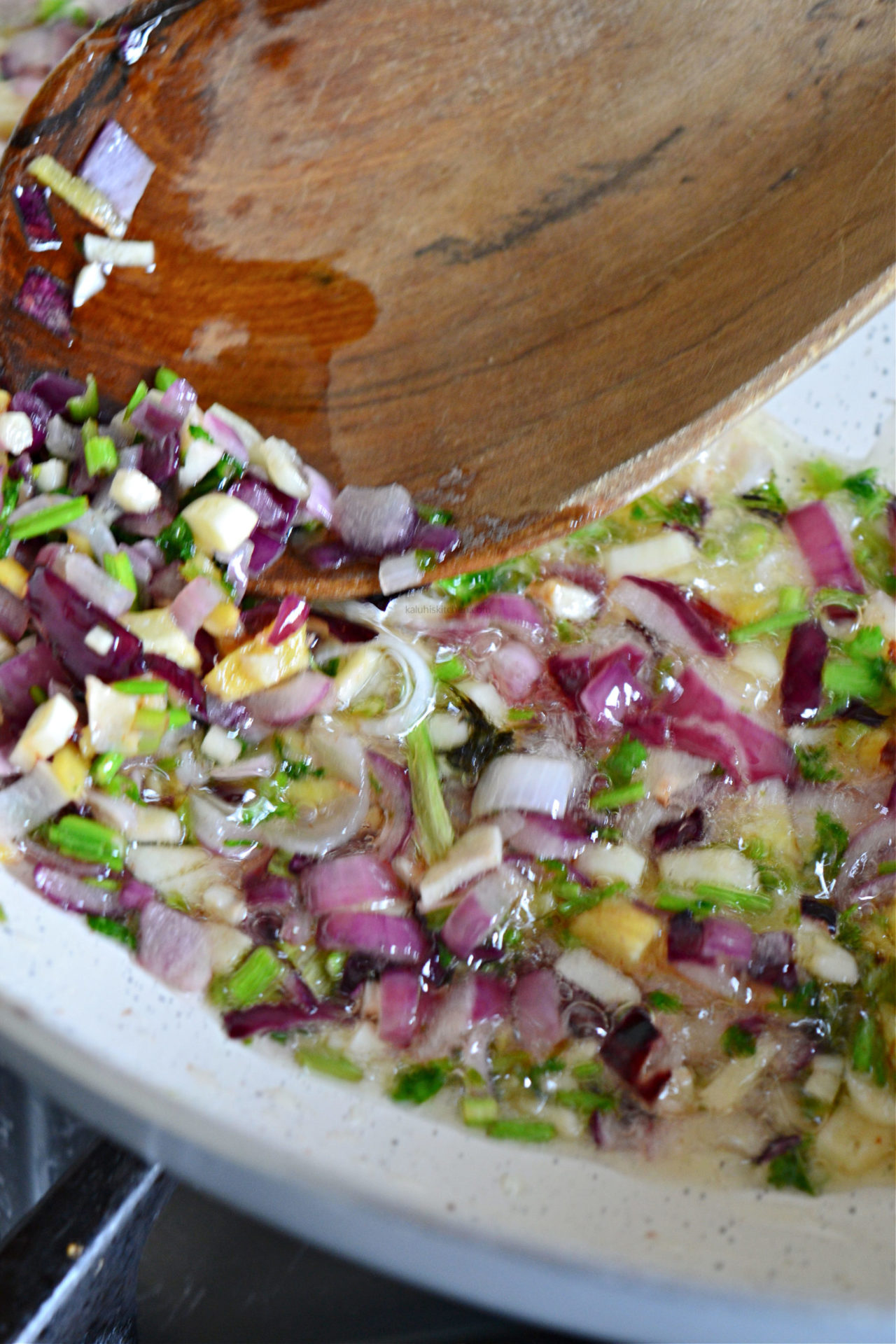 Add in the tomato paste, the spices and a bit of hot water and allow this to simmer until thick and the flavors meld. Go easy on the water, it's purpose is to facilitate the cooking down of the spices not to create a soup.
Can one use fresh tomatoes instead of tomato paste? Yes BUT the color will not be as vibrant neither will the thickness be as intense.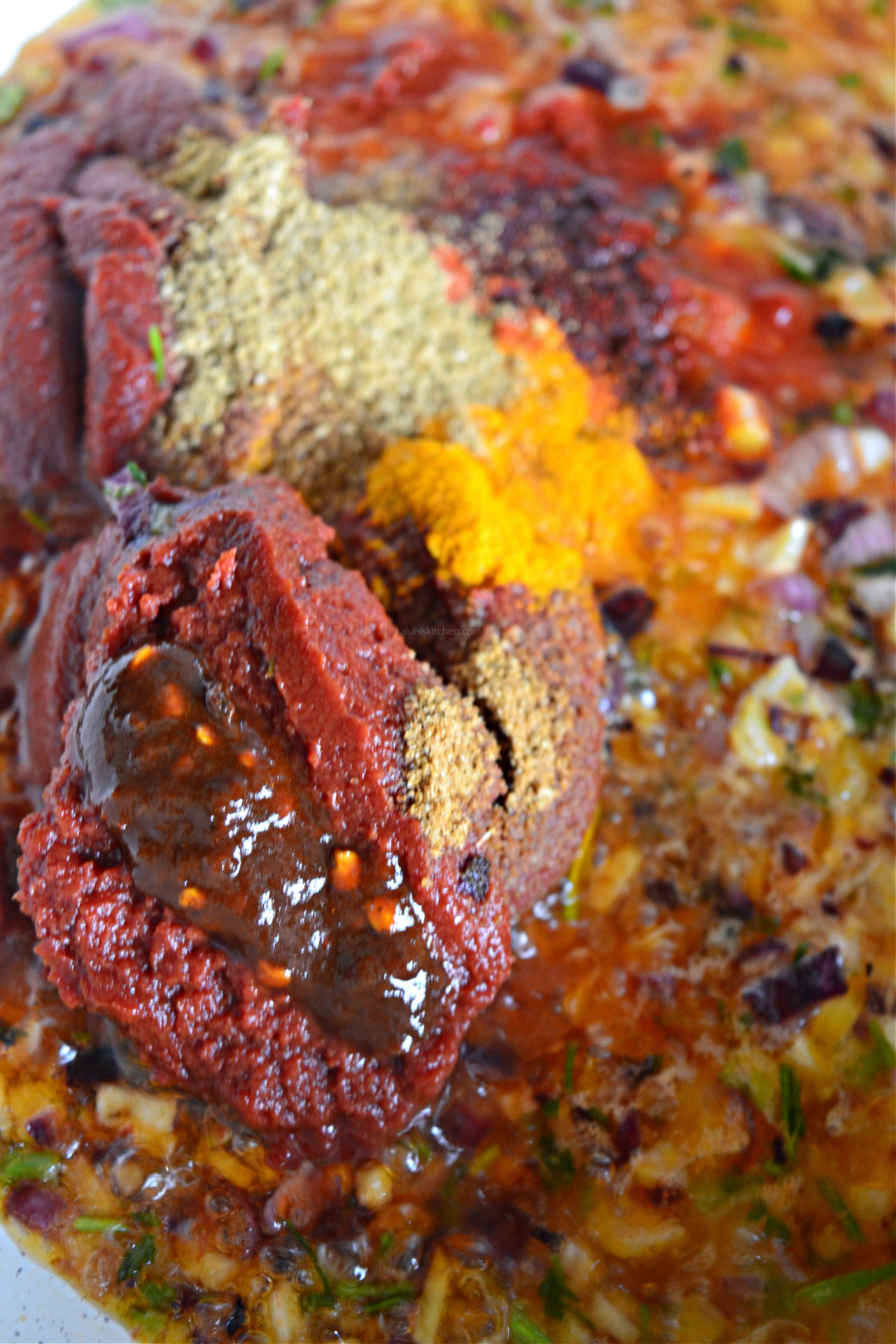 It will be thick like this once you are done. You can see the exact consistency of mine from 5.03 – 5.08.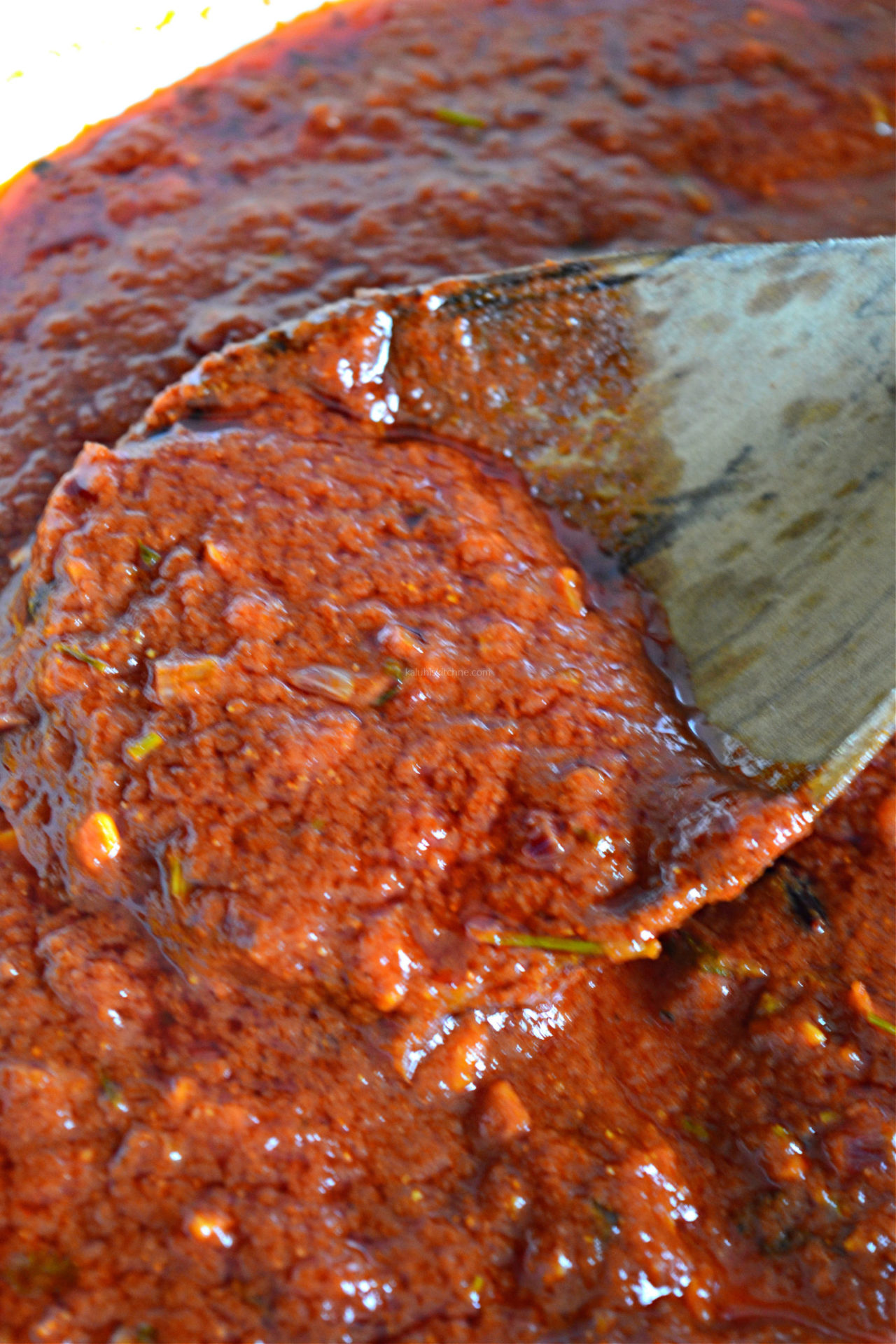 Add in the fries and mix until coated. Be gentle and be sure not to mash them up.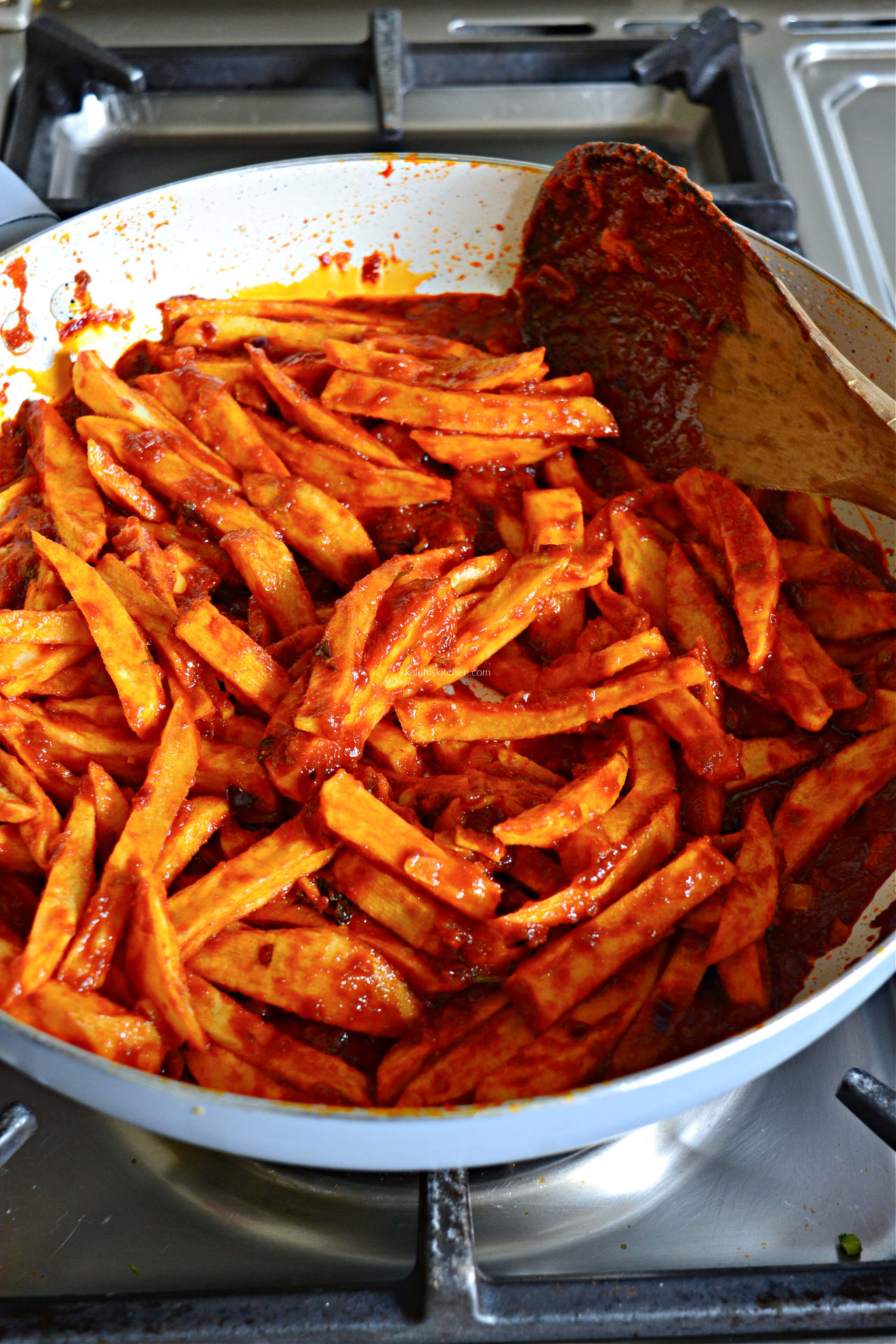 Garnish with some dania (cilantro) and then plate. You can enjoy them right at this stage, but I decided to take things up a notch and load them. For that some melty mozzarella and bacon too.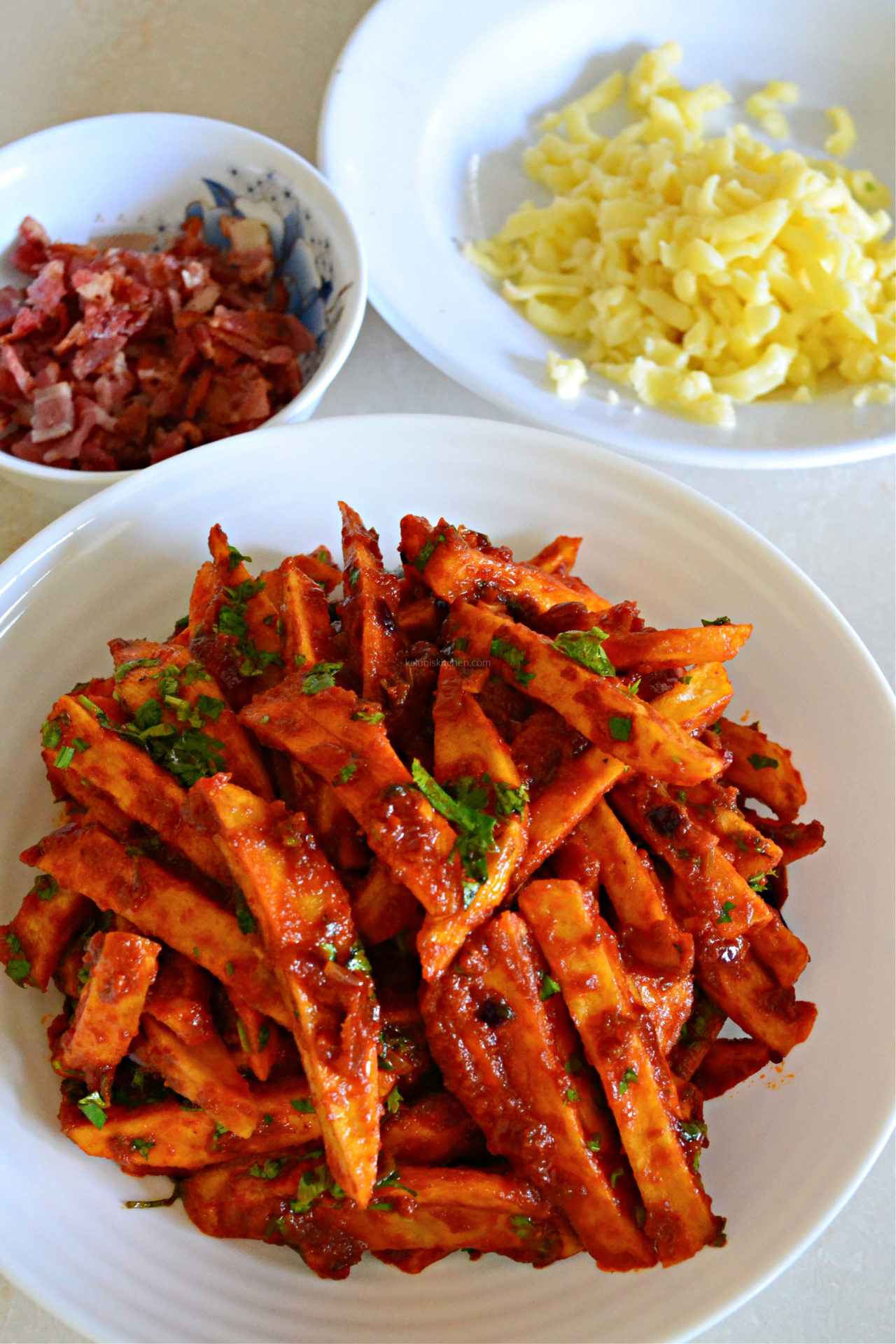 Let these cool down for about 3 minutes then add over the top your chopped bacon as well as your grated mozzarella. You can add as much cheese as you like but have the quantities I used as your blueprint.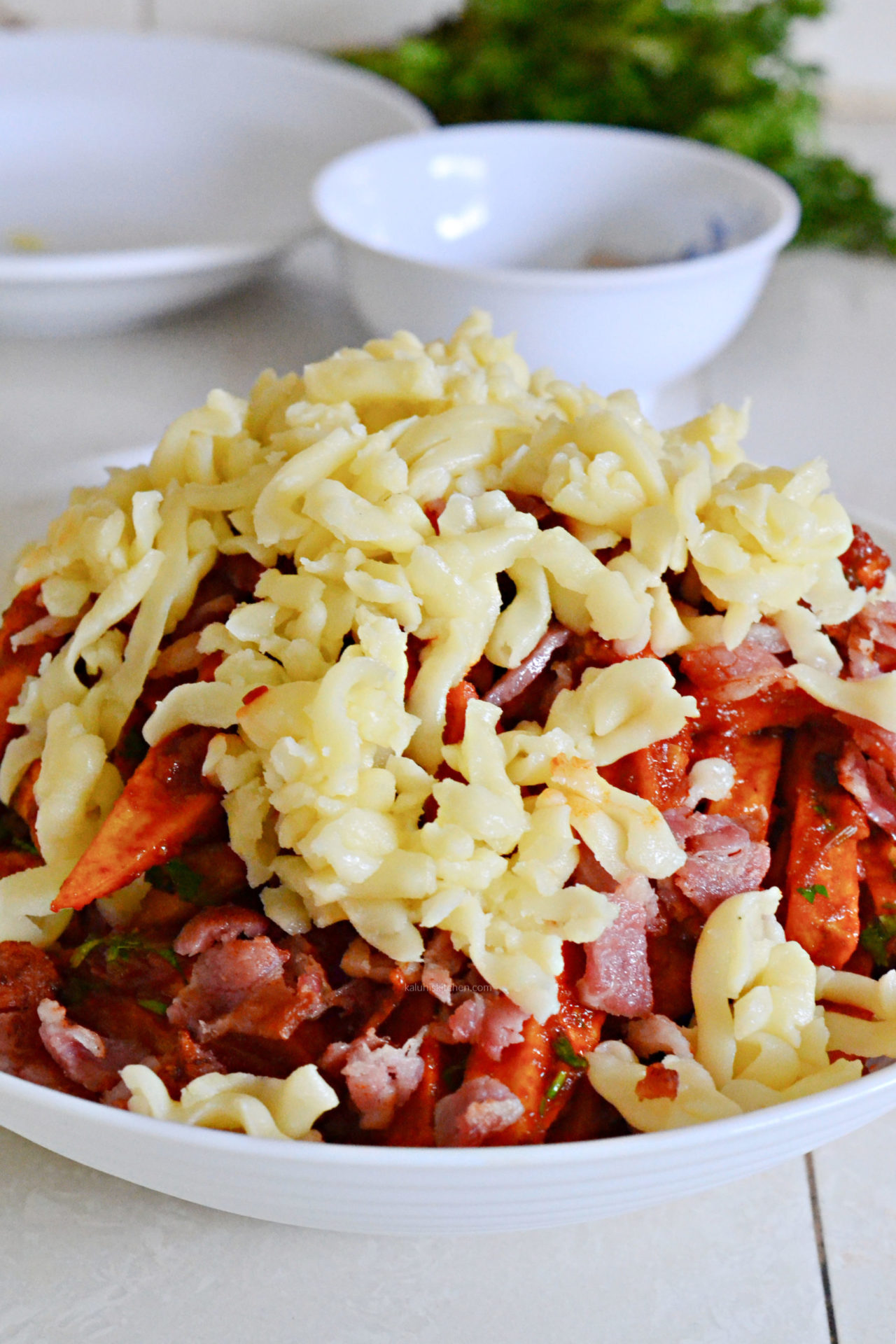 Pop this into your preheated oven and let this sizzle for about 5 minutes or until your cheese is melted. Once done, it is time to eat away baby!!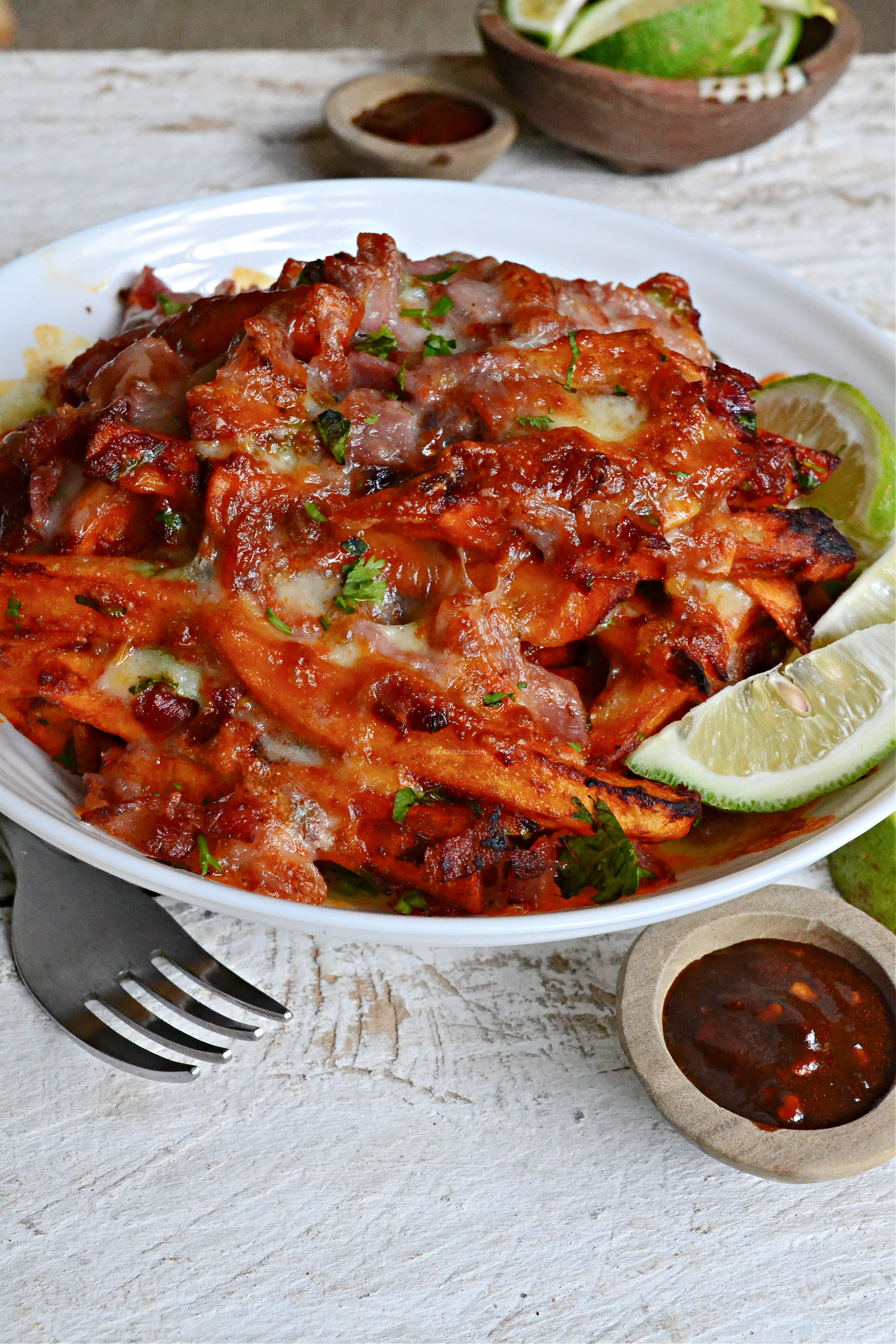 Hot, spicy, cheesy, bacony and perfect in any way! I love how you can taste every flavor not of this beauty! It really is the ultimate indulgence and each bite really is a party on your tongue!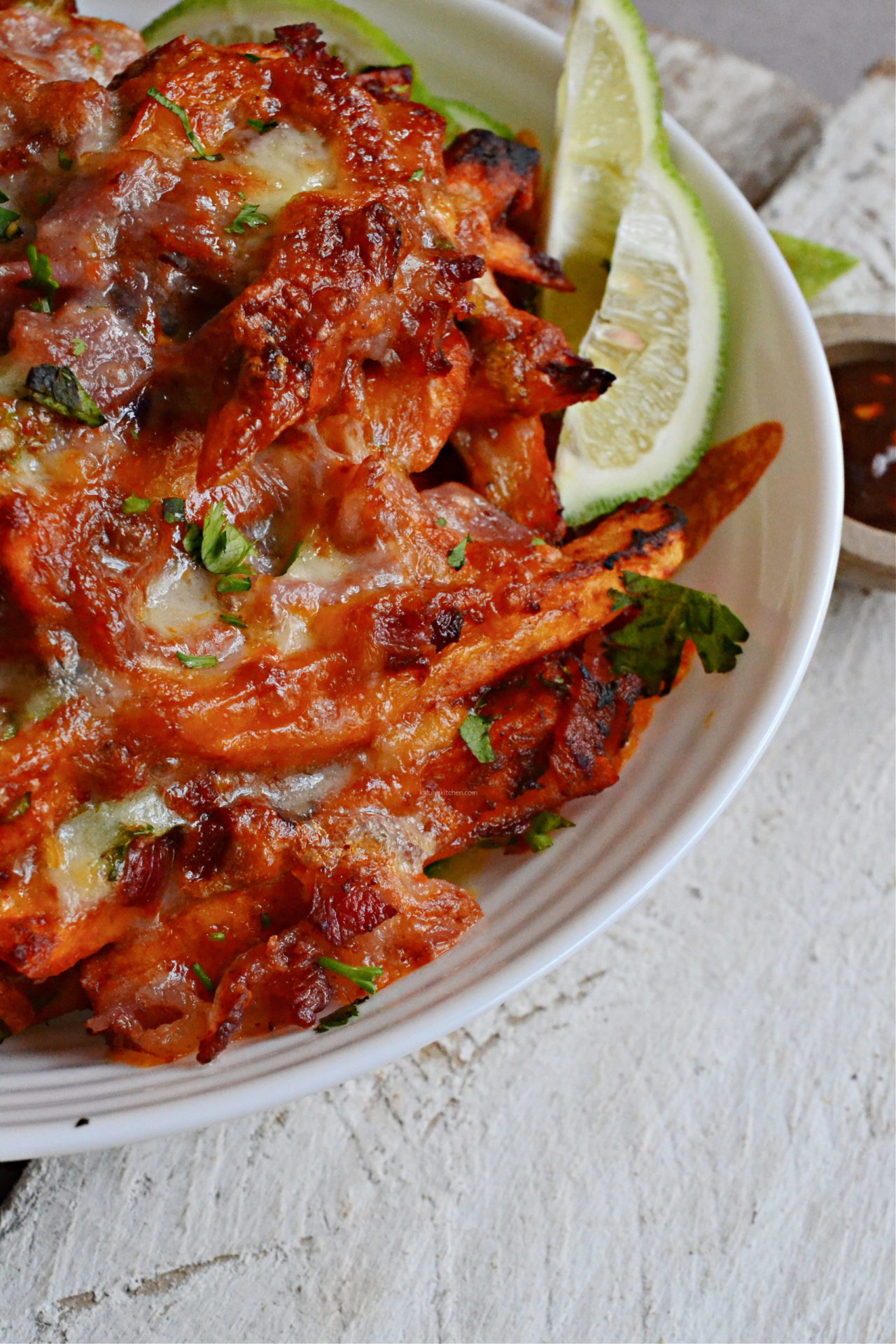 I cannot wait for you guys to try this out! Thank you so much for passing buy today's video and giving it a watch! And I also love it that you have subscribed!
See you next week guys!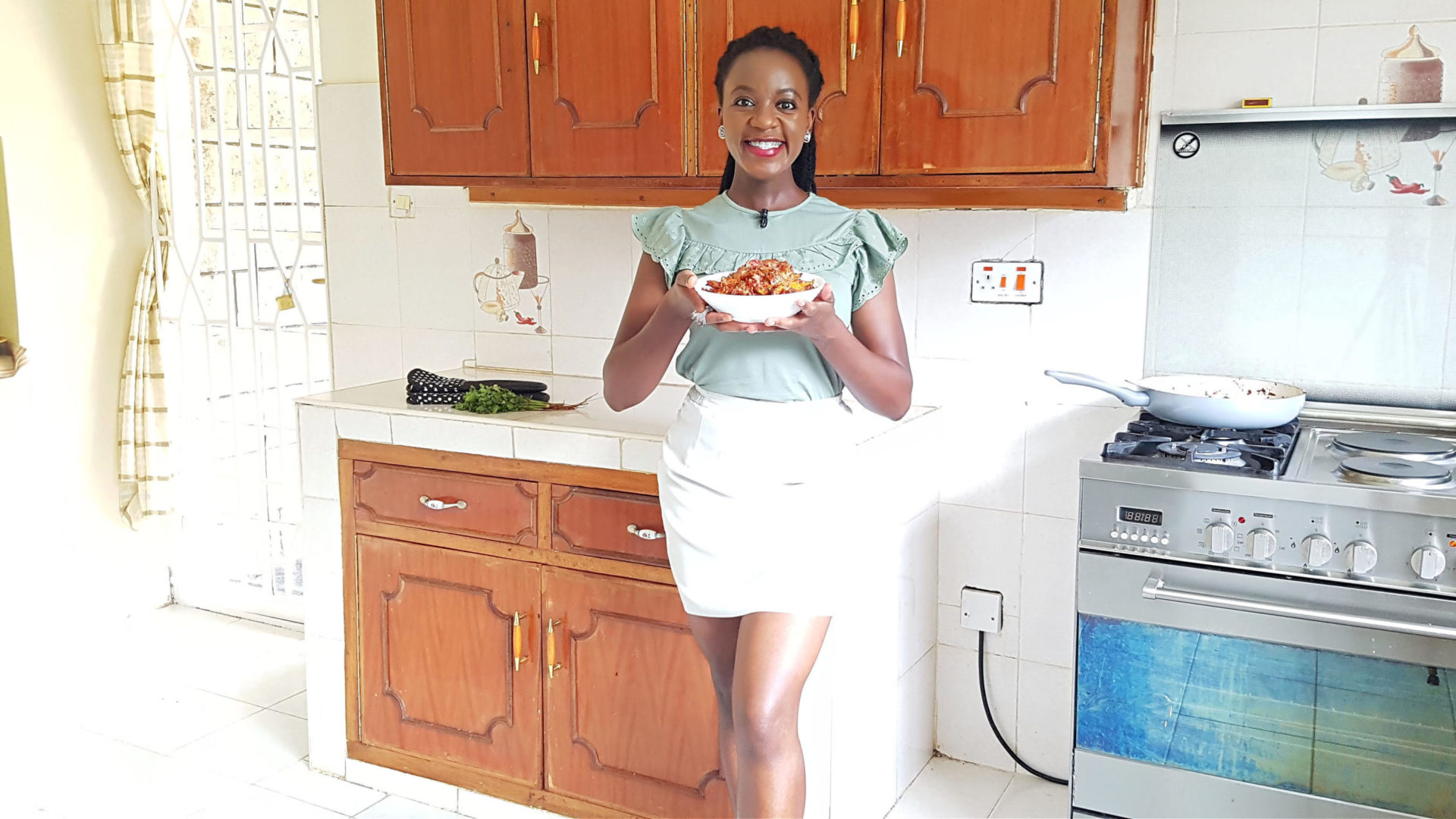 xx
---
Get your downloadable recipe here :))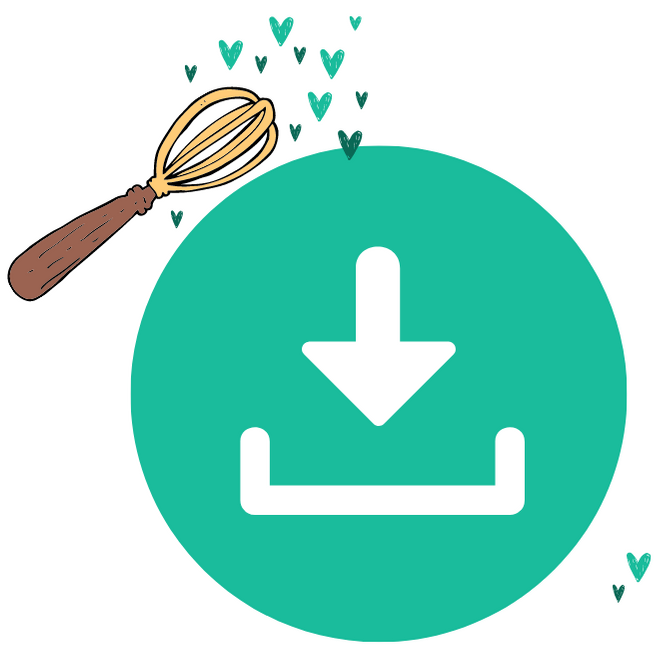 ---
All content and images are copyright protected by



Do not copy in part or whole without giving due credit.
---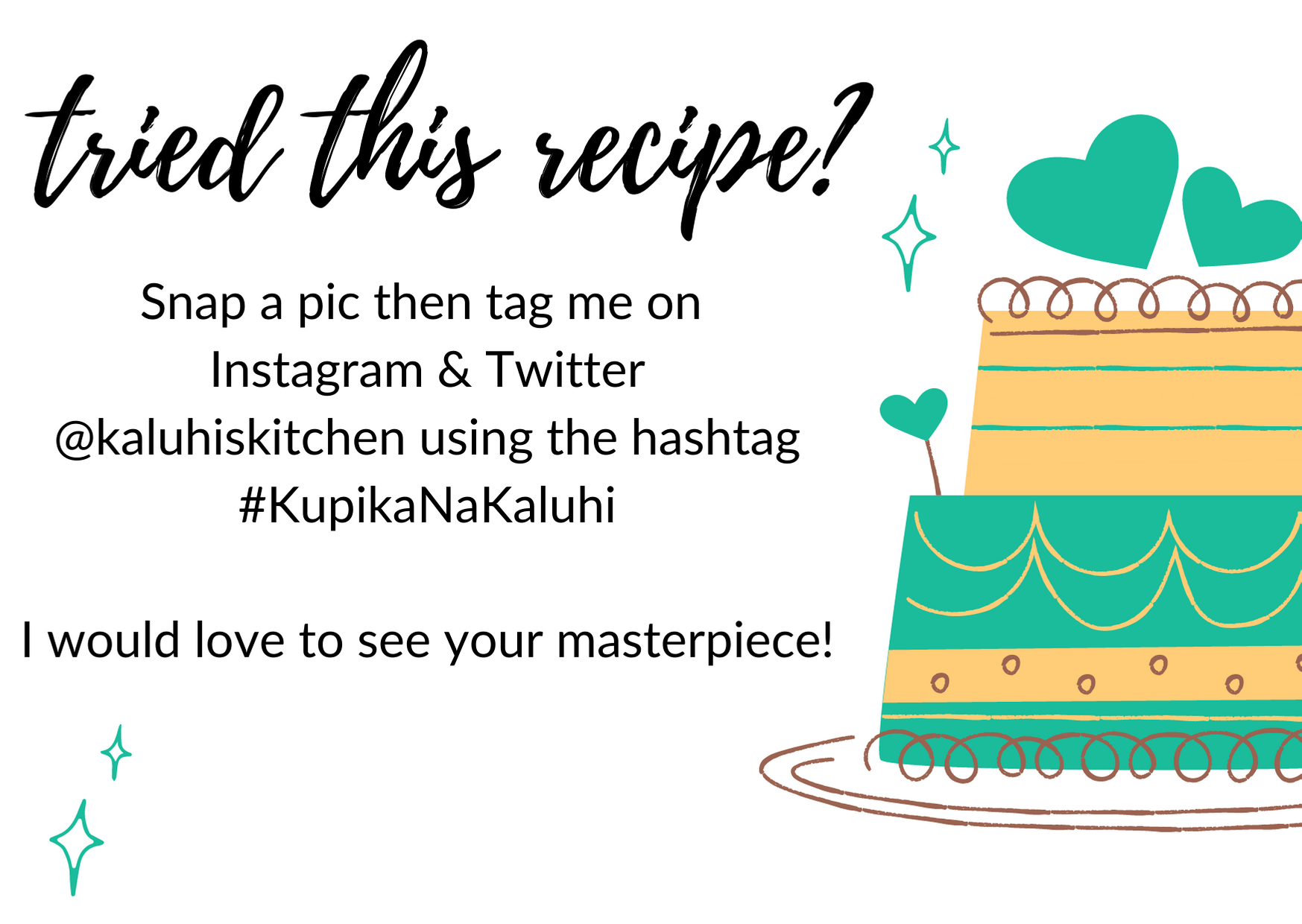 ---