If you love potatoes, you know very well when that craving (or should I say Kraving;))) kicks in, you just cannot shut it down! It is like that itch that you just cannot ignore, or satisfy by scratching indirectly. You have to go all in and satisfy it. When I had one of such kravings a few weeks ago, I decided to make fries. I rarely eat fries, but when I do, especially at home, I like to make it worth while and usually, that involves making masala fries. Including this one, so far as at 2017 we ahve three masala fries recipes on this blog. I made this first masala fries recipe in 2015 (check it out if you have not and please forgive my photography skills back then I was struggling :DD), this other one that everyone loves that has garlic and rosemary as the main flavor notes and today's recipe takes it all to a stratospheric level!! No mediocre! Because as you know you know, with K, things are always FIRE!!
Today we have the most perfect Friday/ weekend recipe: Honey Whiskey Masala Fries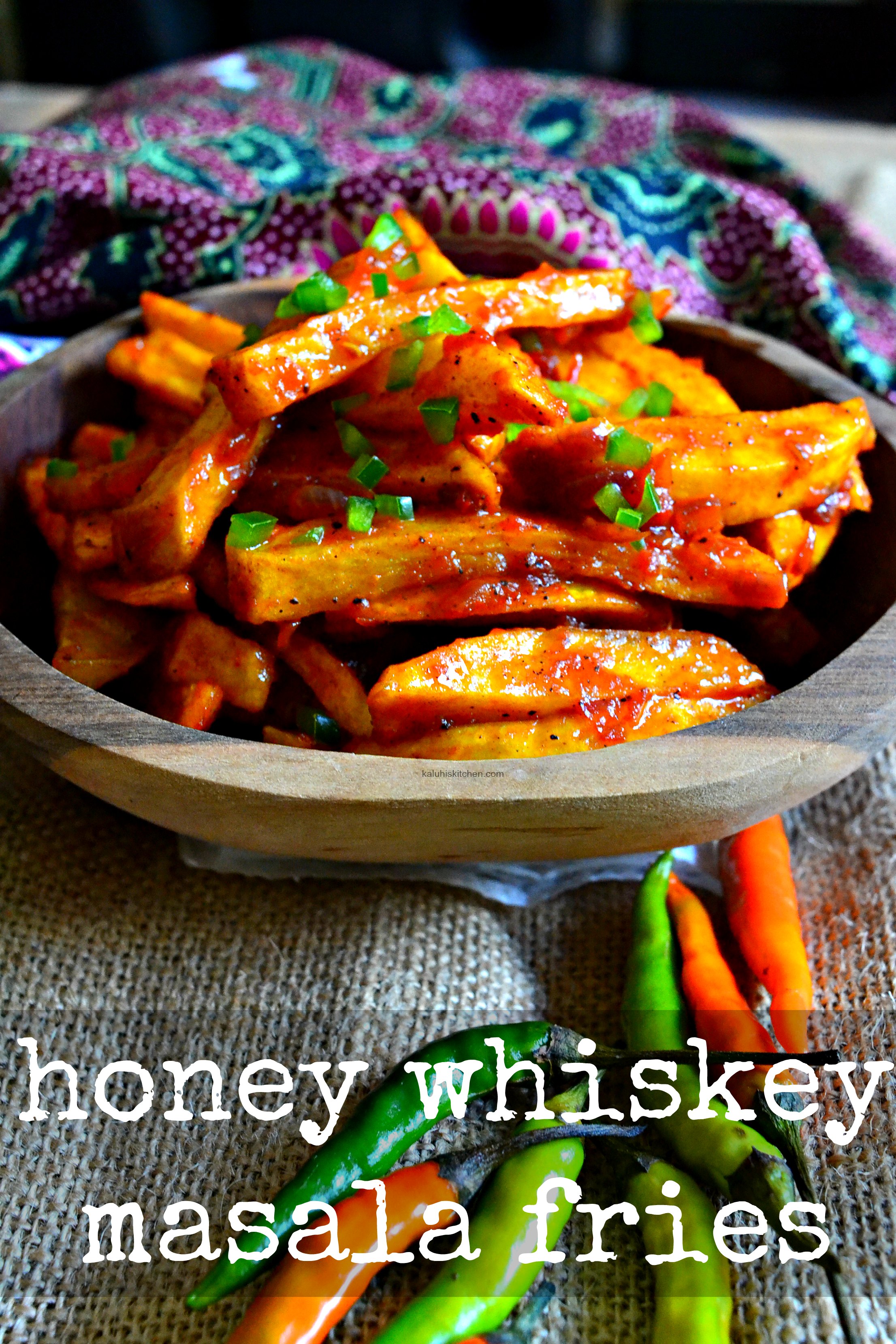 PREP TIME: 10 MIN MAKE TIME:25 MIN SERVES: 1
Ingredients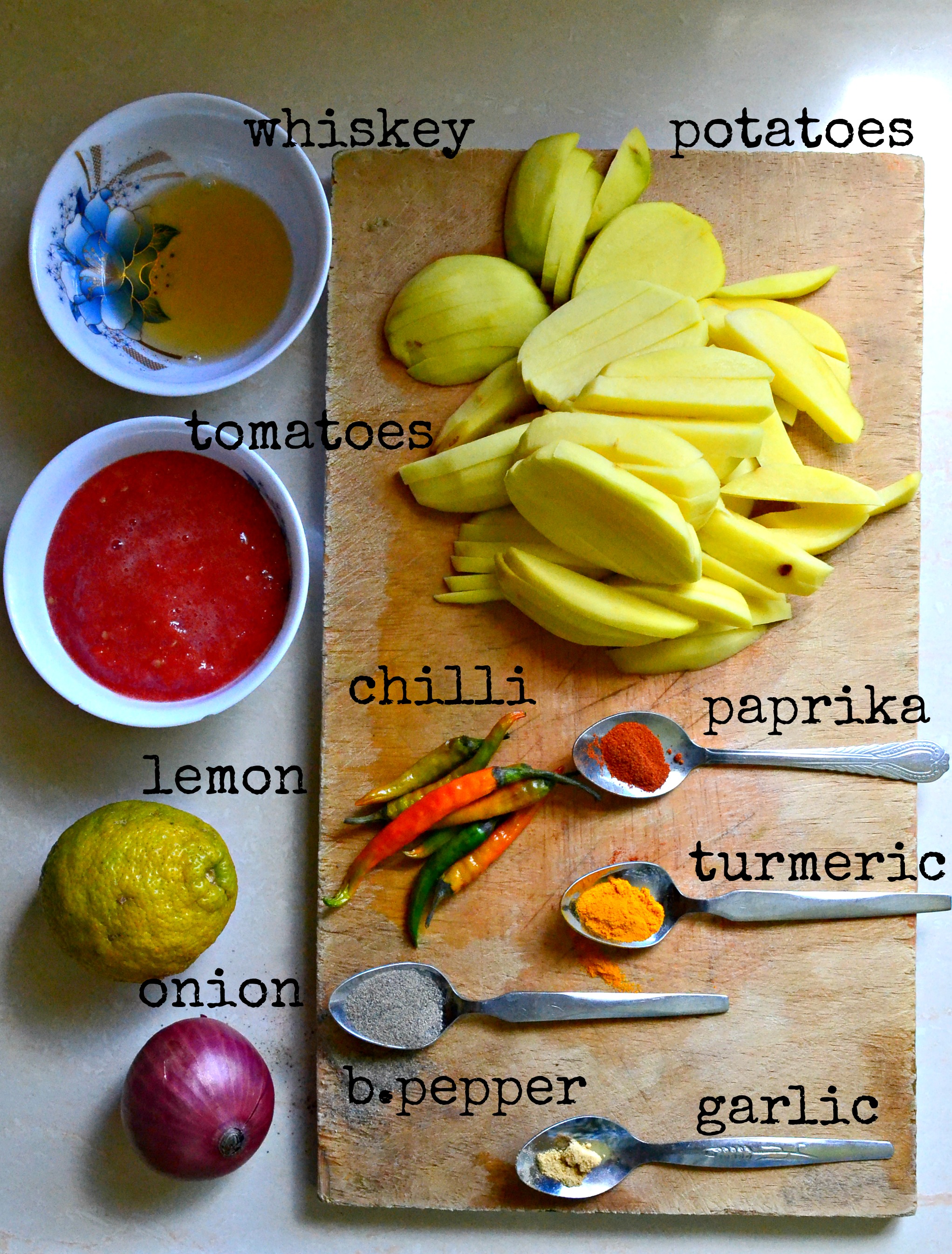 4 potatoes, peeled and chopped
1/4 cup of whiskey
1/2 a red onion, finely chopped
2 tablespoons of freshly squeezed lemon juice
1 tomato, grated
1 tablespoon of tomato paste
1 tablespoon of honey
4 cloves of garlic, minced
1/4 of green bell pepper (or coriander), finely chopped for garnish
1/2 a 1/2 a teaspoon of black pepper
1/4 teaspoon of turmeric
1/4 teaspoon of paprika
Vegetable oil for frying
Salt to taste
Method
In a pan, add your vegetable oil and heat it. Add your peeled and chopped potatoes and allow them to cook until done. Once that is done, remove your fries from the heat, drain any excess oil and add them to a bowl. After that is done, begin working on your sauce.
In a sufuria, add your red onion, garlic, the spices and allow this to cook down until the onions have softened and the garlic is fragrant.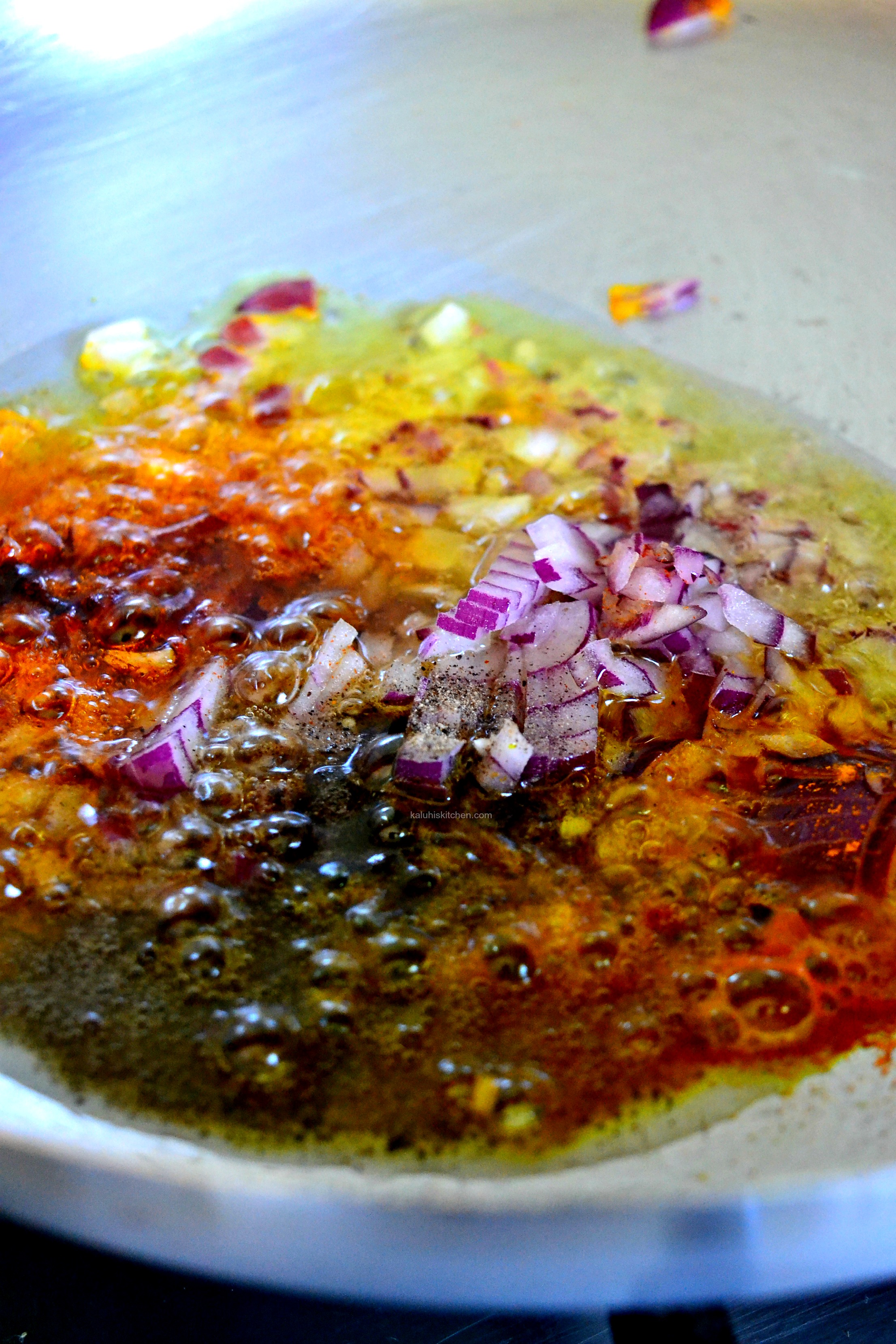 Add your tomatoes,finely chopped chillies, lemon juice and the tomato paste and honey. Add the honey a table spoon at a time. Taste your tomatoes and if need be add more. If you add too much at a time, this will throw off the taste of everything. Be very careful at this stage; you want mildly sweet spicy fries, not honey fries.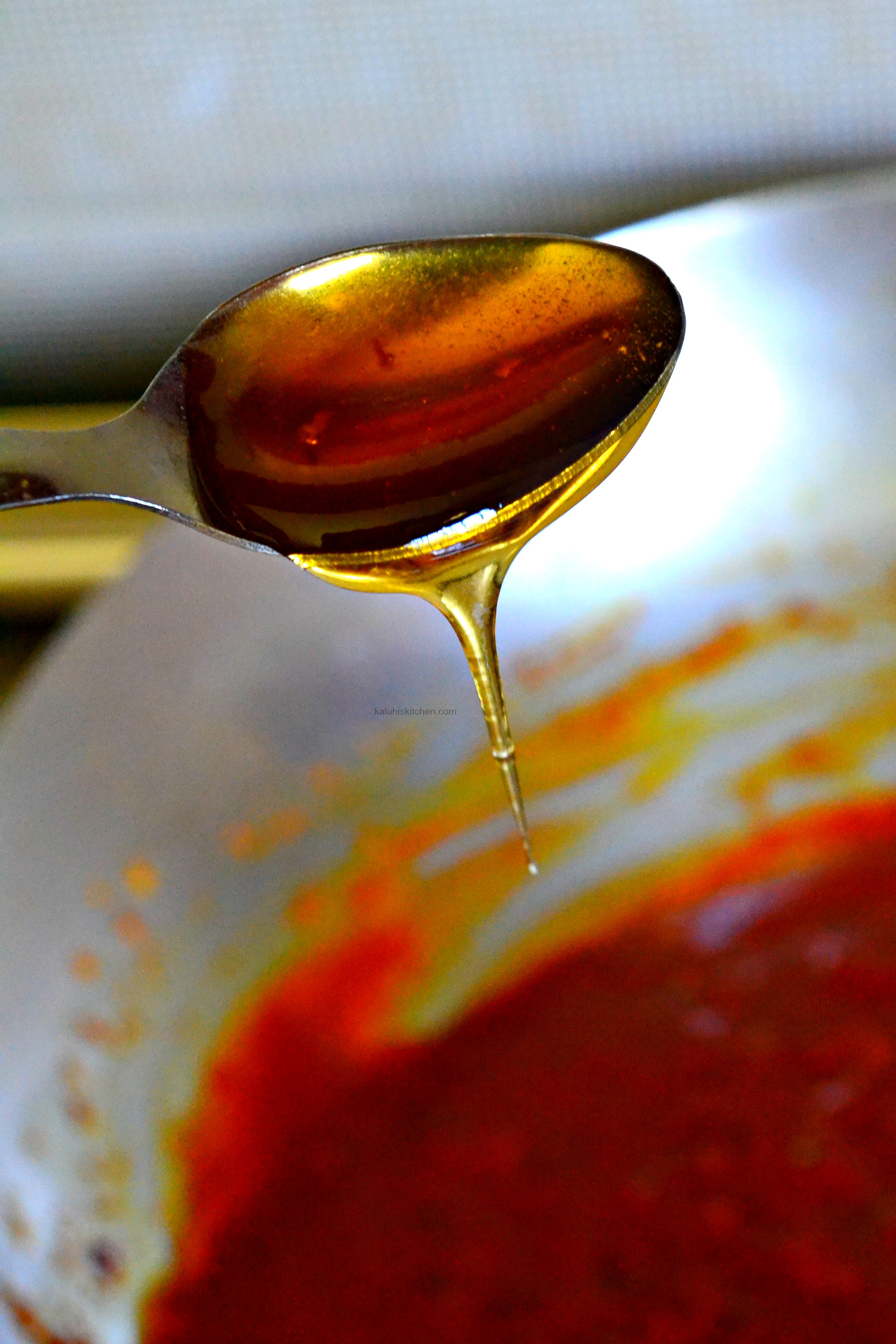 Let this simmer down for about 5 minutes. Add your whiskey and allow this to simmer for 5-9 minutes for all the alcohol to cook off. Remember, we only need 1/4 cup for the quantities I have used. The sauce needs to have **a hint** of booziness, not taste like a shot. A little goes a long way.
Besides whiskey, I would recommend brandy, a dry white wine or rum. If you choose not to use any alcohol for one reason or another, feel free to leave it out, but your fries will not have the (amazing!!!) boozy kick as a result.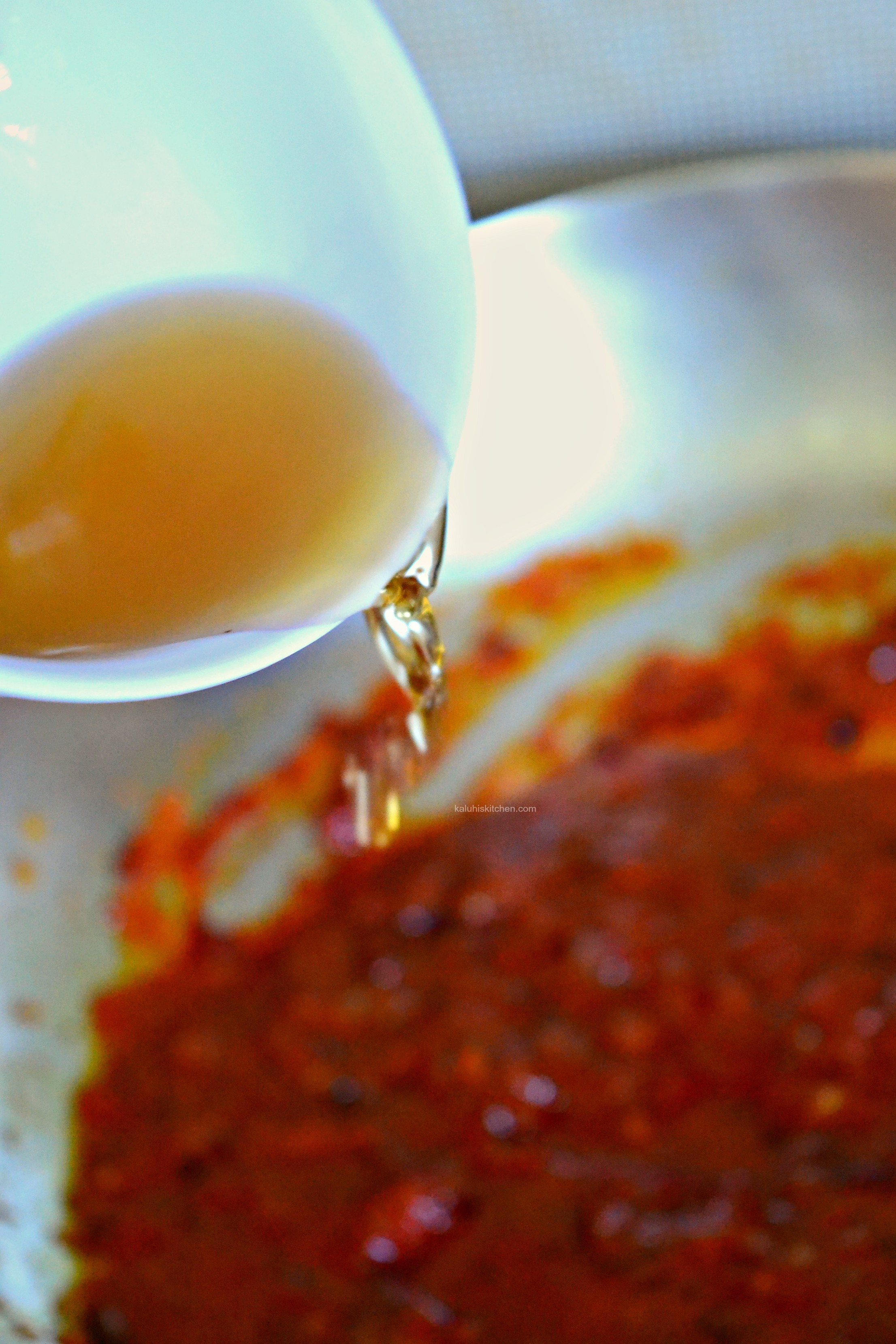 I know one of you is thinking: "So, will I get drunk when I cook with Whiskey (or any alcoholic drink)? "
The answer: NO
Cooking is very much a science as it is an art. Do you guys remember when we were learning about various liquid boiling points during Chemistry class in high school? We learnt that alcohol has a very low boiling point. Meaning, it evaporates very fast when heat is applied. Now, when you cook with an alcoholic beverage, the alcohol evaporates in the very early stages of cooking. It is cooked off. What is left behind is the other ingredients and flavors that were used to make the alcoholic beverage; and that is EXACTLY what we are after. We cook with alcohol not to get high (which doesn't even happen), but to get to the other layered flavors there in. Please please remember this! When someone tells you they got high after eating food cooked with alcohol, just know they are lying because you know and understand the science behind what happens when you cook with alcohol.
After about 10 more minutes, the sauce will have thickened and the flavors completely melded, remove the sauce from the heat and pour it onto the fries.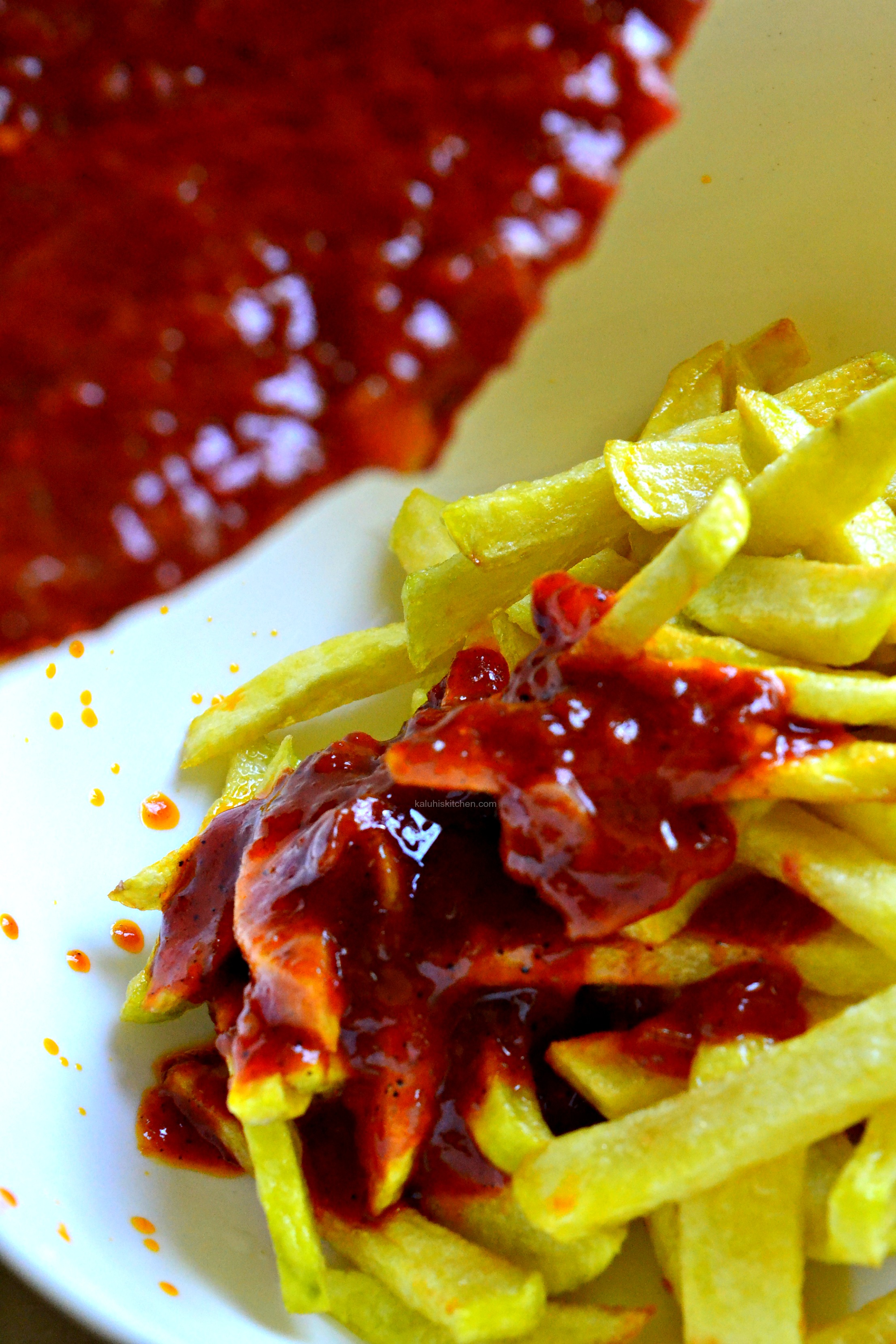 Toss them until completely coated. The sauce needs to be thick so that it coats the fries well. You want juicy looking fries, not fries that look like they have been soaked in watery stew.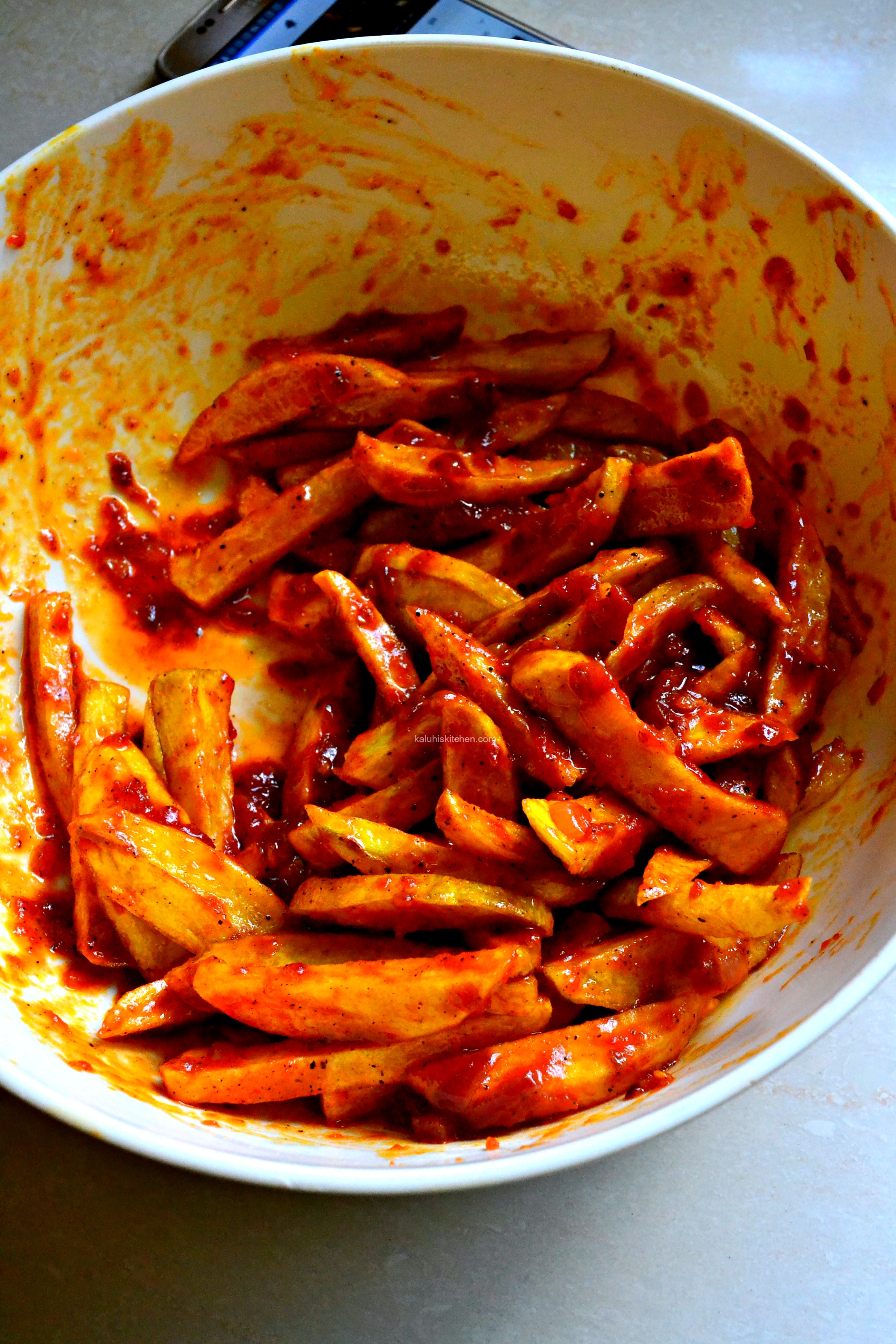 Once done, sit on the kitchen floor, eat from the damn bowl like a hungry demon and lick it clean serve. Garnish with your bell pepper (or coriander) then serve!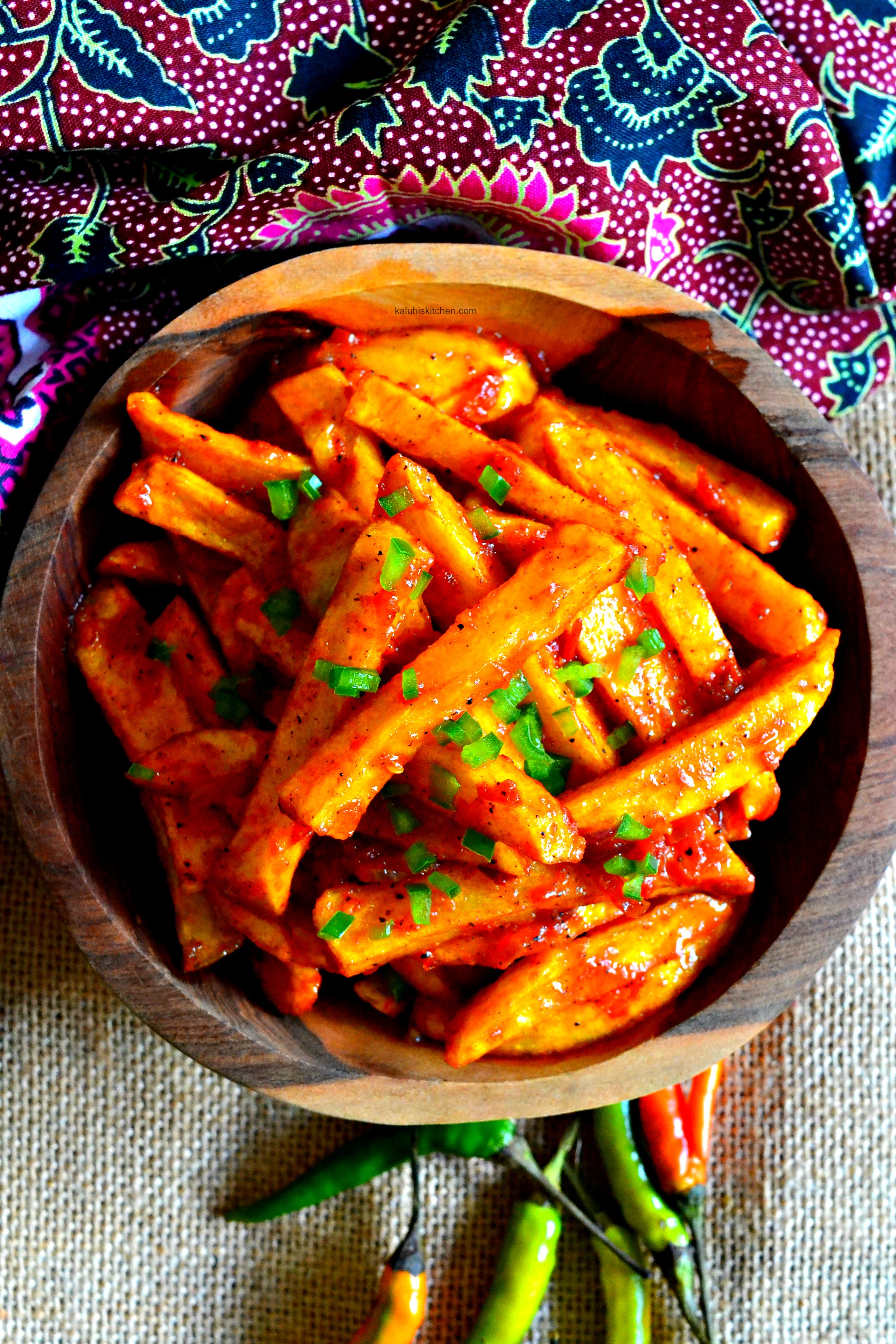 I think I do not need to go deep into convincing you how delicious my honey whiskey masala fries are! I gave you a teaser on twitter and you guys said thought end of January was too far to have the recipe. Thank God, the wait is over!! This is simply a MUST TRY recipe for all.
Enjoy this with something meaty like my thyme and garlic goat meat dry fry along with a light kachumbari or a fruity salad for balance. Or if you please, have it on their own, with a tall glass of your fave juice.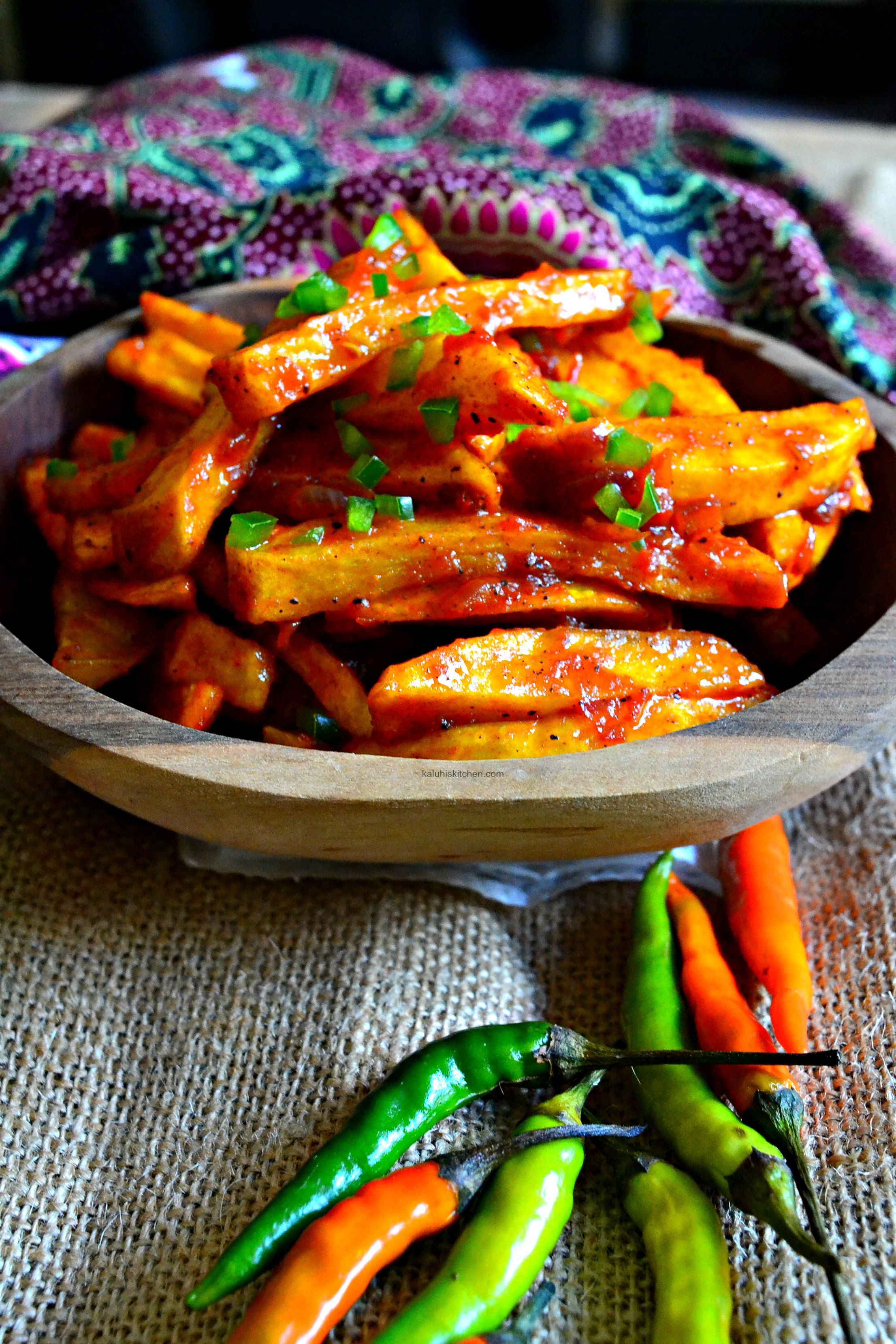 The beauty about these masala fries is of course the hint of booziness. Make sure your sauce it thick so that it coats the fries well. The fries are still dominantly hot, but the sweetness of the honey peeks through balancing everything out. These were so delicious I had to  hold myself back as I was about to fix myself another plate.
Can we please make 2017 the year that food pics become downloadable onto your table, hot and ready!? But as we wait for that, give this recipe a try :))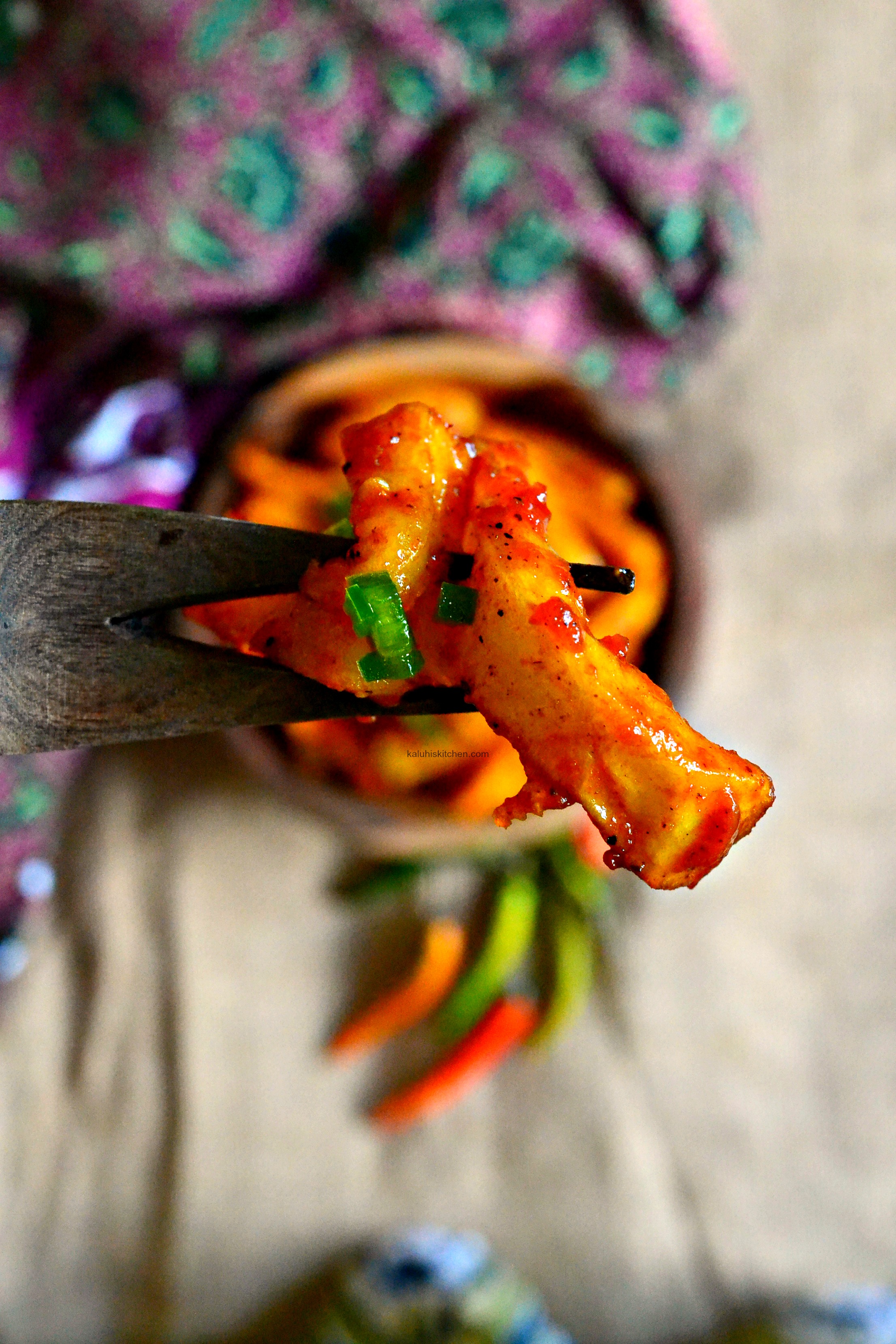 To fantastic food!
-K
---
Get your downloadable recipe here :))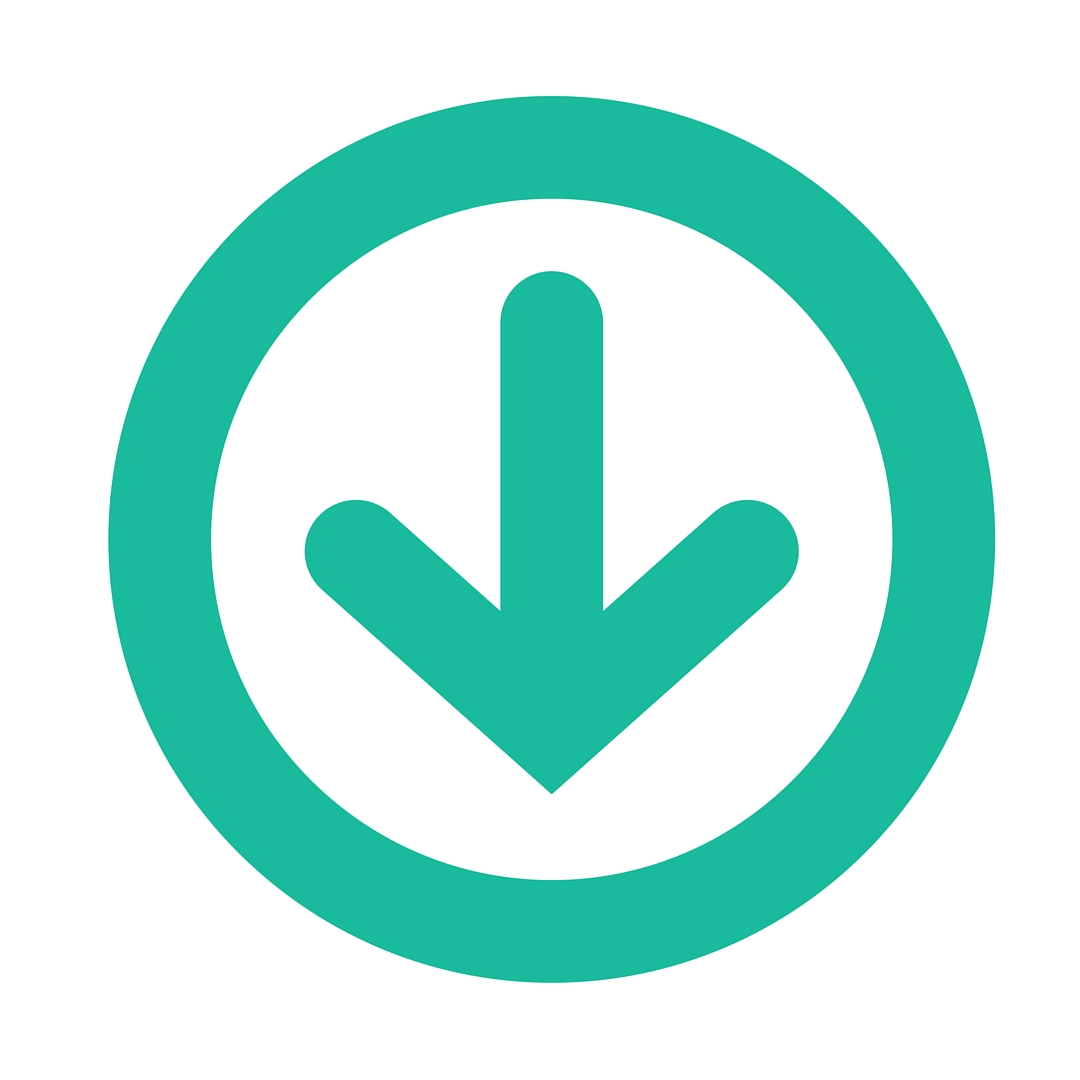 ---
All content and images are copyright protected by



Do not copy in part or whole without giving due credit.