I am always asked this question "But do you ever have kitchen fails?" And my answer is always the same "Like everyone else on earth, I make kitchen blunders" It does not matter if you are the best chef in the world with years of training, mistakes are bound to happen. Let me tell you, I make major messes, it's just that I do not show them to you or you do not see them all. But that has never kept me from trying and improving. I am a food blogger, but that does not meat I am a demi god who has never made a cooking error. For me, I take each failure as a learning point. After each mistake, you get to learn what not to do next time of what to change up next time. I encourage each one of you to develop the same outlook. Mistakes will happen, but do not stop trying and growing.
Today, I am laying myself bare. I will show you some of my countless errors. And I must say, I would not have gotten as good if I did not make mistakes along the way. Let this serve as encouragement to you, mistakes will happen in the kitchen. You will make master blunders. But never let than prevent you from getting better and better. In no particular order, here we go: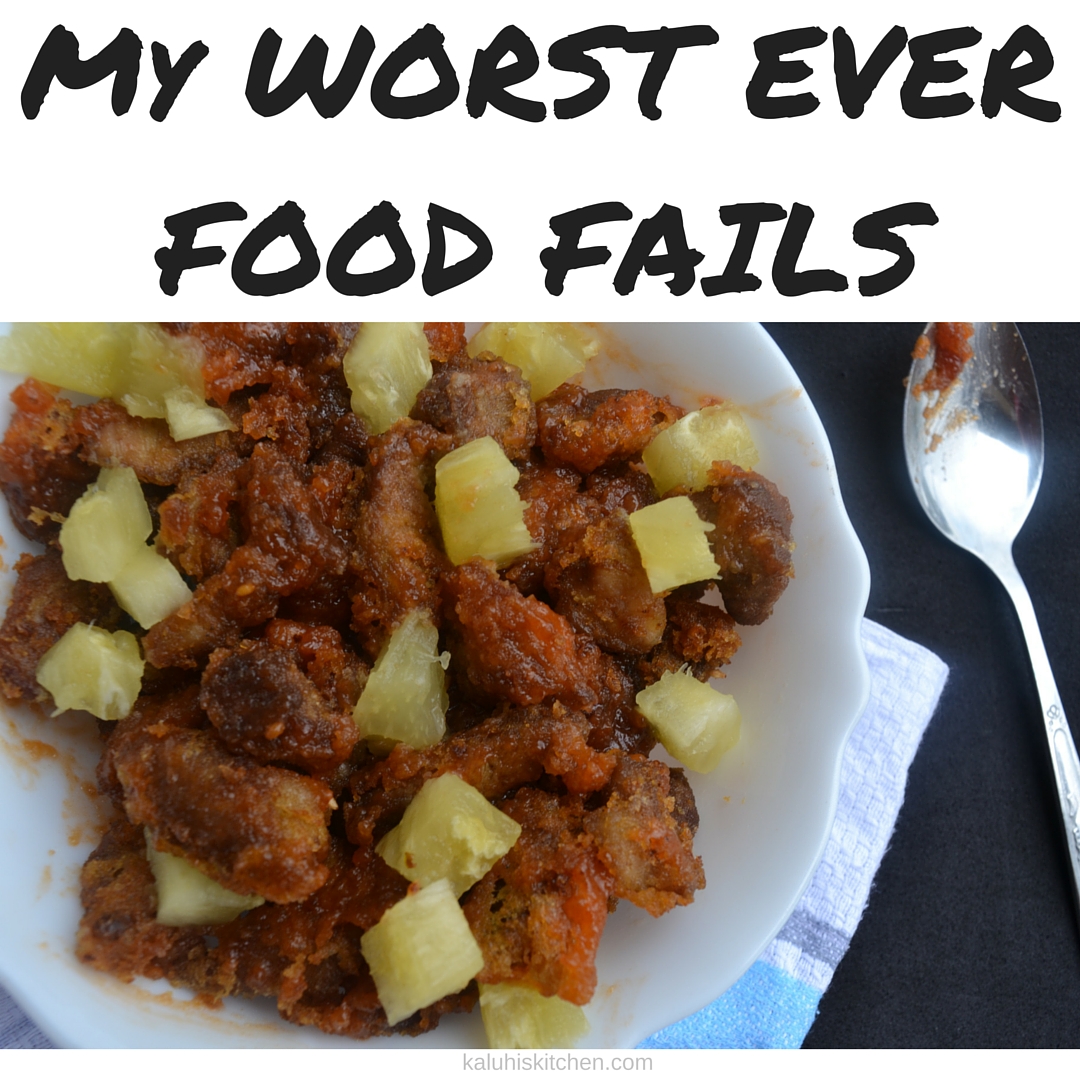 1. Red Velvet Pancakes
As the title says, the pancakes are meant to be red since they are RED VELVET PANCAKES. Everything was going well, I had taken my pictures and I was progressing well. That was until the pancake batter hit the pan. My amazing red batter turned brown/orange the moment it landed on the pan. My pan is non stick, and my pancakes NEVER stick, but these ones stuck to the pan, almost as though they were reacting together with the aluminum and forming a new element. Instead of them having a smooth surface, it became bumpy and rough akin to pawpaw seeds. I just could not take it! FAIL!!!! I saved the picture of the batter, just to remind myself of this day. I wish I saved the actual backfired pancakes.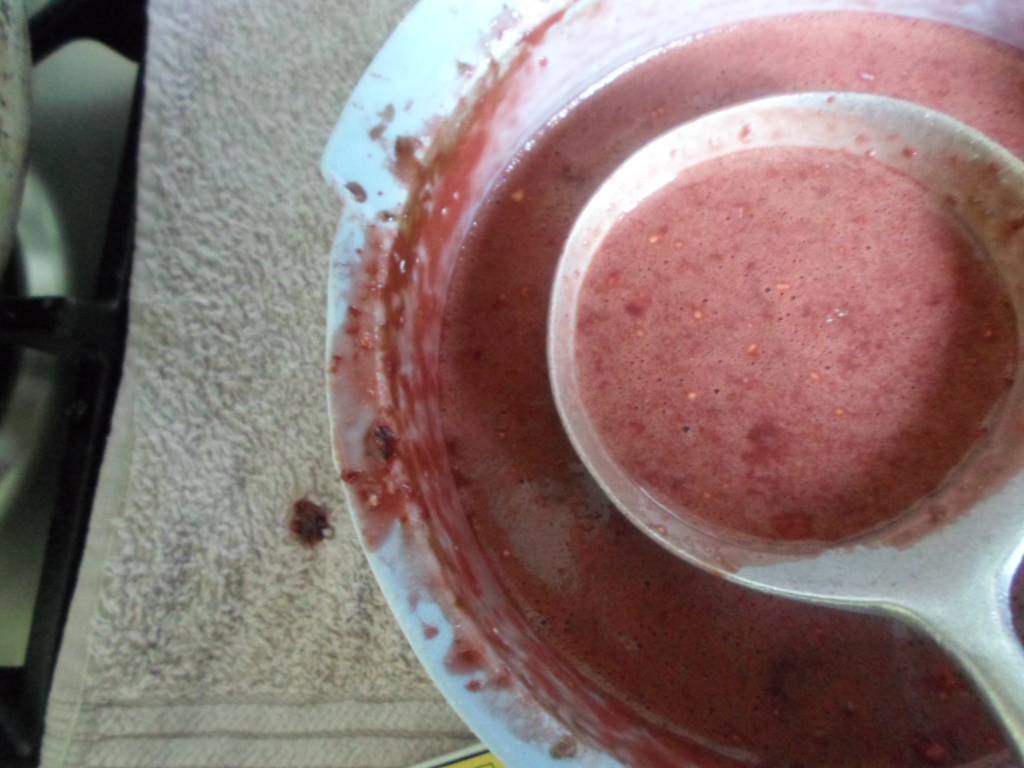 I canceled that post and bounced back almost immediately and made these drop scones with chocolate strawberry yoghurt ganache that same day. Always bounce back!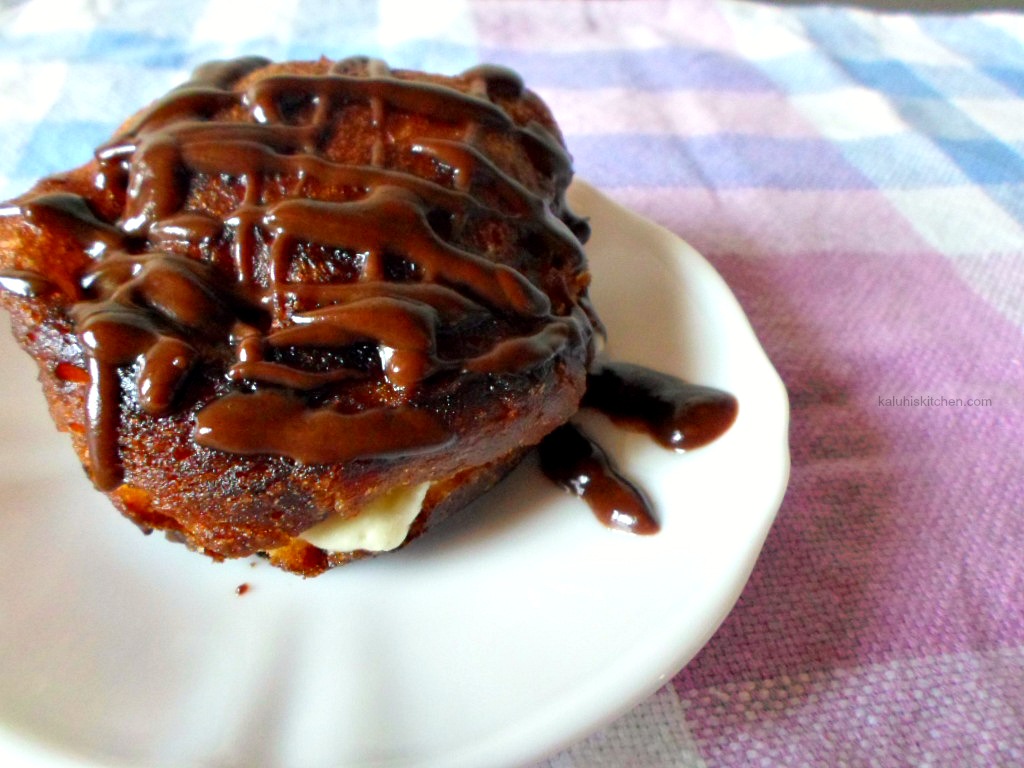 To be honest, I still do not know what went wrong with my red velvet pancakes. I still have nightmares about that rough orange/brown surface of what was meant to be my red velvet pancakes.
Pork Fail
A lot of trial and error goes into recipe development especially when you are a self taught cook. Ask any food blogger! That means disaster is part of the game. You guys never saw was the complete disaster of a pork recipe I had before I landed on the perfect ingredient combination. Look at the pictures below and compare them. Both are pork recipes but look at how different they look. After a pathetic disaster, I worked on my errors and gave you an outstanding recipe.
The later picture is hideous, even if it tasted ok, I could not bring myself to post it. It looks atrocious and tasted average. I could not bring myself to publish a mediocre post. This pushed me to try again, change things I thought never worked in the first recipe and the result was mind blowing. You guys really LOVE this recipe. Not a day goes by without it being viewed and downloaded. I am talking about my sweet and sour pork with pineapple salsa. You can also check out my other  phenomenal pork recipe, plum marinated pork and give both a try :))
So to you too, do not let yourself go through life with the spirit of defeat. When you stumble a little, get up and give it another shot. That is the only way you will get better.
Chapati Kuni
Yes, you read that right. I made chapati that were as hard as firewood. I usually make my chapatti dough with warm water, but this time I don't know why I felt cold water would work just as fine. The kneading went well, so did the cooking. But after I finished cooking them and wanted to roll them up for the final photographs, they turned from chapatti to firewood right before my eyes. LOL. You could hit someone with this chapatti on the head and have a homicide in your hands. They were HARD!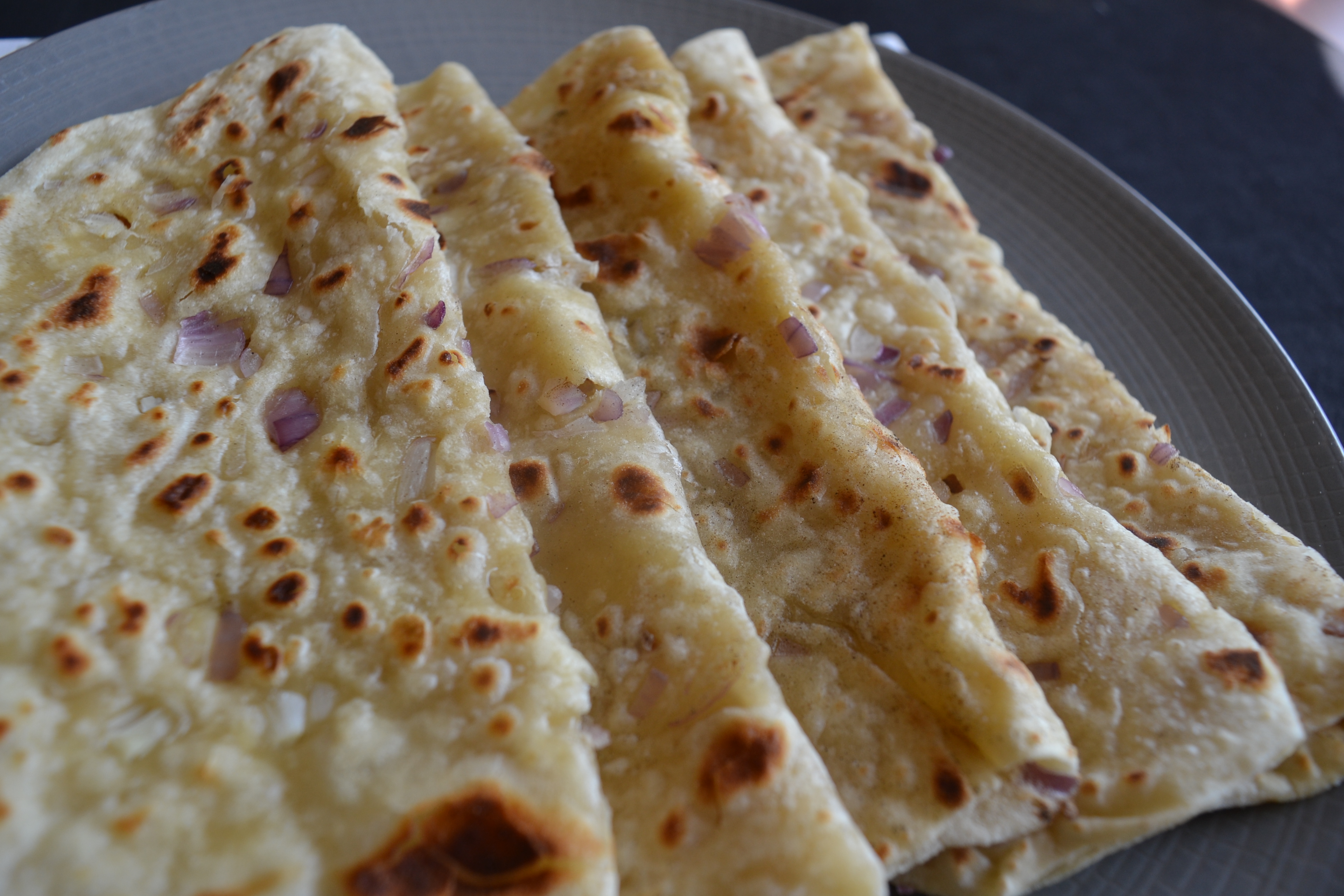 I learnt from my mistake and made chapo ever since; nice soft ones. I have a chapo recipe for you guys in April and I am so stoked with how they turned out. You will def love the one that is coming in a couple of weeks! In the meantime, savor my butternut and dhania chapatti.
Cassava soup
LOL! How disgusting does that sound? Allow me to laugh at myself because I actually tried to make cassava soup! Cassava SOUP! ROTFLNBITH (rolling on the floor laughing naked because its too hot). This was the day curiosity actually killed the cat.  It was beyond disgusting. I made a huge quantity so that my sisters could have some too and their facial expression alone should have told me it was bad. LOL. I first tried to convince myself how bomb and healthy it was, but after several spoonfuls, my throat could not let anymore down. And I admitted to myself this is another entry in my list of fails. I unfortunately deleted all the images to this.
Look, I am all for experimentation. But you cannot transform anything to whatever you want just coz you have conceived it in your mind. Try it out, if it works well and good. If it doesn't, try correct your mistake or just move on. But let that not kill your curiosity to try out new things. WE fail and we learn.
Sweet corn fritters.
Making fritters is one of the easiest things to make on this earth. I felt really ashamed failing at something so easy and basic. I wanted to make sweet corn fritters, and easy fast snack or meal if you will. The pictures looked nice, but as I went on, they slowly started to coagulate and transform to plasticine. They were too dense and could not just cook through no matter what I did. The mistake I made was using too much flour.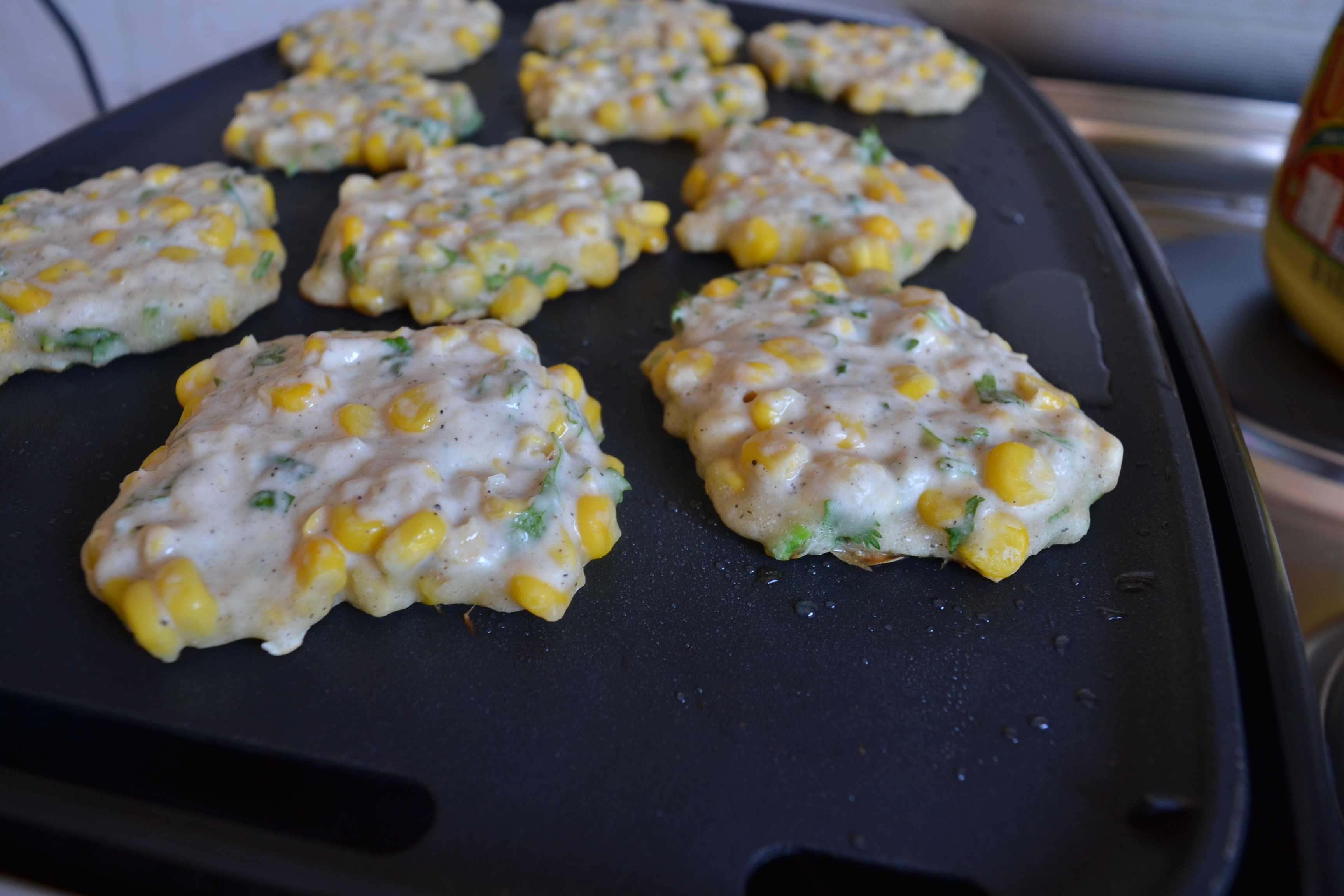 I bounced back a couple of days later and decided to make spaghetti fritters using come leftovers I had in the fridge. The result: Perfection.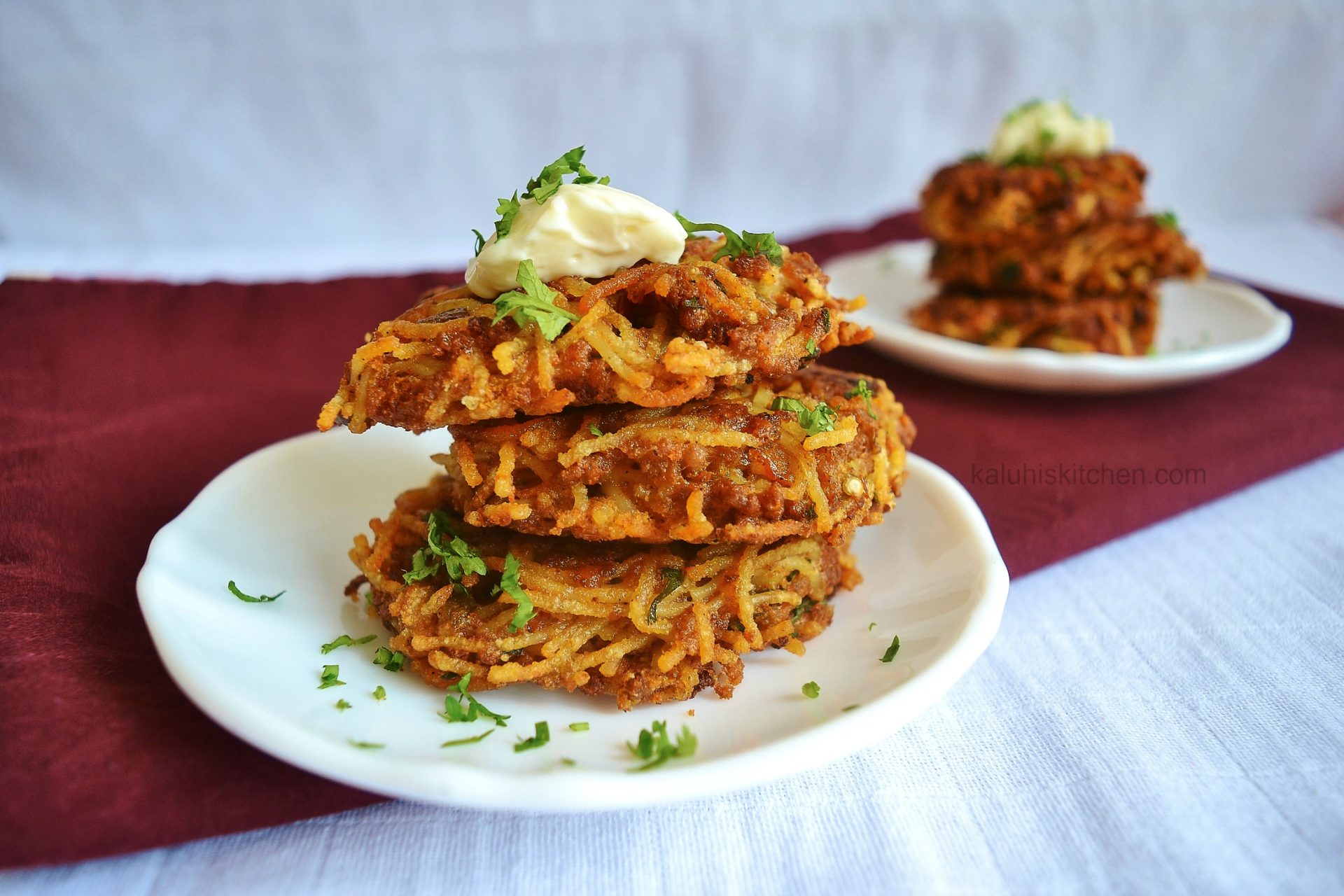 Spicy fried drumsticks.
Is it just me or when you are most EXCITED about cooking something, that's when the chances of it backfiring quadruple? I can't be alone LOL. I had so much enthusiasm while making these drumsticks for Sunday afternoon lunch. The pictures looked awesome, but the actual outcome was lack luster. Something was off. I think it was the brine I used, yet I am more used to using dry rubs for chicken. The drumsticks were bland and some never cooked through. Salmonella anyone? FAIL!
I was disappointed. Not only did the fam not enjoy their Sunday lunch I volunteered to make but I had wasted money on something that was not enjoyed. And also, all my luhya ancestors had a simultaneous gasp when me, an offspring of theirs, messed up ingokho of all things.  I have since stuck to what I know works for my kuku: the family marinade recipe(check it out here) and dry rubs.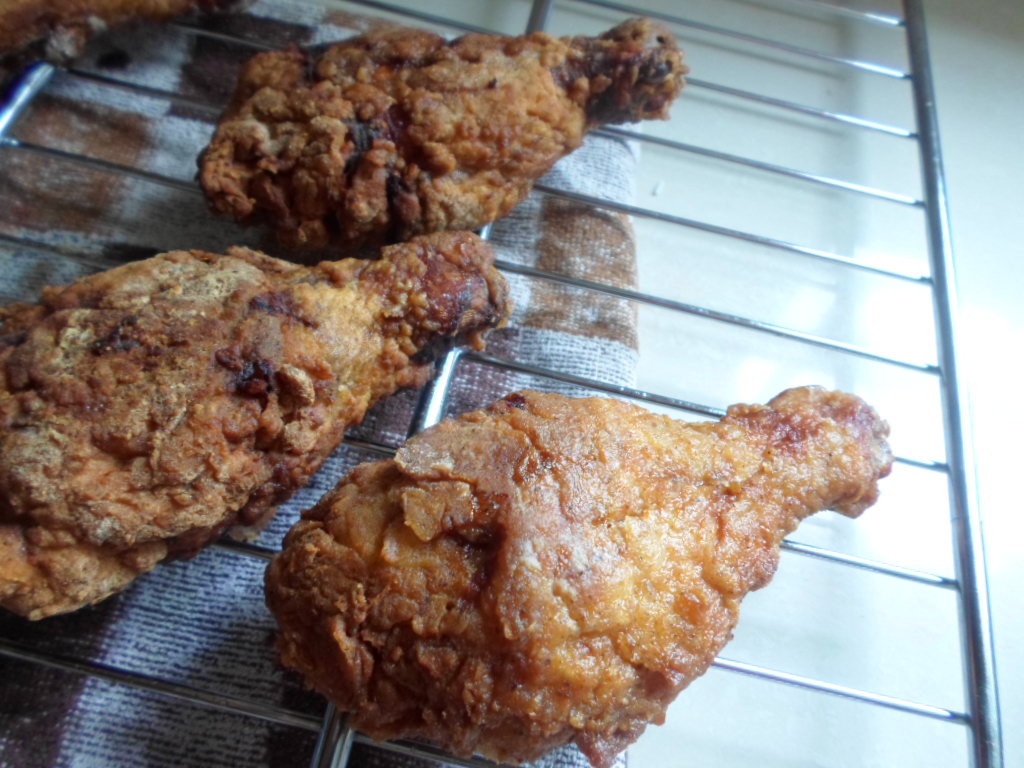 **
If someone ever laughs at you for failing, just smile and ignore because you know you are learning in the process and you are growing and refining your cooking. We all mess up, but never let it paralyze you from ever trying again and improving. Do not be ashamed about your little stumbles. Wear them as badges of honor because one day when you are so good, you will look back and appreciate how far you have come.
What are your worst kitchen fails? Did you find out what went wrong? How did you bounce back? I would love to here from you in the comment section below.
-K
---
All content and images are copyright protected by



Do not copy in part or whole without giving due credit.