One thing I love more than an early morning during the work week is a late – super late – and super slow- morning during the weekends. A slow morning allows you to take in the beauty of the day. The slower pace of things allows your spirit to merge with the wave of time and ride it. Slow mornings allow you to taste the sweetness of the songbirds. As someone who really goes hard during work weeks, slow weekend mornings are a much welcome relief and calm sweetness. It also allows me to really take time and eat yummy things; and yummy things need not be complicated ones.
One of my current weekend favorites are my mushroom and sausage egg muffins. All my favorite yummy things are things are packed in these little beauties. They are the perfect savory bite, super simple to prepare and a true joy to have!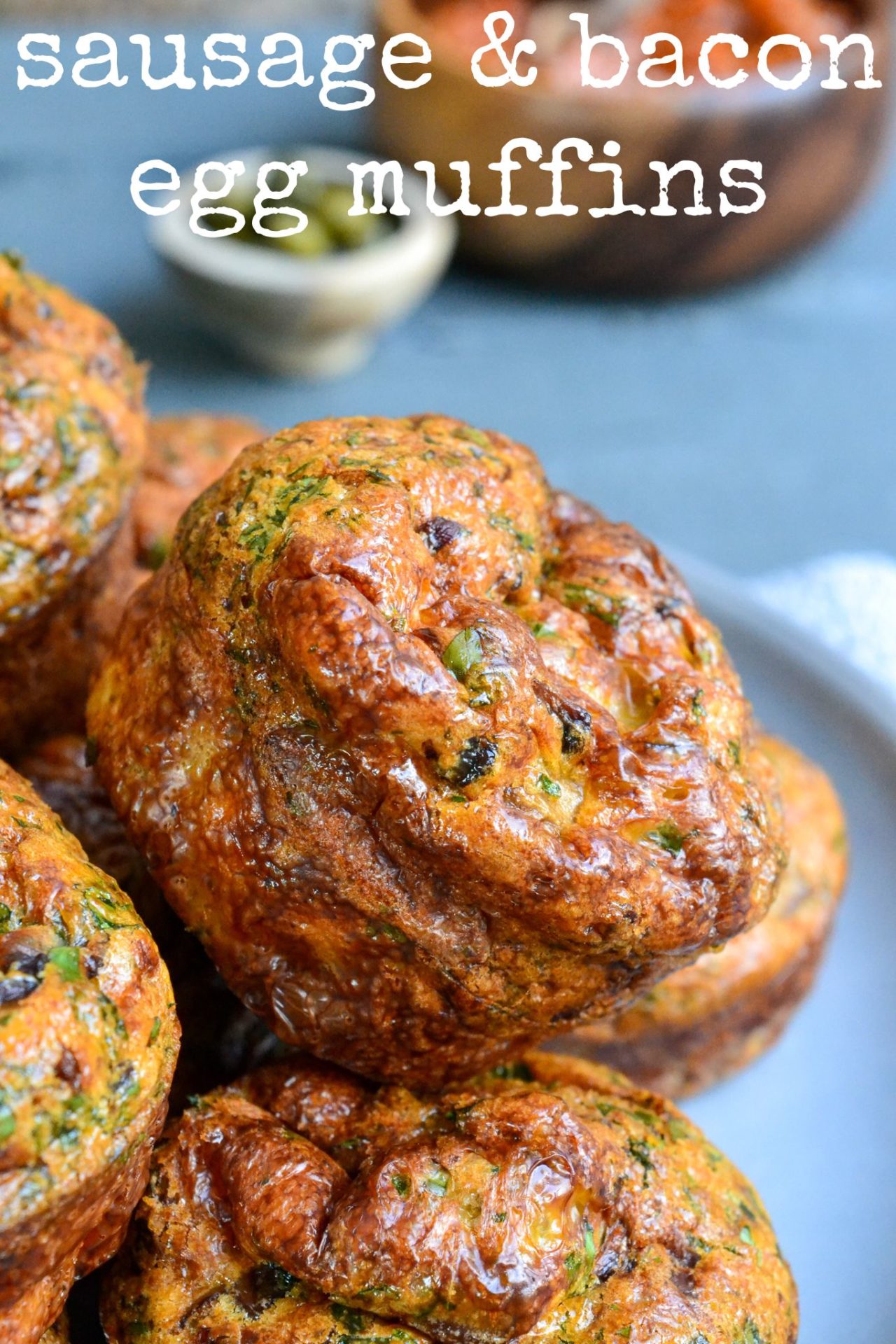 PREP TIME: 20 min     COOK TIME: 30 min        MAKES: 8
Ingredients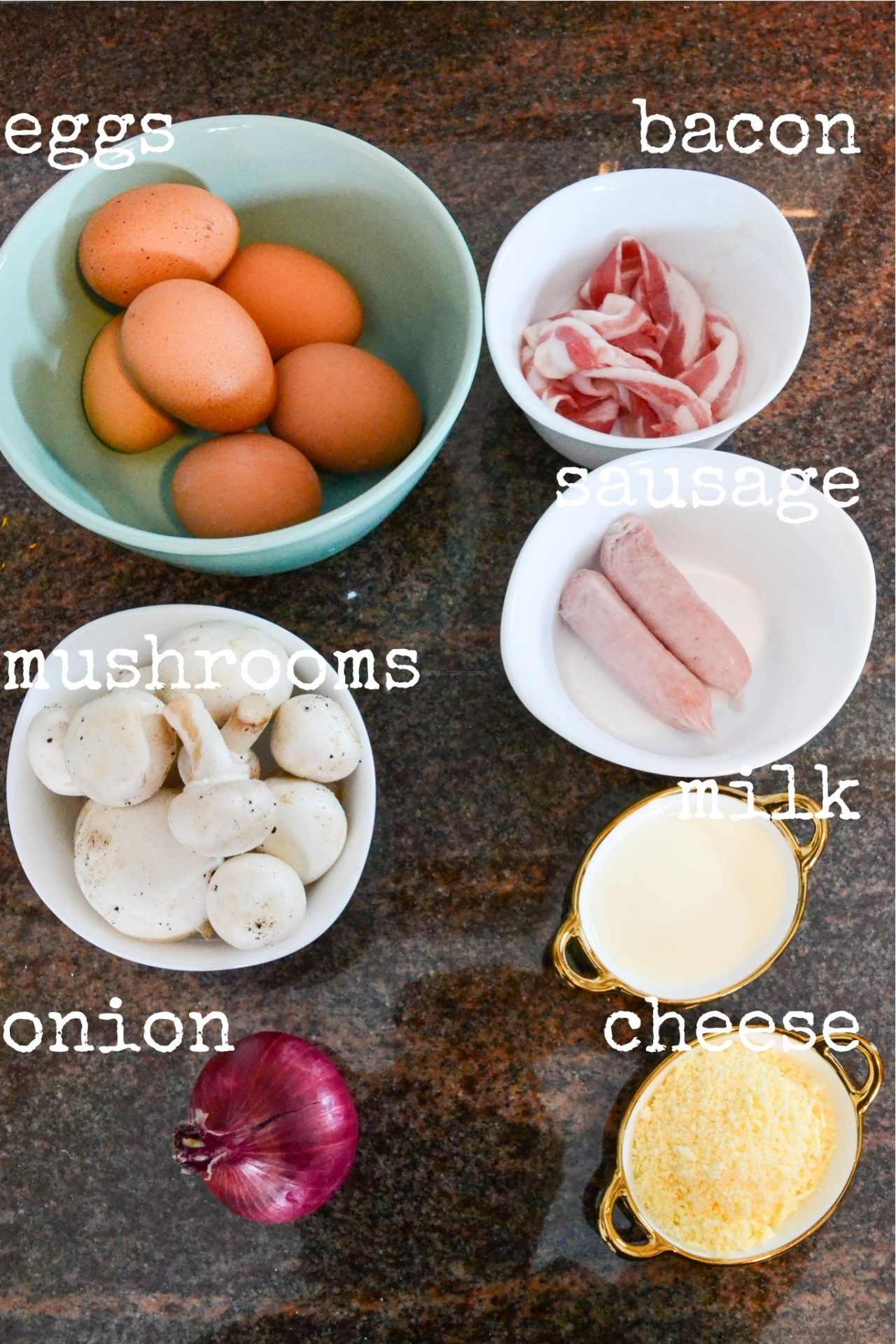 6 large eggs
2 tablespoons of whole milk
2 tablespoons of finely chopped spring onion
1/2 cup of button mushrooms, cooked
2 tablespoons of parmesan cheese
1  cooked large pork/beef sausage
3 strips of cooked bacon, chopped
Method
There are a few ingredients that will require prep before hand prior to adding them into the rest of the ingredients. Those are your bacon, sausage and mushrooms. I started with cooking the bacon and the sausage, and with the rendered fat from that, I cooked my mushrooms.
My sausages of choice are beef chipolatas but you can use any other sausage you like.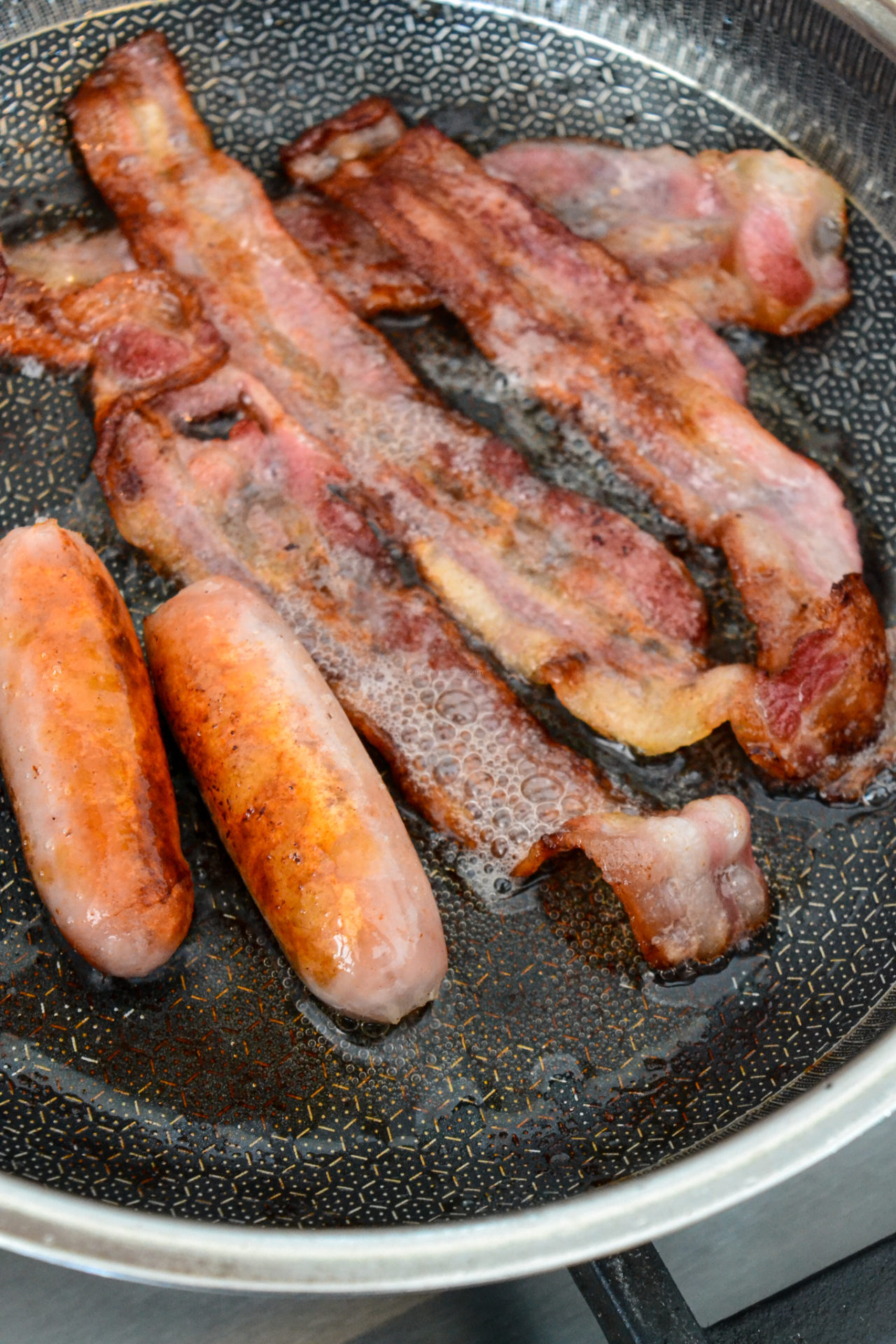 I used button mushrooms, however any other mushroom variety, or combination of several,  would go well with this. I cooked the mushrooms really simple. I just had them sautee in the red onion until shrunken. Chop them small so that they combine well in the later steps.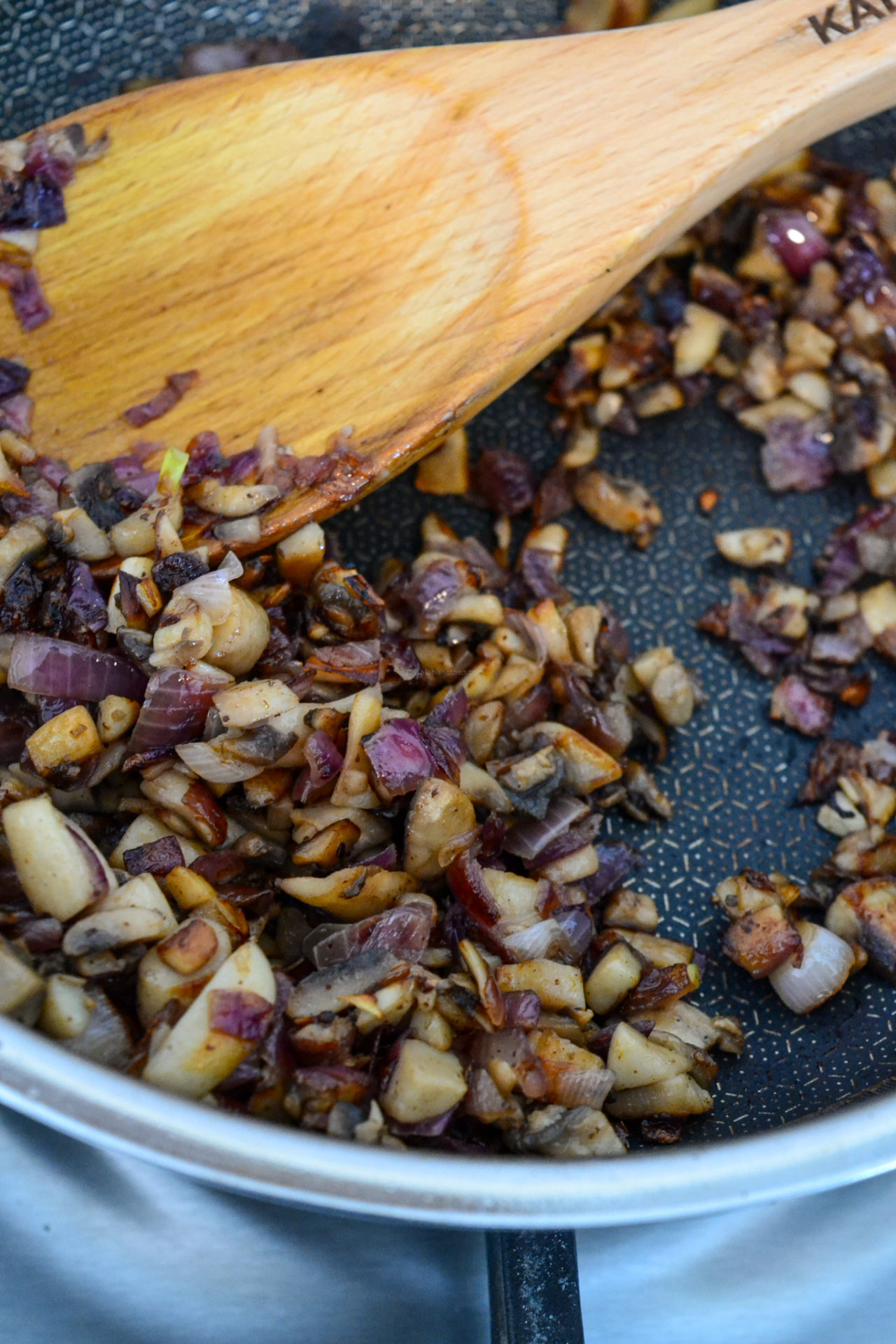 With the sausage and bacon long cooked, chop into small bits and set aside. Make sure both the mushrooms and the bacon and sausages cool down before combining with the rest. Reason being, adding them to the eggs while still hot will cook the eggs and we do not want that disaster.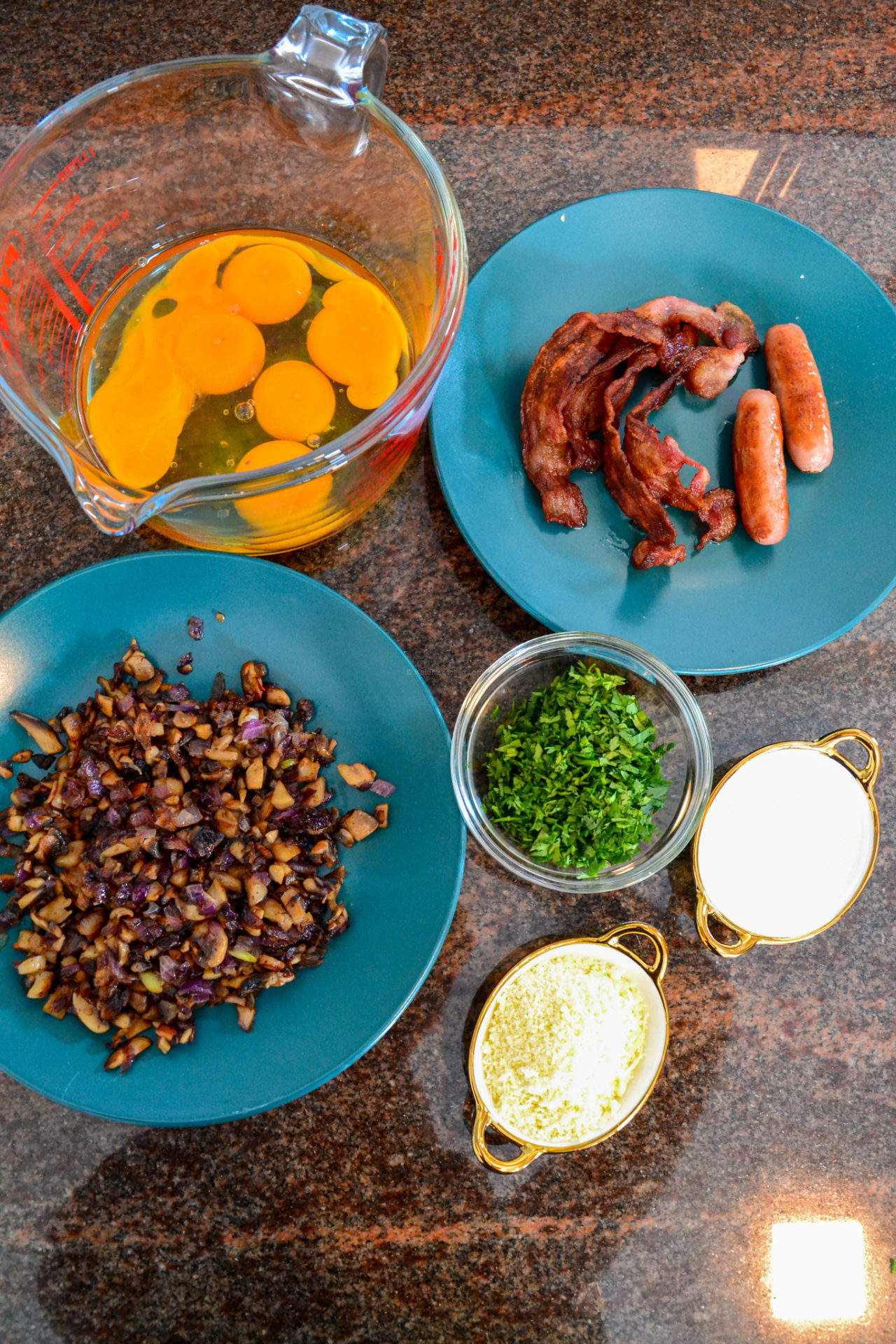 Crack your eggs in a jug, pour in the milk, add the spring onion, the cheese along with the chopped bacon, sausage and mushrooms. Add a dash of salt and pepper and proceed to whisk. A jug is best for this because it has the provision for proper pouring which ensures messy spills do not happen. You can check out how I put together the batter from 4.30 – 5.00 in the video.
I used parmesan for this because of the taste. However if you want some melty stretchiness, add in some mozzarella as well.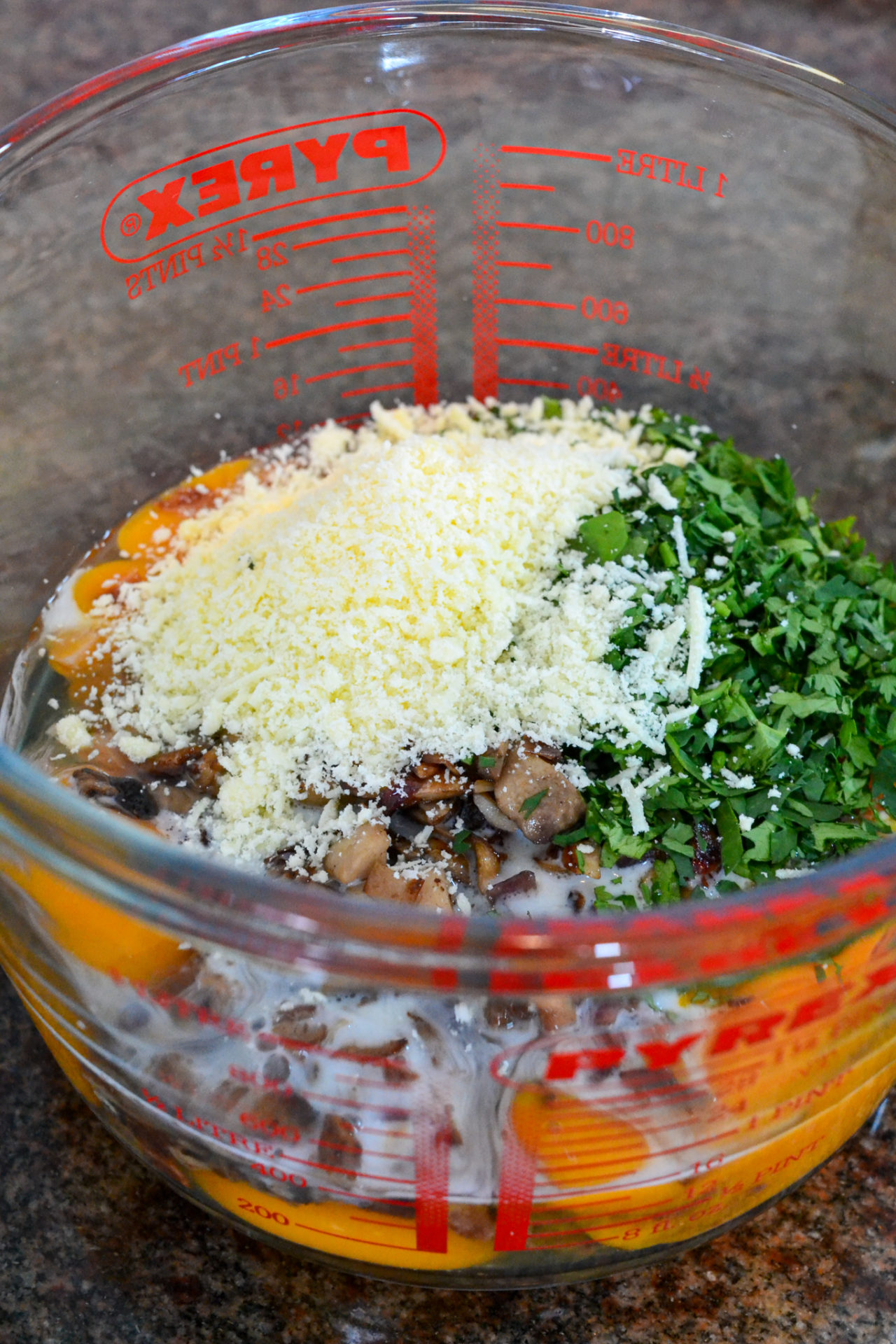 Ladle this into your greased muffin tray and bake for about 30 minutes at 190c. You oven MUST be preheated before placing the tray in.
***
What other combinations can you use for an egg muffin?
1. Broccoli, spinach, cheddar
2.Pulled pork, dates, red onion
3.Chicken, mushrooms, potatoes, peppers
Be sure to first try out my recipe then proceed to try out other combinations. It is important to note: when you are adding in vegetables, make sure they are pre-cooked and dry. Failure to, the egg muffins may be soggy and fail to set. Be sure to also test doneness by poking with a skewer when you try out other ingredients as time may vary.
***
Poke a skewer in the center, and if it comes out dry, the muffins are done.
Once set, serve.
When they cone out of the oven, they look taller and more inflated and as they come down to room temperature, they shrink a little bit. That is completely normal.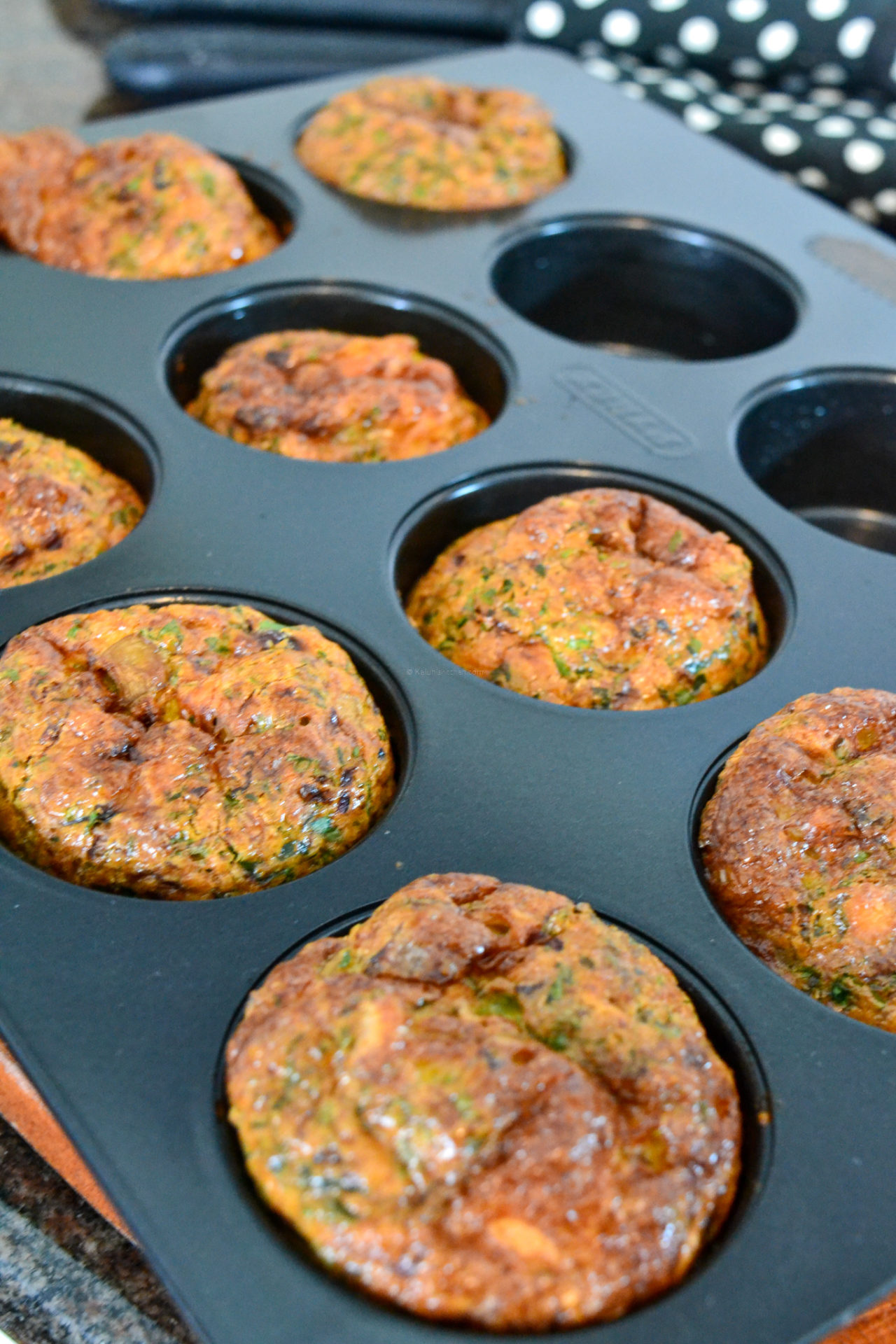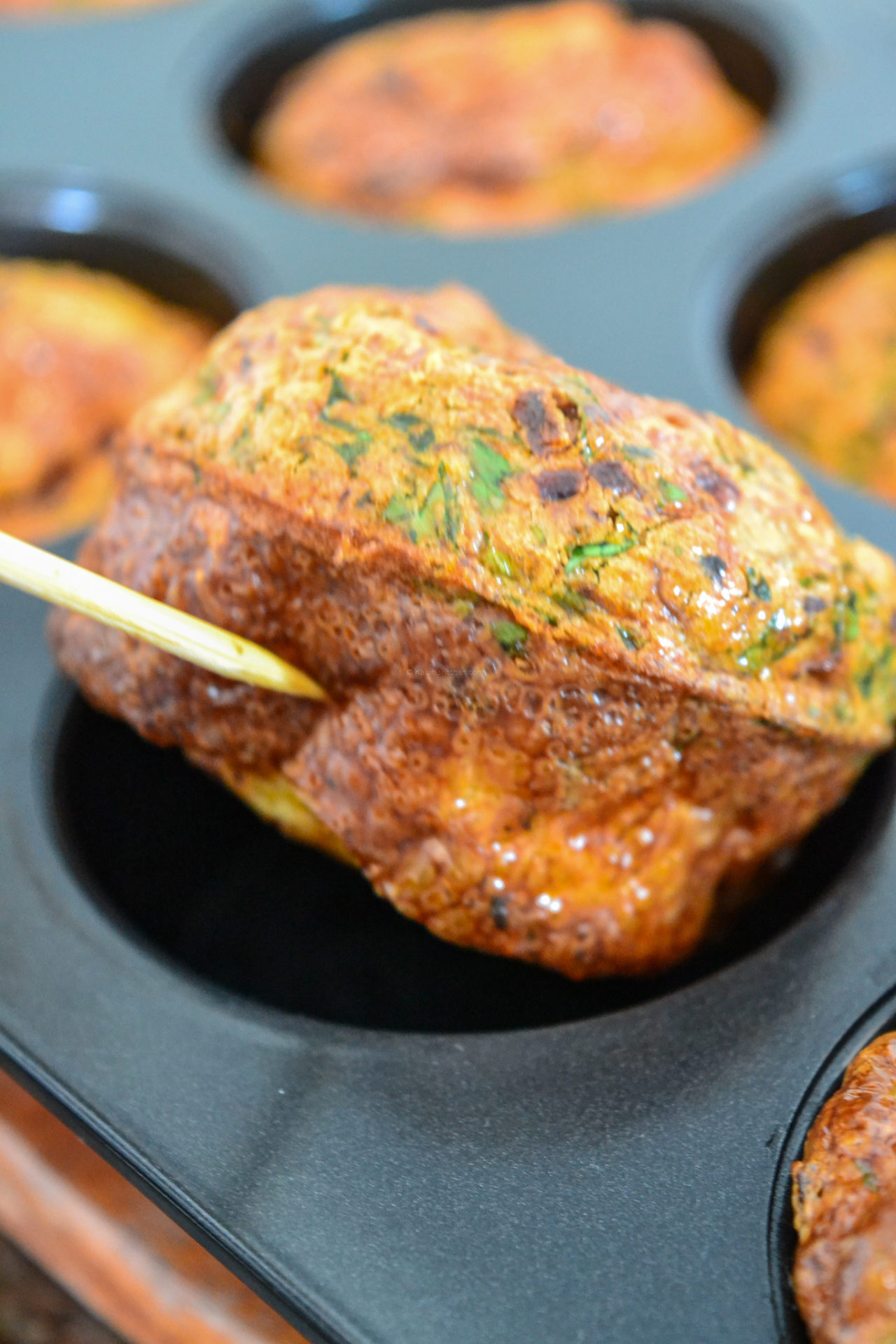 Don't these look fantastic??!
My egg muffins have the perfect soft, spongy texture!! I love how the meatiness of the bacon and sausage take center stage! The soft creaminess of the parmesan imparts a delicious inviting aroma as well as a rich taste. The earthiness of the mushroom and the so herbiness of the spring onion made every bite so full and memorable.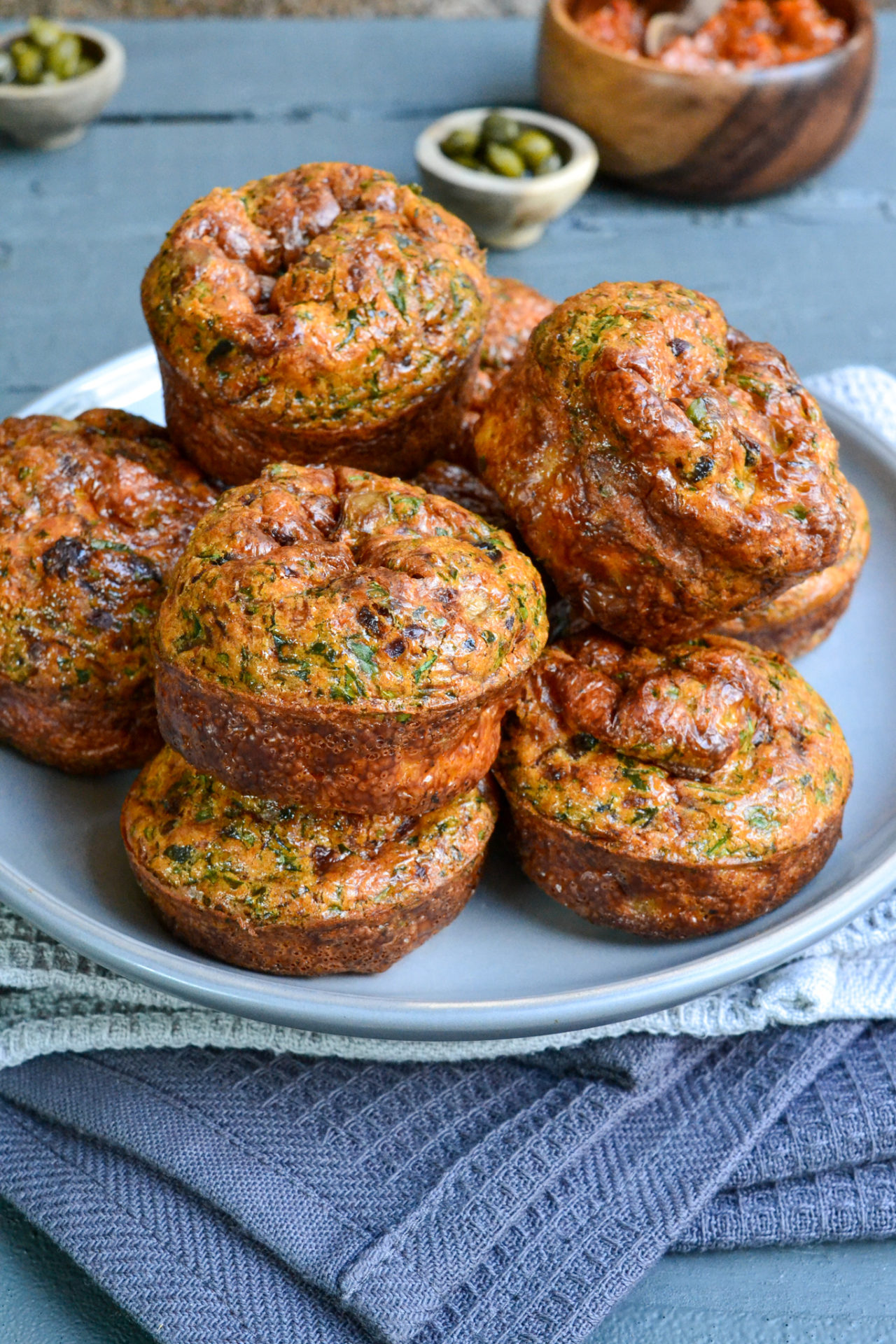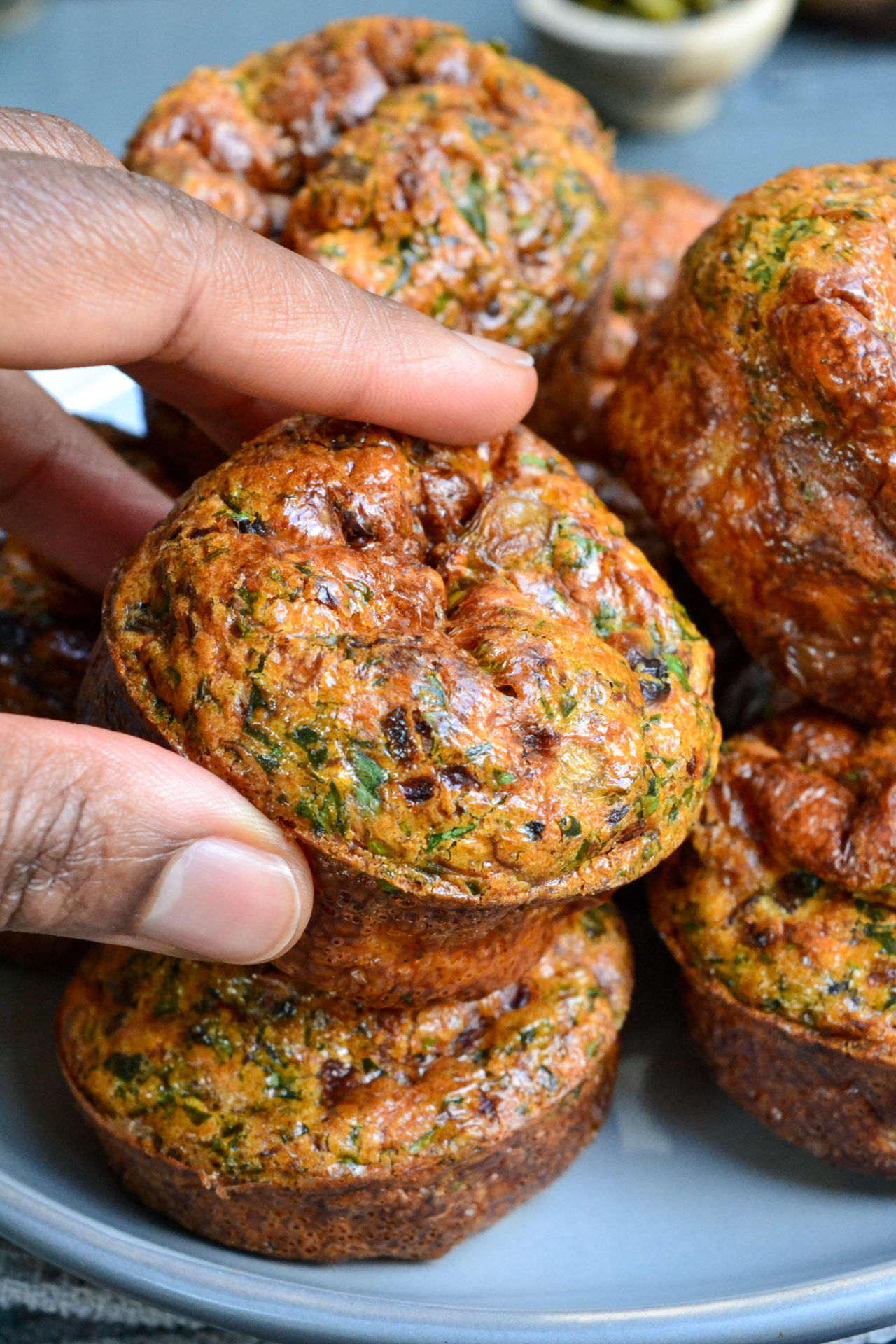 These egg  muffins are a delight to snack on while on a road trip out of town. They are something your kiddies would definitely enjoy in their snack boxes. And most definitely, these are the perfect beauties to have as part of your brunch menus, as you soak in the beautiful slowness of late mornings.
Do pass by my channel and watch the complimentary video. Be sure to subscribe to my channel, I would love to have you!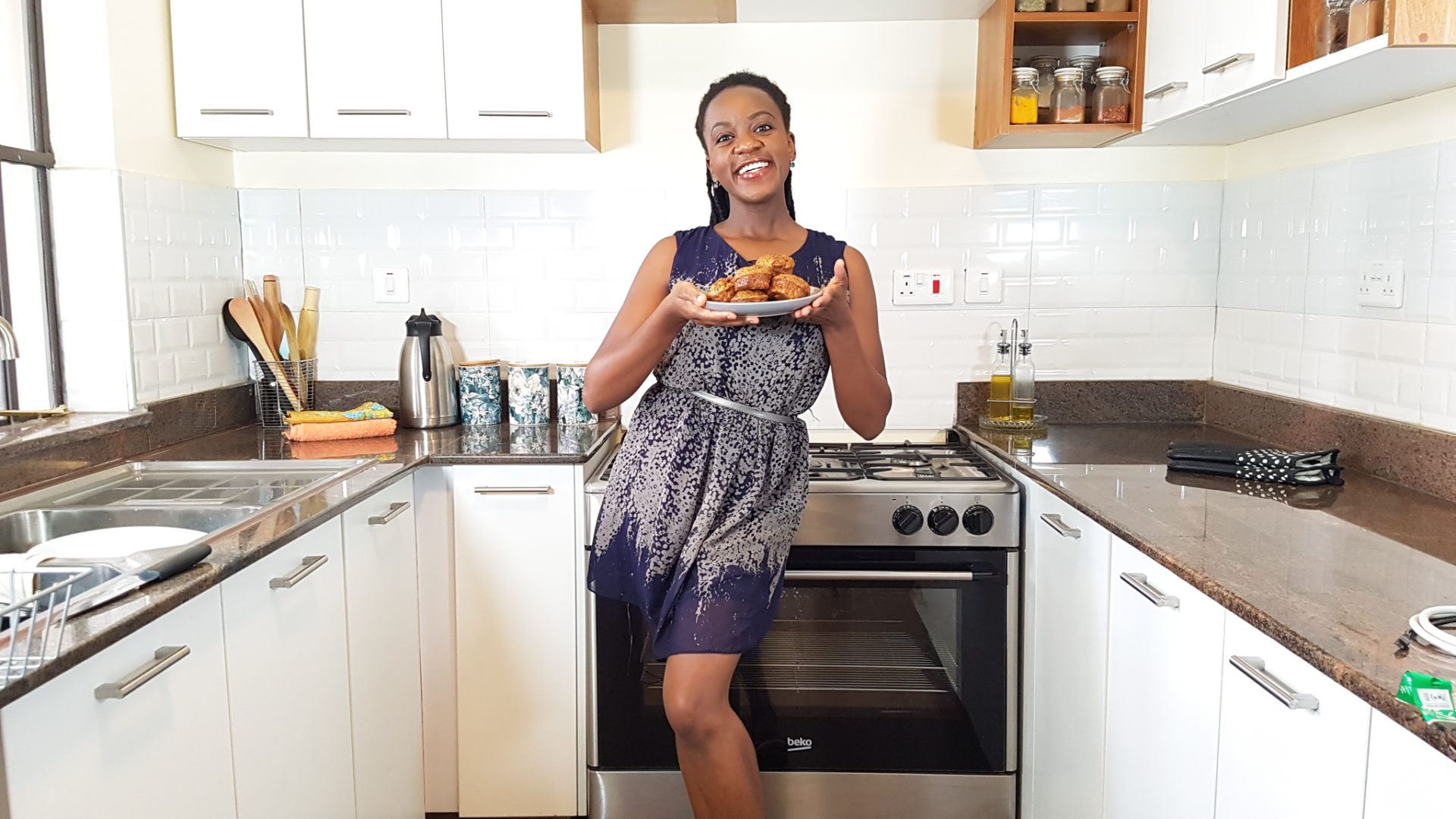 Happy Wednesday!!
---
Get your downloadable recipe here :))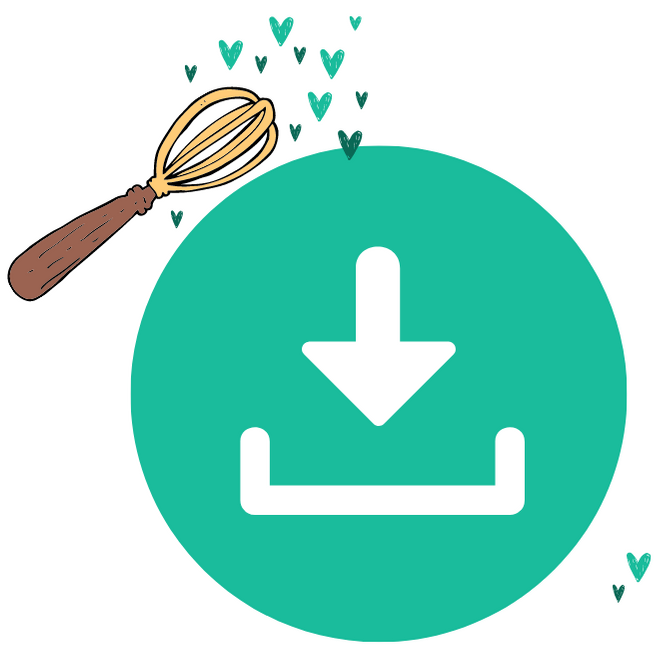 ---
All content and images are copyright protected by



Do not copy in part or whole without giving due credit.
---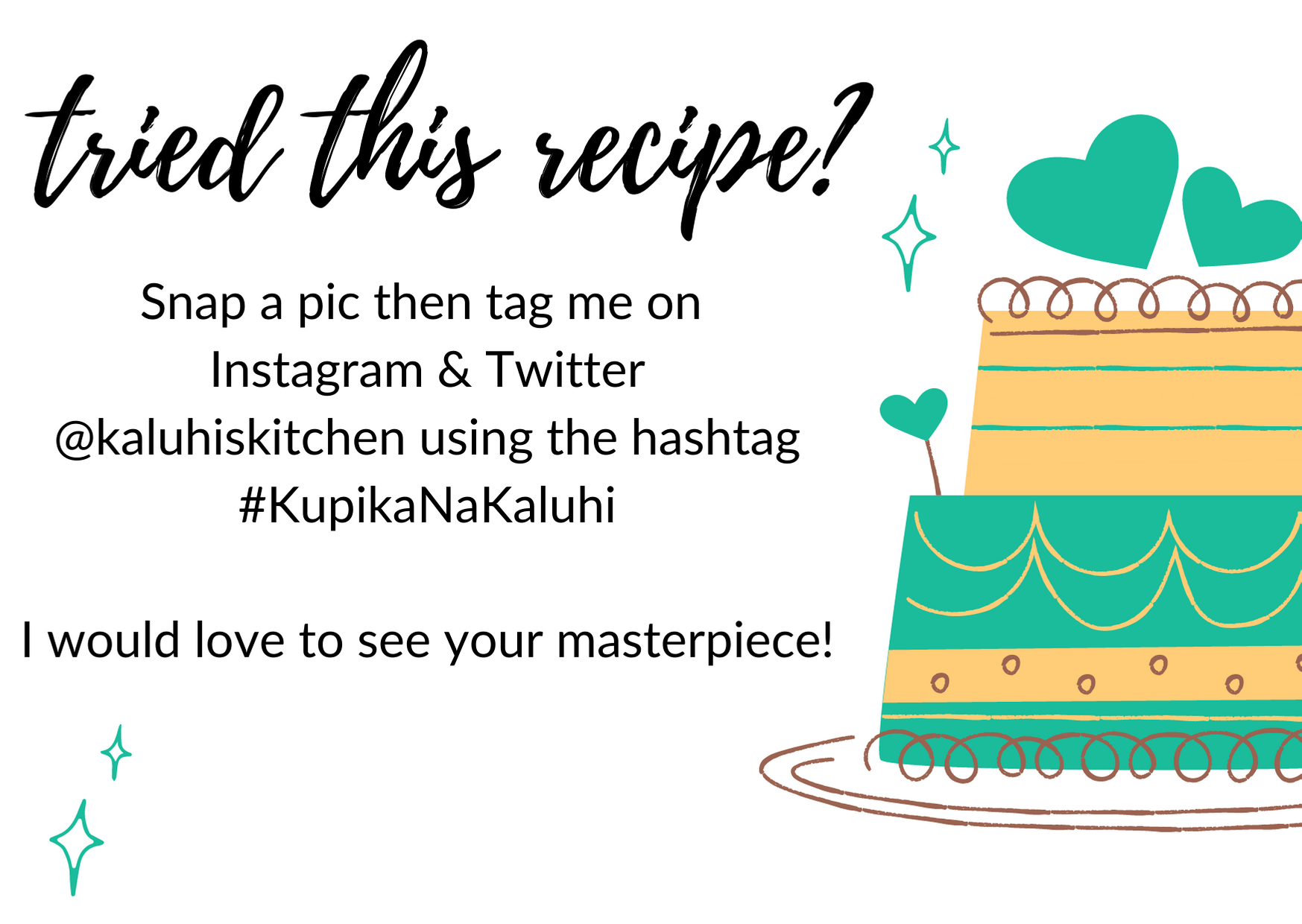 ---