I am one of those people who can never EVER miss githeri when it is cooked. It's almost an obsession. Ask my sisters, I absolutely love githeri. When I tell this to people, I get that look as though I just said I love eating kittens, live ones, in a graveyard, while chanting sacrilegious hymns of an extinct tribe . This may be because majority are yet to have that deliciously celestial githeri-eating experience. But I will give you one..
One of my earliest recipes on this blog was that of githeri, where I prepared it with coconut cream and curry which brought our its softer elements. You can get that recipe here. This time, I am using stronger flavors of chilli and ginger which brings out its more savory side. There is more than one way of preparing anything. And that is what makes cooking very exciting and a constant adventure. Do not allow your self to cook one meal the exact same way for all the days of your life. You will be missing out!
To warm you up as days get colder: Chilli and Ginger Githeri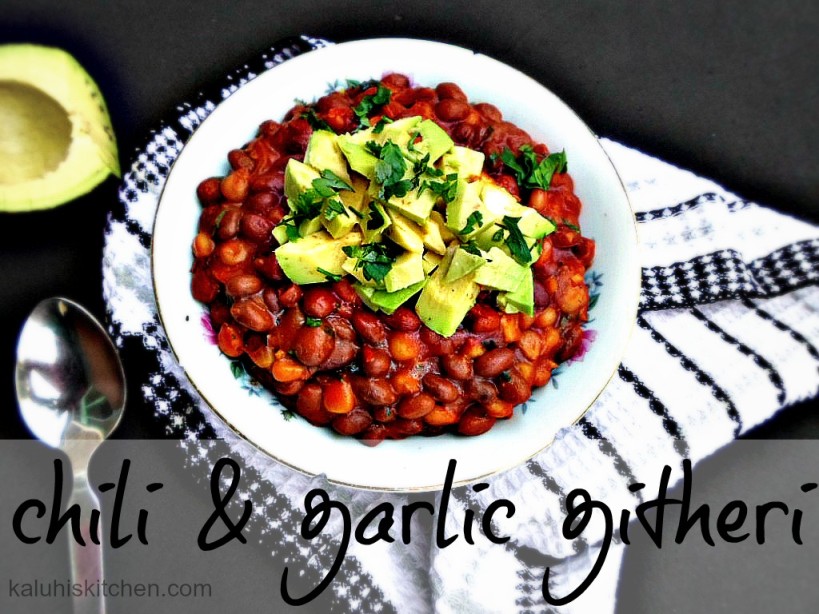 Githeri Ingredients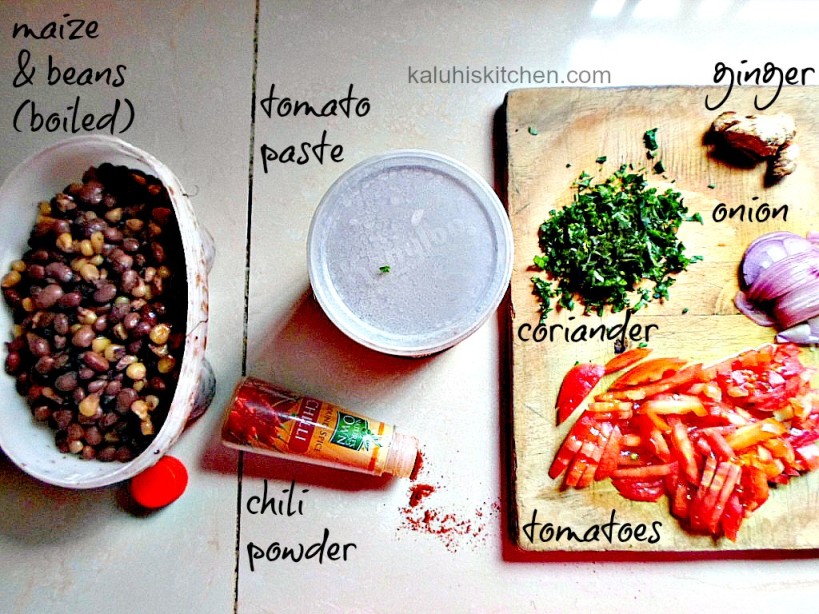 1 small onion, diced
3 tomatoes, sliced
1 tablespoon royco all spice mix
1/2 of a thumb-sized ginger root, minced
1 tablespoon of tomato paste
500 grams of boiled beans and maize
1/2 teaspoon of chili powder
Salt for taste
1 Avocado – optional (diced)
Handful of fresh coriander,finely diced- optional
Method
In a sufuria, heat some oil and add your red onion and the chili powder. Let them saute until they are soft.
Add the tomatoes, tomato paste, salt and the ginger and let this simmer for  5-7 minutes. Add 1/4 cup of hot water and mix this all up until it forms a thick sauce. This is the most important part of this githeri since it will determine the thickness of the entire dish. Do not get too carried away while adding water as you will end up with watery githeri, nethier should you not add any as you will end up with really dry, boiled looking githeri. Balance is key to get that perfect thick tomato base.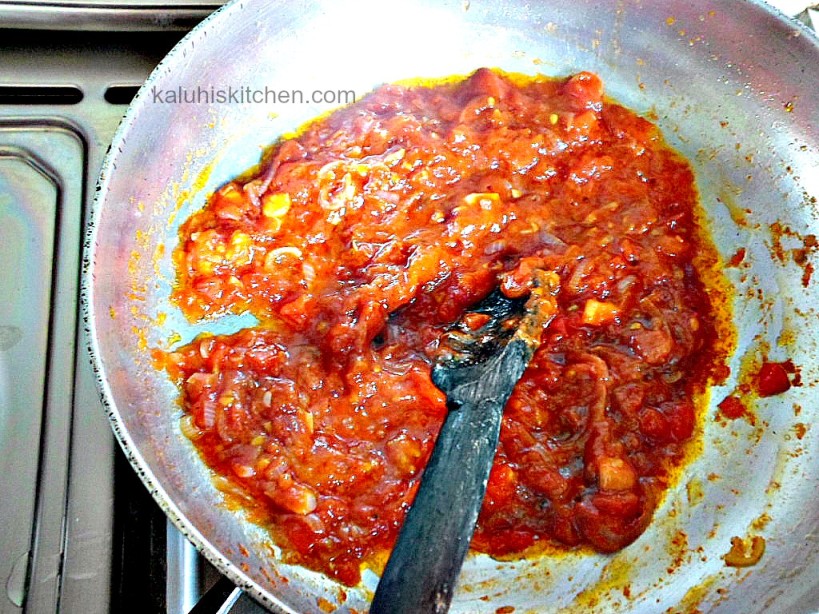 Add the boiled maize and beans to the tomatoes and mix them in. Add another 1/4 cup of hot water, mix and let this simmer for about 10-15 minutes on low heat. You can already tell the difference in appearance between before the githeri (first pic) simmered and after it did (second pic). The simmering allowed everything to come together and for the tomatoes to coat the beans.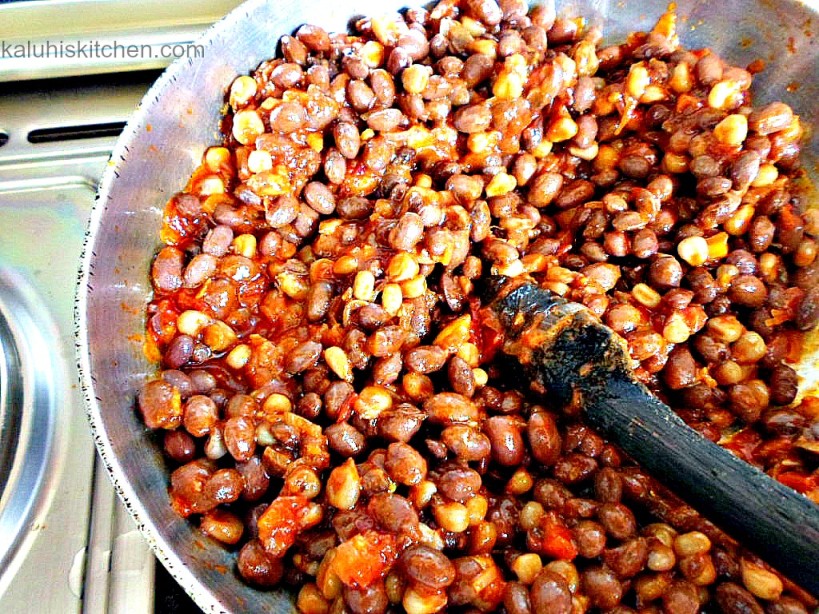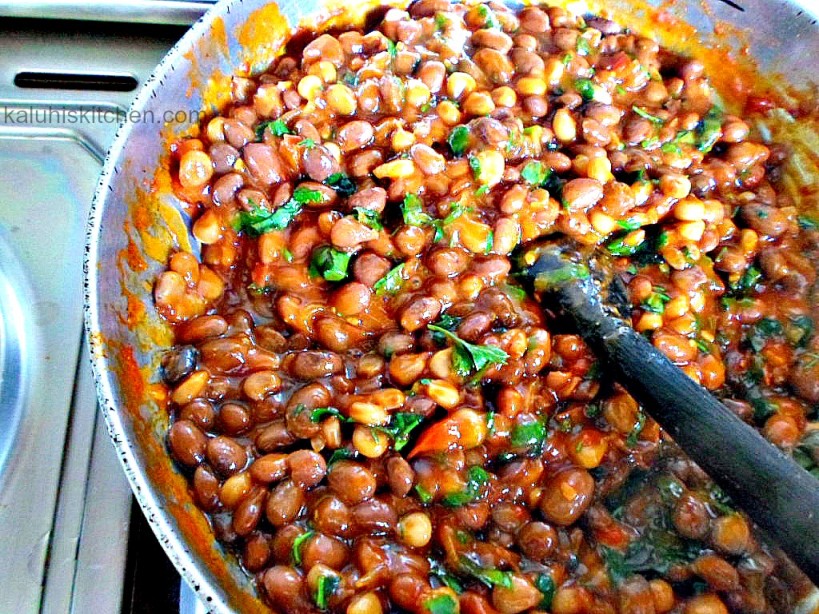 Once it is done mix in some fresh coriander (as above) and remove from the heat immediately.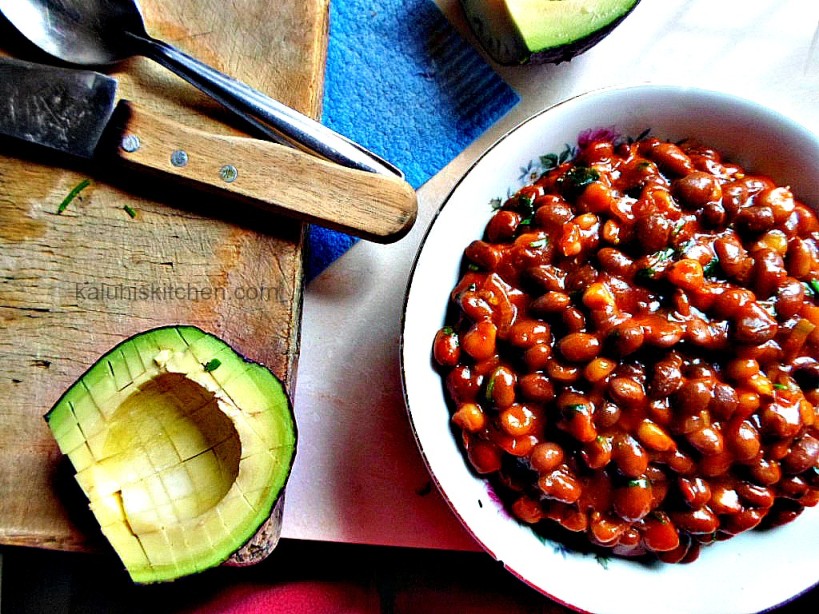 Serve  with avocado and fresh coriander garnish.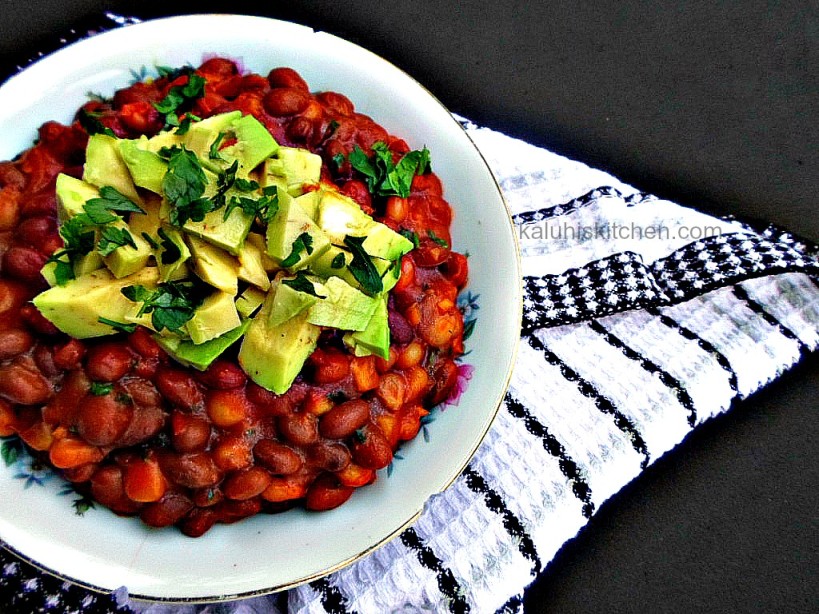 Let's be honest for a minute, this looks absolutely delicious doesn't it? Plus it was so easy! The flavors of chili and ginger are perfect to warm you up as temperatures in Nairobi are dropping. The creamy avocado also tempers the heat of the chilli and always goes so so well with githeri.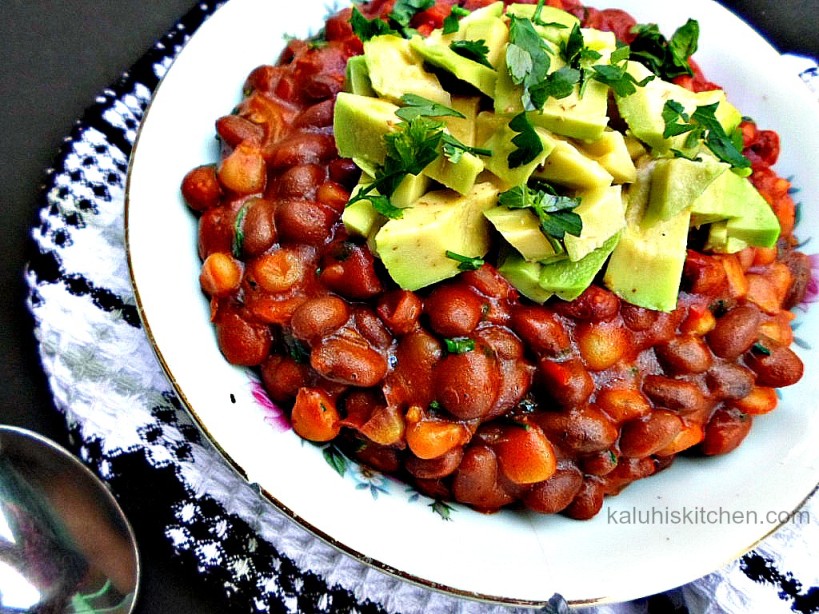 I encourage you to explore and try out new things. Do not be to scared to try new ways of cooking the same old things. There is a world of deliciousness just waiting for you to explore 🙂
So you decide which githeri recipe you like best, either this savory chilli and garlic githeri or this rich  coconut cream and curry githeri. But I have a feeling you will enjoy both of them. 🙂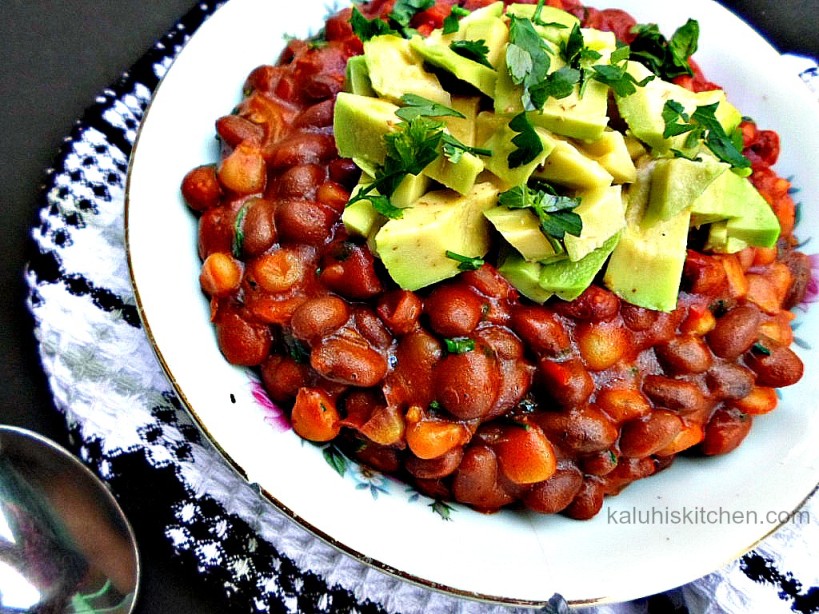 Love and Light,
-Miss Kaluhi
---
Download the recipe here: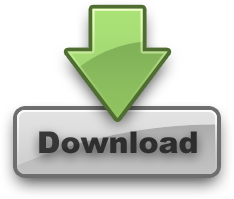 ---
All content and images are copyright protected by



Do not copy in part or whole without giving due credit.