I always enjoy getting feedback from my followers about all the recipes I develop and about the recipes they would like to see. A few weeks back, I had my second 'Ask Me Anything' session on instagram where my followers got a chance to ask me anything be it food or non food related. One of the questions that I was asked by one of my followers was a recipe for chicken stew. I love all things chicken and I quickly jumped at this suggestion hence the birth of this recipe. I decided to go all Kenyan on it and made chicken stew- kuku kienyeji.
Kuku kienyeji  refers to chicken that have not been bred or raised on commercial feeds but are left to feed on whatever they find around; free range chicken. Their meat can be a bit tough, but when cooked well, it literally slides off the bone. It is all bout technique. Its meat is very lean and slightly darker in color compared to broiler. The taste is also more wholesome. Chicken stew- kuku kienyeji is simply one of the heartiest meals on the face of this earth. This chicken stew recipe contains the fresh flavor of ground coriander, green bell pepper and red onion which makes this so rich and with layers of different flavors. You will fall head over heels in love with this!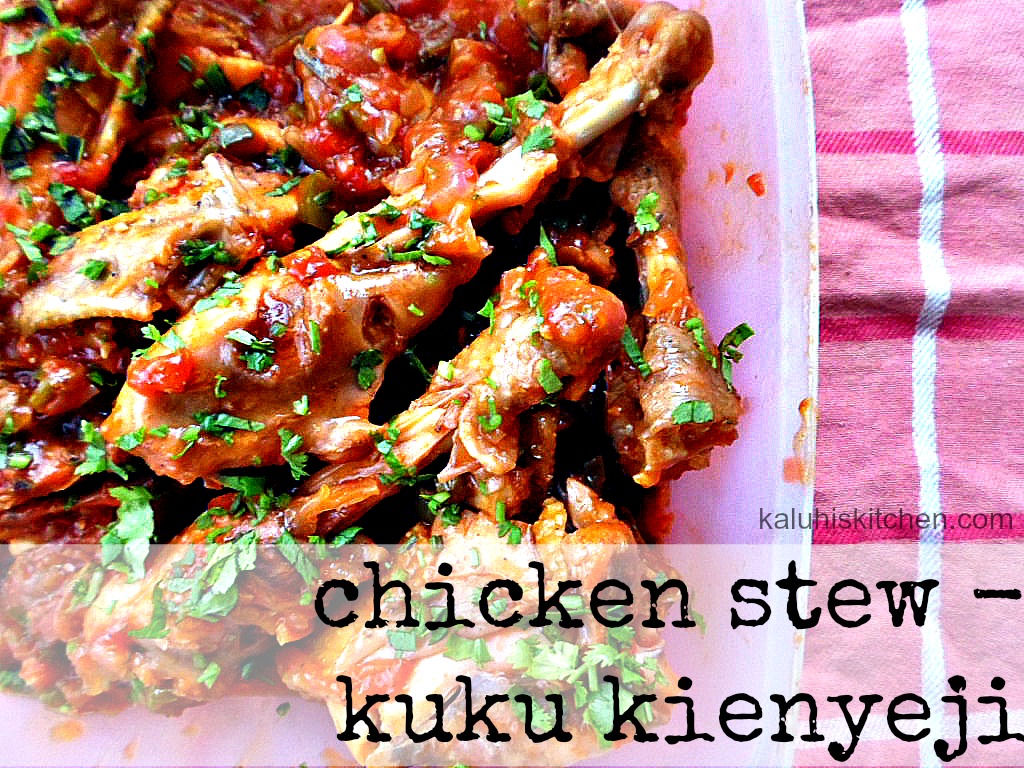 My chicken Stew Ingredients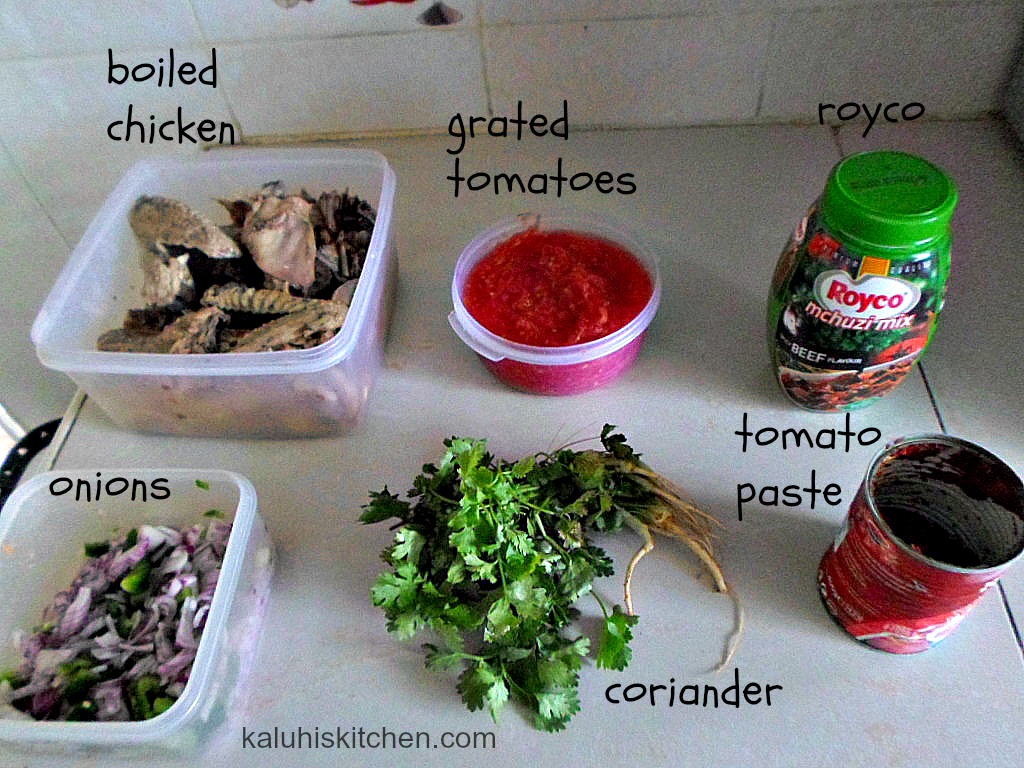 1 large onion, diced
Salt and freshly ground black pepper
1 Whole kienyeji chicken
4 chopped tomatoes
1 tablespoon tomato paste
1 large green bell pepper diced
1 bunch chopped fresh coriander
5 cloves of garlic
1 teaspoon of black pepper
Chicken Stew Preparation
First things first: slaughter your chicken. After the chicken has been slaughtered, remove the feathers (duh!). This process can be made easier by soaking the chicken in some hot water, which in turn softens the base of the feathers making removal of the feathers very breezy. After the feathers have been removed. you need to roast the chicken (very important step!). This eliminates any oduor and imparts a smokiness to the flesh. That smokiness is a quality I enjoy.
There after, chop your chicken into sizable pieces and put it to boil until the meat is tender. Kuku kienyeji takes  a bit longer to get cooked compared to broilers. You can also use a pressure cooker if you want to cut down on time taken to get it boiled. You will know that it is ready when it begins to slightly slide off the bone. Do not go too extreme as the chicken will turn into shreds.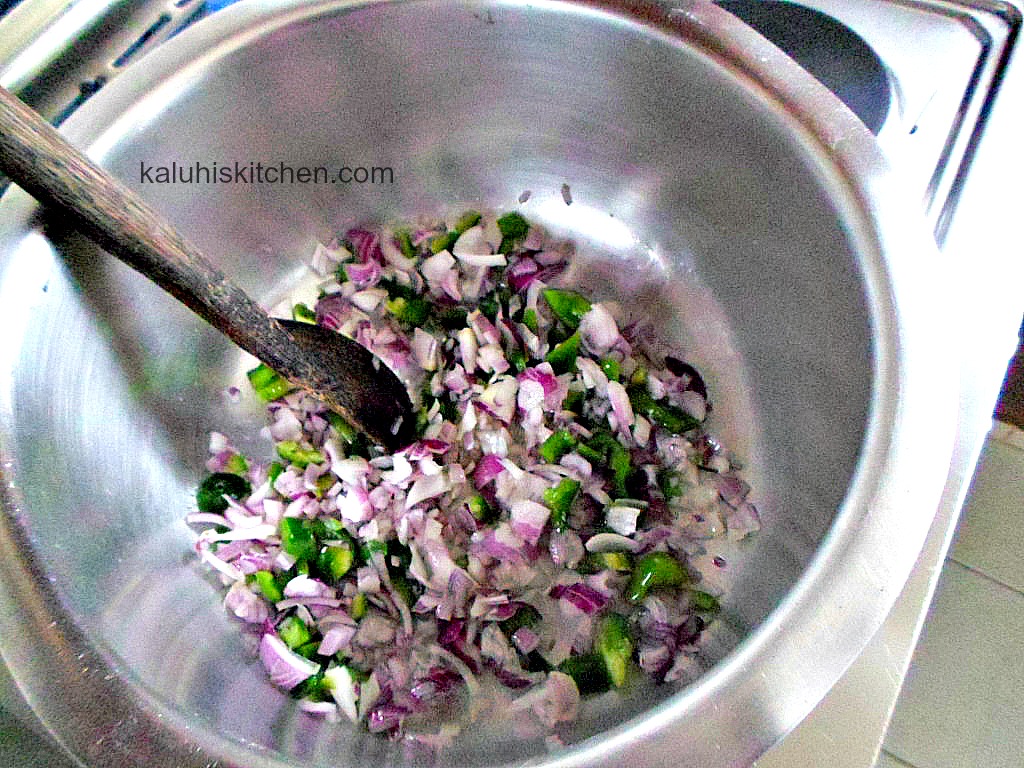 In a separate sufuria, saute your onions, black pepper, garlic  and half of your until they are soft. To this add your tomatoes, the remaining bell peppers and the tomato paste and let this saute for about 5 minutes.  To prevent your tomatoes from sticking to the pan and to create a thick sauce as the base of the chicken, add 1/4 cup of water or vegetable stock to this. Always add a bit at a time, never flood with water the chicken as the stew will be too light. You can also add some white wine for that extra flavor kick.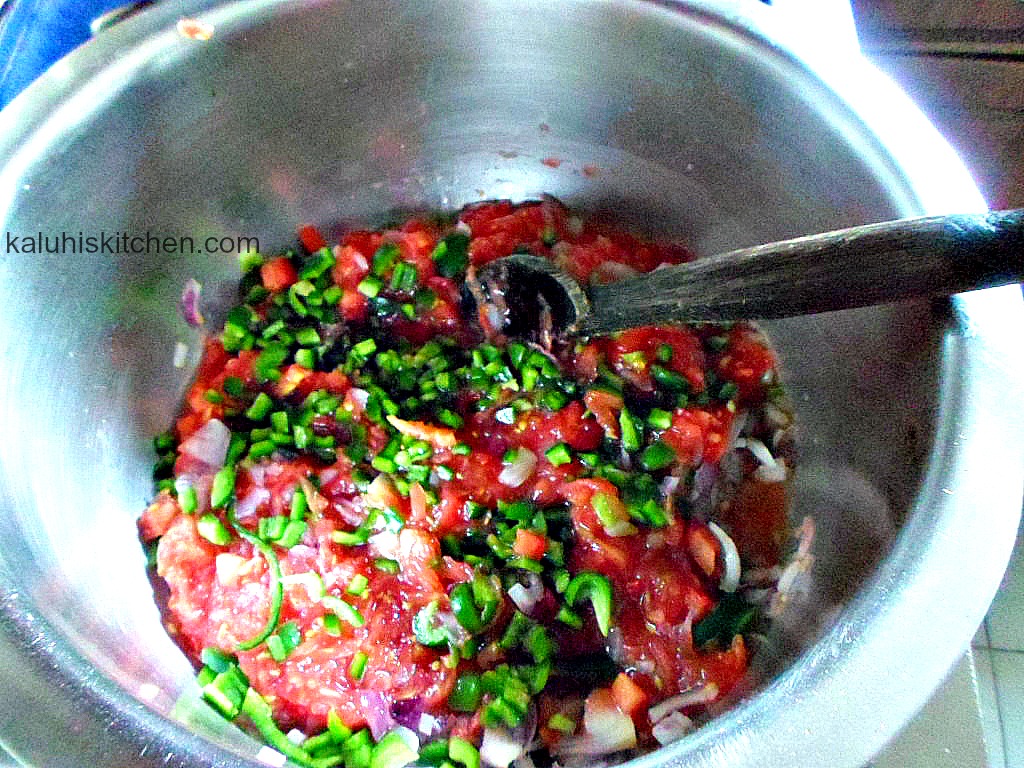 Let this simmer on low heat so that all the flavors sink, amalgamate in and the chicken tenderizes even further. The chicken will attain a beautiful into a stew consistency after about 8-10 minutes. In our home, we boil our kuku kienyeji with some Munyu Musherekha, which not only amplifies the flavor but also further tenderizes it. We also add some during the stewing process, just a couple of tablespoons to really bring out it's flavor.
I know you may be thinking, what on earth is Munyu Musherekha?!! Let me explain:
***
Sherekha is a salt which also doubles up as a tenderizer widely used by Luhya people to add flavor and make certain foods softer or more tender. It is made from the ashes of burnt sun-burned dried bean pods or sun-dried matoke peels. The ash is then put in a perforated tin with some water and left undisturbed. The water drains through the perforated tin without debris but contains a lot of the sought after sour taste and alkalinity.
The resultant liquid is the musherekha. To tenderize, our kuku kienyeji (and kunde and sometimes meat too), we boil it with it. It is not compulsory, but makes a world of difference when used. In my opinion, it is a MUST HAVE for every kitchen.
***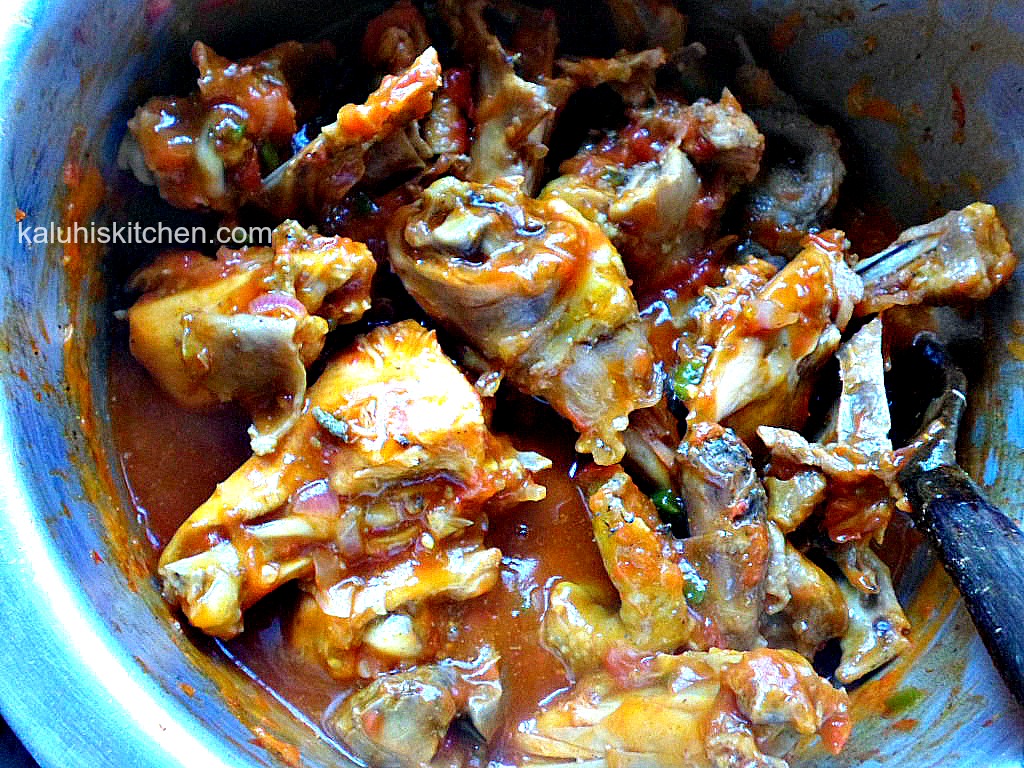 Add your finely chopped coriander mix it in then take it from the heat immediately after. I like my kuku kienyeji with very little spices, and just fresh herbs so that the natural sweetness of the meat can stand out and shine through. This is one kind of meat that needs very little for it to be delicious.
After you are done, ladle the stew into serving bowls and serve.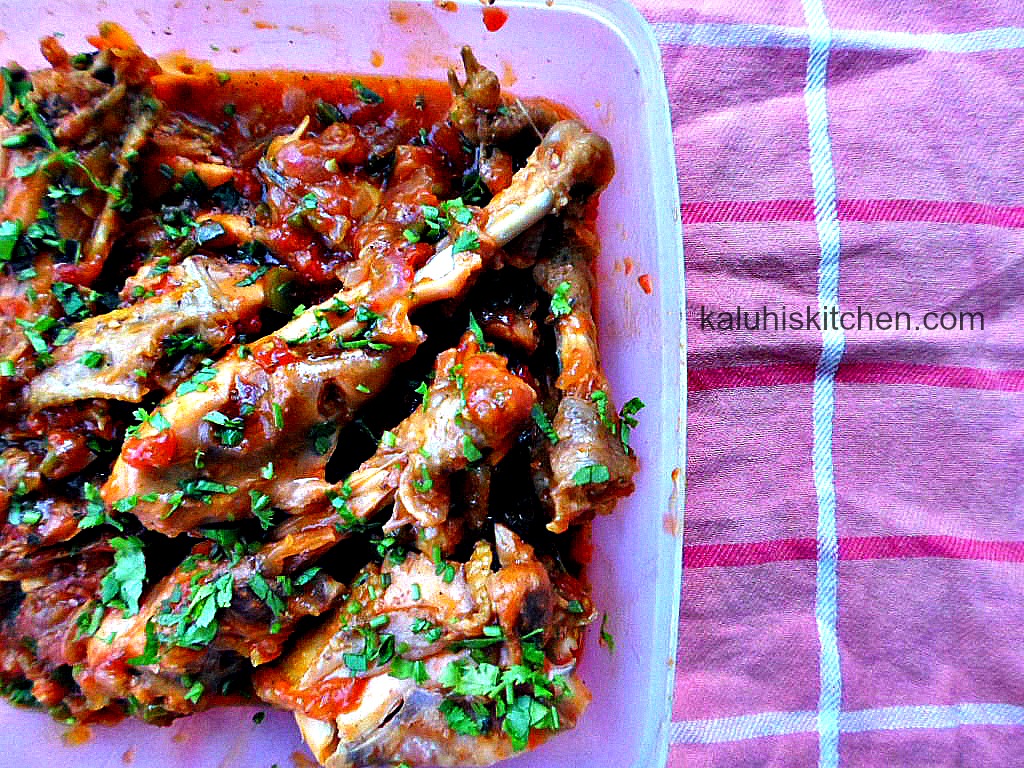 How delicious does this look…. This would be absolutely fantastic with some rice or hot ugali or with your favorite starch. Besides this chicken stew dish, you can also check out my other chicken recipes: 3 spice golden fried chicken, & spice and crunch tender chicken wings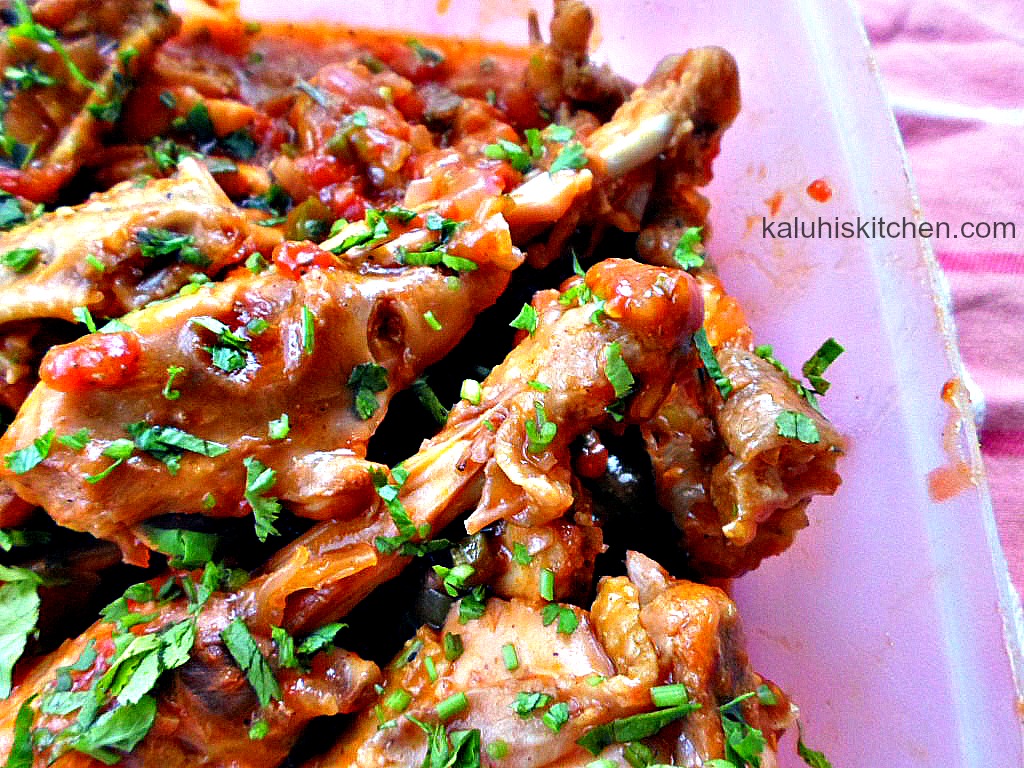 You can also use this exact recipe with a whole chicken cut up into pieces. Also, try this with some white wine and tell me how it tastes 🙂 🙂
Cheers!
-K
---
Download the full recipe here: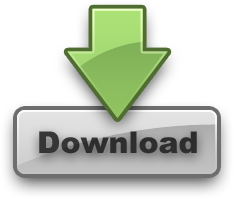 ---
All content and images are copyright protected by



Do not copy in part or whole without giving due credit.