Kenyans are fast getting affiliated to fast food.  With the opening of global giant KFC in our country a while back, city dwellers have gone crazy over their fried chicken because it offered something slightly different to what we were used to.  However when you feel like you want some chicken that's tender on the inside but crunchy on the outside, you do not have to go out and get some. You can make it at home and the best part about it is, you can add more delectable ingredients to tantalize your taste buds!
You are going to go wild with my Spice & Crunch Tender Chicken Wings!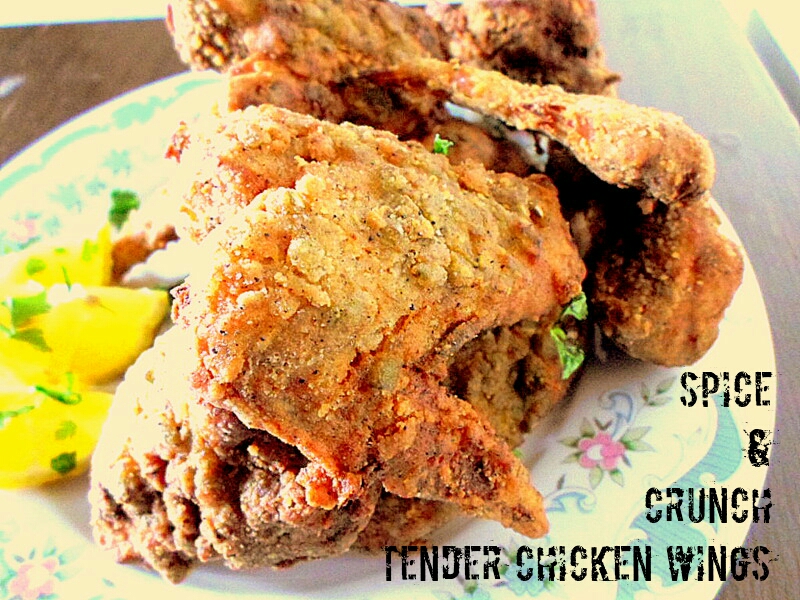 To get chicken that is tender and has flavor of its own minus the crust, marinating it is a must. Marination is simply soaking your meat in a combination of ingredients to intensify the flavor, make it more tender and to remove that icky raw-meat smell. There are thousands of marinades out there but most common marinade for crunchy chicken is to soak the kuku in buttermilk. Because buttermilk is not a readily available  Kenyan ingredient, the best substitute would be Mala because they have the same consistency,leavening power and mildly sour taste. I believe when you lack an ingredient for a recipe from a foreign country, all you need is a little bit of creativity and you will see that you can work with what you have. Other equivalents/substitutes of buttermilk would be inkomazi from South Africa and Kefir from eastern Europe.
So lets make some chicken!
---
For the marinade
You will need
Your Chicken wings
500 ml of mala
Dried Thyme
Fresh (or dried) Rosemary
8 Cloves of Garlic
1 Tea spoon of Turmeric
1 Table spoon of ground ginger
1 Table spoon of ground mustard
1 Table spoon of pilau masala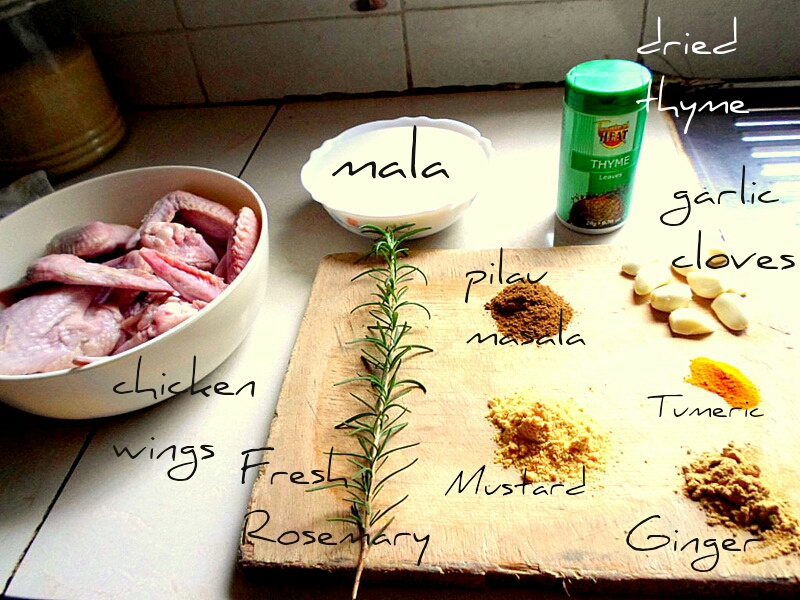 I got my chicken wings from City Market and 14 of them cost 500 shillings (Approx. $6). I don't know about you but that is quite cheap because buying 14 wings from a fast food outlet would cost so much more. And for me, any time I save cash, that's a plus!
For the marination, you simply need to put all the ingredients in a bowl/sufuria and mix together. I started with the herbs, then the ground spices. You don't need any order, I just like doing it that way.
Mix everything up, cover it and let it rest.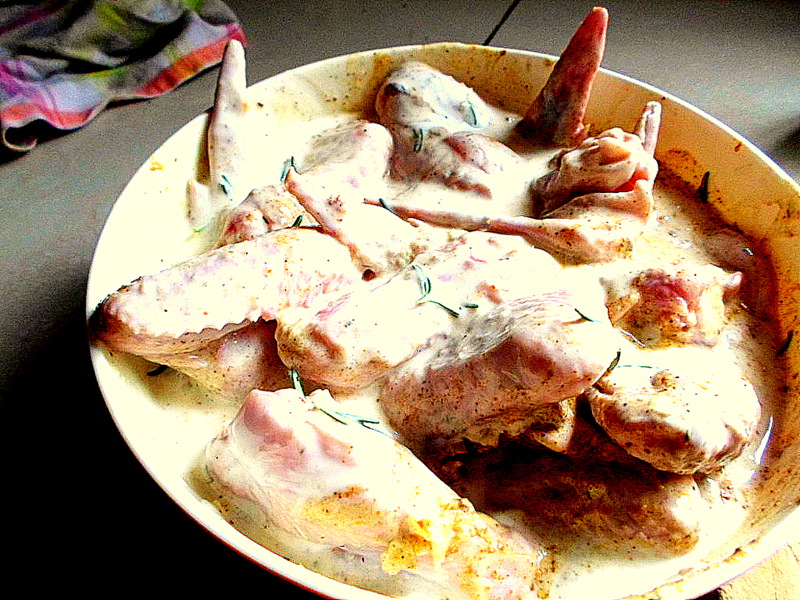 The chicken will start swelling and taking in the mixture. The lactic acid in the mala breaks down the flesh that's why it becomes really tender while the spices infuse a great aroma and layers upon layers of yumminess.The longer you let it rest, the more more the potent the taste of the marinade will be in the chicken. I let mine rest for 24 hours.
---
Homestretch: Making the chicken
After the chicken has marinated, pout the entire contents of the  bowl into a sufuria and boil them. Do not add any additional liquid into the chicken as it will dilute the marinade. This is a tip I got from my mother, and because mum always knows best, I work according to her wisdom. Boil them for about 40 minutes before the coating process starts. Most Kenyan households boil their meat before preparing but if you do not fancy this, you can skip this step all together.
This is what you will need for the final stage: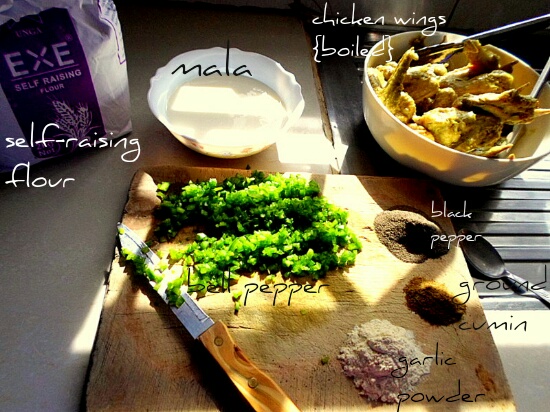 I choose not to quantify the spices in the final stage to allow you to play around with them and vary them according to your taste. If you like more heat use a lot of black pepper, and maybe add some chilli. If you like a more aromatic taste, add more cumin. As you go along, you can modify my recipe and come up with something that suits your taste. I highly encourage that! Dance to the beat of your own palate!
Mix the ground spices with the flour until its even through out. That will be used for the crust and because there are different spices in it, that crust will be mind blowing. We use more mala to dip the wings in and allow the flour to stick and not come off while frying.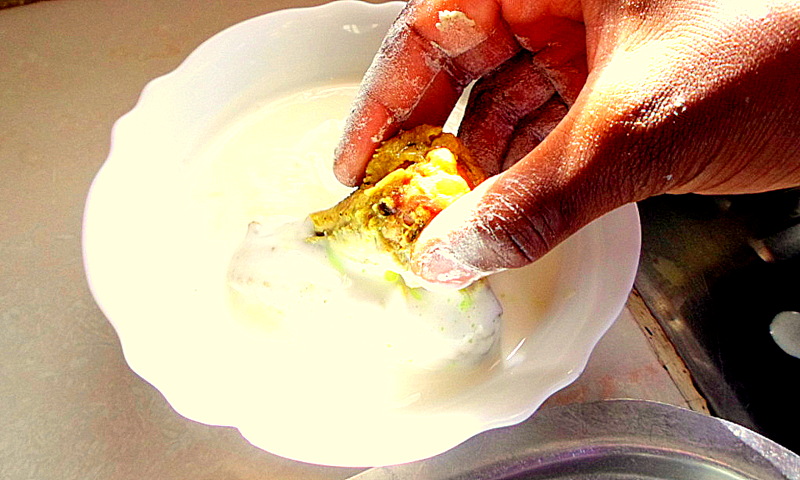 The green pepper will be layered between the chicken and the crust to add more flavor and texture.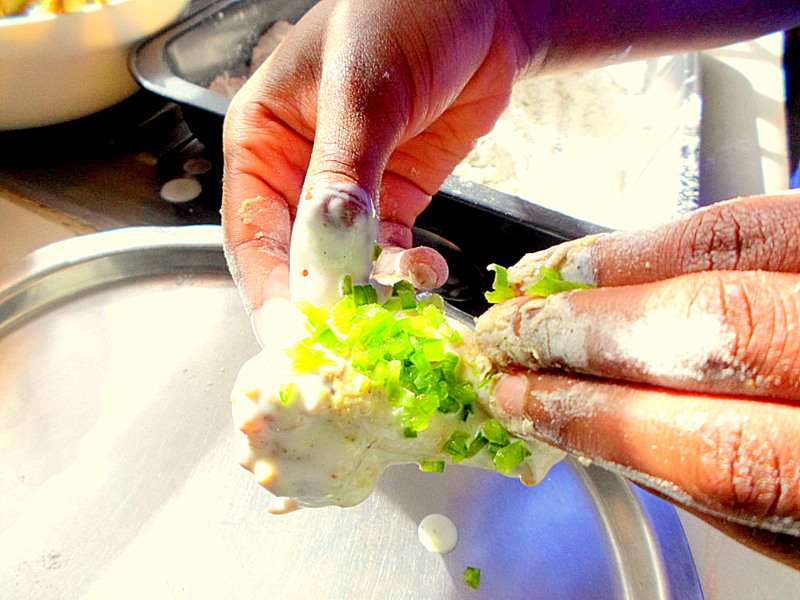 Then roll the wings in the flour, making sure to cover every spot.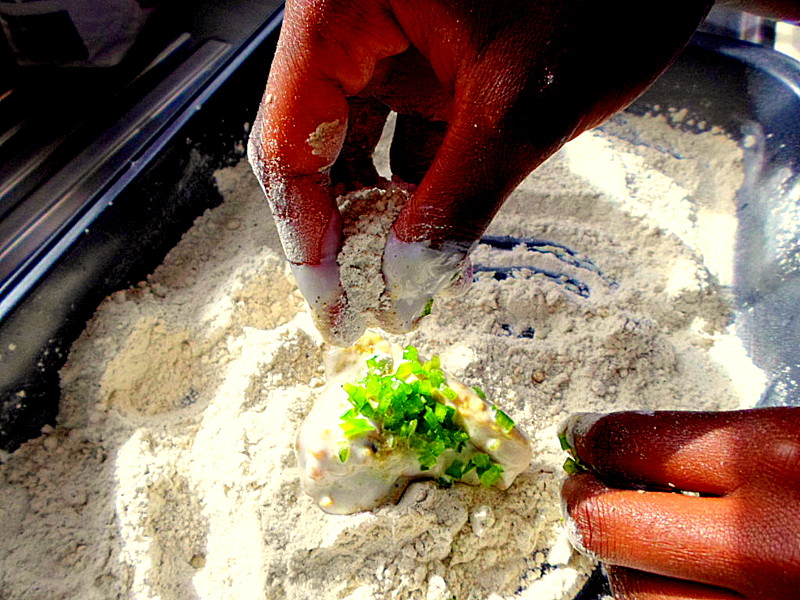 I found this so fun to do, despite being very messy, but to get the best out of anything, you gotta get down and dirty,no? But I also enjoyed this because it reminded me of how my friends and I used to bake 'cookies' out of soil and water and serve them to our dolls when we were little girls. Great mess, but great fun!!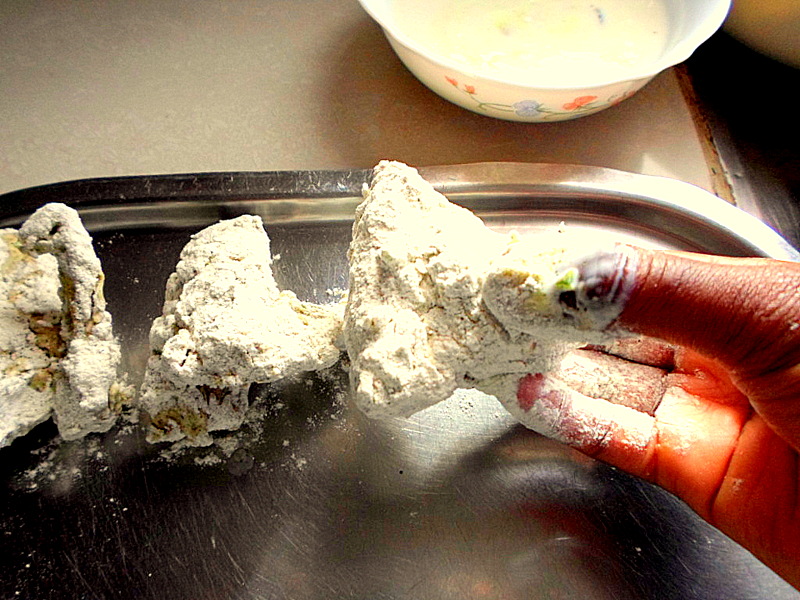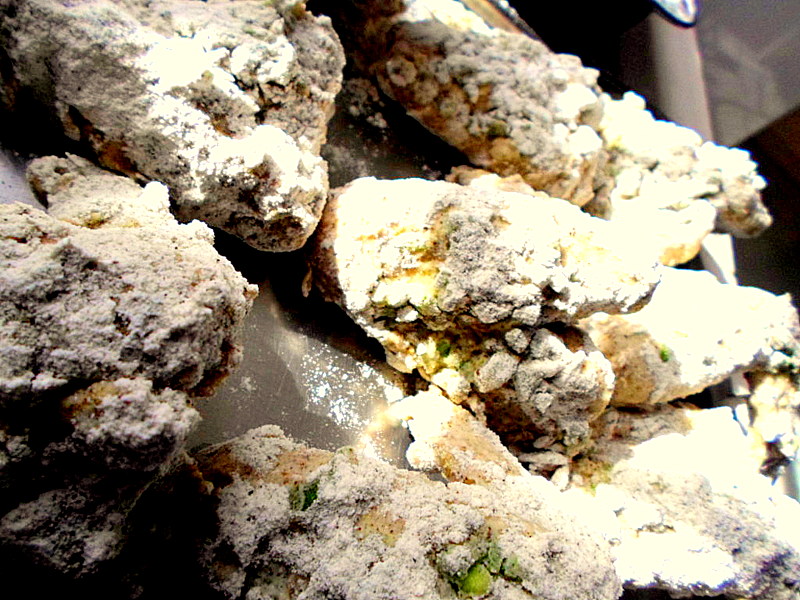 Once you are done, deep fry these over high heat 2 minutes on each side or until you get a lovely golden color. If your chicken wasn't boiled, you will need 8 minutes in each side so that the interior cooks too.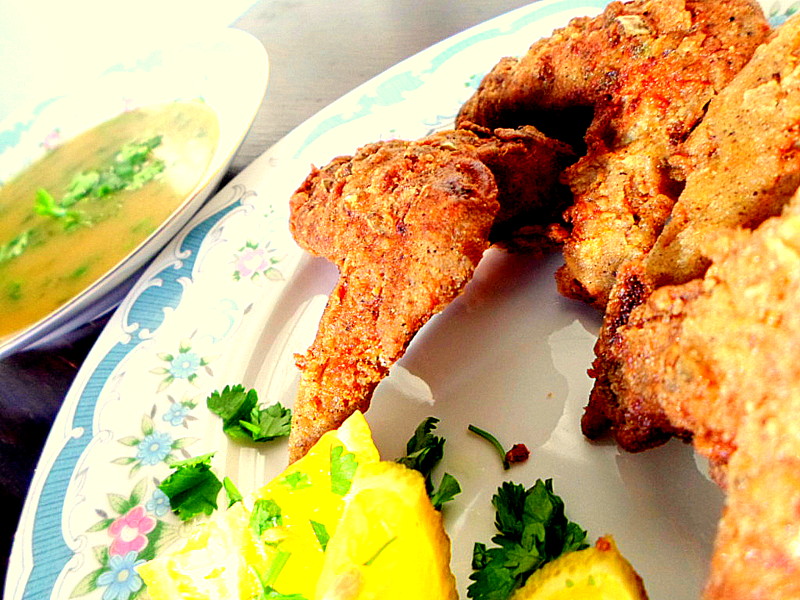 Look at how delicious they look!!!!
Imagine yourself biting slowly into this chicken like in those advertisements. Ever single layer will give your tongue something to be happy about. This is the kind of dish that engages all of the five senses,making the eating experience whole and enjoyable.
Thinking about how delightful it was sinking my teeth into these babies makes me so hungry right now! You will feel the crispiness of the crust first, then the crunch of the peppers then the tenderness of the beautifully marinated chicken. The taste of how all the spices used compliment each other is beyond words! If that is not a bite you are looking forward to, then you are on the wrong planet!
Try my Spice & Crunch Tender Chicken wings. Do add your own unique flavors and let me know how it goes.
🙂
Kaluhi
---
Like what you see? Download and try it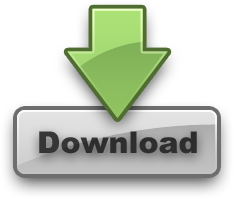 ---
All content and images are copyright protected by


Do not copy in part or whole without giving due credit.