After posting my Triple D drumsticks, and the amazing buzz it created online, EVERYONE just couldn't wait to try that recipe out. And majority just wished they could simply appear infront of them. My elder sister, Sieva, who was away for work sent me a quick message telling me she would love to have those when she came back home after seeing them on my Facebook page. Since I couldn't make that particular recipe at the time, I decided to work on my next bomb Guinness recipe which she would feast upon: my chicken bacon knockout burger. Growing up with siblings, when there is something tasty you are planning to feast upon, you have to hide it so that no one else eats it. I forgot to hide Sieva's  burger and sure enough, my other sister Kadesa ate it. I should have recorded the look on her face when she sank her teeth into it…priceless! Burger ecstasy! And a stamp of approval for another aced recipe!
These burgers have everything you could ever want in the perfect burger: a moist patty, lots of cheese, a rich unique sauce and of course, bacon. Can you handle this knock out ;))? You better!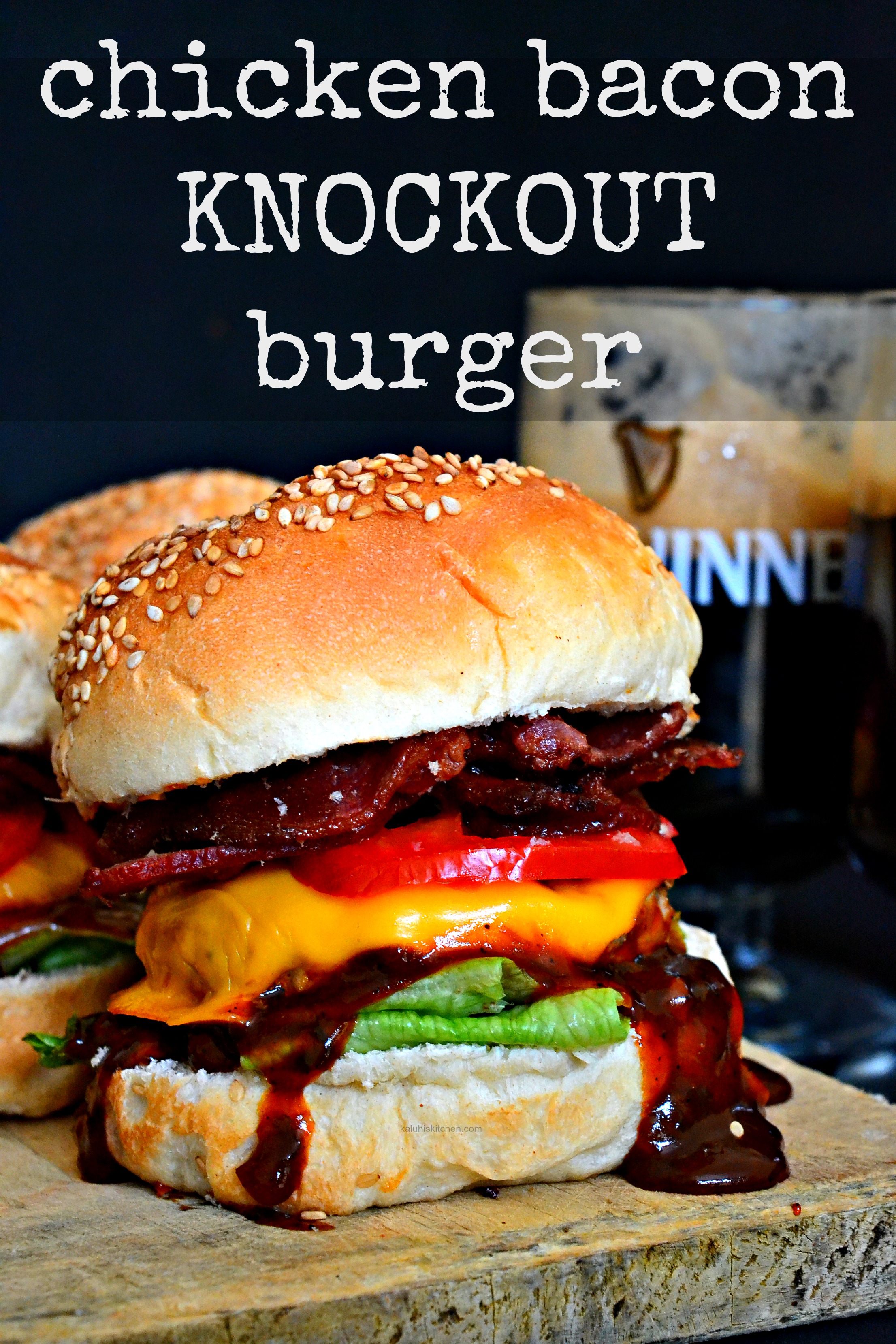 PREP TIME: 10 MIN               COOK TIME: 30 MIN        MAKES: 4
Ingredients:
For the patty: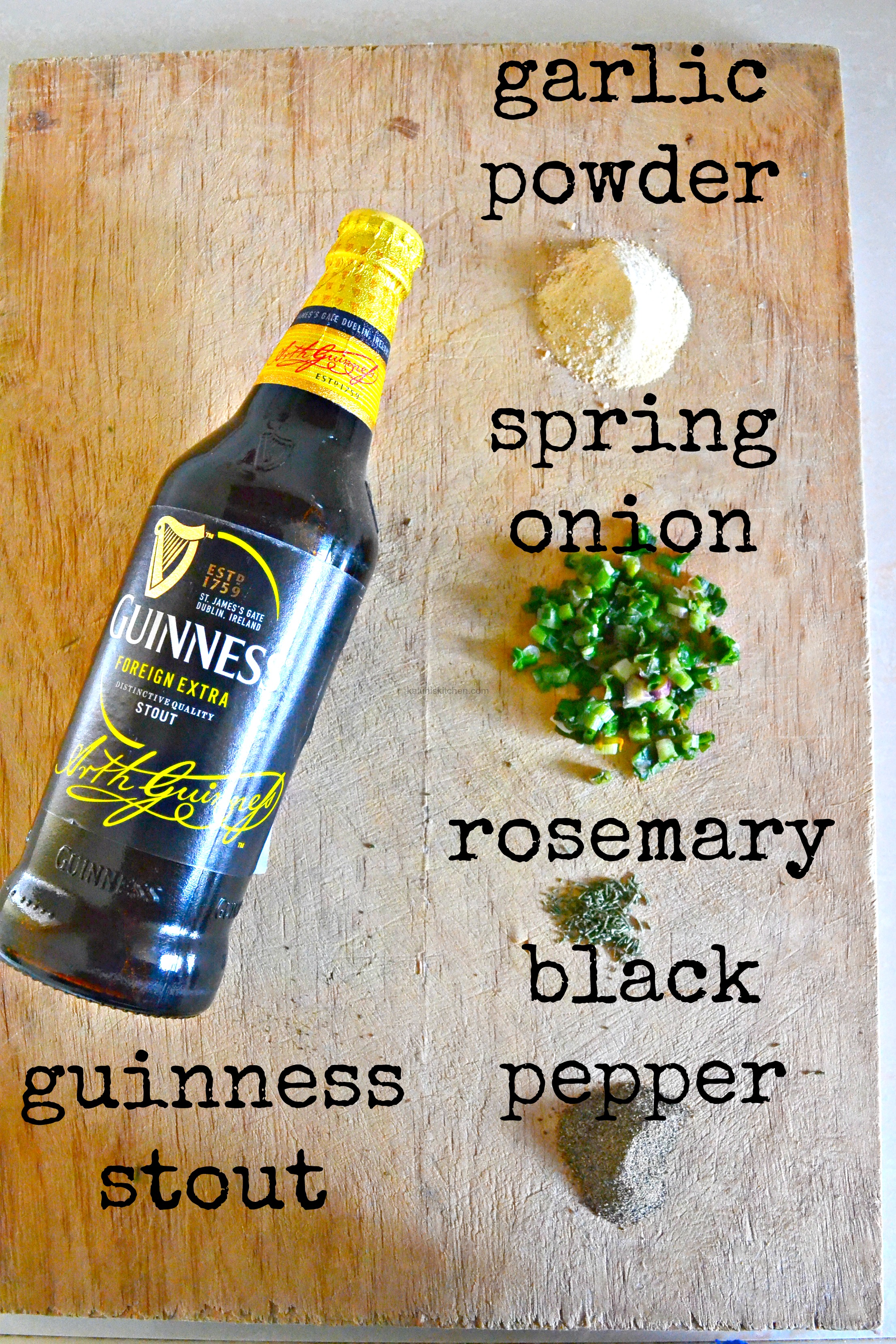 400 g of minced chicken
1 tablespoon of black pepper
2 tablespoons of garlic powder
1/2 a cup of finely chopped spring onion
1/2 a tablespoon of finely chopped rosemary
1/2 a cup of Guinness stout
Other ingredients
Garlic stout bbq sauce (we made HERE)
250 g of rindless bacon
Fresh lettuce
Burger buns
Fresh tomato slices
Cheddar cheese slices
Method
In a pan, cook your bacon until it totally renders and is nice and crispy. Once done, remove from the heat and set aside. Collect the bacon fat that remains in the pan which we shall use later. This burger is all about building flavors and this will play a huge role.
In a bowl, add your minced chicken followed by your Guinness stout. This should be immediately followed by your finely chopped spring onion, rosemary, garlic powder and black pepper. The dark color that the Guinness stout beer inherently has will make the chicken darken in color as well. It will also add much needed moisture and depth of flavor to our minced chicken breast.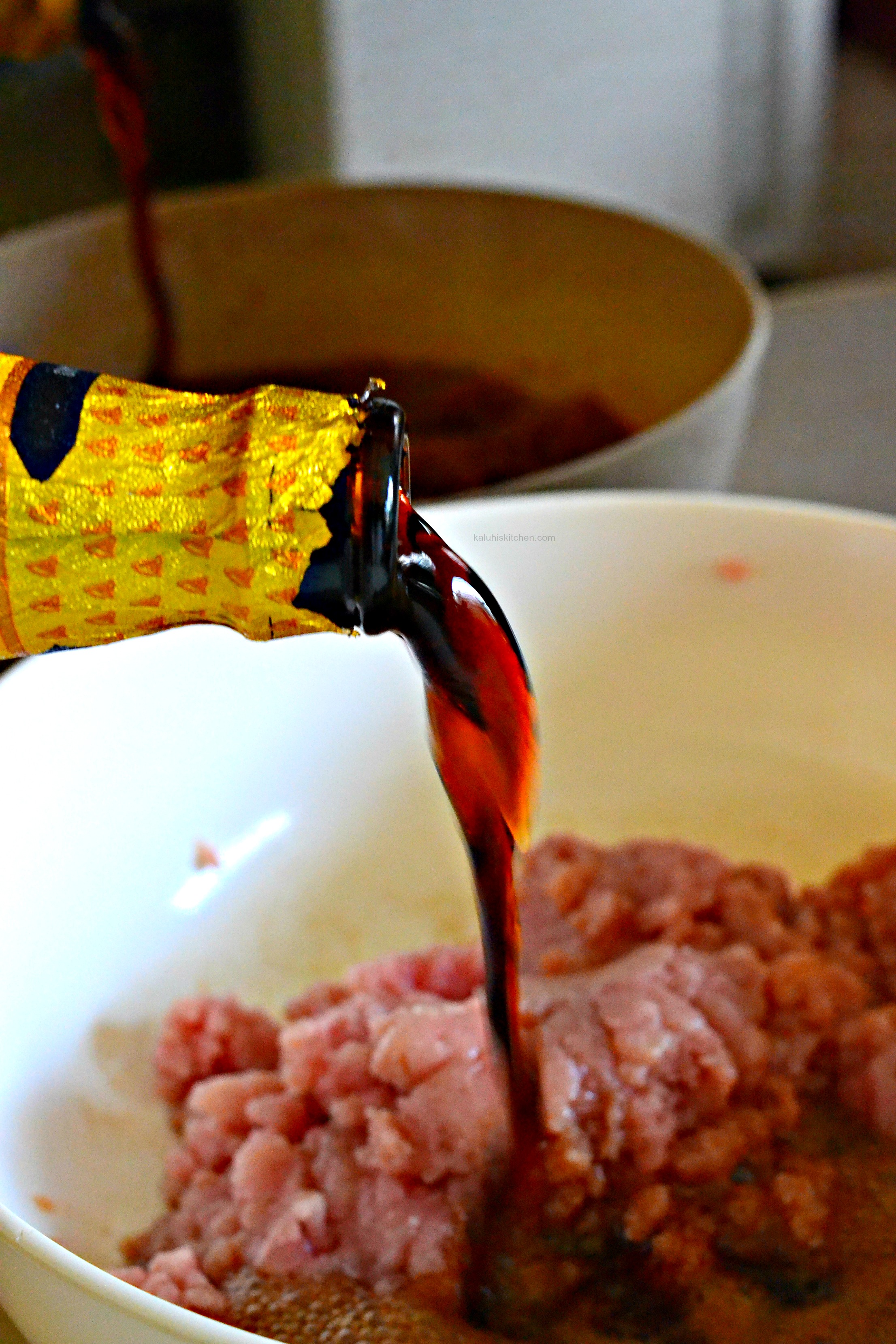 Allow this to marinate for 20-30 min. Because the chicken is already minced, the marination time is not that long since plenty of the surface area is already exposed and flavors penetrate a lot faster. However, if your chicken is not minced, you can allow it to marinate for 24 hours or more them mince it just before you cook. For a burger, I prefer having mine minced. Whichever butcher you go to, select your chicken breast and request them to mince it for you, especially city market or nakumatt deli. They will always gladly help :))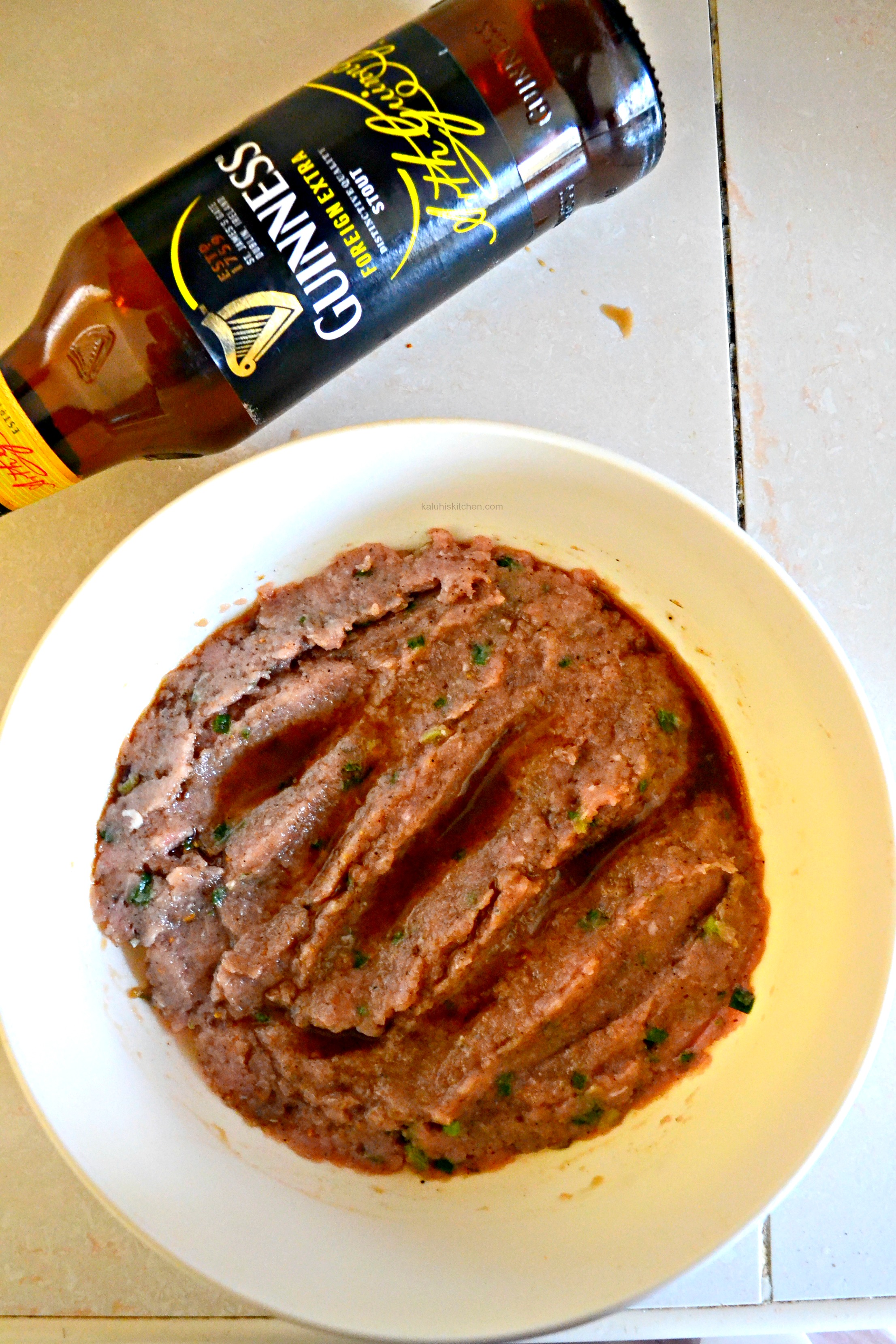 After your marination time has lapsed, scoop some of the minced chicken and shape it with your hands into 1/2 inch thick patties. On a pan, drizzle the bacon fat and heat it then place the patties to cook. The chicken patties will absorb flavors of the bacon via the fat used to cook  them making the burger have a more cohesive taste and fantastic flavor build up. They cook through pretty fast, about 5 minutes.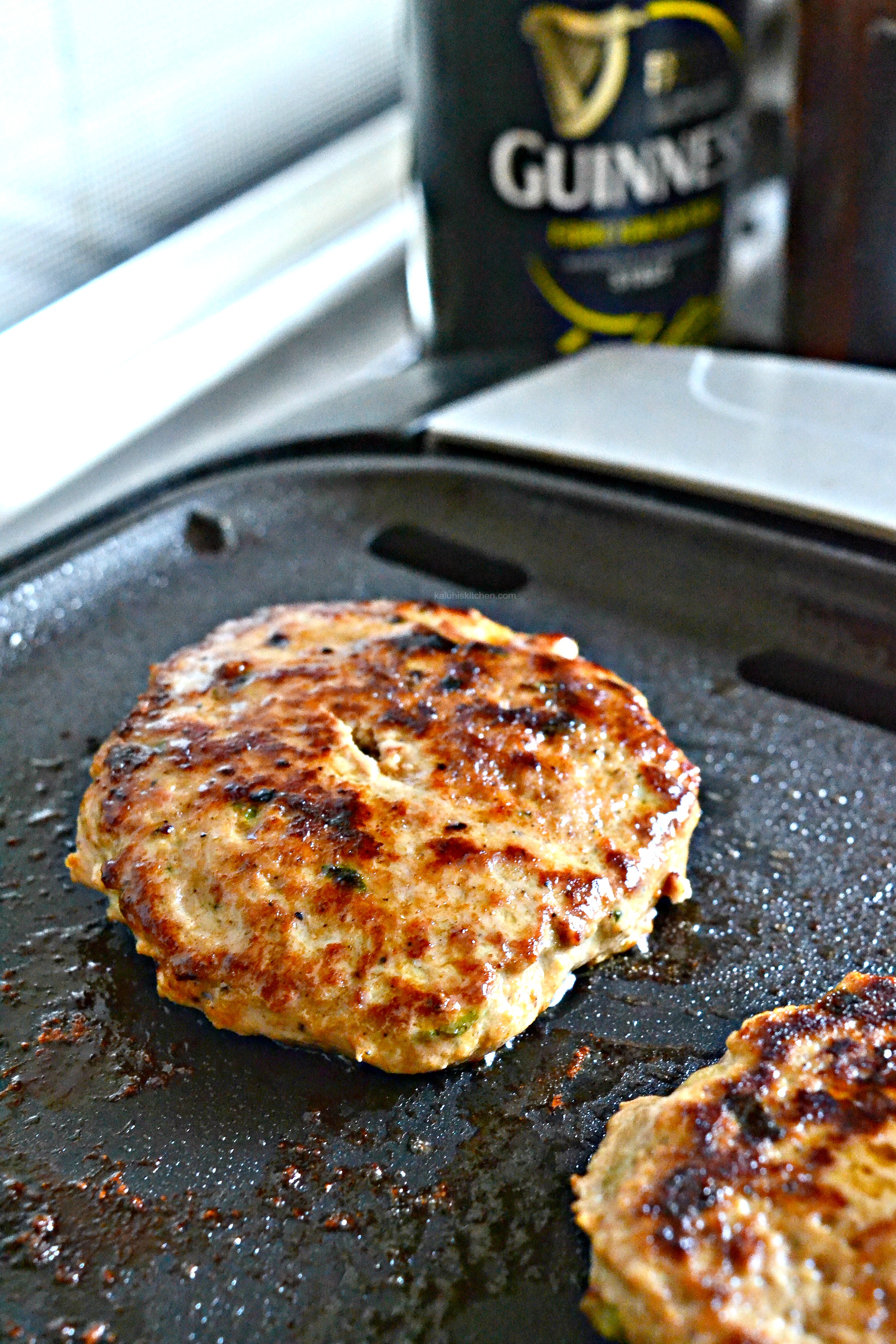 The time taken to cook through will of course vary according to the thickness of your patties. After the patties have an even sear on both sides add your cheese slices and allow them to melt over the bun using the heat of your pan. Once done, remove from heat.
Begin layering your chicken bacon knockout burger:
Slice your bun and place your lettuce first. I like having  my lettuce at the bottom since it prevents the sauce from soaking into the bun making it soggy.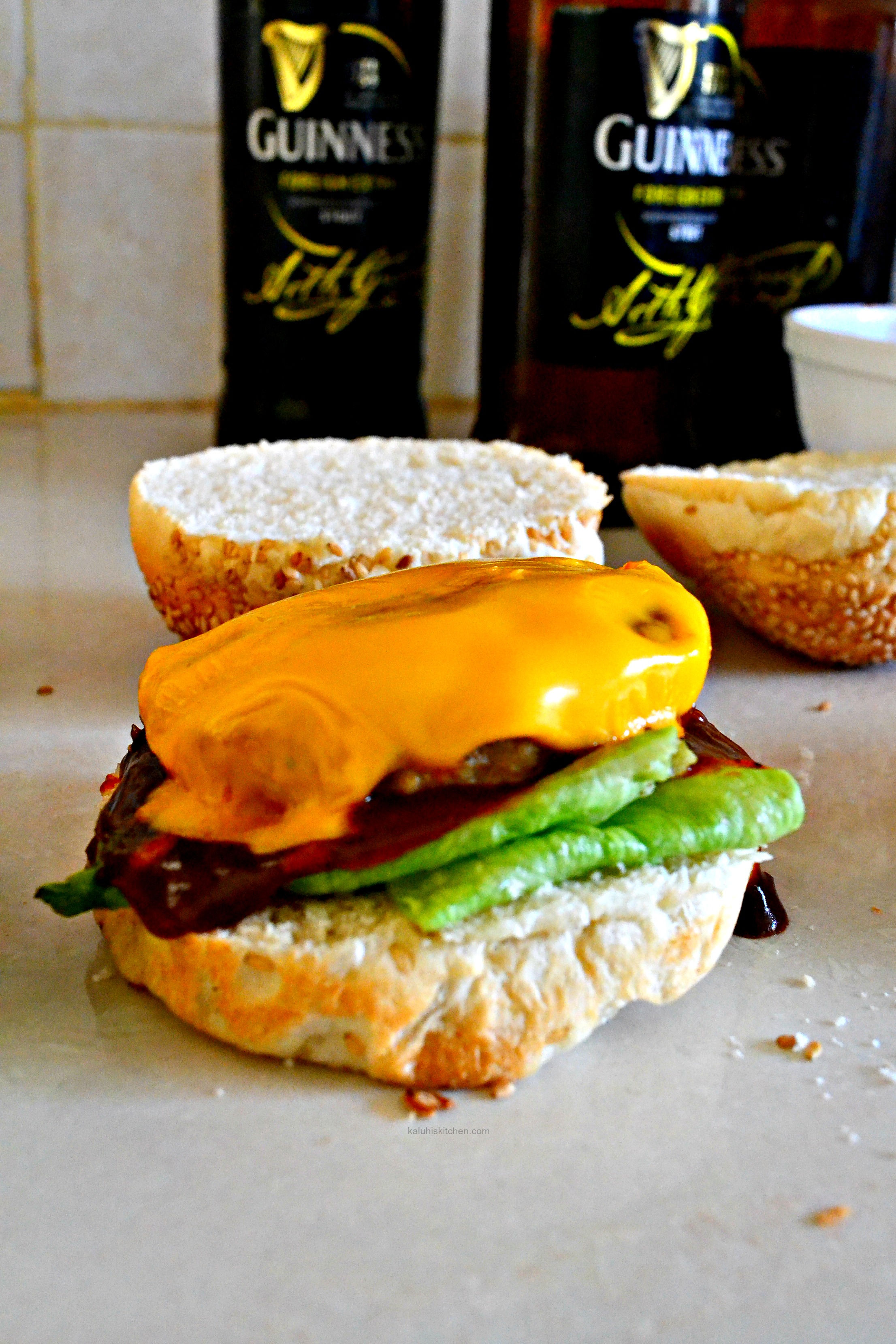 Next, our very delicious garlic stout bbq sauce. Remember that is the same sauce we made for our Triple D drumsticks? I told you I always have a batch in my fridge and this is one of those times we have to use it. Once again, this is all about flavor build up. The same deep stout flavor that the chicken patty has is the same flavor that the garlic stout sauce has. Everything is tied together deliciously and very cohesive.
After your sauce, add your pattie, followed by tomato slices then your crispy bacon and finally, the top bun.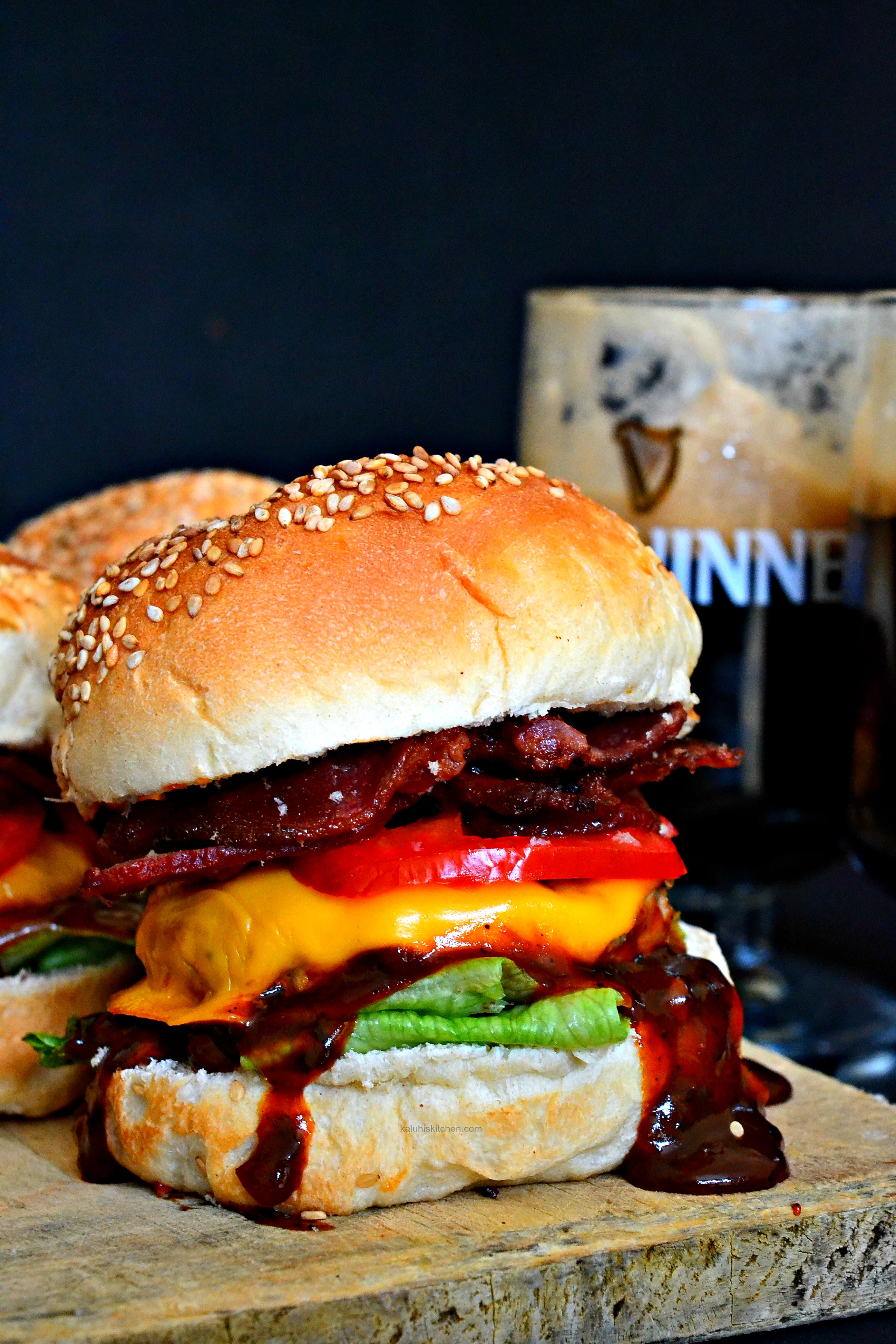 Ever wondered what happiness looks like? This is it!! Sometimes all you need to complete your week is one good juicy, delicious, burger. And this weekend, it should MUST be my chicken bacon knock out burger.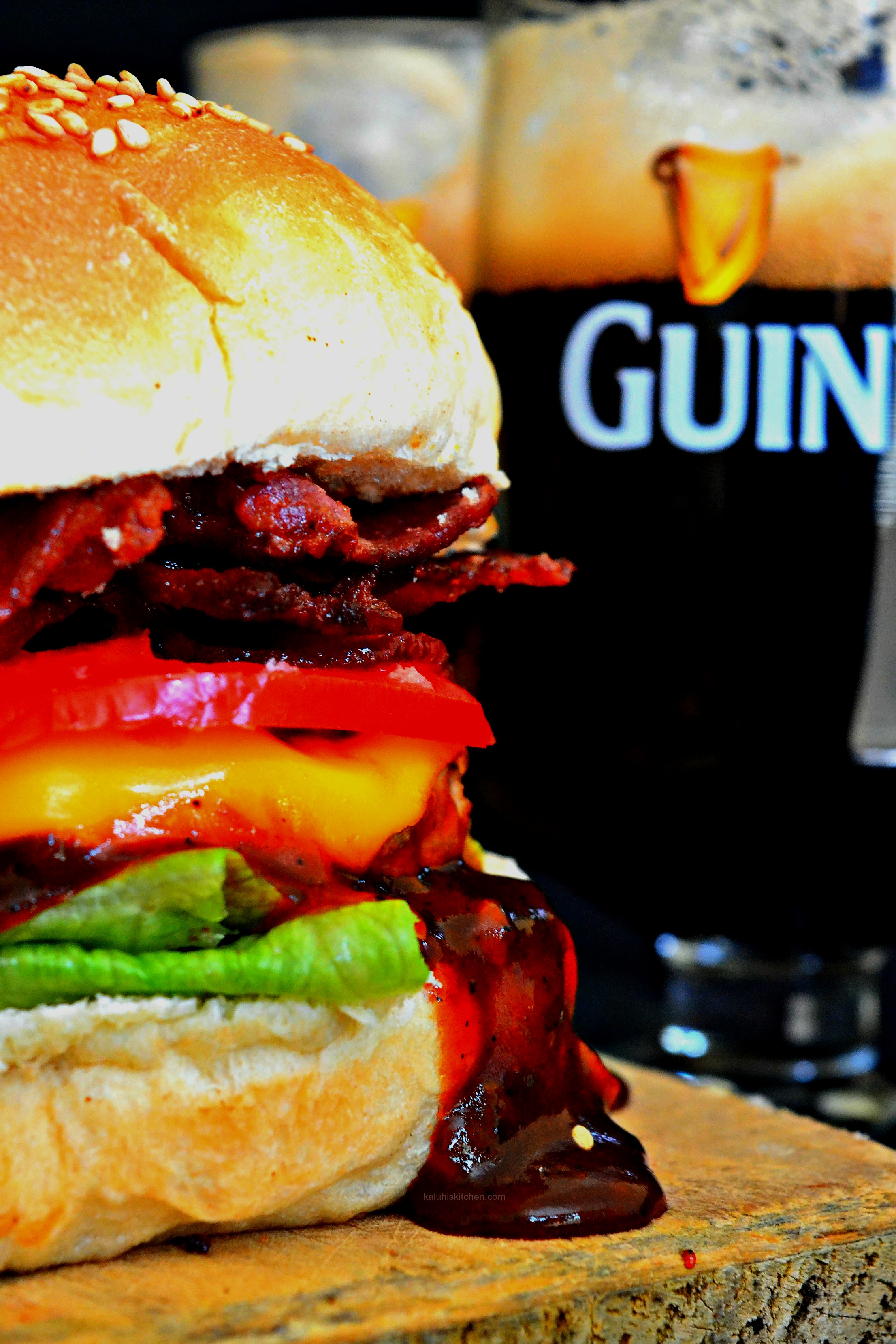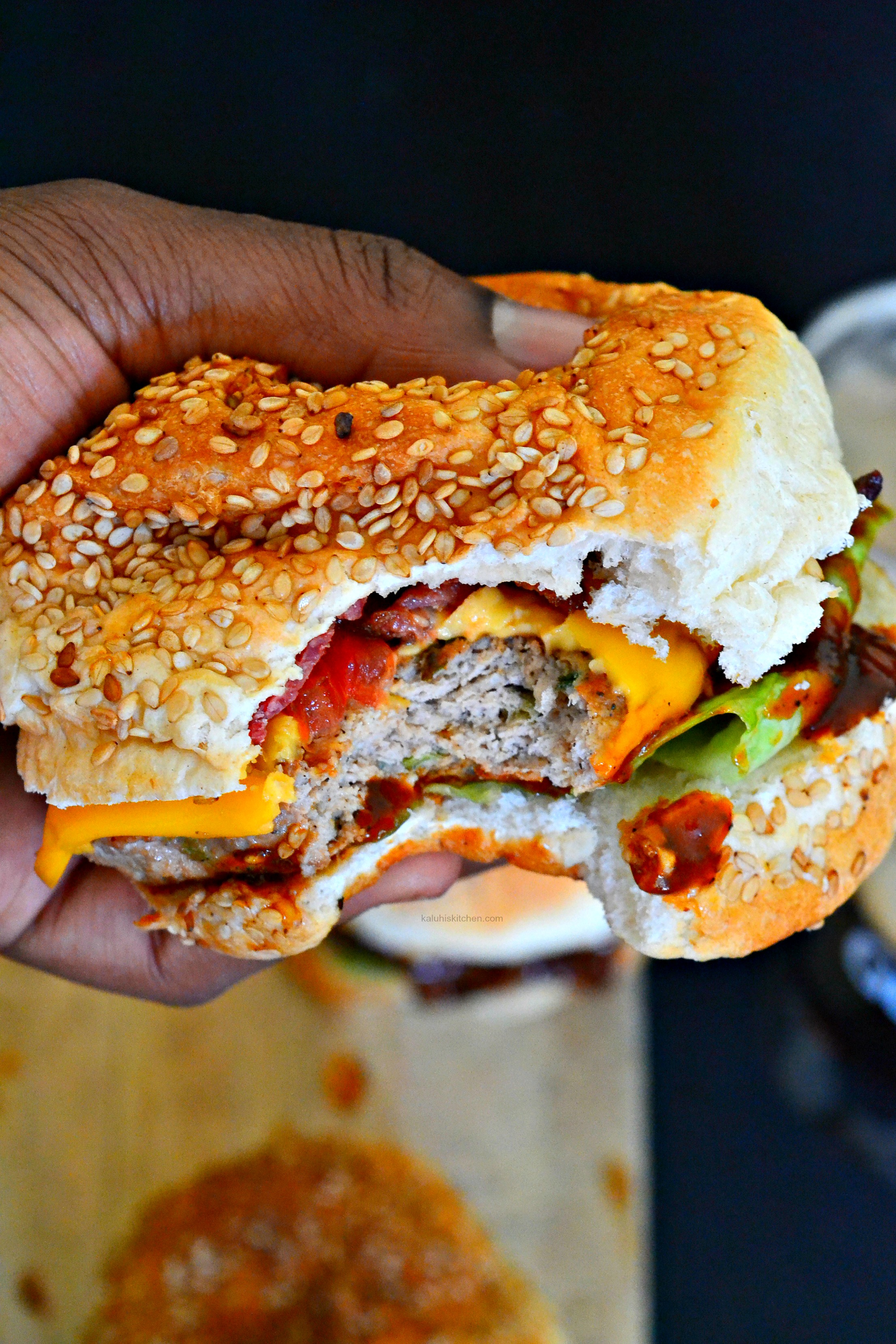 Thank Guinness It's Friday!!!!!!
-K
---
Get your downloadable recipe here :))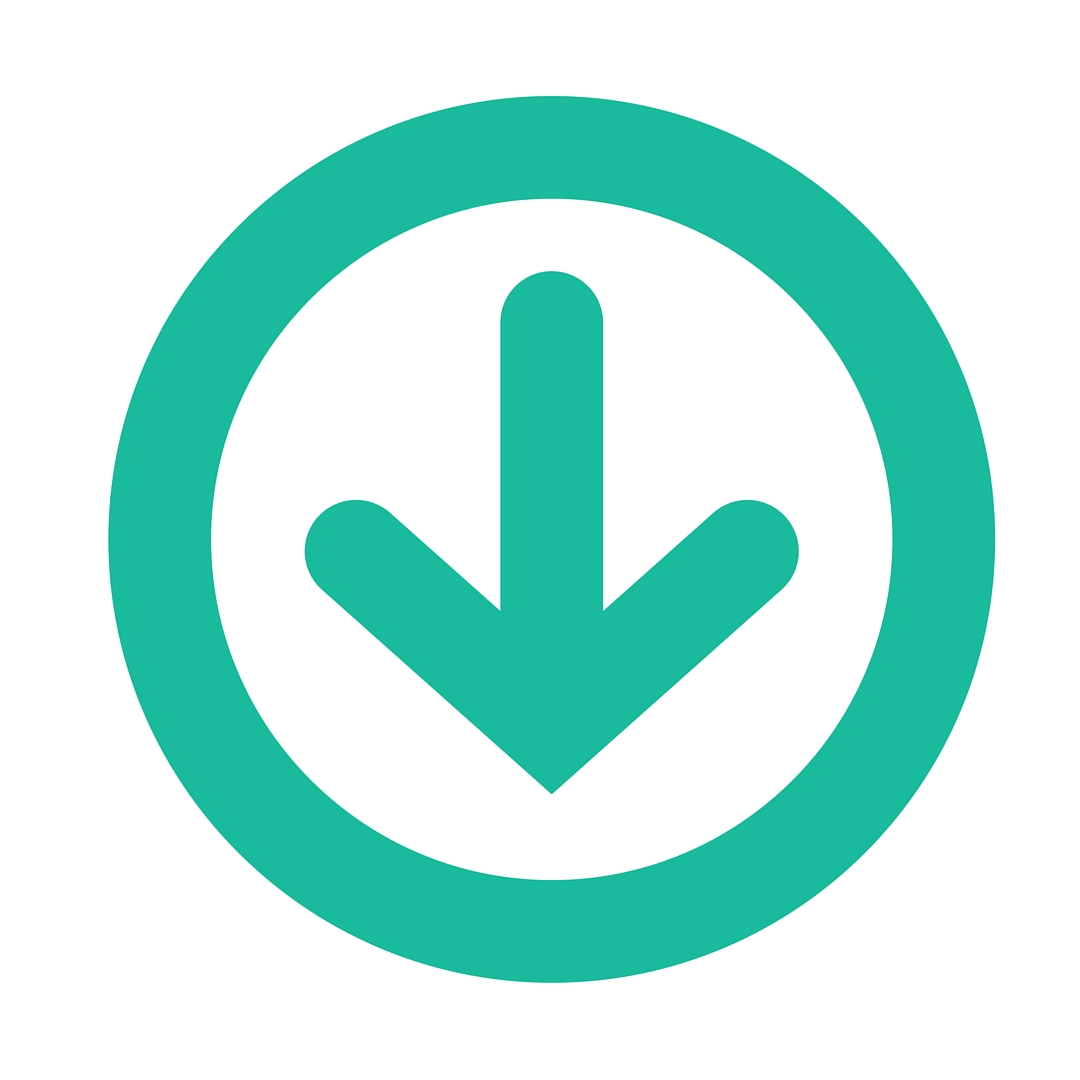 ---
All content and images are copyright protected by



Do not copy in part or whole without giving due credit.