Long time no post!! Hey my love! How has your year started off? Mine has been slow and fast-paced in equal measure. But so far, I am feeling optimistic about 2023. Life, as we all know, will always hand us near equal amounts of woe and joy. But last year – for me – was almost all woe. It was a heavy year, one whose darkness nearly wore me down to the bone. It ground my feet into pulp but now I am slowly regaining my footing. Laughter is returning to my lips. Calm is returning to my soul. I still have a lot to remedy, but I have hope that soon the sun will shine on my face and joy shall be a regular in my days. Hope. That is what I am feeling. Hope that things will be better. Hope that things will be stable. Hope that love will balm my scars and offer me a steady ground to once again take root in. And in the theme of getting back into the swing of things, let's kick of 2023 with one of my favorite things I have eaten this far!
I have filmed so much content, so much so that it can last till the last quarter of this year. This was among the last one's I filmed but I just had to bump it and post it as the first of the year. It captures both the glory of mango season and the perfection of baby back ribs. You will fall in love with this one!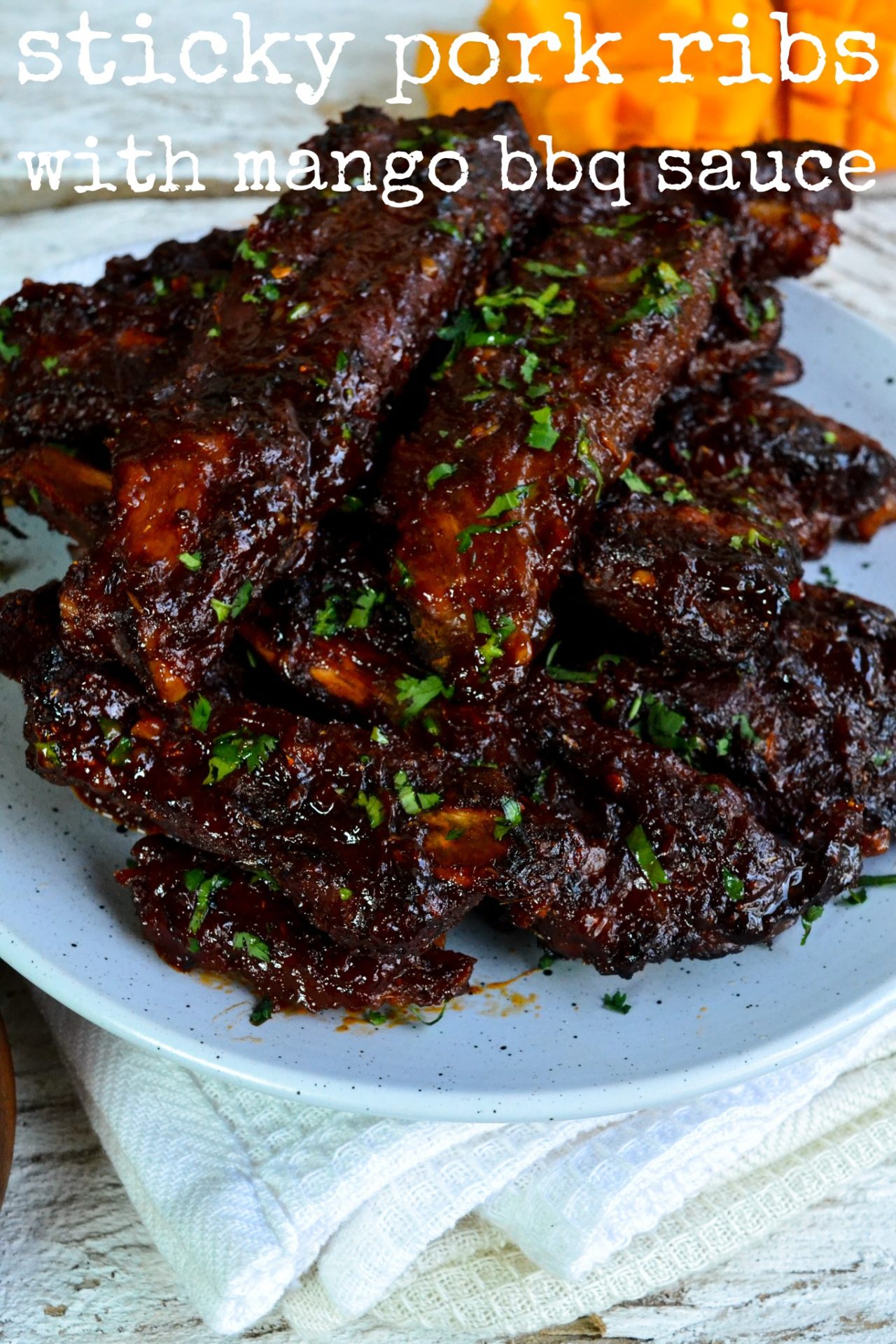 PREP TIME: 24hr    COOK TIME:  2.5 hr       SERVES: 3
Ingredients
For marination: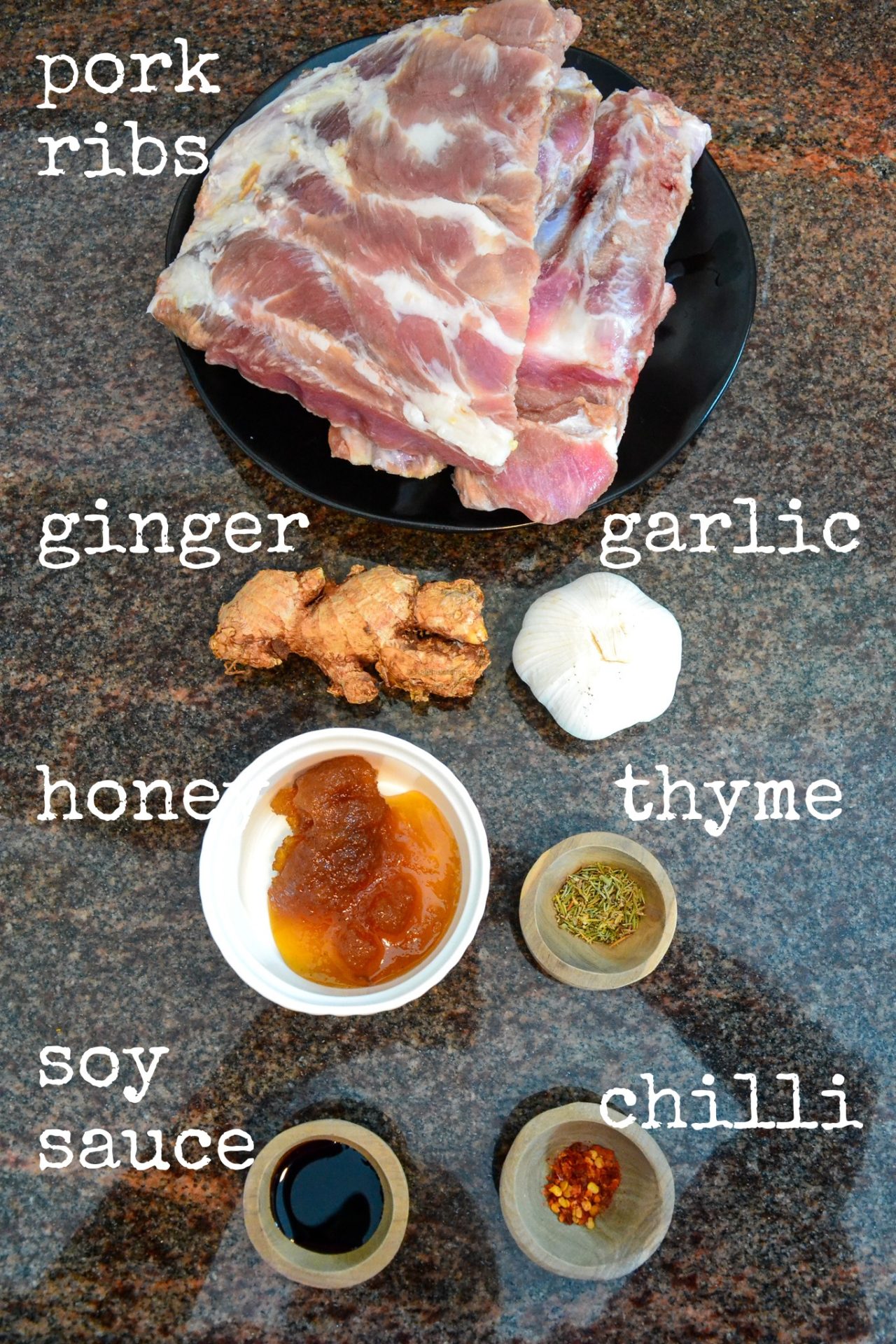 750 g of  pork baby back ribs
3 cloves of garlic, minced
1 heaped tablespoon of minced ginger
1/4 teaspoon of chili flakes
1 teaspoon of dried thyme / 3 sprigs of fresh thyme
2 tablespoons of soy sauce
4 tablespoons of honey
To season:
1 tablespoon of coriander spice
1 tablespoon of smoked paprika
1 teaspoon of onion powder
1/2 teaspoon of cumin
For the mango bbq sauce:
1 mango cheek, pureed
1/2 red onion, finely chopped
1/4 cup of chopped chives
1 tablespoon of minced ginger
1 teaspoon of minced garlic
250g of ketchup
2 tablespoons of soy sauce
1/4 teaspoon of chili flakes
2 tablespoons of honey
Method
The perfect pork ribs for this recipe are baby back ribs. They are smaller and absorb flavor well compared to the large ribs. Before setting out to marinate, ensure you peel off the silver membrane off of the back of the ribs so that the flavors really absorb.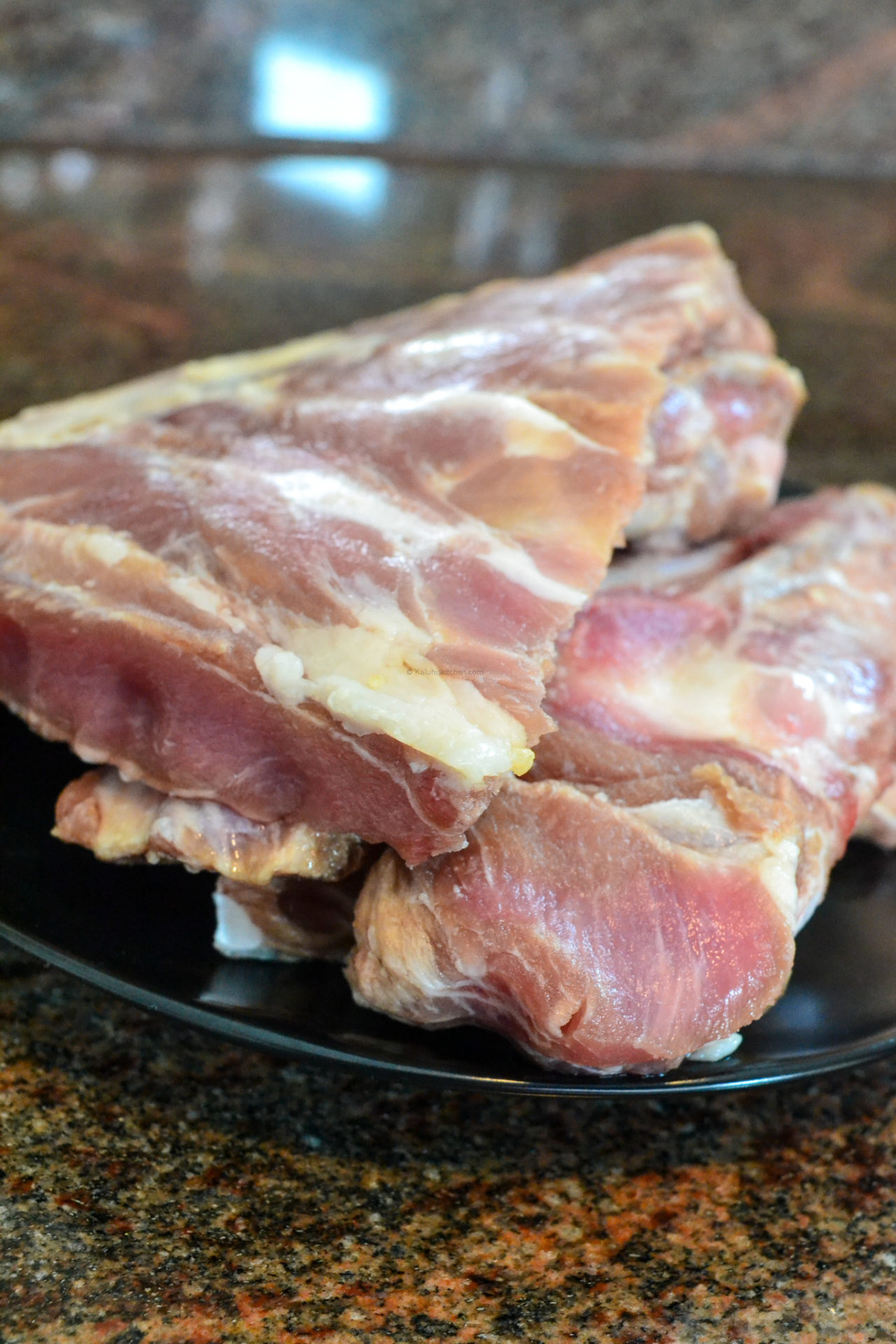 Begin by marinating the meat: place all the marination ingredients in a bowl and mix until combined. The ingredients I chose to marinate my pork with are very simple, but really go so well with the flavors of pork.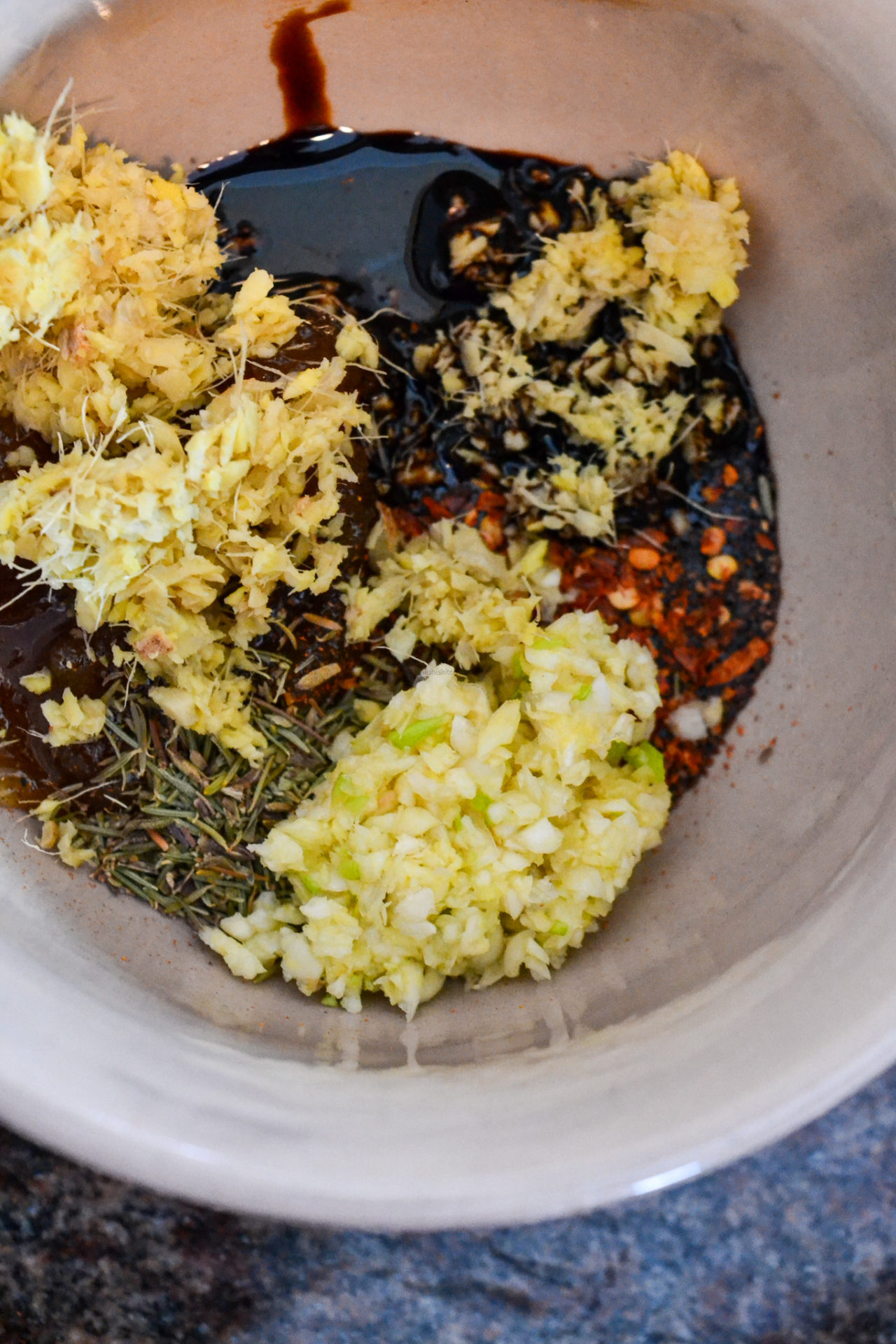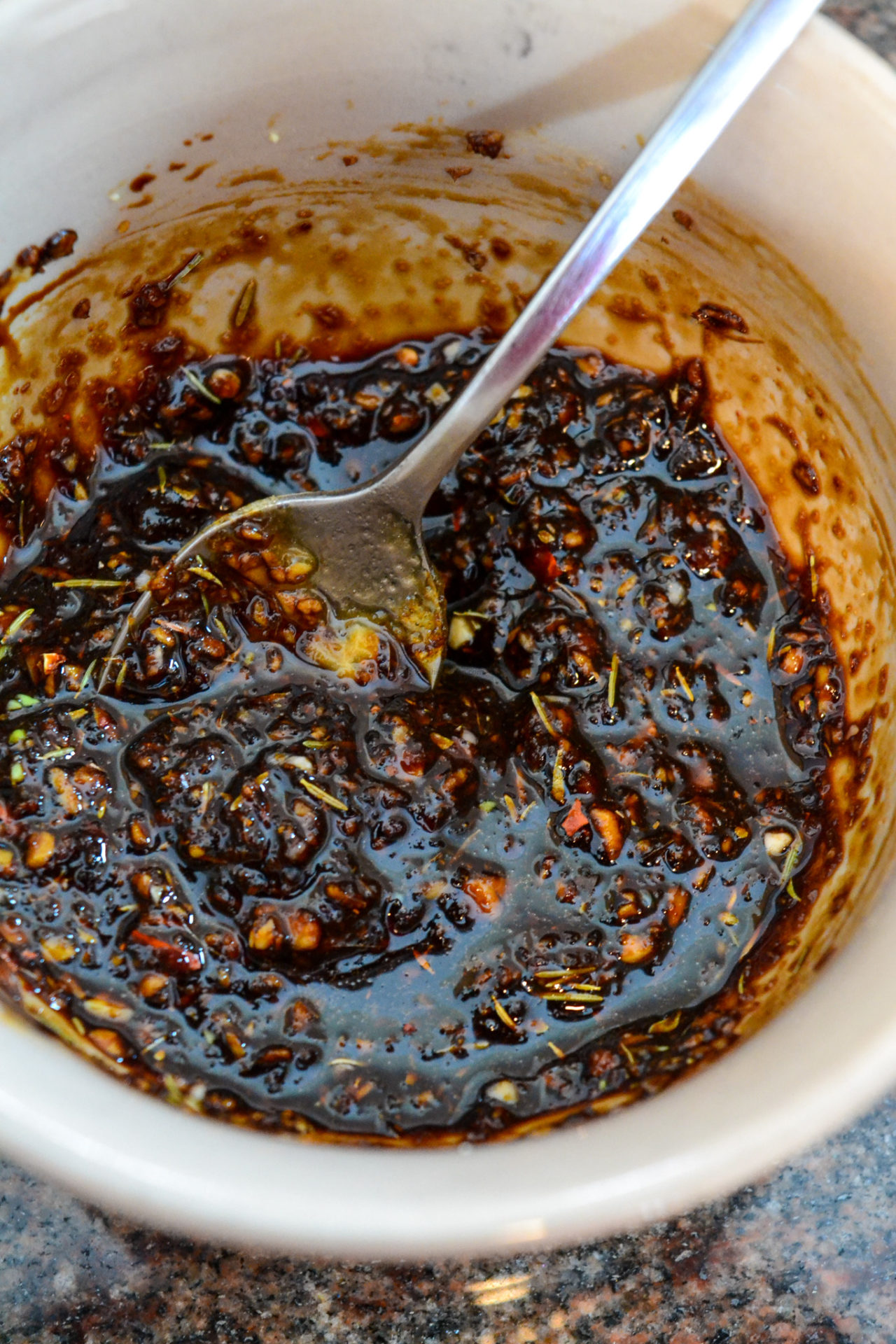 Pour them onto your rack of ribs and slather until coated. You can see this in the video at 2.19 – 2.25.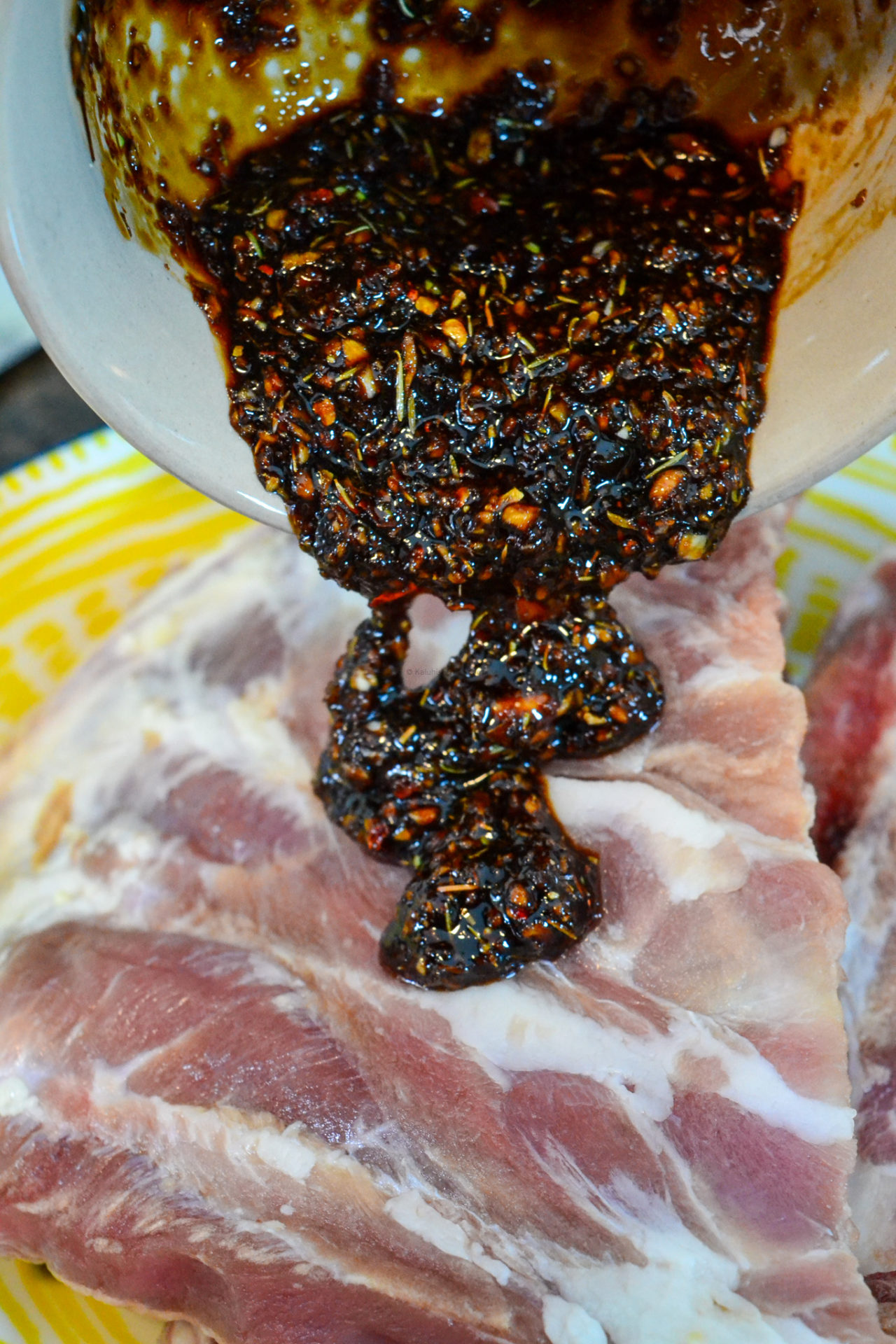 Cover and let this marinate for 6 – 48 hours. Remember, the longer you marinate your meat, the deeper the flavors sink in.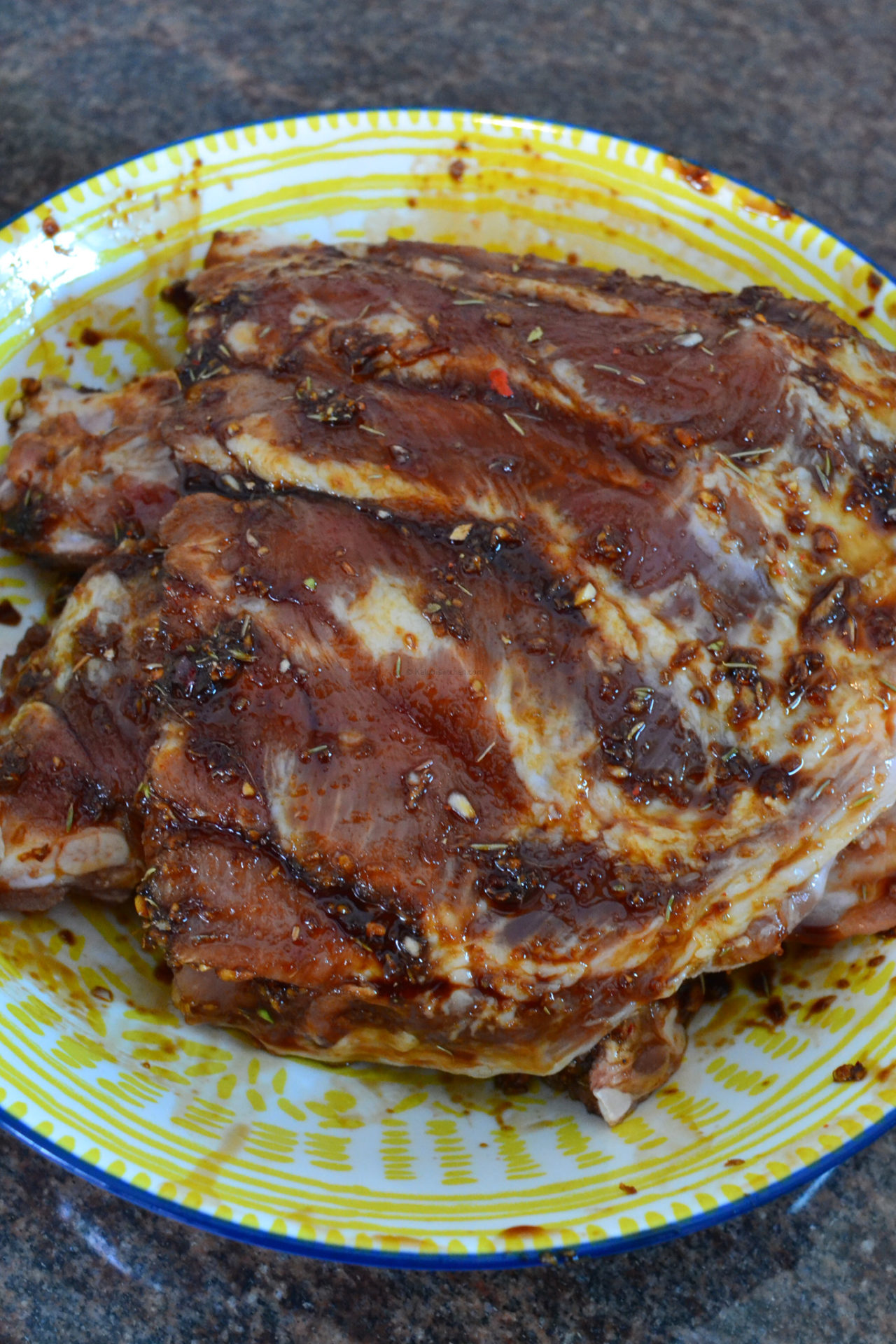 Mine marinated for 18 hours and the flavors were perfect!
Next day, allow the ribs to come back up at room temp. Slice the rack into individual ribs and place in a bowl. You can allow them to bake on the rack, however I prefer to have them bake individually.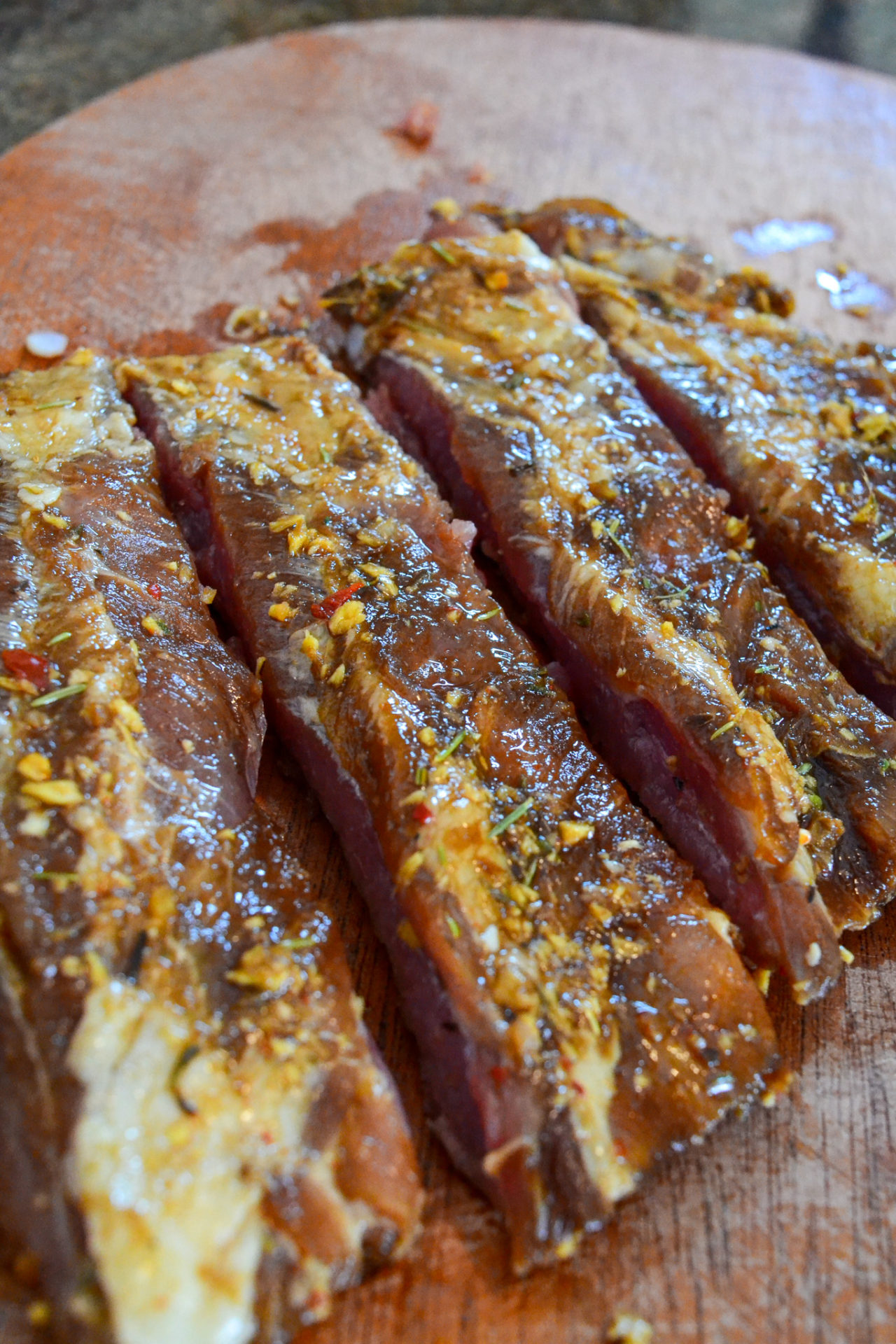 The spices I chose to season our ribs are cumin, onion powder, smoked paprika and curry. Very simple flavors that are complimentary to the sauce and the marination and not antagonistic.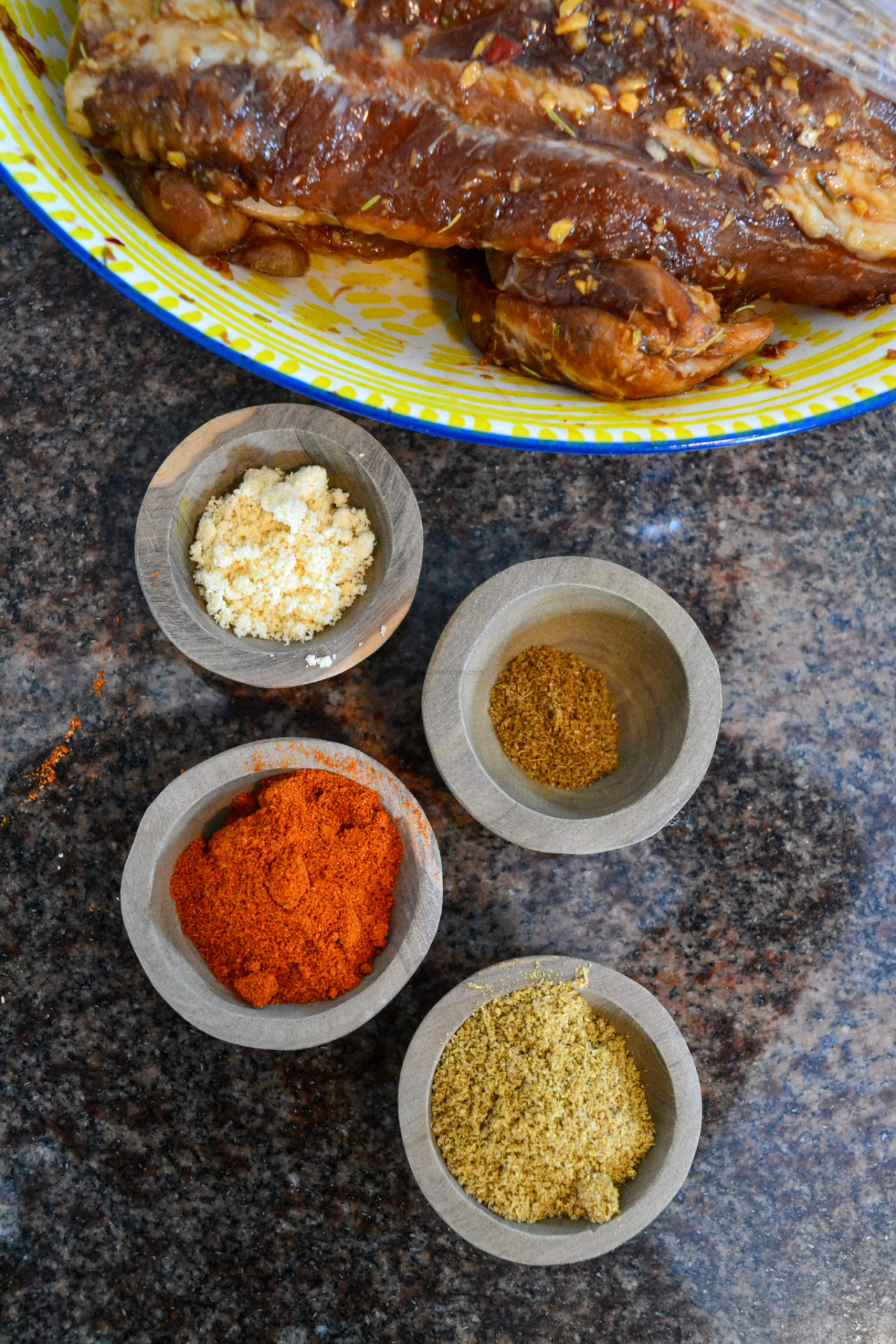 Combine the four spices for seasoning and then pour onto the ribs and rub them in.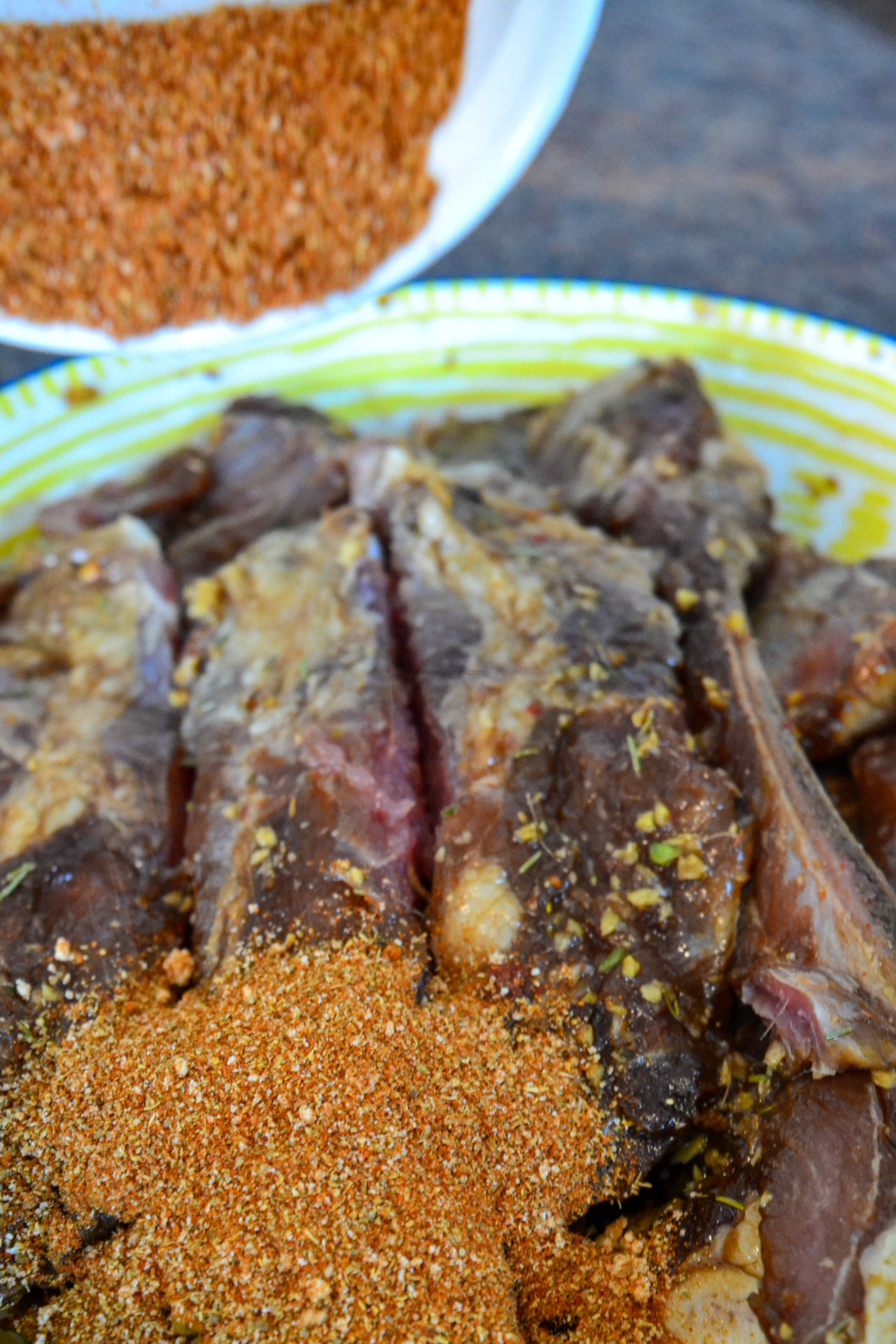 Once done, place them your baking pan and cover with foil – shiny side up. Be sure to enclose the edges of the foil well so that moisture does not escape as they bake. If the moisture escapes, the ribs will be dry AF. We want to keep them nice and juicy so ensure the top foil is nice and snug!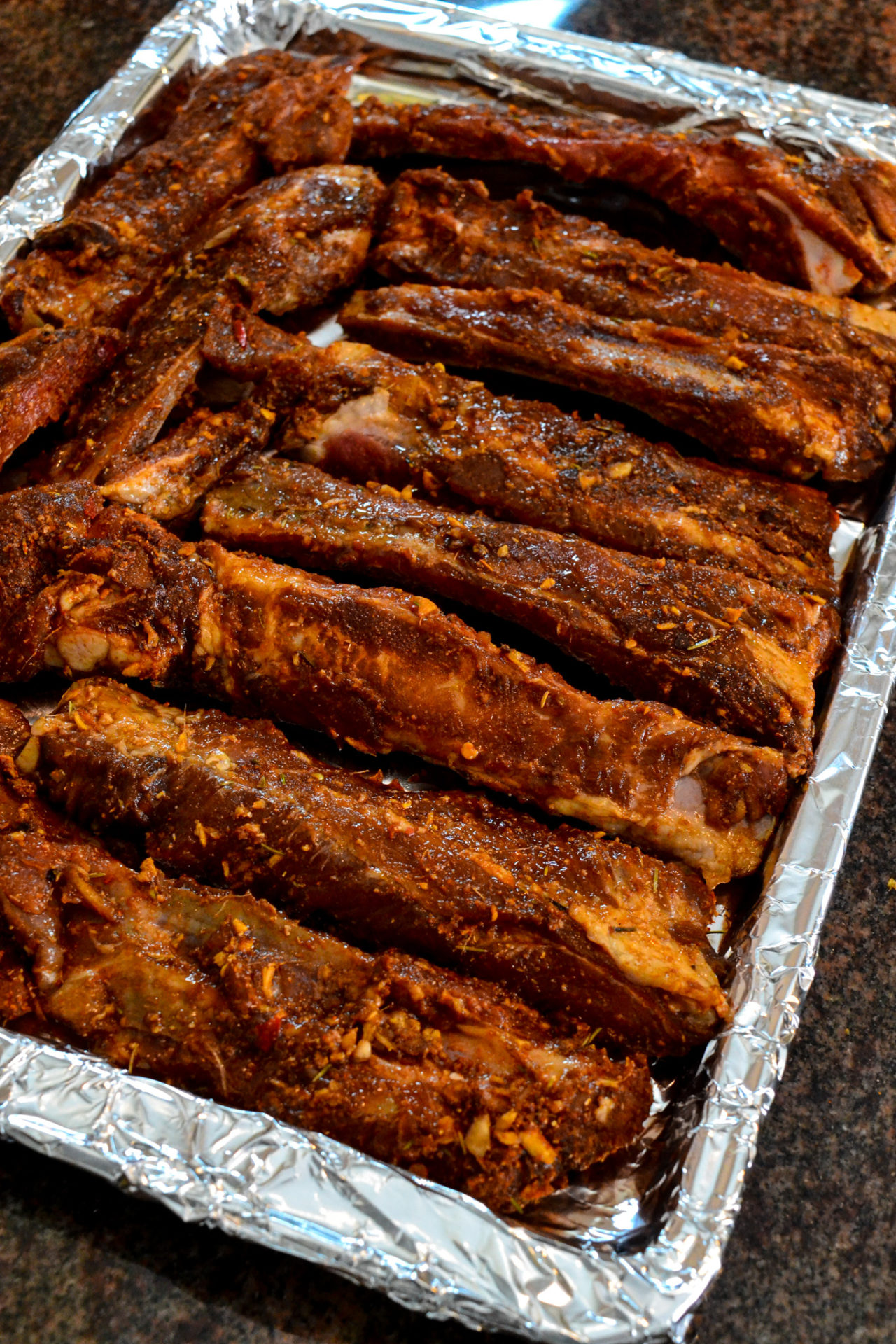 Allow them to bake for 2.5 – 3 hours at 170c.
As that is baking, prepare your mango bbq sauce.
Words cannot explain how spectacular this sauce it! We are neck need in mango season and no better way to allow this glorious fruit to shine than in a bbq sauce. Ensure the mango you use is ripe and sweet, which is simple because the ones we have been eating have been crazy delicious.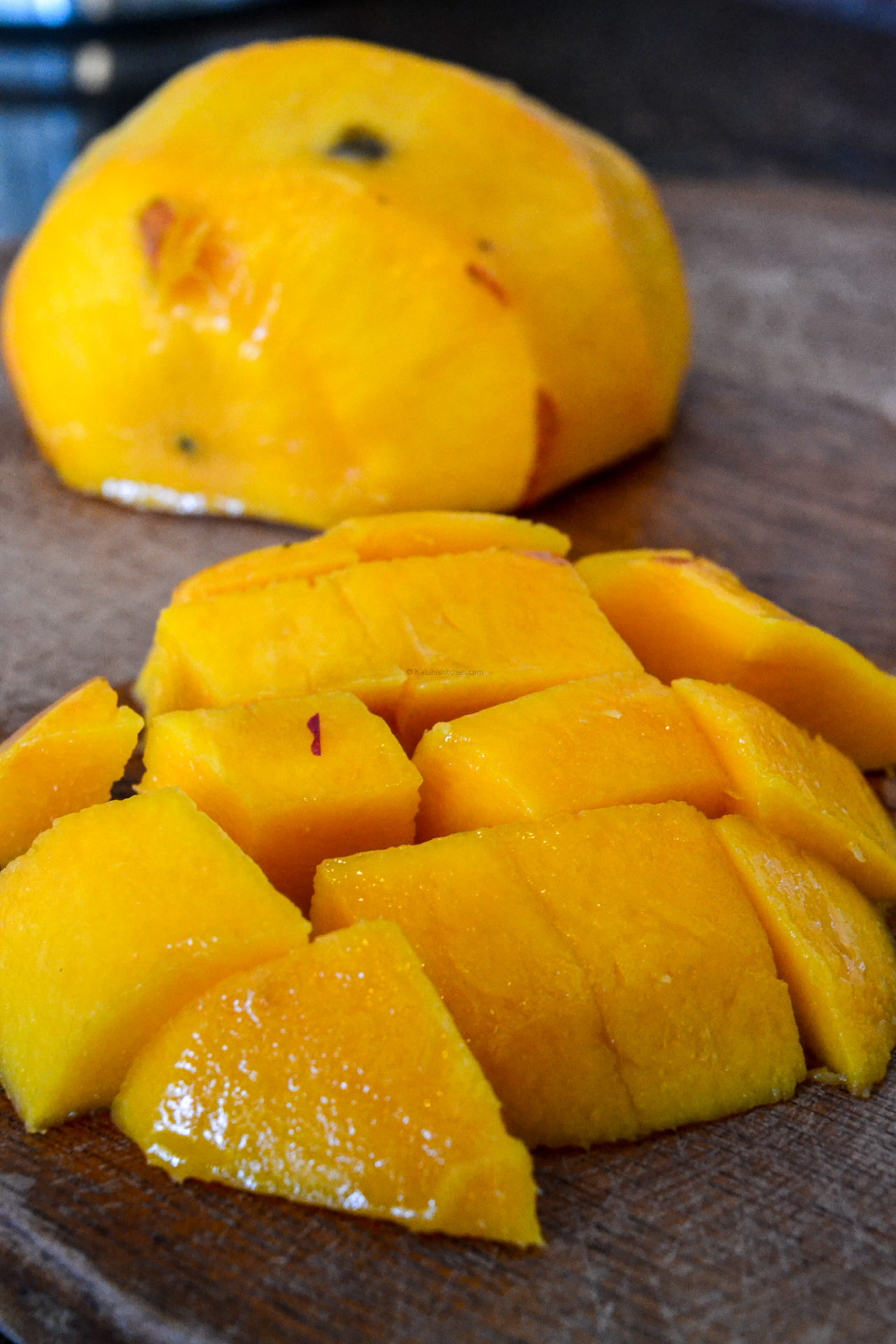 Peel your mango and puree it with a hand blender until smooth. Not a juice, but a puree. Incase you are unsire about the consistency, see it from the video at 4.52.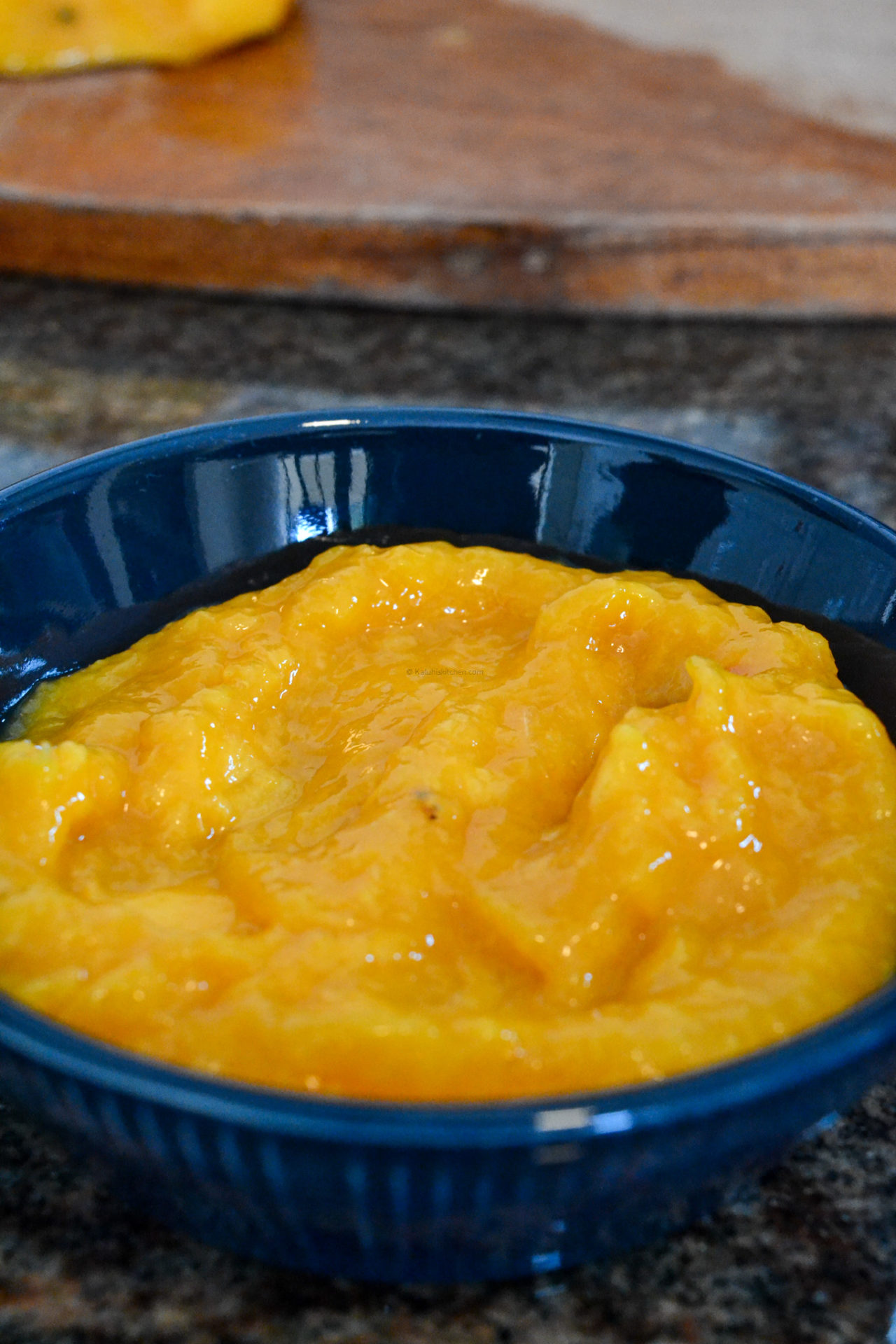 In your sufuria, add in the chives, onion, ginger and garlic. Sautee until softened and fragrant.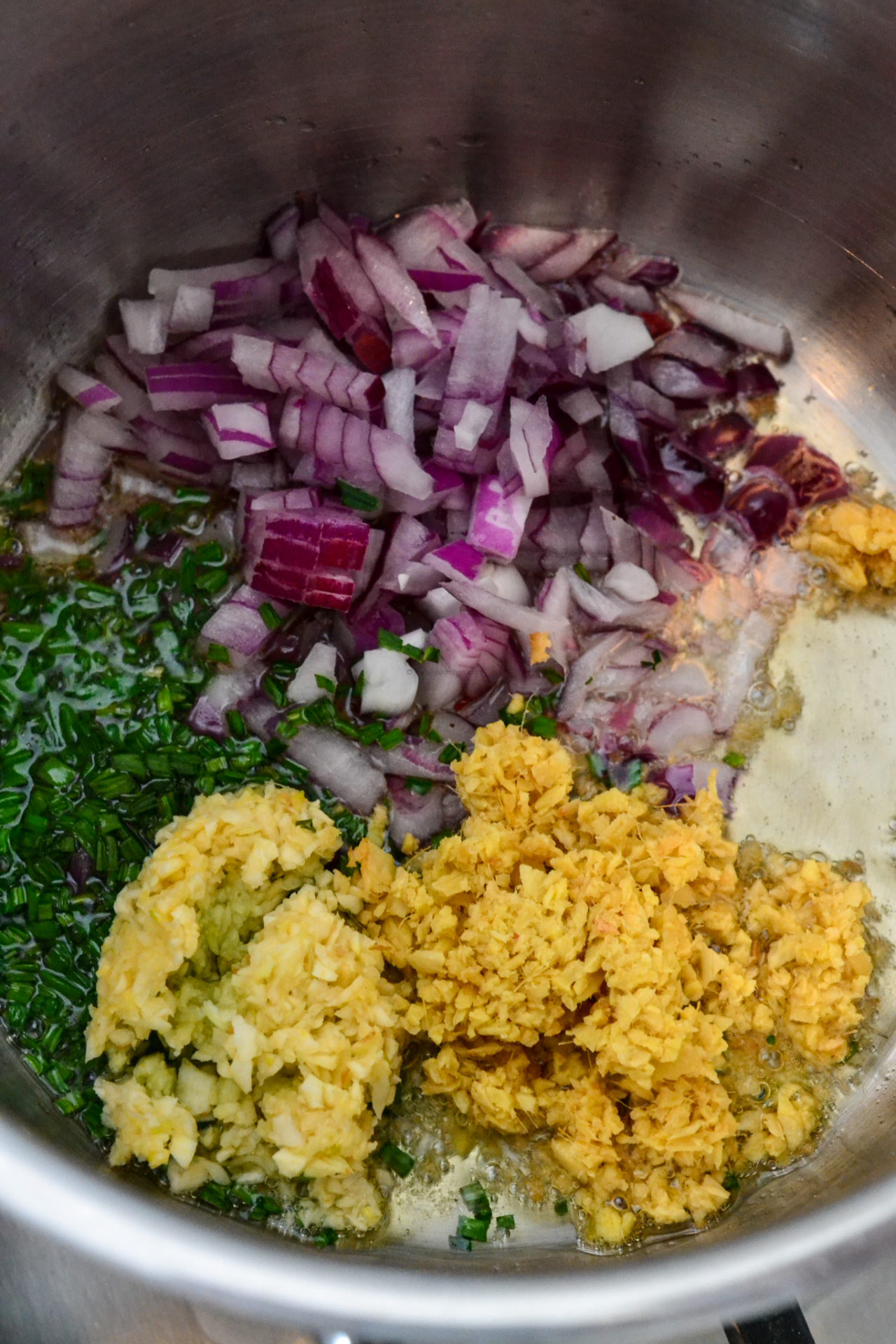 Add in your ketchup, honey, the pureed mango soy sauce and chili. Mix it all up and allow this to simmer on low heat for about 10 minutes.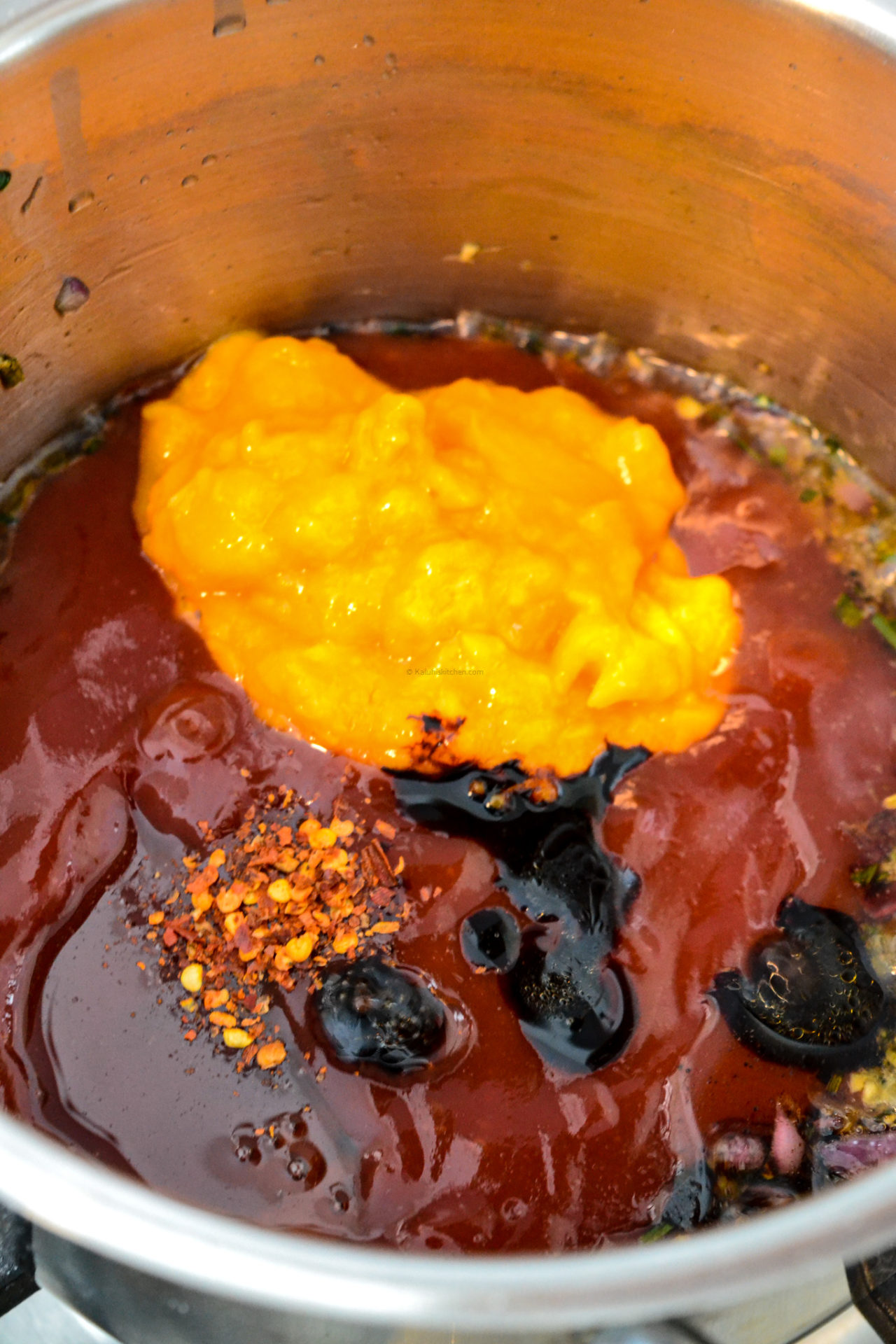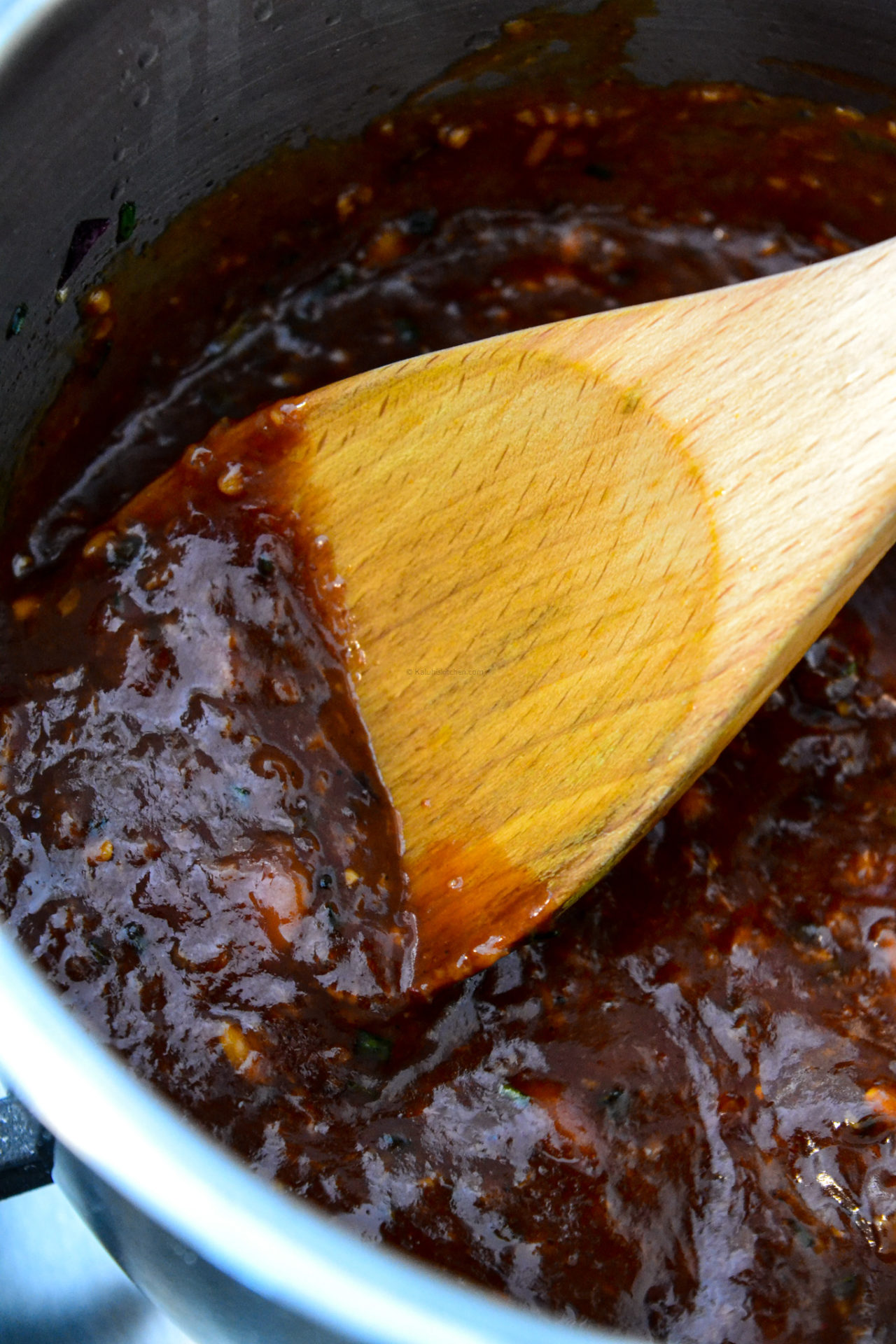 Once done, ladle into a bowl.
The sauce can be made well in advance; with a batch lasting for up to 2-3 weeks. Besides pork, my mango bbq sauce goes so so well with grilled fish and kuku choma as well.
Doesn't this look so rich??!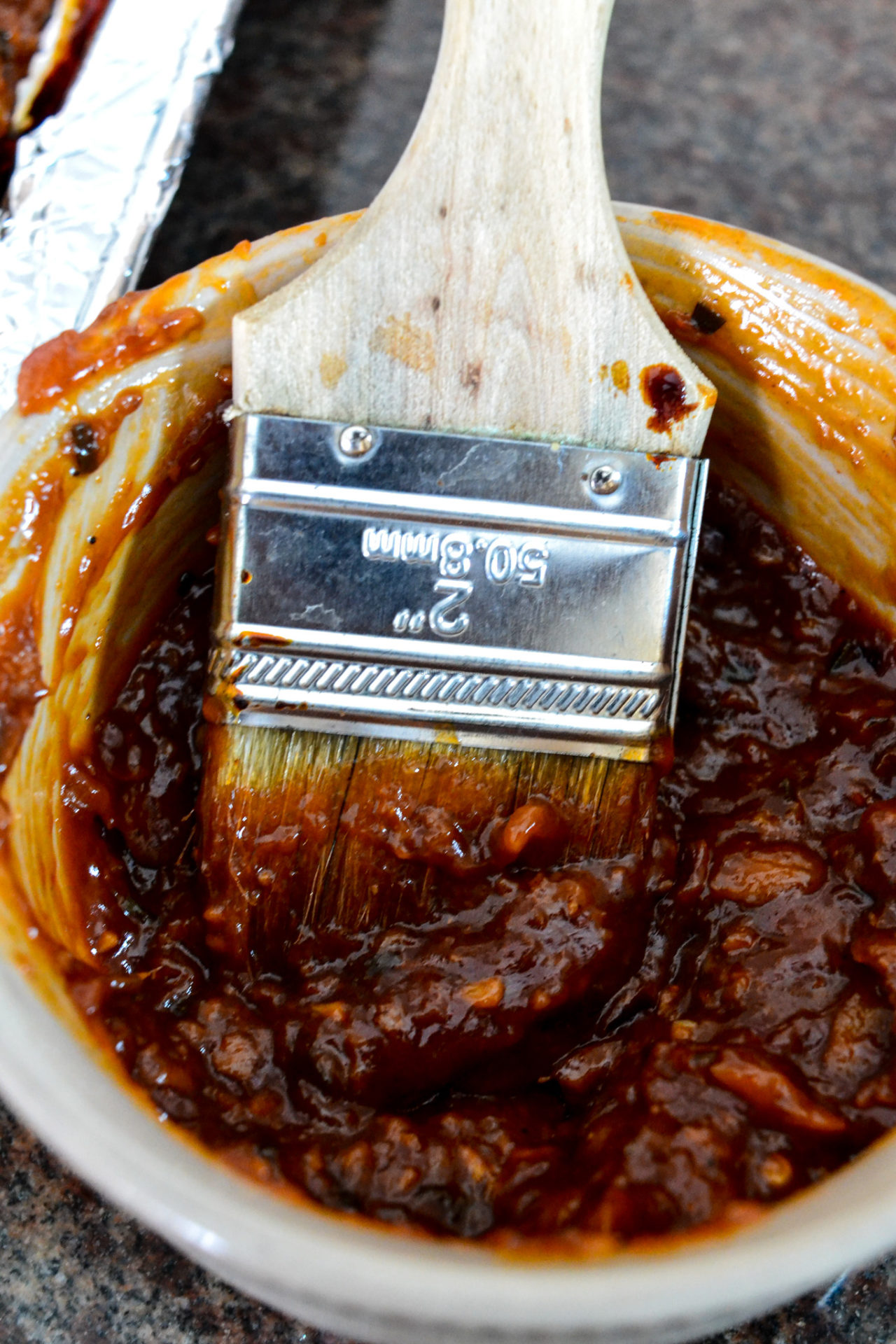 After the pork ribs are done cooking, take them from the oven and baste the mango bbq sauce over them. They will initially look very boring and blank, but after the mango bbq sauce does it's magic on them you will see the difference!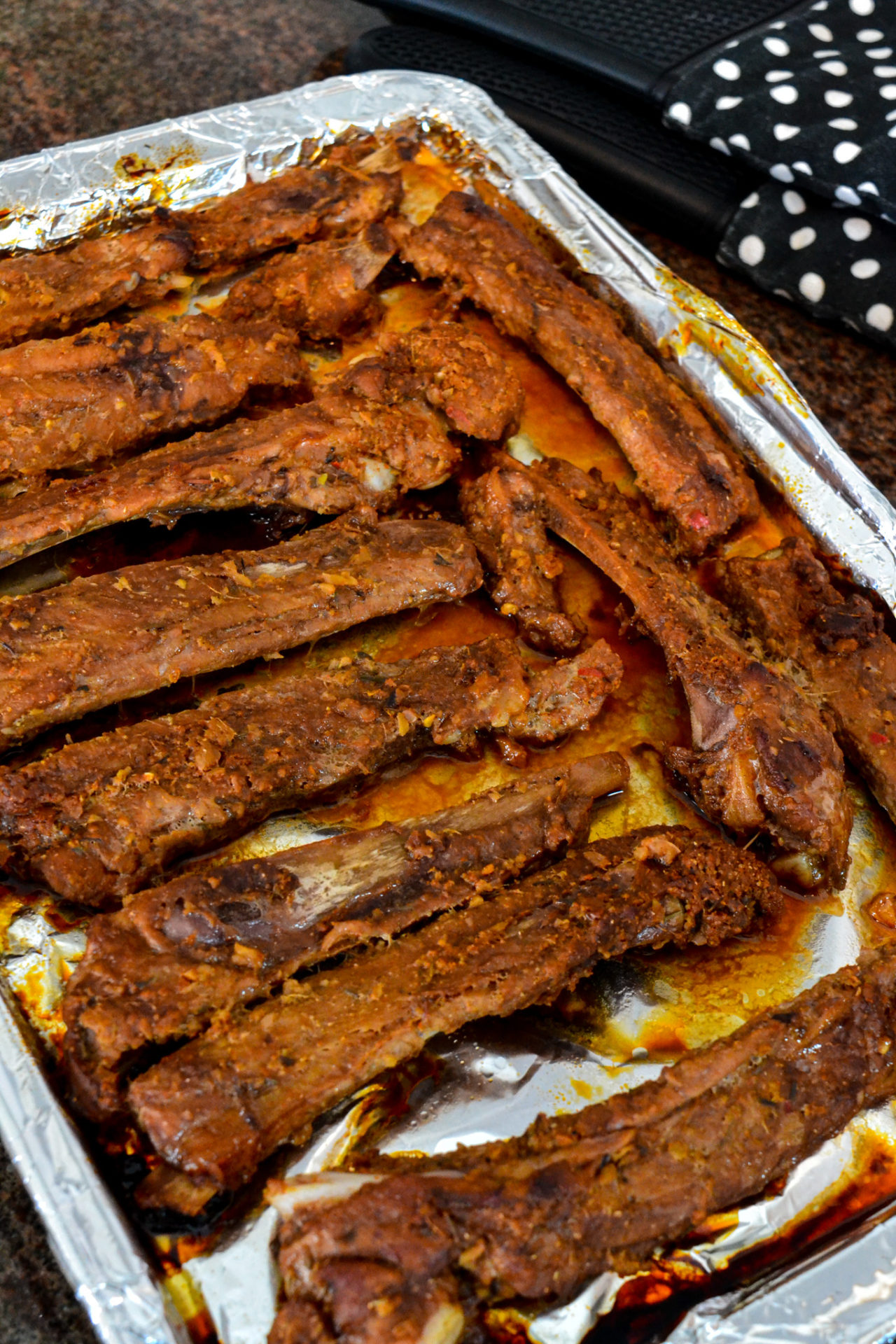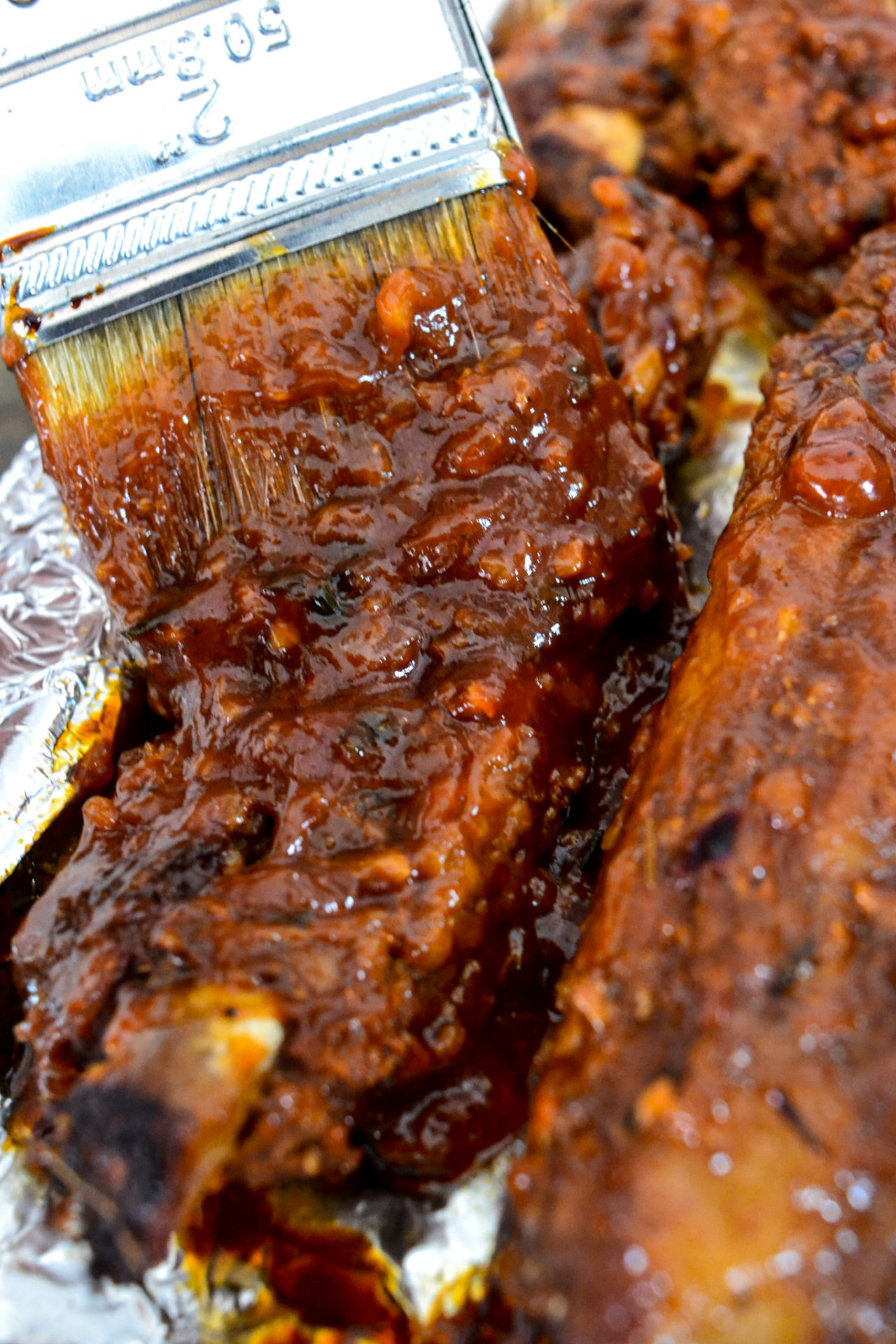 Once basted, return them back into your oven and let then grill for a further 10-15 minutes so that they get nice and sticky. This time, the heat should come from only the top part of your oven and the ribs should not be covered.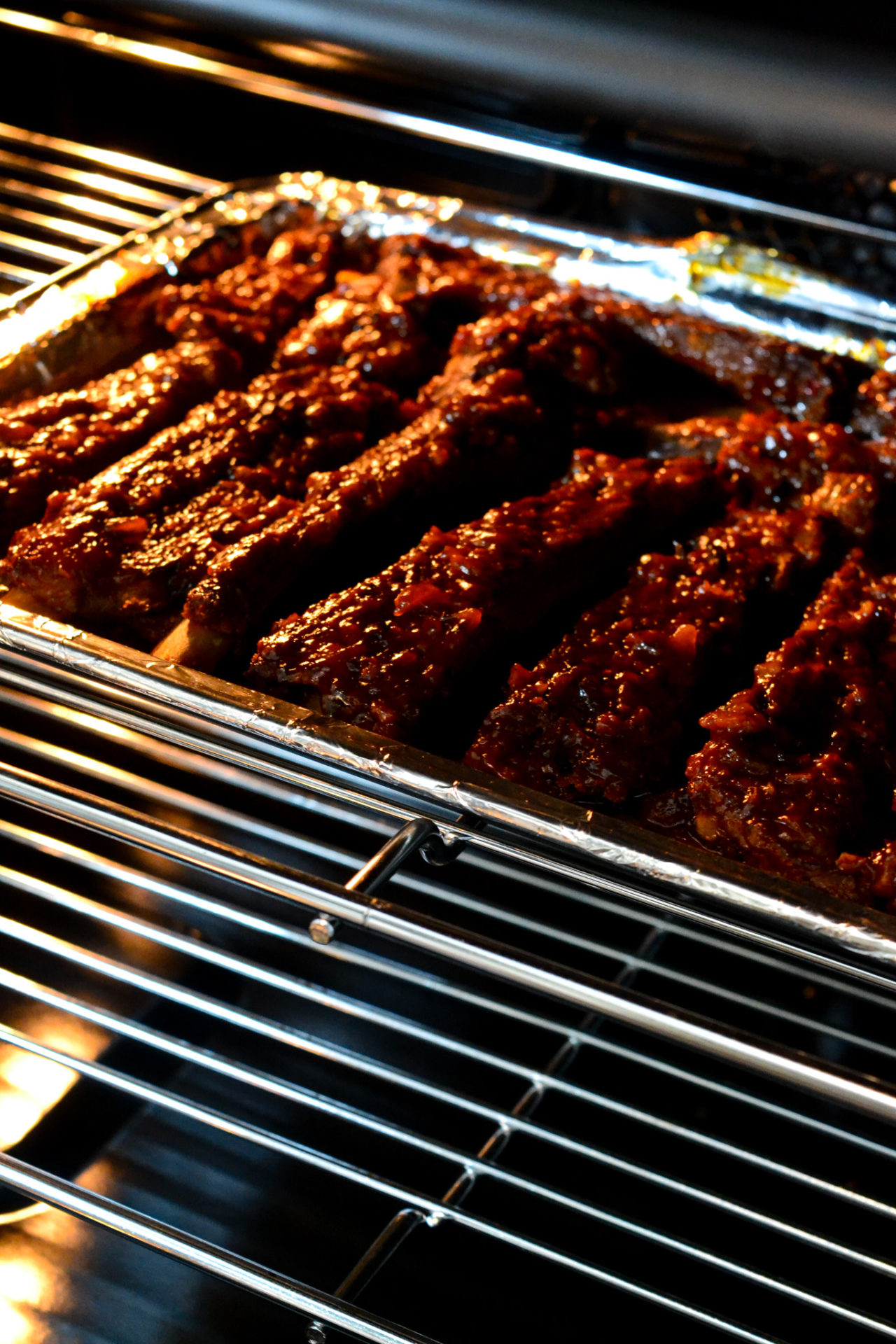 Once done, garnish with some very finely chopped dania and serve with whatever you fancy!
I mean look at these!!!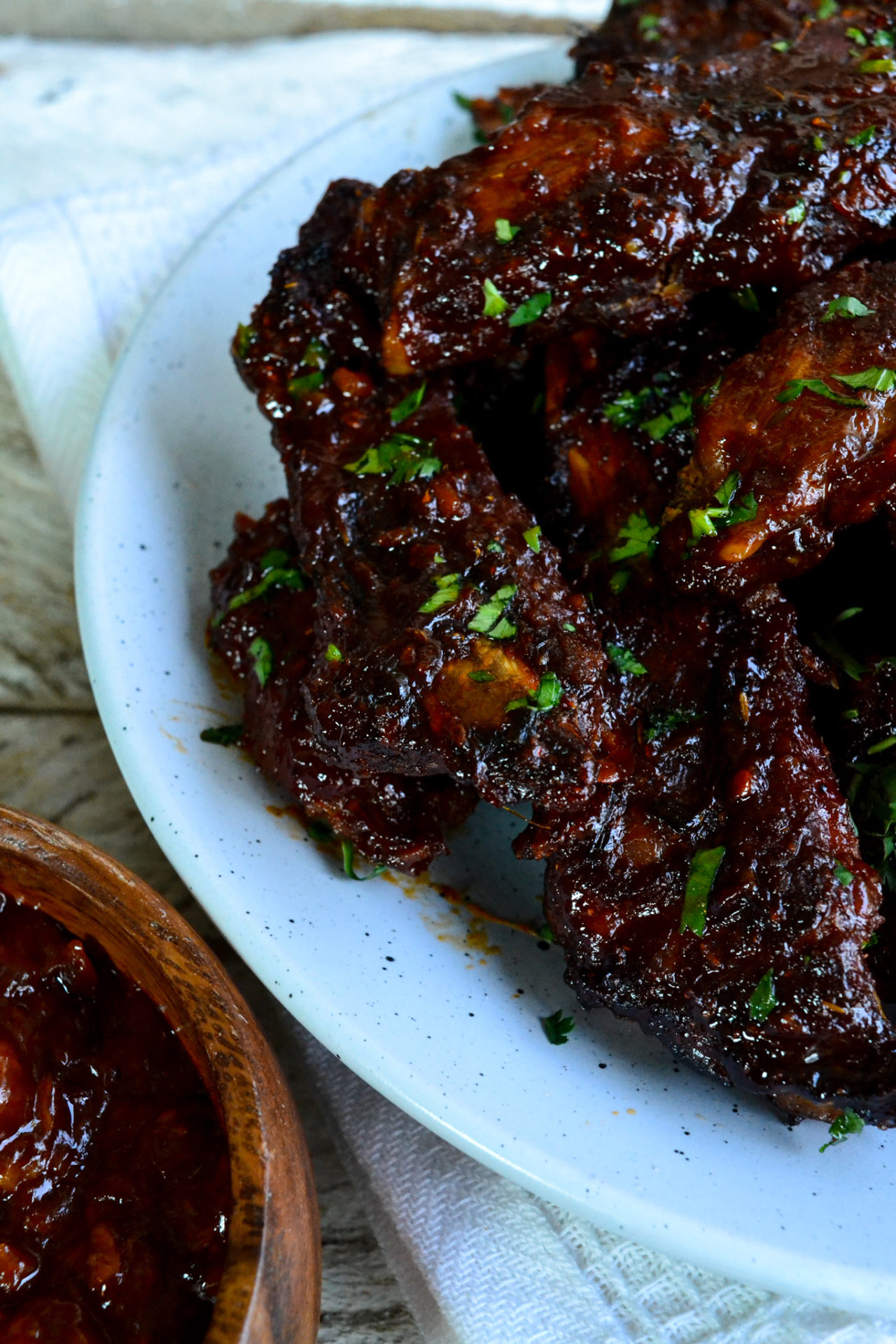 The perfect flavors that made for the most beautiful juicy bite!! The herbiness of the marinade was immaculate, the stickiness was seductive and the full fruitiness as a result of the mango bbq sauce was sunny and so unforgettable!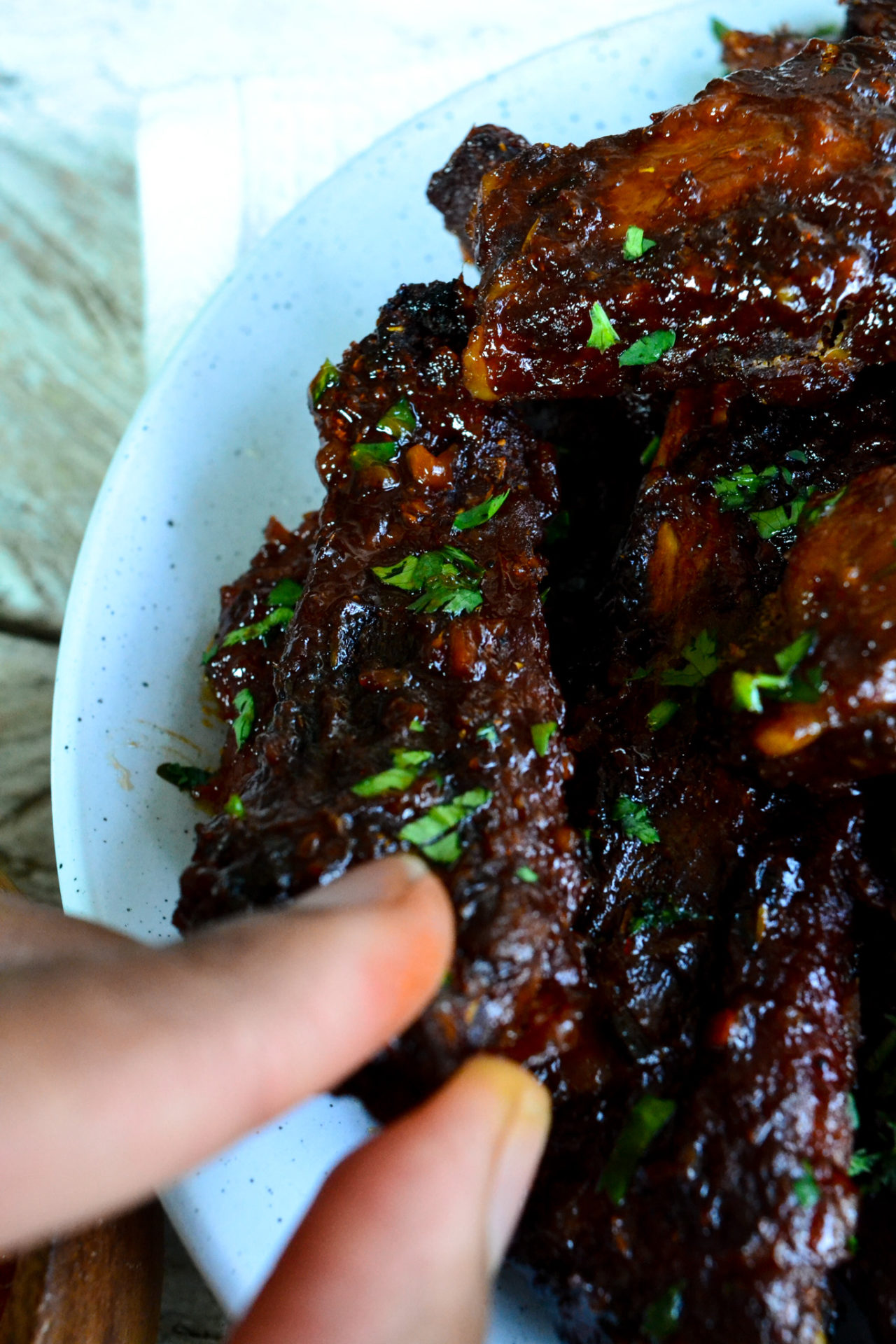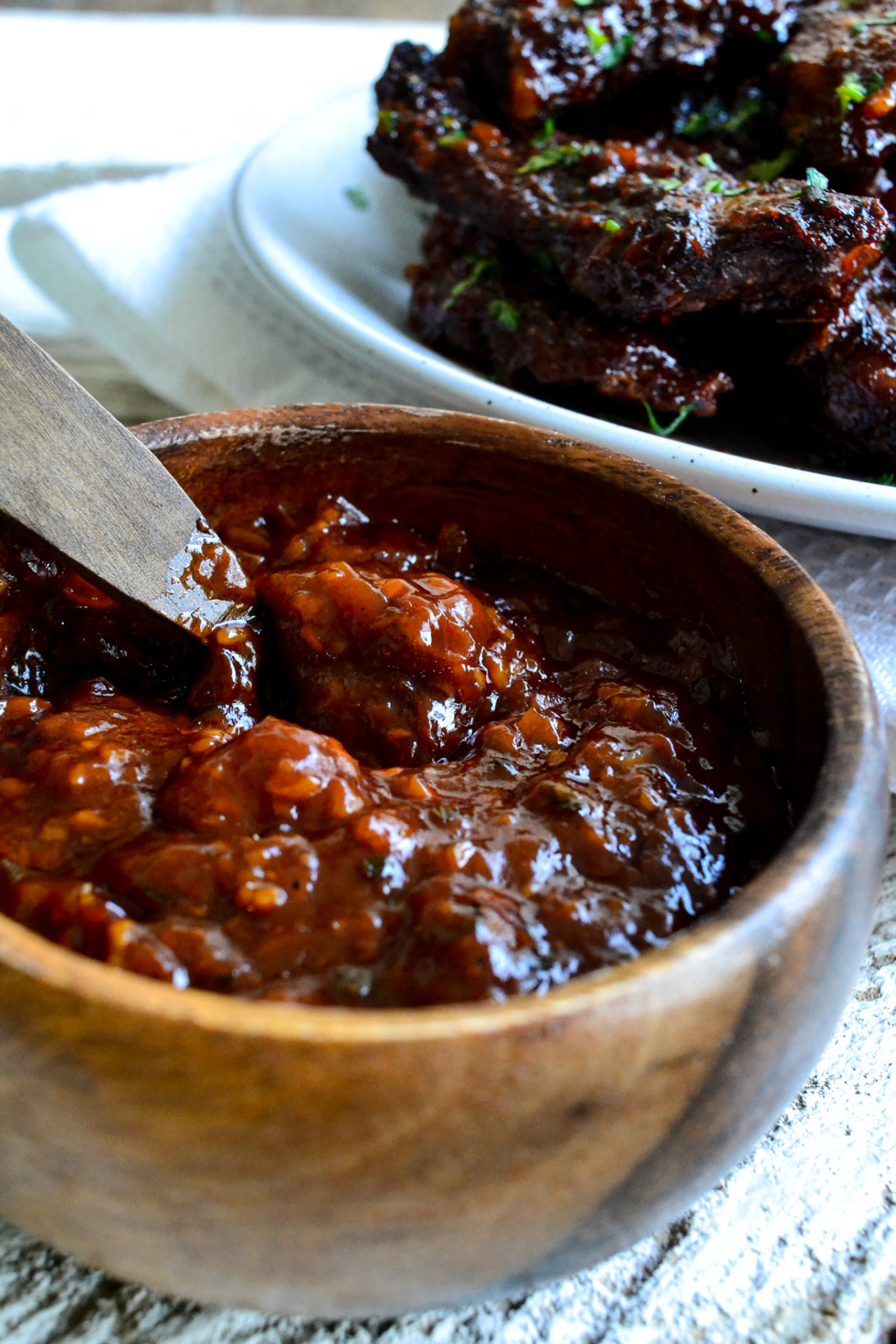 I ate these with some ugali and risudza and on the following day with plantain and creamy spinach. In my heart of hearts, I know full well these can go with anything!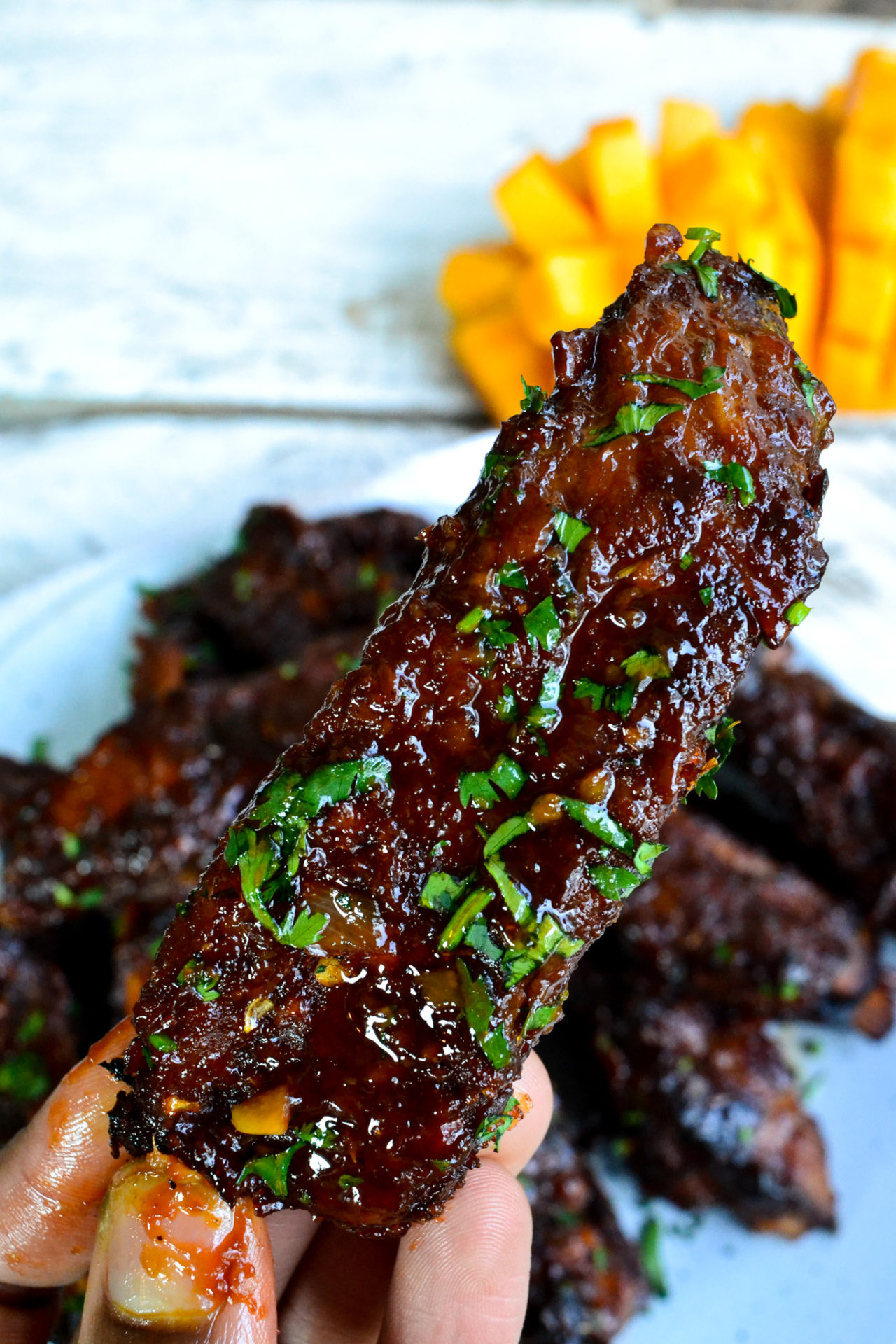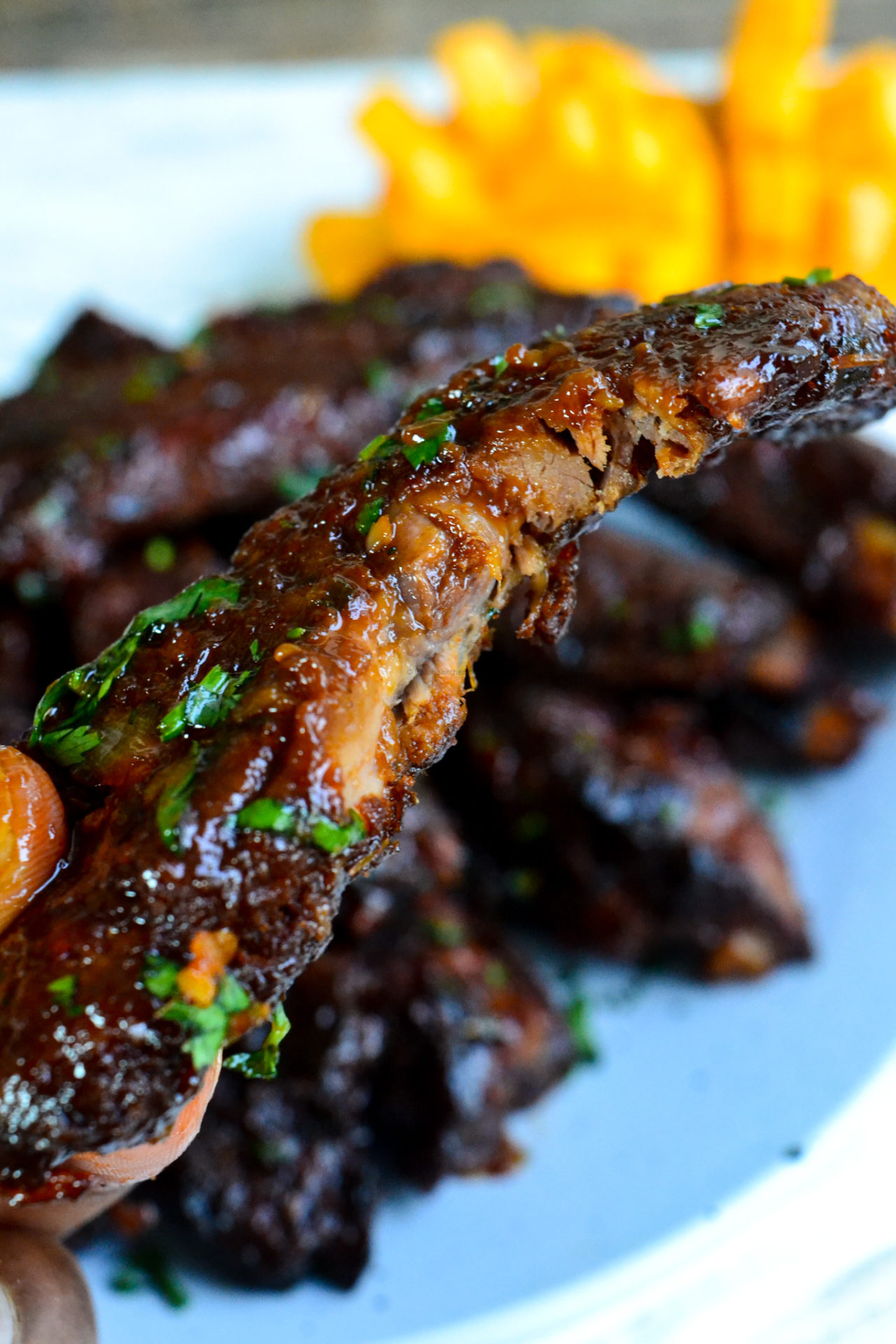 So tender! So flavorful and for sure guaranteed to become your next addiction!
Please pass by my channel and watch the complimentary video. I know you will find it so beautiful to see in video how these beautiful pictures came to life! If you are yet to subscribe, please do, I would love to have you!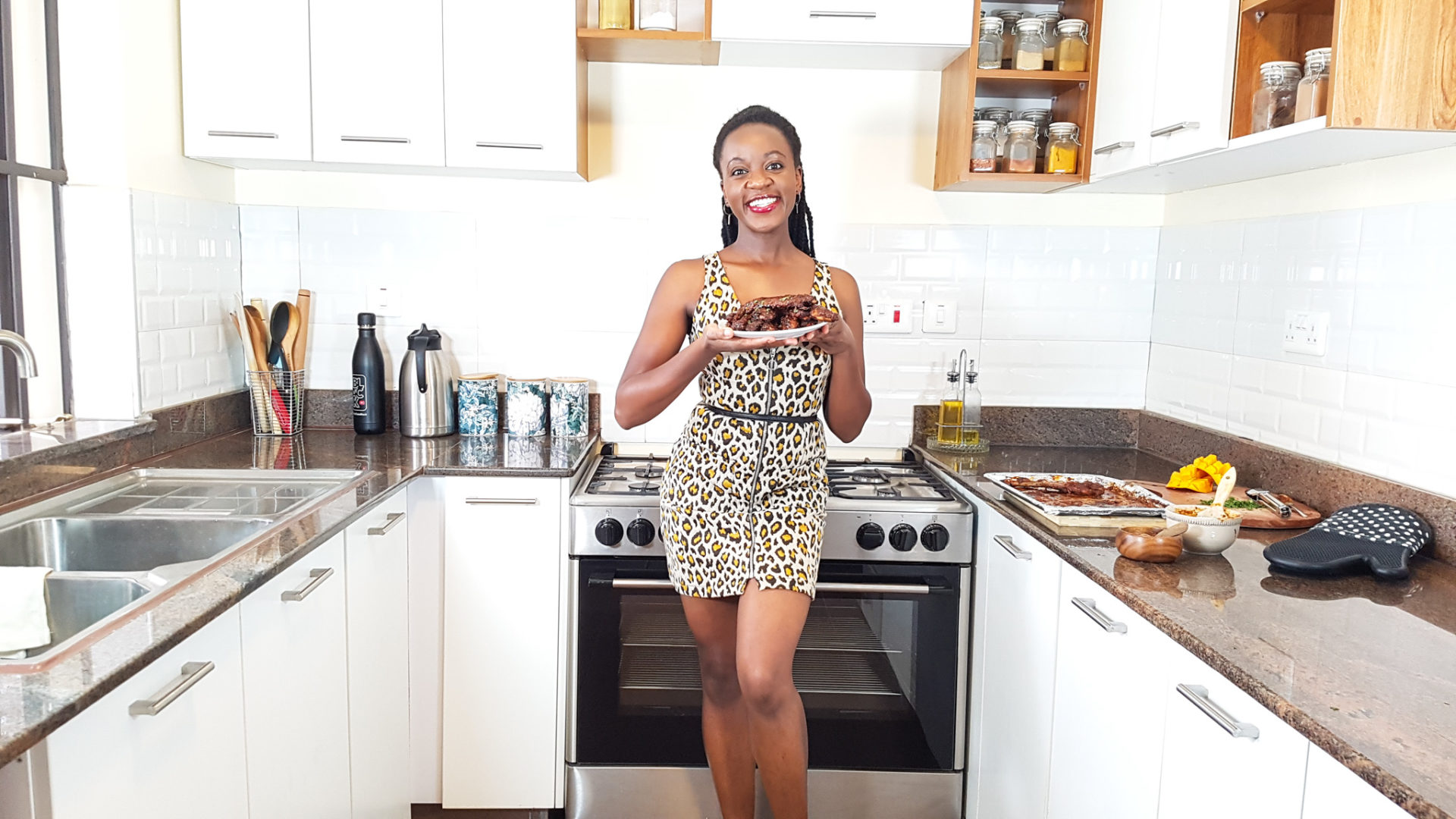 Happy Wednesday!
---
Get your downloadable recipe here :))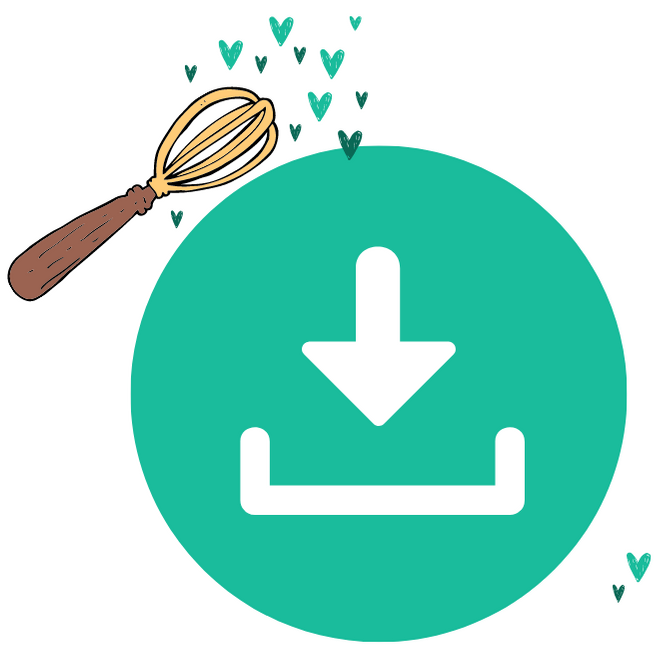 ---
All content and images are copyright protected by



Do not copy in part or whole without giving due credit.
---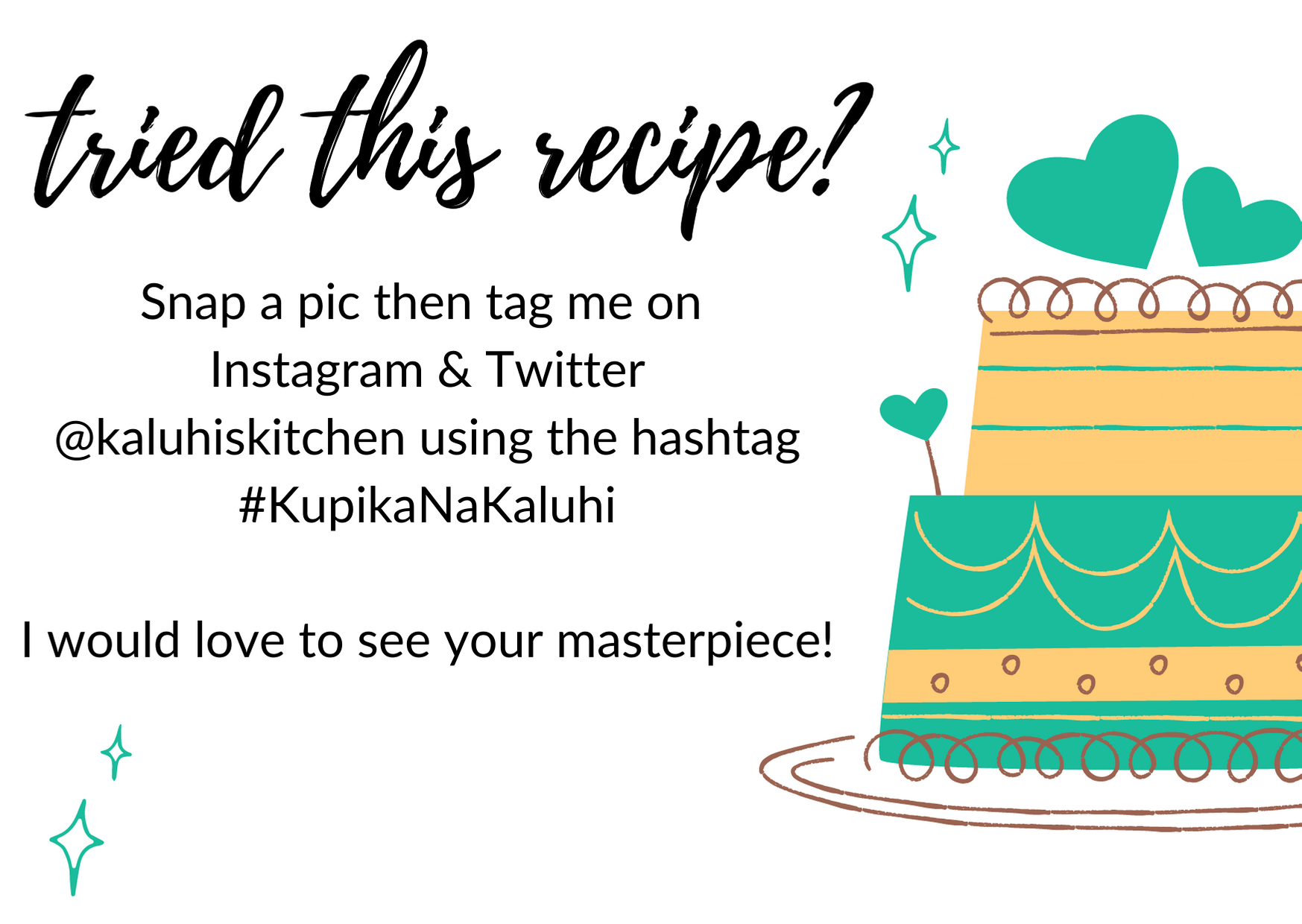 ---