A great cake can fix almost anything. Even if you are not quite the sweet tooth, a great cake does good to the soul. This year, I want us to bake a lot more. I enjoy cooking and over the years I have also gained a lot of confidence with the science that baking is. Plenty of beautiful things are being birthed from my oven. I asked you guys on my Instagram Stories which cake we should bake this week and with nearly 30,000 votes in, 64% voted in favor of Red Velvet and here we are!
I must admit, I have long wondered why red velvet is much loved. Never got the hype! After this same conversation on twitter last year, Anita told me actually a red velvet should have a chocolate-y taste and a mild bitterness from the cocoa. What people make in KE is usually just a dry-ass plain cake, with a red color. That is not red velvet. A real red velvet must be buttery. It must be moist. It must have a chocolate-y cocoa taste. And yes, it must have it's signature red hue. Today I walk you through how to make a legit red velvet and I cannot wait to see you guys try this out with your friends and family!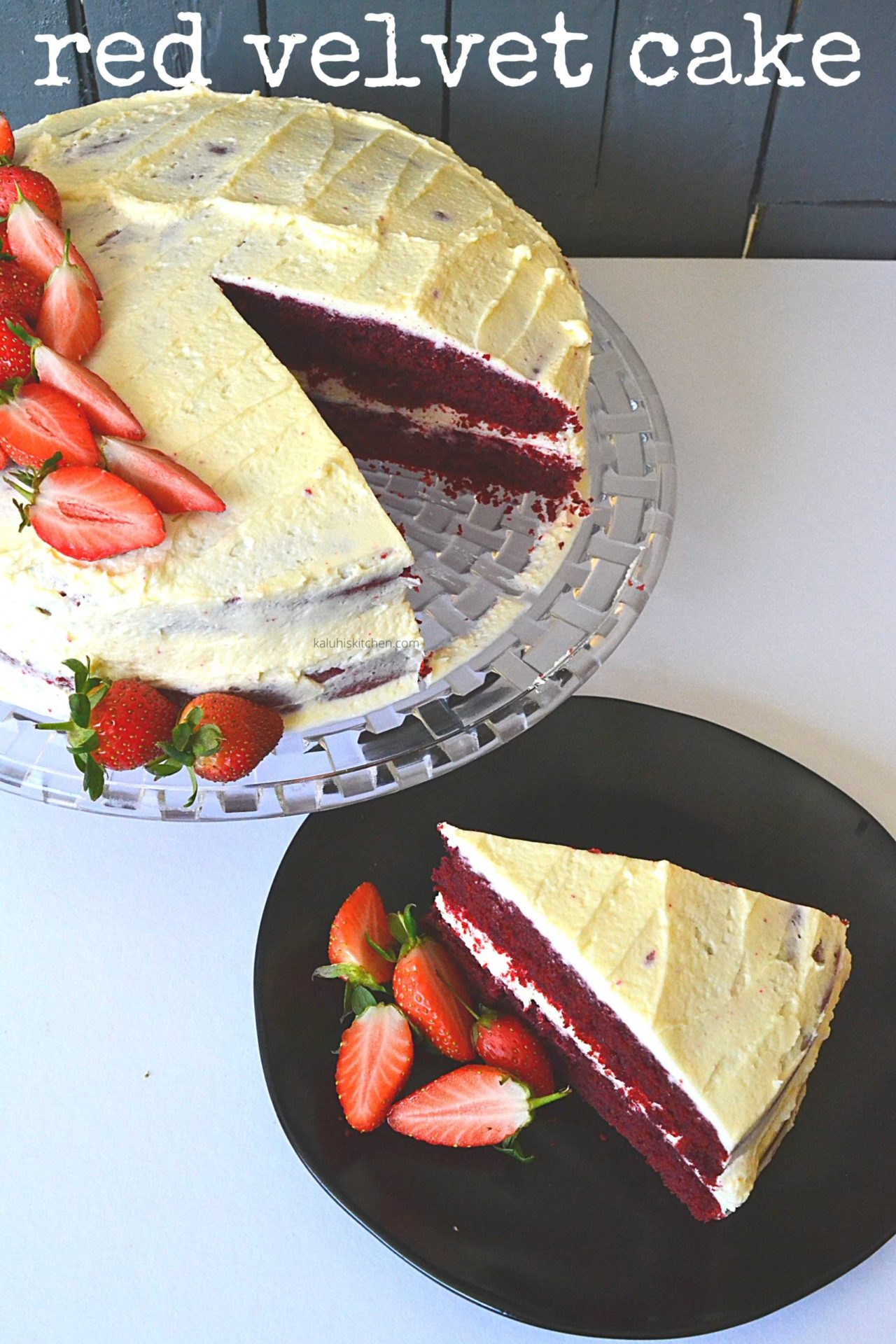 I made a dope vid to accompany the blog post. Do watch below, and subscribe!

PREP TIME: 30 min COOK TIME: 2hr MAKES: 2KG cake
Ingredients
For the cake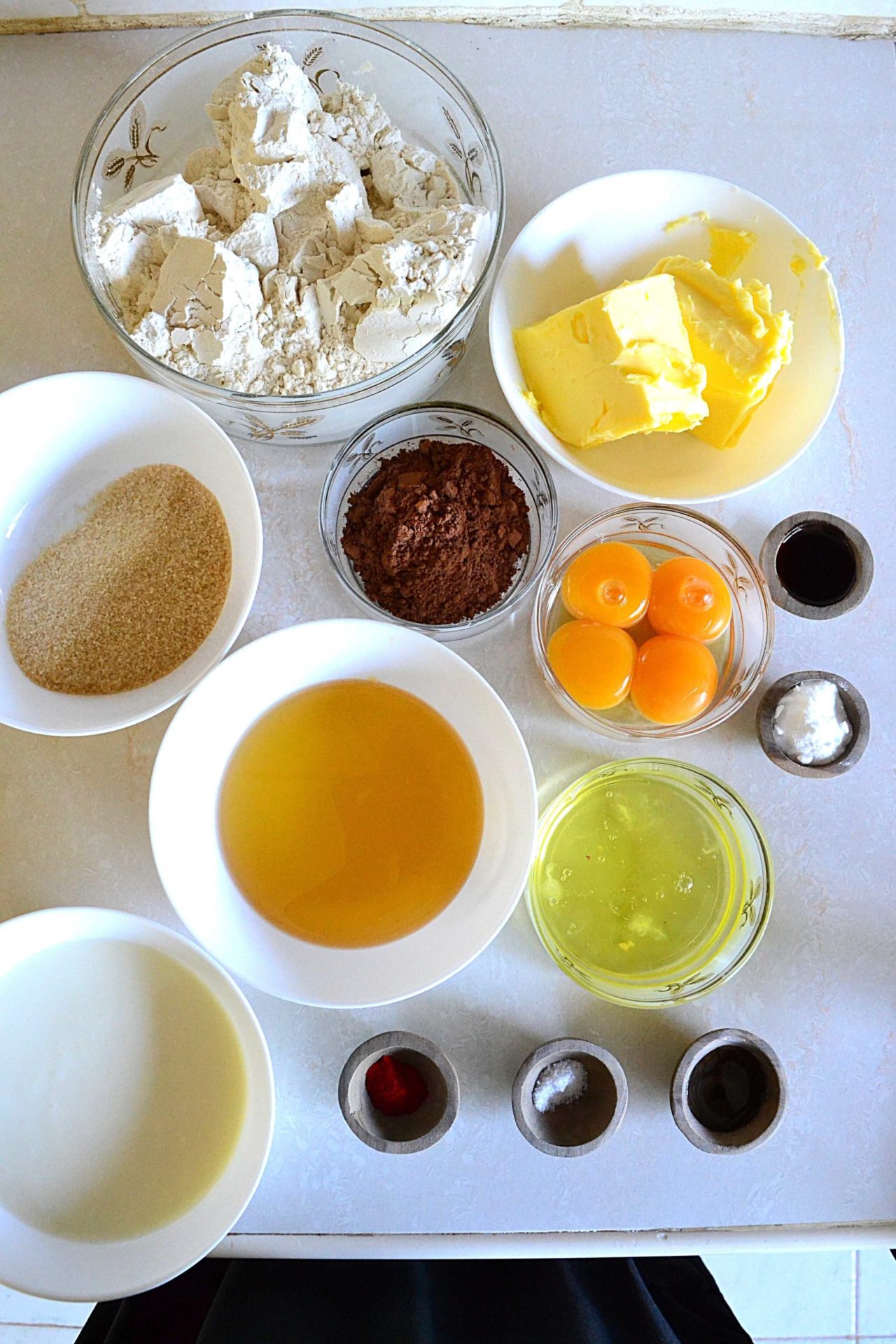 3 cups of flour
1 teaspoon of baking powder
2 tablespoons of unsweetened cocoa
¼ teaspoon of salt
1 ¾ cups of sugar
½ cup of unsalted butter
½ cup of vegetable oil
1 teaspoon of vanilla extract
4 eggs (whites & yolks separated)
1 cup of mala
1 teaspoon of white vinegar
1 tablespoon of red coloring agent
For the frosting
450g of cream cheese
½ cup of butter
1 cup of icing sugar
1 tablespoon of vanilla extract
Method
Begin by sieving together the flour, salt, baking powder and cocoa. The cocoa is an important ingredient of a red velvet and must be present. Make sure you purchase unsweetened, natural cocoa (not drinking chocolate or milo).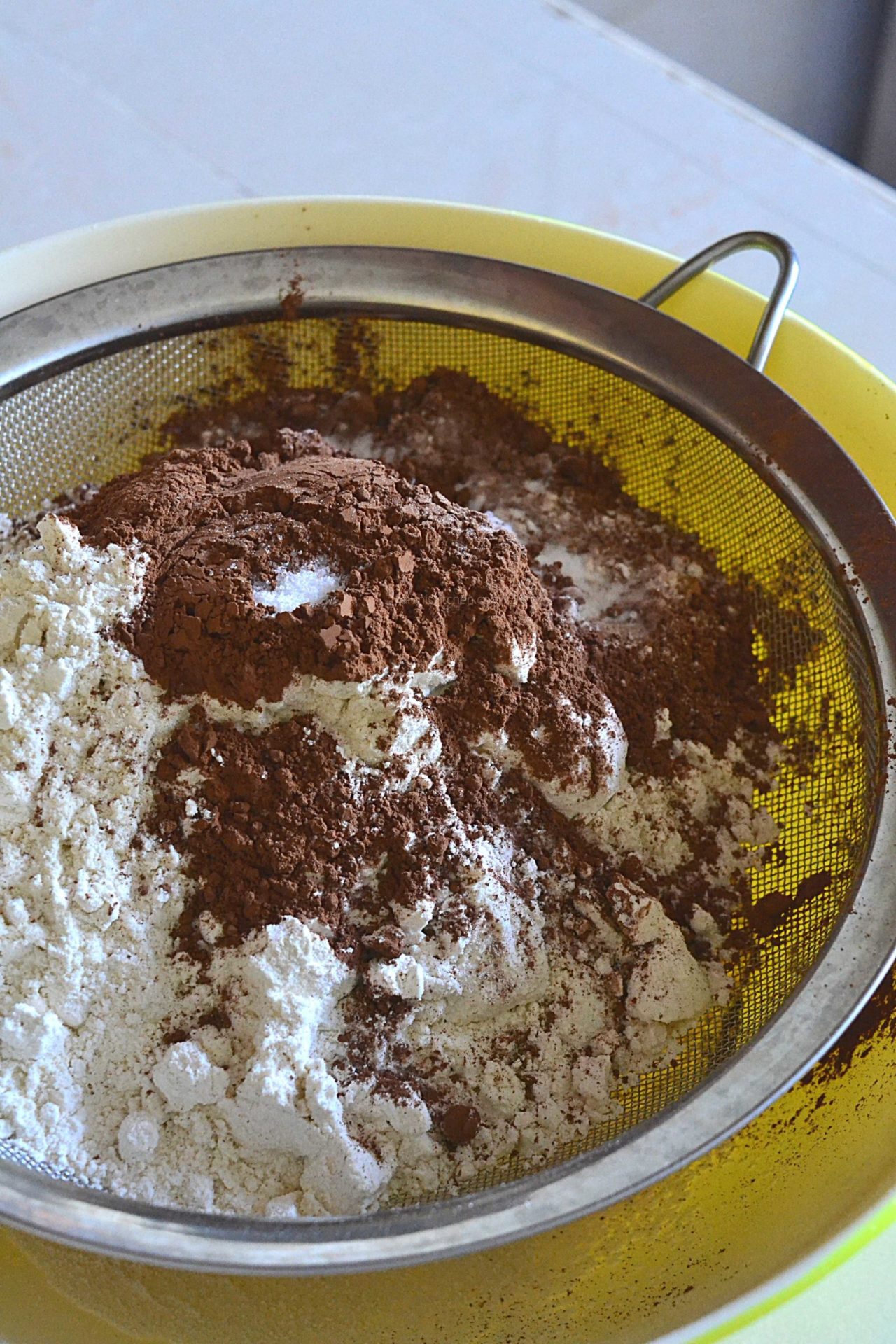 Set aside. In another bowl, cream the butter and the sugar and then add in the yolks, oil, vanilla and vinegar. I always say this but let me repeat: for baking every ingredient must be precise and measured to the letter. The only ingredient you can adjust is sugar, everything else goes unchanged. Remember natural cocoa is bitter, and you will need a significant amount of sugar to offset that bold bitter note. I recommend for this recipe, keep the sugar quantity as is. I found the sweetness and the mild bitterness of the cocoa balanced perfectly at the end.
For this recipe we are using both oil and butter because we want the cake to be moist & rich as a result of those two ingredients respectively.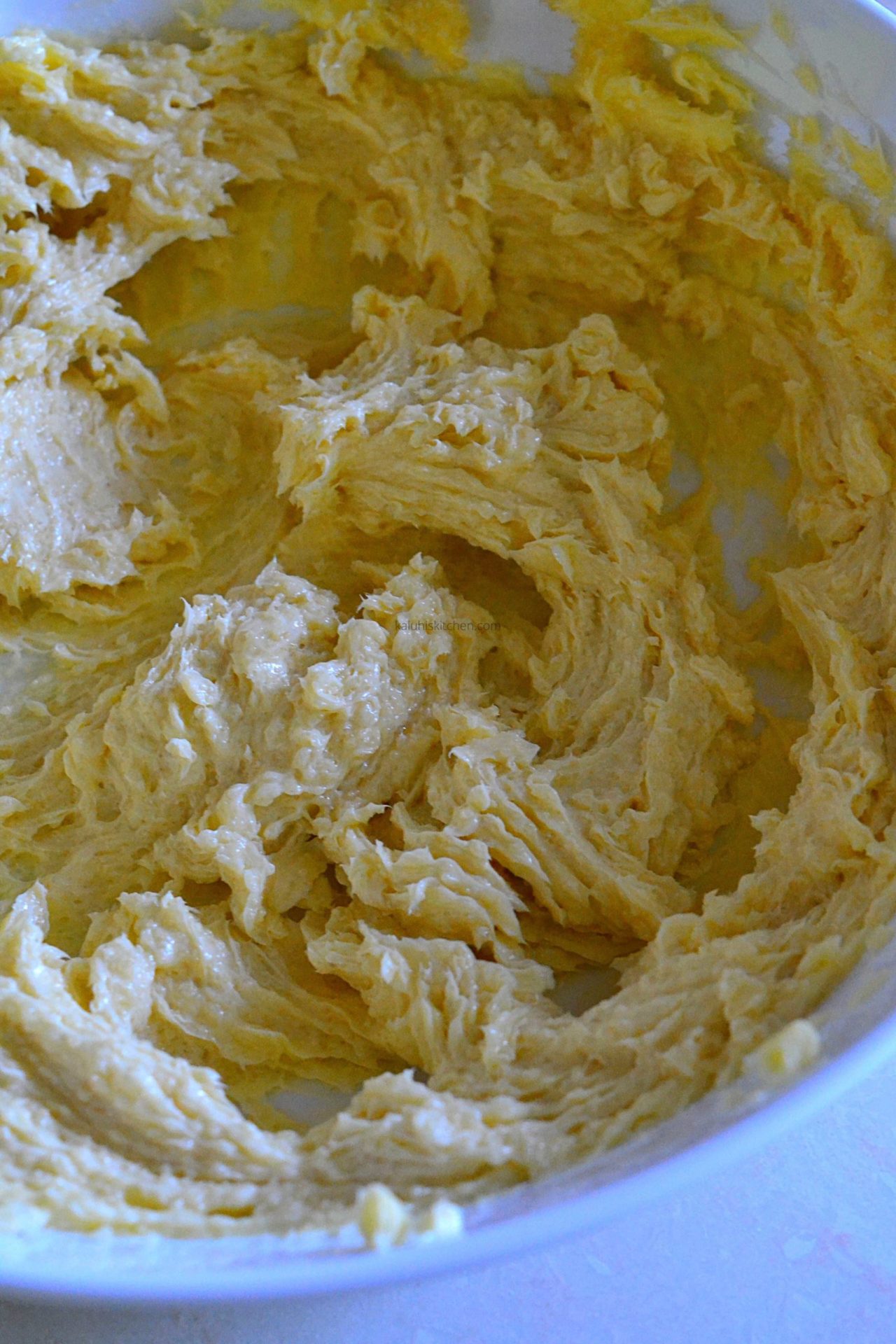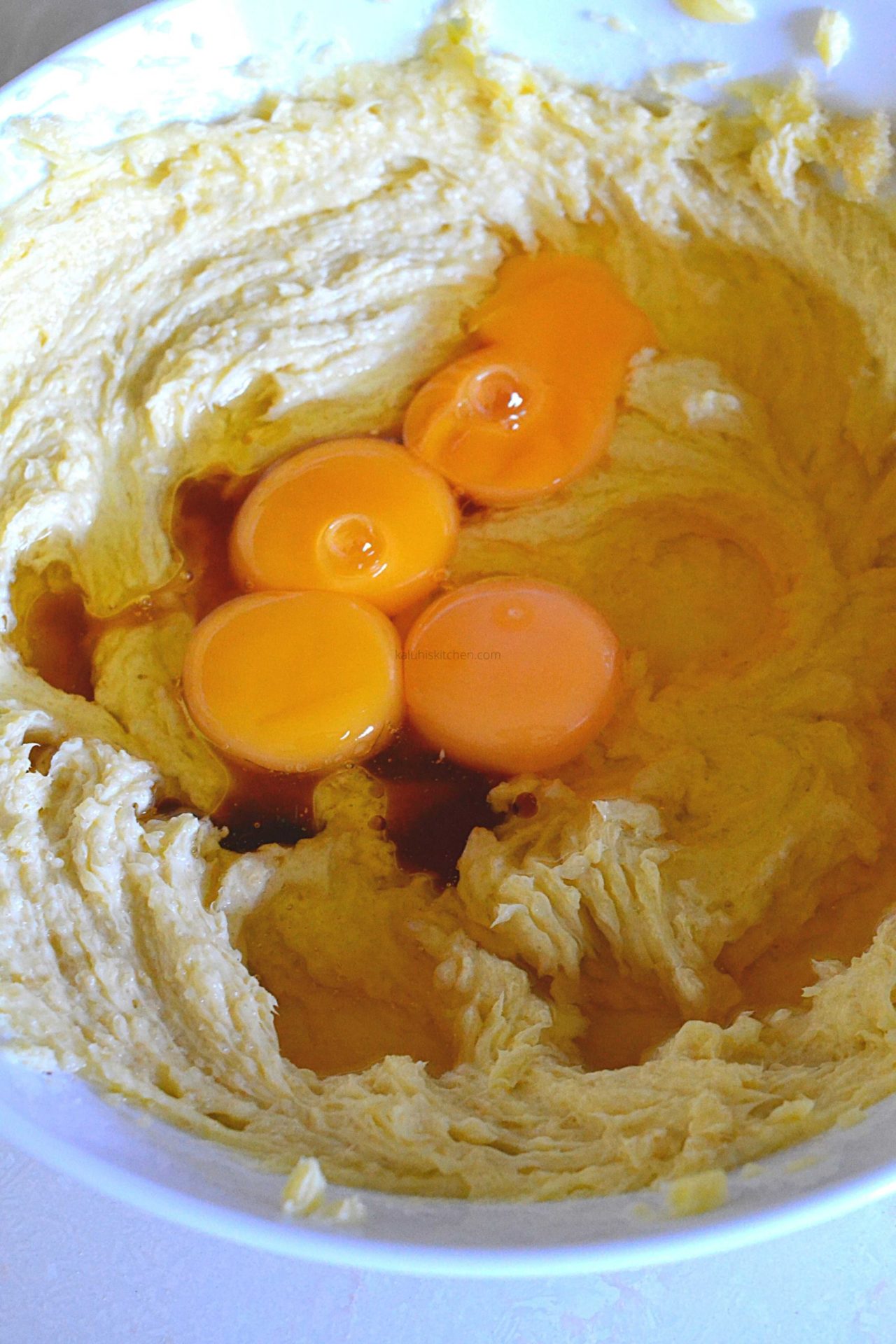 Every single ingredient for this recipe must be at room temperature as this allows for easy combination. The vinegar is added as it will intensify the red color. You will however not taste it.
Whisk until combined.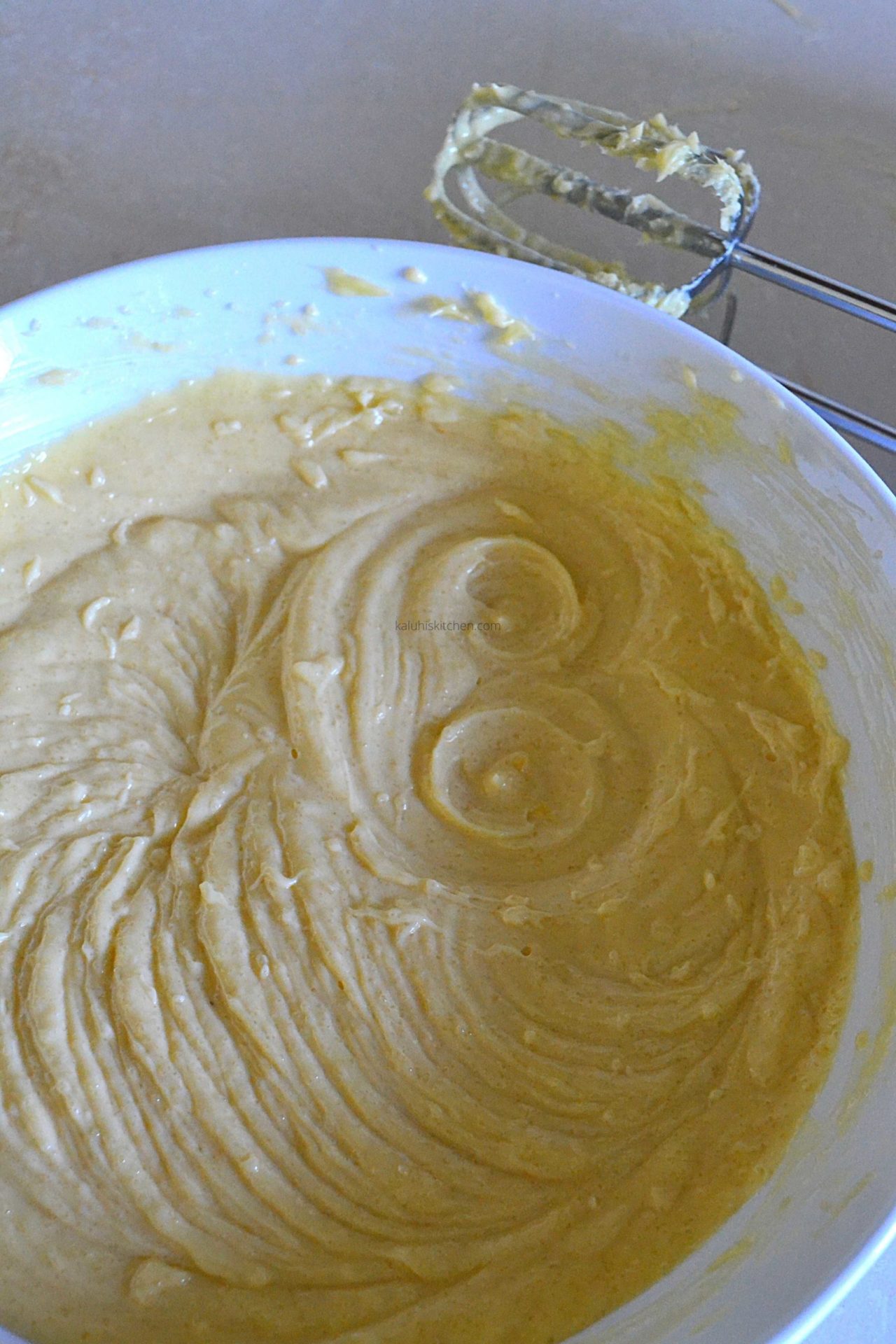 In your third bowl, whip the egg whites until stiff peaks form.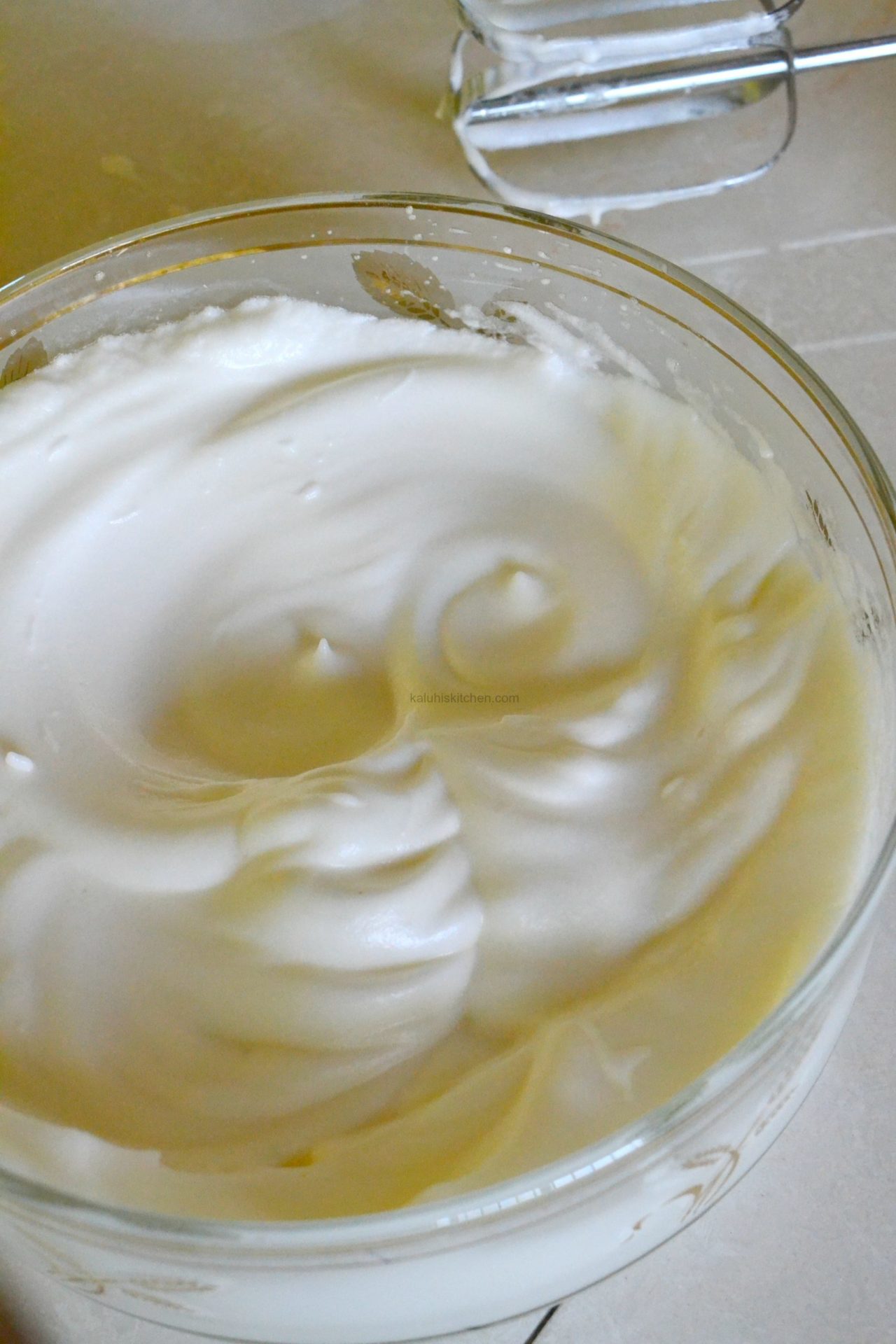 Why do we separate the whites from the yolks? We do so so that we play up on their individual properties. The whites will give your cake extra lift and the yolk will impart beautiful richness.
With the prep done, we go straight and combine everything.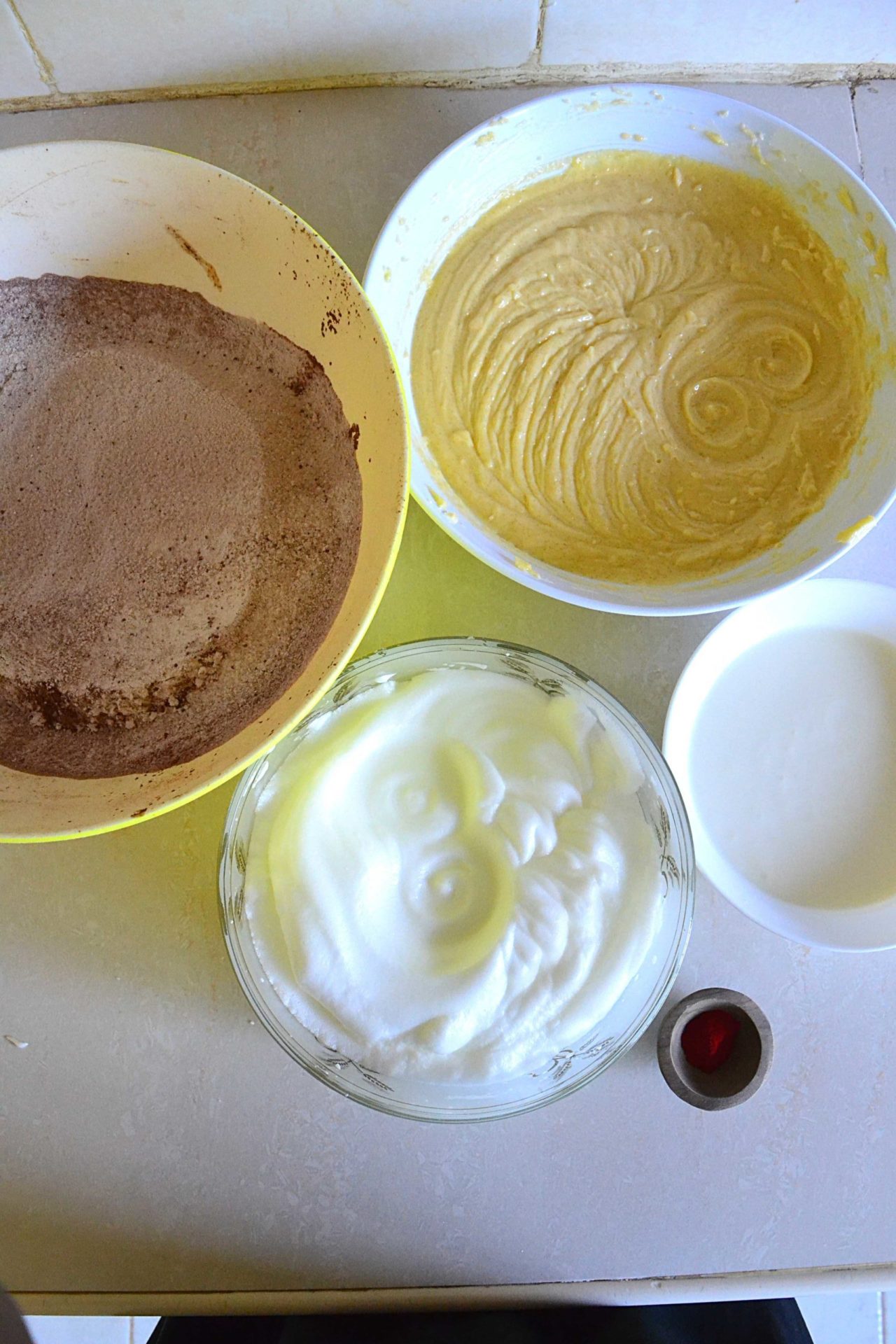 Pour in the wet ingredients into the bowl with the dry ingredients alternatingly with the mala, mixing with each addition. You can better see that from the video at 7.20 – 7.26.
Mala is fermented milk and in place of mala, you can use butter milk/ amasi/ kefir. Mala also ensures your cake is very moist too. Once everything is mixed in, at this point, it will be deep brown at this stage as a result of the cocoa.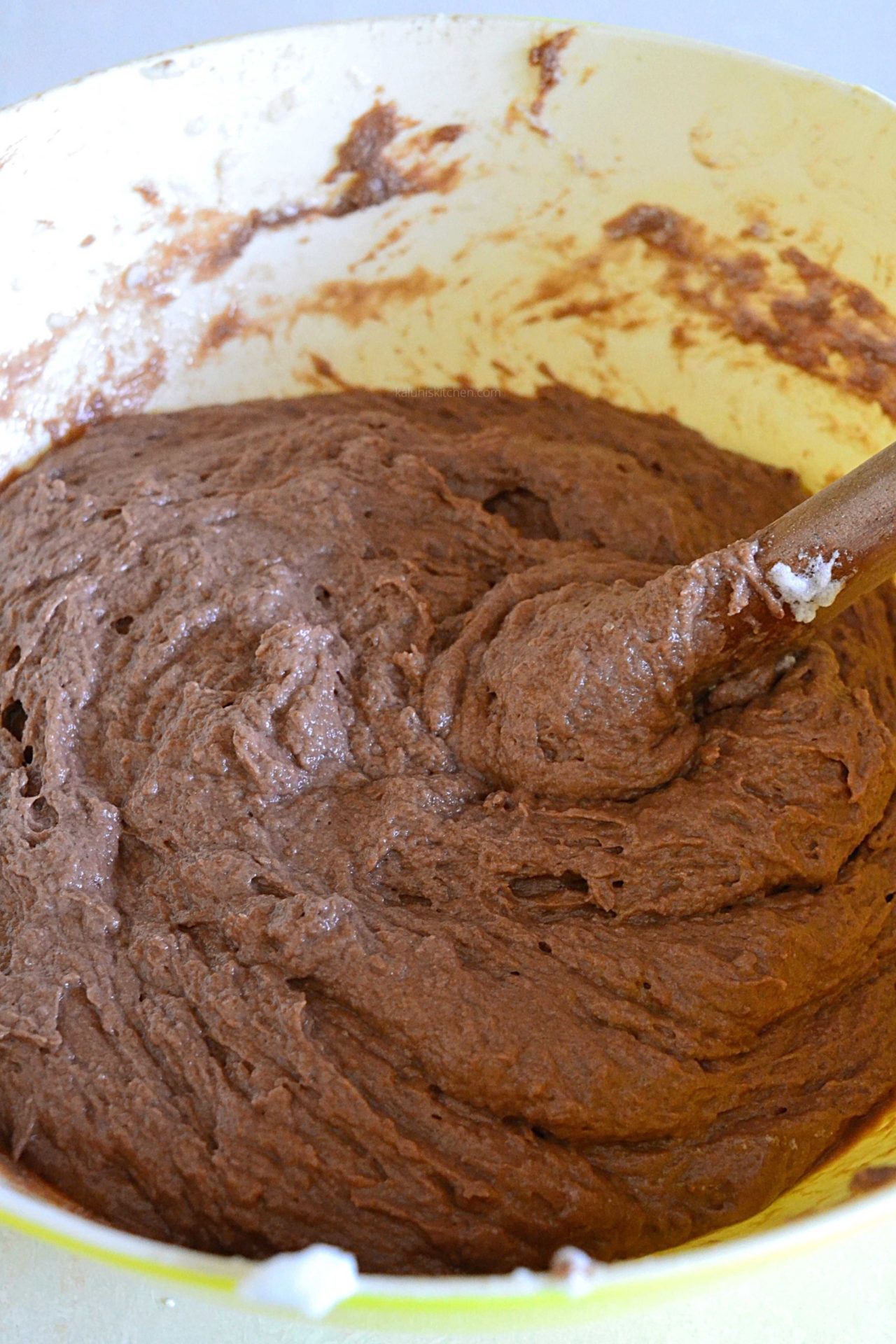 Once just combined fold in the egg whites and then add in the coloring agent. Depending on the type you use (gel or powder) you may need more or less than the quantity I used. Feel free to adjust the color until it is as red as you fancy. Mix that in, and once done, your batter should be silky and slightly sticky.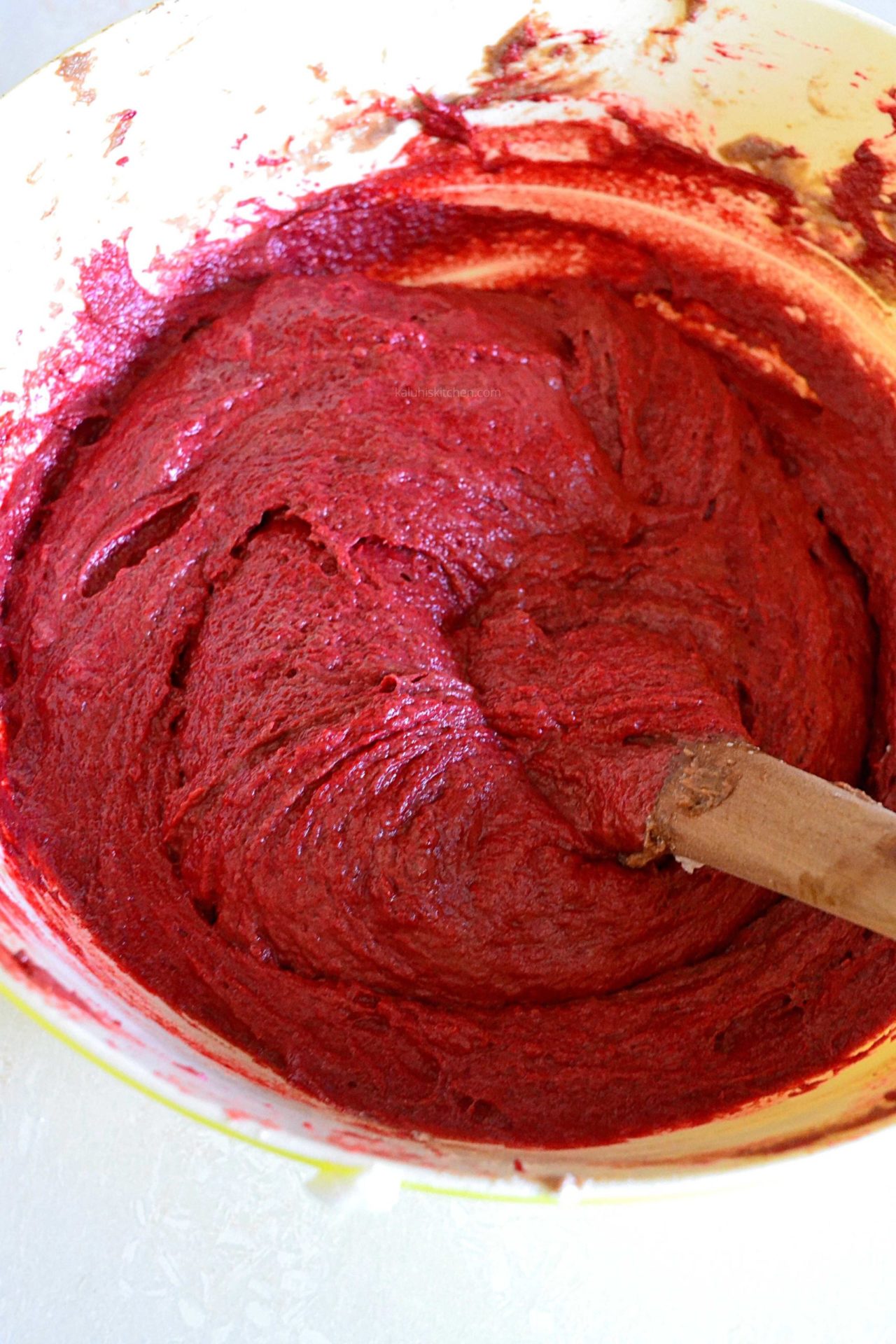 Divide the batter between two pans. I used 10 inch wide pans for this. Make sure the pans are lined, floured and dusted to allow easy release of your cake once you are done.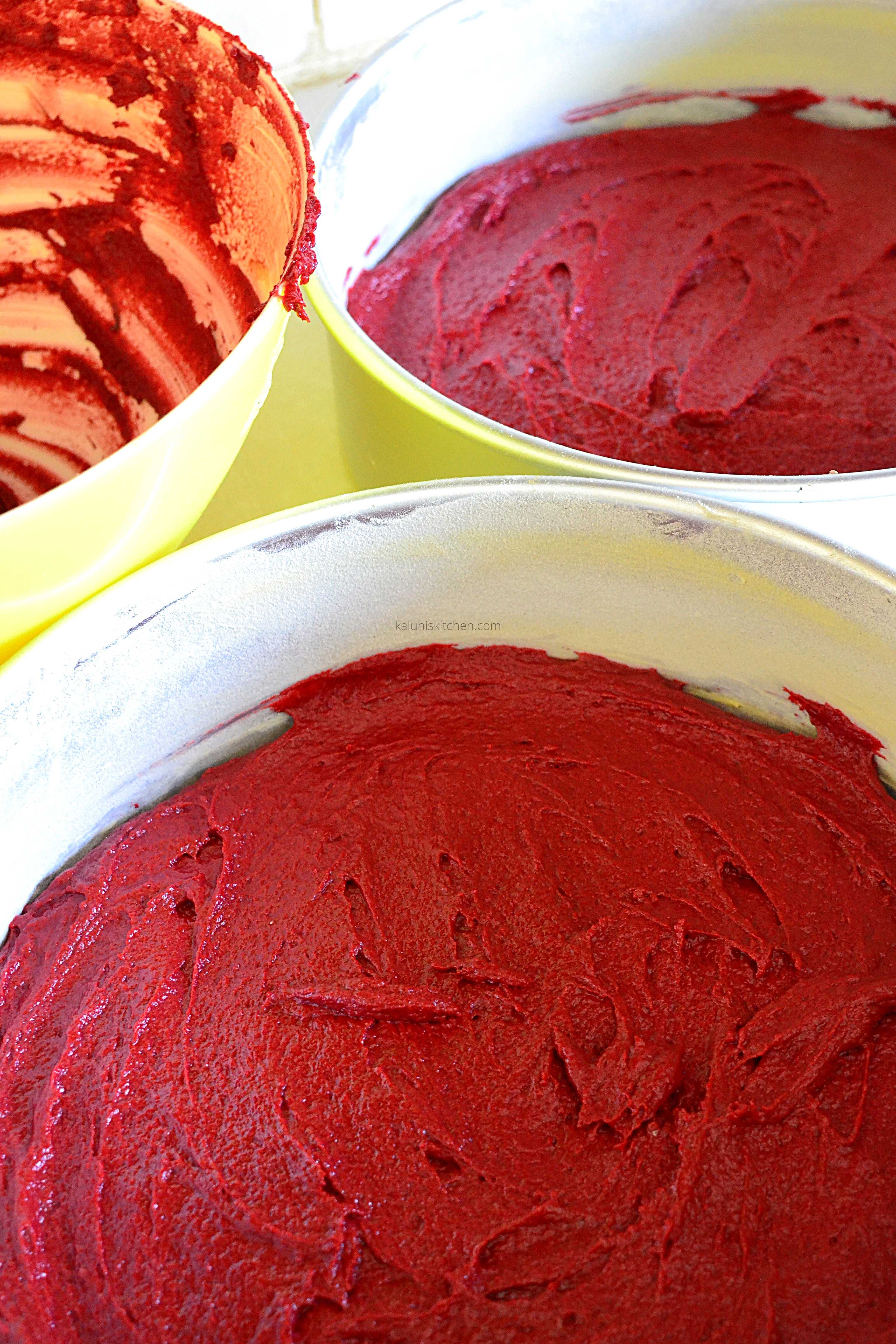 You can use pans with different dimensions BUT make sure you adjust the time it takes to bake as well. A smaller pan will require you bake for more time. Two 10 inch pans will have your cake bake for 20 minutes, but two 9 inch pans have you have for 25-30 min etc etc. If you decide to use one pan as opposed to two pans, you will need even more time. Changing of the pan size/pan number will demand that the time taken to bake be adjusted as well. Make sure you always test the doneness of your cake. How? By poking with a skewer or fork. If it comes out clean, you are done. Be careful not to overbake because we do not want a dry cake. You can follow my recipe quantities to a T, but if you overbake, the cake will be dry. Overbaking will give you a dry crumb; which we do not want. Ensure you test the doneness of your cake and remove from the oven once confirmed to be baked through and through.
Let this bake at 150c in 10 inch pans for 20 minutes.
As the cake bakes, work on the frosting. For this, I went with cream cheese frosting. Buttercream pairs so well with a red velvet too but I like the richness of cream cheese a lot more. Like the ingredients of the cake, everything I used is purchased in any well stocked supermarket. Also for the frosting, make sure everything you use is at room temperature.
For the frosting, whisk the cream cheese and the butter until combined. Add the vanilla and the sugar and whisk until smooth and creamy.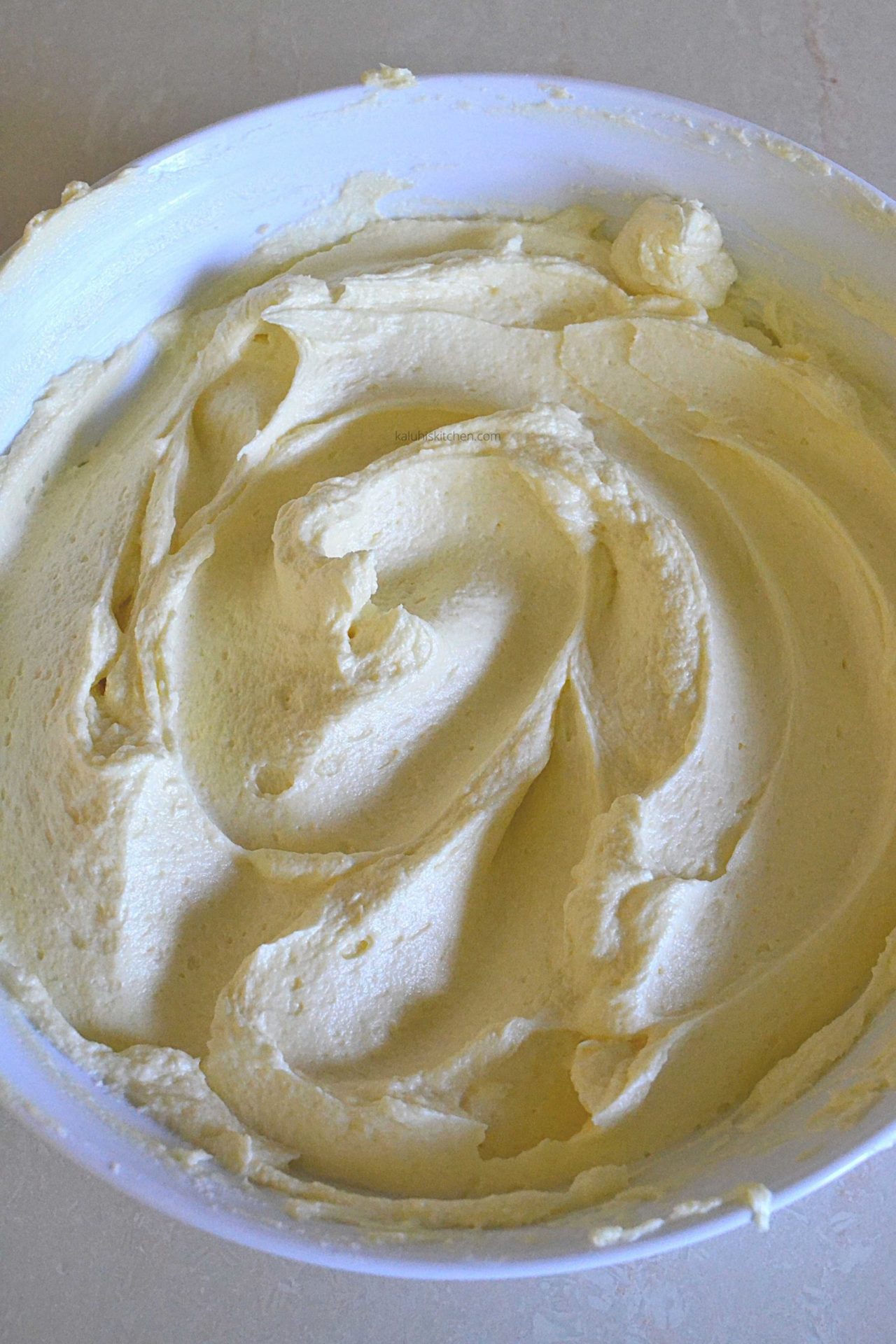 Wait for the cake to bake & cool down completely and then frost it. If you frost a warm cake, the frosting will melt. Let it cool down completely!
You can make the frosting ahead of time, just let it stay in the fridge. But once you remove it from your fridge, it will be a bit stiff, so allow it to warm up & rise to room temp. I frosted my cake after an hour so my frosting just stayed on the countertop and by the time I was frosting, it was still pretty soft which I loved.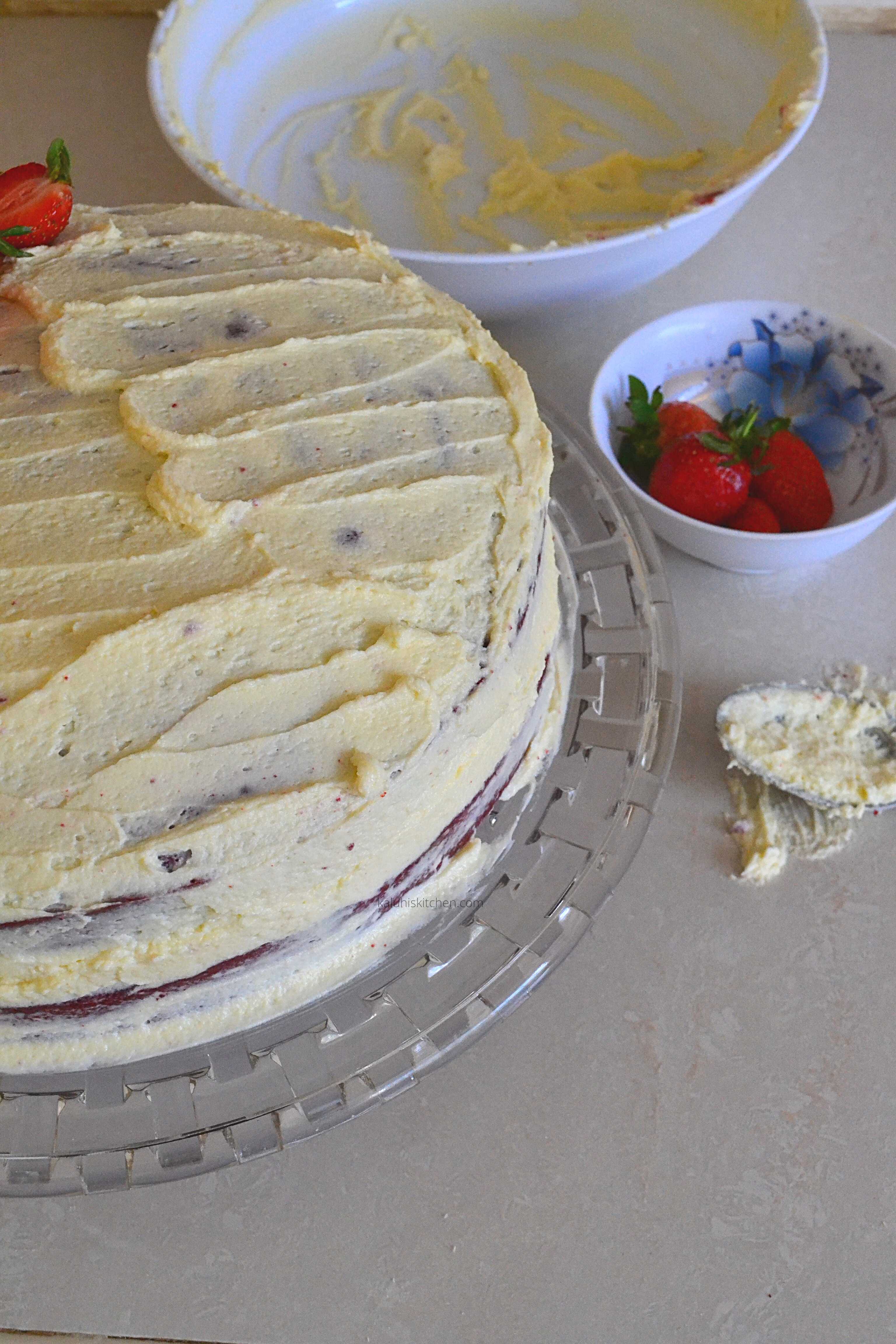 I purchased my cake stand (12 inches wide) from Carrefour at 4000shillings. I know there are cheaper ones around but I was to exhausted to go on a hunt so I just swiped that card. Watch how I assembled, layered and frosted the cake from 11.27 – 11.55.
Once frosted, garnish with some fresh berries and slice a giant slice for yourself. Look at this perfect beauty! Look at her!!!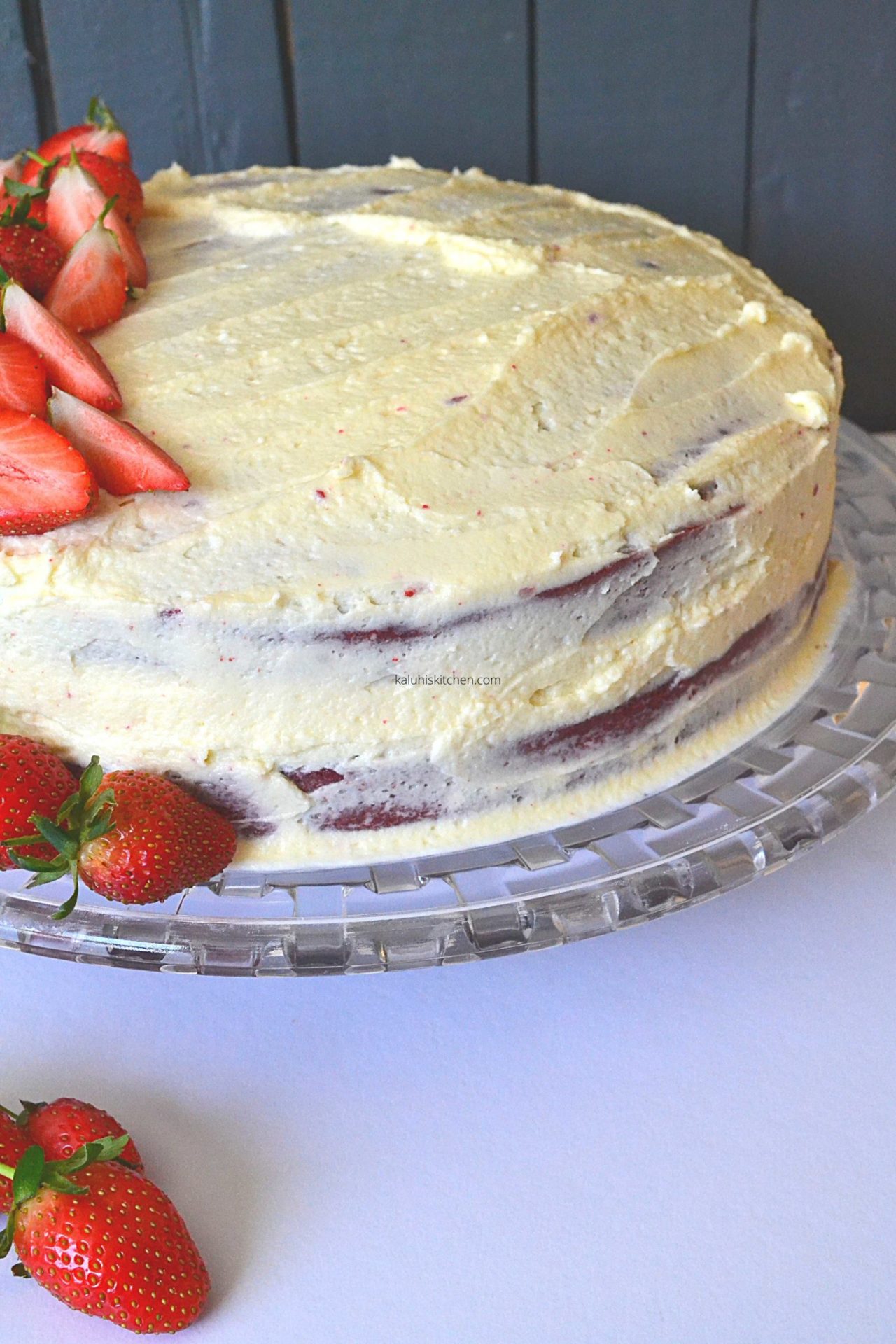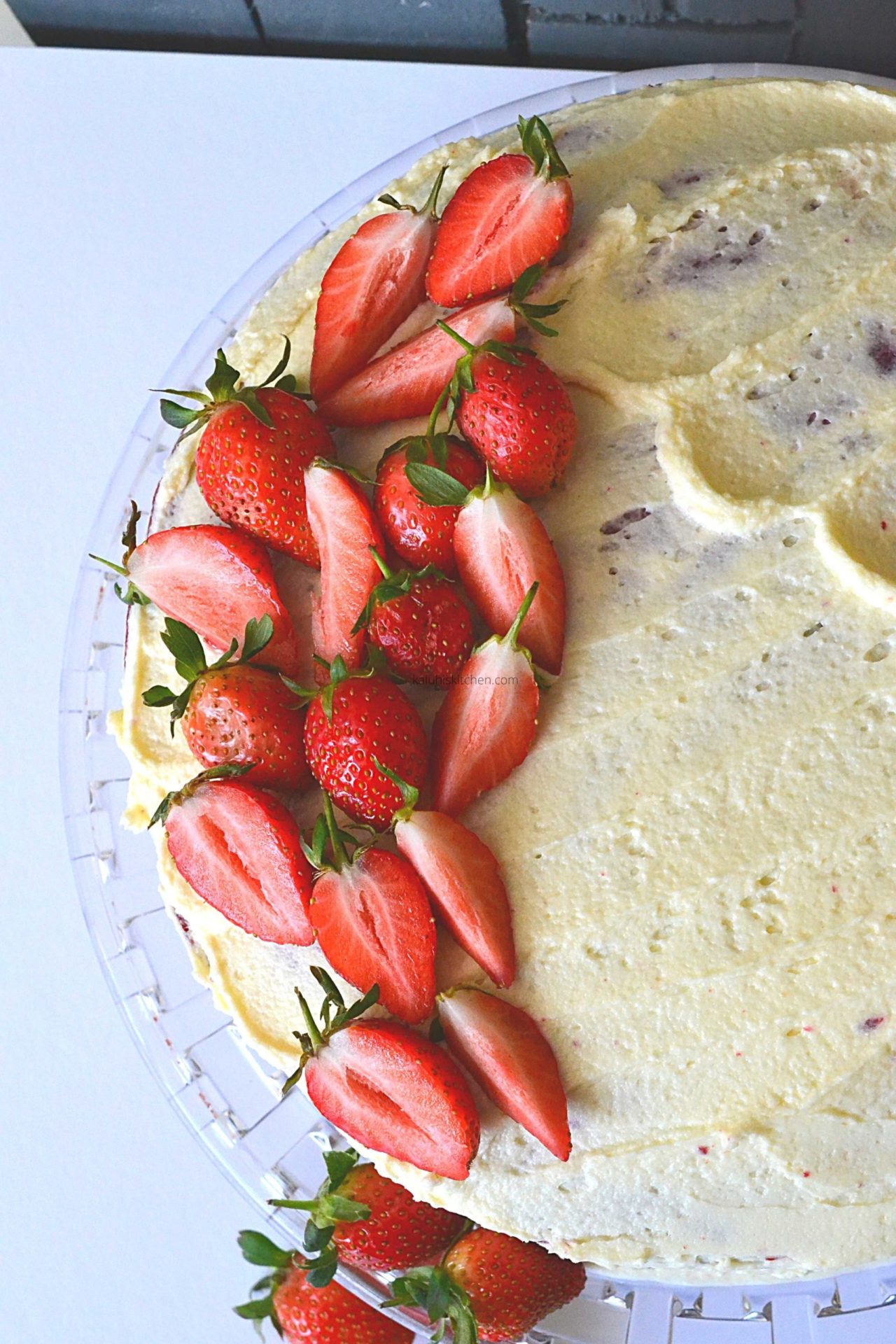 This turned out waaaaaay better than I envisioned it. The cake was large, roughly 2kg, and that was great because it meant plenty to go around and enjoy. By breakfast the following day, it was completely cleared.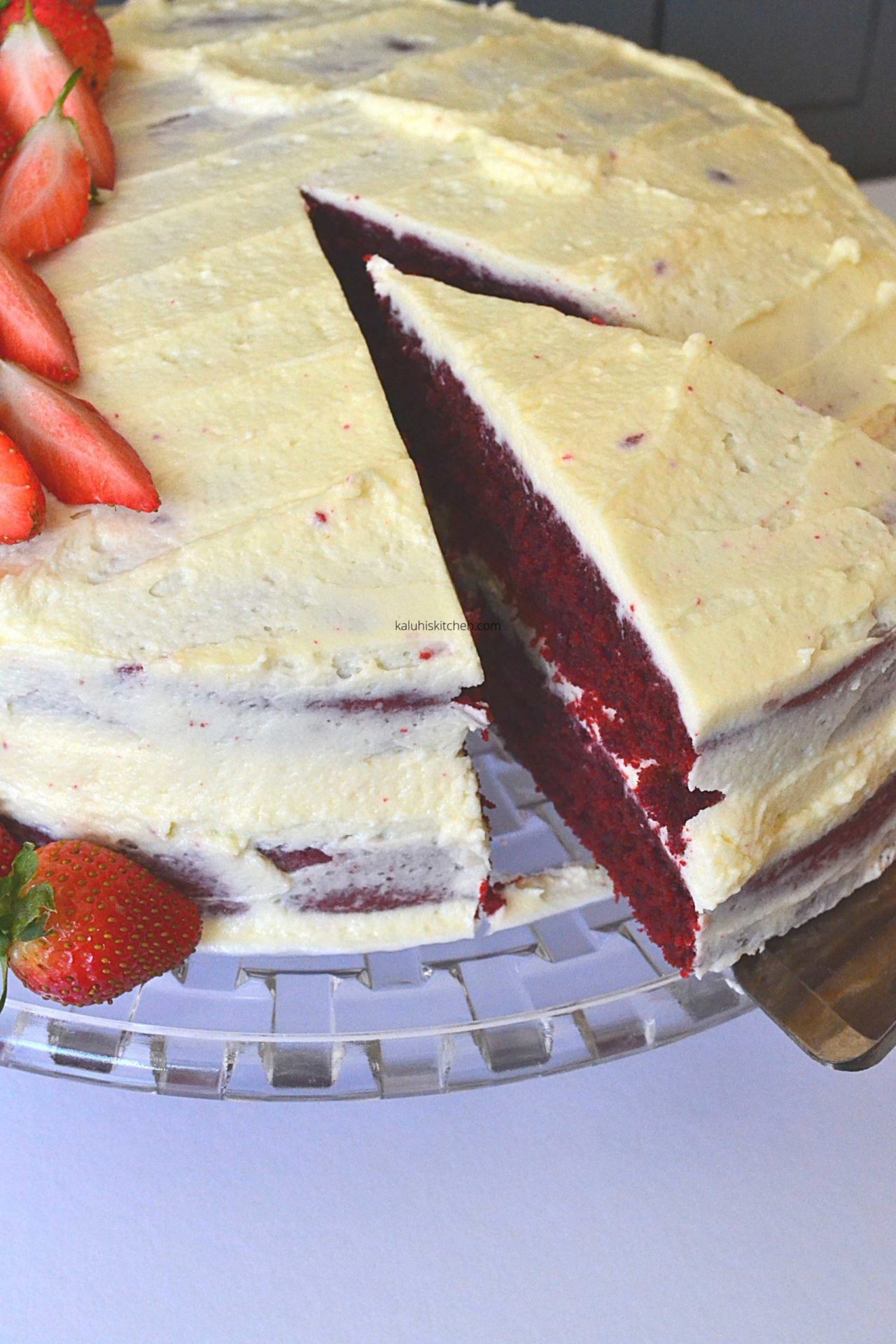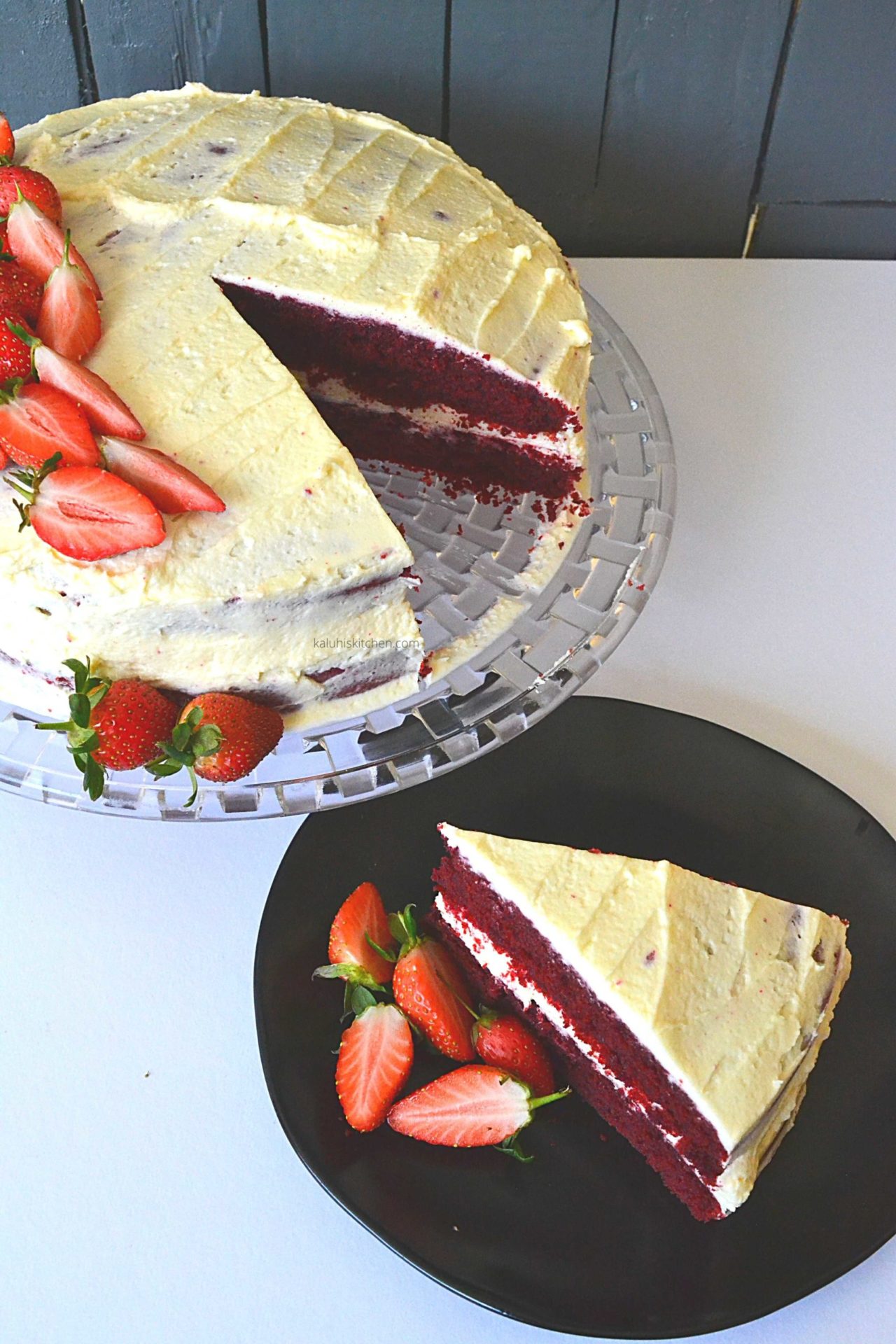 This had the perfect amount of sweetness that allowed it to embody the sweet nature of any cake but enough to allow the chocolate-y cocoa notes to shine through. It was buttery and very rich too. The cream cheese frosting allowed for a creamy bite and warmed up the richness of the red velvet cake itself!
See how moist the crumb looks? This is perfect!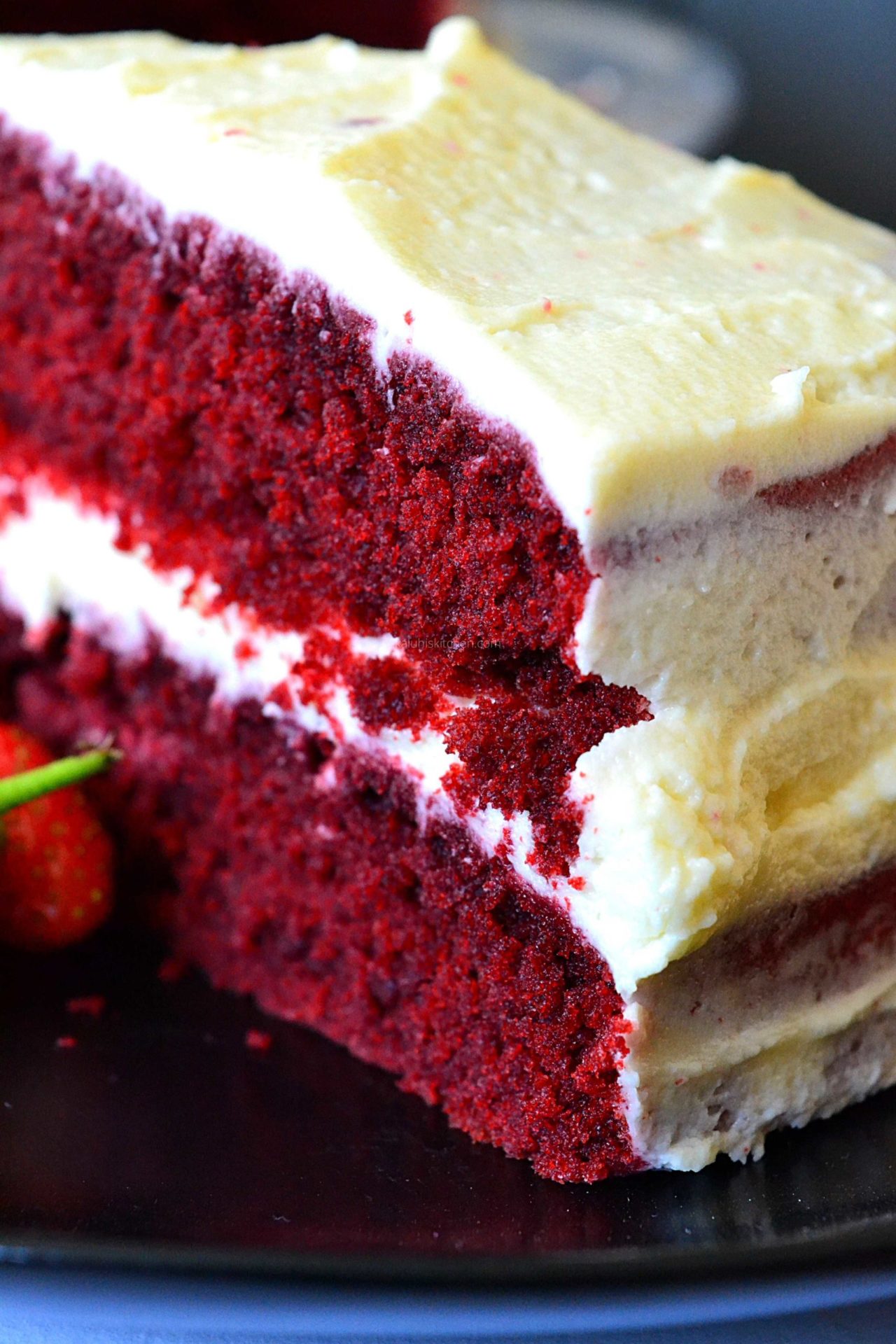 I cannot wait to see you guys try this out! Make this for your family. Make this for your totos. Make this for your beau. Make this for your colleagues. Make this for yourself! It will for sure be the highlight of your Valentine's weekend!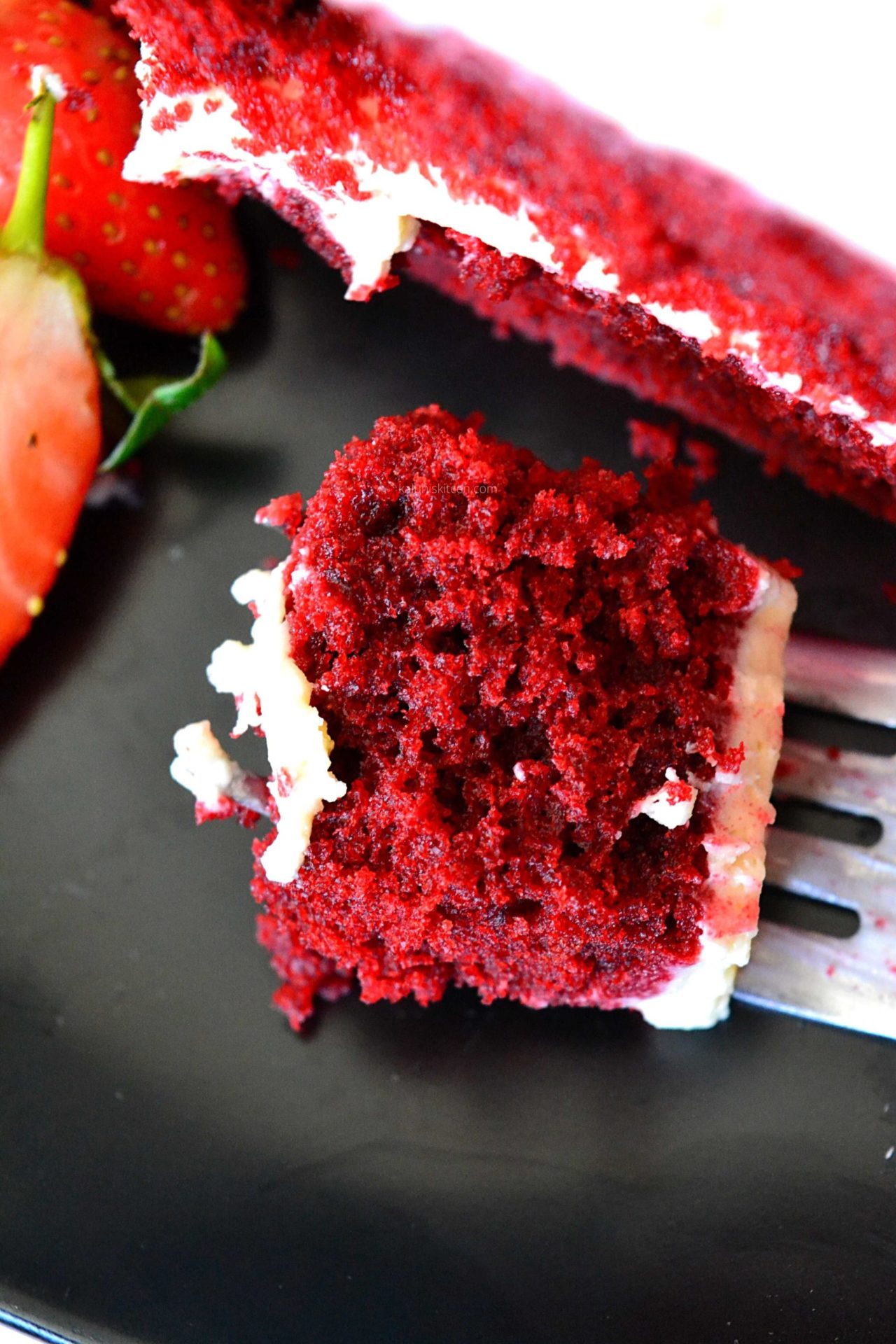 I made sure this blog is super detailed so that you ace it kabisa when you try this out at home. The complimentary YouTube video is equally as detailed, and I would love for you to watch so that you get a more visual flow of how this all came together. Do subscribe if you are yet to, I would love to have you. We are nearly at 60K subbies!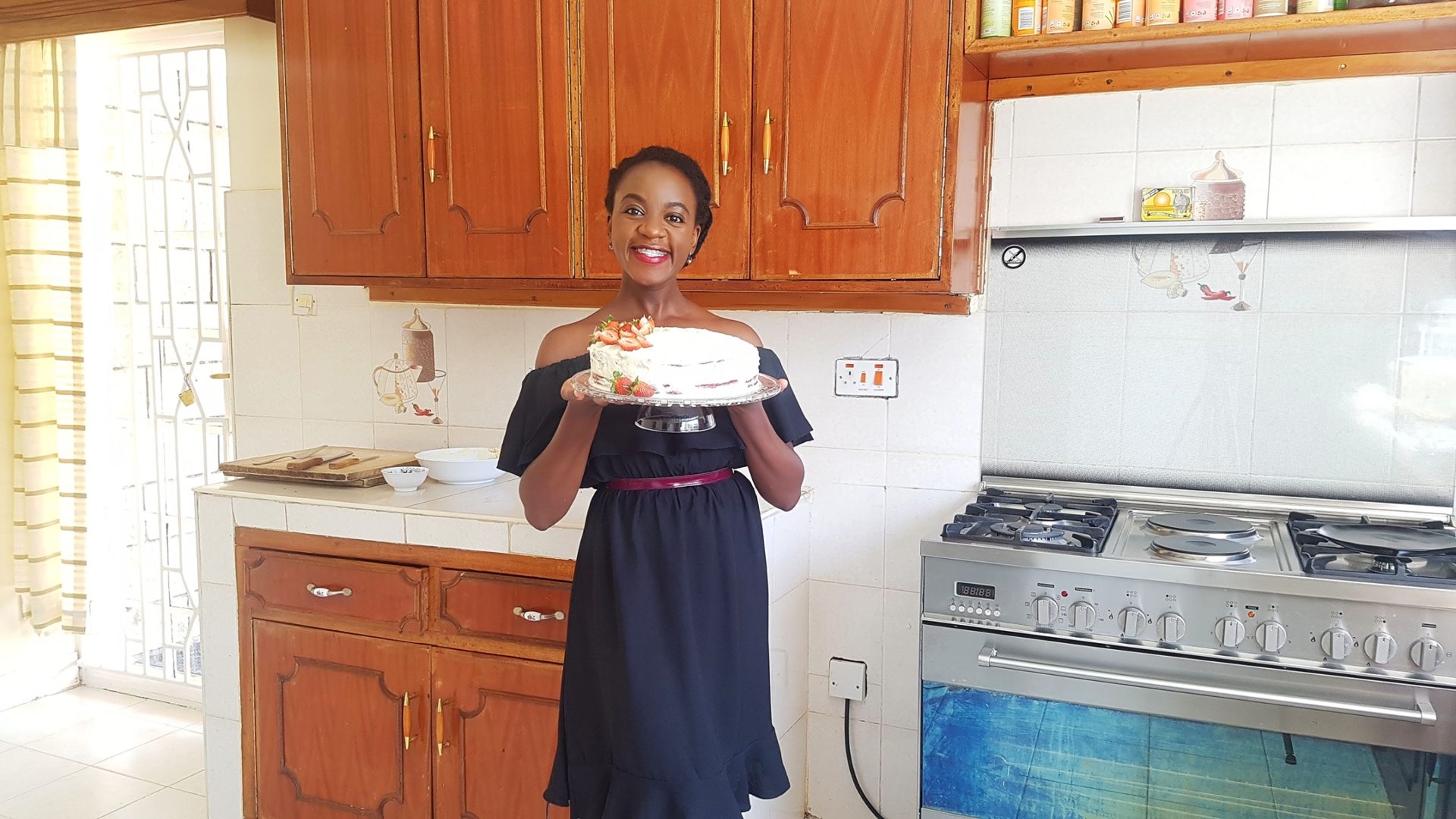 Love,
-Kaluhi
---
Get your downloadable recipe here :))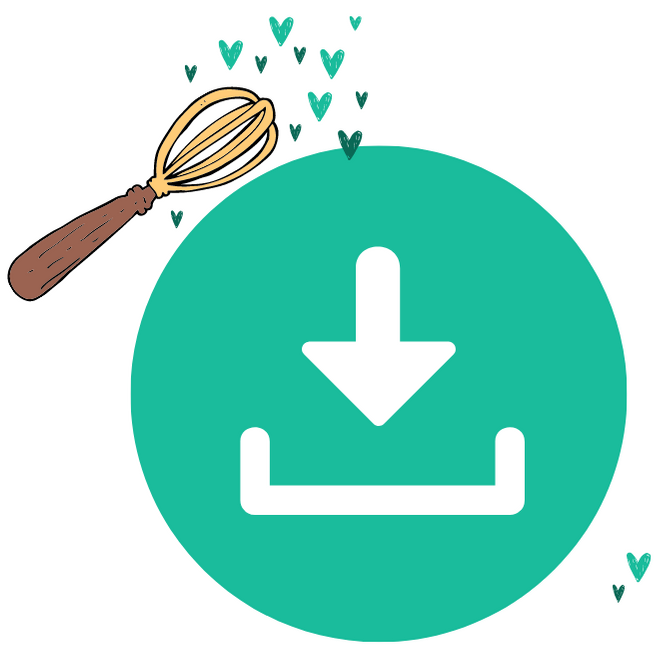 ---
All content and images are copyright protected by



Do not copy in part or whole without giving due credit.
---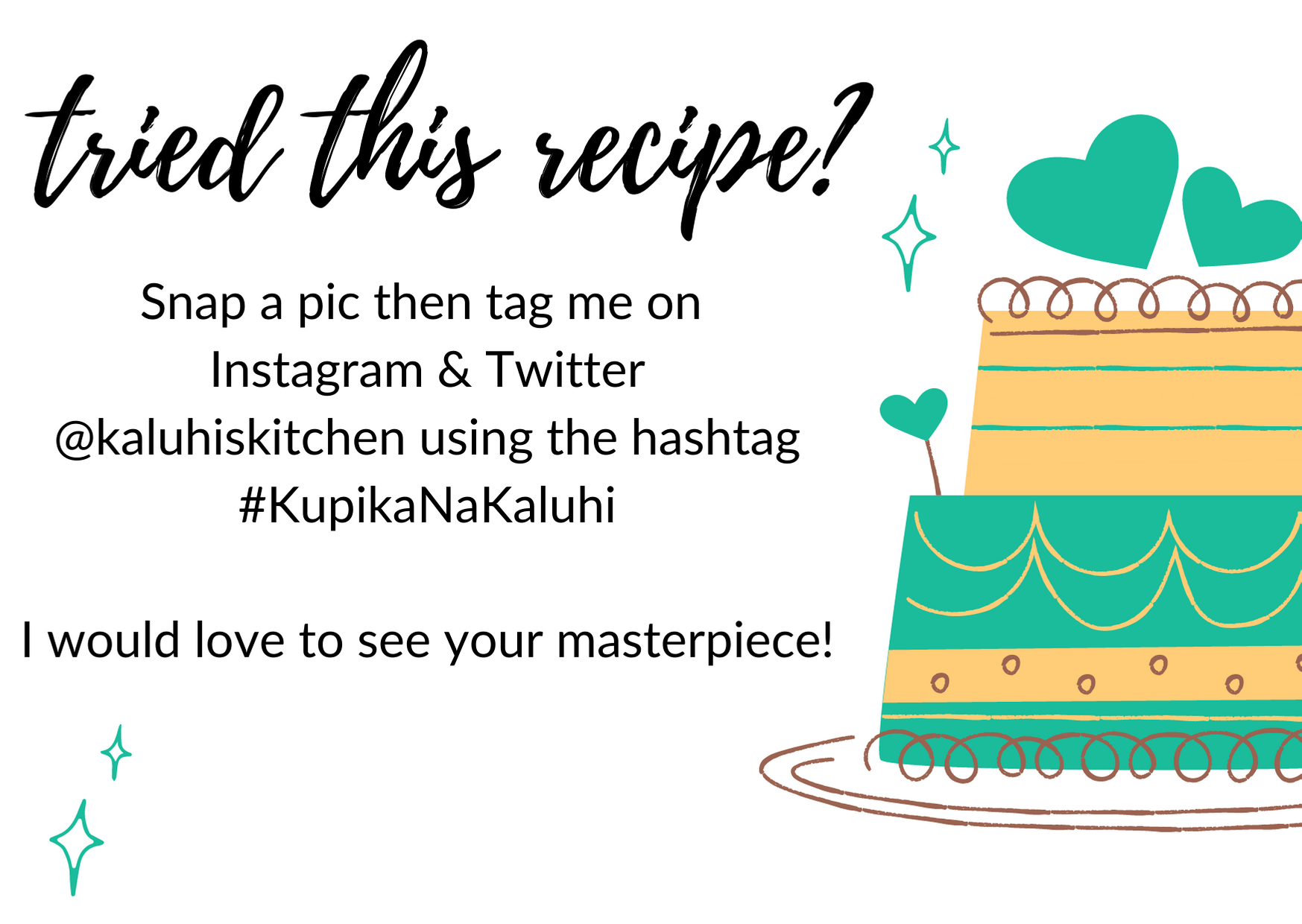 ---