As Kenyans, we really do enjoy having mbuzi (goat) at any and every huge occasion; or quite honestly, even at a small gathering of friends. Oh we have a wedding? Let us choma 10 goats! We have a graduation party? Goat ribs will definitely be part of the buffet! We are going to Lake Naivasha with a group of friends? You can bet on your life that that evening we will be chomaing some mbuzi! We love love love love mbuzi and it is one of my favorite red meats! I understand the hype!
We often have our goat as a choma (roast). However with ever expanding city life or when times the weather does not allow, we cannot always choma. This braised mbuzi recipe is one that will allow you to braise your ribs and enjoy them. It also allows you to choma if you so feel like. Either way you decide to swing, you will really and deeply enjoy this one! The marinade is out of this world good and paired with a chimichuri.. guys! You will fall inlove with this mbuzi recipe!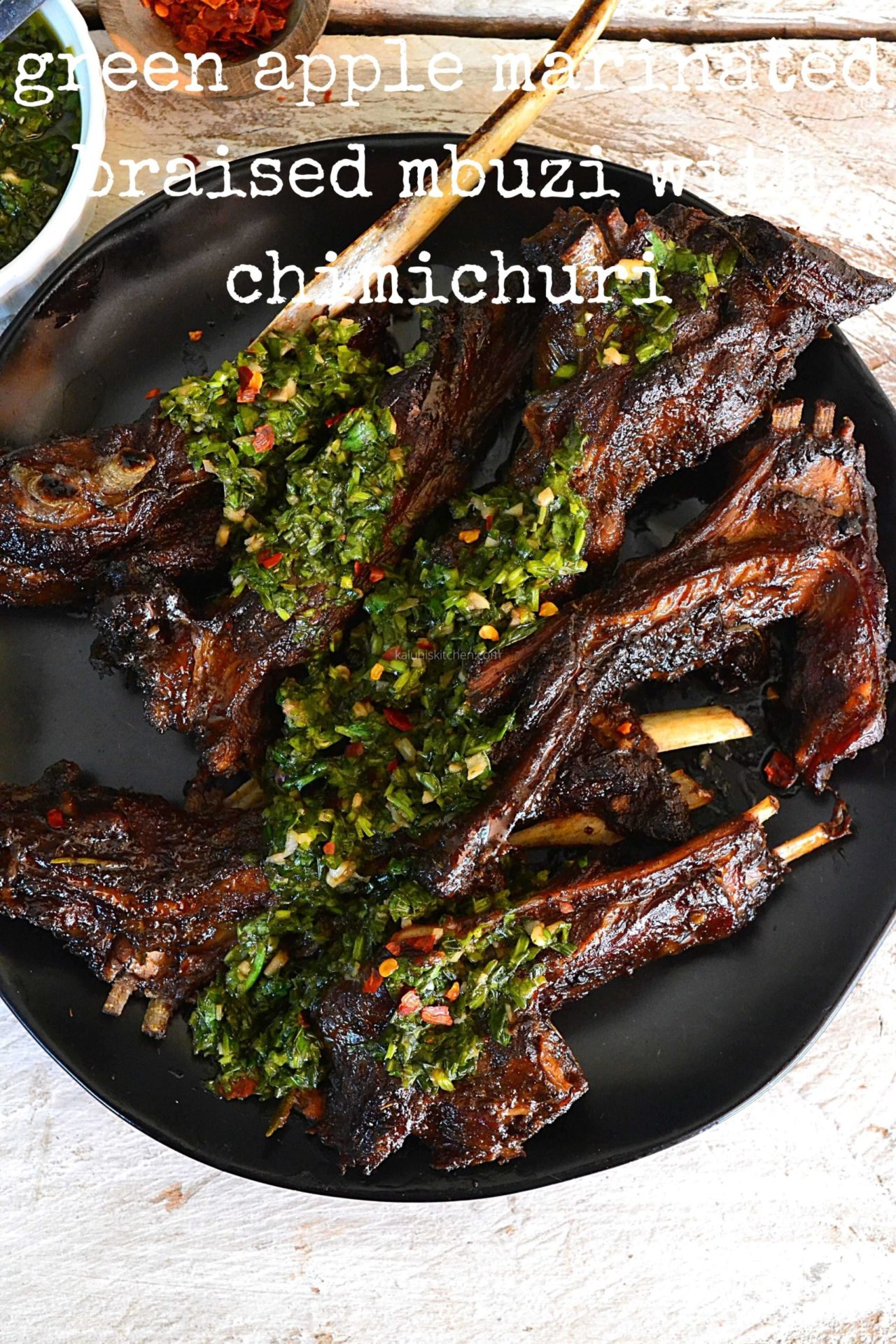 PREP TIME: 24hr COOK TIME: 4hr SERVES: 6
Ingredients
For the goat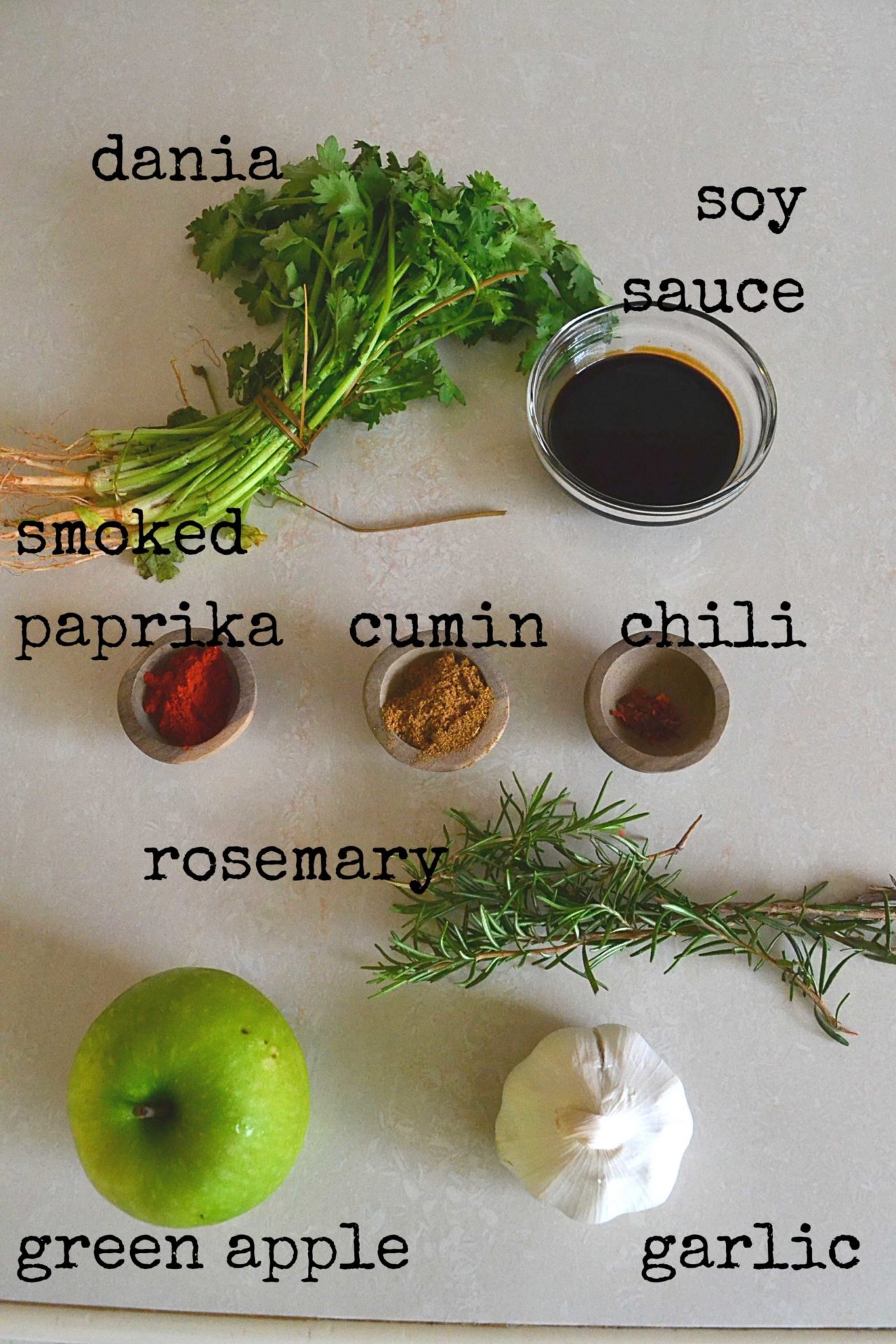 1.5 – 1.6 kg of mbuzi (goat) ribs
1/2 green apple
1 bunch of fresh dania
1/4 cup of olive oil
1 bulb of roasted garlic (fresh garlic would be ok)
2 tablespoons of fresh rosemary
1/4 cup of soy sauce
1 tablespoon of cumin
1 tablespoon of smoked paprika
1/2 teaspoon of pepper
Salt to taste
1/2 cup of beef stock
For the chimichuri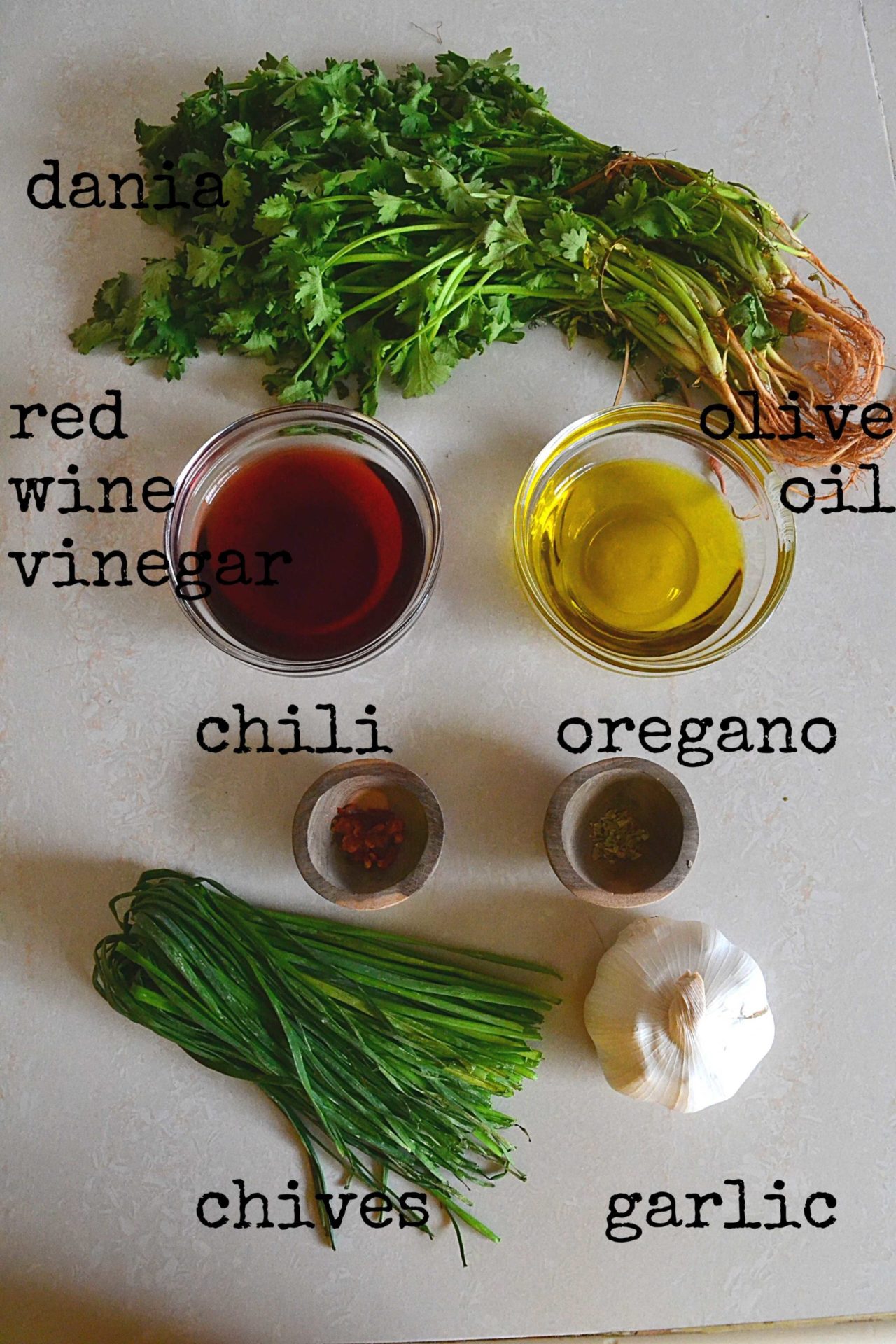 1/2 cup of very finely chopped dania
2 tablespoons of very finely chopped chives
3 cloves of garlic, minced
1/4 teaspoon of chili flakes
1/4 teaspoon of dried oregano
1 1/2 tablespoons of red wine vinegar
1/3 cup of olive oil
Method
Begin by prepping the goat for marination. The marination is the star of this dish and the flavor carrier. It is spicy, herby and mildly fruity as a result of the apple. The green apple adds a mild, soft tartness that goes so so so well with the flavor of the goat and without overpowering the taste of the other flavor. Make sure you use a green apple for this as a sweet apple may throw off other flavors.
First, prepare on the apple paste. We prepare a paste so that the apple flavor can be potent and allow it to be spreadable and for it to infuse into the meat. Begin by cube your apple, dice your dania and pop that into a food processor/ blender along with the olive oil and run until completely smooth.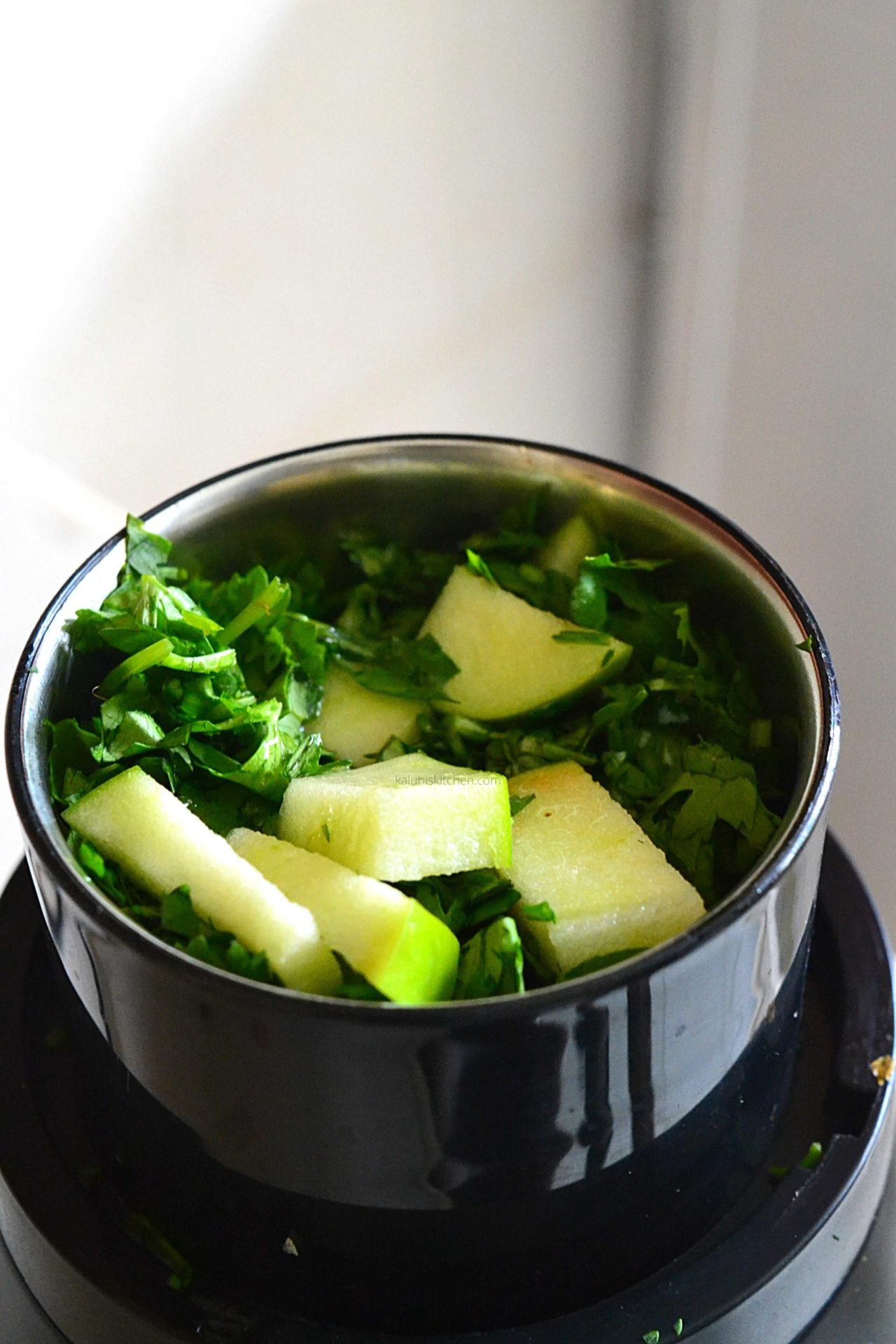 It will become this gorgeous paste with the most hypnotic green hue.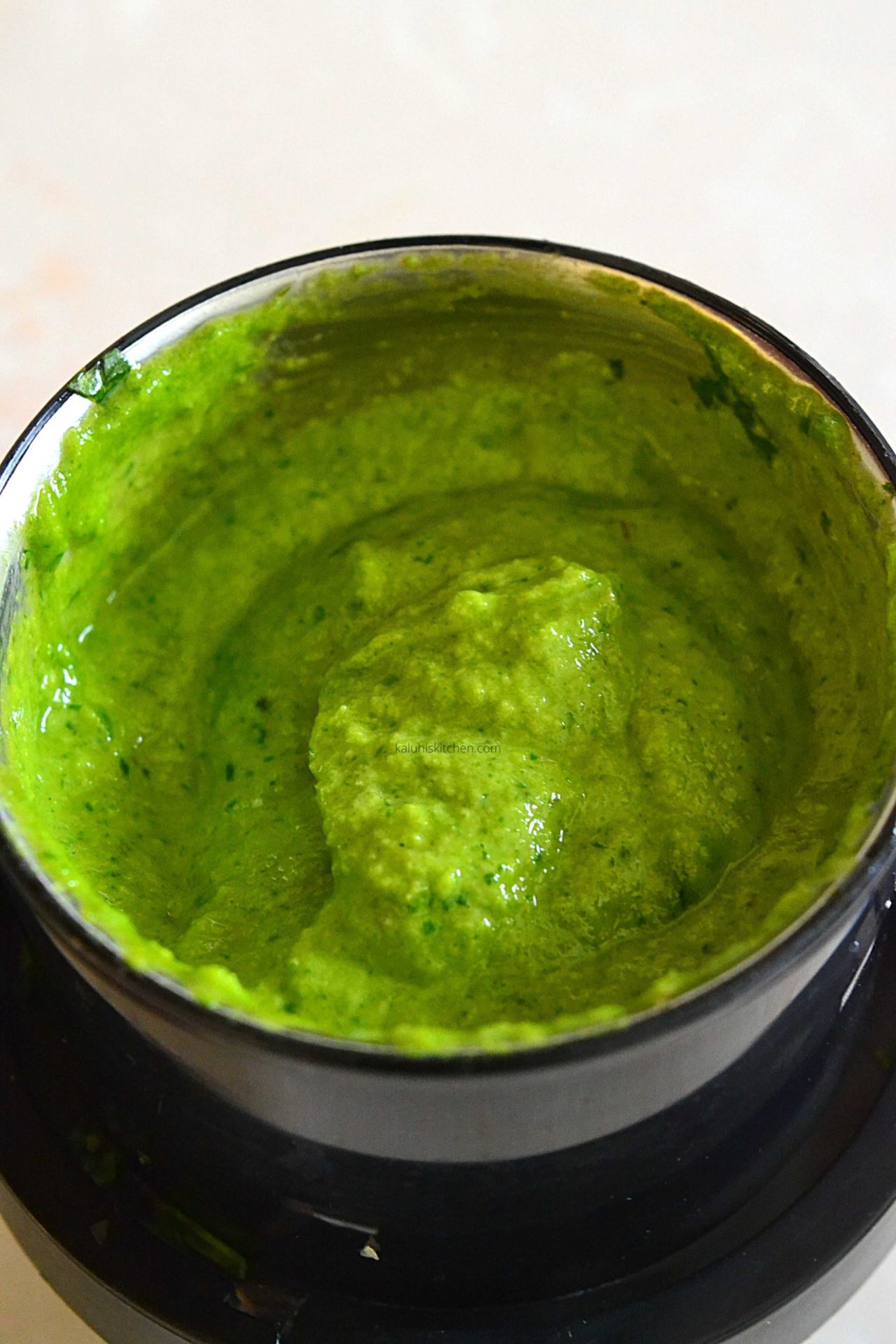 Place the goat ribs into a container. I bought mine form carrefour but your local butcher can come thru as well.
Add in all the marination ingredients along with the green apple paste we have just made. I used roasted garlic for this, however fresh garlic would work just fine.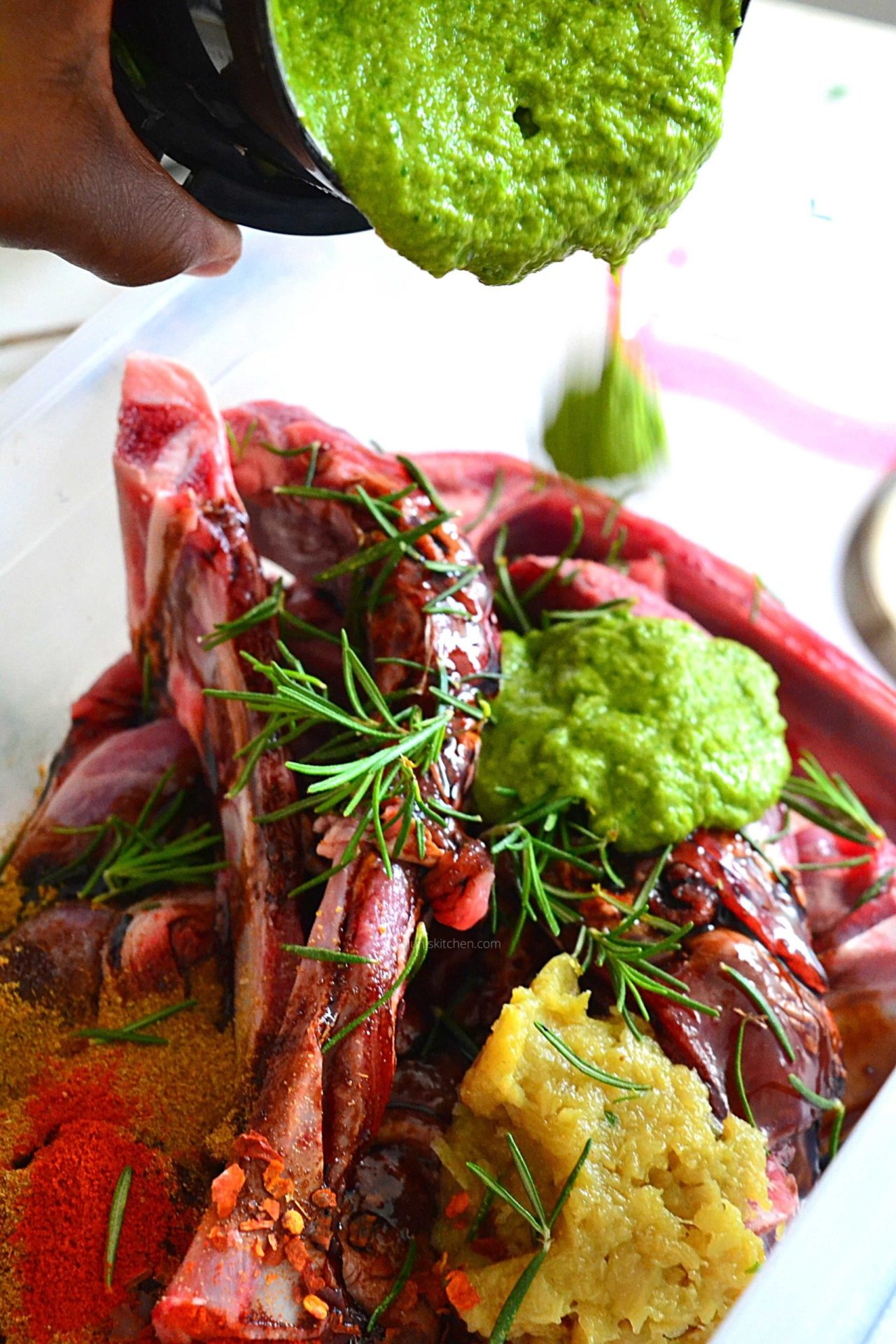 Mix until them in completely and once slathered and beautifully coated, let this marinate overnight or up to 48 hours, refrigetated.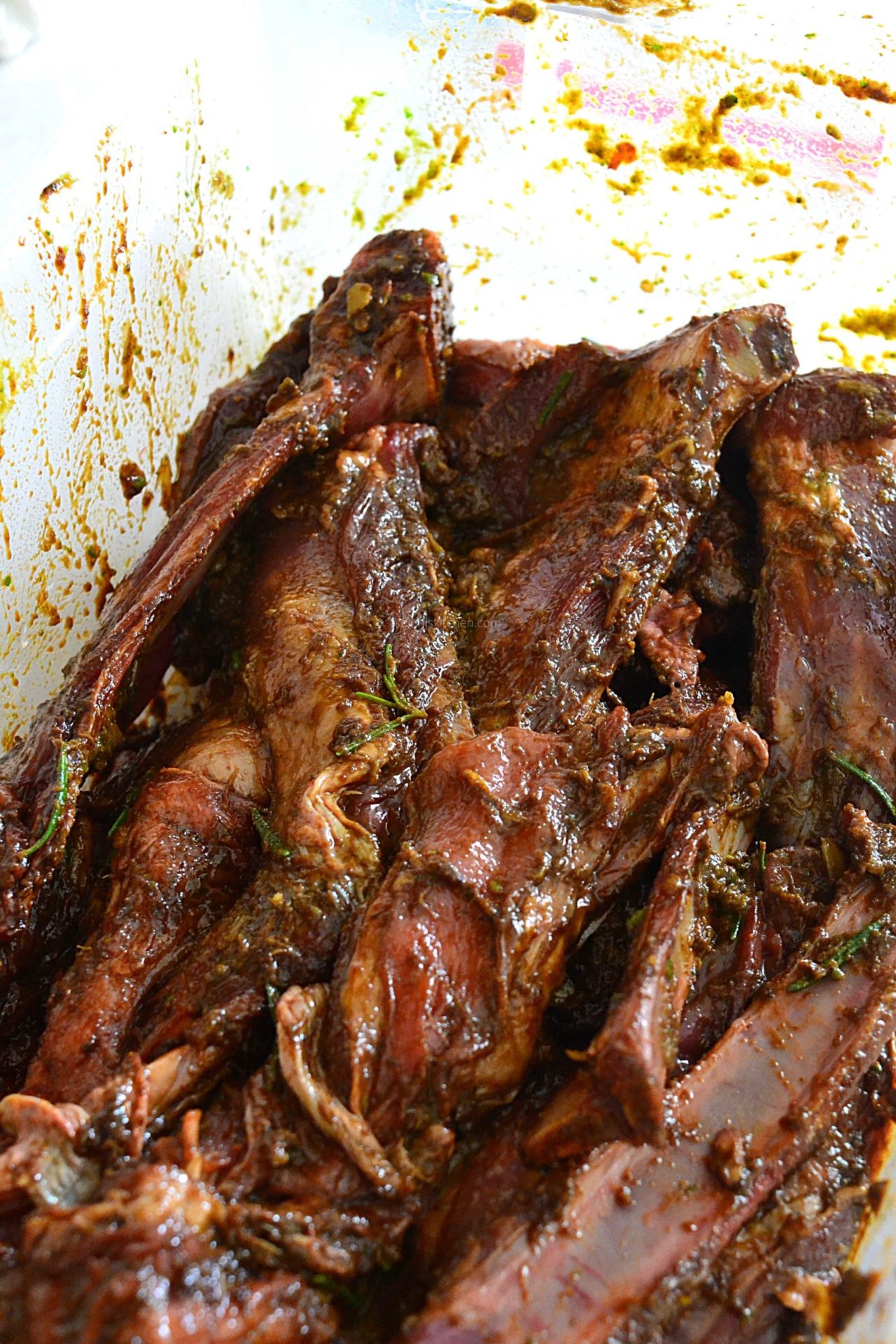 Next day, we get cooking!
Now here is the juncture with which you are presented with two options: choma or braise. For a choma, Take the mbuzi out of your fridge and let it come to room temp then go right ahead and choma until done. It will take a few minutes- about 30 – however time will vary according to the thickness of your ribs.
For braising, which is what we did for this particular recipe, place the marinated mbuzi onto your lined tray, pour in the stock along with the juices that collected at the bottom of your marination container and allow this to braise for 3-4 hours at 150c until done. Braising of goat in particular takes quite abit of time, but at the end of the process, you shall be greeted by the most luscious fall off the bone mbuzi!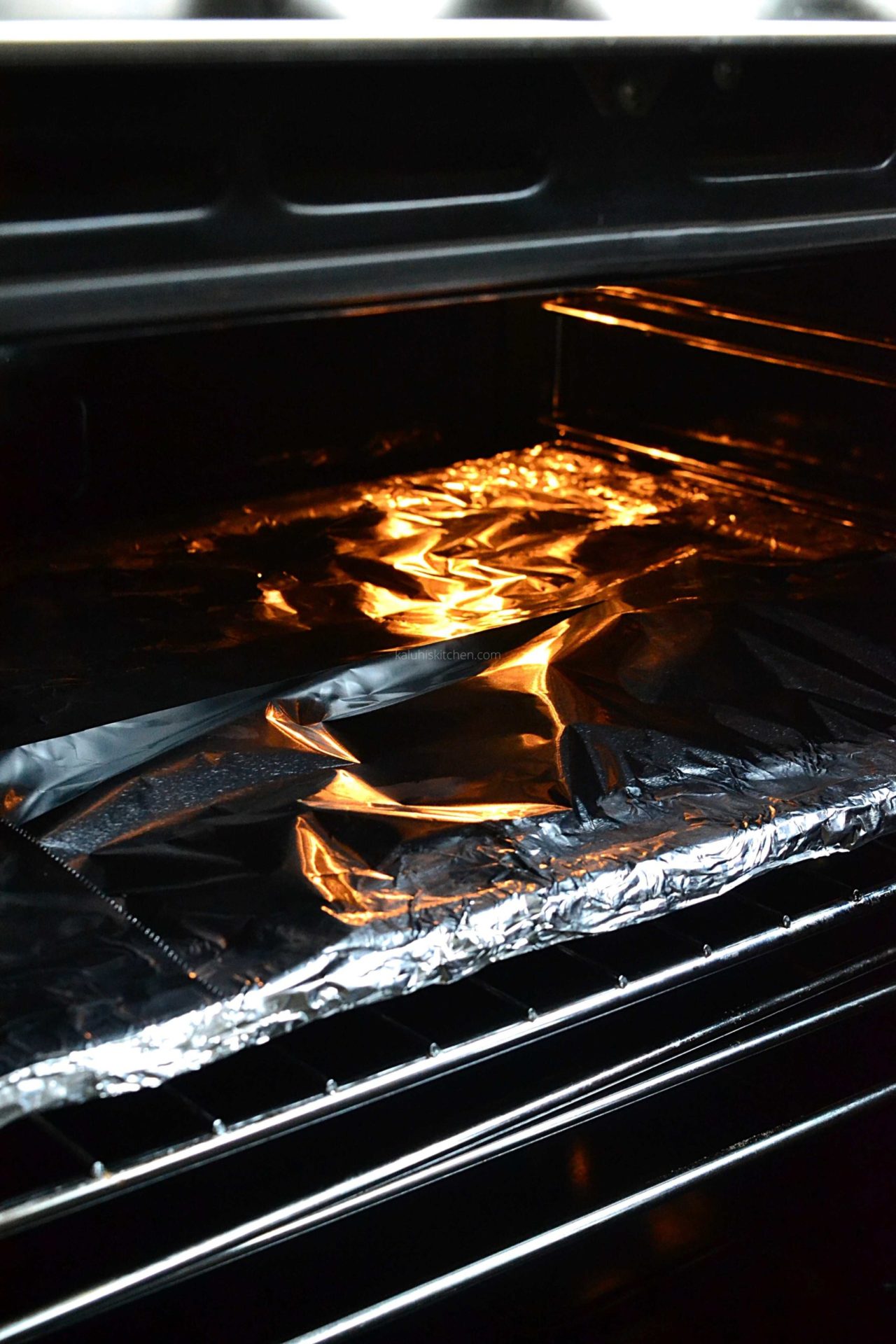 As the braising is going, prepare the chimichuri. Chimichuri is a South American cold sauce made to be paired with meats. I love it with beef, and for sure it would go so so well with mbuzi.
Finely chop the dania and the garlic (or blitz then in a food processor until fine). They must be very very very fine for you to ace this. Add those two – along with all the other chimichuri ingredients – into your bowl and mix. Once they are done, you are ready to go.
You can prep some in advance and let this sit in your fridge up to two weeks. I feel it tastes better as time goes by.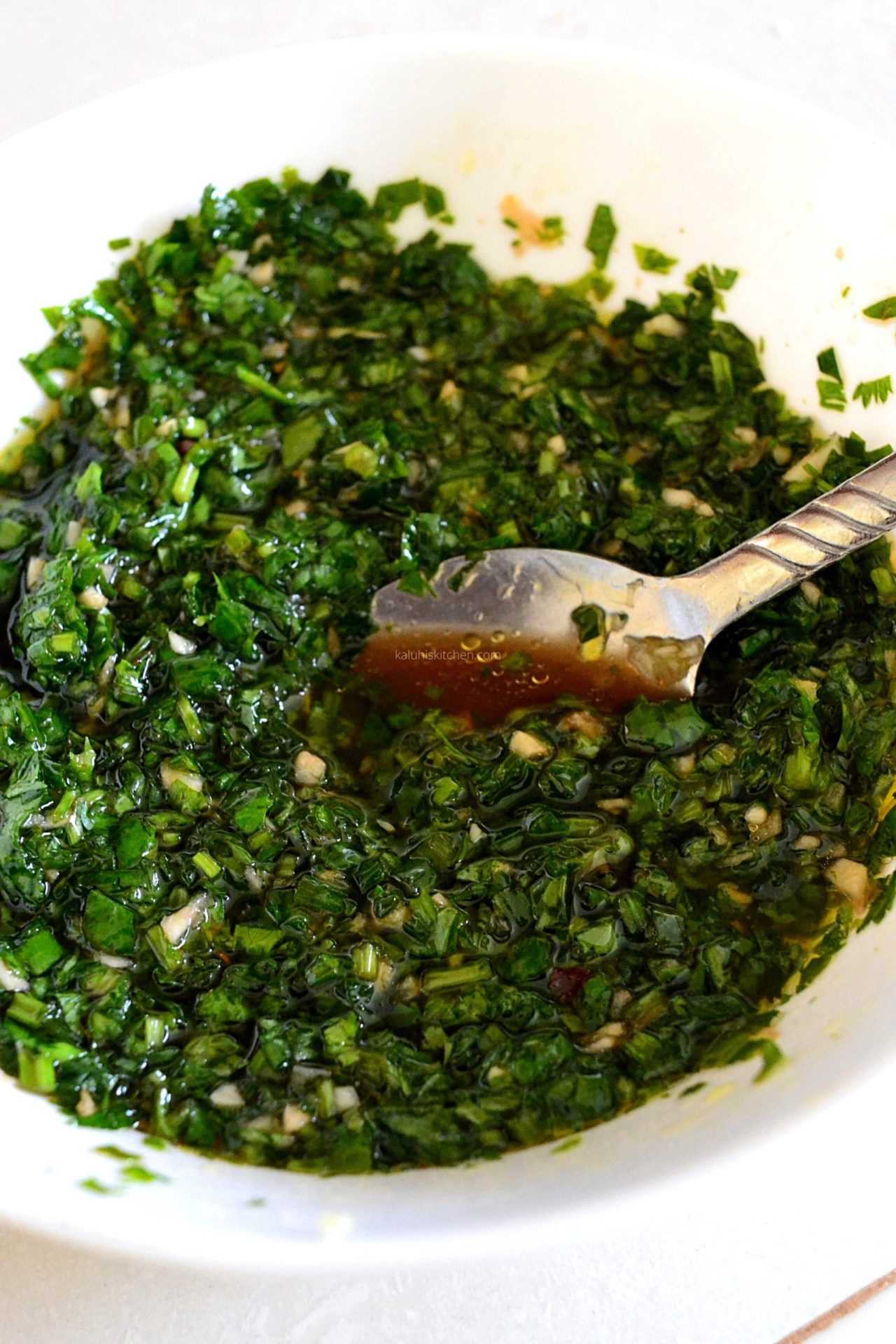 Once the mbuzi it done, whether you chose to choma or braise, plate it up and then serve it along with the chimichuri. We love to serve mbuzi with kachumbari (which is a timelss, heavenl pairing) but abit of change is ok and my green apple marinated mbuzi with chimichuri is one you will really love!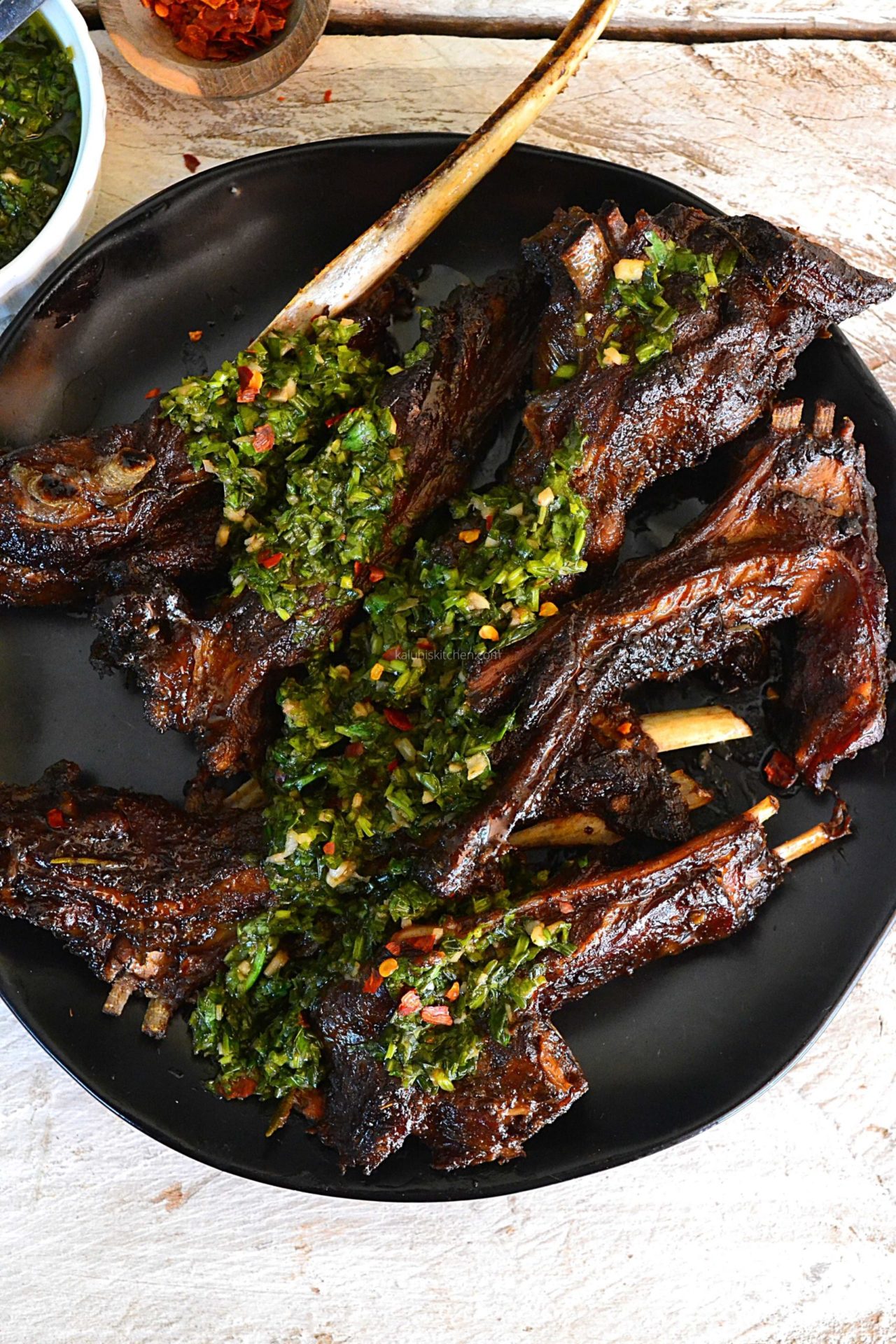 How perfect does this look?
The marination allowed the flavor of the mbuzi to really shine! The cumin and the chili tied together so well with the fullness of the apple and dania. The chimichuri elevated it all and it was bite after bite of sexy deliciousness!
I mean look at this?!?!?!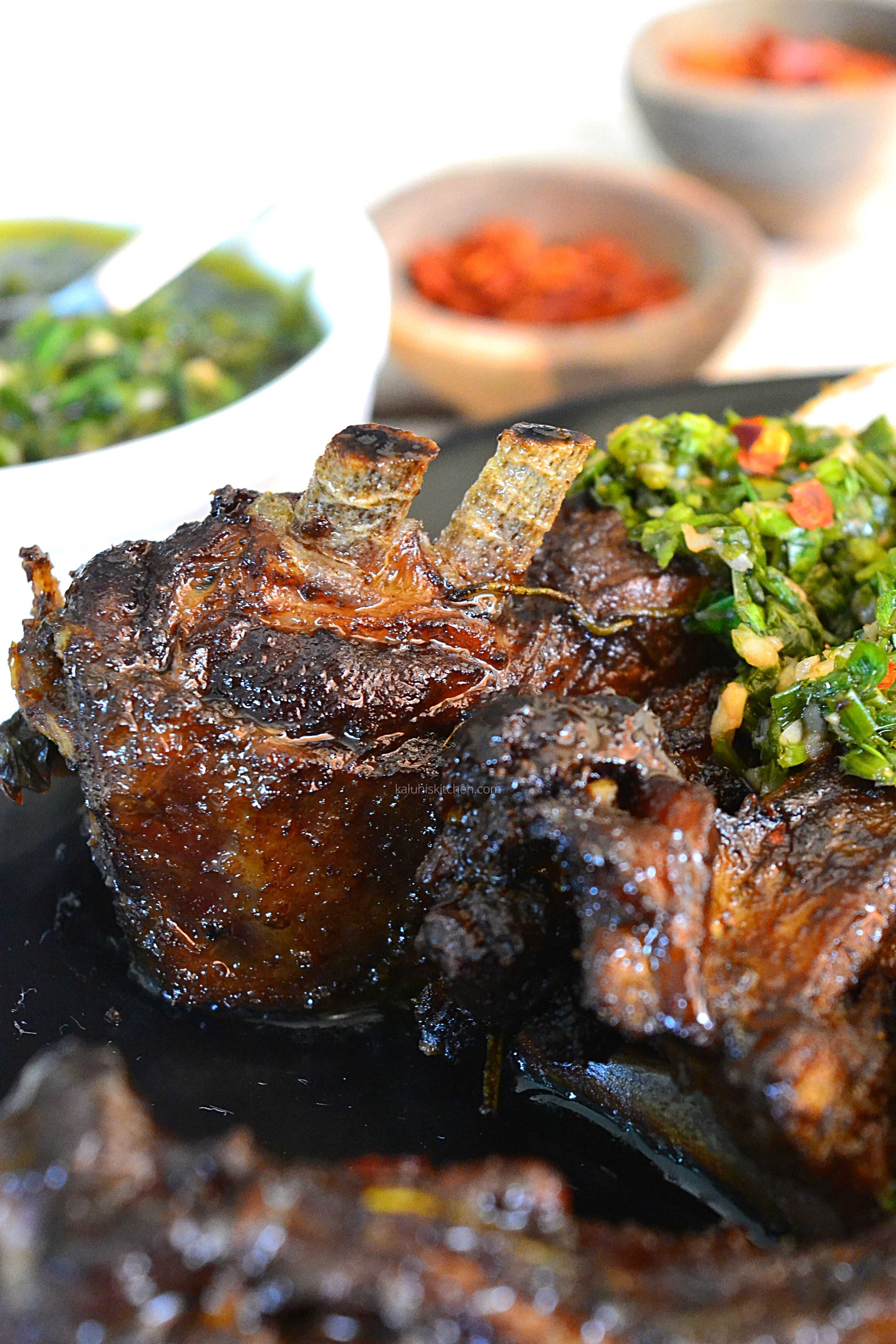 Does this look too good to be true? I invite you to watch the YouTube video and see how easy it is to put this together from start to finish. Do subscribe if you are yet to. I would love to have you!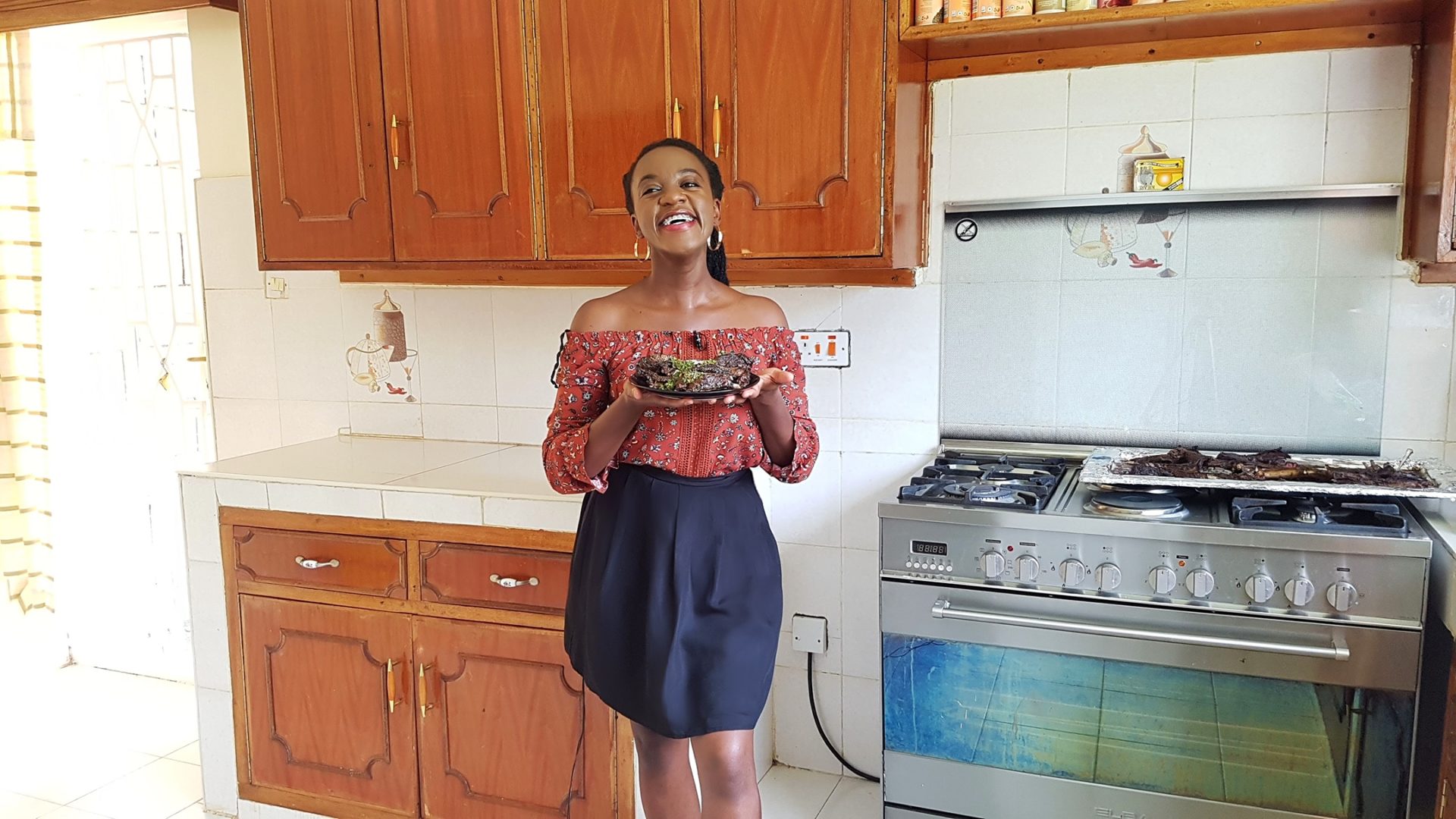 Much love!
-Kaluhi
---
Get your downloadable recipe here :))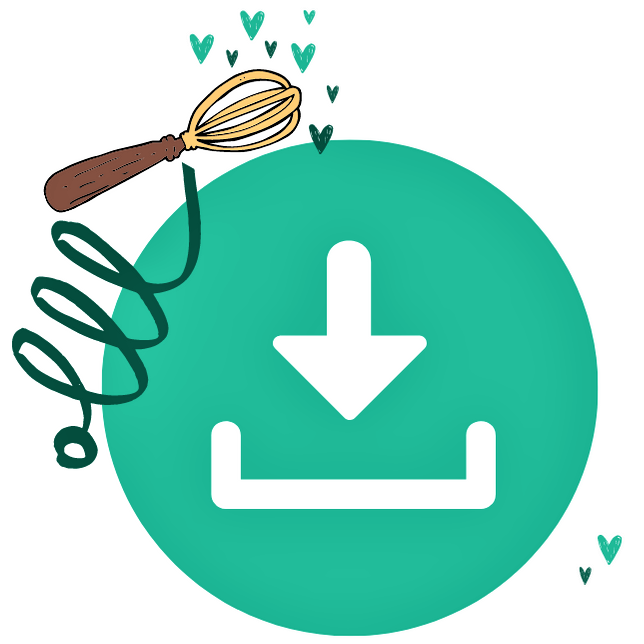 ---
All content and images are copyright protected by



Do not copy in part or whole without giving due credit.
---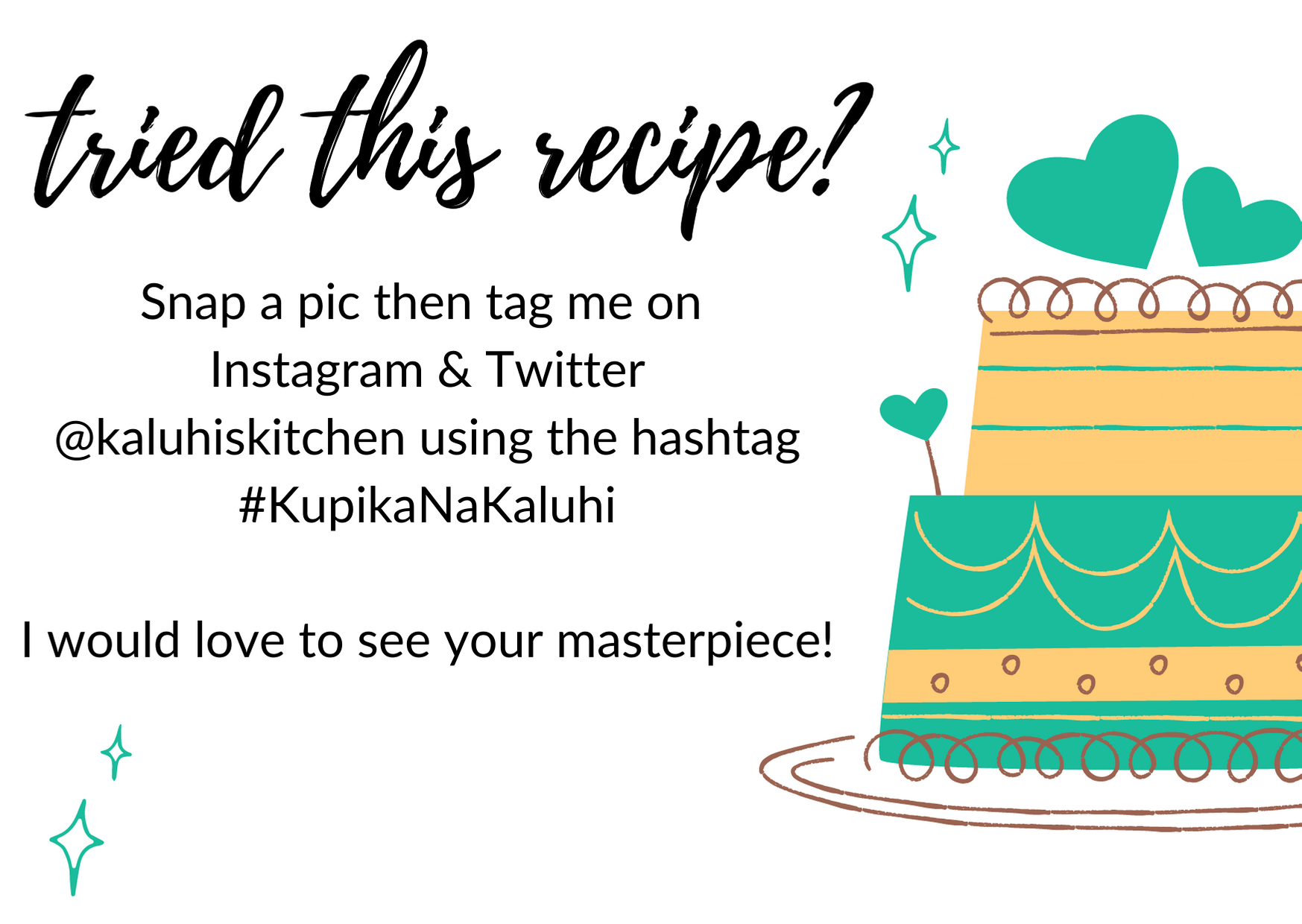 ---