The school holidays are upon us and that means, those of us with siblings, the house is fuller, warmer and of course, noisier LOL! And as expected, one of the highlights of being back home is enjoying all the fantastic home food that cannot be recreated anywhere else. Remember how that was the ultimate joy of being home back during our boarding school days?? For my younger sisters who are home for the holidays, that is their MAIN joy of being home. I can't blame them! They literally have a mental list of the things we (read my mum and/or me) need to make! One of my younger sisters was doing her rounds on Instagram and saw some pork ribs and decided that is what we MUST make during the weekend. Being the sweet, nice (sometimes overbearing, controlling, bossy) elder sister, I decided that Easter Sunday would be pork Sunday. Boy! Wasn't I glad that my sister's Kraving pushed me that direction! I gave you a sneak peek on my Twitter and Instagram and decided to give you this recipe today as opposed to next week because it is too bomb to hold on to any longer! For this glorious Friday: Some pork ribs choma with mango BBQ sauce.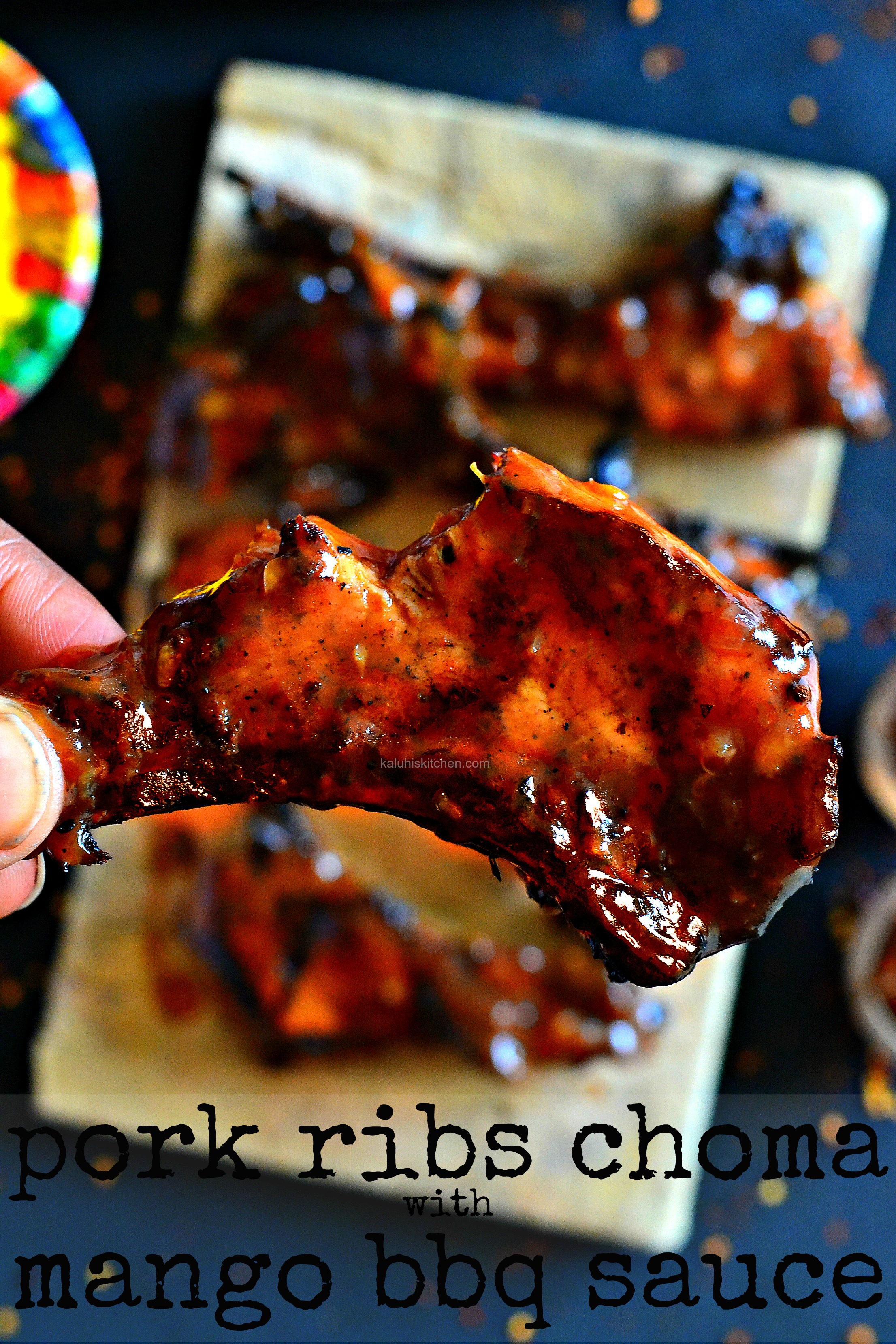 PREP TIME: 48 HOURS (Relax fam! Includes marination time :DD)
COOK TIME: 20 MIN              SERVES: 3
Ingredients
For the marinade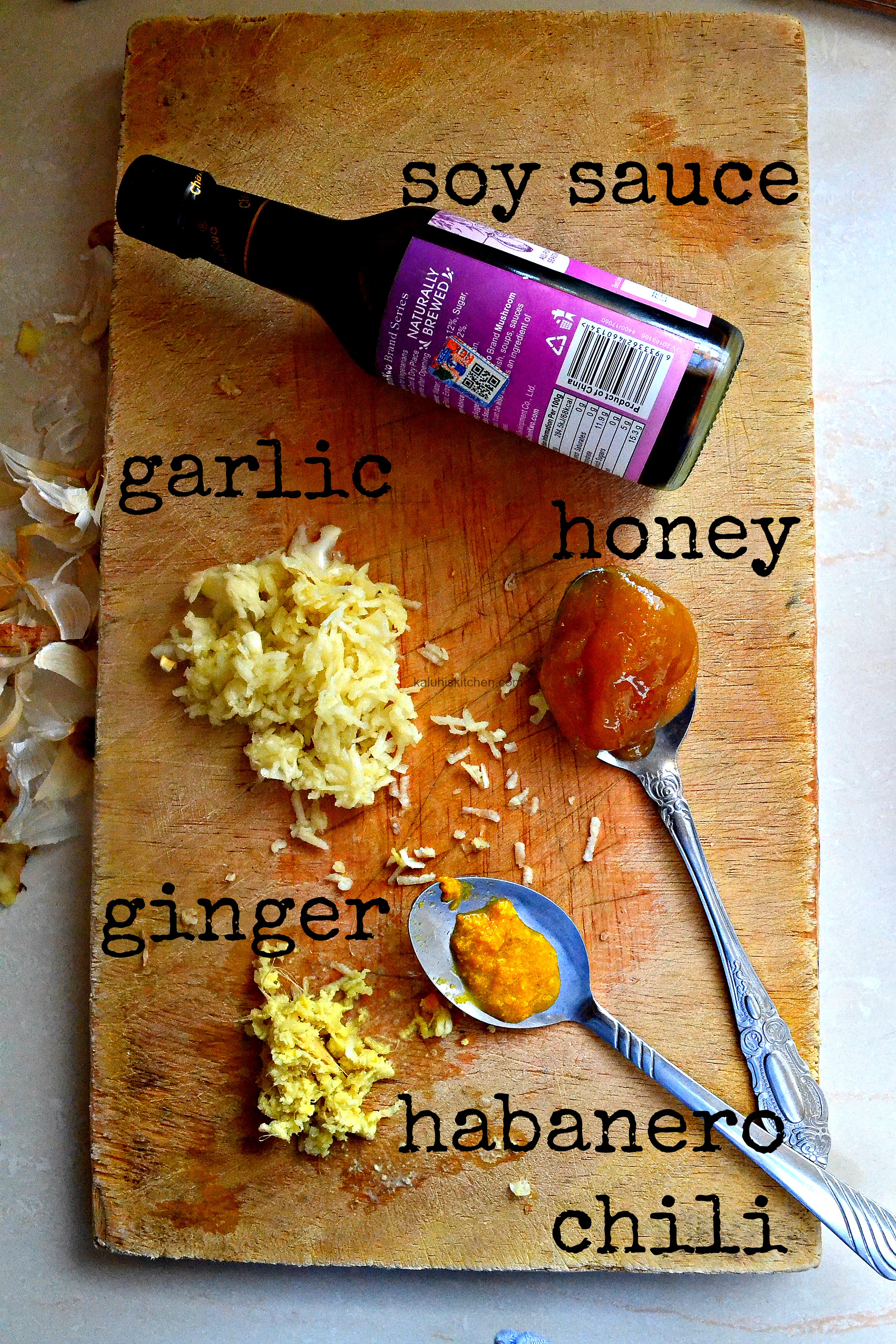 3 tablespoons of honey
2 tablespoons of dark mushroom soy sauce
2 tablespoons of minced ginger
7 cloves of minced garlic
1/2 a tablespoon of habanero dip
For the Mango bbq sauce:
1 red onion, finely chopped
4 cloves of garlic, finely chopped
1 cup of ketchup
3/4 cup of mango pulp
3 tablespoons of brown sugar
1/2 a teaspoon of cayenne pepper
1/2 a tablespoon of black pepper
1 tablespoon of worcestershire sauce
Salt to taste
1 tablespoon of apple cider vinegar
Method
Prepare all your marinade ingredients. In a bowl, add all of them and mix until evenly distributed. Pour this over your pork ribs and ensure it covers every inch. Allow it to  marinate for not less than 24 hours (I let mine marinate for 48 hours, refrigerated). Remember, the longer it marinates, the deeper and more intense the flavors. Totally worth the wait!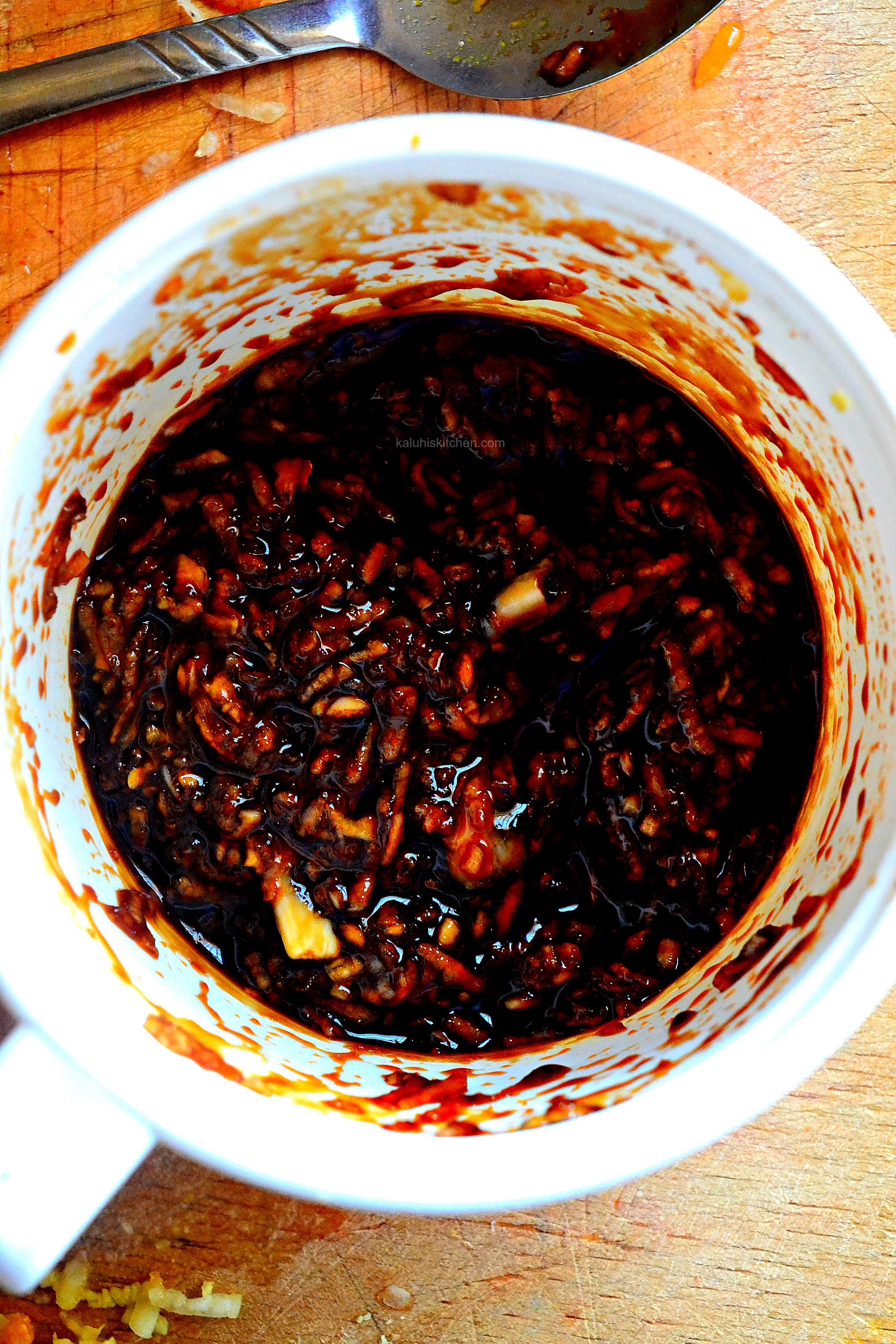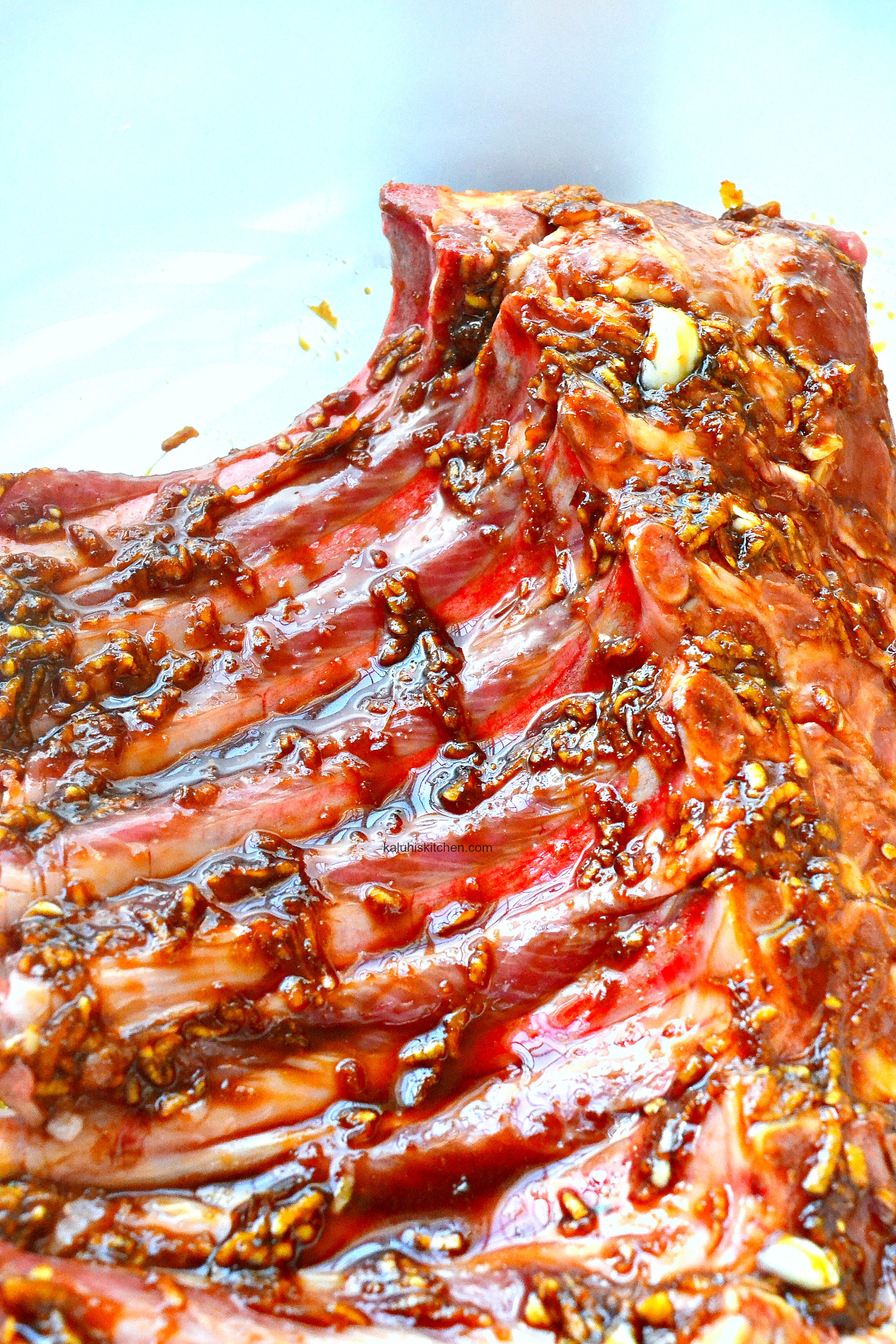 Once done, proceed to choma (roast) or if you do not have an outdoor grill, or the weather is not conducive for outdoor grilling, you can use your oven. I opted for a flame roast since I know each one of you can use that option plus I was going for that smoky flavor that would otherwise be missing were I to use an oven.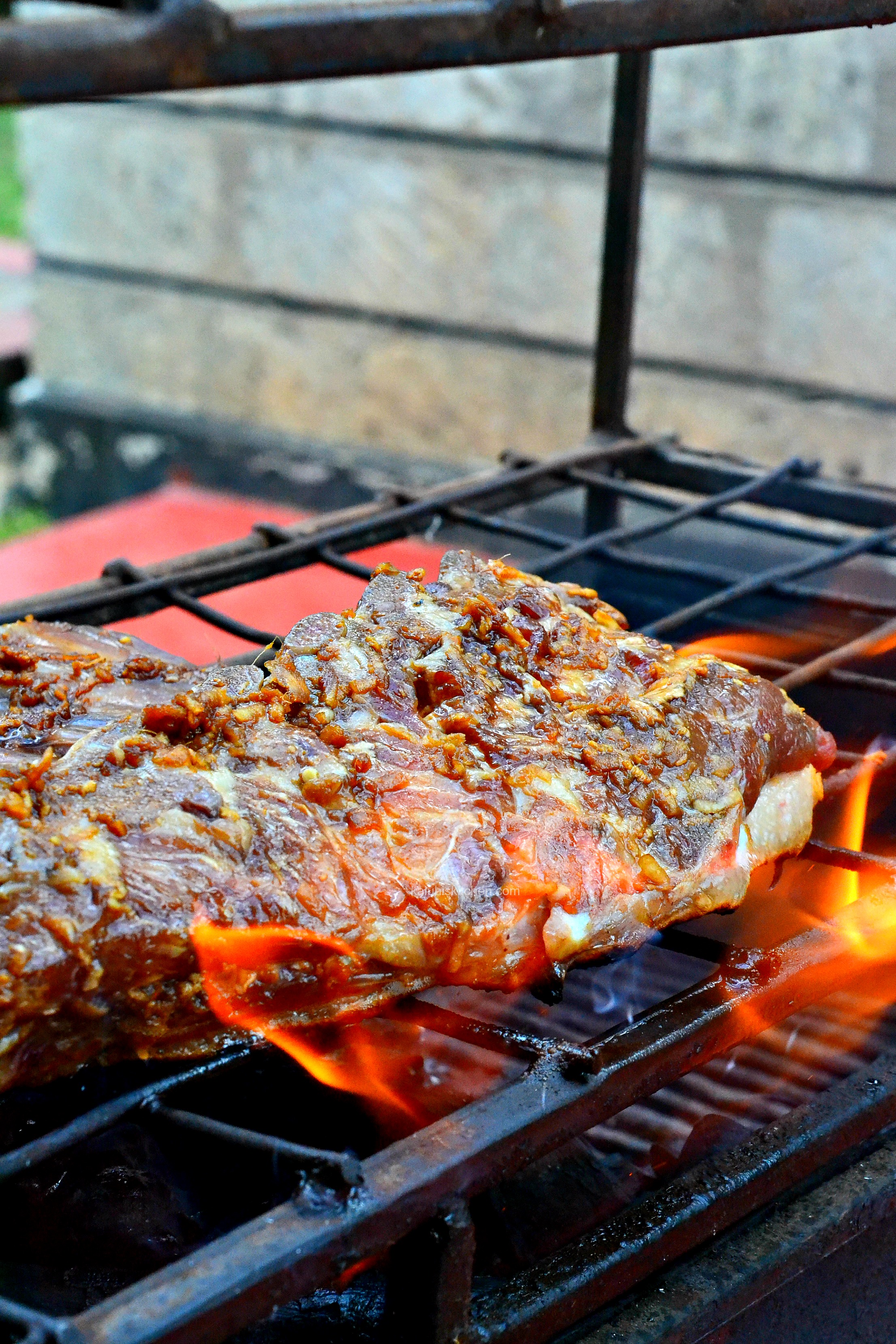 Pork roasts really fast, so depending on the thickness of your ribs, you will need about 20 minutes. Once done, slice and set aside.
For the sauce, add the red onions and garlic into a sauce pan and let them cook until fragrant. Be careful not to burn the garlic. Then, add the ketchup,sugar, vinegar, cayenne pepper, worcestershire sauce, black pepper and the star of the dish, mango pulp. This is similar to the triple D sauce we made here, which I modified slightly and used for this recipe since its tried and tested. As for the mango make sure it is sweet and blended completely into a pulp so that it gets incorporated well into the sauce. You can use any other fruit for your bbq sauce if you want that unique sweet kick and fuller flavor.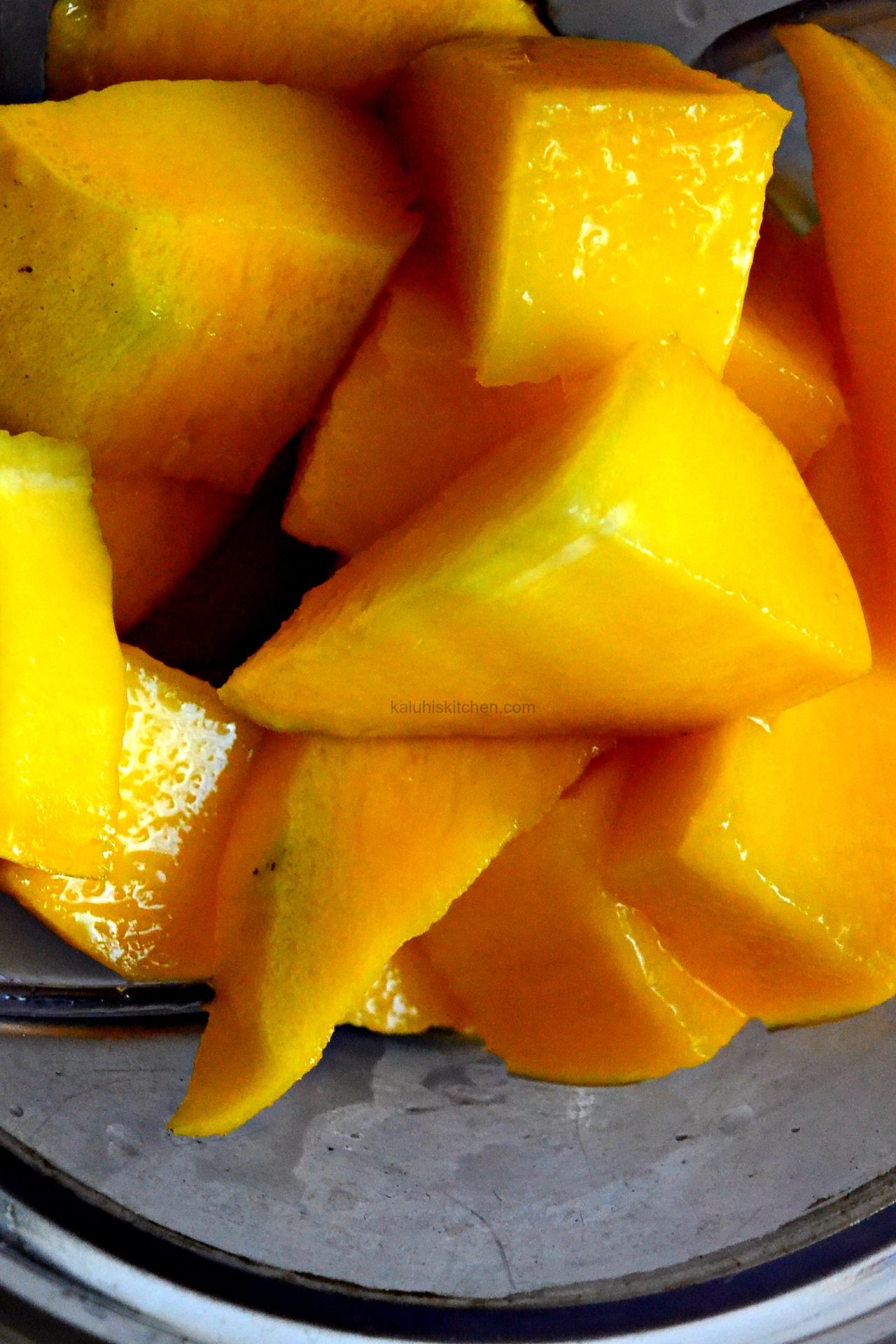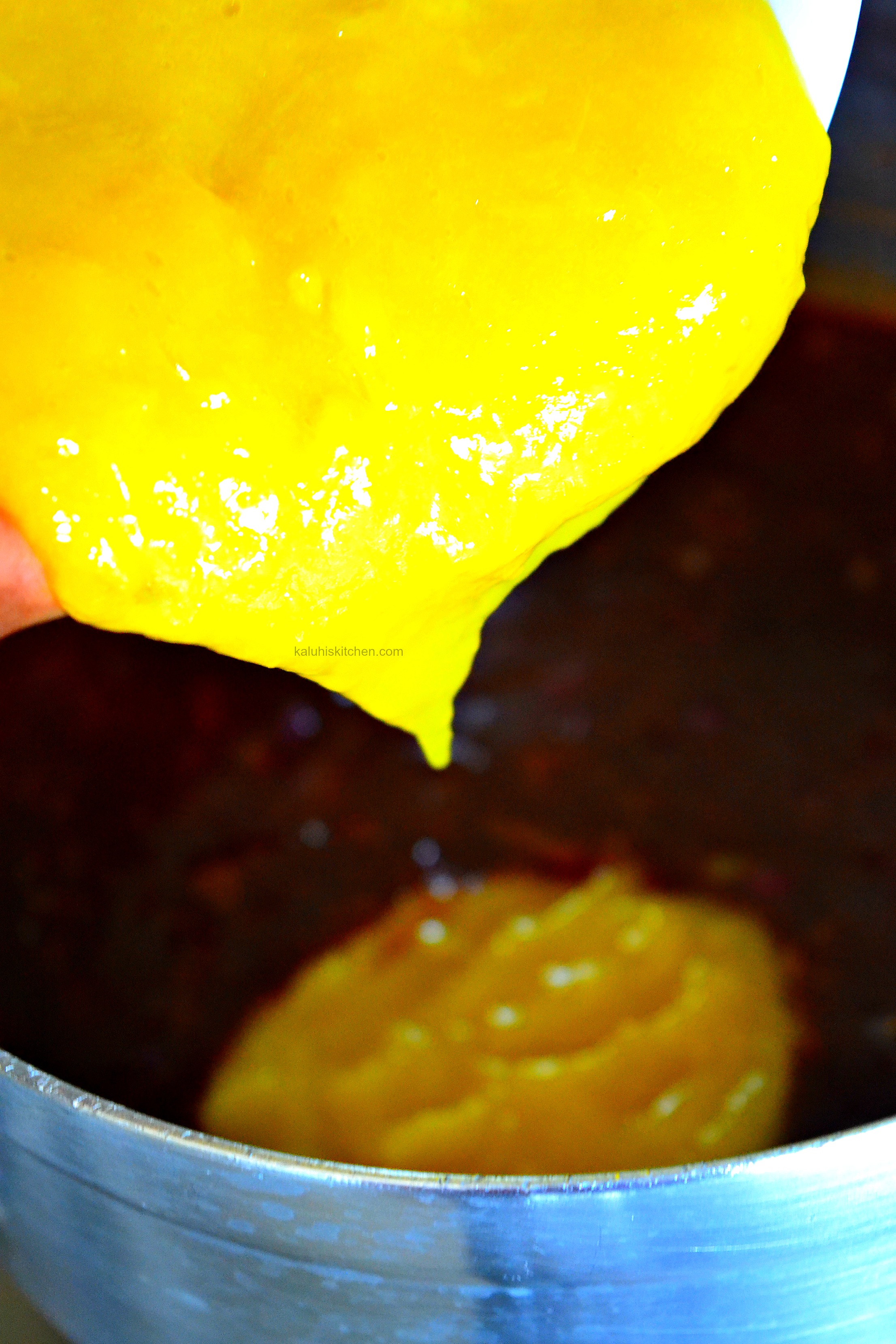 Cook this down for about 10-15 minutes until the sauce thickens and all the flavors come together. You can adjust the chili-sugar ratio to suit your taste and personal preferences.
After the sauce is ready, take your pork ribs and baste the sauce all over them. Be generous with the sauce, don't hold back :)). Once done, dig right in!!!!
Look at the these perfect beauties!!! Care for one?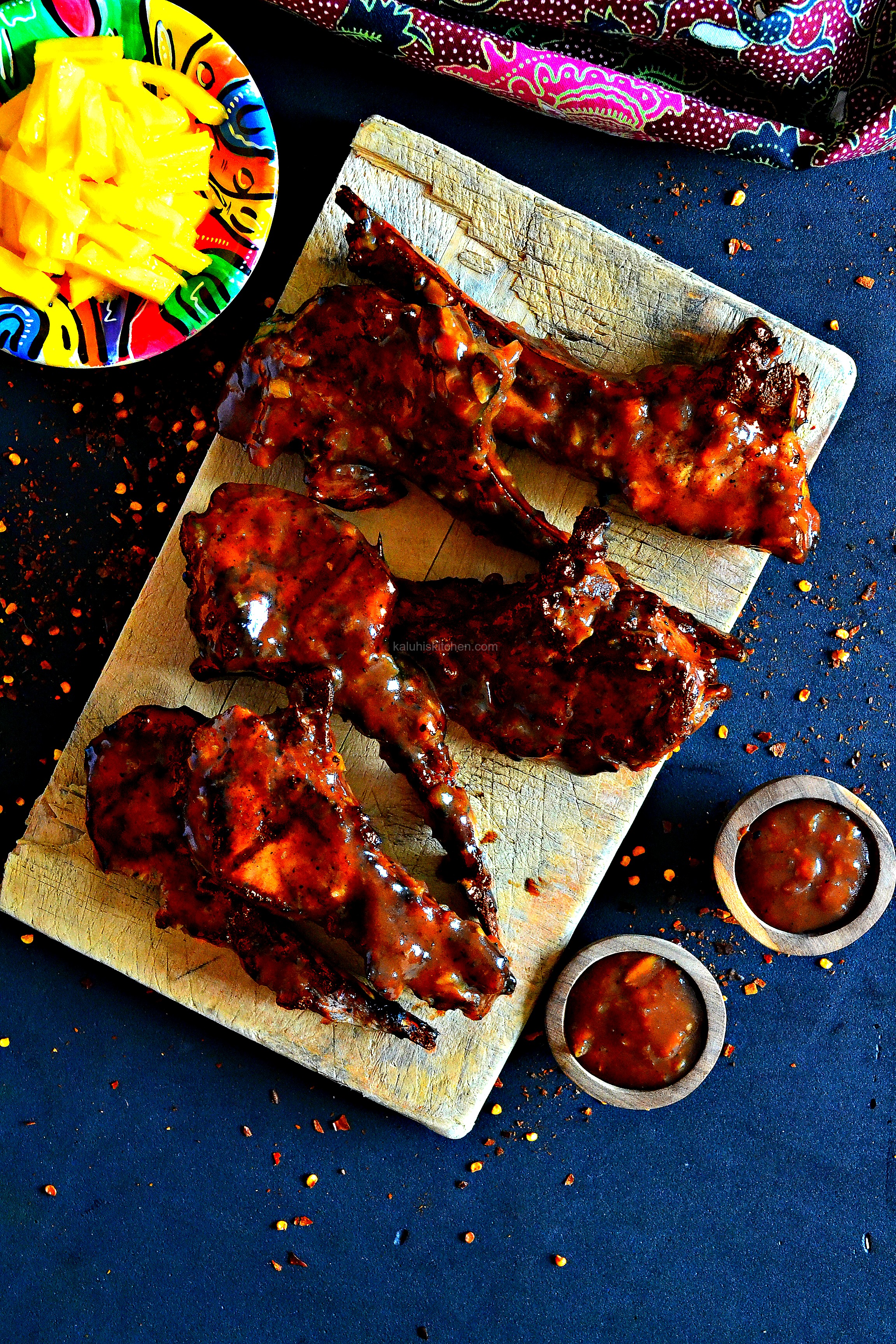 You can never ever go wrong with sweet-spicy flavors when it comes to pork. The marinade sunk in to the meat so beautifully and so intensely that the meat had such amazing flavor on its own. Add the mango bbq sauce into the mix and you have pork ribs choma that you will be thinking off every night before you fall asleep!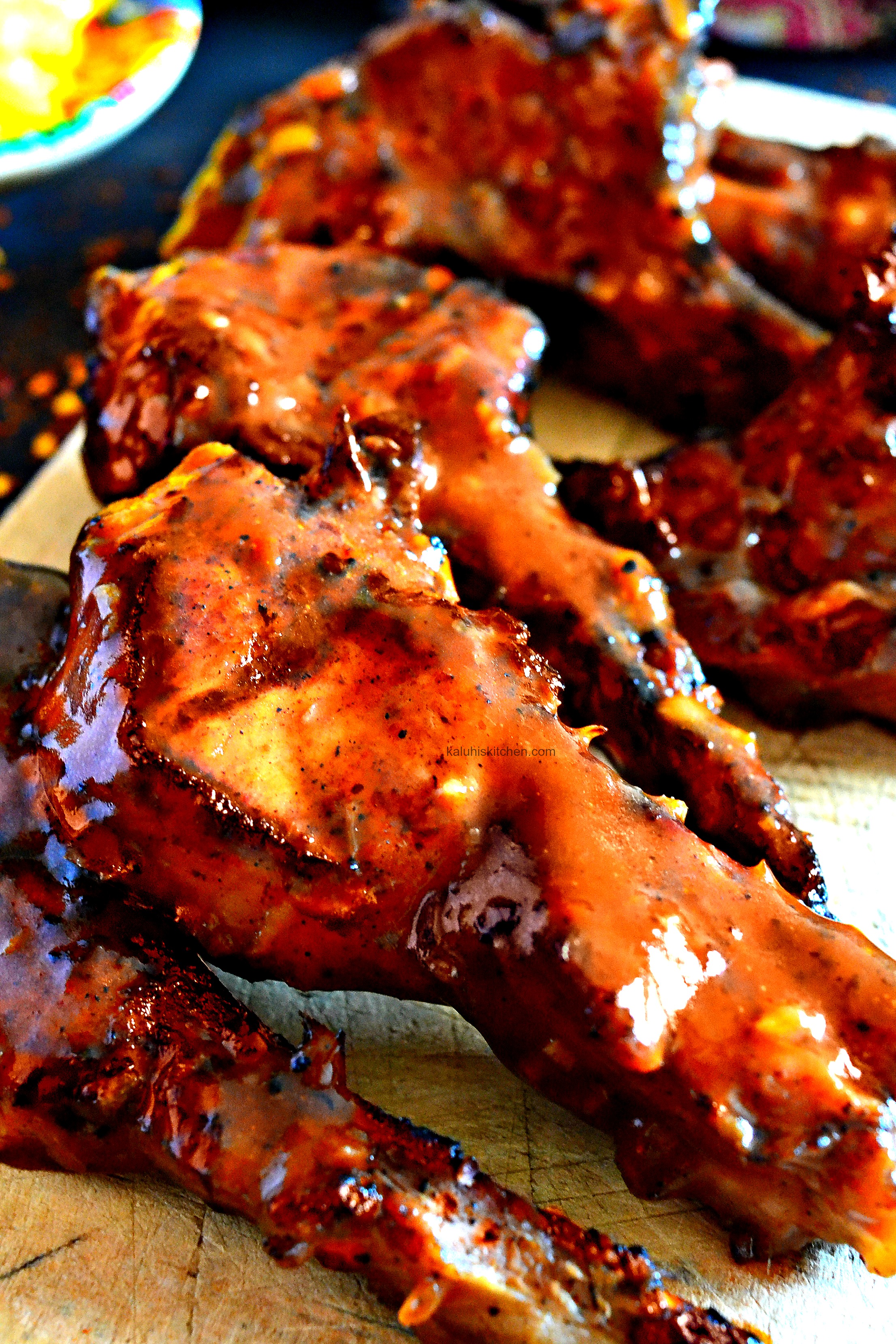 The slight char and smoky flavor which I LOVE was also a plus for me! Tender smokey pork, with a fruity spicy bbq sauce which you can all make right at home…doesn't get better than this!!! One of my twitter followers @mikefromruai always says, Friday is meant for pork, but after having these pork ribs choma with mango bbq sauce, I say, everyday is meant for pork!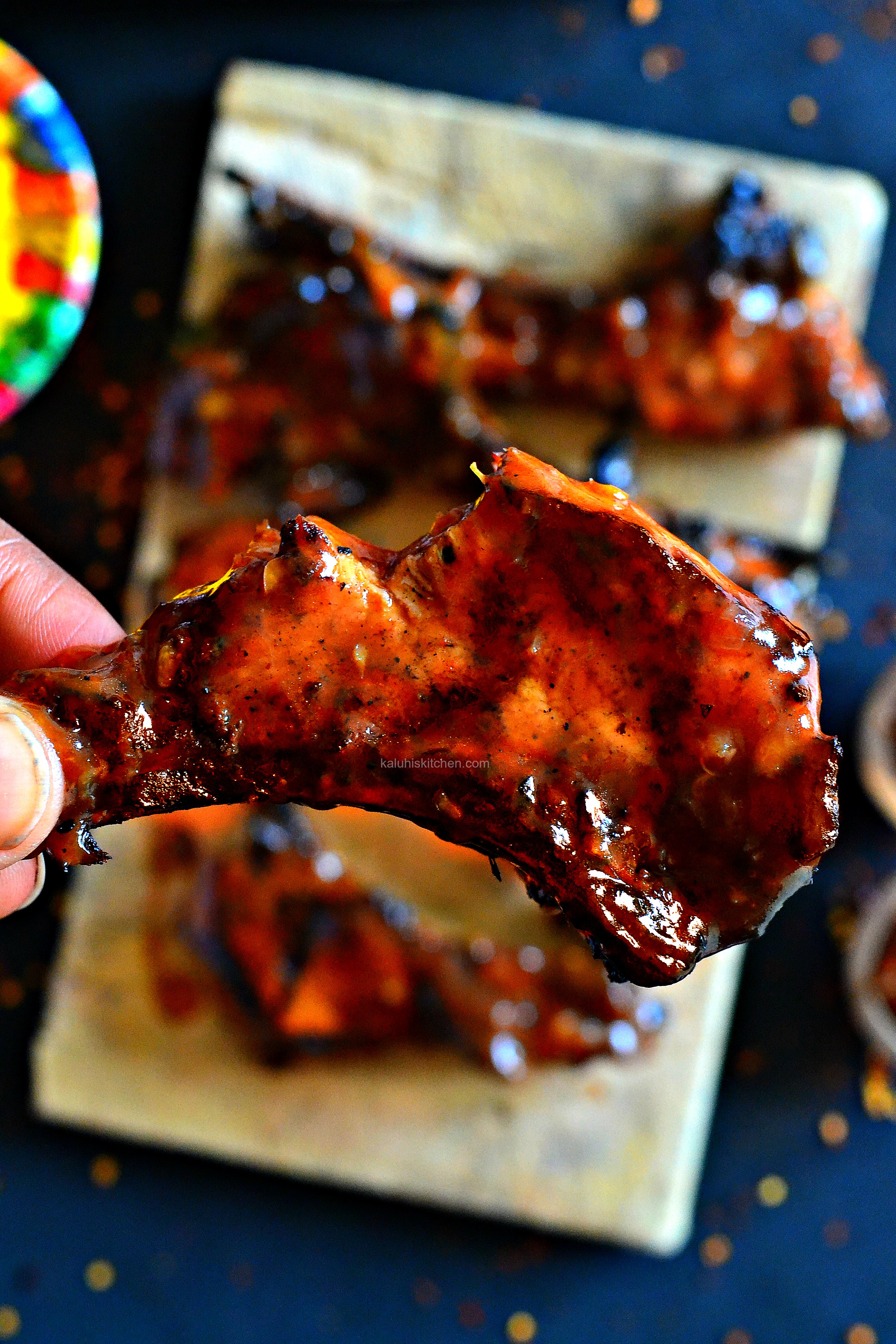 You MUST MUST MUST try out this recipe!
To great food,
-Miss K
---
Get your downloadable recipe here :))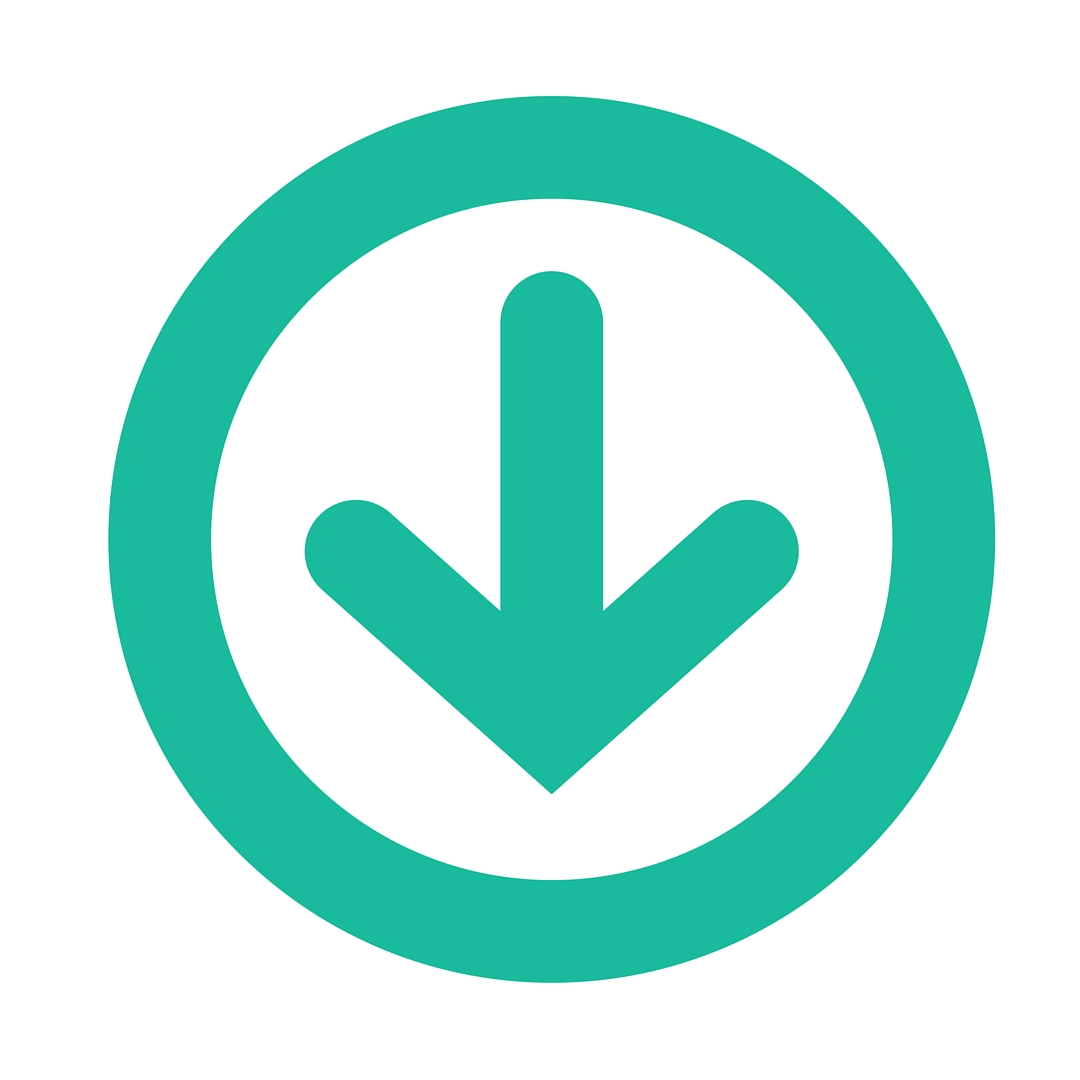 ---
All content and images are copyright protected by



Do not copy in part or whole without giving due credit.