My elder sister Sieva LOVES pears. She loves pears with the same intensity that I love my mangoes, so you can imagine how much she loves her pears. Growing up, I never really enjoyed pears. I watched Sieva eat her pears with such deep enjoyment and theatrics that accompany chowing down of good food. As I grew up and became a lot more open minded to trying our new things, I came to really love this cute little fruit. Now that they are in season, I am also trying to incorporate them in as many meals as I can. I am having plenty of fun in the process :))
These pear and nutmeg pancakes will warm your heart and fill your tummy. There are so full of flavor and easy to make, in true #KK fashion. Do yourself a favor and whip yourself these beauties soon!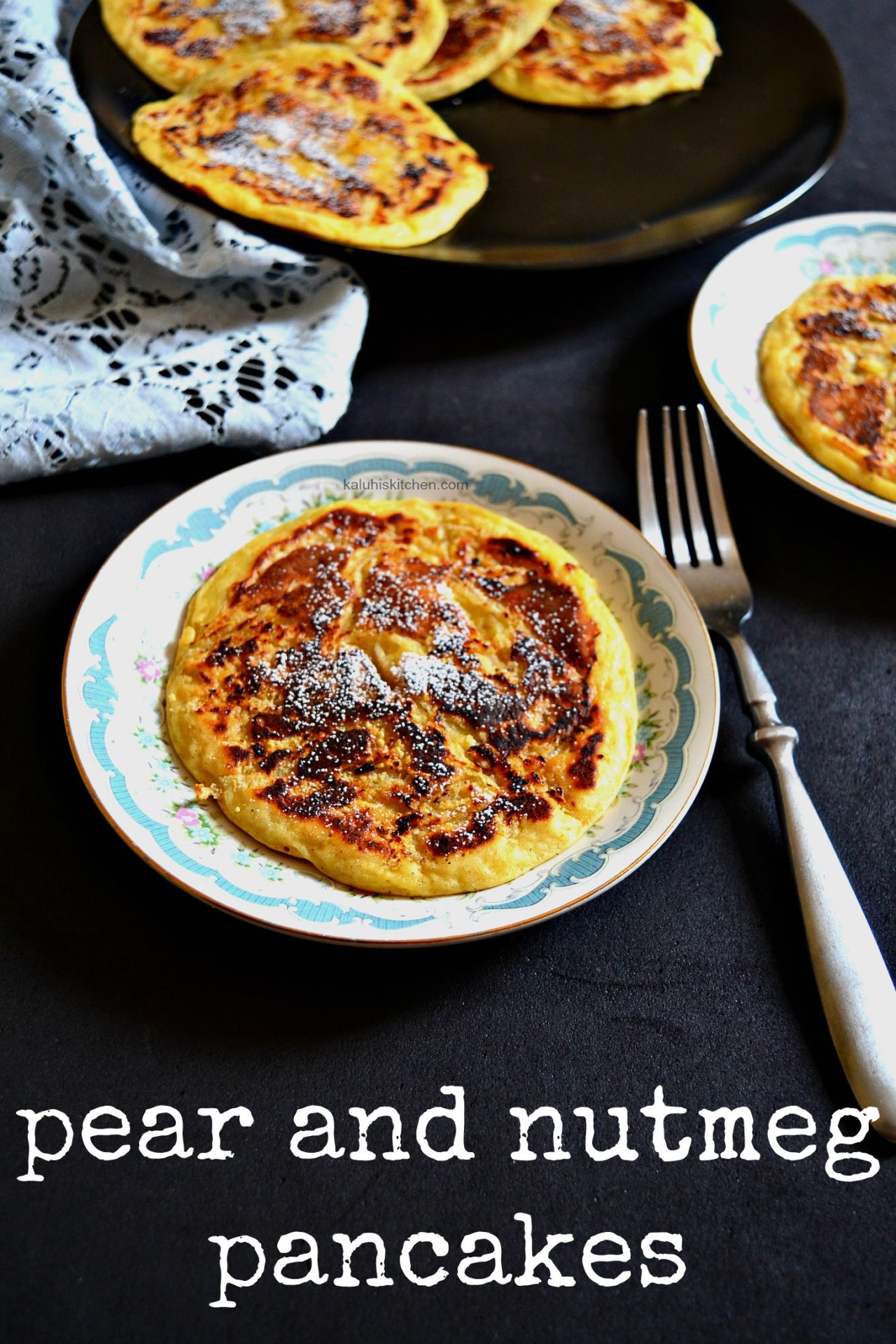 PREP TIME: 5 MIN        COOK TIME: 25 MIN              MAKES: 6
Ingredients
1 cup or flour
3/4 cup of mala (or buttermilk)
1/2 a teaspoon of baking powder
1/2 a teaspoon of baking soda
1 small pear, grated
4 tablespoons of sugar
1/2 a teaspoon of nutmeg
1/2 a teaspoon of cinnamon
Method
Peel your pear and grate it. Set aside. NOTE: It is pear season in Kenya but if you do not have pears in the region you are reading this from, you can use apples or any other fruit with the same texture. The pear variety that grow in Kenya have the same texture as apples while those in other countries have the same sandy texture but are softer in texture.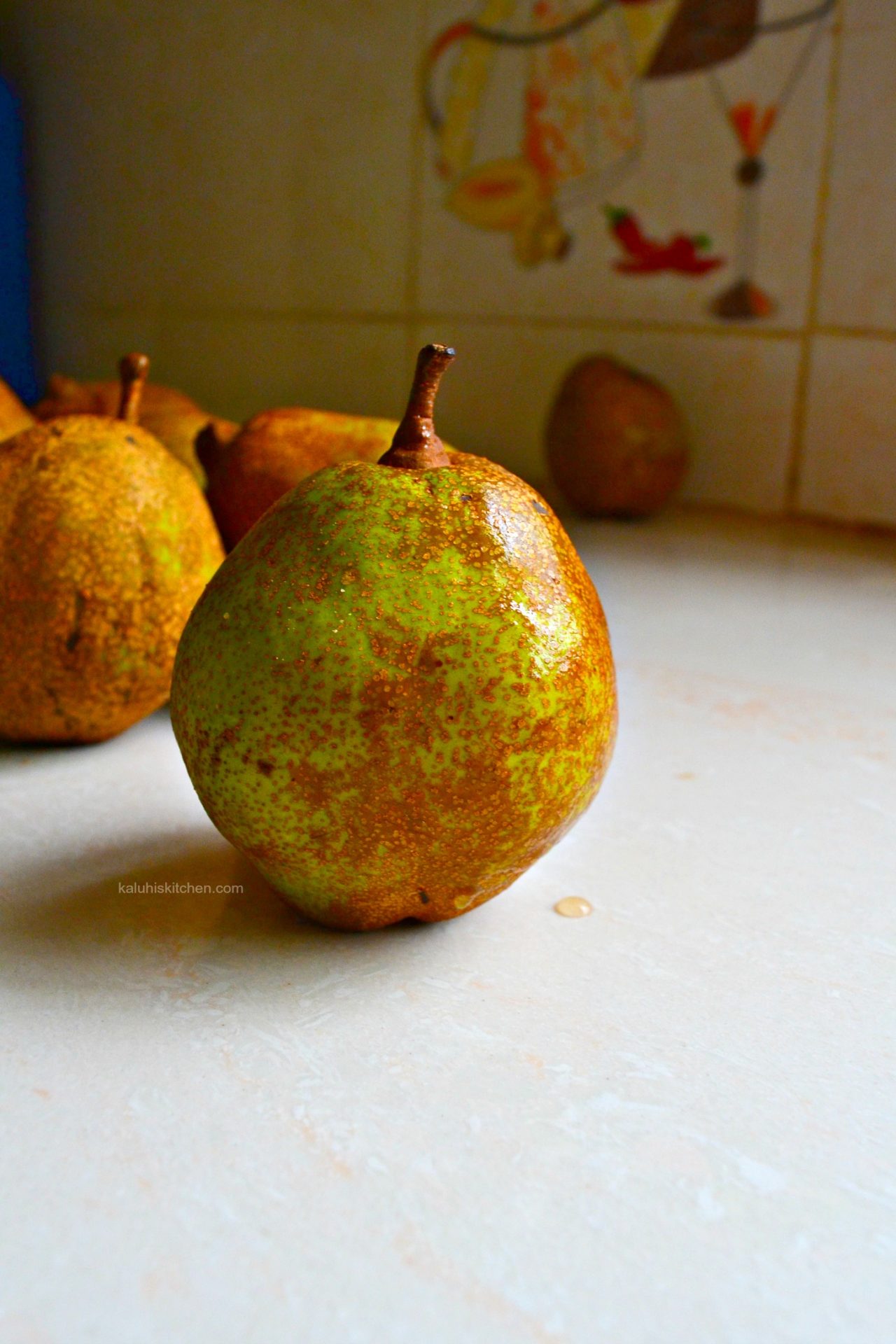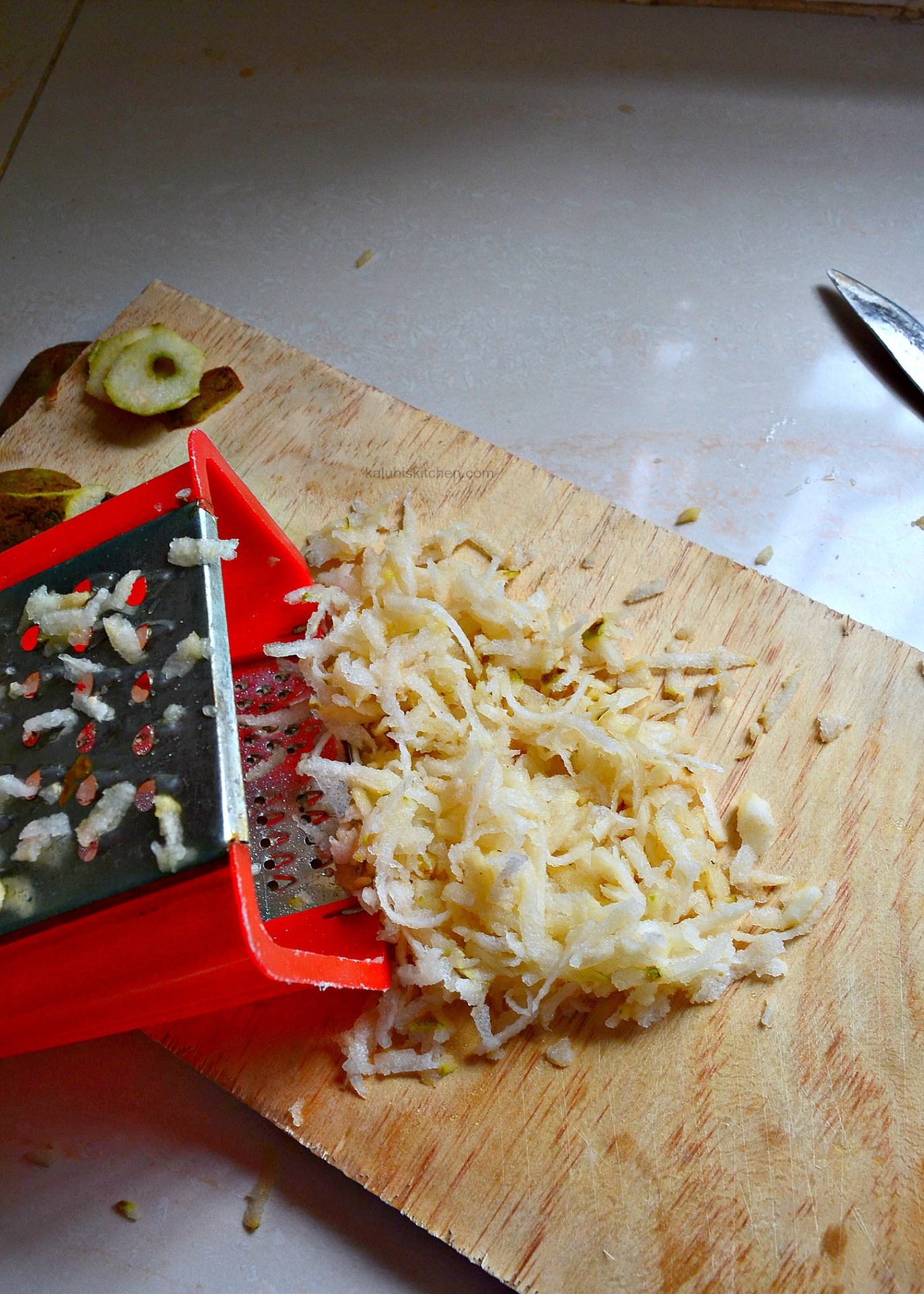 Beat the egg and the mala for about 4 minutes or until it becomes frothy and becomes pale yellow. Mala is a curdled sour milk drink popular through out Kenya and usually taken as a meal accompaniment.  It is however an excellent cooking ingredient and is used in a variety or ways. A great substitute for mala would be buttermilk.
You may already be wondering: Why use mala and not milk? Well, mala is denser than milk hence it helps maintain the thickness of the batter. It also makes the pancakes a lot more lighter and airy, and really, who wouldn't want their pancakes nice and fluffy? ;))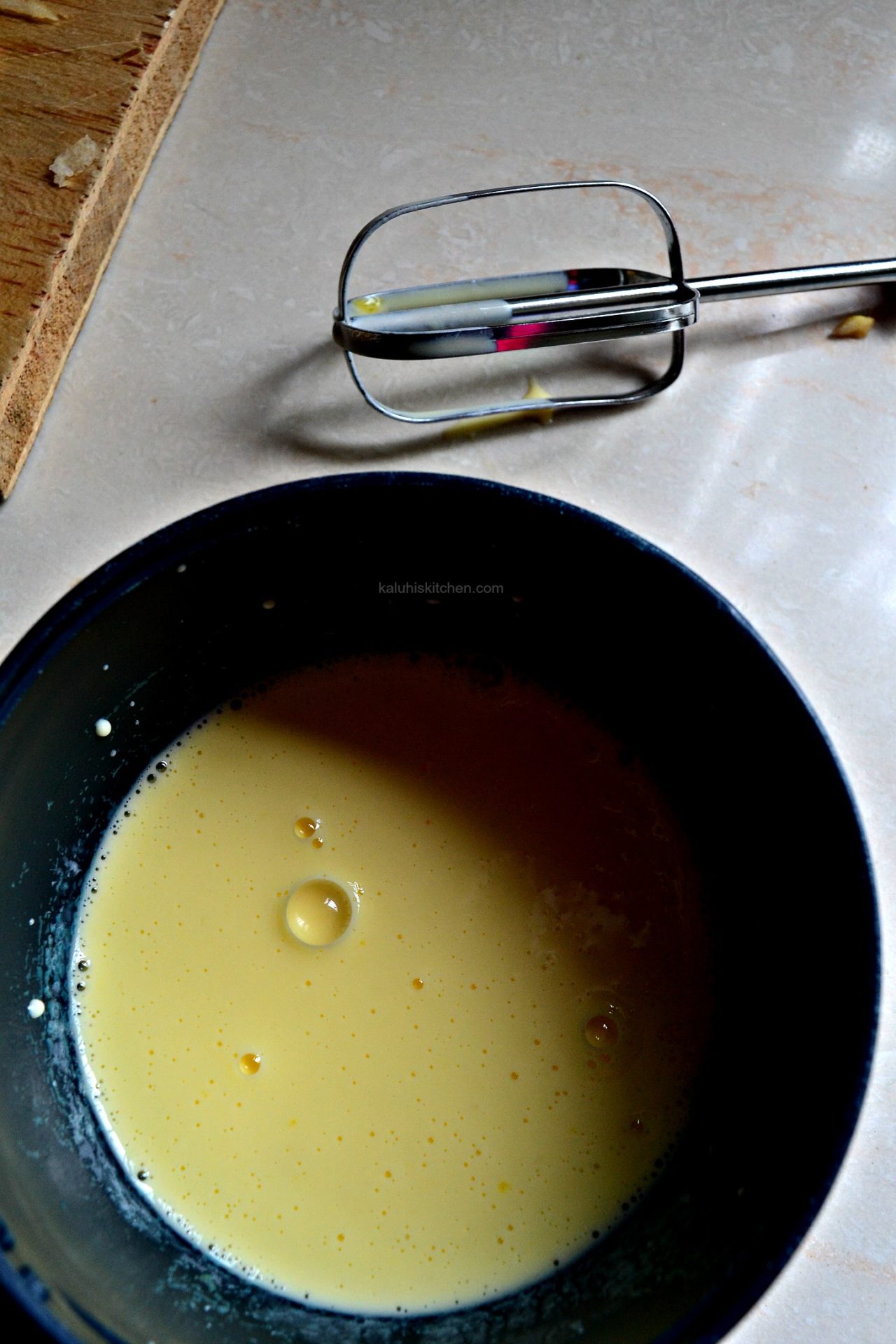 Then in a separate bowl, mix all the dry ingredients (flour, nutmeg, cinnamon,baking soda, baking powder, sugar) then add this to the egg-mala mix .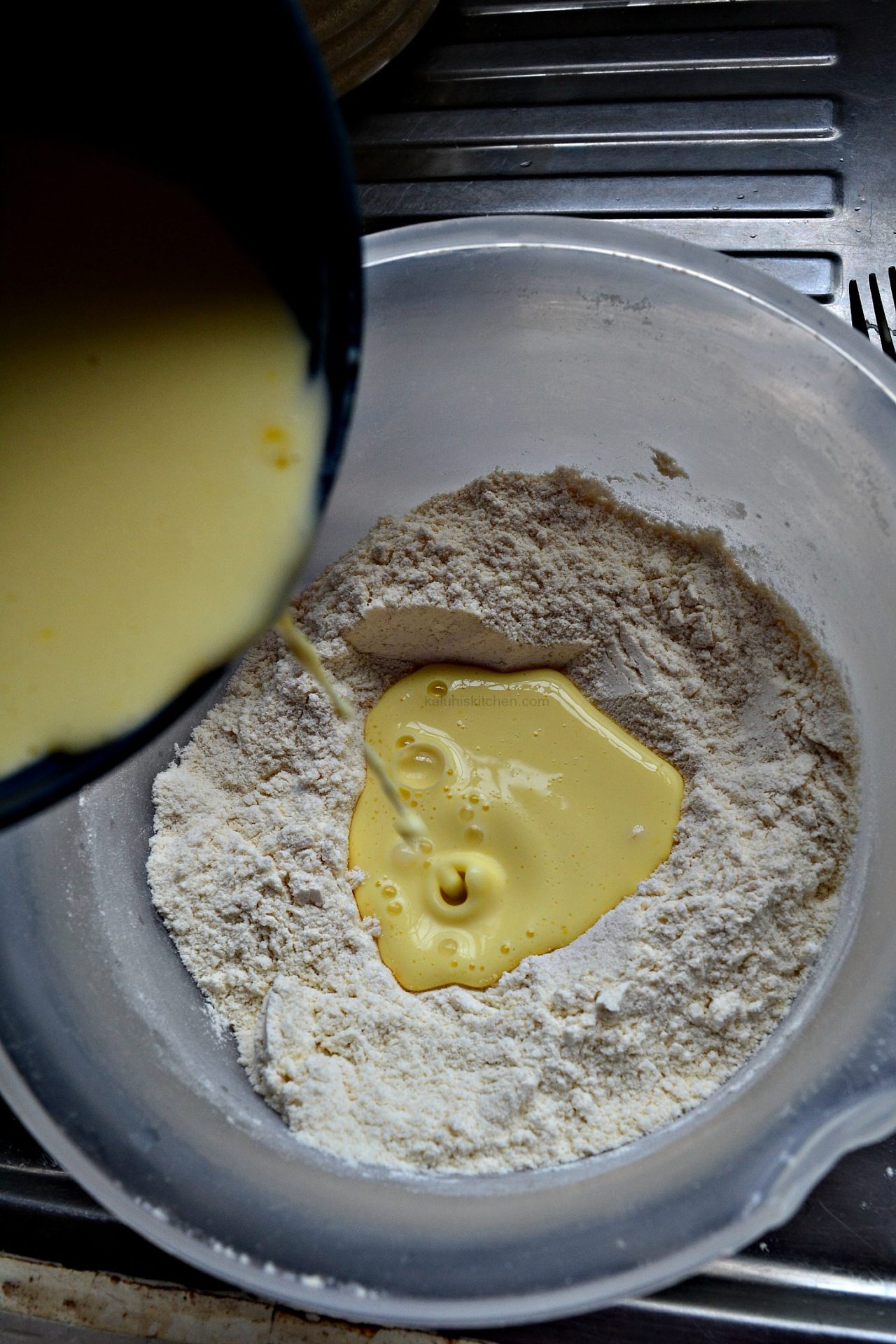 Be careful not to over mix, or try to smooth out the lumps. Make sure your batter is thick enough so that the pancakes are nice, full and fluffy. There after you can begin your cooking.
Lightly grease your frying pan, and laddle your batter on it once it is hot enough. Add your grated pear on the top surface of the pancake i.e the side that faces you,  before it sets.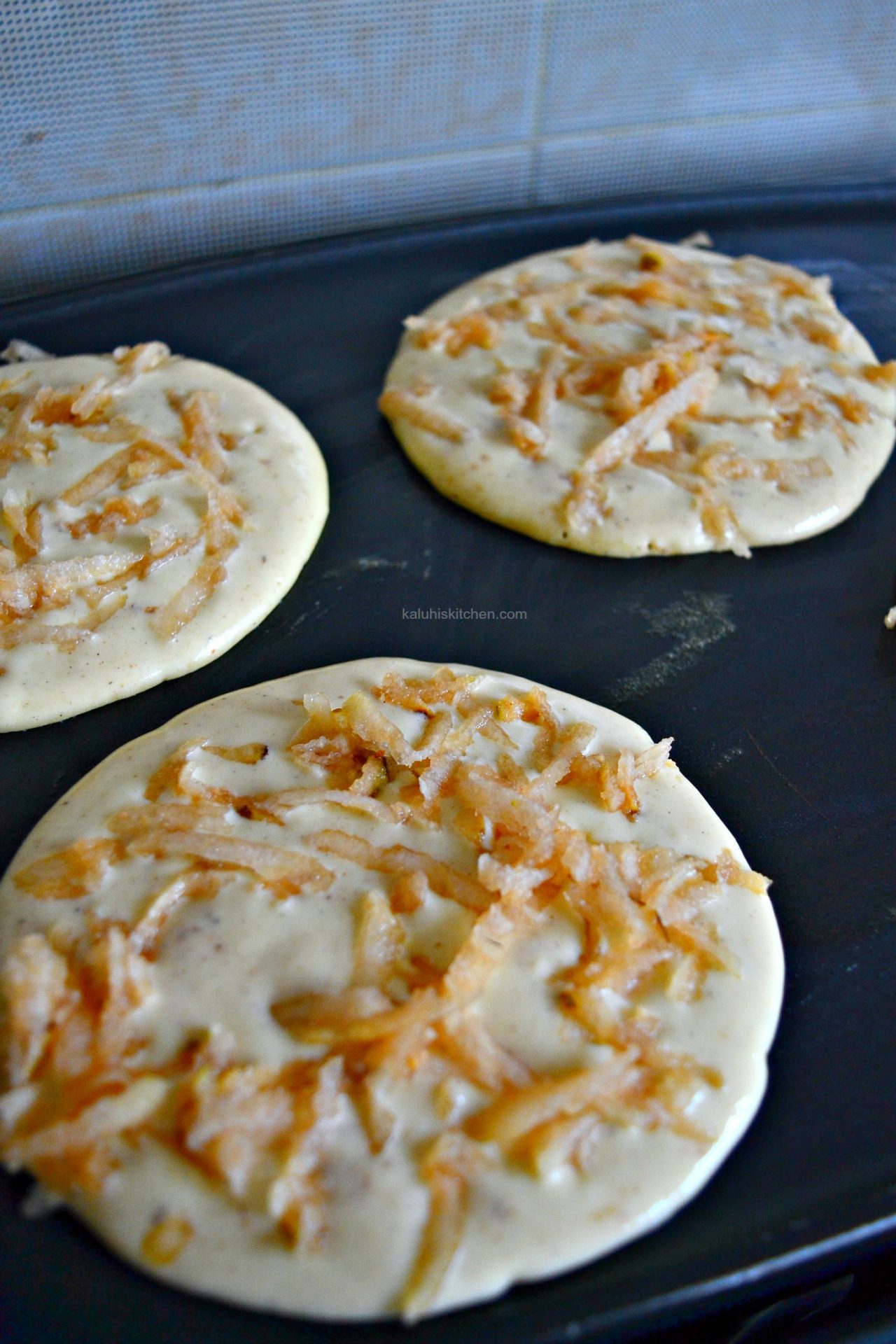 Allow at least 2 minutes on each side, with your pan on medium high, this allows the inside to cook and the outside to have an appetizing golden brown color. The pear slightly caramelizes and adds amazing crispiness to the pancakes.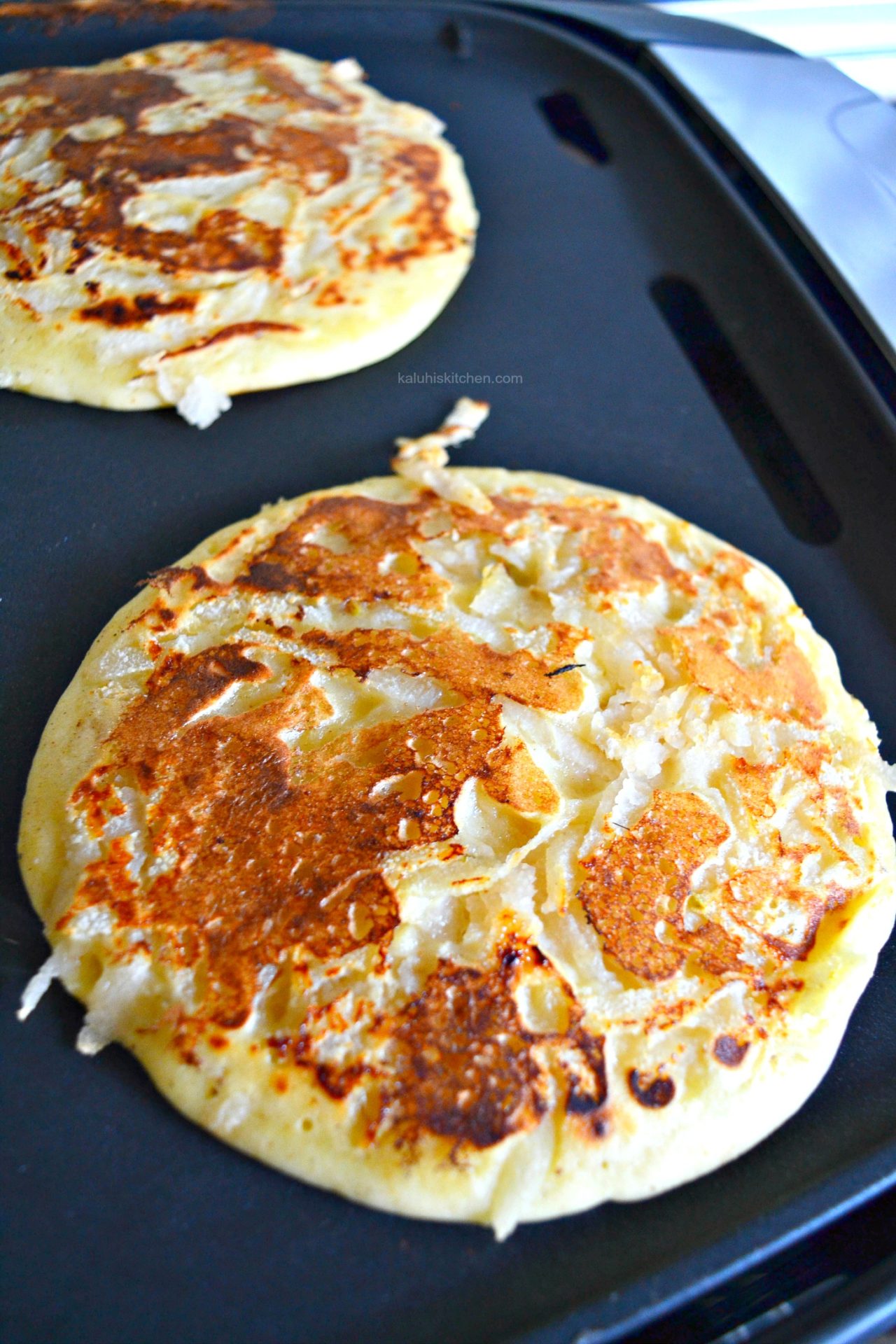 Then once they are done dust them with some icing sugar then serve.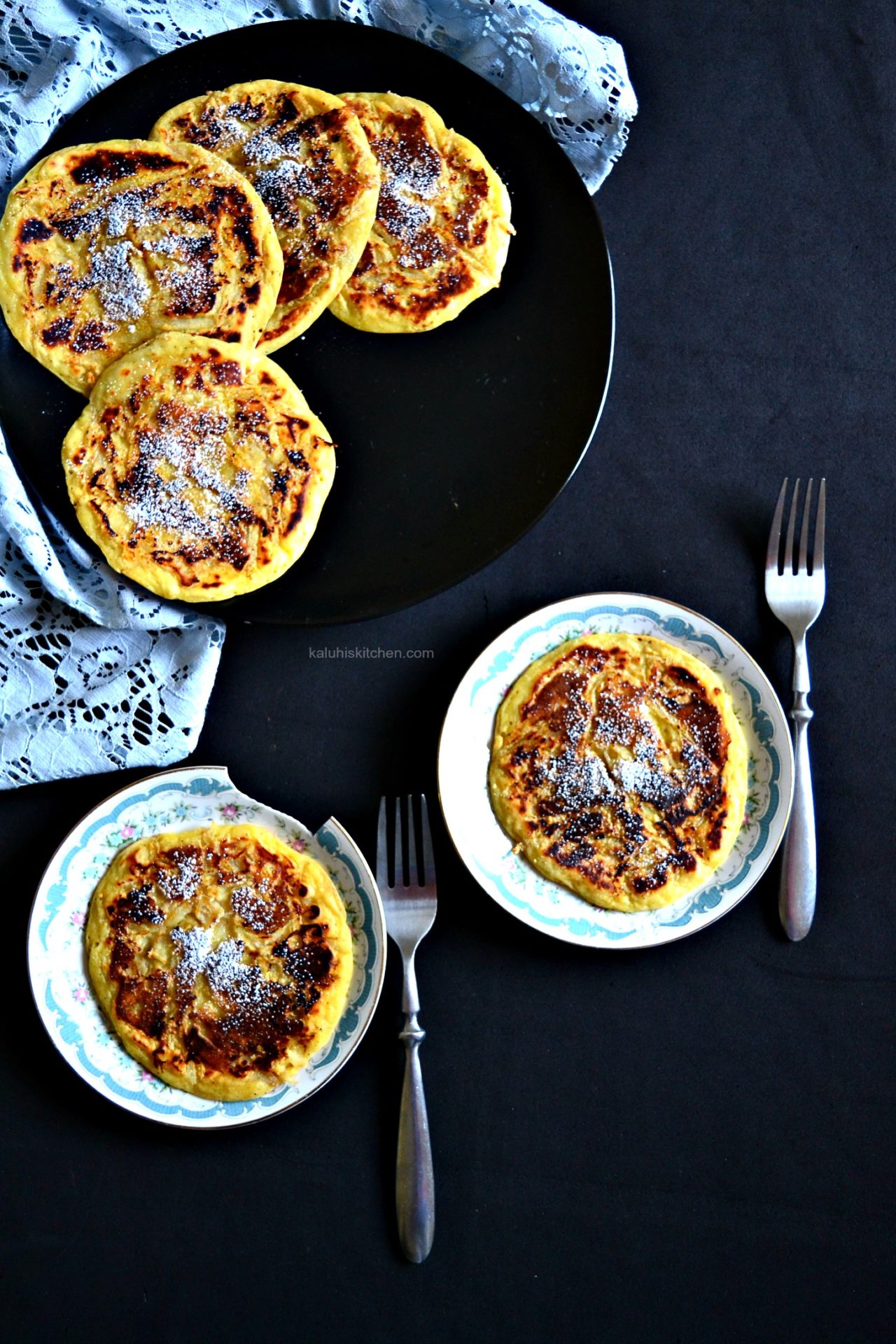 How amazing do these pancakes look? They are absolutely sof and airy and you can still taste and feel the light crunch of the pear. The nutmeg and cardamom makes them extra fragrant too. You can get your nutmeg in any supermarket, do not be afraid to search :))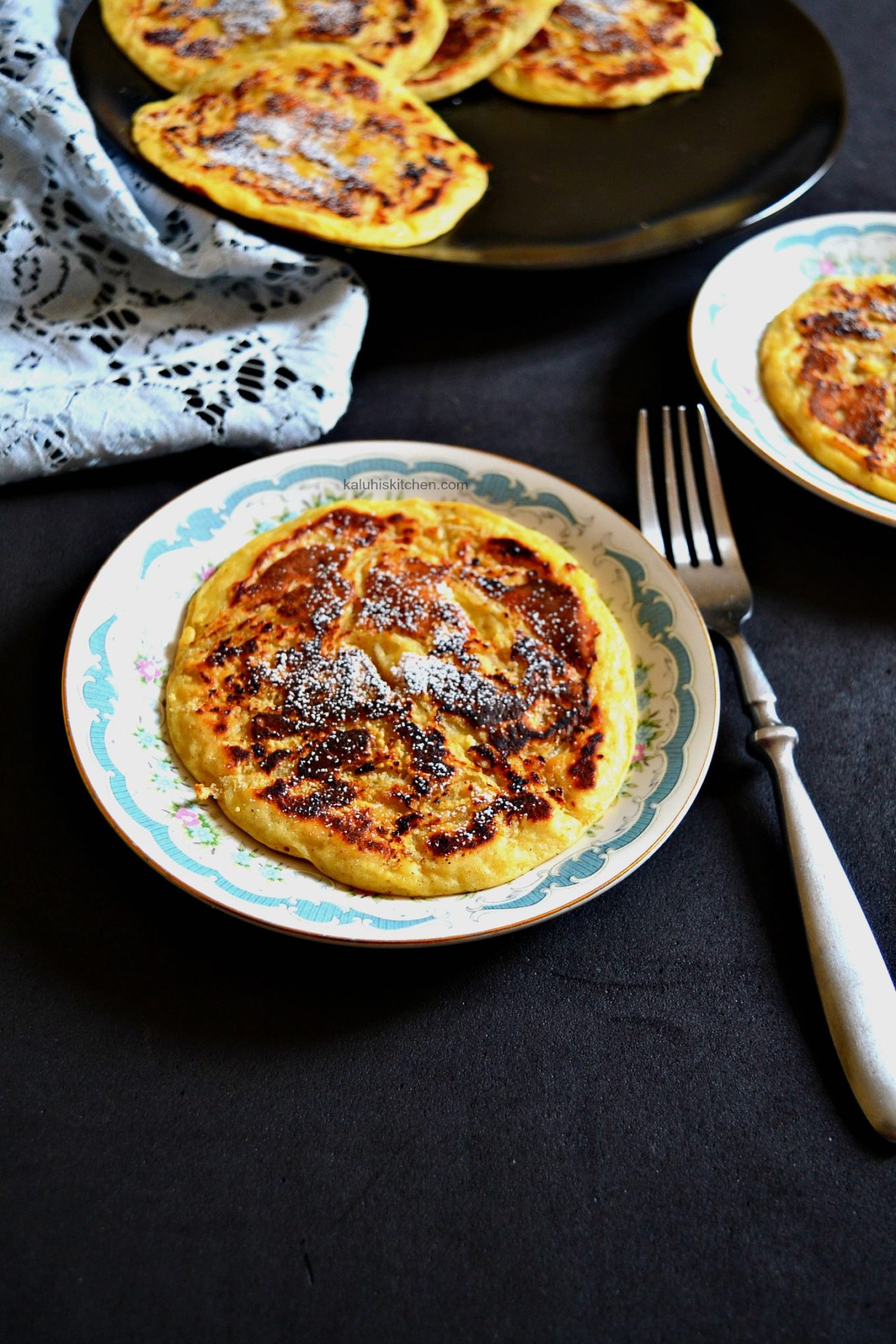 In case you do not have pears, you can use grated apples to achieve the same effect. If it were up to me, I would have this dish every single morning. Feel free to check out other pancake recipes at the very bottom of this post and try all of them. You shall not regret!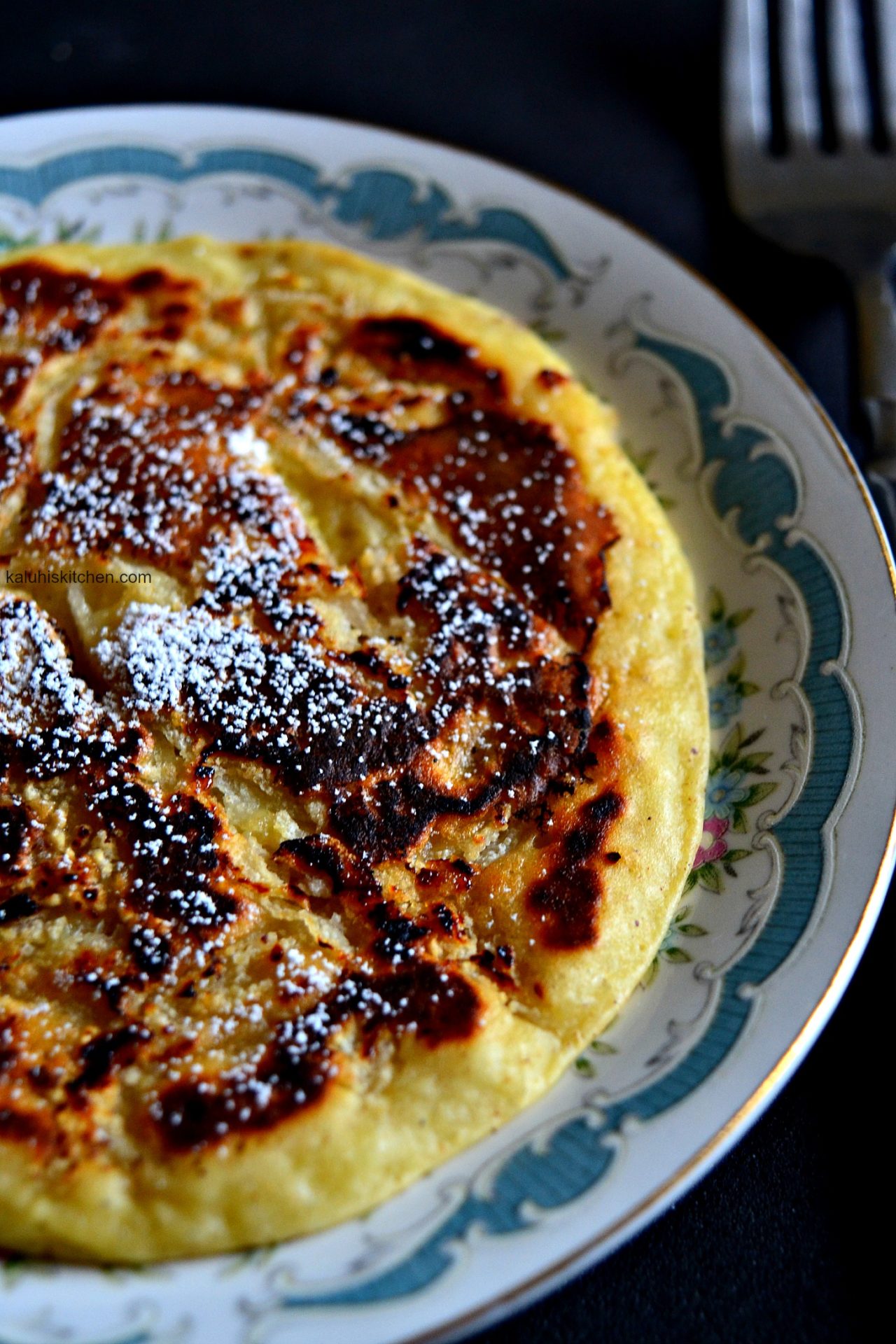 Also, this is the final week for votes for the 2016 BAKE awards. If you are yet to vote for Kaluhi's Kitchen as the best Kenyan food blog, please do so by clicking on the voting tab below. I have a feeling you really love my blog ;)). If so, I would really appreciate your vote.  It will take you just 37 seconds, promise!
Cheers to many more!
-Kaluhi
---
Get your downloadable recipe here :))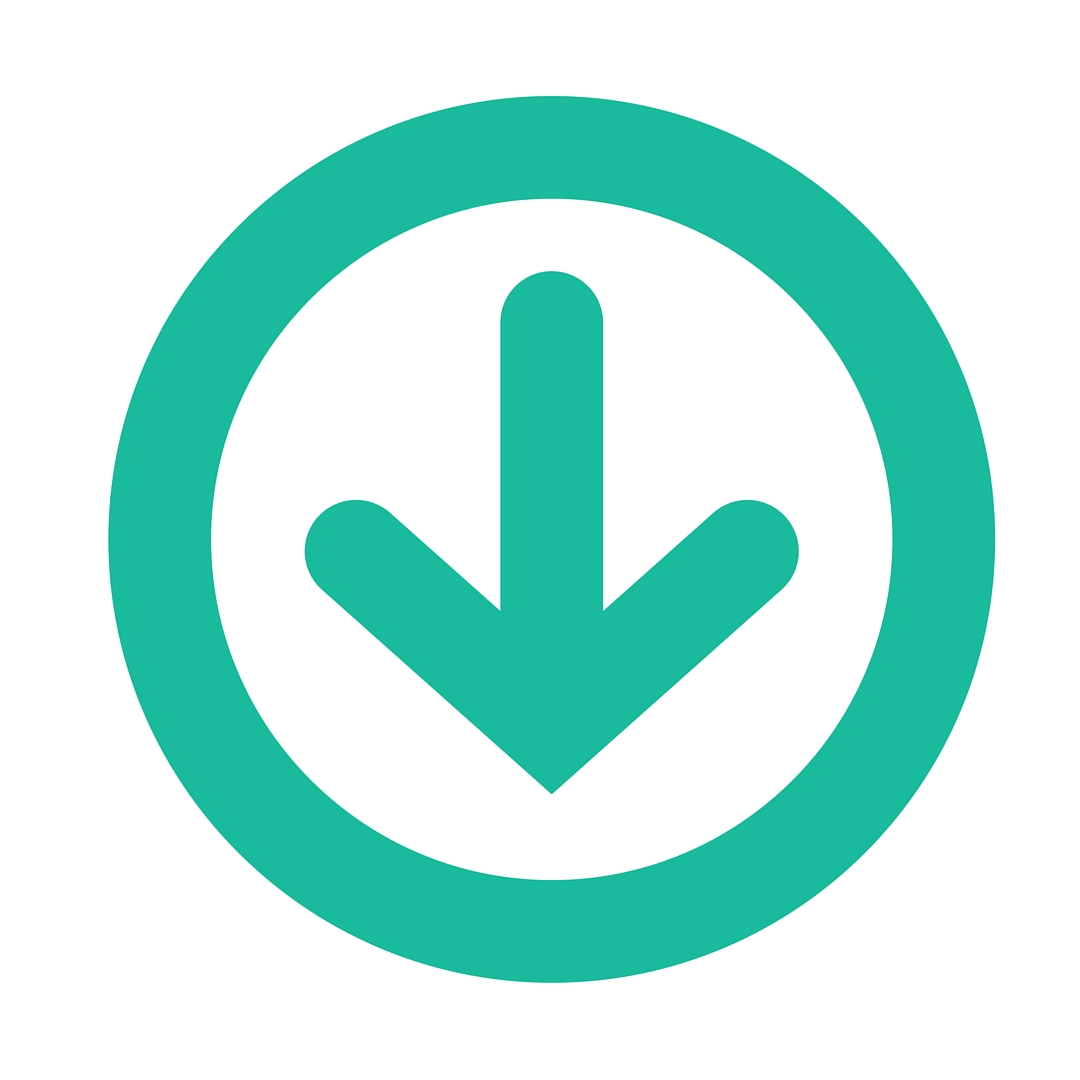 ---
Vote for #KK  'Best Food Blog 2016'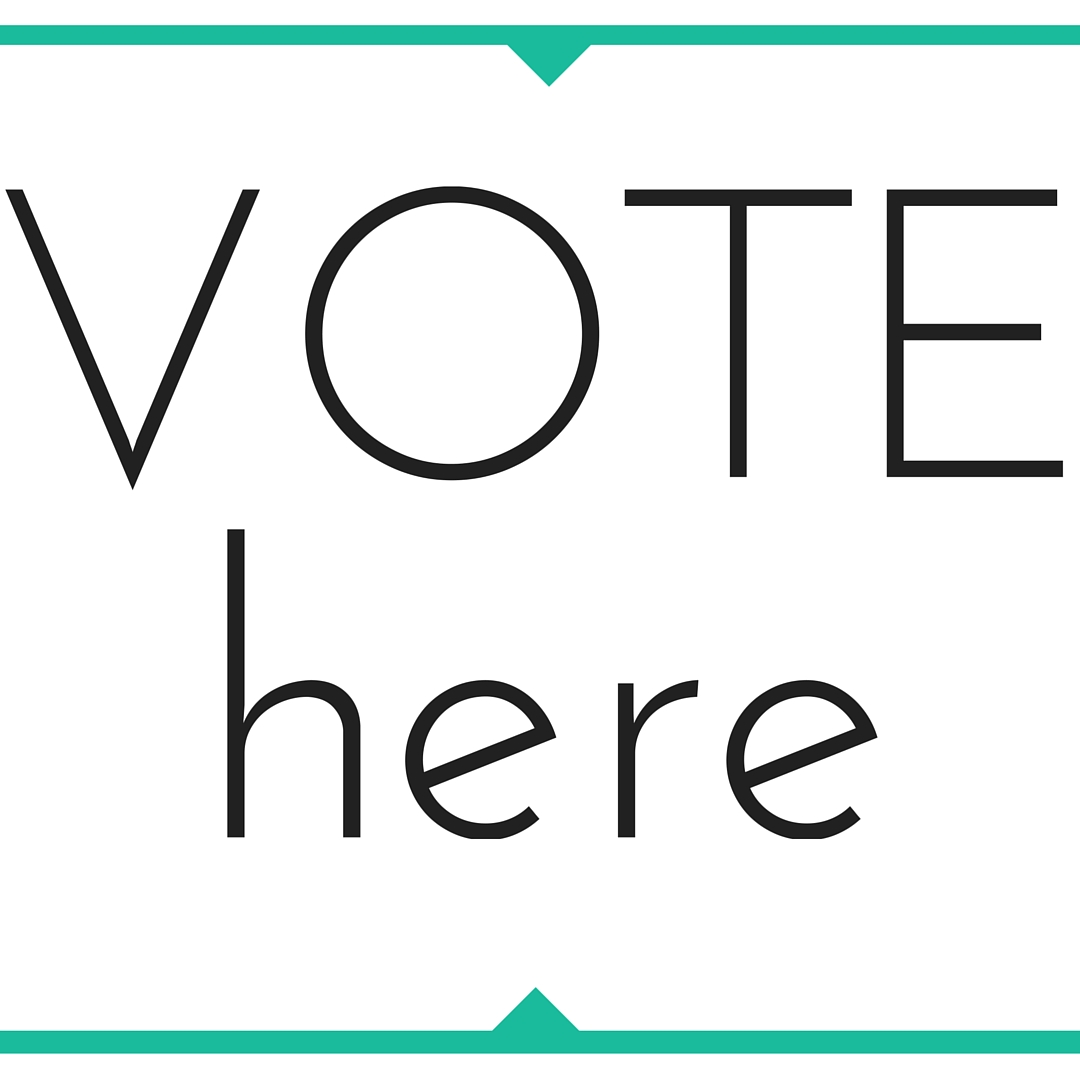 ---
All content and images are copyright protected by



Do not copy in part or whole without giving due credit.