I usually treat myself to something nice when my day or week or month has gone especially well and I have exceeded all my goals. I celebrate and congratulate myself each time I achieve something dope! A monthly treat may be something like a new perfume (I have my eyes on Giorgio Armani – Si) ,a book I have been dying to get my hands on or a dress I have been eyeing for a long time. A treat for a day may be a gorgeous moist black forest slice or anything I am craving. Usually it is some ice cream. I am not a sweet tooth, so when I crave ice cream, it comes hard. One night, I treated myself to some ice cream. After few bites, I was off to bed and the next day, I decided to finish treating myself since sleep interrupted my session the previous night. Instead of just having ice cream again, I thought to myself 'what would happen if I incorporated my favorite ice cream into a dish?' Curious as to what would happen if breakfast and dessert were combined? Well, the most beautiful ice cream and lime zest French toast would be conceived! <3. Hope you fall in love with this one as much as I have!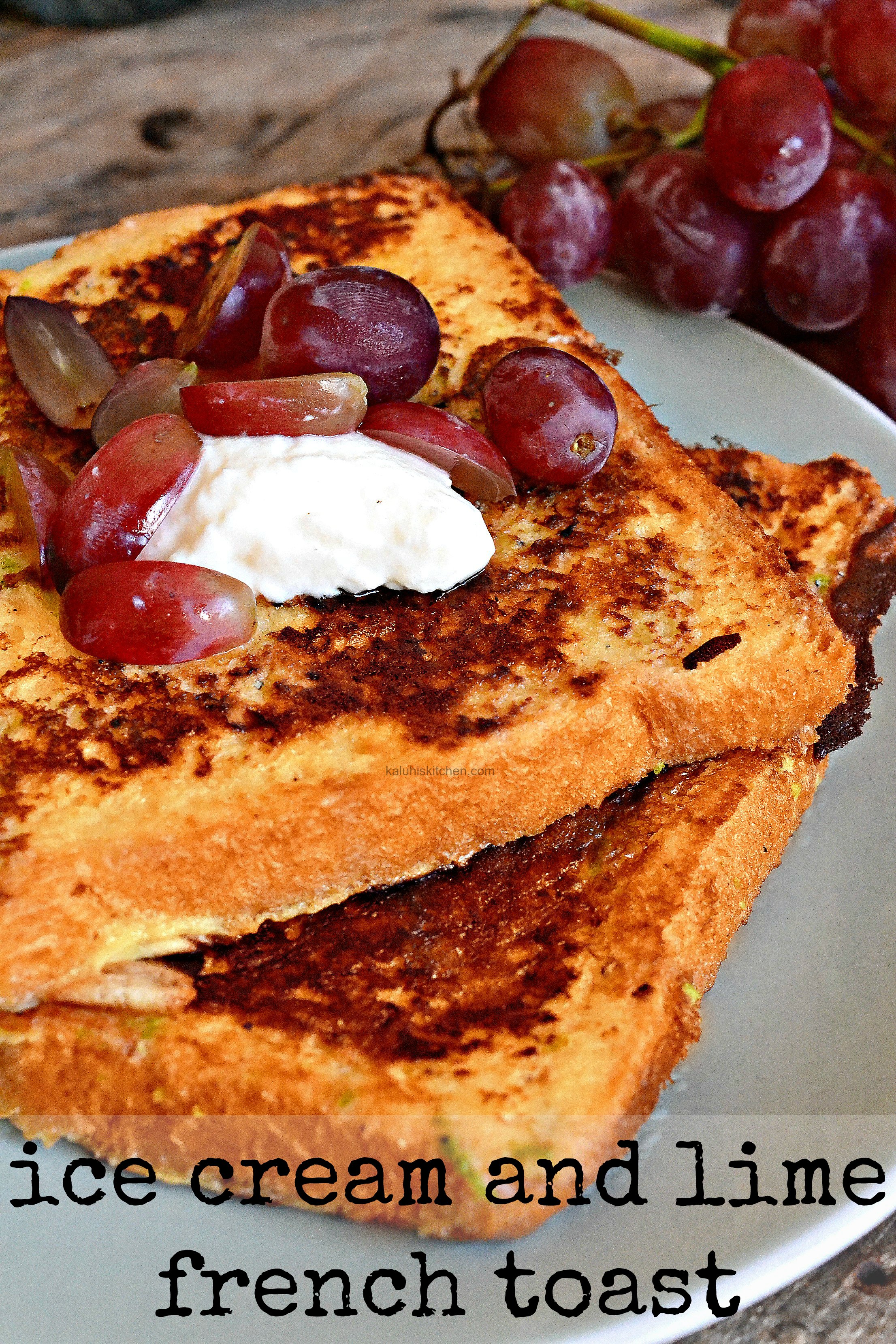 PREP TIME: 3 MIN     COOK TIME: 10 MIN     SERVES: 1
Ingredients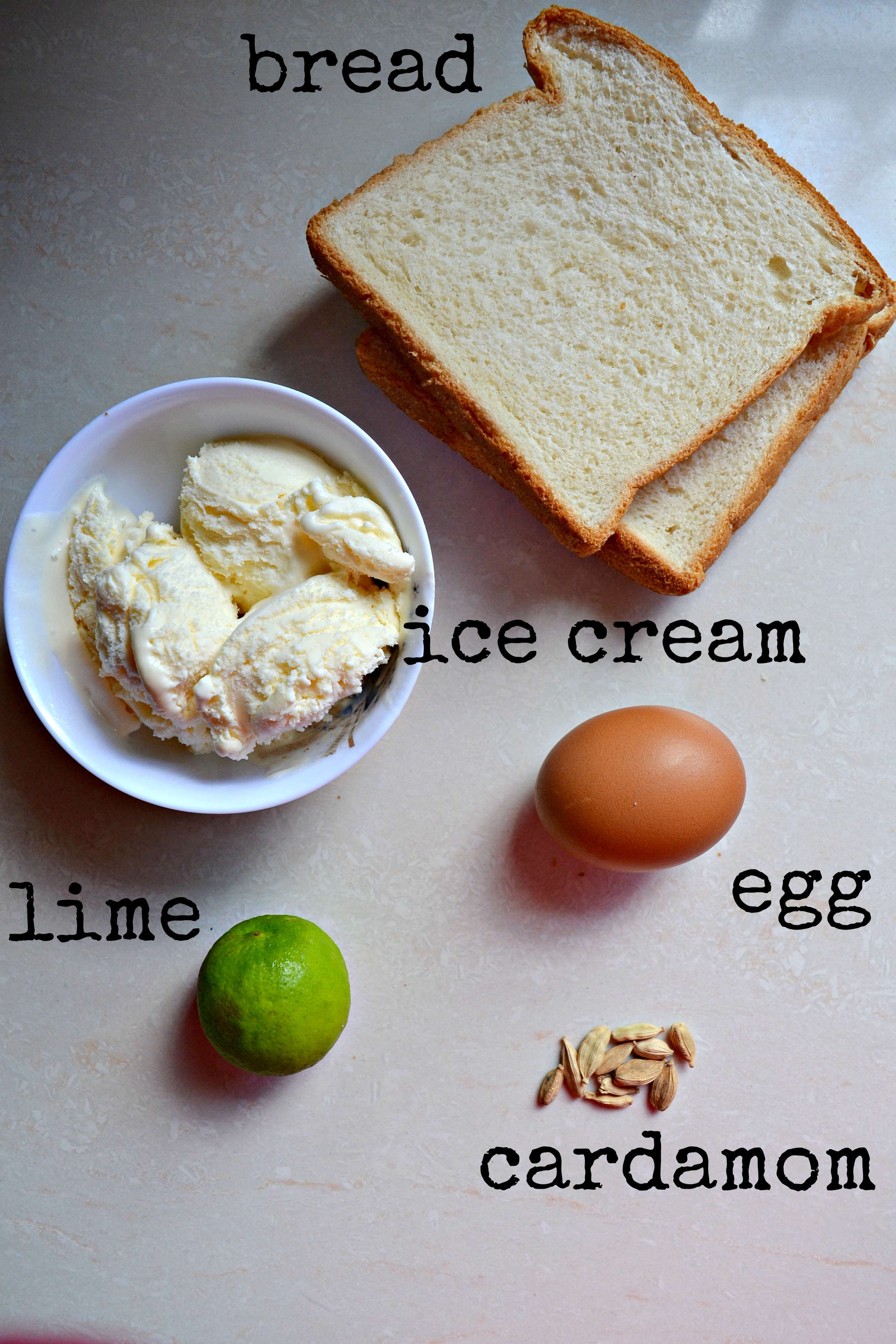 2 slices of bread
1 large egg
2 scoops of vanilla ice cream
1 teaspoon of lime zest
1/2 teaspoon of freshly crushed cardamom
Method
Place your ice cream in a bowl and melt your ice cream for about 30 seconds in the microwave or 4 minutes over a a pot of simmering water. IT SHOULD NOT BOIL!!! Let it just melt and mix everything together. Ideally, it should not be warmer than room temperature. Set aside.
I used vanilla ice cream because it is my <3 favorite <3 and also because the flavors are very simple and would more or less be what you use while making french toast: a milky base and some vanilla extract. You can use other flavors, but the other additives may change the overall outcome and taste. Vanilla Ice cream is the best for this recipe. Lastly, whichever ice cream you use, ensure it is of good quality. Those ice creams that are grainy and feel like flour in your mouth will not do this recipe justice.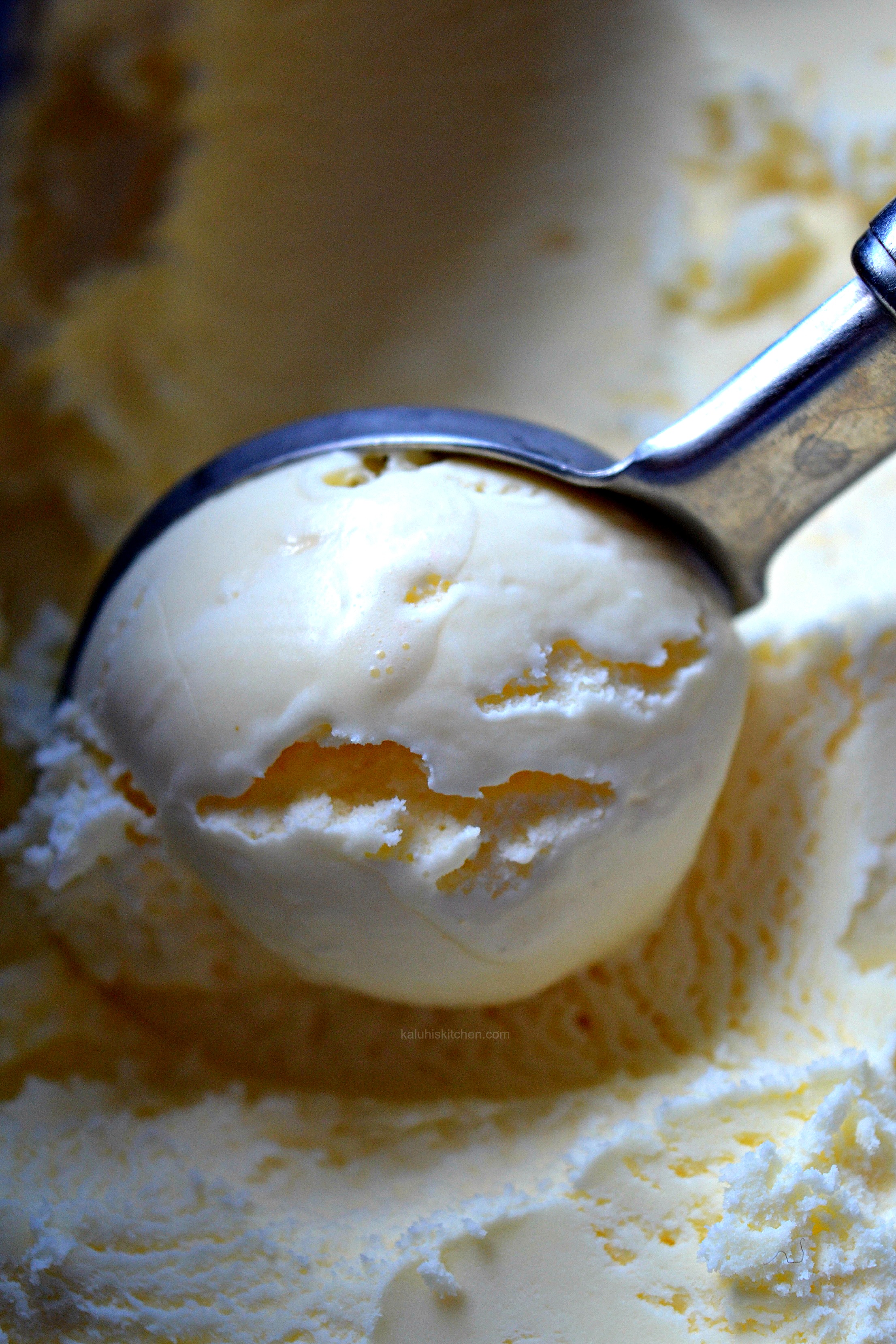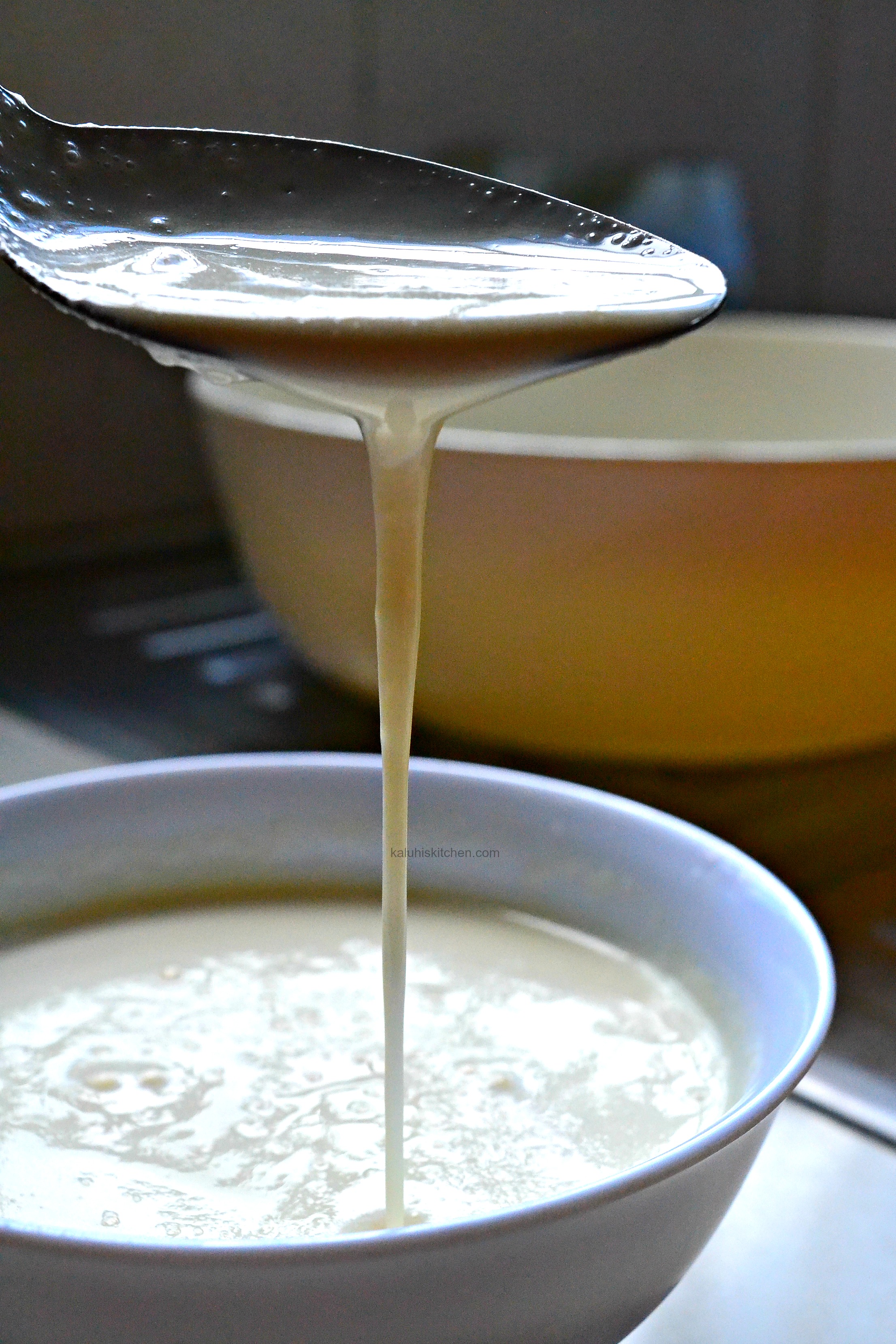 Beat the egg and add the cool but molted ice-cream to the egg. If the ice cream is hot and yiu add this directly to the egg, you will end up with scrambled eggs. And we do not want that. That is why it is important not to let the ice cream mixture boil.  Mix this until combined.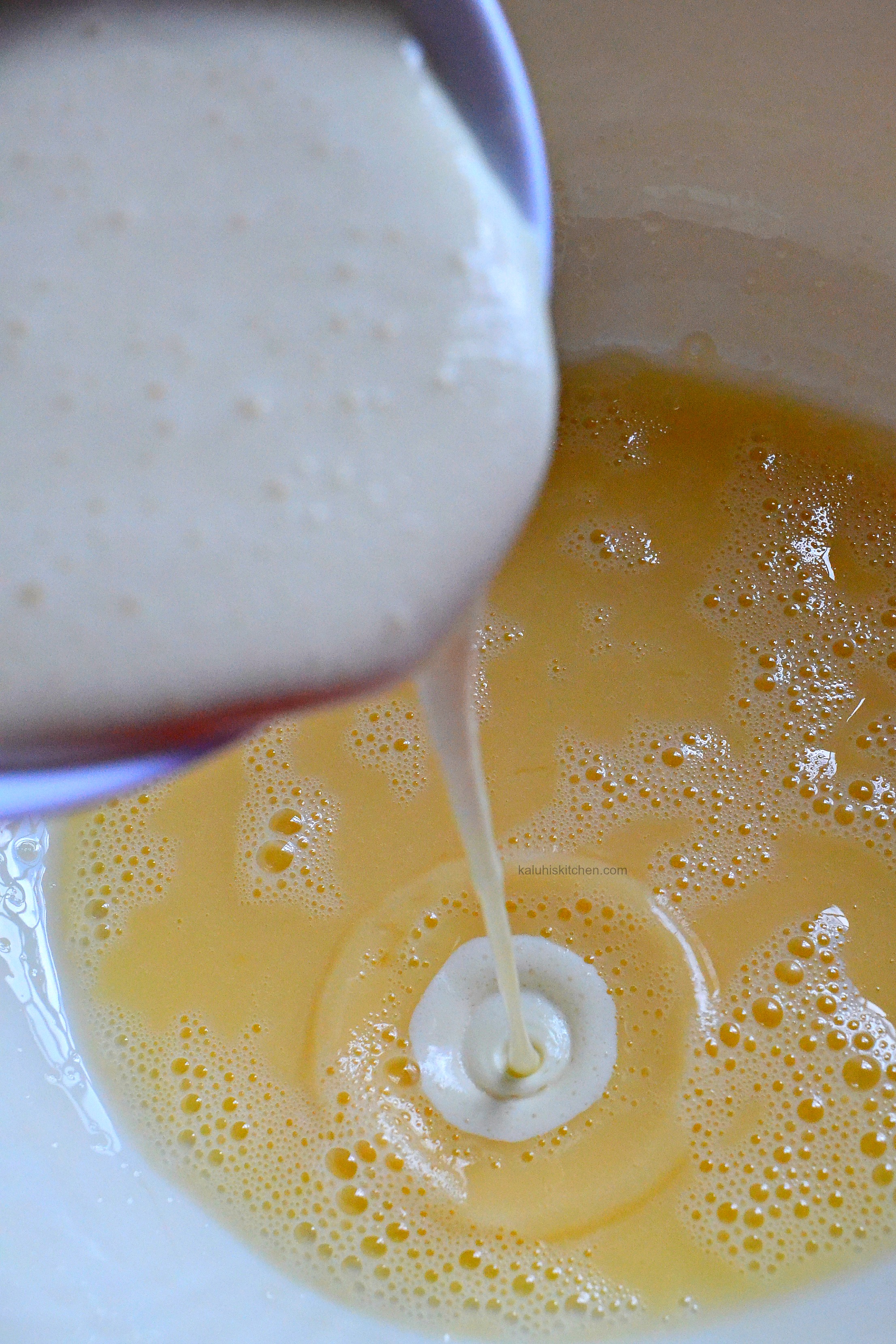 Add the cardamom and lime zest and mix these in too. When I say lime zest, I am referring to the grated rind of a lime (limau). You can use oranges, tangerines, grape fruit or lemon. Lemons would be particularly be amazing since their sharp tartness would beautifully balance out the sweetness of the ice cream.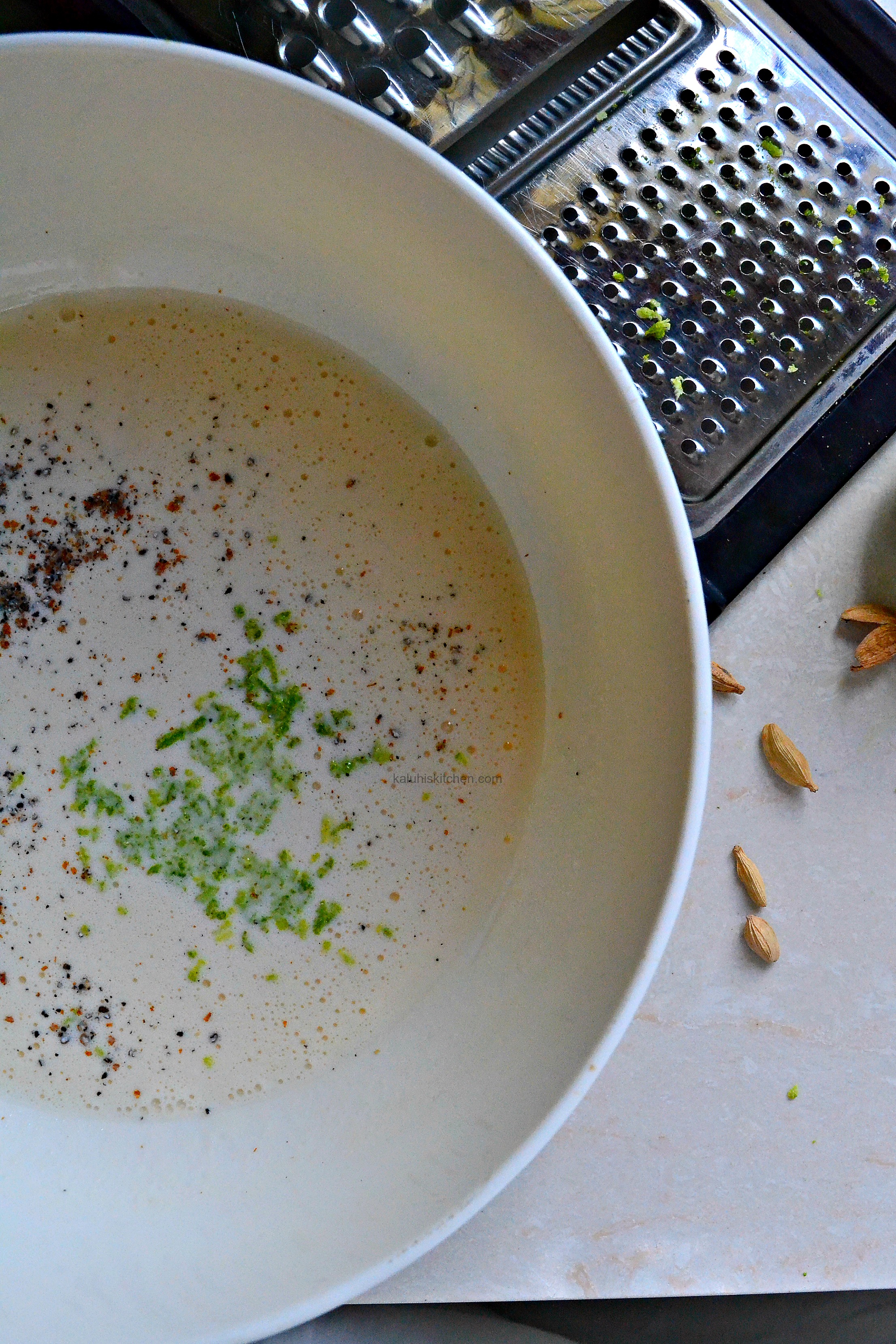 Add your slices of bread and allow them to soak in the mixture for a few minutes. If you prefer just to coat your bread and not soak and have it absorb the mixture, you can go right ahead and dip in as opposed to soak it. We are all different and that's totally fine :)) This mixture smelt SO DAMN GOOD and I had not even started cooking yet!!!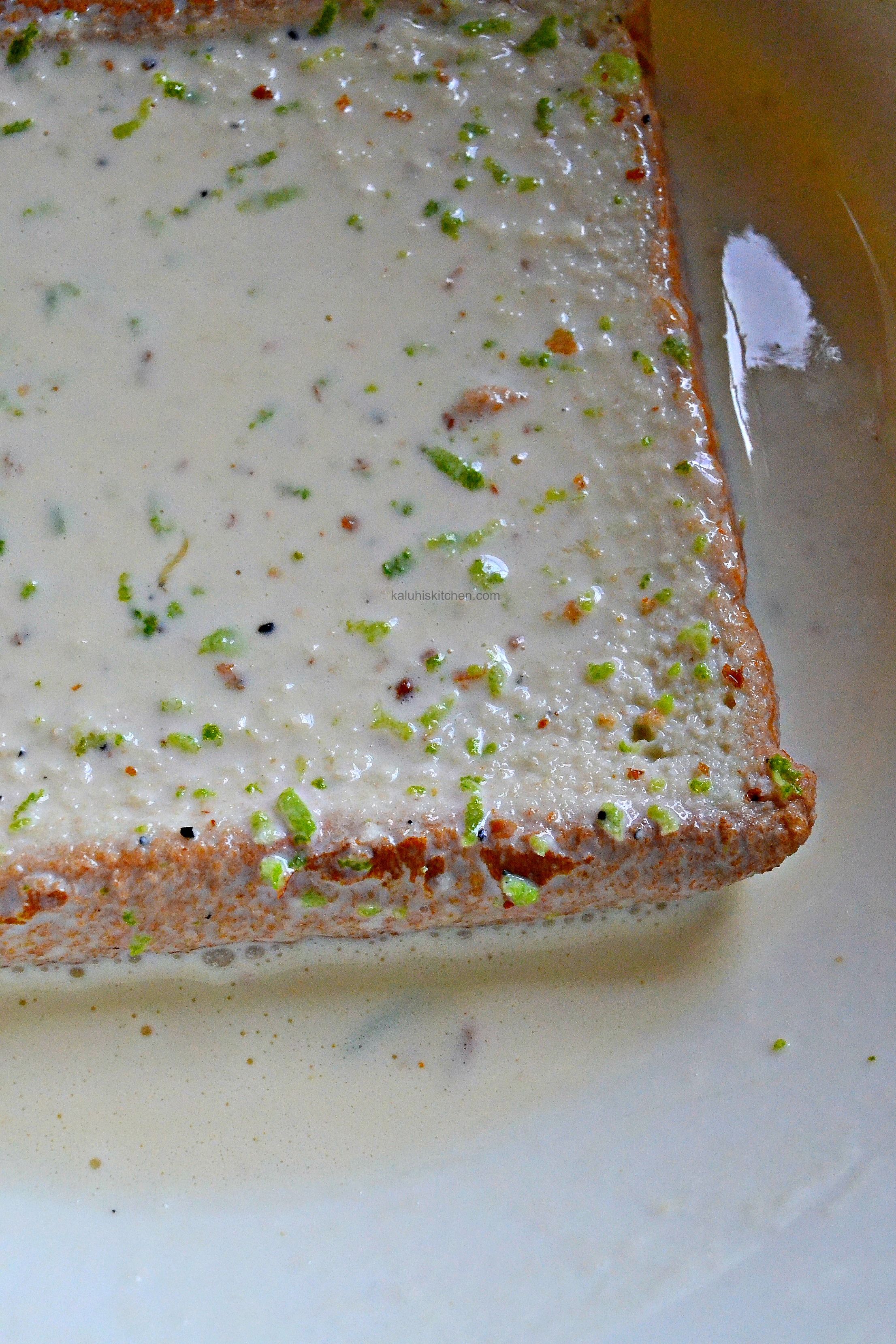 Proceed to cook your ice-cream on a non-stick pan until golden brown on each side. Did I say how good the entire house smelled when this was cooking?! Let me repeat: The house smelt like paradise!!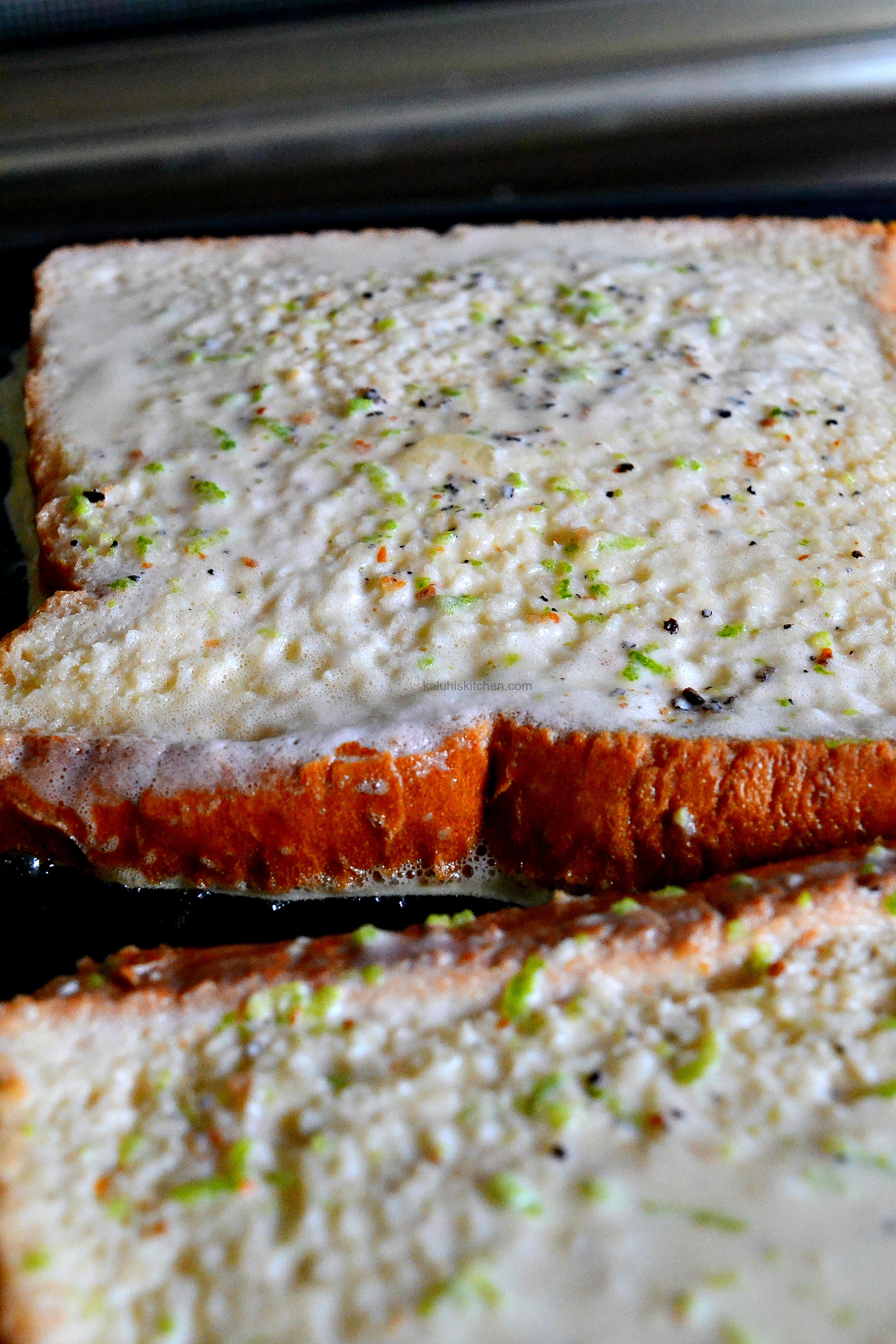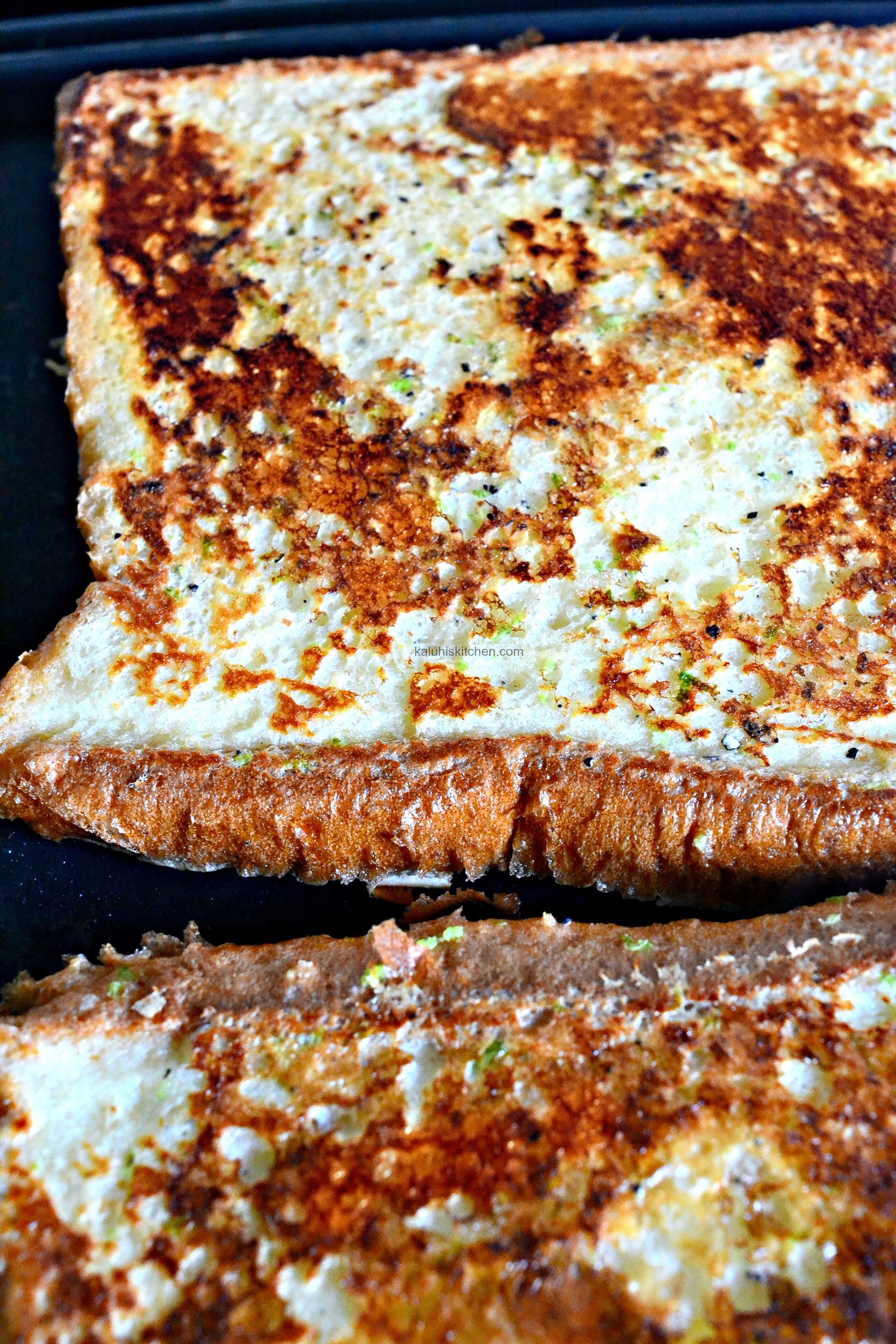 Garnish with a dollop of plain yogurt or sour cream and some fresh fruit to balance everything out. Serve with some warm milk or some hot tea or coffee.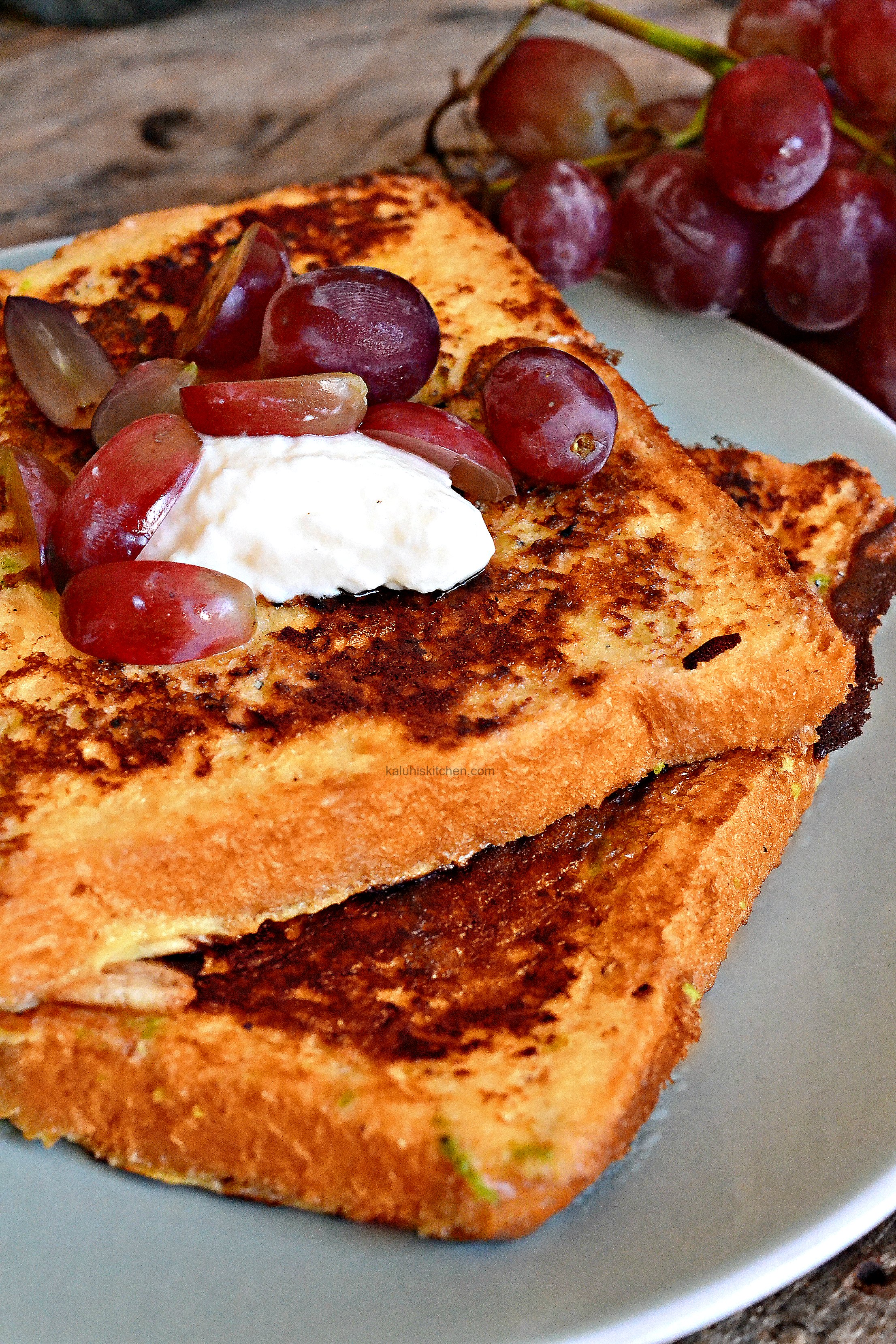 I have never been so grateful for having  forgotten to have my ice cream and have it melt! Funny how the best of things can come out of the most annoying of situations :D. And my cardamom and lime ice cream french toast is one of those situations! So moist! So creamy! SO FRAGRANT! And so delicious!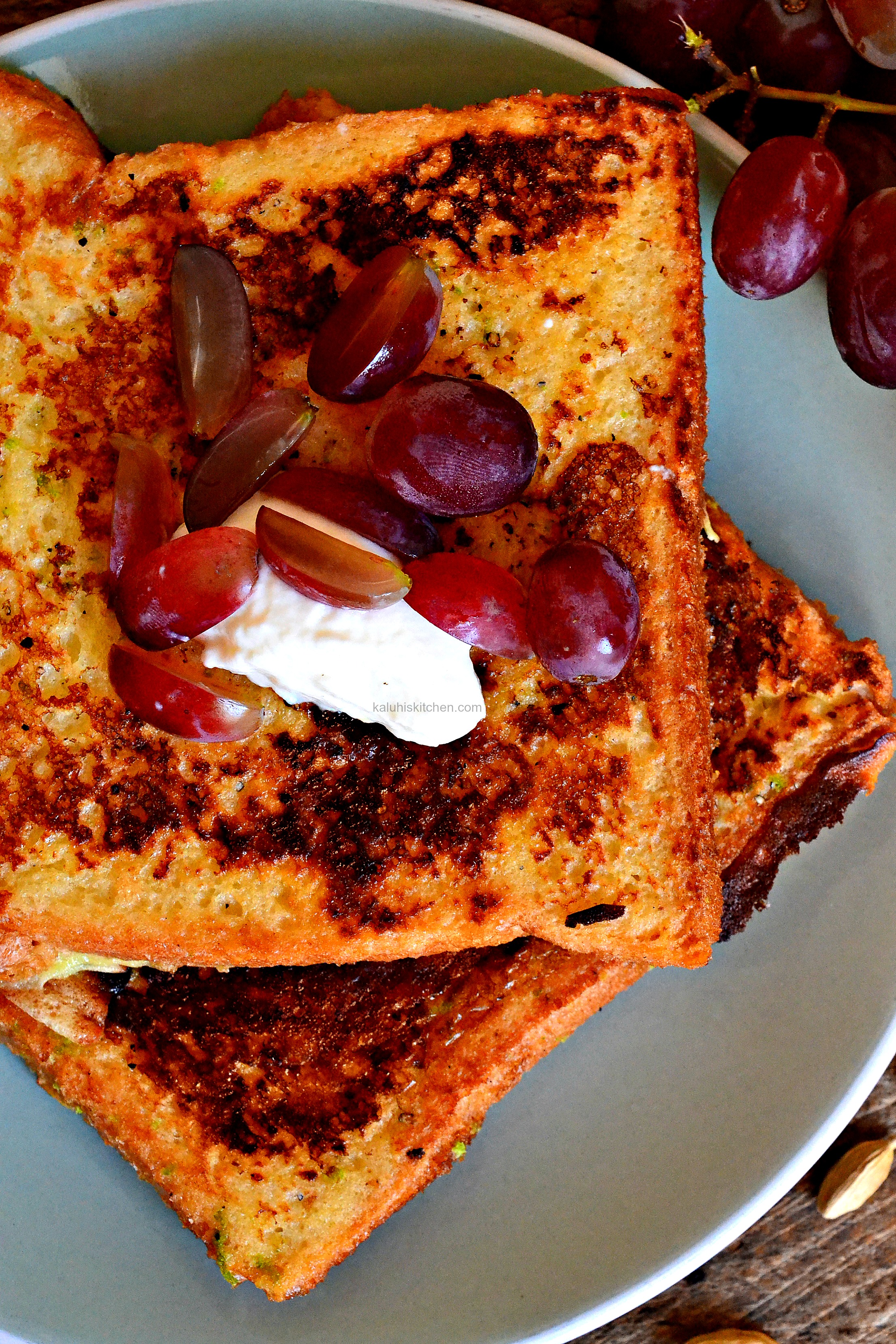 The vanilla that is in the ice cream gives the french toast a warm aromatic taste and the creaminess adds a moist velvety texture to the french toast. The cardamom compliments those components while the zestiness of the lime tempers the sweetness. The dollop of plain yogurt was very much welcome and it balanced out the sweetness and the fresh grape introduced such beautiful freshness. Perfection! So perfect for brunch!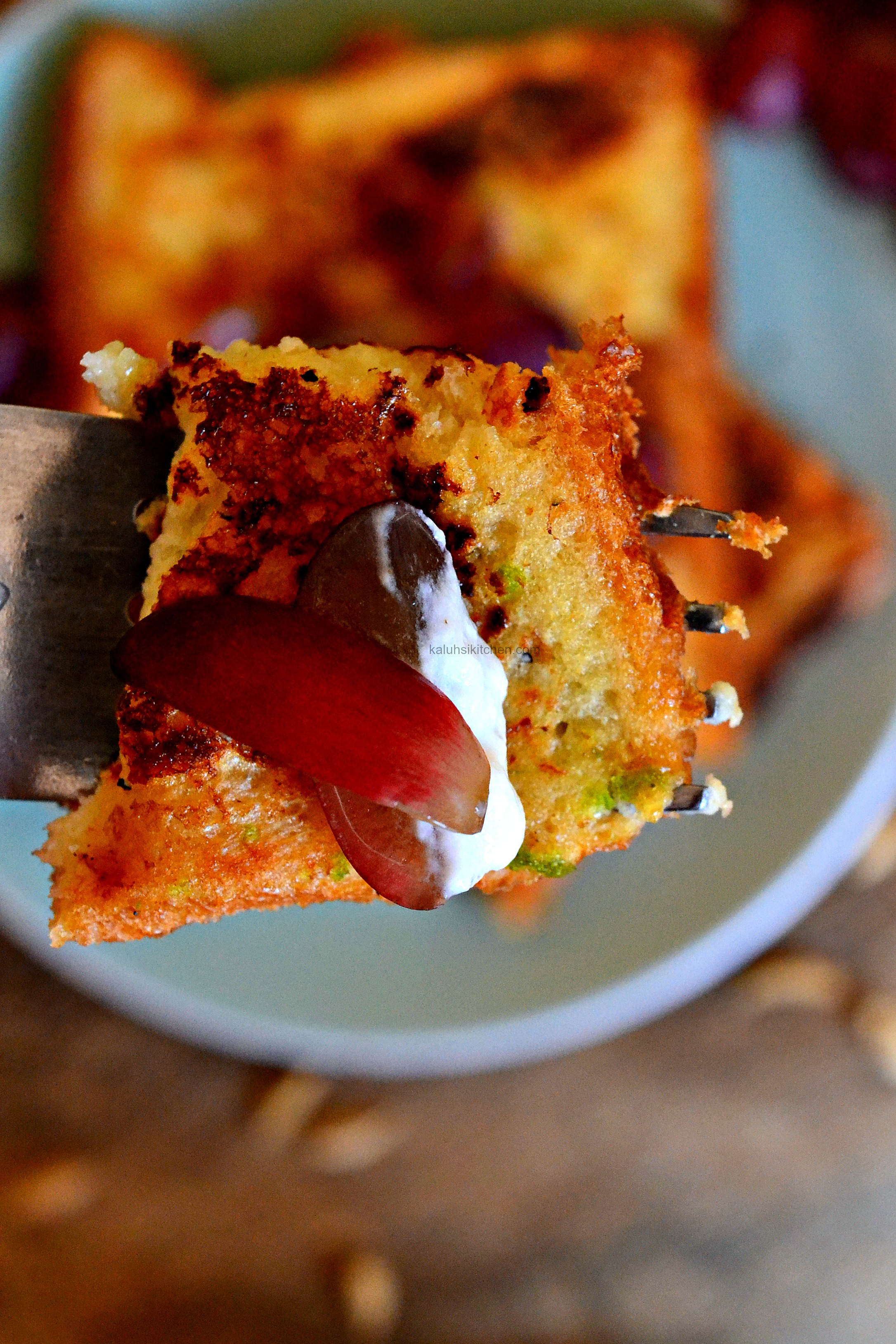 After you give my cardamon ice cream french toast a try, check out my other french toast recipes: amarula and cardamom french toast, coconut french toast with caramelized pineapple, and  pumpkin cardamom french toast.
To good food!
-K
---
Get your downloadable recipe here :))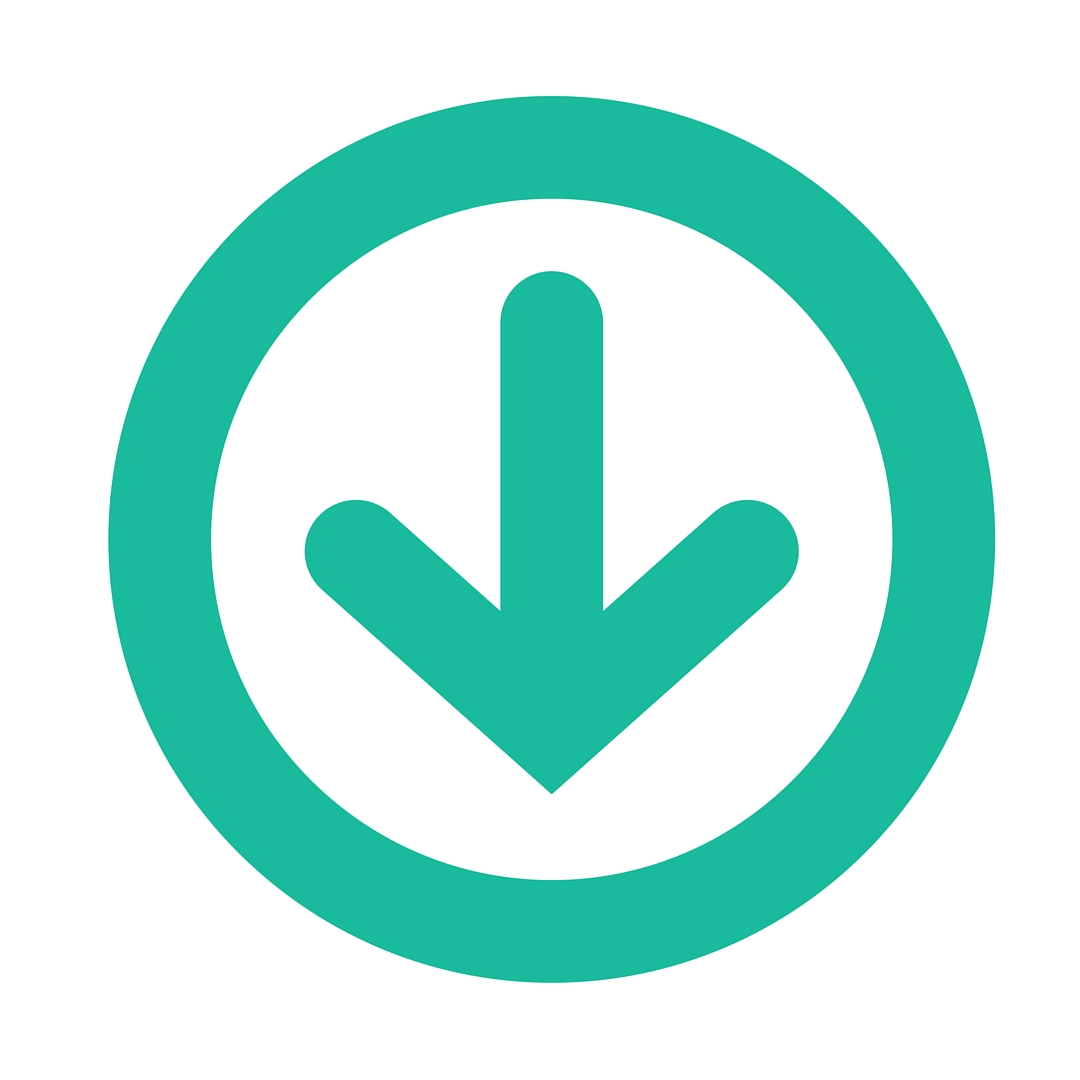 ---
All content and images are copyright protected by



Do not copy in part or whole without giving due credit.