I have been seriously into potatoes lately! Ok, maybe I have always been into potatoes :DD. Besides their wholesome taste, they can be made in countless different ways. The day I made this super delicious ginger matoke masala, I had originally planned to use potatoes. My heart was absolutely broken when I found out I had none. But in true food blogger fashion, all that was necessary was a change up the original recipe and use what I already had at hand. We had received plenty of matoke  from our kin in Maragoli and I decided that is exactly what I was going to use. That was the best choice I made that day!
Before we get into it, let me warn you, the chances of you getting addicted to this are real! This is one matoke recipe I can have every other day for the rest of my life. Yes, everything can be made delicious. And my ginger matoke masala pays tribute to that very statement.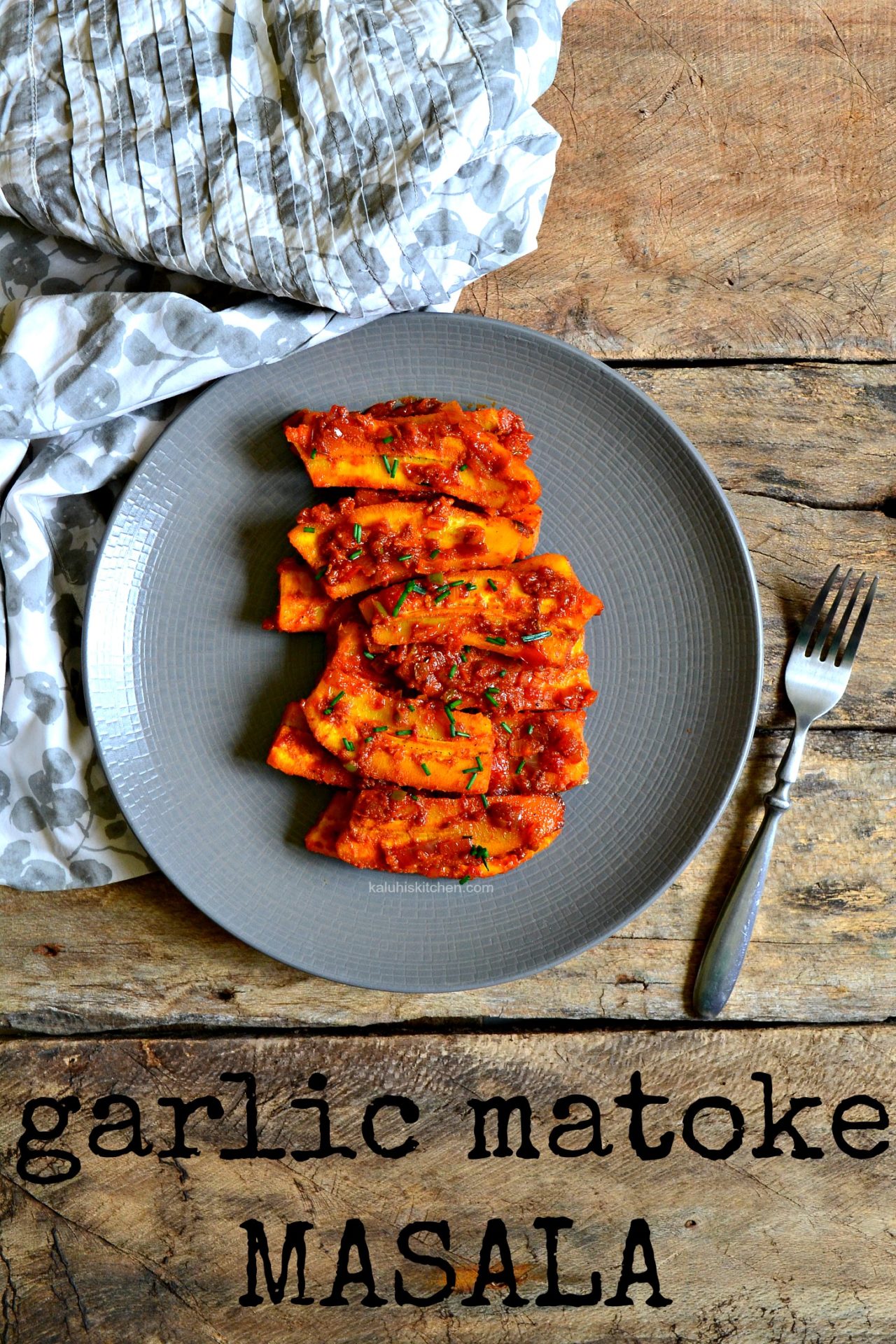 PREP TIME: 15 MIN          COOK TIME: 35 MIN            SERVES:2
Ingredients: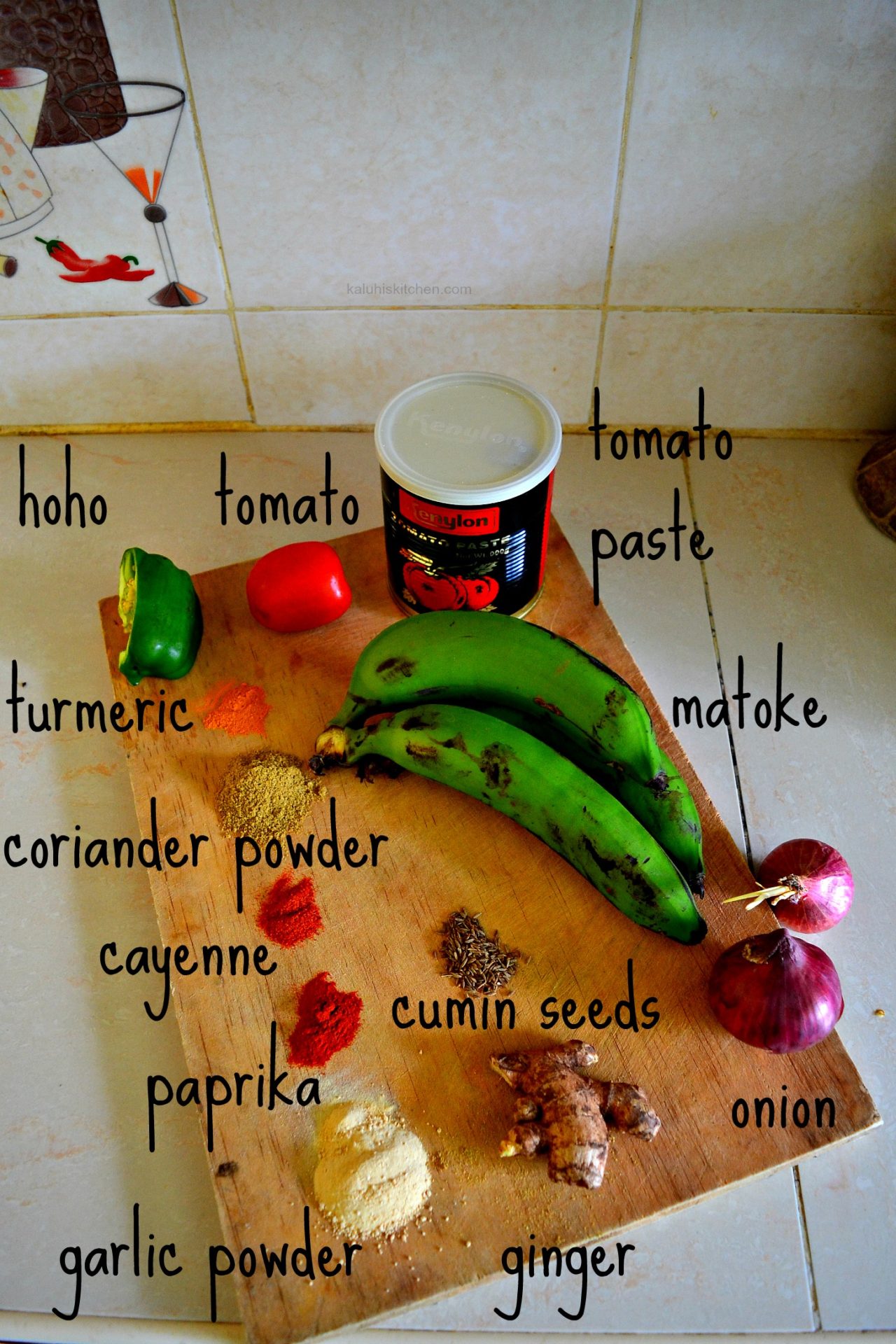 4 matoke
1 tomato
2 tablespoons of tomato paste
1 red onion, finely chopped
1 1/2 tablespoon of garlic powder
1 teaspoon of cumin seeds
1/2 a teaspoon of turmeric
1/2 a teaspoon of paprika
1 tablespoon of coriander powder
3/4 of a thumbsized ginger root
Salt and pepper to taste
Method
In a pan, heat some vegetable oil and add your whole cumin seeds, your finely chopped onion and minced ginger. On medium low heat, allow this to cook down for about 4 minutes. I bought my whole cumin seeds form nakumatt but you can find them in pretty much any supermarket. The price varies from brand to brand but in general, a pack is about ksh.70.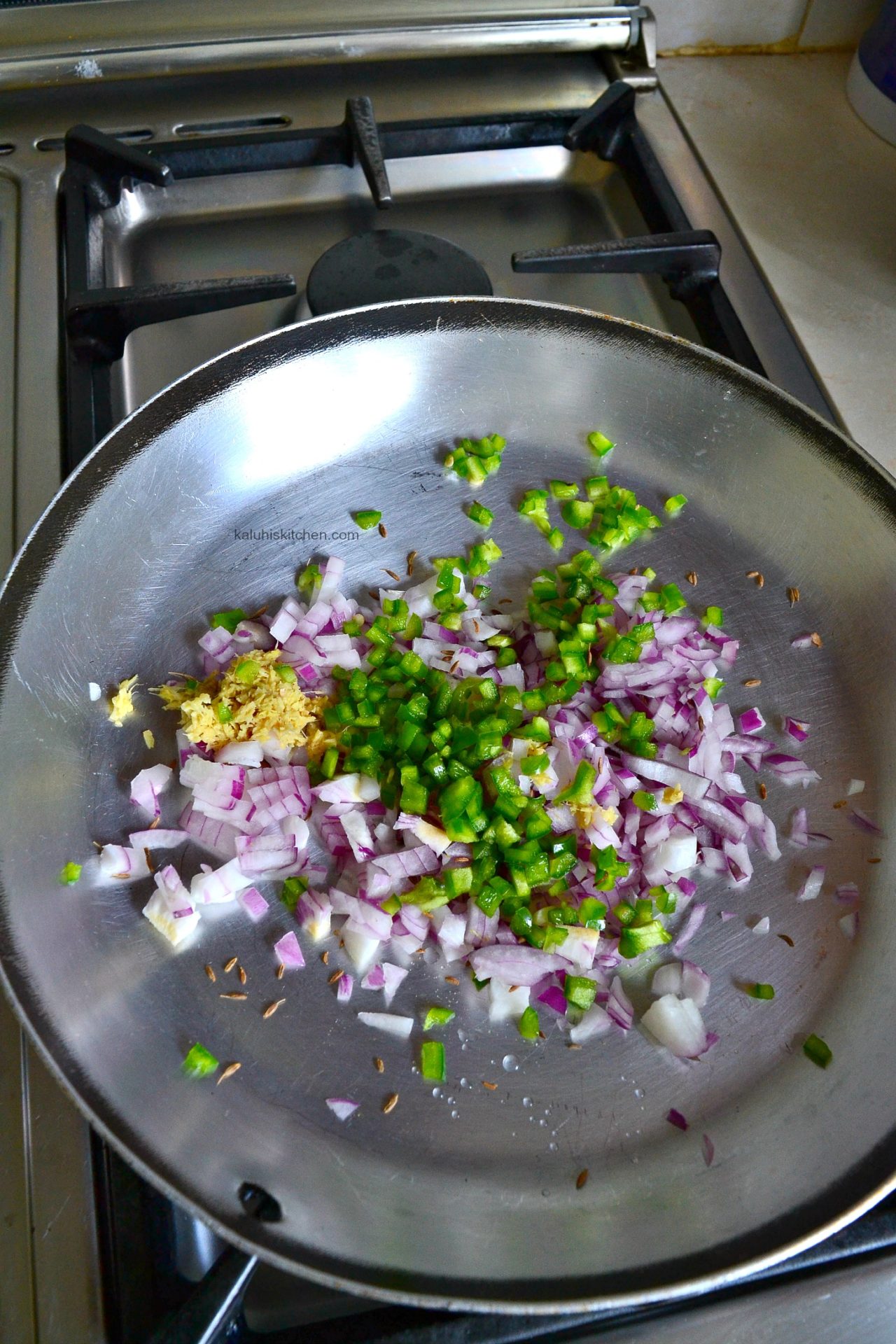 After the onions have softened, add your tomato, tomato paste and all the spices. Mix them all in and once evenly distributed and 1/2 a cup of hot water. Turn down the heat and let this cook down for 15-20 minutes.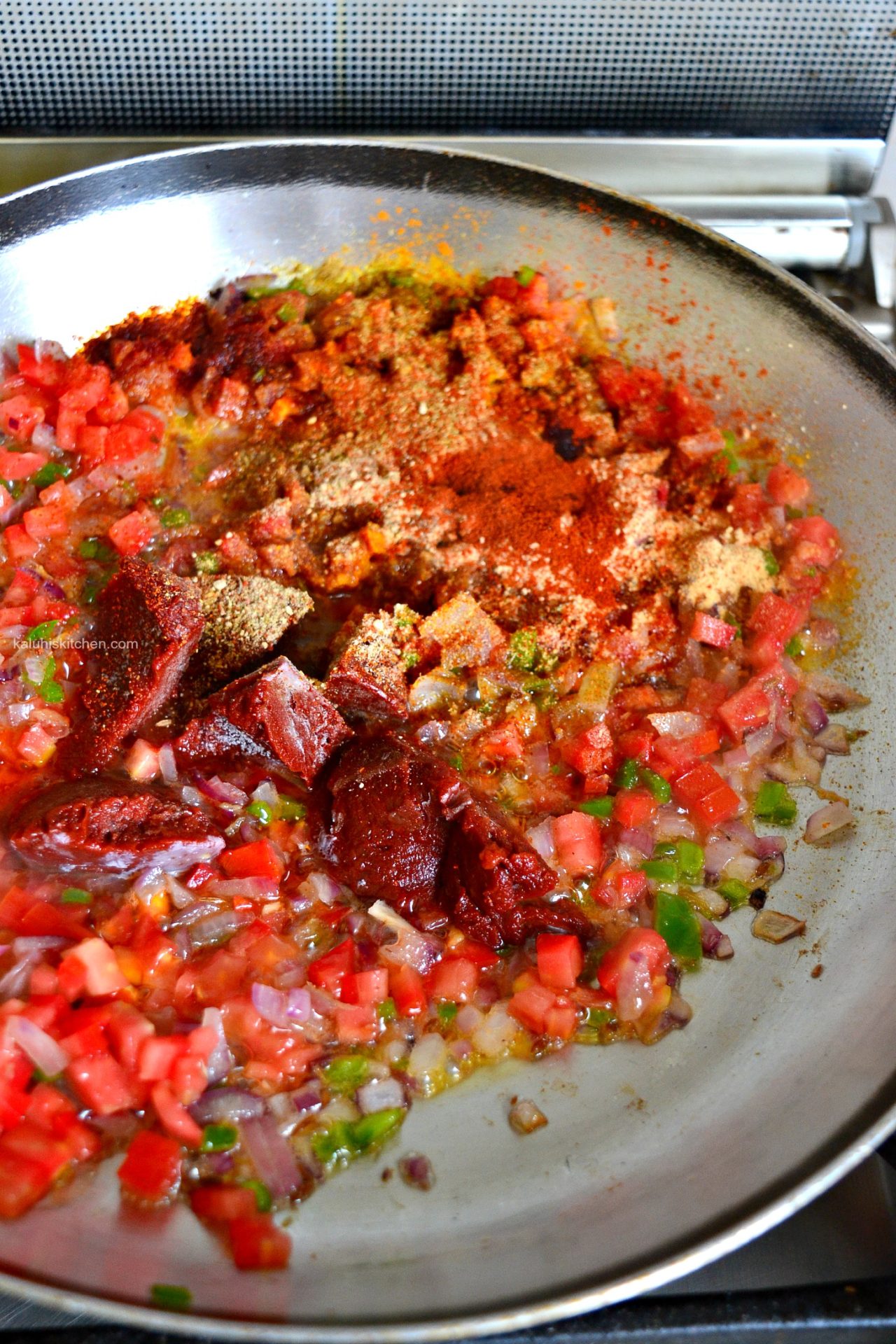 Because of all the spices being used in preparation of this masala, it takes quite sometime for it to cook down and for the spices to really meld. If you cook it too fast, the flavors wont meld as expected and the result will be grainy and unappetizing. Take your time.
Also, when I started making this sauce, I added 1/2 a cup of water to allow it to cook down better. But as time went by, I added 1/4 cup when i felt the sauce got too thick or too dry. If you also feel the sauce is drying out, add 1/4 cup to make it thick again. Tafadhali, DO NOT pour in 6 cups or 3 thermoses of water then wonder why your sauce resembles boarding school sauce. A little goes a long way. For thick soup and sauces, always add 1/4 cup at a time to retain thickness.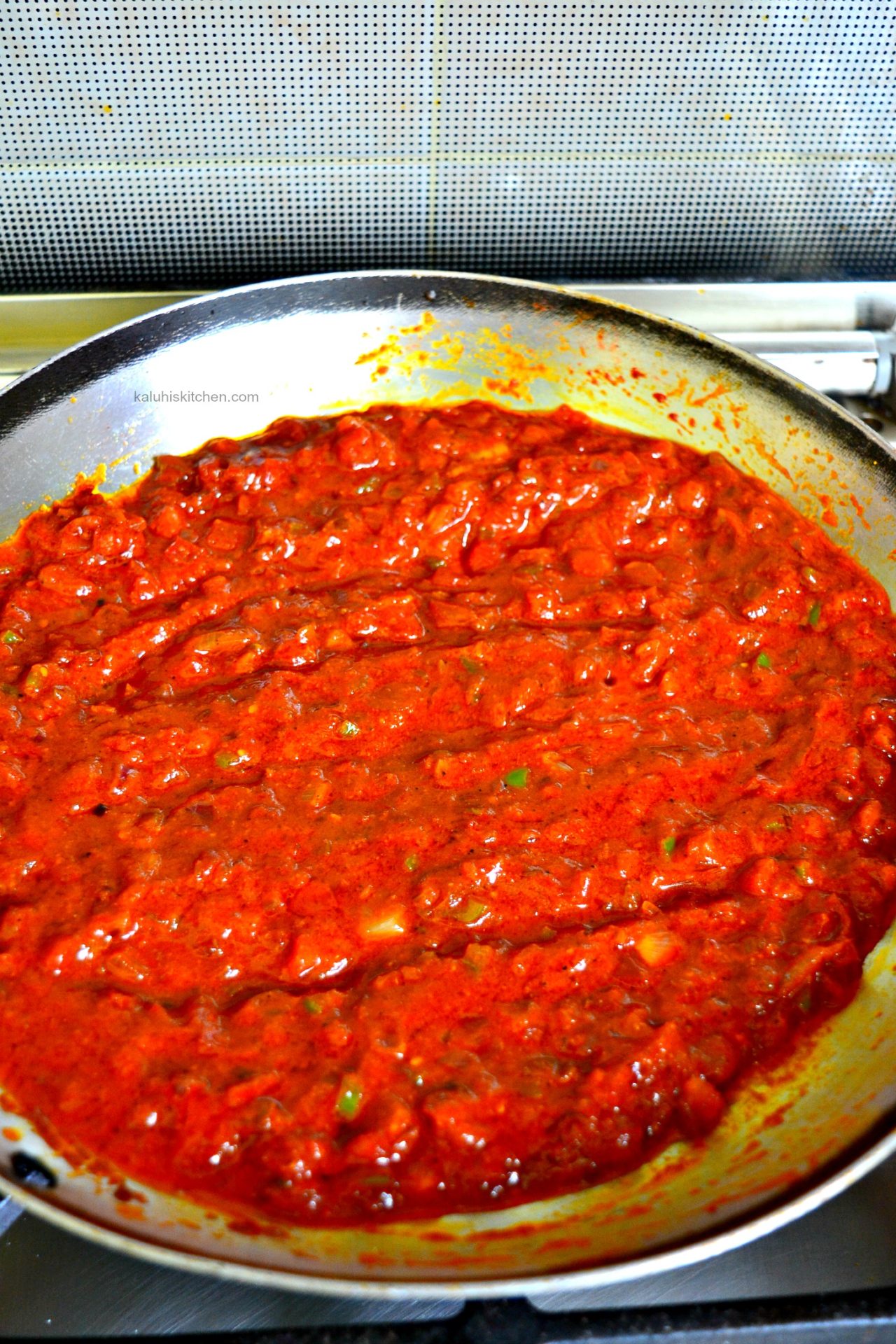 The above should be your end result too. You can also use this very sauce in you pasta or for potatoes if you have some at home.
As the sauce is going, peel begin working on the matoke.
Peel the matoke and place them on a pot of salted cold water. Let them boil until they are just tender.Always put your matoke in some water IMMEDIATELY after peeling. This prevents them from oxidizing which produces that blackening. Also remove all traces of the peel. This is a trick mummy taught me and has worked for me ever since.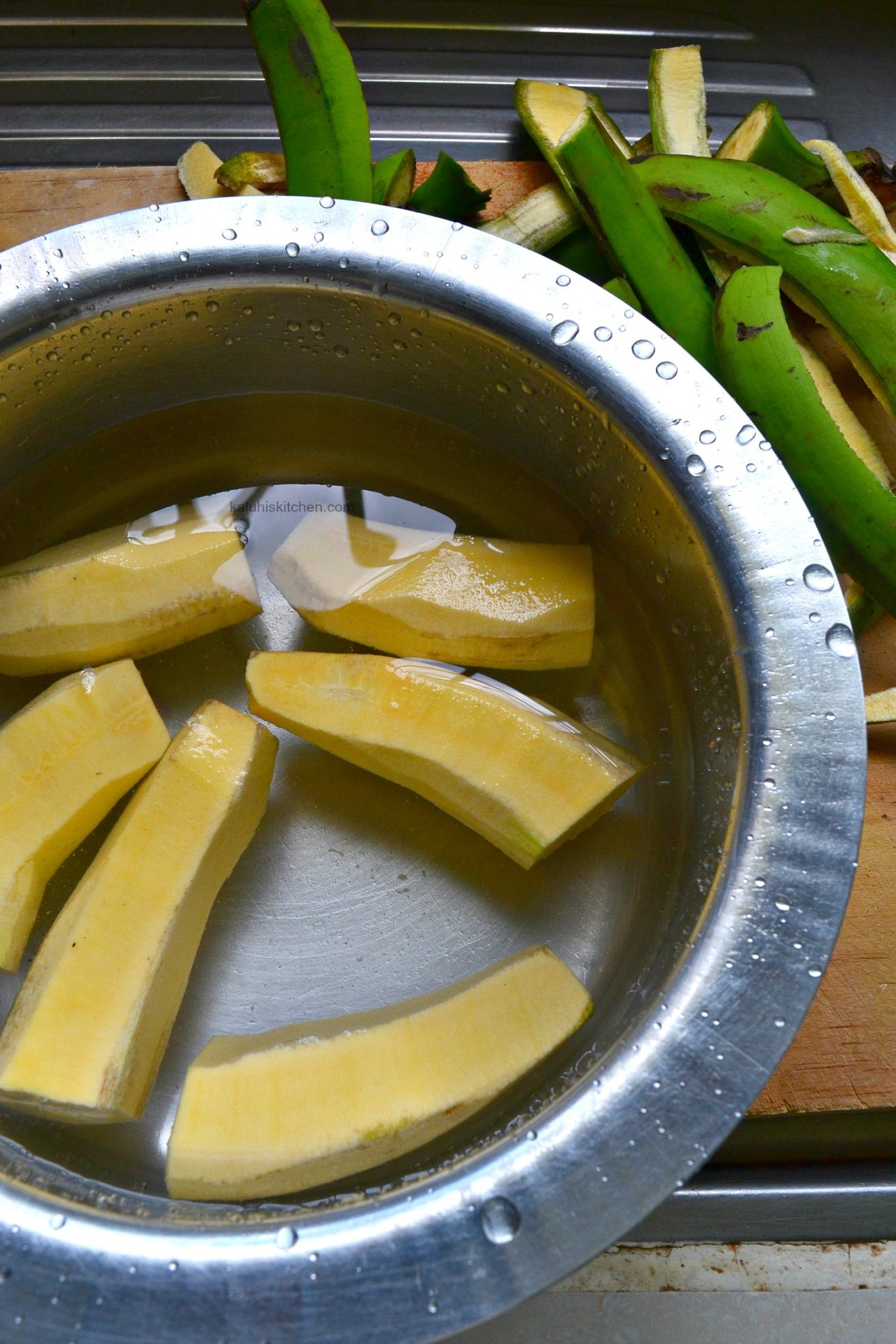 Once done, remove from the heat and cut them in half longitudinally. Add them to the simmered down masala sauce and toss them in. Let these stay in for about 3-5 minutes.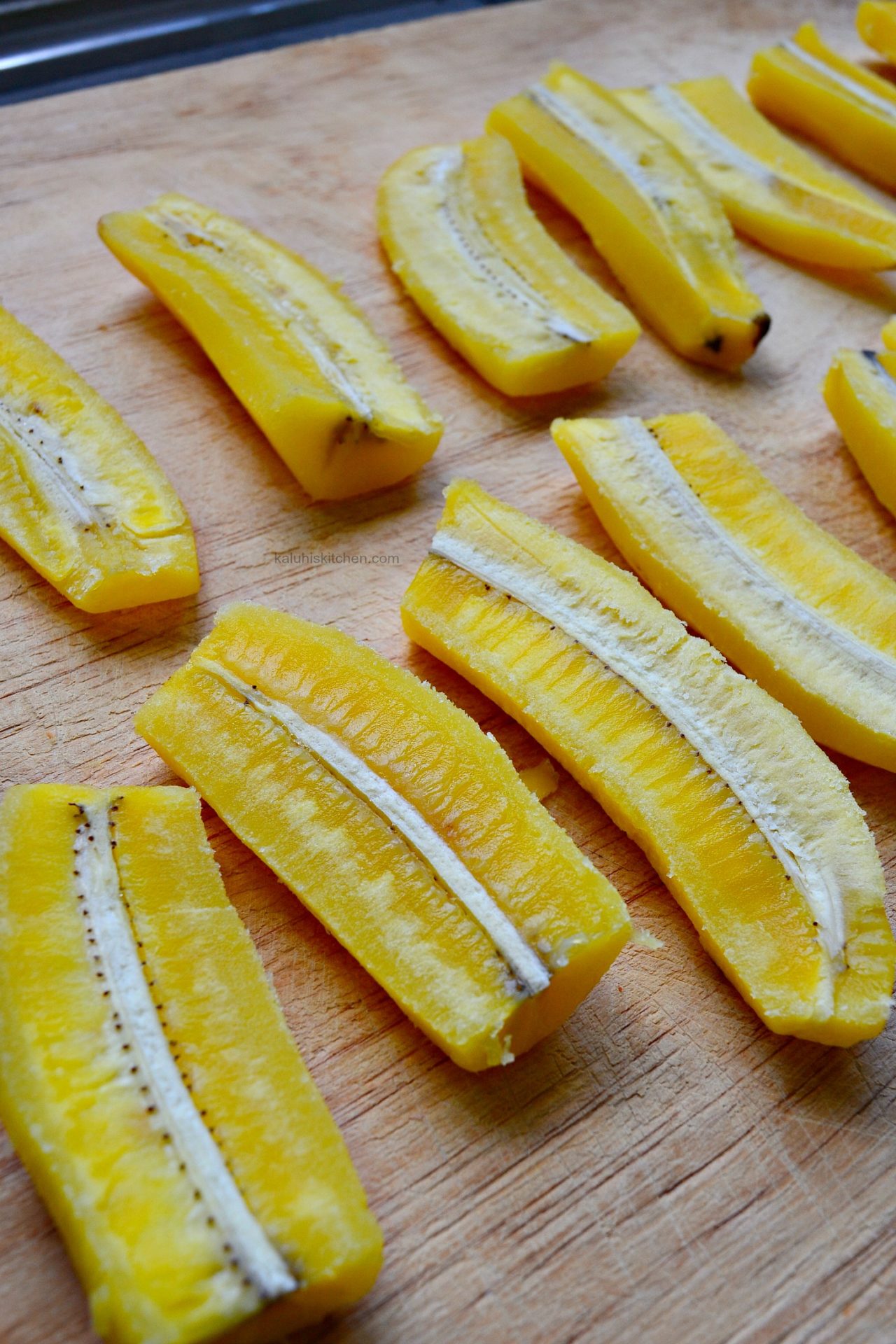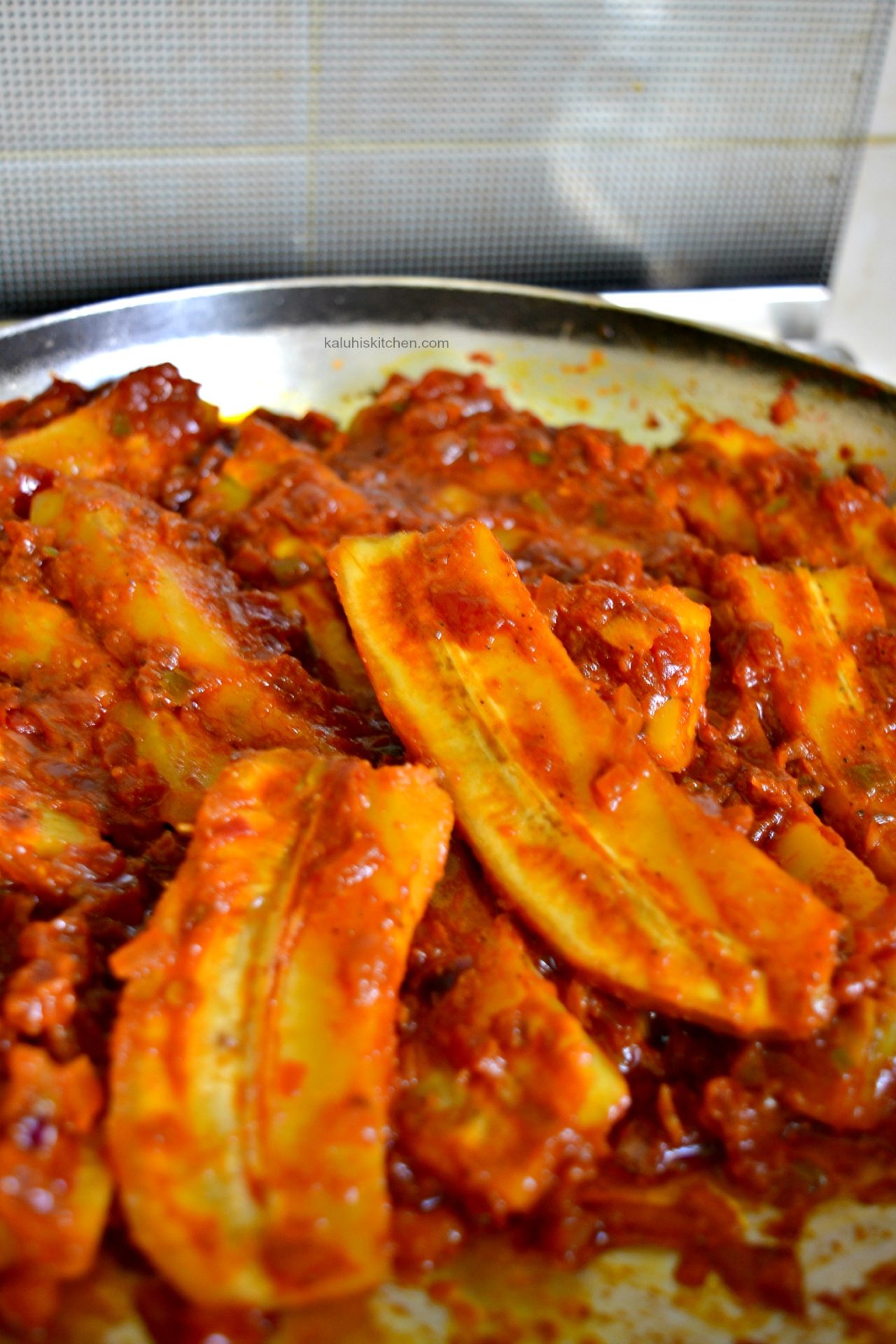 Serve and garnish your ginger matoke masala with onion chives or fresh coriander.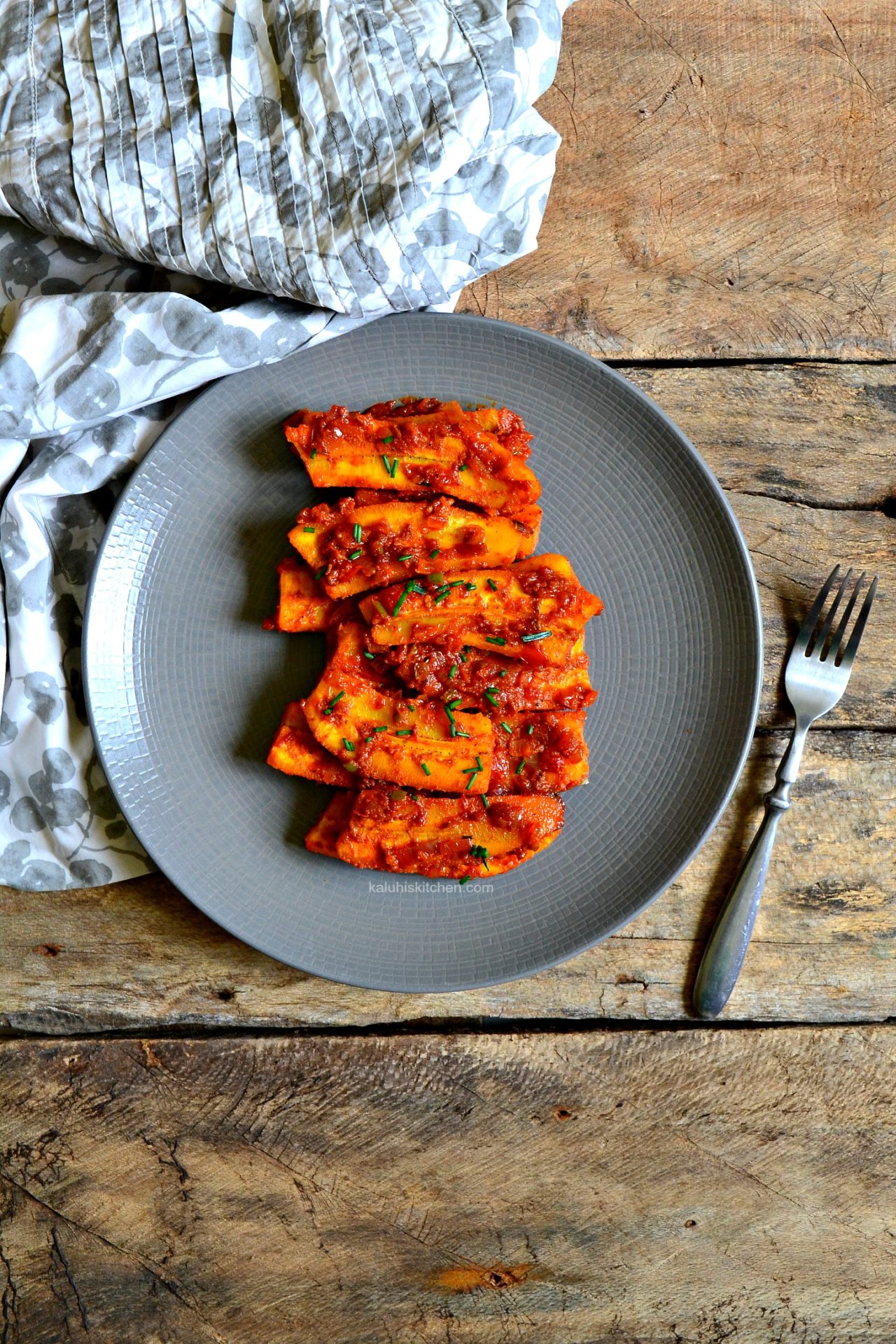 Have you ever eaten so fast and so greedily that you start questioning the state of your soul afterwards? Yup, that was me after chowing down this ginger matoke masala.  I ate mine with kuku kienyeji and it was one hell of a feast. Try that combo and you will see what I mean. Just imagine a plate prepared for you with ginger matoke masala na kuku kienyeji… wueh! *drools* !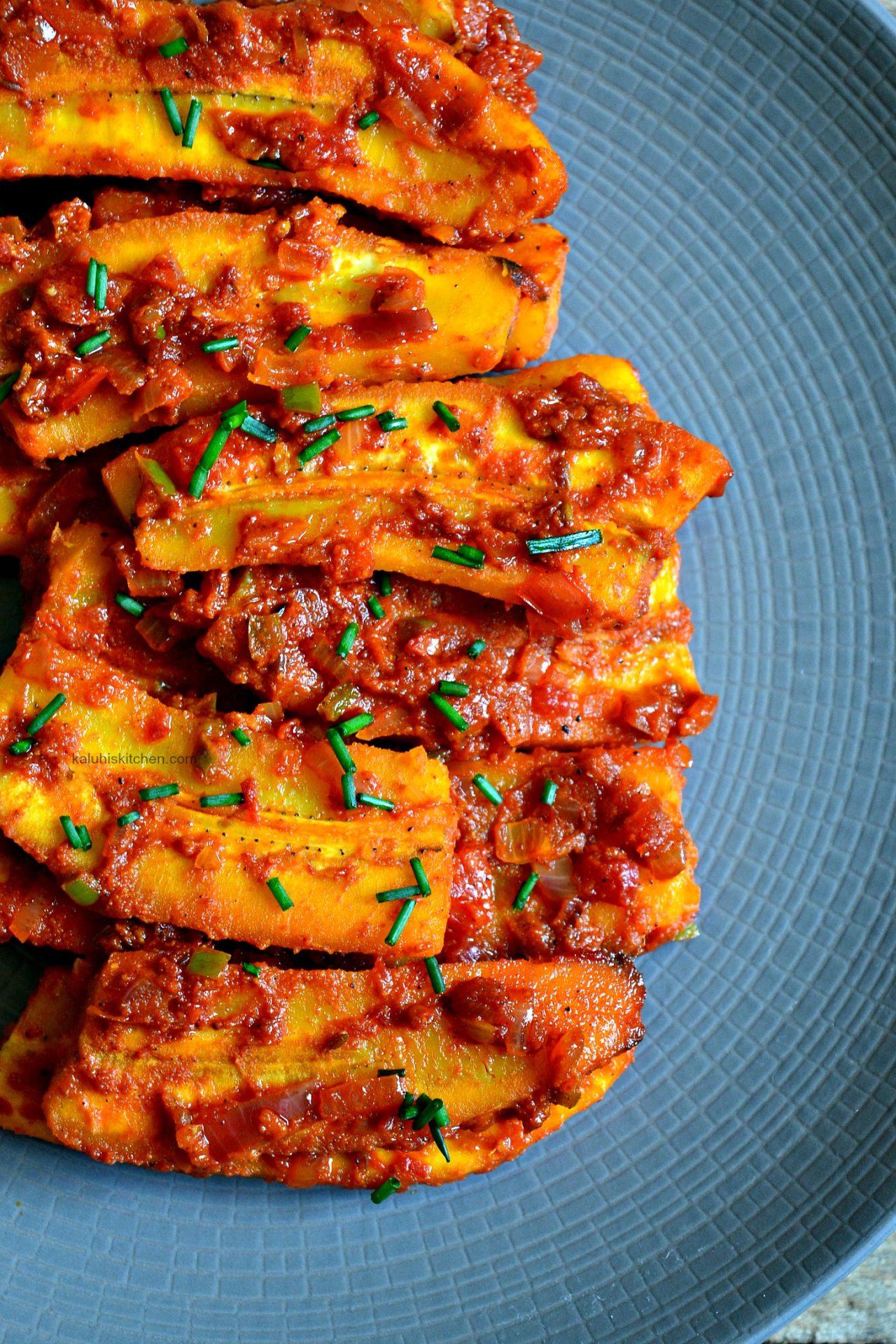 You can taste the ginger, you can feel the heat of the cayenne plus all the spices just went so well together. As you eat, you feel small subtle bursts of cumin seeds. I am telling you, this one experience you wont ever forget.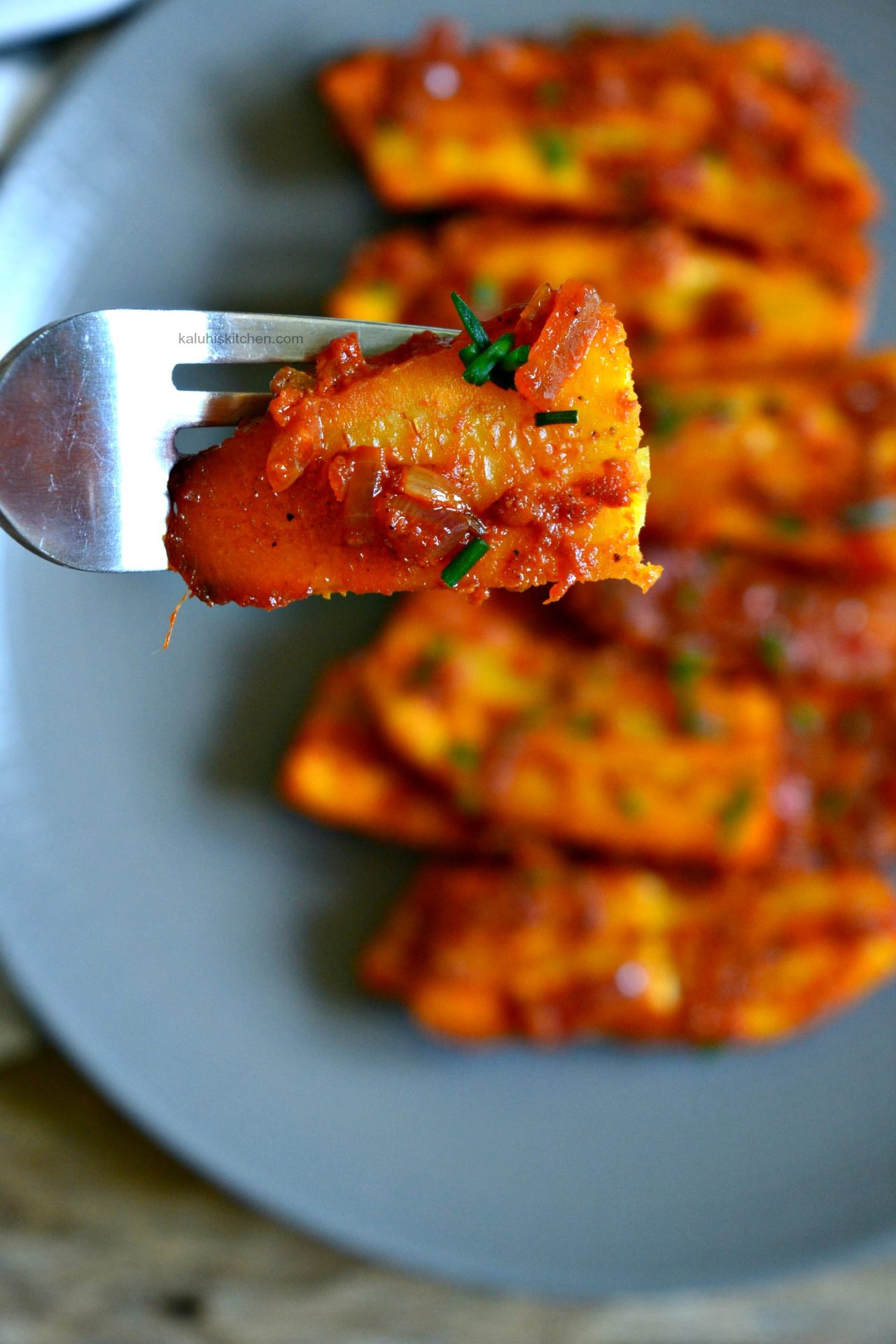 As you rush down to get a copy of your very own ginger matoke masala downloadable recipe, please scroll down to the next section and vote for Kaluhi's Kitchen and best food blog 2016. Just click on the "VOTE" picture below and it will take you to the BAKE site. I made it so easy just for you!
Cheers to fantastic food!!!
-K
---
Get your downloadable recipe here :))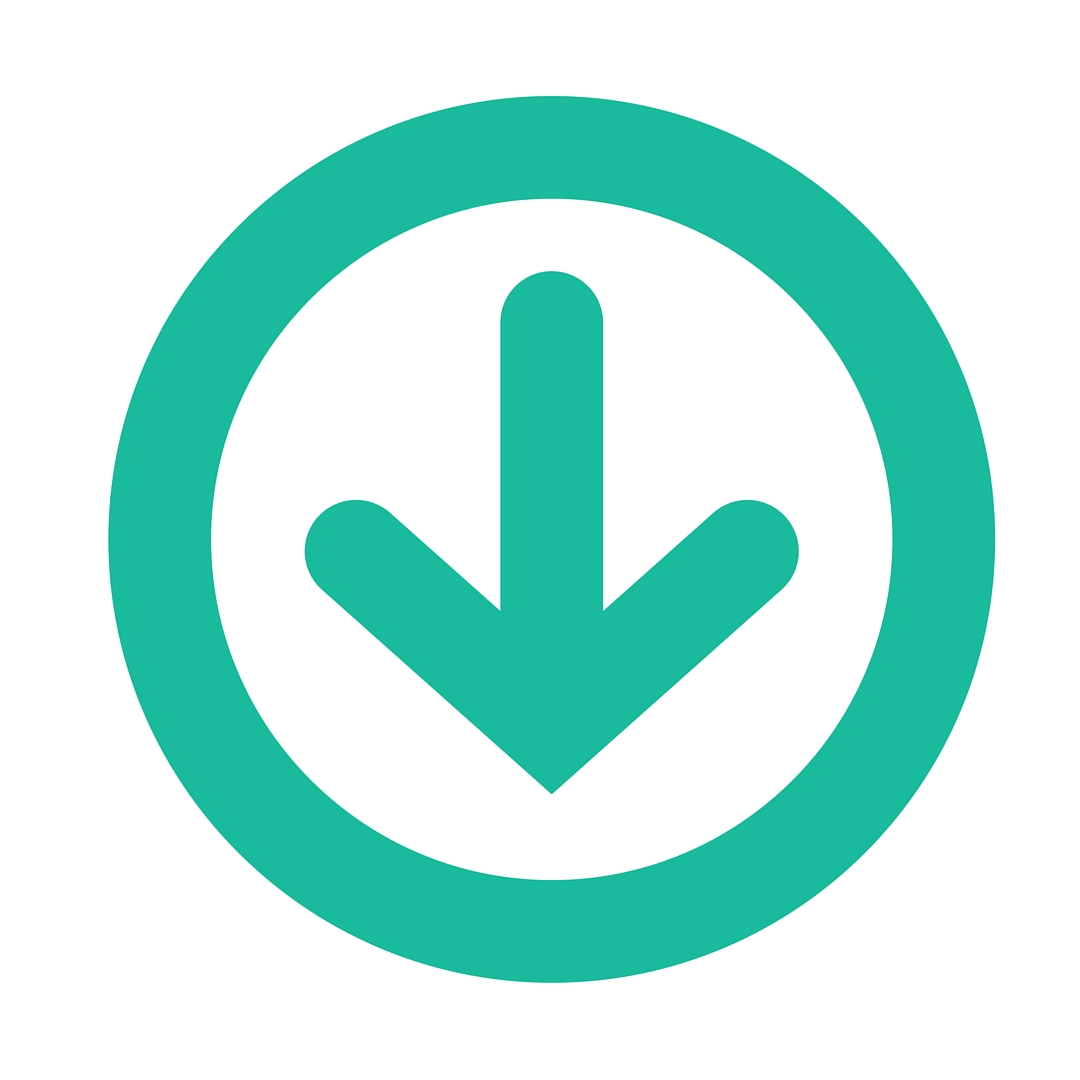 ---
Vote for #KK  'Best Food Blog 2016'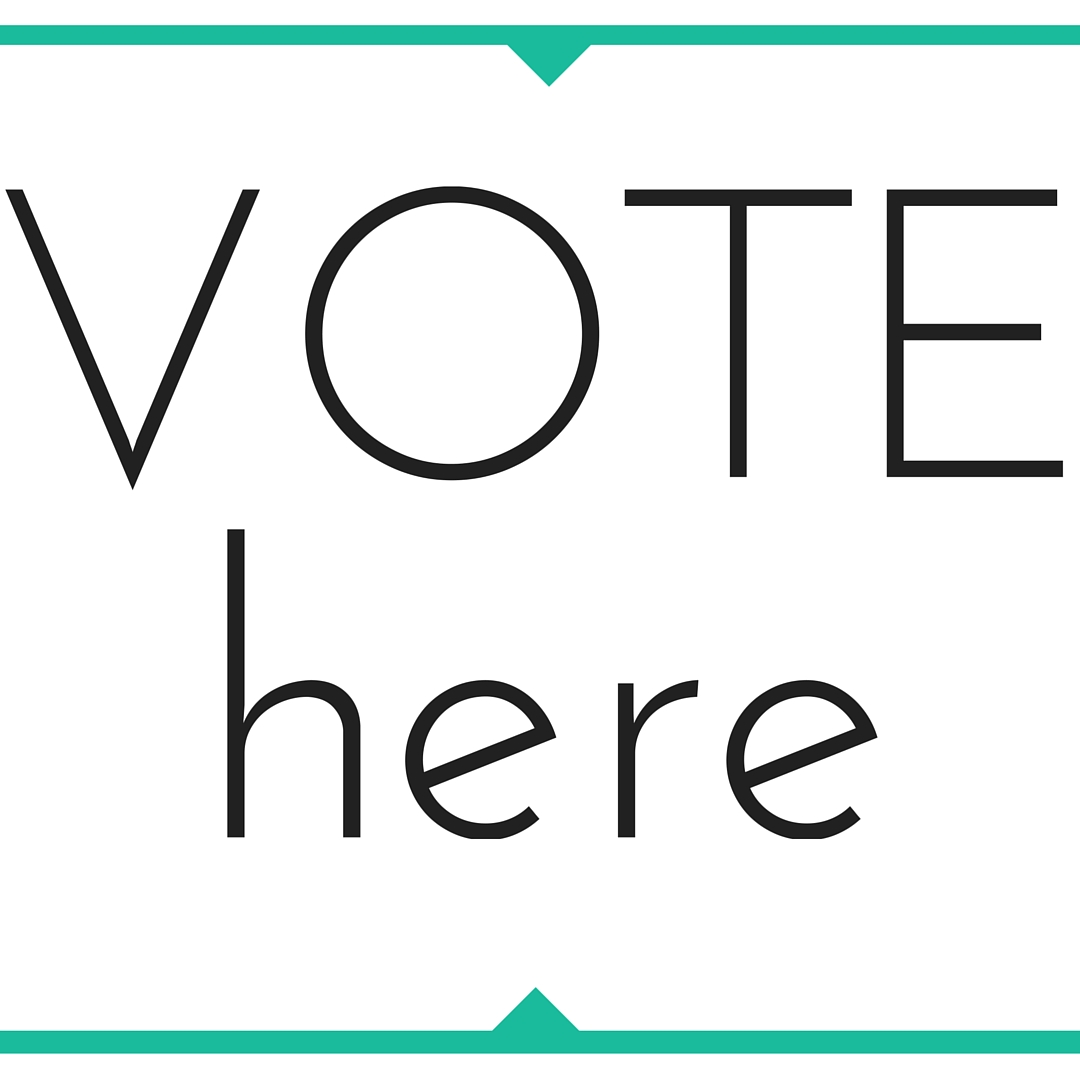 ---
All content and images are copyright protected by



Do not copy without expressly asking for permission or giving due credit
---