There really isn't any place on earth where you can get the freshest, most bountiful, most flavorful, cheap organic produce than you would in Kenya. Most African countries also have the best tasting fresh produce but god was in a fantastic mood when he gave Kenya her fresh produce. I know for a fact we do appreciate it and I hope we intentionally enjoy it because life is to be lived and enjoyed!
If you have been following me for a long time now you know I love potatoes. I however never shy away from switching things up and in as much as regular potatoes are dope as hell, other root tubers also really bring alot to the table! Nduma in particular not only tastes fantastic, they are also so versatile and they take up flavor so beautifully! We made this nduma recipe waaaay back in 2015 ( I cannot believe I have been blogging this long!) and today we add another one that is even better, and for sure, plenty more are coming in the future!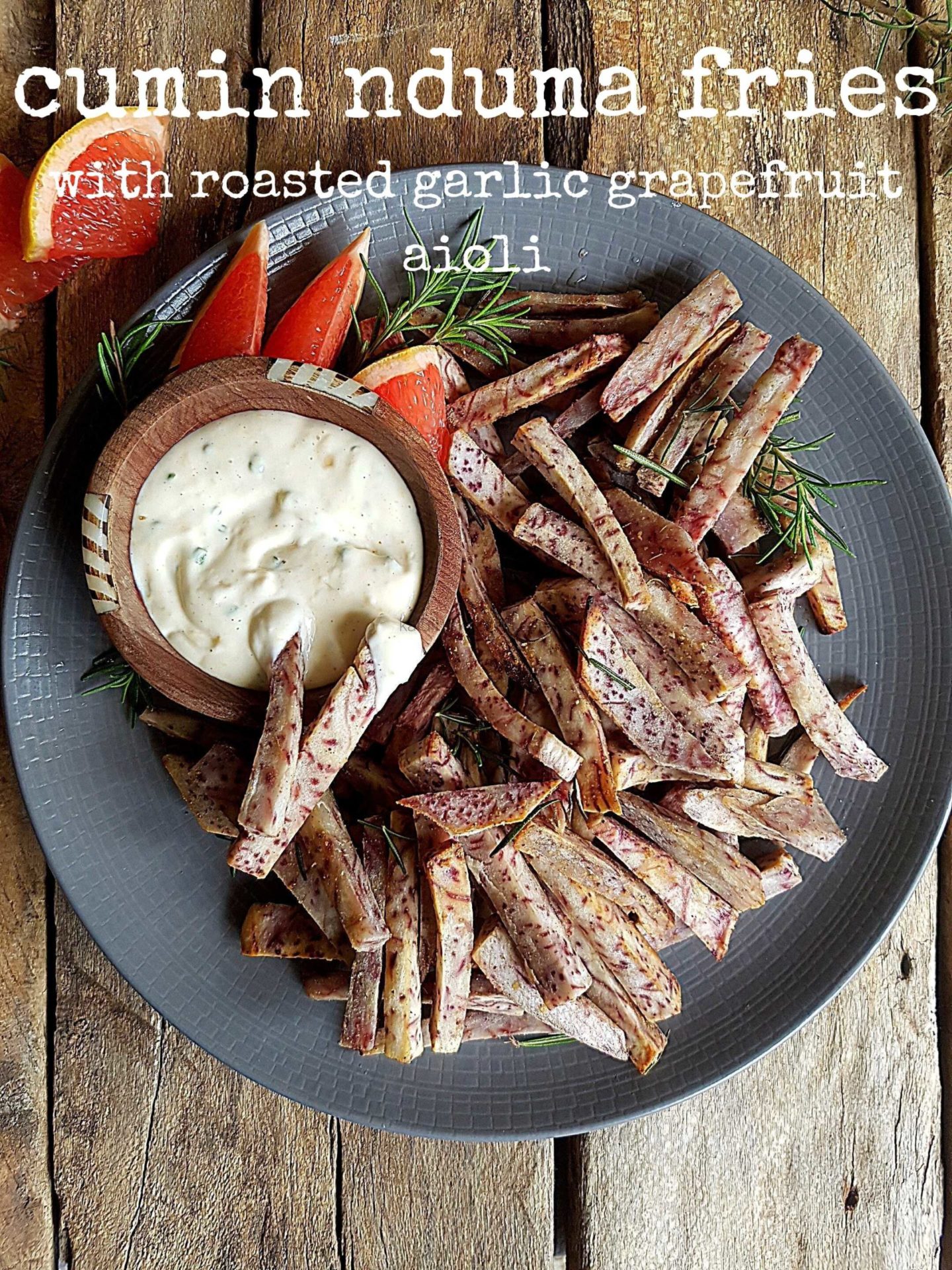 I made a dope vid to accompany the blog post. Do watch below, and subscribe!

PREP TIME: 5min    COOK TIME:  30 min       SERVES: 2
Ingredients
For the fries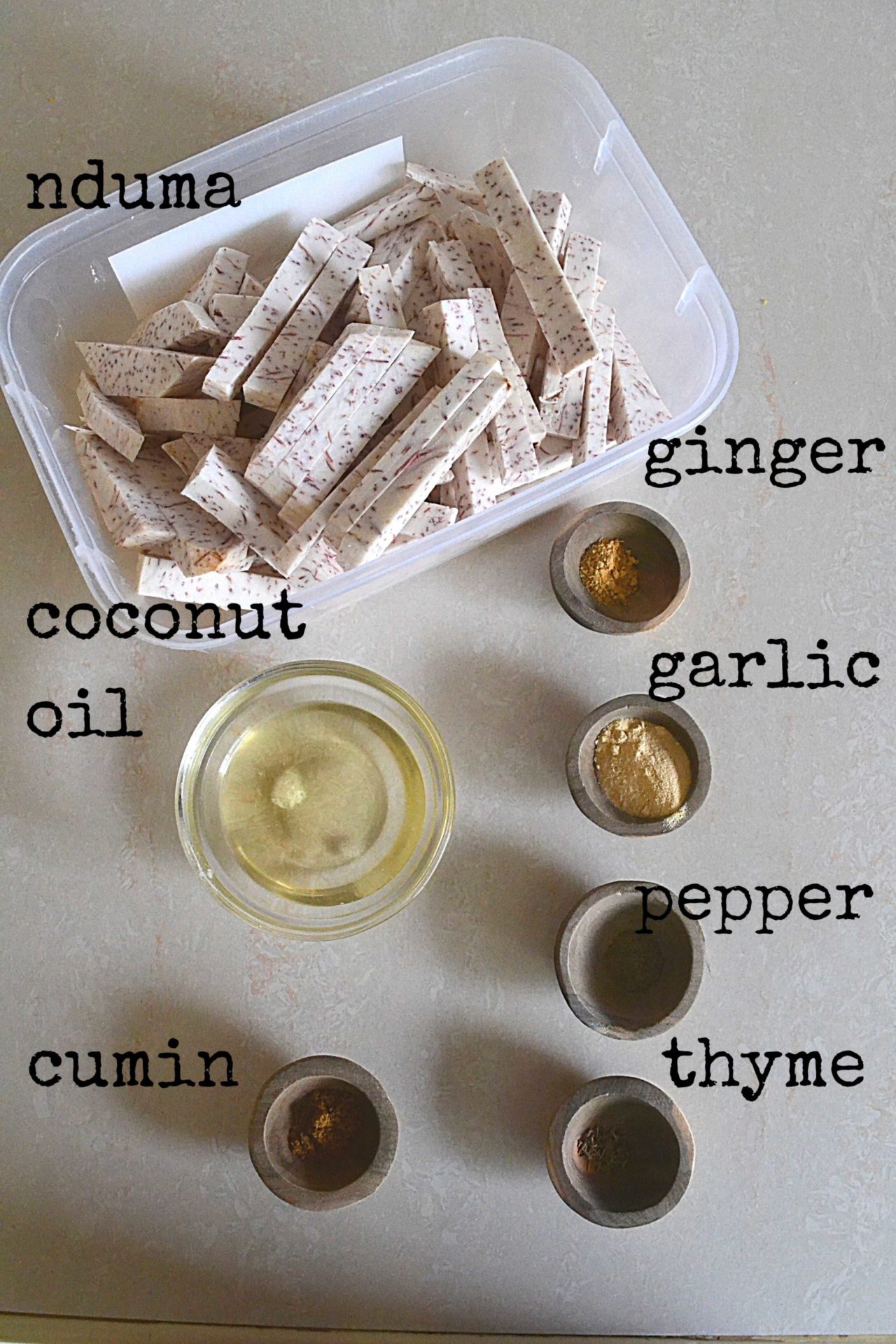 1 nduma root (about 200g)
1/3 cup of molten coconut oil
1 tablespoon of cumin
1 tablespoon of garlic powder
1/2 tablespoon of ginger spice
1/4 teaspoon of thyme
1/8 teaspoon of black pepper
A sprig of rosemary
Salt to taste
For the aioli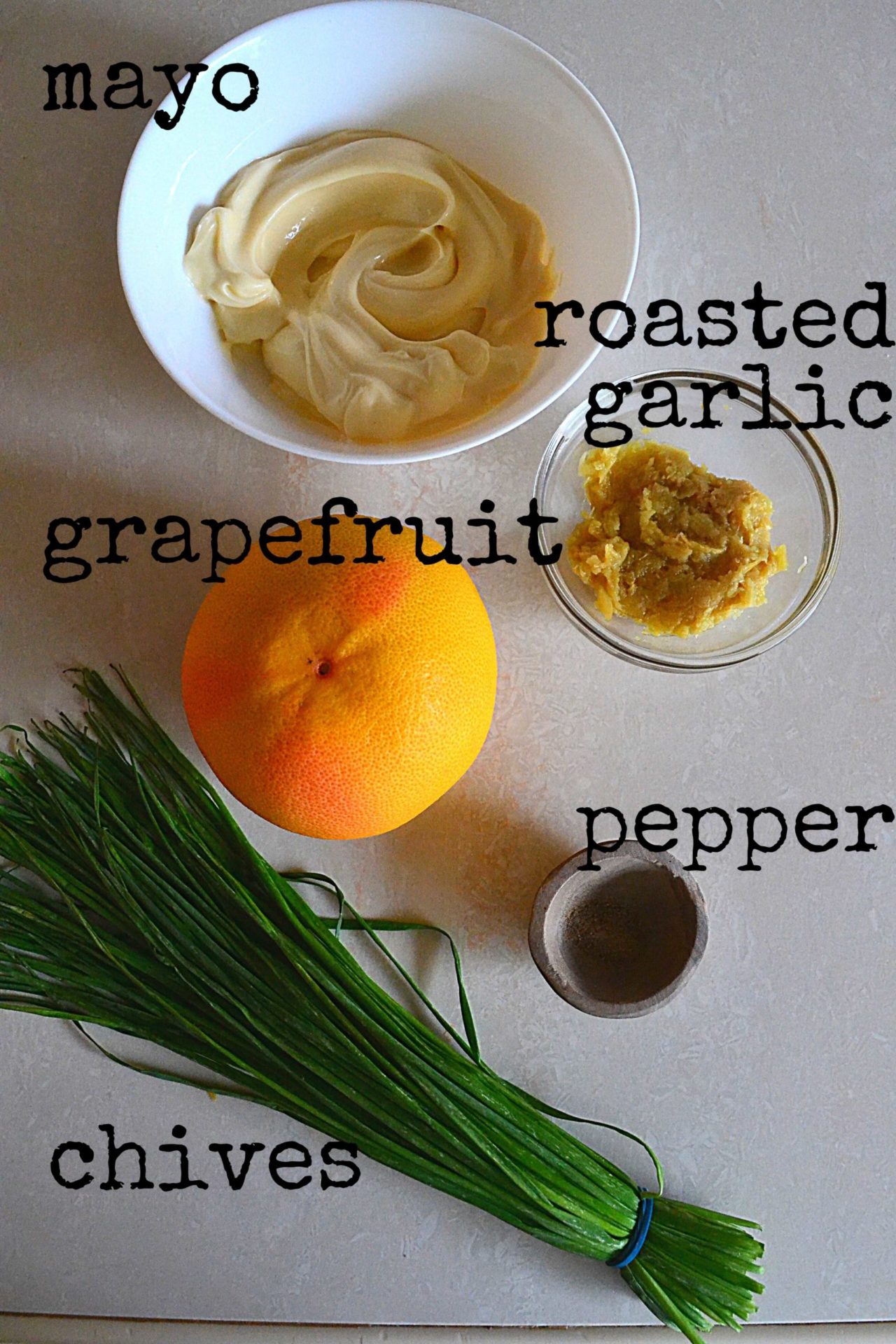 200g of mayonnaise
1 teaspoon of very finely chopped chives
1 teaspoon of minced roasted garlic
Dash of salt and pepper
1 tablespoon of grapefruit zest
Splash of grapefruit juice
Method
The star of this recipe is nduma. Nduma is arrow root and is a root tuber. It not only is very delicious, it is super sustainable as well and because we are moving into an era where we shall be living as consciously sustainable species, consuming sustainable food is something we all must align ourselves with.
Nduma has a deep brown fibrous exterior. When you slice it, the flesh is white and sprinkled with purple streaks and speckles all through. When cooked, it turns into a soft lilac/ lavender color while some strains turn grey.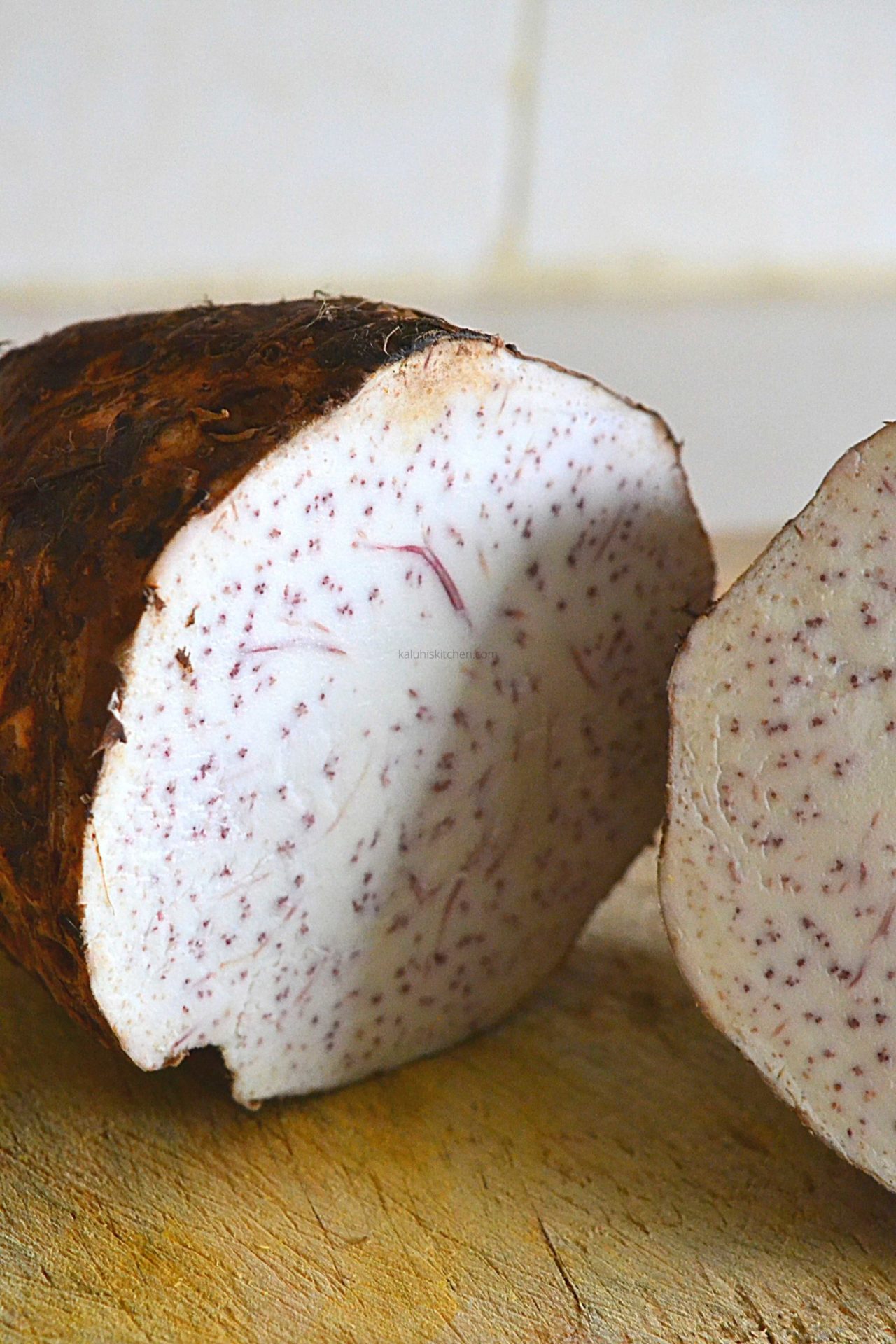 To prepare your fries, slice your nduma into fries – as thick or as thin as you fancy- and place them in a bowl. I always get the question in my DMs on how to slice a potato- and the answer really is as simple as passing your knife through the potato and cutting it into pieces. If the pieces are thick, keep on slicing until you get to the size you desire. I like mine are thick as my finger, but other times I slice them even thinner. For today, this is the size I wanted.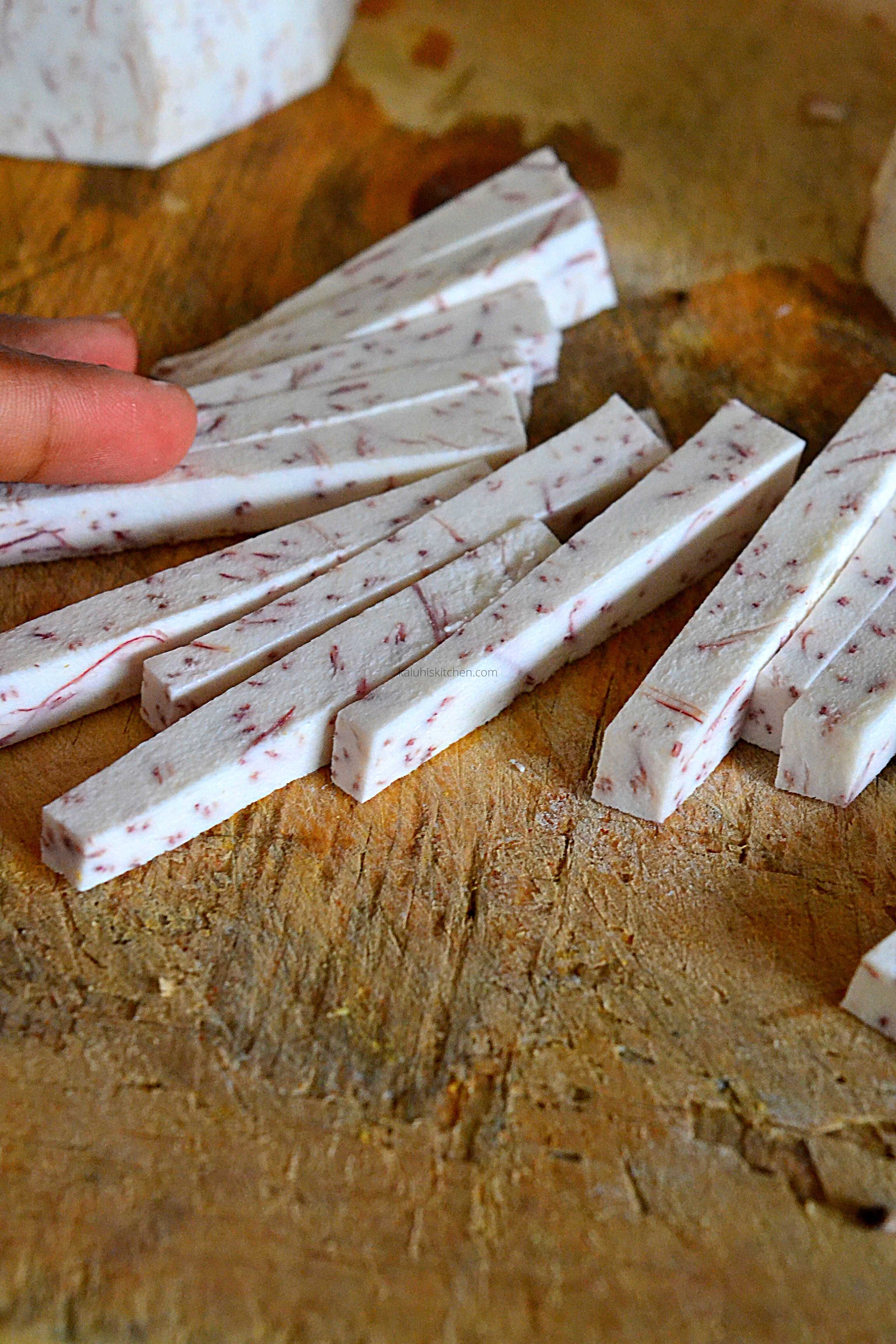 To the bowl, douse them in the coconut oil. The coconut oil will not only facilitate the baking, but will also impart that gorgeous nutty flavor to them which is a huge plus!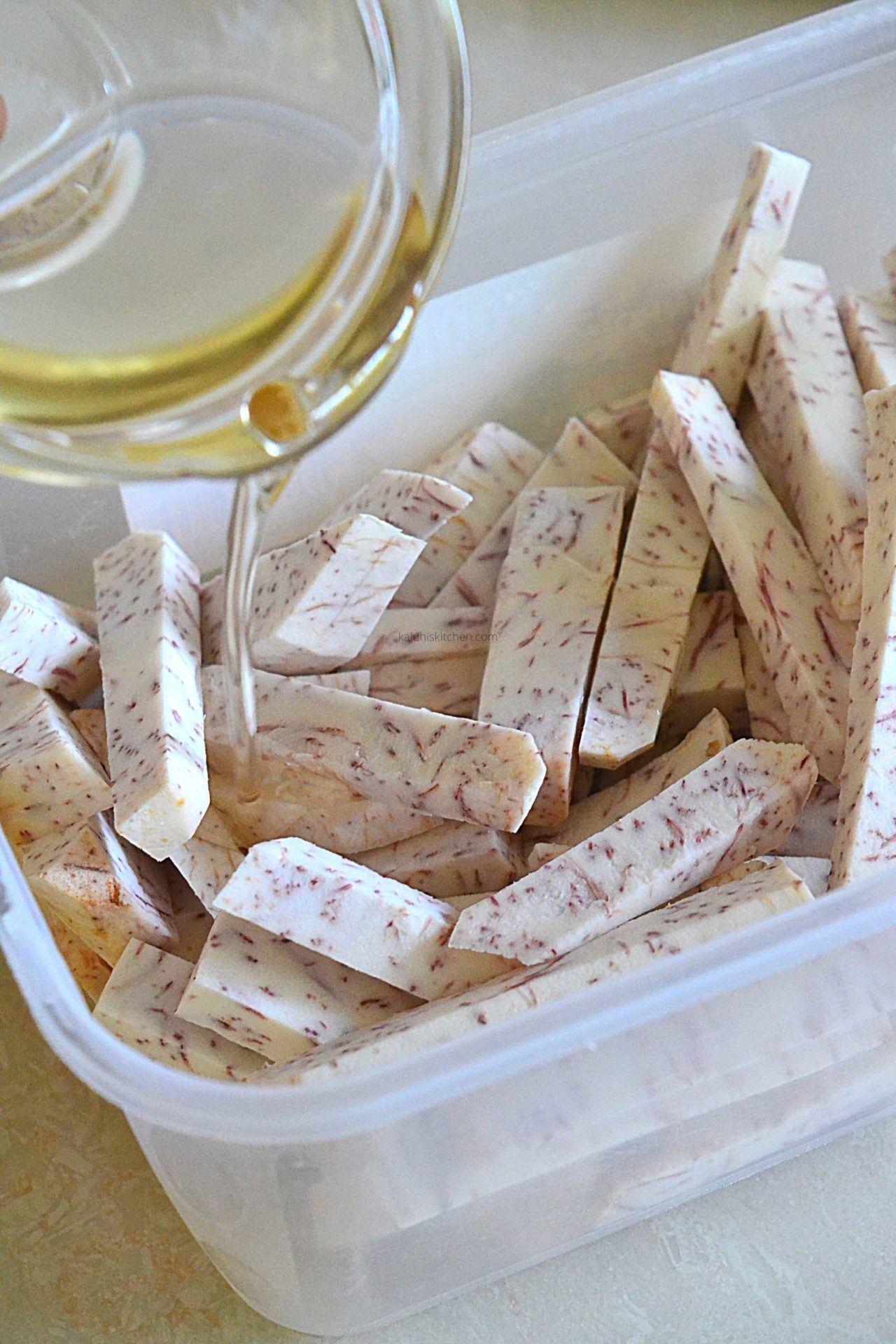 Then, to the same container add in the spices and toss them.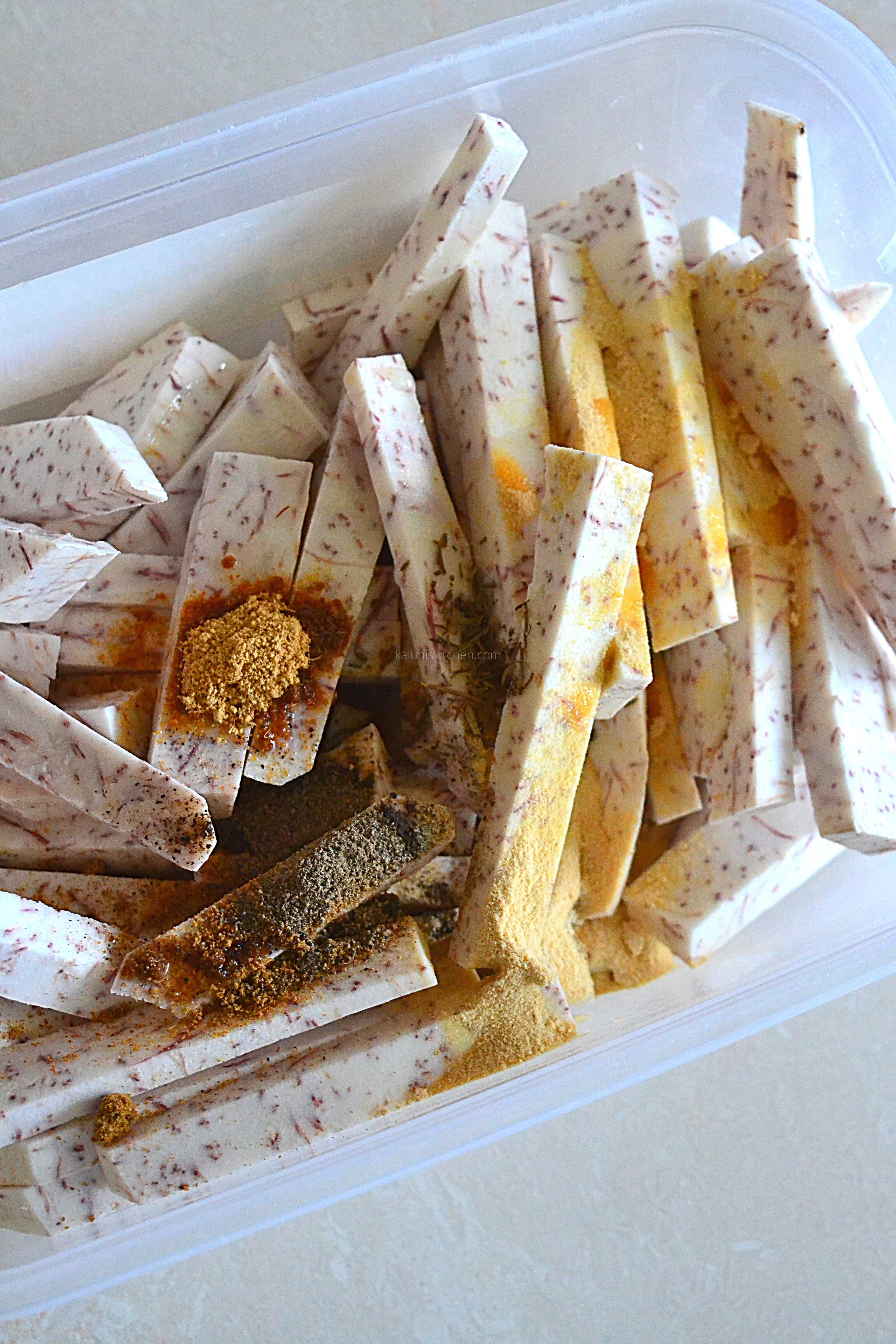 Once coated, spread them over your baking tray and bake for 20 minutes at 150c (time will vary according to how thick your fries are cut so keep checking every 10 minutes or so).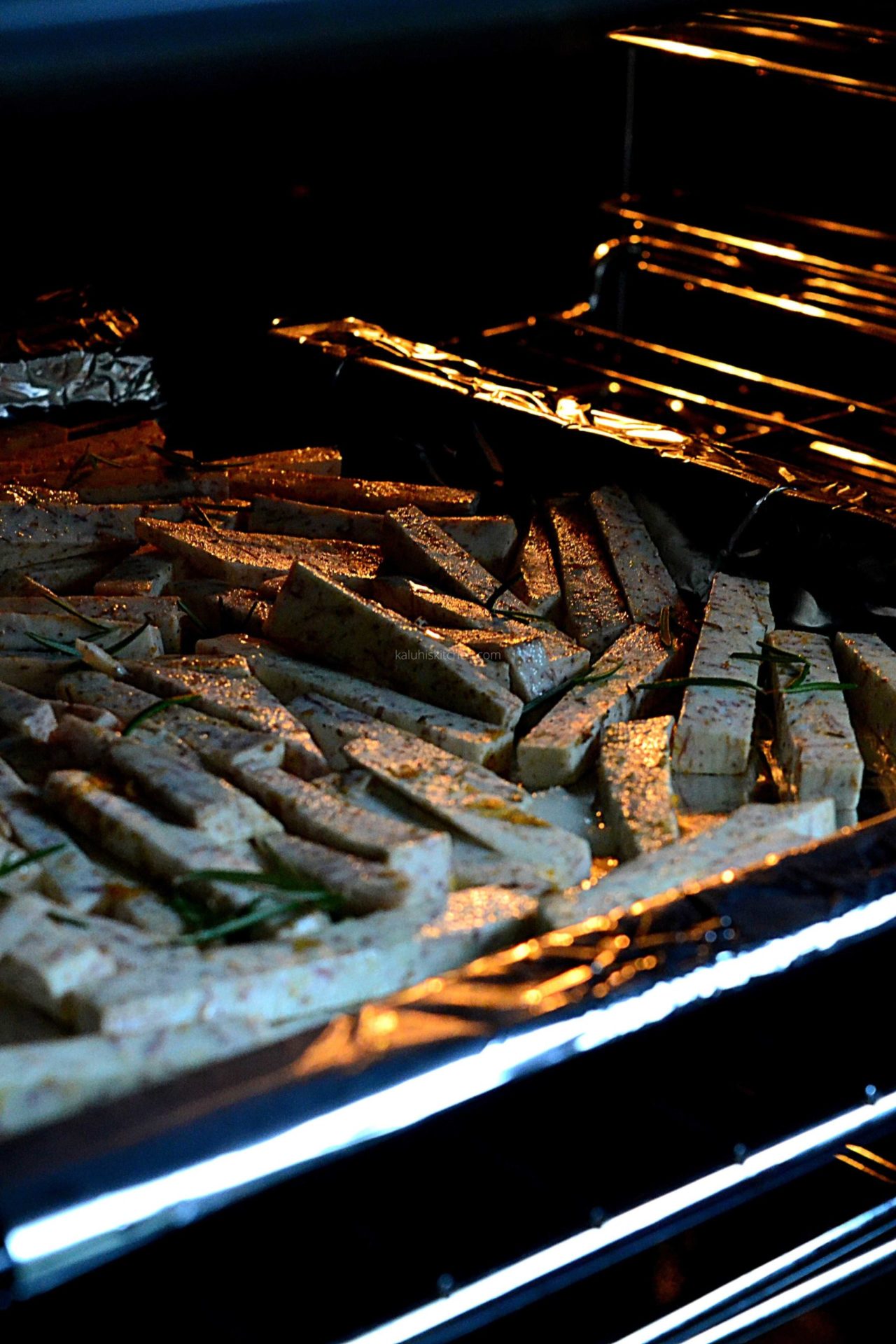 As that is going, prepare the aioli.
An aioli is a sauce/dip that has base ingredients of oil, eggs and garlic. The name may sound intimidating but it really is straight forward to make. To cut through the time taken to make it, we swap oil and eggs and grab mayonaisse instead (which is made form oil and eggs anyway!)
Garlic is a key ingredient for any aioli. You can use fresh garlic, however for this I chose to use roasted garlic instead. Roasted garlic has a richer flavor. To prepare the roasted garlic, just cut off the top of the bulbs and place them over some foil.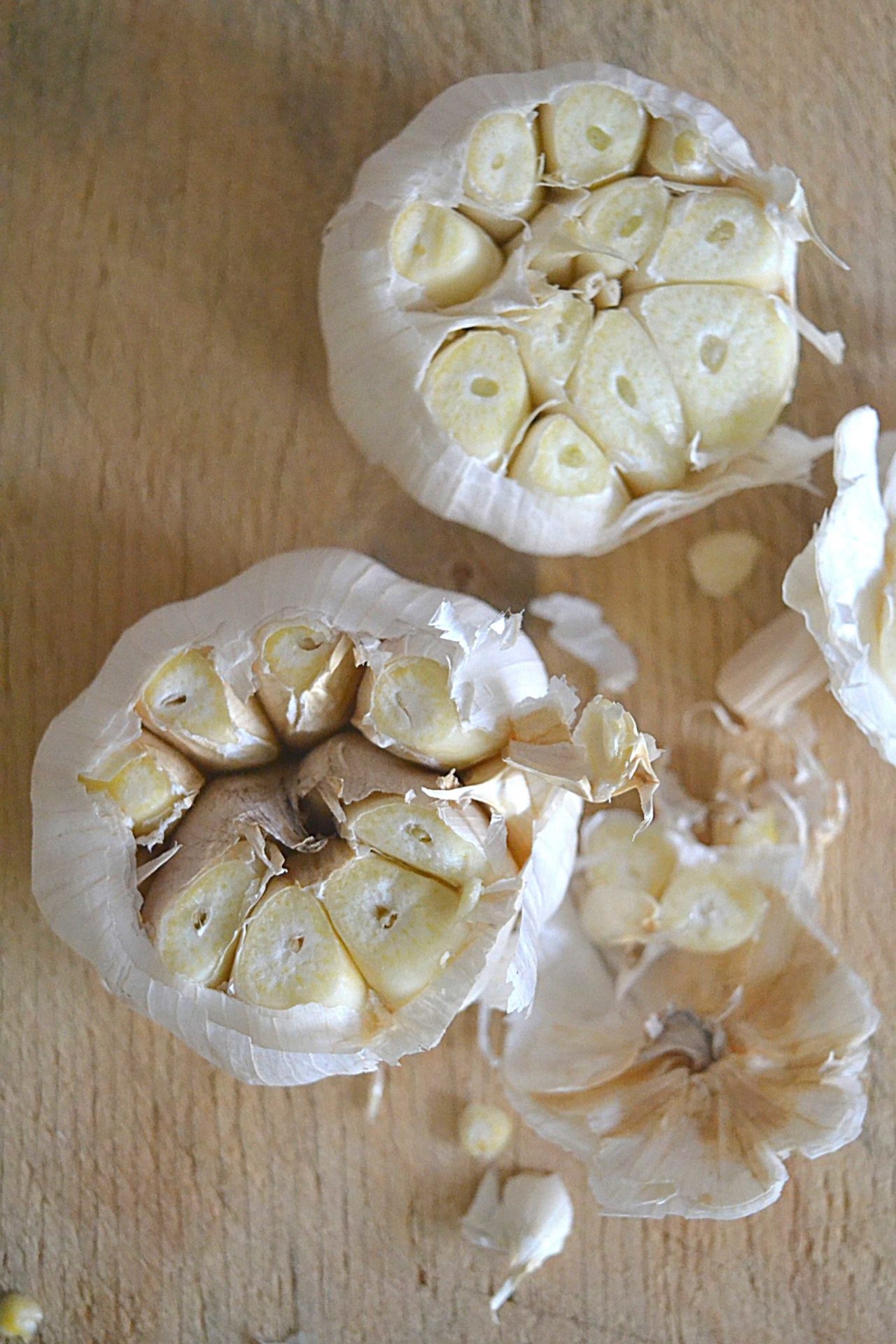 Douse them with some oil, close them in the foil and let them bake for about an hour at 150c. You can watch the process from 4.36 – 4.55. Once they are done, the color will be slightly tan, and the garlic will be very very soft, almost spreadable.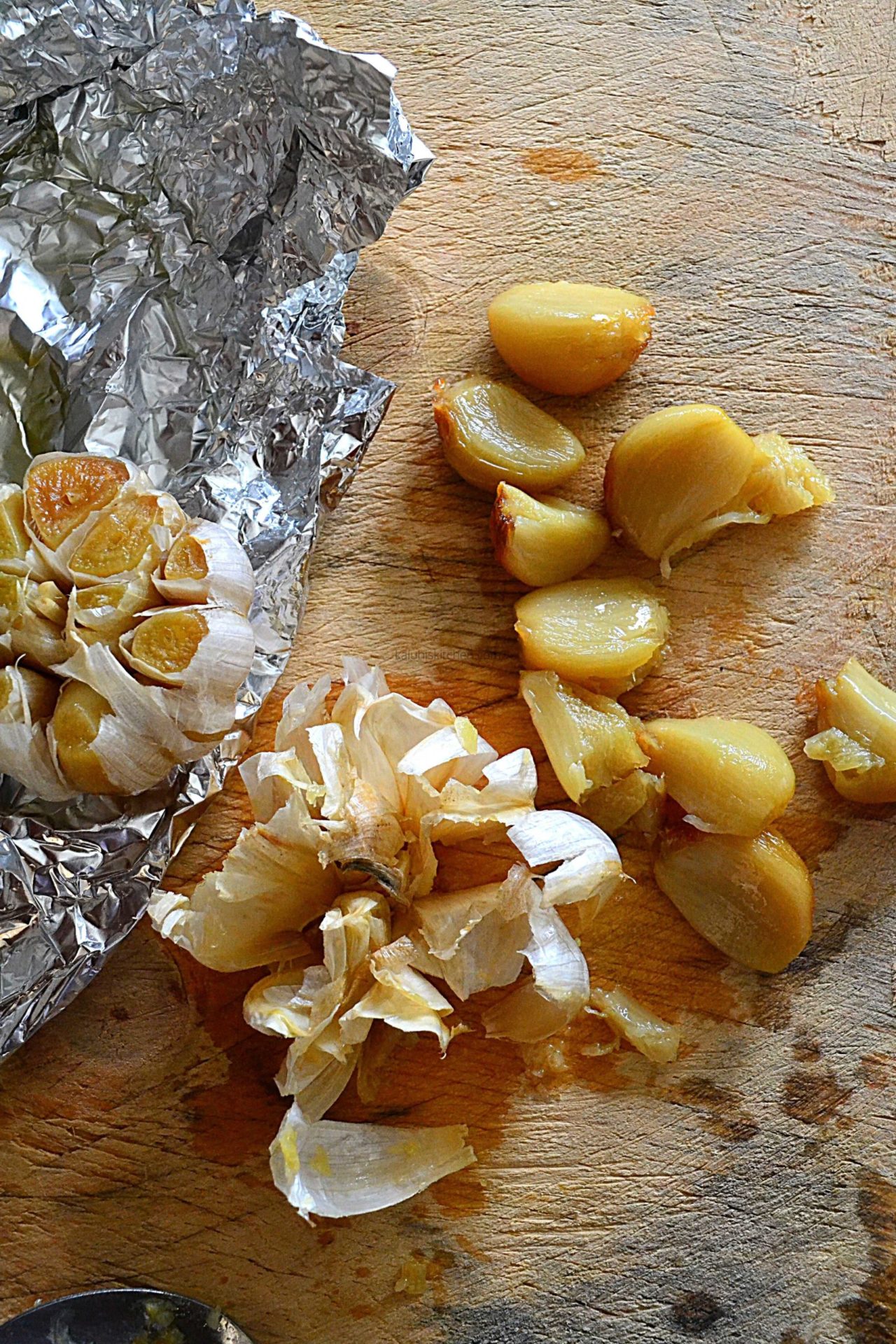 I always roast my garlic in large batches and in advance then I store them in my freezer. When I need some I just retrieve some. I advice you so the same.
So for the aoili, place your mayonnaise into a bowl. Add the very very finely chopped chives (bought mine from Carrefour at 19bob a bunch), the zest of your grapefruit, the roasted garlic and then your salt and pepper. Add your grapefruit juice, a little at a time until the aioli is as thick as you like then you are done. You can see the viscosity of mine from the video at 5.44.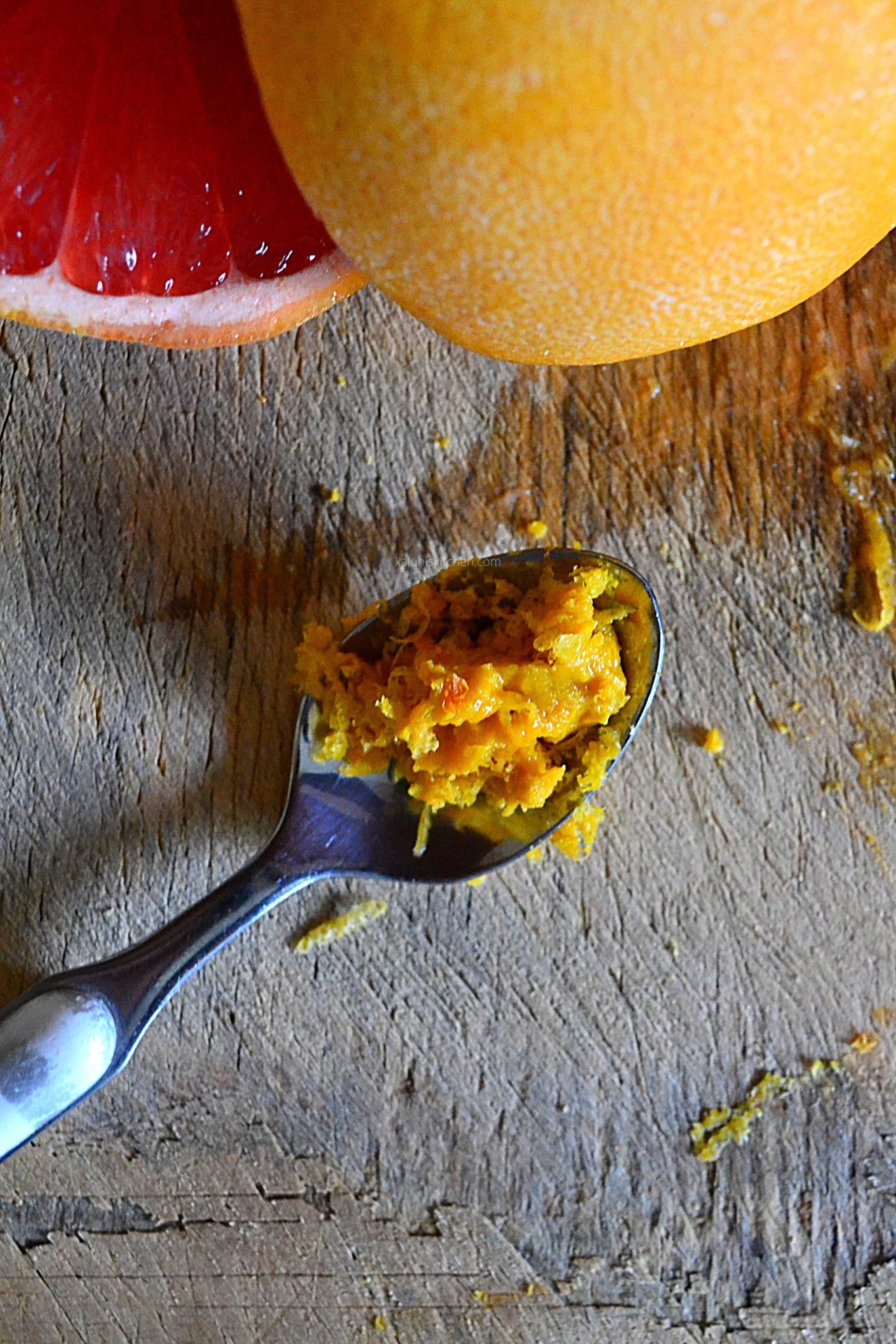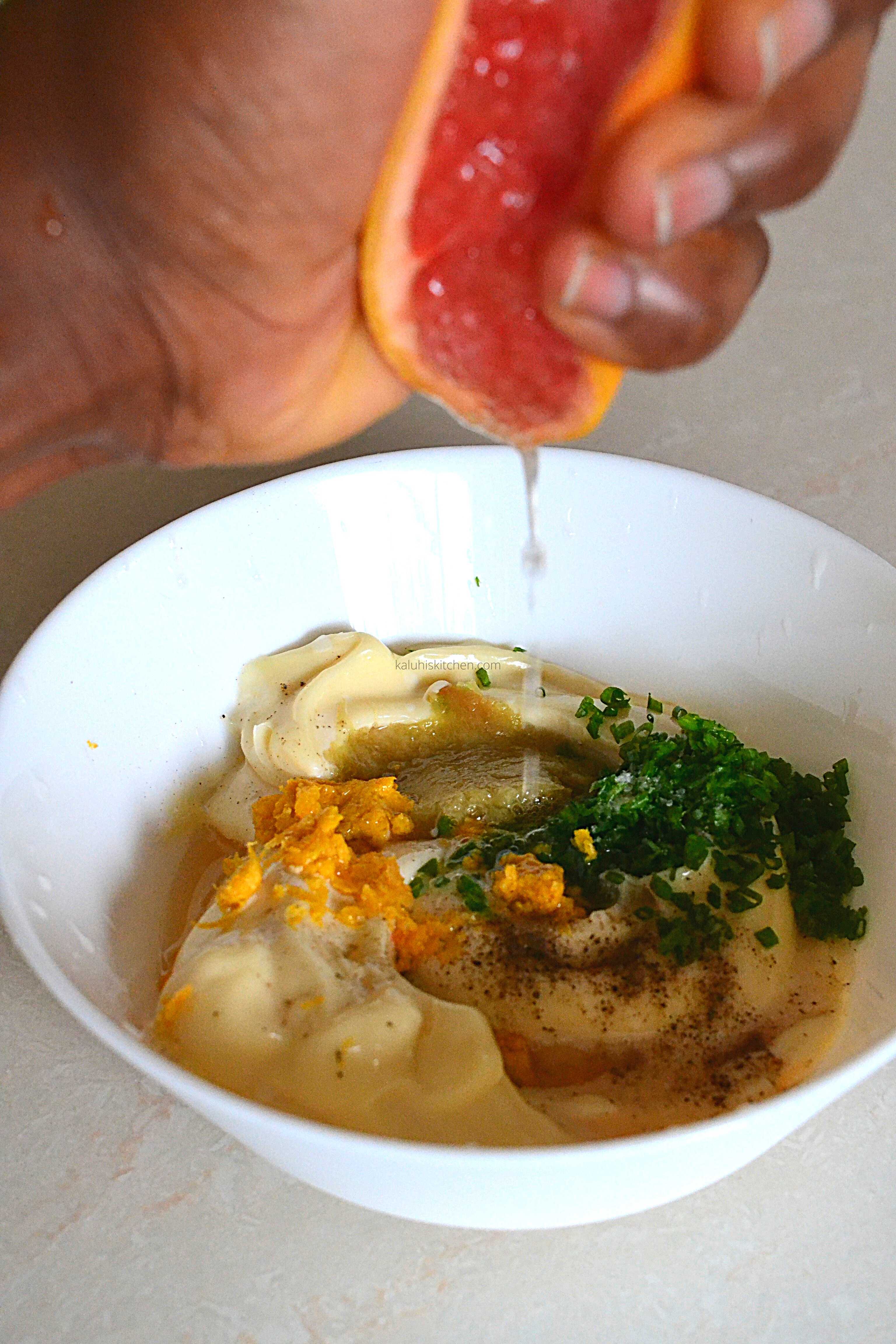 In place of grapefruit, oranges would be divine for this as well. Besides fries, you can enjoy this aioli as a dip for your fish & chicken fingers and as a sauce for your grilled fish.
Set the aioli aside and once your nduma fries are done, serve those two together. Perfection! Completely out of the box and very delicious too!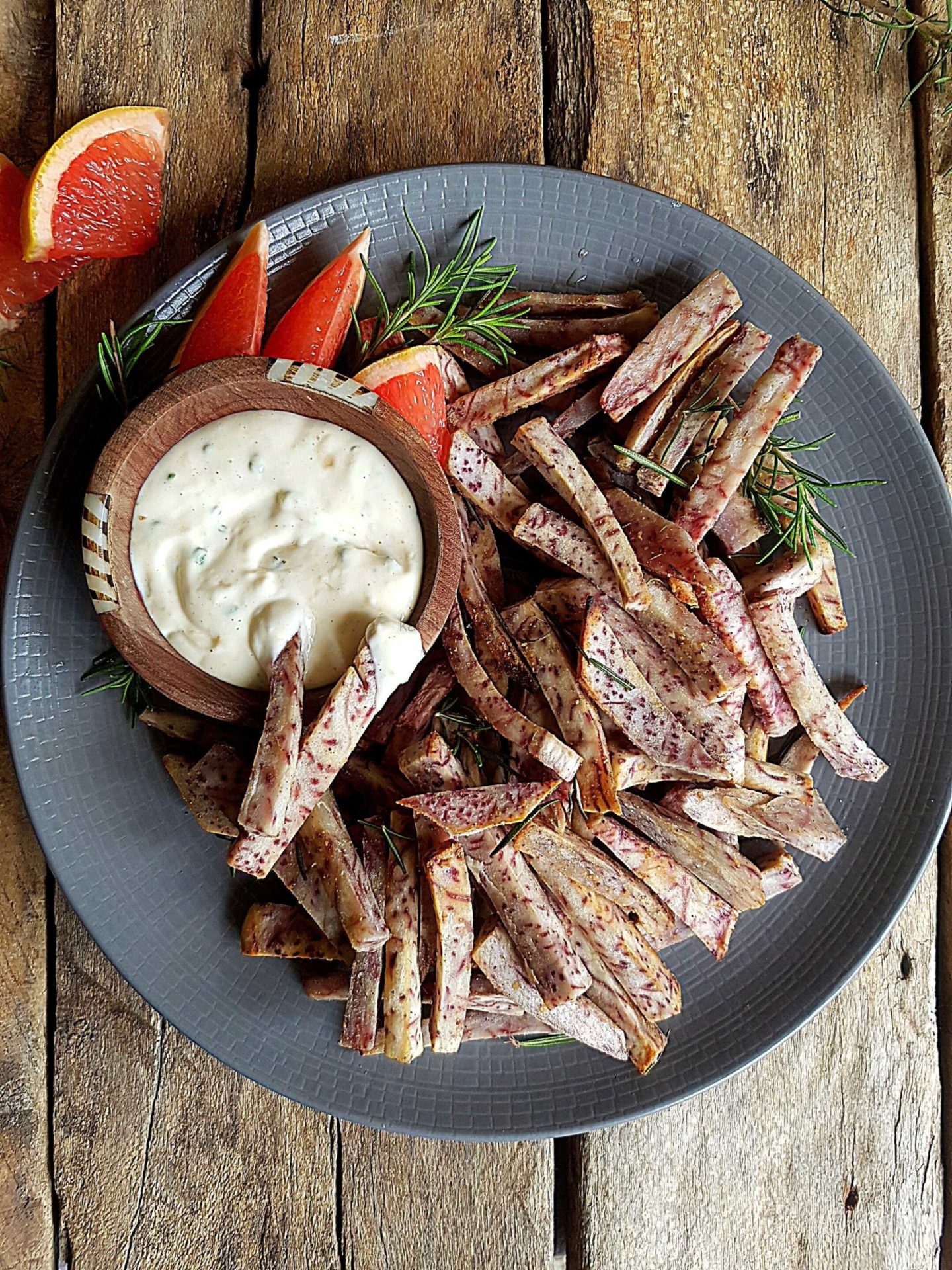 Both my sisters and I really loved this one. And let me tell you guys, if my sisters say something I prepared was delicious, trust me it really is! The flavor of the cumin and the ginger were the most prominent notes for the fries and they went so so well with the citrus flavor of the aioli. The nuttiness in the fries as a result of the coconut oil really popped and wove in to the creaminess of the aioli body. The nduma fries were crunchy on the outside, soft on the inside and made for a delightful bite after bite!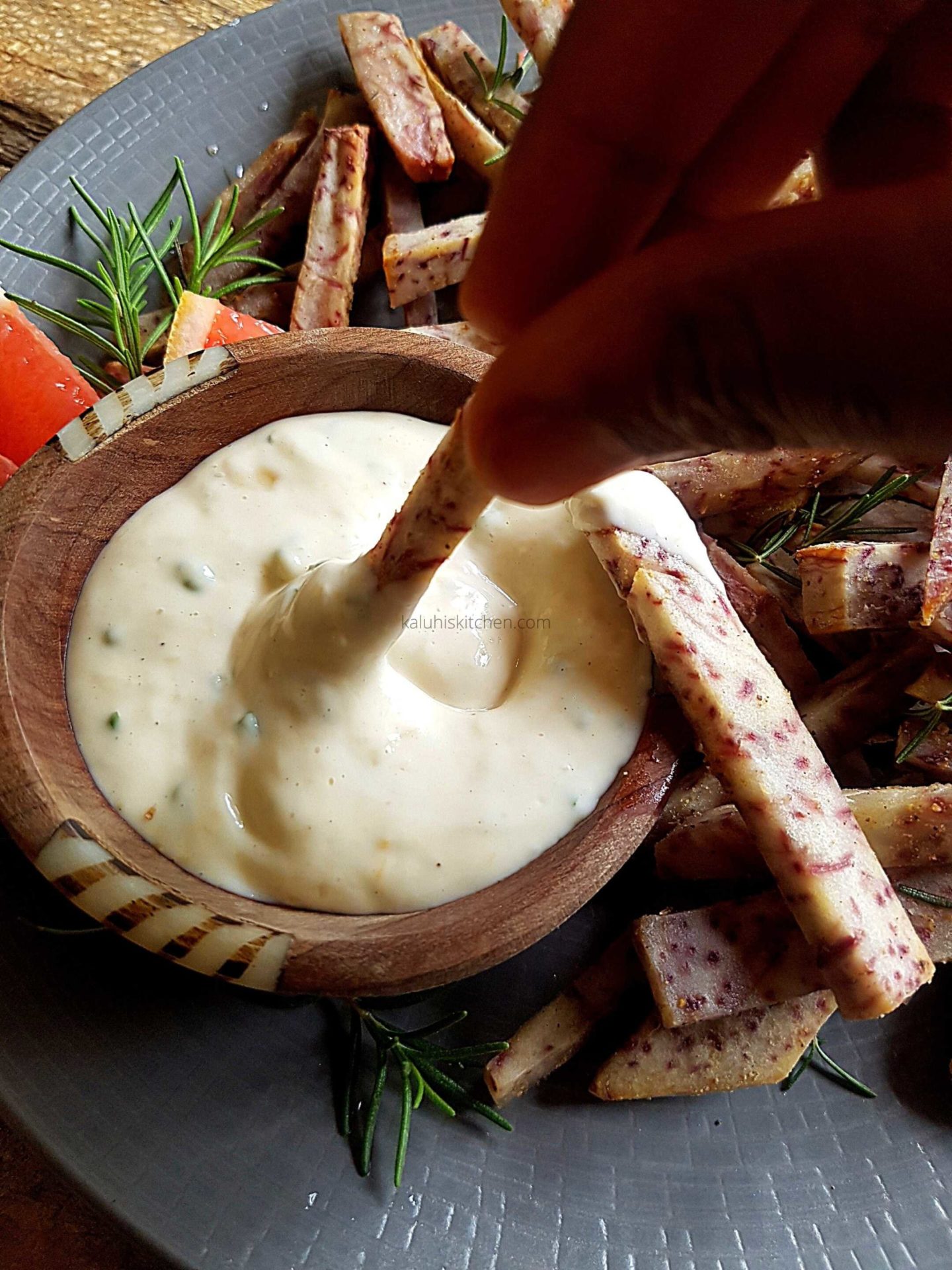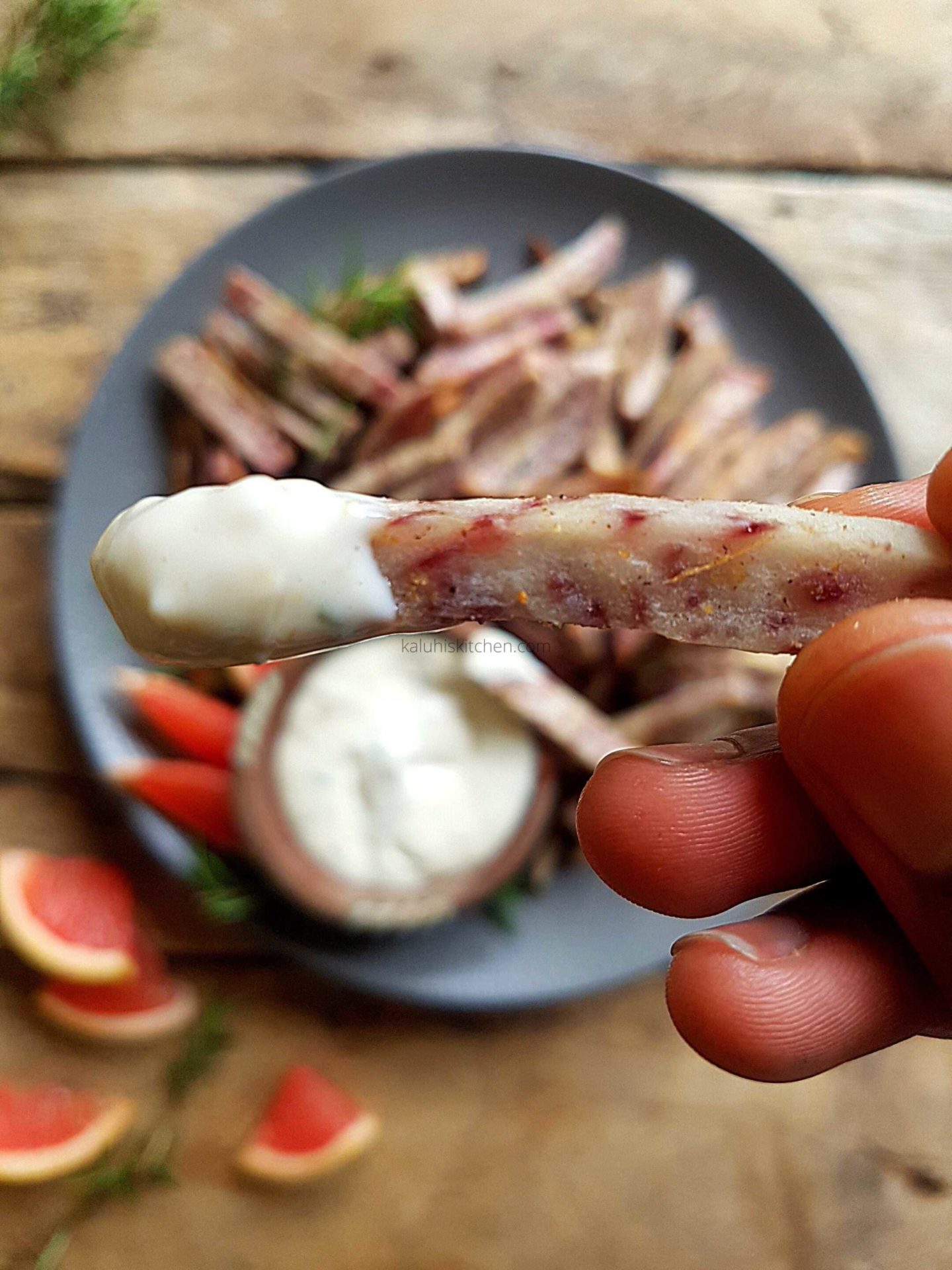 As I mentioned in the video, always be keen to step outside what you are used to and try something new! The world is a melody of flavors and you would do yourself a favor by trying out, eating and experiencing new things. I hope you loved the read and enjoyed the complimentary video as well!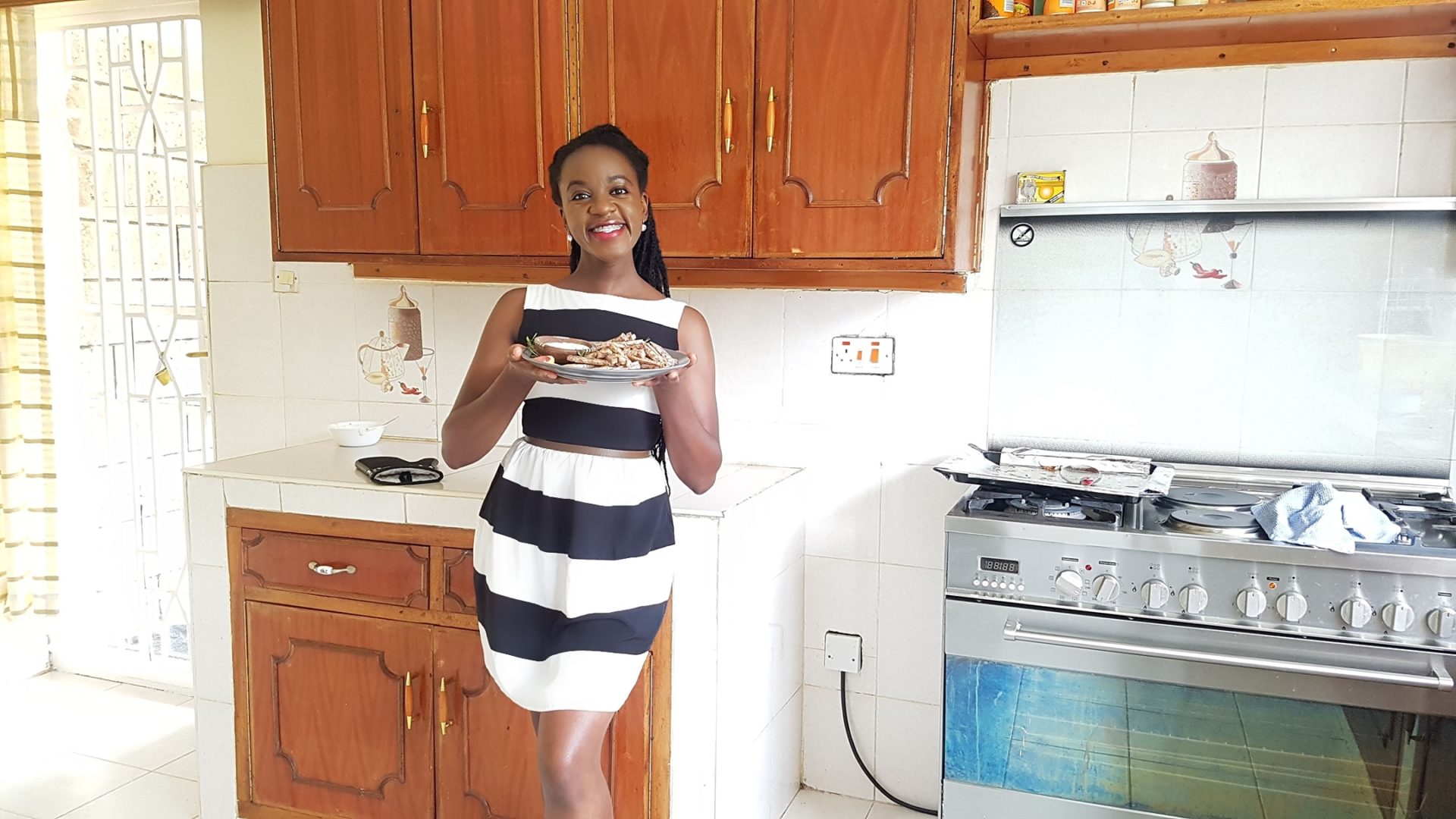 Have a delicious Wednesday!
-K
---
Get your downloadable recipe here :))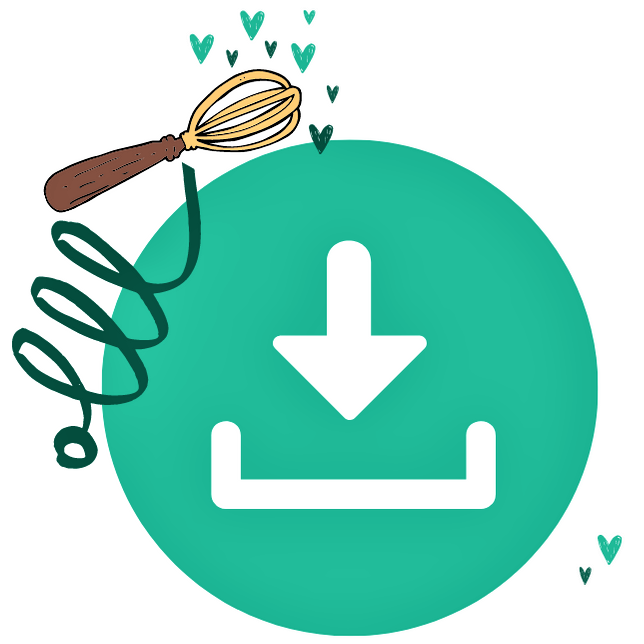 ---
All content and images are copyright protected by



Do not copy in part or whole without giving due credit.
---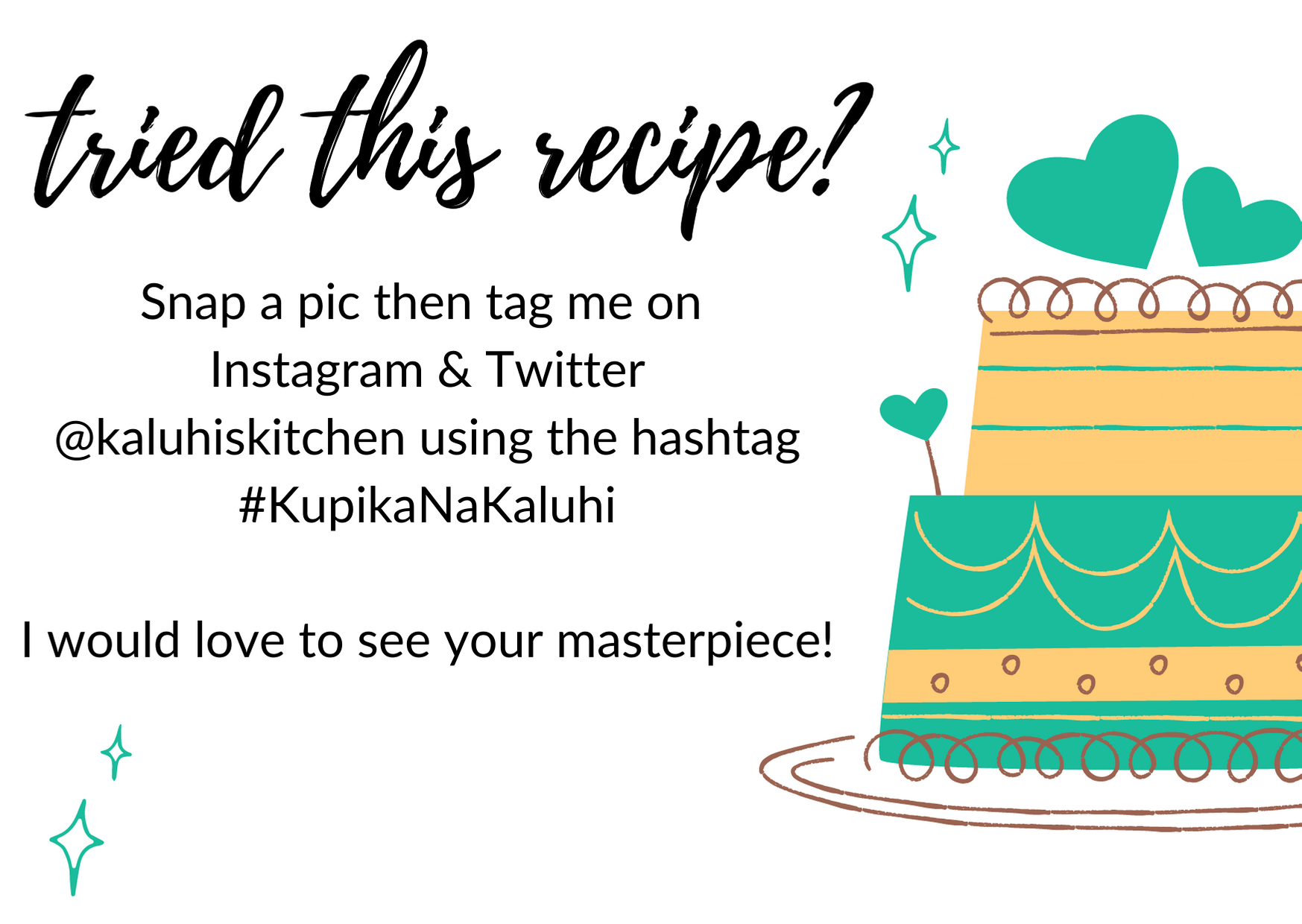 ---