Starch ingredients are so versatile in the kitchen because they can be transformed into so many dishes, each one having its very own character and unique taste. One of my favourite starches to cook with are potatoes because you can make nearly anything with them in a relatively short amount of time.
I have made potato cakes, which I was a bit nervous to make since it was my first time. Heaven shined on me and they turned out perfectly! The potatoes were boiled with whole cumin seeds, and their taste really comes through. The exterior is  crunchy because of the bread crumbs, while the interior is nice and soft. This is super easy to make and I hope you will give this a try.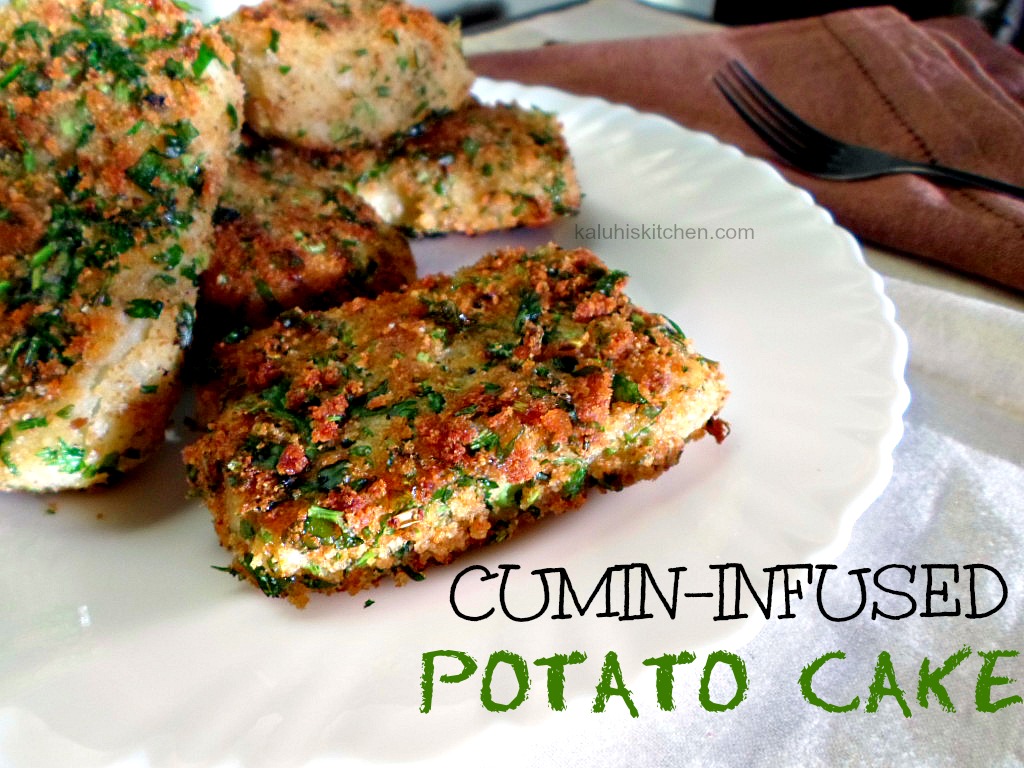 Ingredients:
2 eggs
1 cup of bread crumbs
1 bunch of finely chopped coriander
1 teaspoon of cumin seeds
6 large potatoes
Salt
****
I got my breadcrumbs from the bakery section of Nakumatt, and I am sure you can get them in any supermarket. They cost between ksh.100-ksh130 (approx. $1.50 ), and I believe that will not dent your purse/wallet :). However you can make your own bread crumbs at home by putting some slices of bread in an oven at 180º for about 4 minutes, then when they are stiff, put them in a food processor at high speed, and with that, you have your bread crumbs.
****
Method.
Peel your potatoes and cut them into wedges. Put them in your sufuria, add some salt and your cumin seeds and let them boil until they are just soft. Mash them, but do not let them become creamy like the ones we made here because that will make it hard to mould them. Let them have the stiffness of ugali or doughnut dough.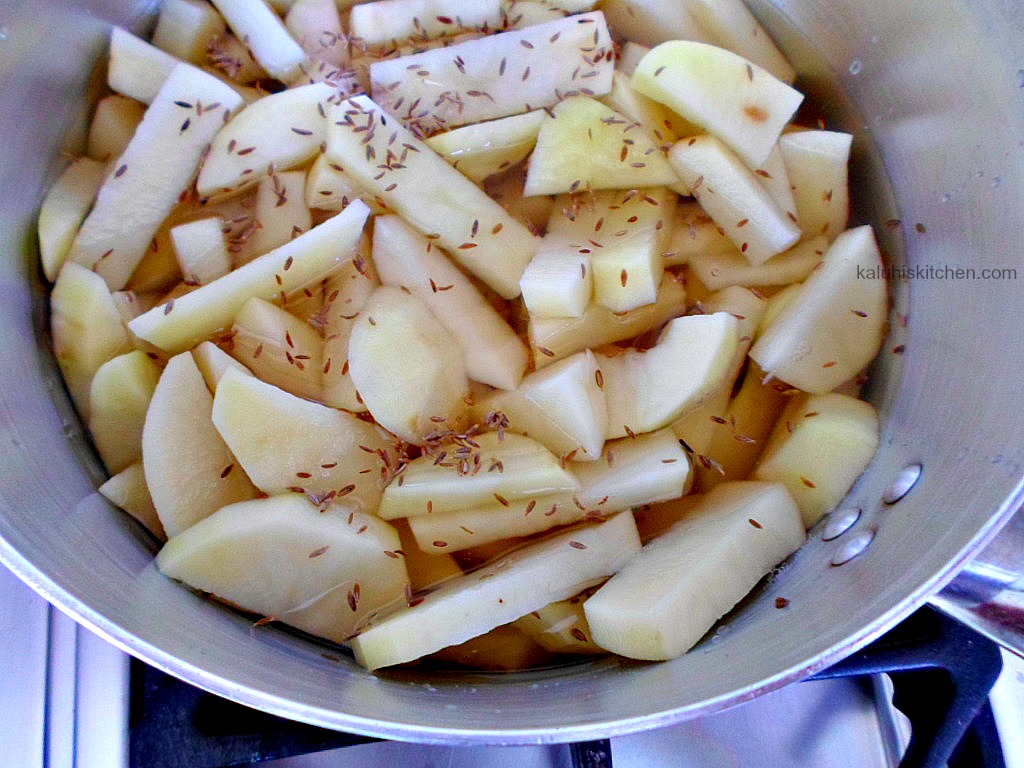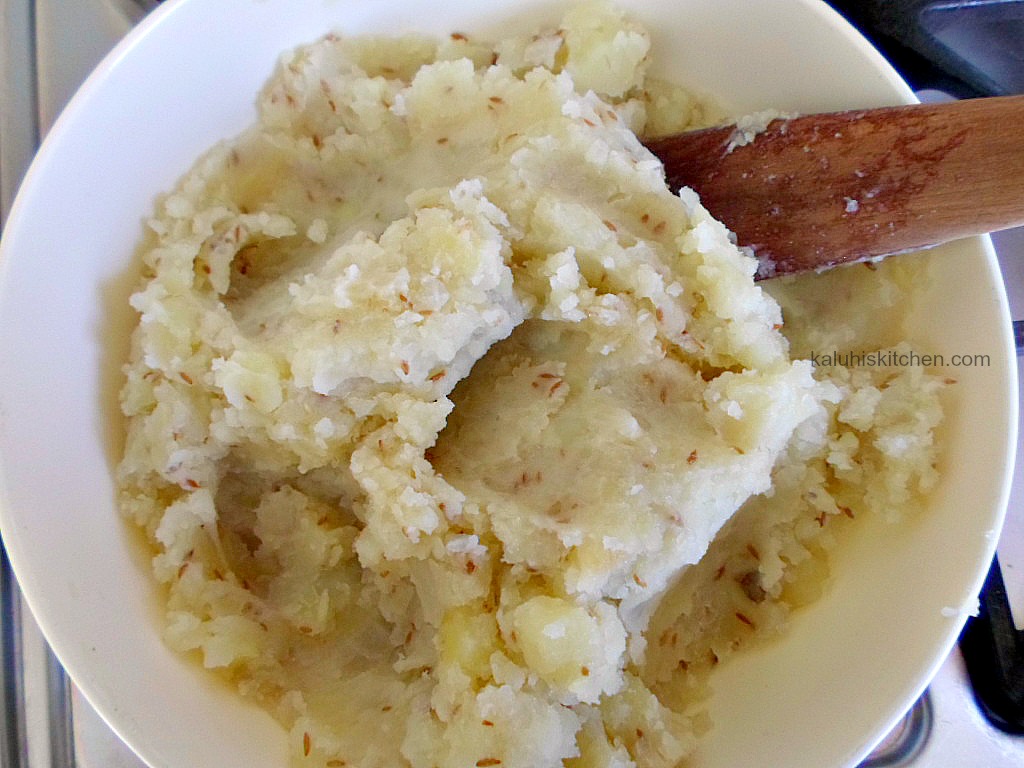 Put them in a bowl and set your working station. Beat your eggs, then on a separate tray mix the bread crumbs with the chopped coriander.Take some of the mashed potatoes and mold them, then dip them in the beaten egg, roll them in the bread crumb mixture until they are completely coated them set aside as you wait to fry them.
I prefered mine to be rectangular, because I found making good looking circles would be hard.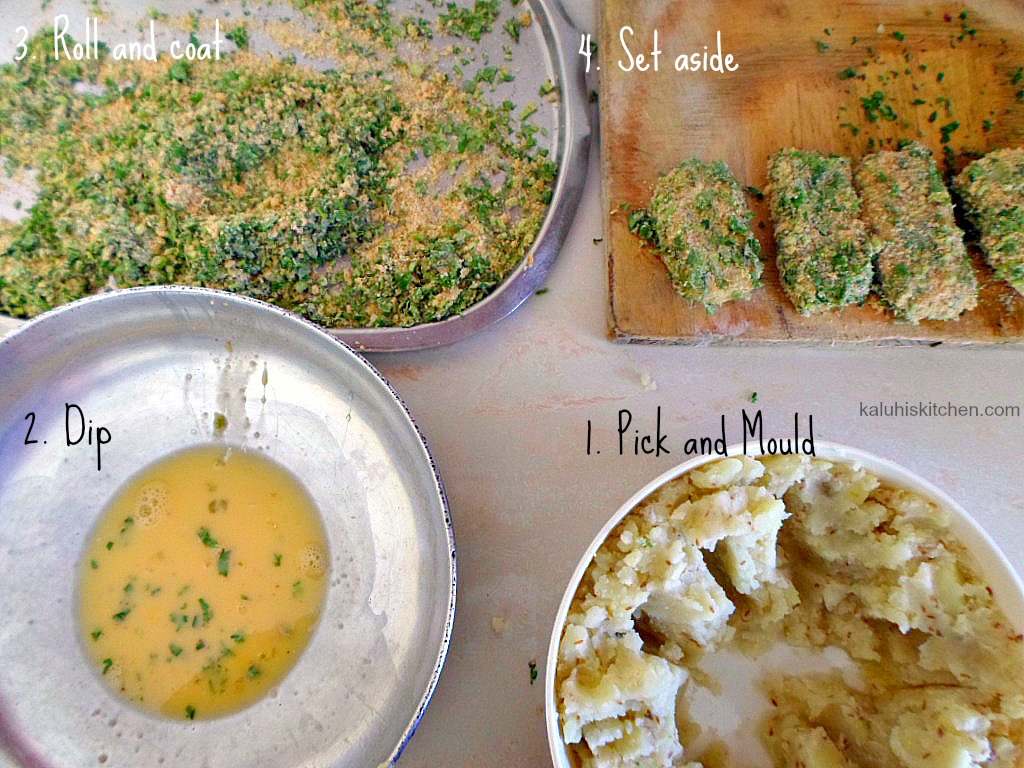 Heat your vegetable oil and when it is hot enough, begin frying. Allow two minutes on each side or at least until each side is golden brown.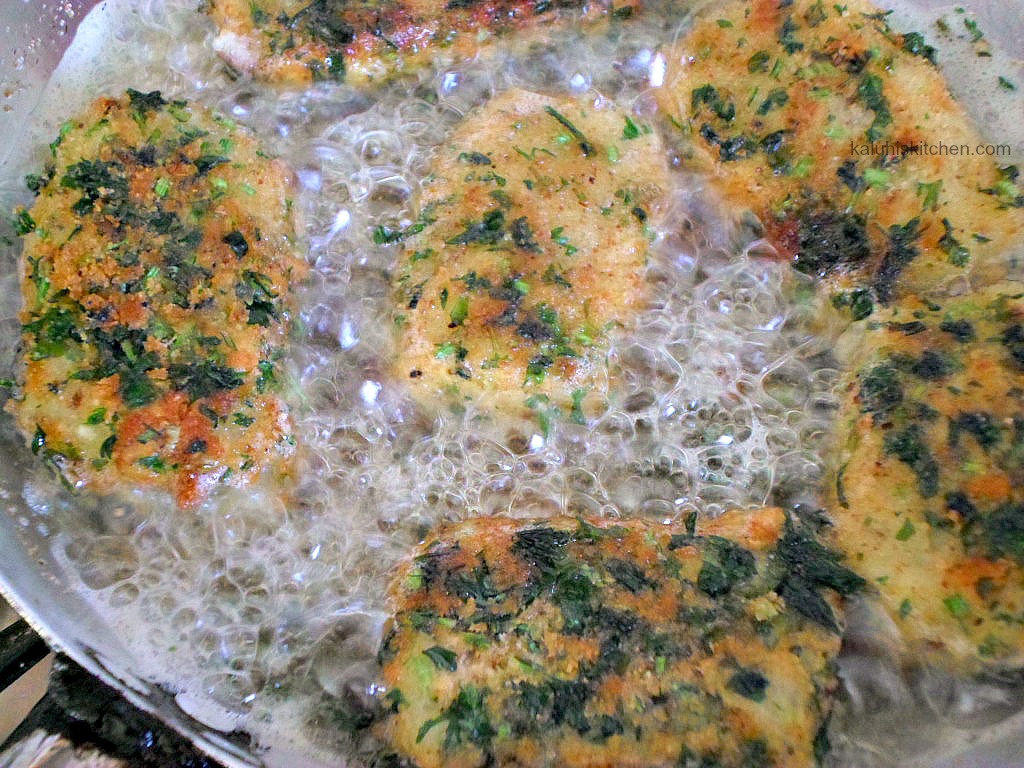 Remove from heat, drain excess oil on a paper towel them serve warm.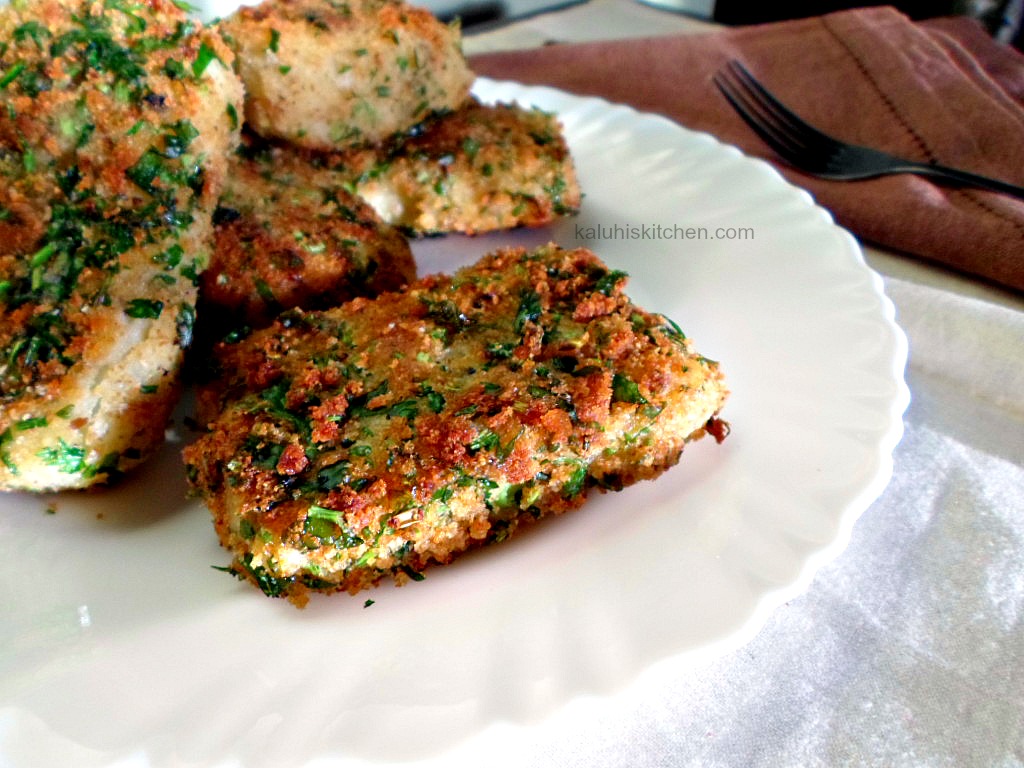 Perfect combination of soft interior and crunchy exterior with the aromatic smell of whole cumin will make these potato cakes the talk of the town.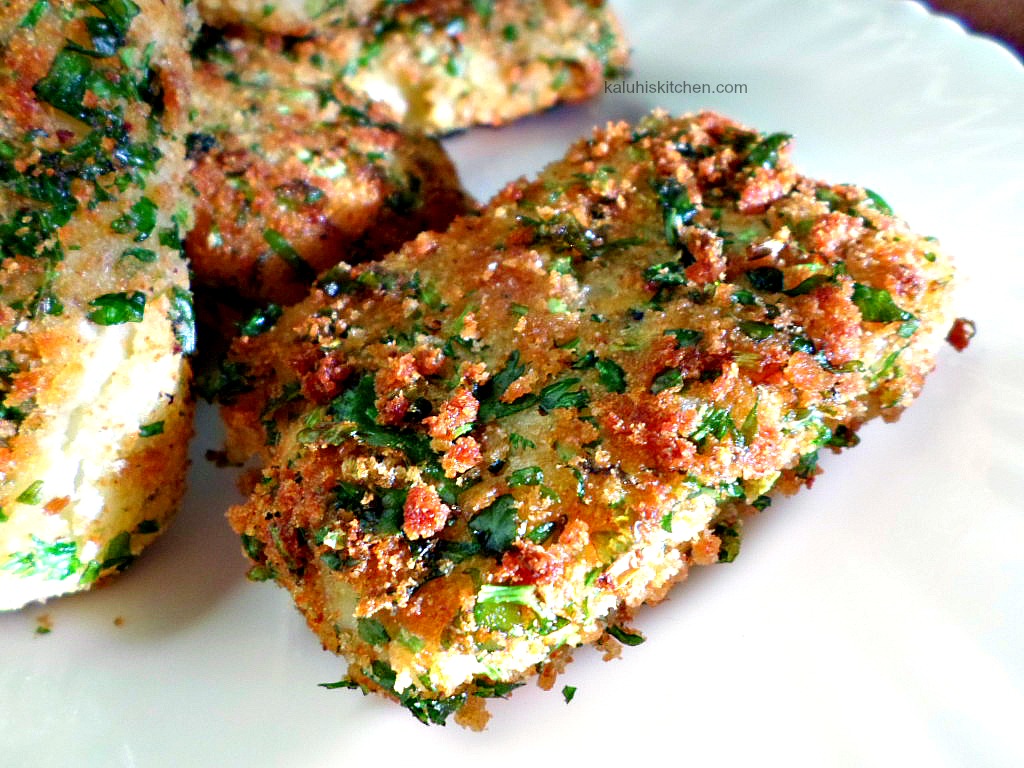 Without doubt, everyone in the universe would fall inlove with this dish. Give your family an unforgettable meal, make them these potato cakes!
Peace and love,
Kaluhi
---
Download the recipe and try it 🙂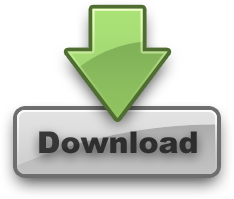 ---
All content and images are copyright protected by


Do not copy in part or whole without giving due credit.