I love oats as a quick breakfast. I personally don't find them bland- I love their simple flavor when I make them with just milk on a busy morning and also deeply enjoy how well they take up flavor of other ingredients I decide to pair them with. I love my oats with a fruity element- often a compote- and today I made one with what we the Maragoli call Zinzagaya (cape gooseberries).
I ran this past you guys on Twitter and I got to learn they are pretty common throughout Kenyan tribes, not just mine. The Kikuyu call them Naathi, the Kalenjin call then Cheloliit and the Kisii call them Chinsobosobo. So regardless of the part of the country you are reading this from, you will totally fall inlove with this breakfast beauty!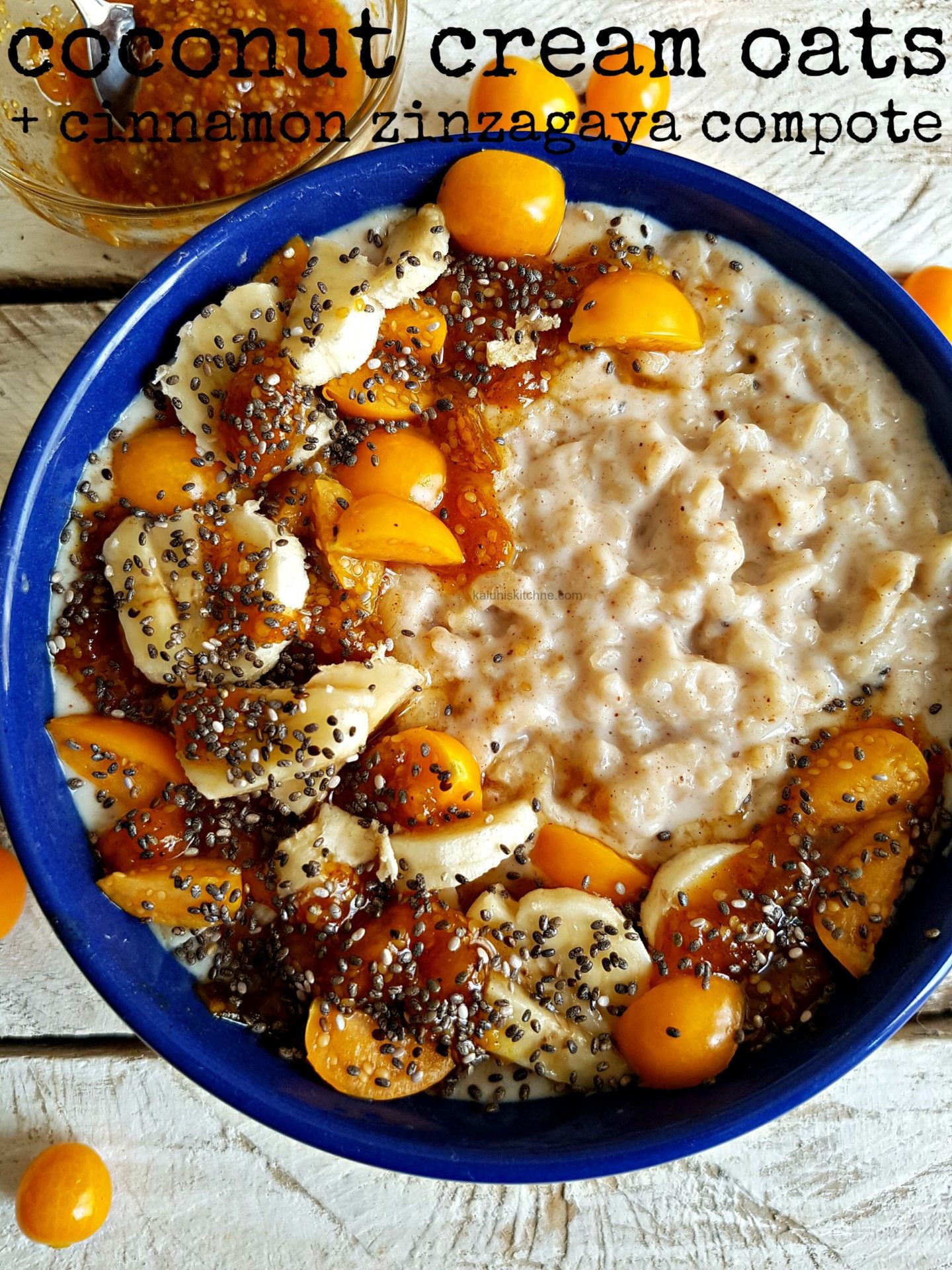 I made a dope vid to accompany the blog post. Do watch below, and subscribe!

PREP TIME: 15 min COOK TIME: 10 min SERVES: 2
Ingredients
For the oats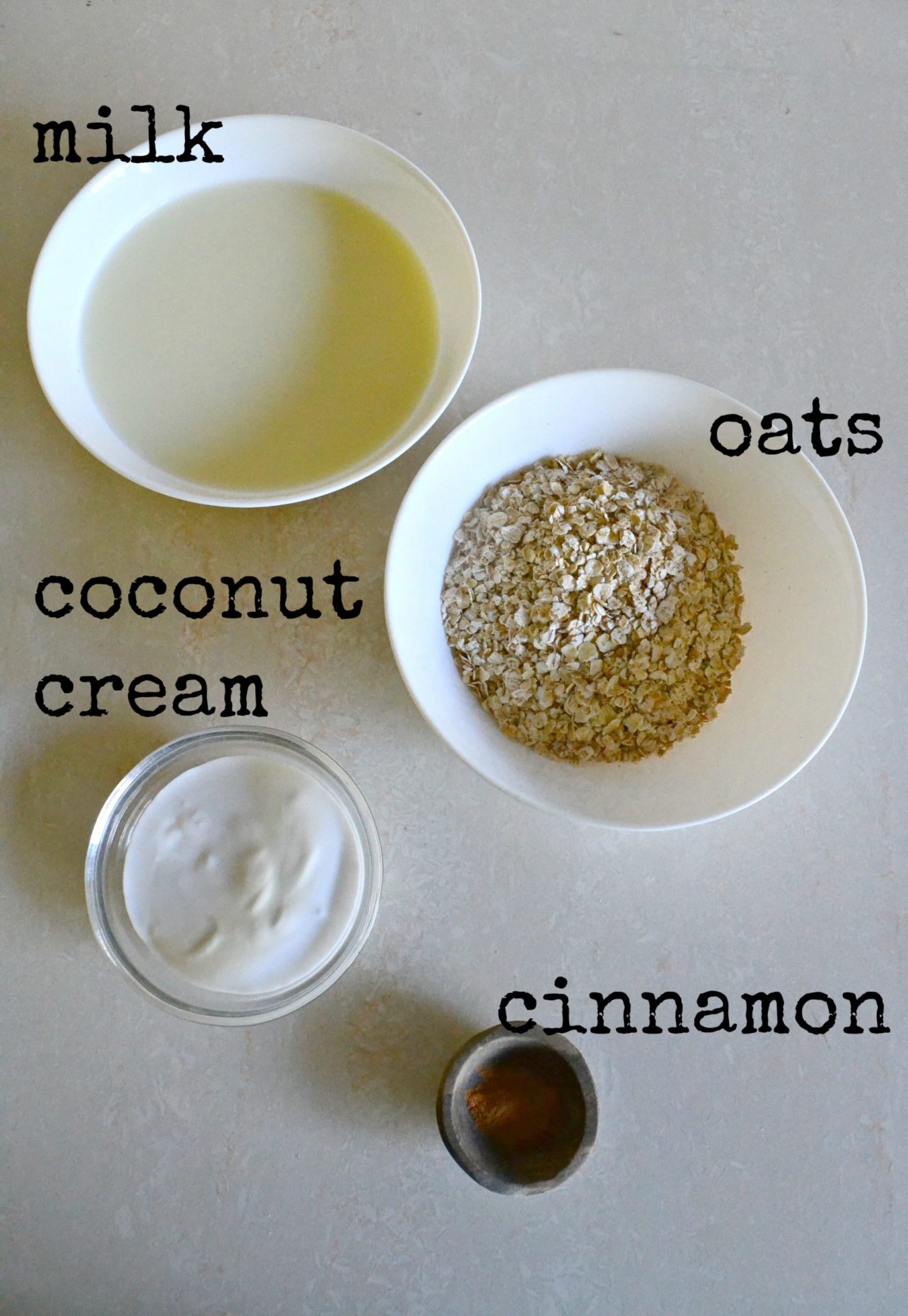 2 cups of milk
½ cup of coconut cream
2 tablespoons of sugar
1 cup of rolled oats
½ teaspoon of cinnamon
For the compote
½ a cup of cape gooseberries
¼ teaspoon of cinnamon
½ teaspoon of iliki
2 tablespoons of honey
1/3 cup of water
½ teaspoon of ginger
Method
Begin by preparing your compote. Add the zinzagaya (cape gooseberries) into a sufuria, along with all other ingredients. Give it a mix and then let it simmer for 10-15 minutes.
In place of seasonal cape gooseberries, you can use raspberries, or strawberries or any other berry. The preparation method shall remain the same.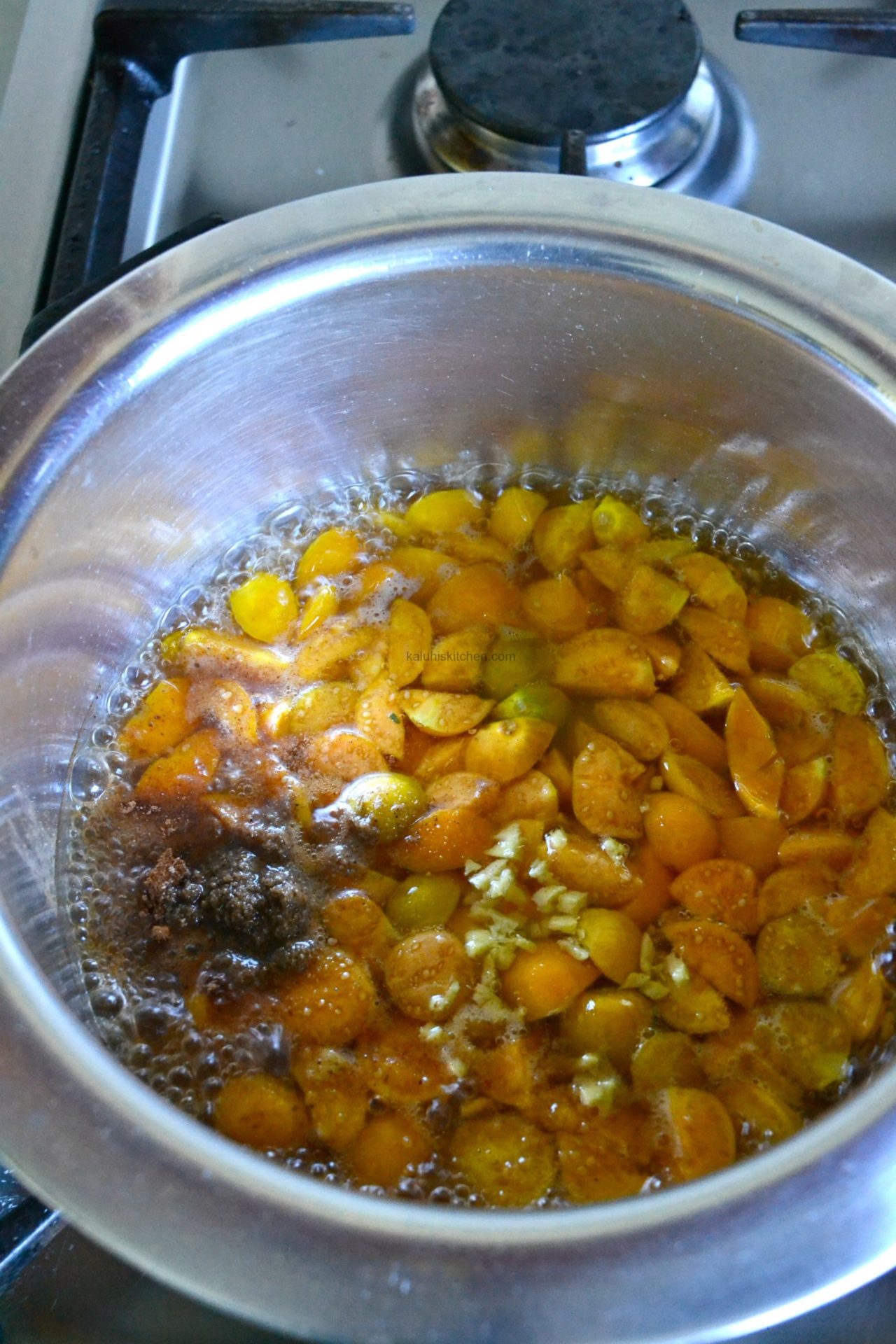 Keep on stirring from time to time. You will know that you are done once the mixture attains a thick jam-like texture as shown in the video at 2.06.
Set aside.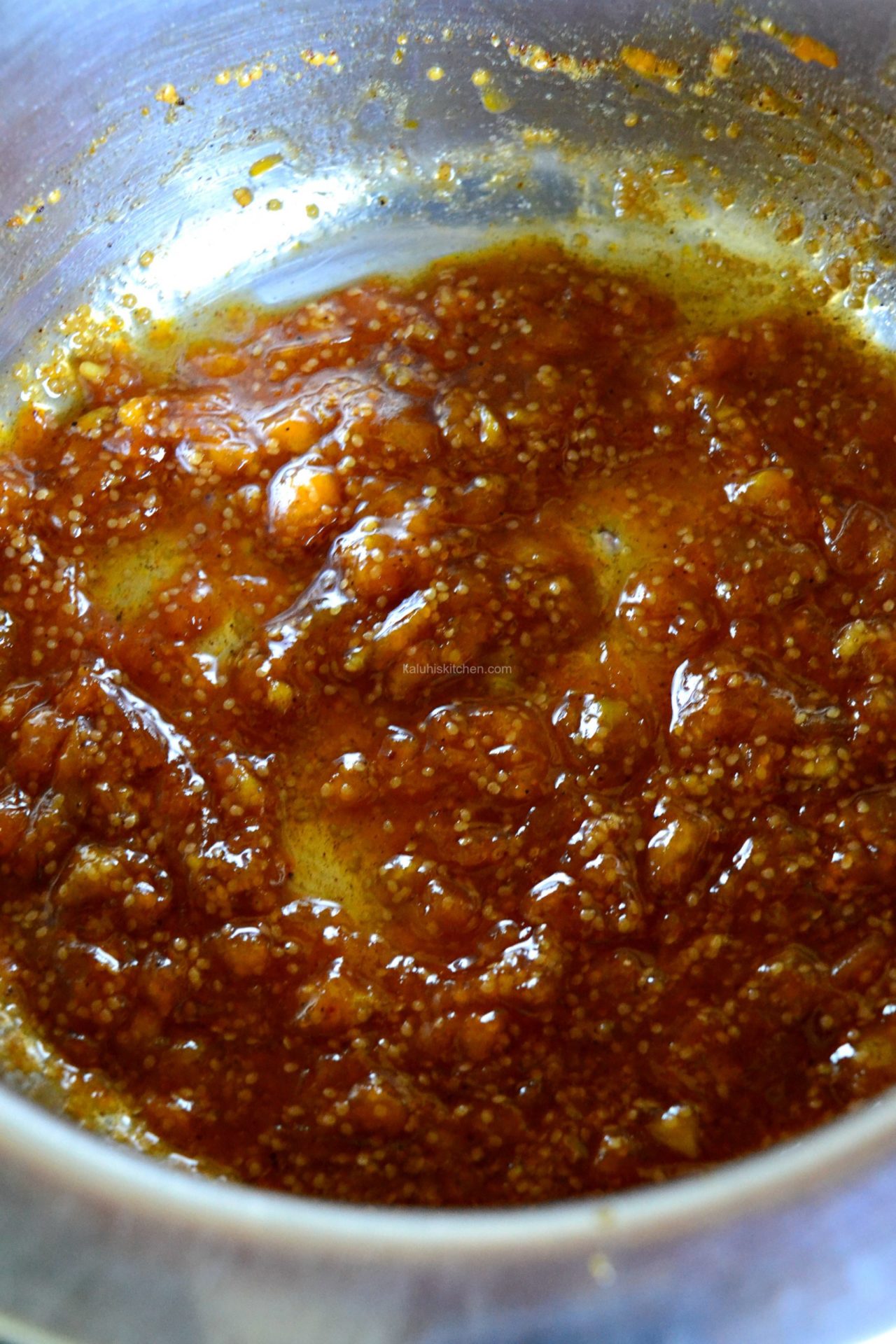 You can make a larger batch and keep a jar in your fridge and take it out each time you need something delicious to accompany your oats. Besides oats, this zinzagaya compote can go so well with other sweet things such as over fresh pancakes or even as a relish with savoury ones such as fish and pork.
Now, let us make our oats!
For the oats, we begin by placing the milk into your sufuria and then add some sugar and mix that in. You are free to adjust the sugar upwards if you prefer your oats much sweeter.
Once mixed in, add the coconut cream and then the cinnamon and then let this simmer on low for about 5 min. Cinnamon and coconut cream pair so so sooooo well and they do come to life in this recipe. You can get both in any well stocked supermarket. With cinnamon, a little bit goes a long way, so add just a little so that it's flavor is complimentary and not overpowering.
The common flavor note between the oats and the compote is cinnamon and that will make each bite beautifully in sync.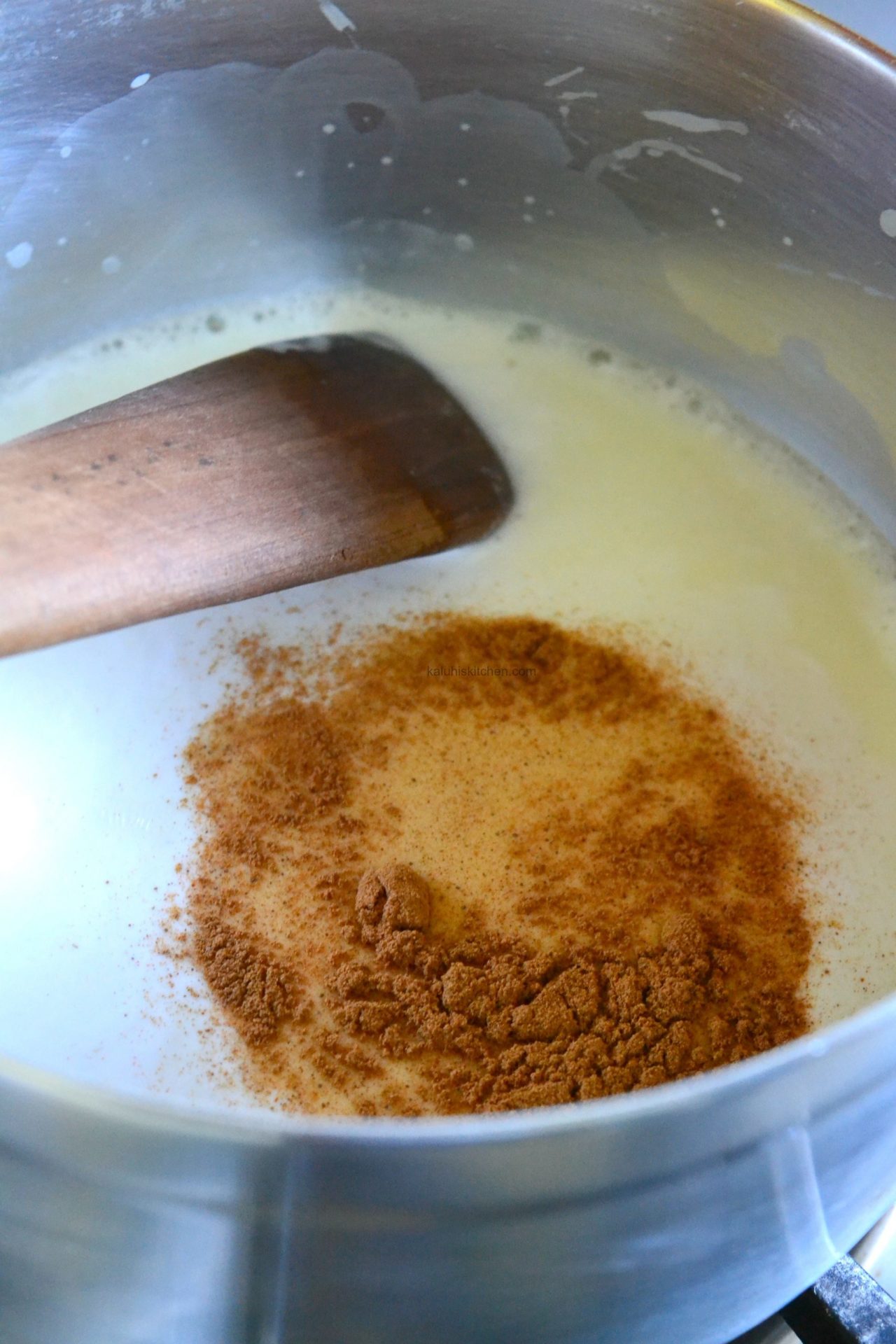 Once mixed in, add the oats, mix them in, then let this simmer for an additional 5 min!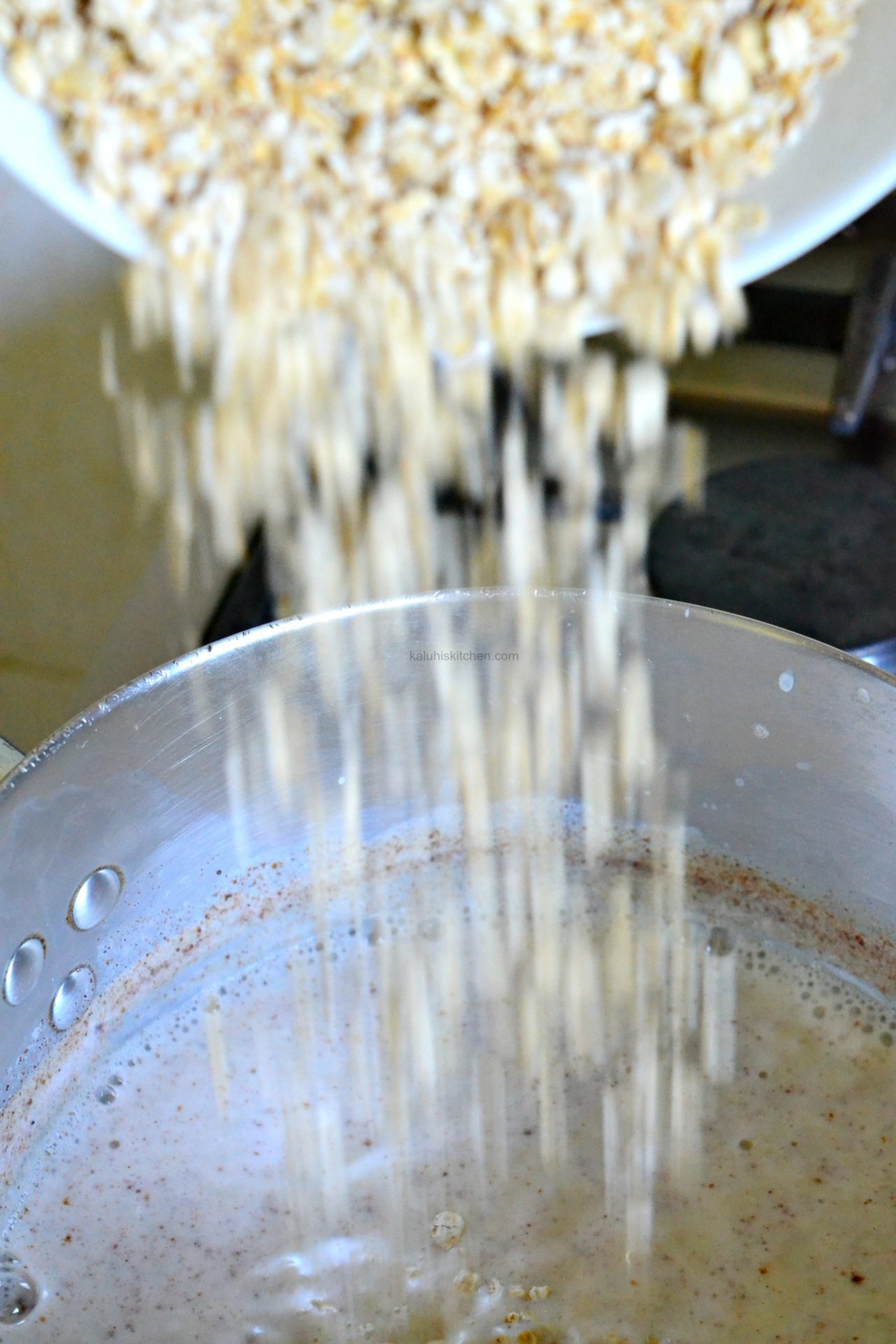 The aroma at this stage is beyond heavenly!!
Once done, ladle the coconut cream oats into a bowl. Then, garnish with the compote we have just made, followed by some sliced cape gooseberries to introduce freshness, then some sliced banana and lastly some chia seeds and we are ready for brekkie!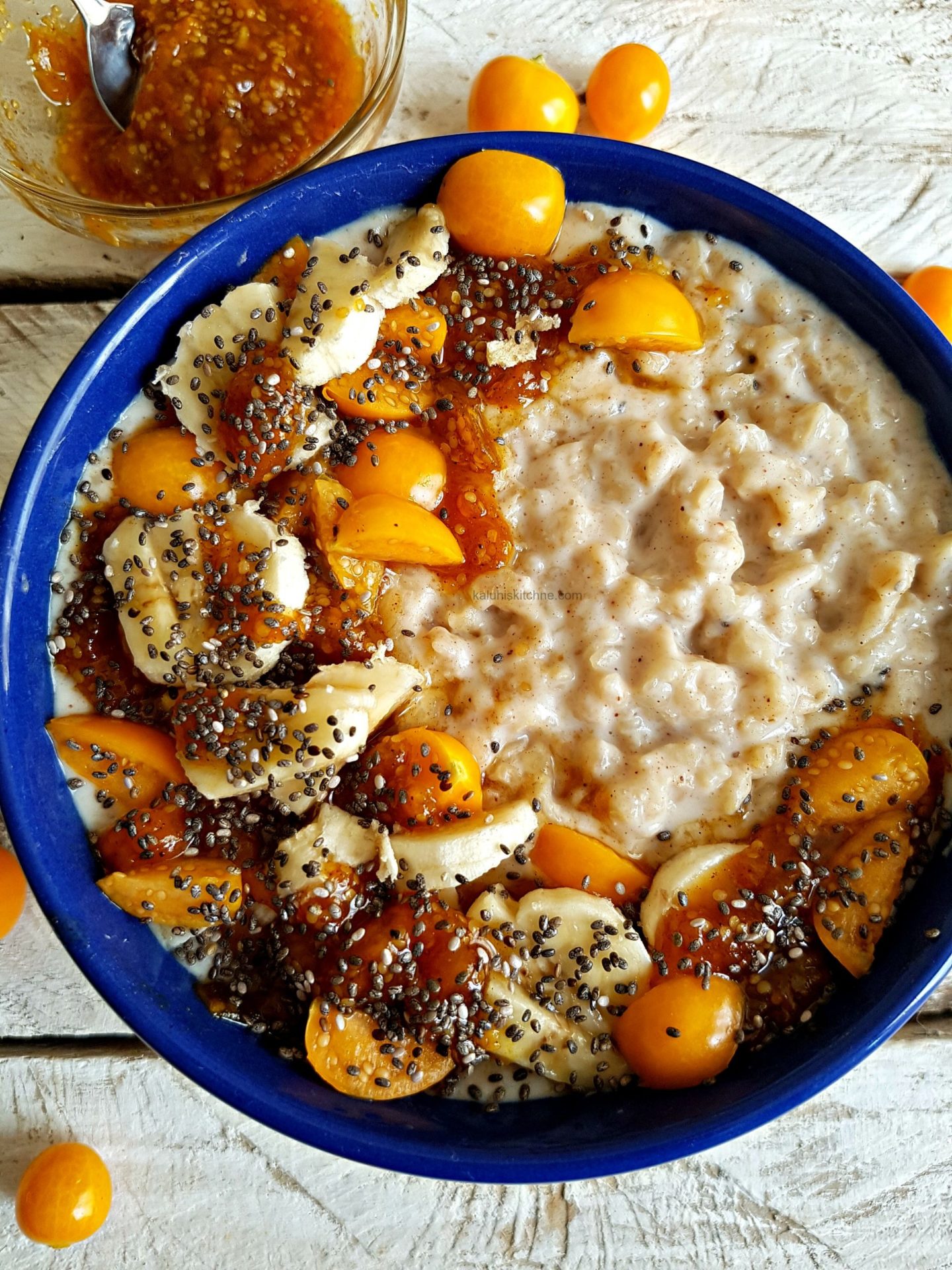 Isn't this simply gorgeous? If the pictures look too good to be true, I invite you to watch the video and see for yourself how making gorgeous oats are easy to put together.
I also promised you in the video that I would tell you exactly what this tastes like, so here we go. Imagine this as you read:
With each spoonful, I had both the oats and the fruity garnish. The flavor of cinnamon, that is both present in the compote and the oats bursts in your mouth as the first note. The nuttiness of the coconut cream ties in so perfectly with that of the oats. The warm, sunny flavor of our zinzagaya (cape gooseberry) compote and the sliced fresh whole ones really made this unforgettable.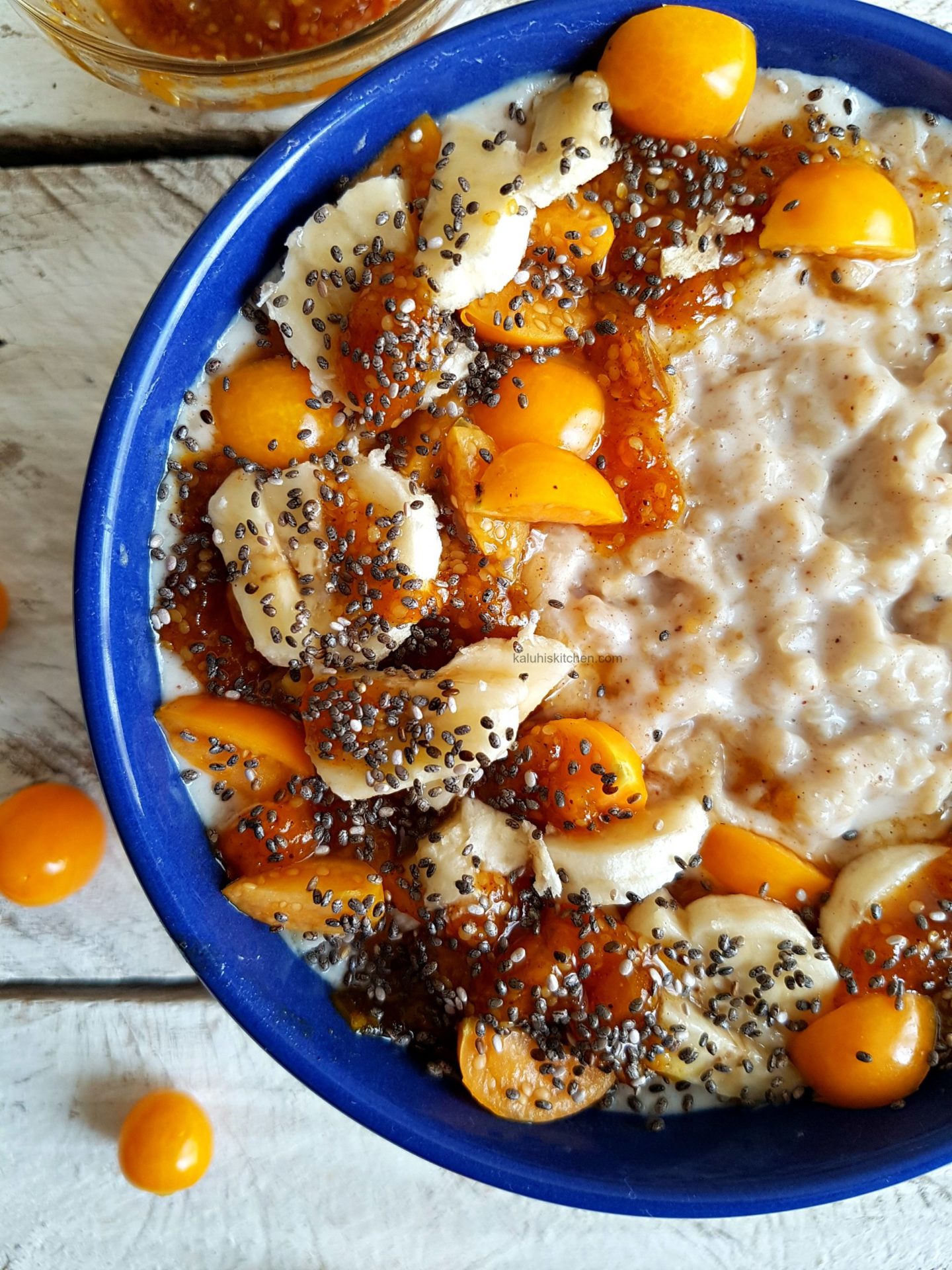 Who said oats are boring? Definitely not me!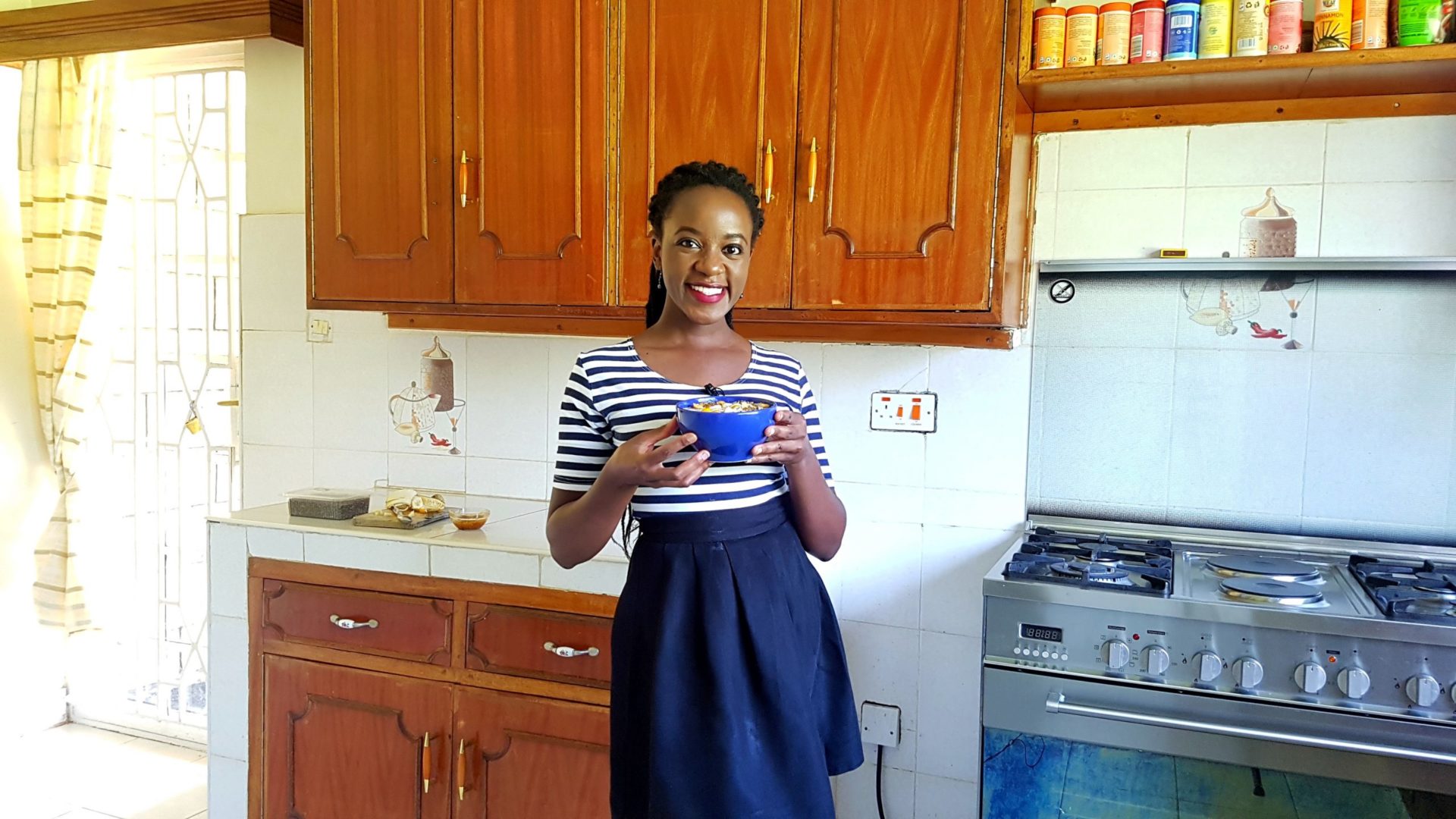 See you on my next delicious recipe next Wednesday my loves! I cannot wait for you guys to give this a shot!
xx
---
Get your downloadable recipe here :))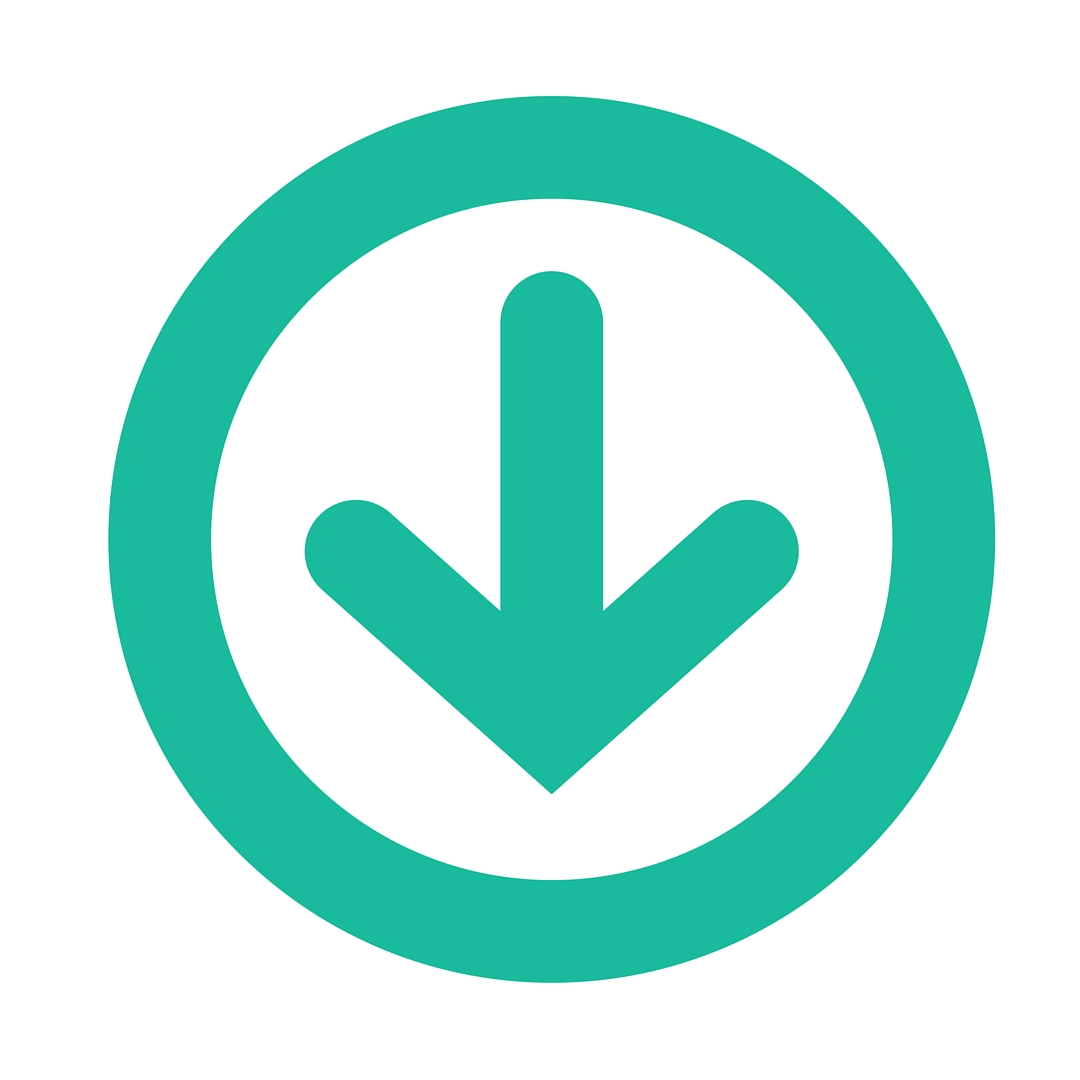 ---
All content and images are copyright protected by



Do not copy in part or whole without giving due credit.
---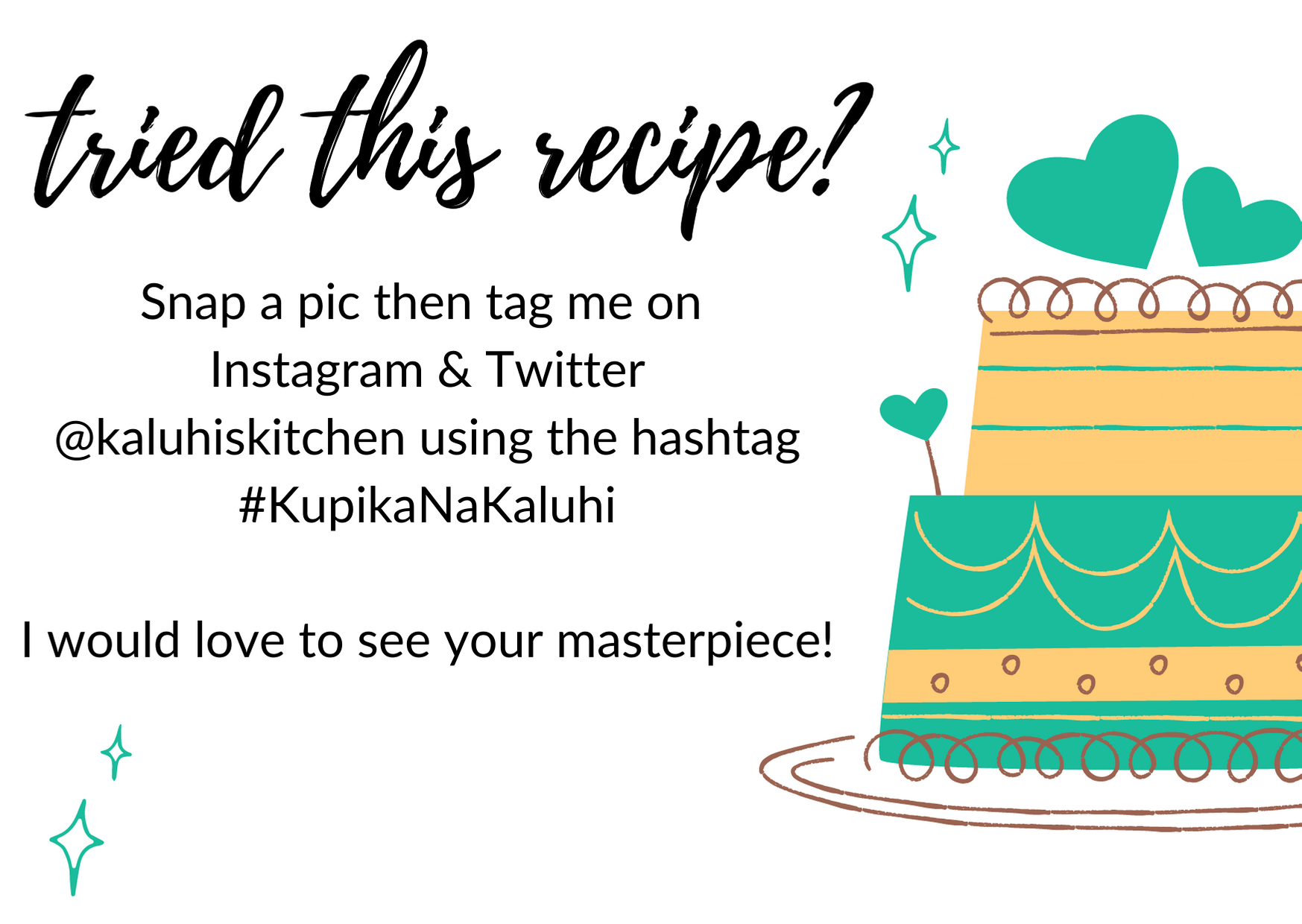 ---