I have always enjoyed the trip from Nairobi to Maragoli. There is so much of our country's beauty to savor along the way and all the excitement of going to my favorite place on earth makes the five hour journey worth it each time.My mother always prepares some snacks for us to nibble on along the way, just in case hunger pangs strike in an area with no shops to stop by and have a meal. Among the many things she packs for us are boiled eggs. And many times,unfortunately, they were left untouched. I never used to like these while I was growing up. I do not know the exact reason, but I always avoided them. However last year, I just grew to really REALLY like them. And now they are among my favorite things to have for breakfast. I have added a little twist on the humble boiled egg. This recipe is so good, it will turn anyone and everyone into a boiled egg lover.
Today I have for you my red onion boiled egg saute.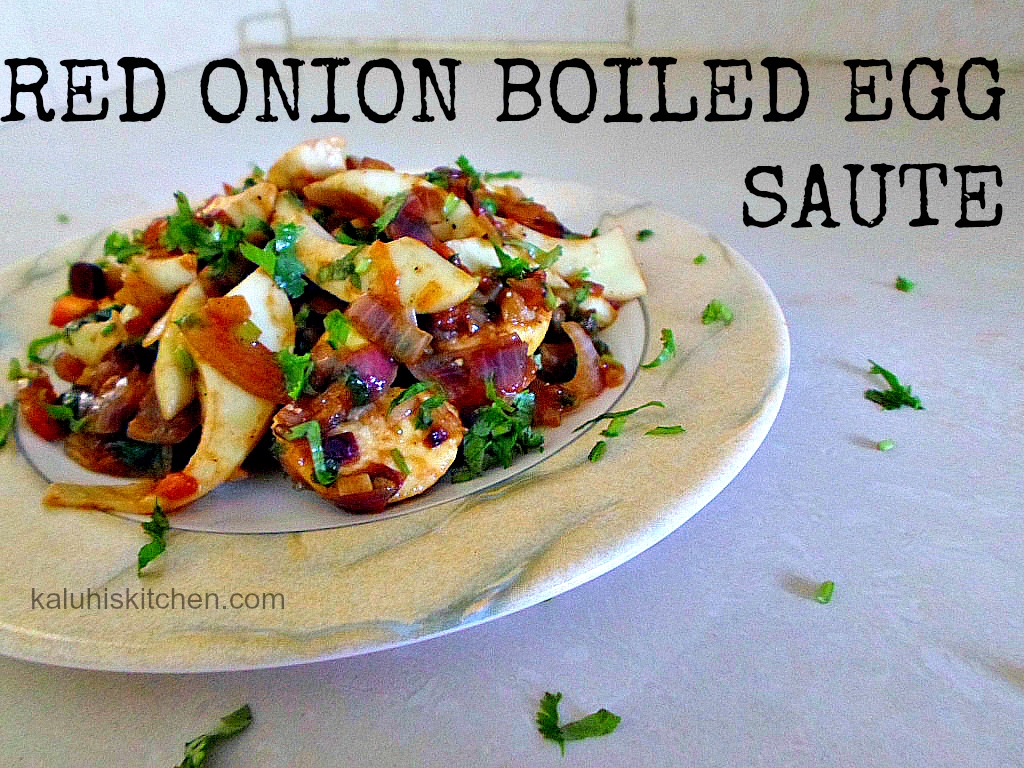 *Prep Time: 25 Min     *Cook Time: 8 Minutes    *Serves: 3 People
Ingredients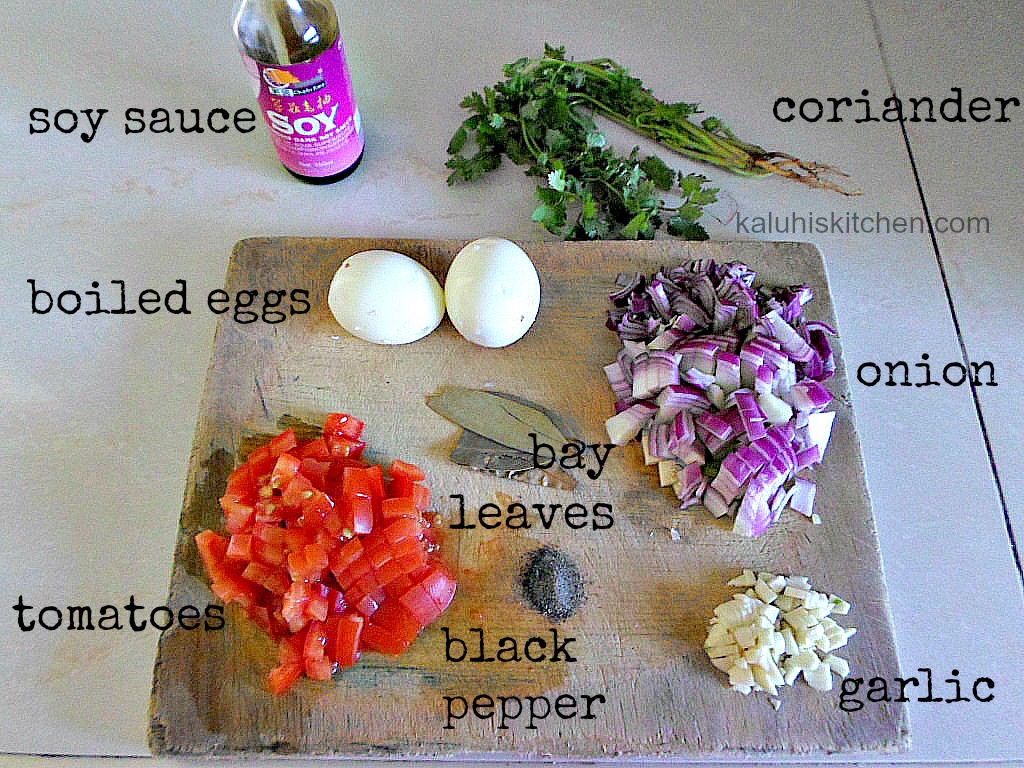 Red onion boiled egg saute ingredients
1 large red onion, thinly sliced
3 large cloves of garlic, finely sliced
2 chopped tomatoes
1 teaspoon of dark mushroom soy sauce
Freshly ground black pepper
fresh coriander finely chopped
Dried bay leaves
2 soft boiled eggs
Method
Put some vegetable oil in your frying pan add the black pepper, your sliced onions and garlic. Saute these until they are soft.
Add your tomatoes, bay leaves,and mix. Let this simmer for about 2-3minutes.As you wait for this to be done, slice your boiled egg.Add the eggs to the tomato reduction and gently mix them in. Do not worry when the yolk separates from the egg whites.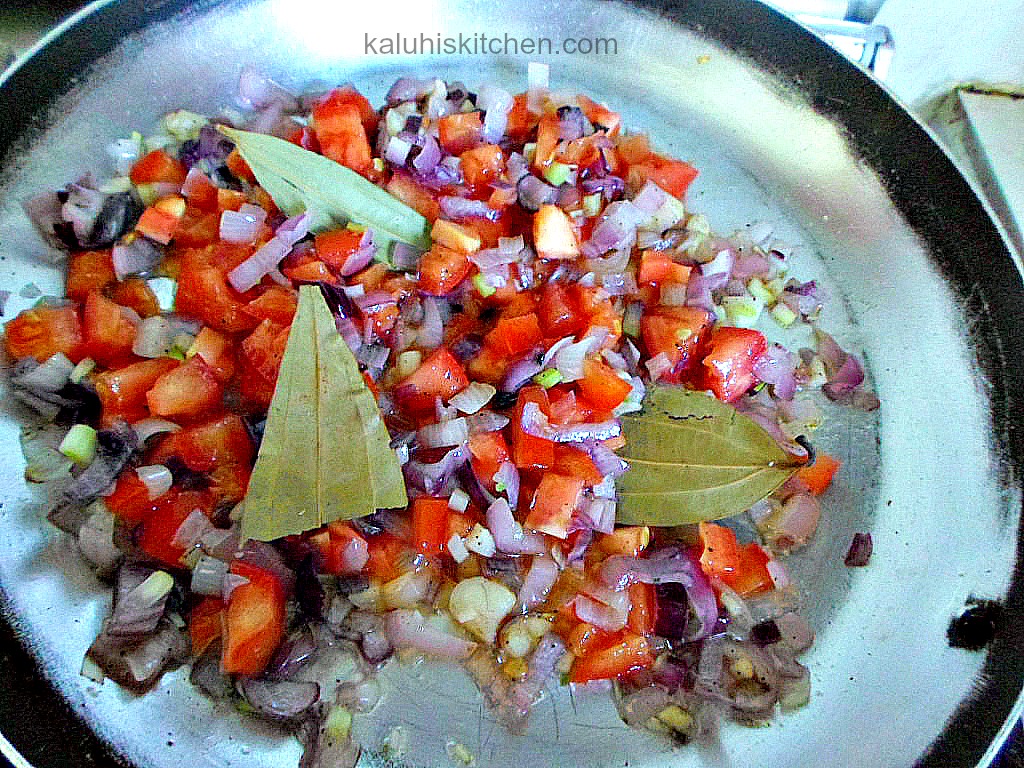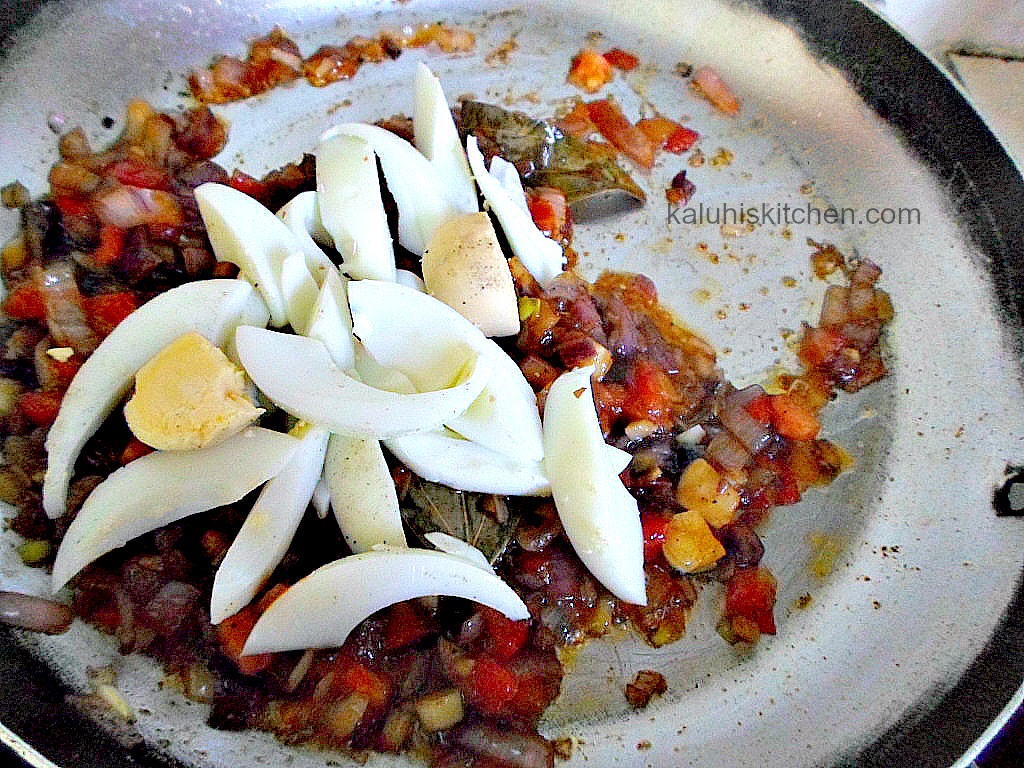 The dark mushroom soy sauce adds a deeper color as well as an earthy smell. The bay leaves smell so fresh and this saute smells really inviting even before you are done cooking.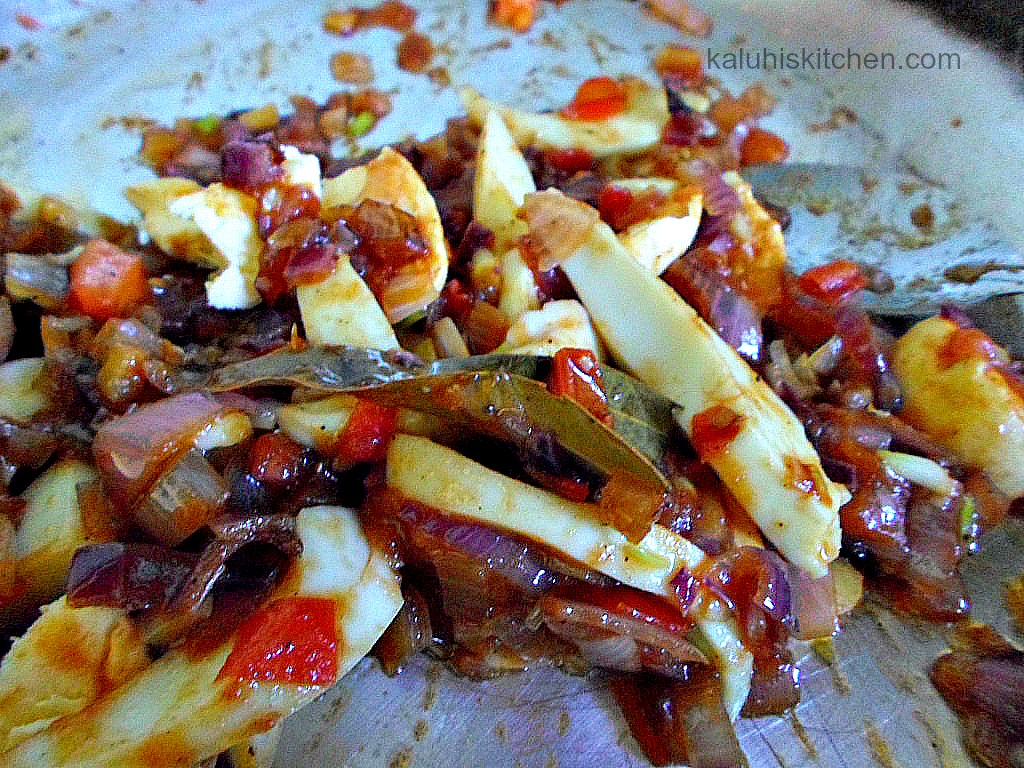 Remove your bay leaf and discard. Then,mix in your finely chopped coriander and with that, you have your Red Onion Boiled Egg Saute.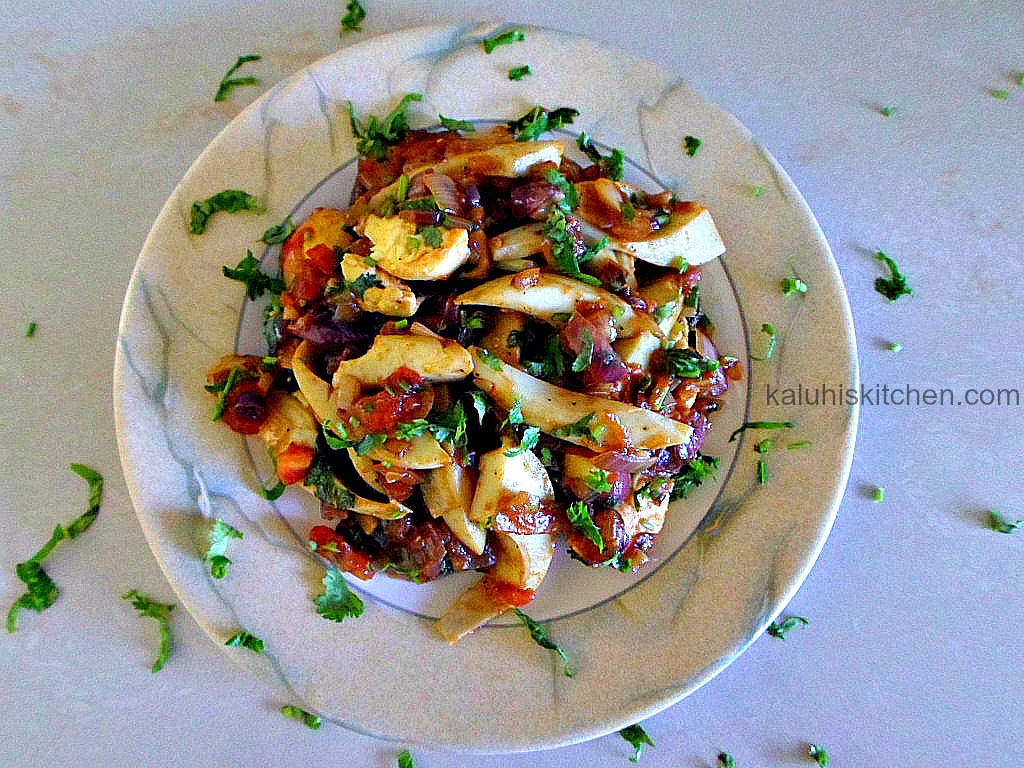 Imagine waking up to this. Because breakfast is the most important meal of the day, it is only best to make it the best meal of the day. Do that with  my Delicious boiled egg saute with tomatoes and soy sauce.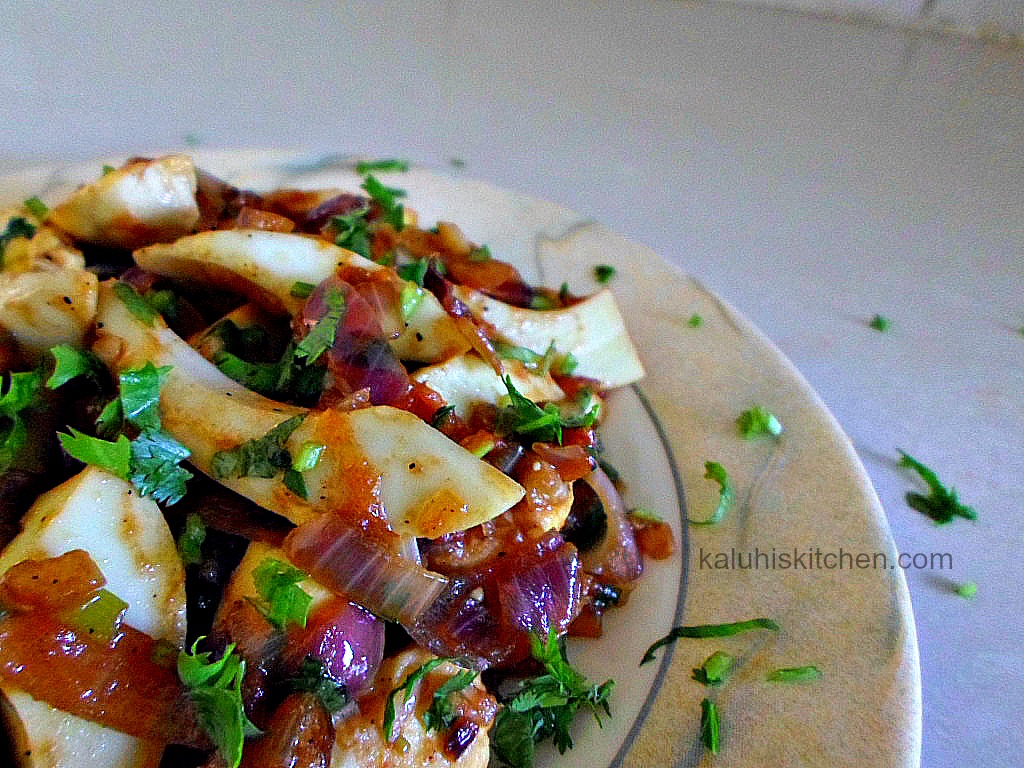 Must try for everyone, and if you do not like it….. well, that cannot happen because I know you will love this 🙂
Till next time,
Smiles and Laughter,
-Kaluhi <3
---
Download and save the recipe here: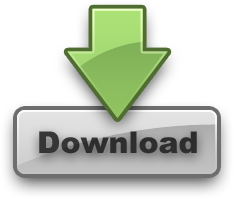 ---
All content and images are copyright protected by



Do not copy in part or whole without giving due credit.