The wind was blowing hard. I was walking as fast as I could. I hoped to get home before the rain could start pelting down, but no sooner had I finished thinking the thought than the rain started falling hard. I increased my tempo took out my umbrella.  Despite having cover from the rain, I still got completely wet almost as though I had no umbrella at all. I thought of running, but that would be futile, so I instead decided to enjoy the rain. That is how November showers are; cold, large drops whose fury is only fanned by the wind. I was freezing by the time I got home. But at least I was rained on when coming back home rather than when I was going somewhere important or to meet important persons, right? I had a hot shower and decided to make something soothing for myself. Since I was not too hungry, I settled on a soup- best decision I made that day. Perfectly fragrant, creamy and aromatic; that is how I would describe my mushroom coconut milk soup which will very easily become your rainy season favorite <3.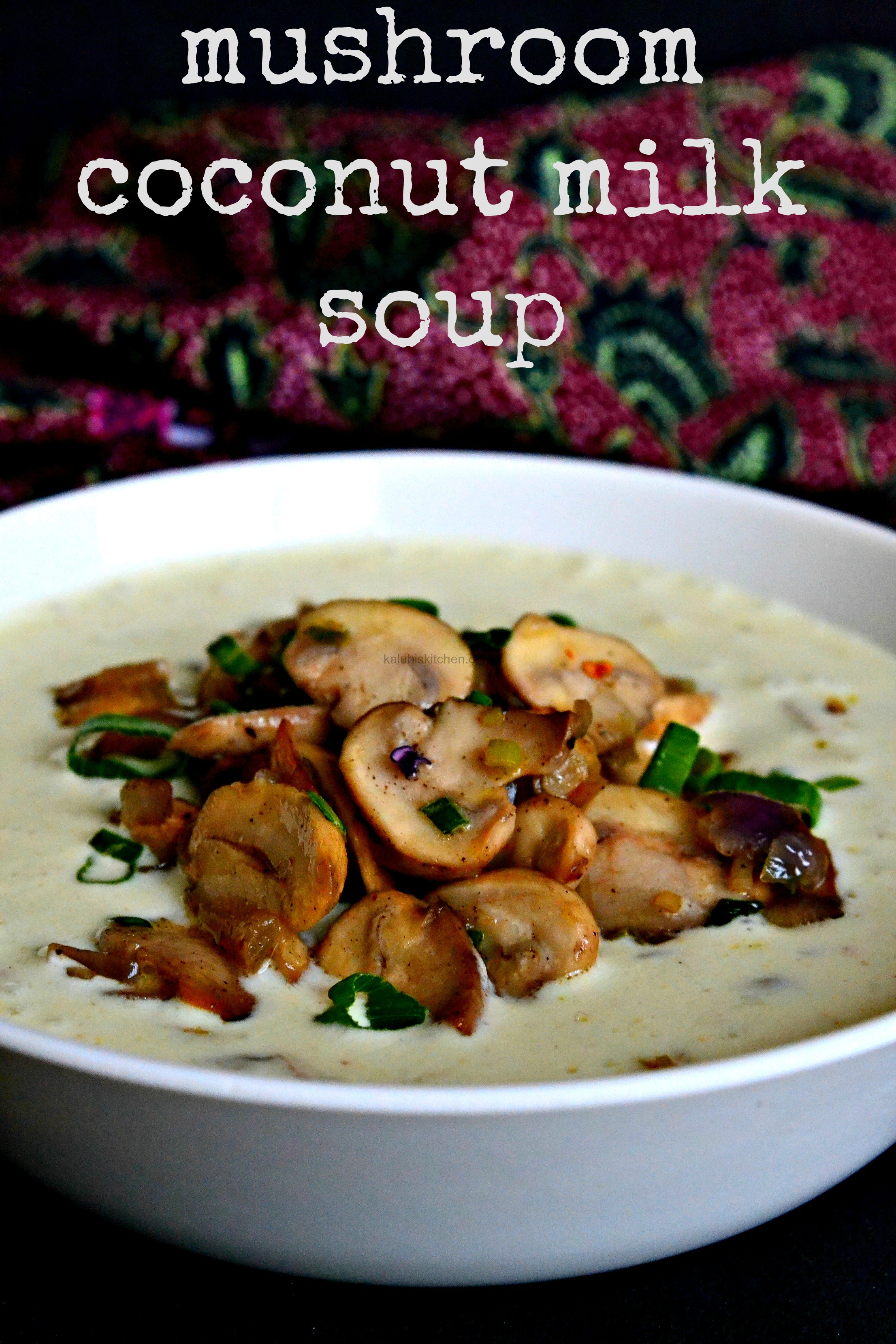 PREP TIME: 10 MIN     COOK TIME: 20 MIN         SERVES:1
Coconut milk Soup Ingredients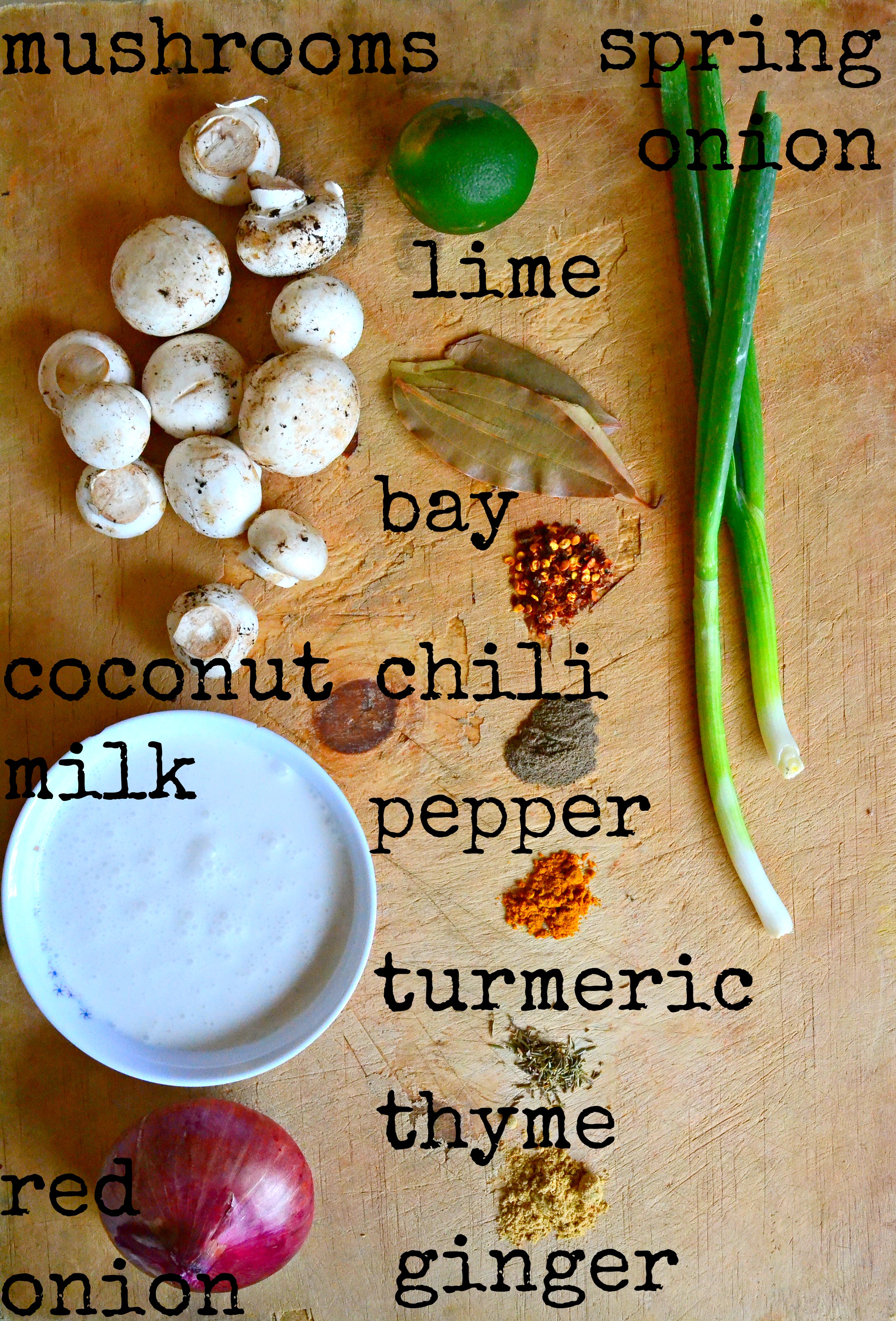 1 cup of heavy coconut milk
1 cup of button mushrooms
1 red onion, finely chopped
4 tablespoons of finely chopped spring onion
3 cloves of garlic, minced
1/2 a teaspoon of chili flakes
Black pepper
1/2 a teaspoon of ginger spice
1/2 a teaspoon of dried thyme
2 bay leaves
1 lime, 1/2 a teaspoon of zest
Salt to taste
Vegetable oil for frying
Method
In a pan, add your red onion, chili flakes, spring onion, salt, 1/4 teaspoon of black pepper and garlic. I used both spring onion and red onion to develop a fuller flavor that would otherwise be absent if I used only one kind of onion. Spring onion is what our mama mbogo call kitunguu matawi, still very readily available and very cheap.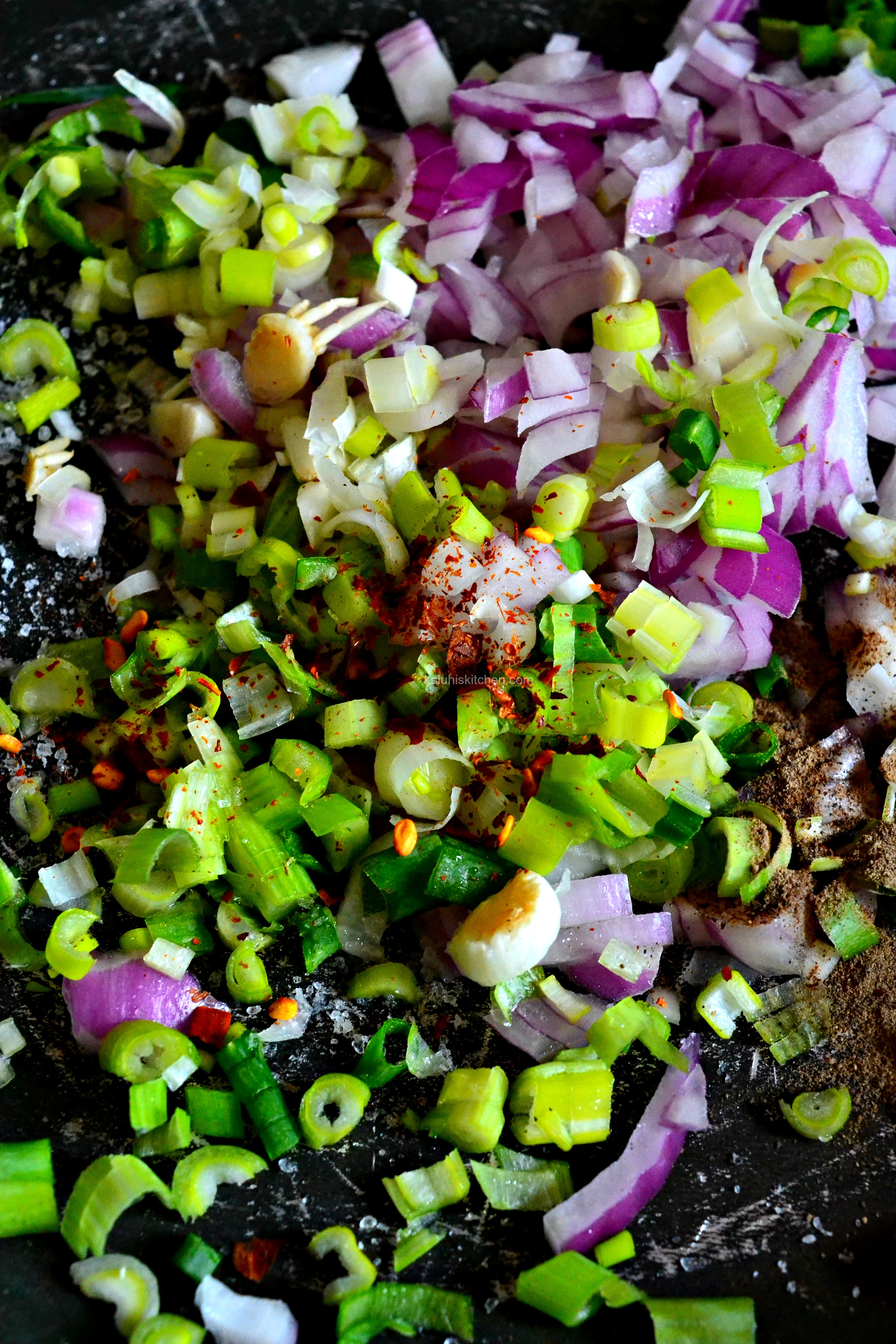 Besides in my coconut milk soup, it it also so so good as part of samosa filling, githeri and all meat stews. Let this sautee for about 3-5 minutes on medium-low heat. Add your mushrooms and allow these to sautee for about 5-8 minutes on high heat, stirring from time to time. As that is going, begin working on your soup.
In a small sufuria, add your coconut milk, bay leaves, pinch of salt, ginger spice (if you have fresh ginger, even better!) and thyme. Let this simmer on LOW HEAT for about 10 minutes for all the flavors to really infuse. Do not rush the process; you are not boiling waiter, but simmering spices and herbs into coconut milk for flavors to really meld. Haraka karaka haina baraka, so take it slow <3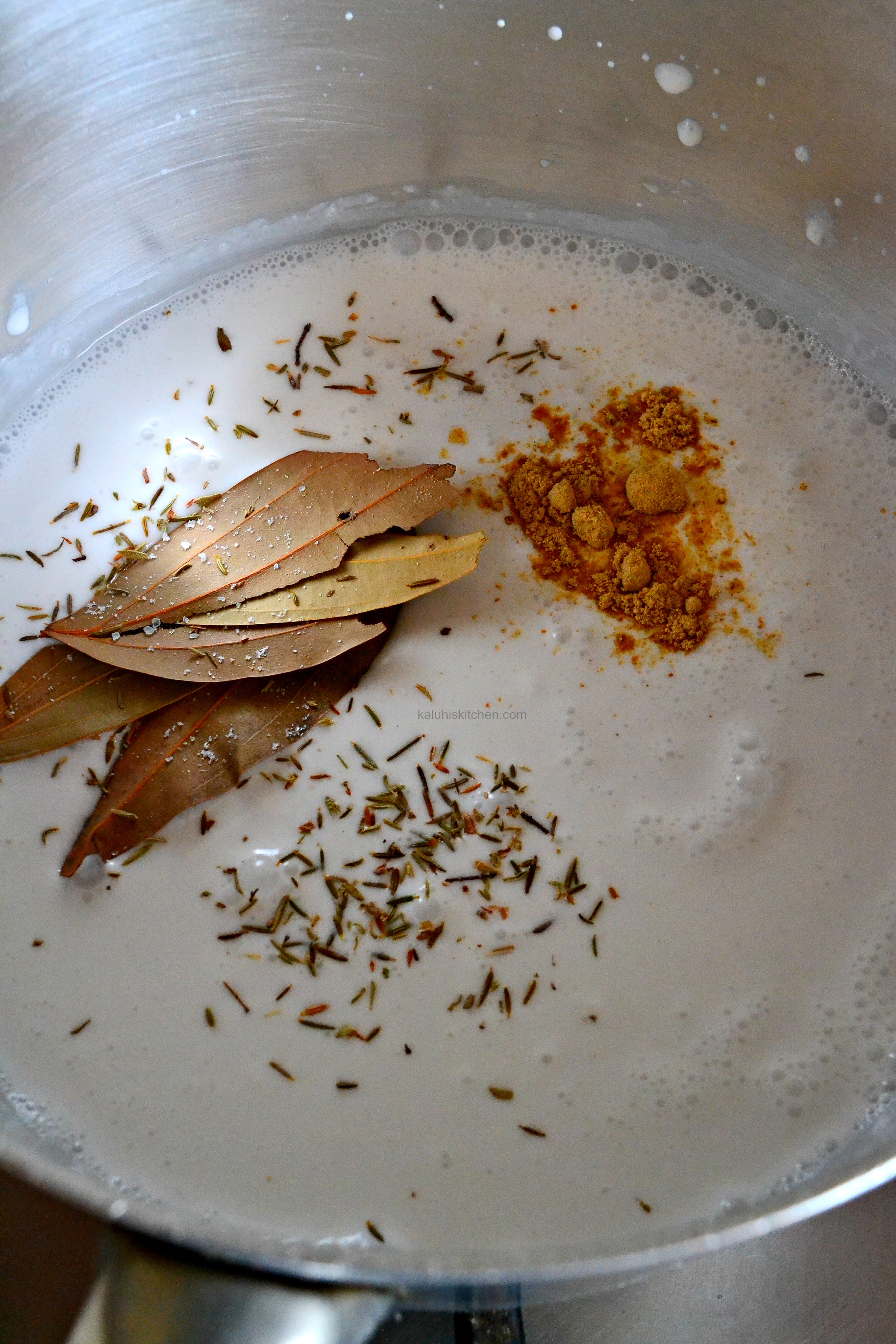 About 3 minutes before you serve, add 1/8 a teaspoon of turmeric, 1/2 a teaspoon of lime zest and the juice of half a lime. I added very little turmeric since I never wanted my soup to turn yellow. But if you prefer that, add more turmeric. Once done remove from heat and laddle onto a bowl. Add your sauteed mushrooms and chow it all down boo!!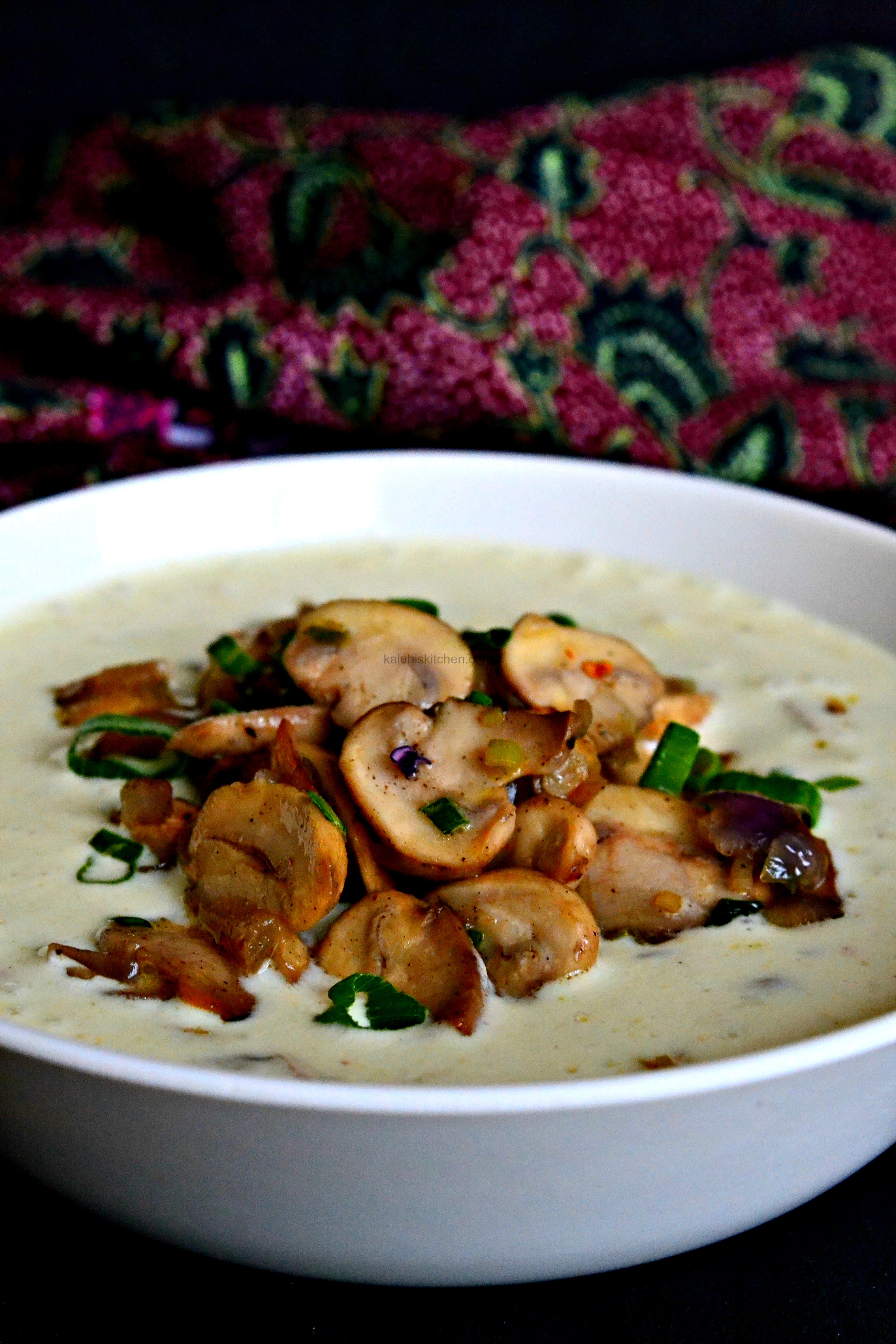 This has to one of my all time favorite soups yet! The soup itself is already bomb because of the coconut flavor, and the coconut flavor is elevated but the zestiness of the lime and the thyme. It is the same flavor combination I used for this fish recipe (If you have not tried it out I do not know what you are waiting for) and you can rest assured it worked so well with the soup too. The richness and creaminess of the soup contrasted with the meatiness of the  mushrooms; whose heat as a result of the chili was much welcome on a cold rainy afternoon. Perfection!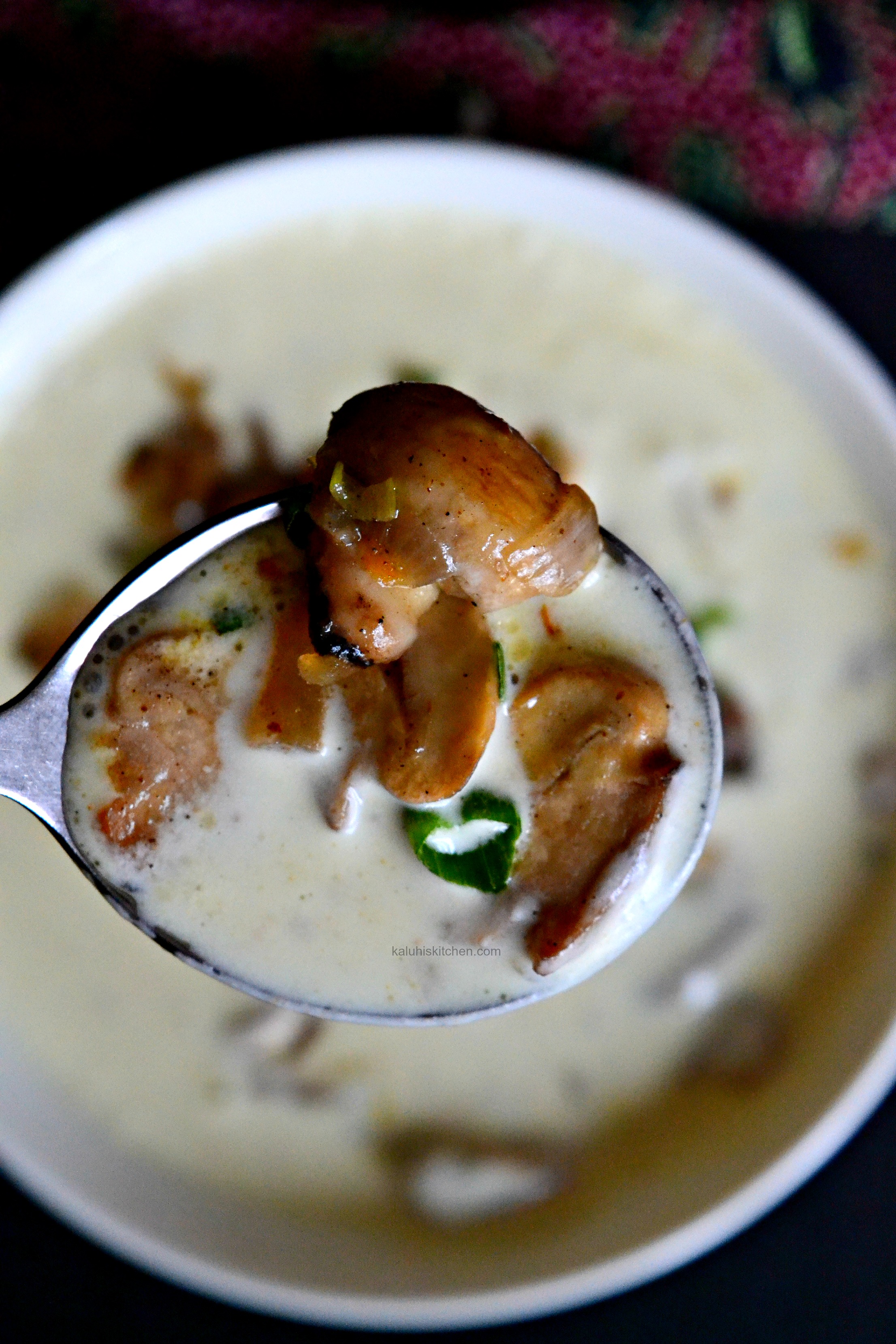 Perfect when one is nursing a cold. Perfect as an appetizer. Perfect as as your cuddle buddy on a rainy day. <3
After you try out my mushroom coconut milk soup, check out my other soup recipes: toasted pumpkin seed butternut soup, carrot tomato soup, and my thyme and broccoli soup.
Much Love!
-XX
---
Get your downloadable recipe here :))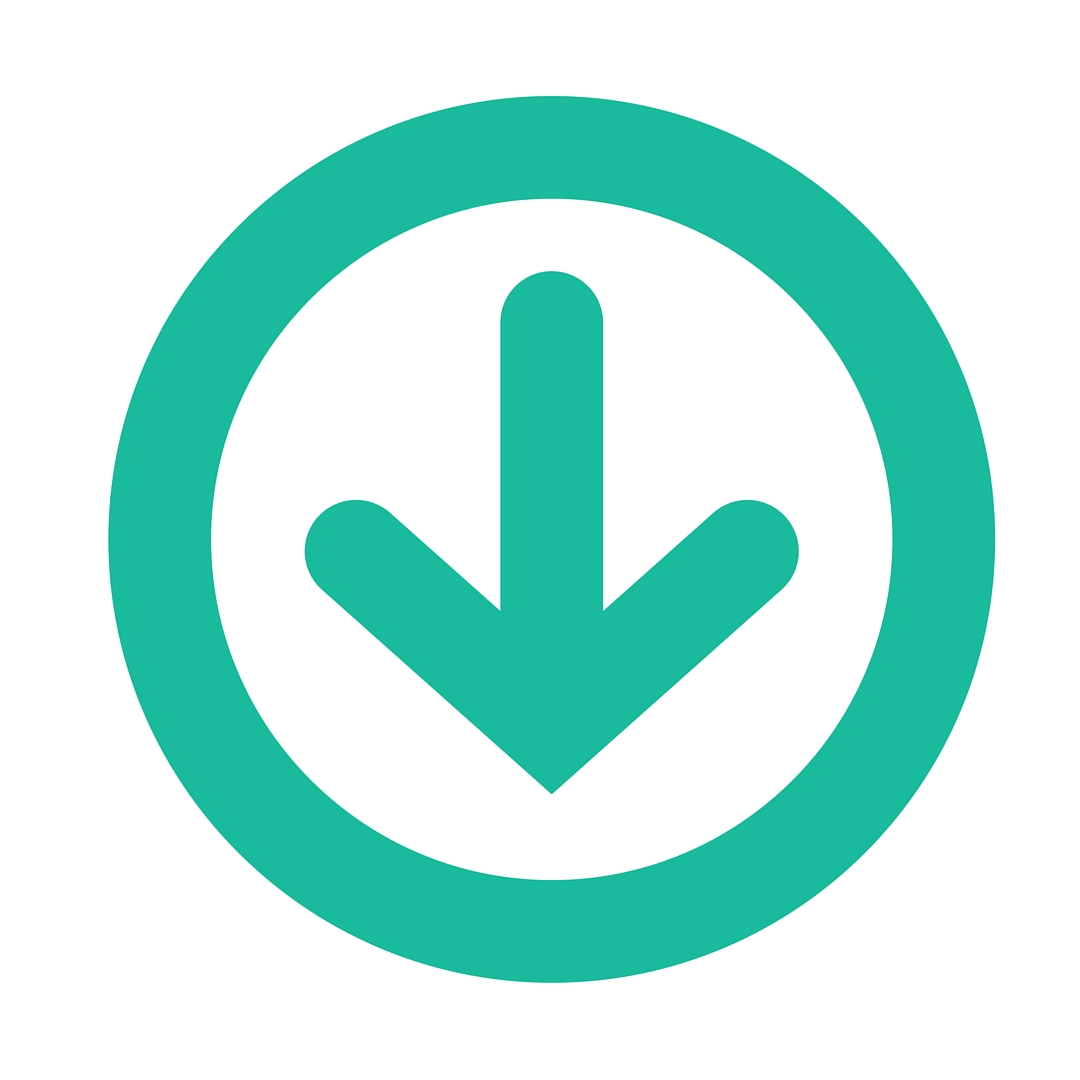 ---
All content and images are copyright protected by



Do not copy in part or whole without giving due credit.