Nairobi evenings can be bitterly cold this time of year. All I ever think about at the close of each day is getting home, having a blisteringly hot shower, slipping into some warm socks and having a hot cup of tea with my favorite biscuits (of course after some supper :))) As I raced towards my matatu stage, I glanced down at the goodies hawkers were selling and momentarily stopping to purchase some things, as usual! After bagging an amazing faux leather coat and cute doll shoes, I couldn't let myself head home without some veggies! "Madam kuja uchague fresh!!" (Madam come and select fresh ones!!"); one of the lady hawkers exclaimed to me as she stacked her broccoli heads one over the other. I stopped, slowly selected my four broccoli as the droves of people pushed against me on the streets. As I paid, she told me to try make soup with them; that it would be delicious and that I would enjoy it. I thanked her for the veggies and for the idea as that is exactly what I was going to do- make a hearty delicious soup with my broccoli.
My favorite soup yet has got to be this thyme chili broccoli soup! So light and so delicious you will need 700 bowls before you are completely full! So perfect for chilly Nairobi this August! Mtapenda! <3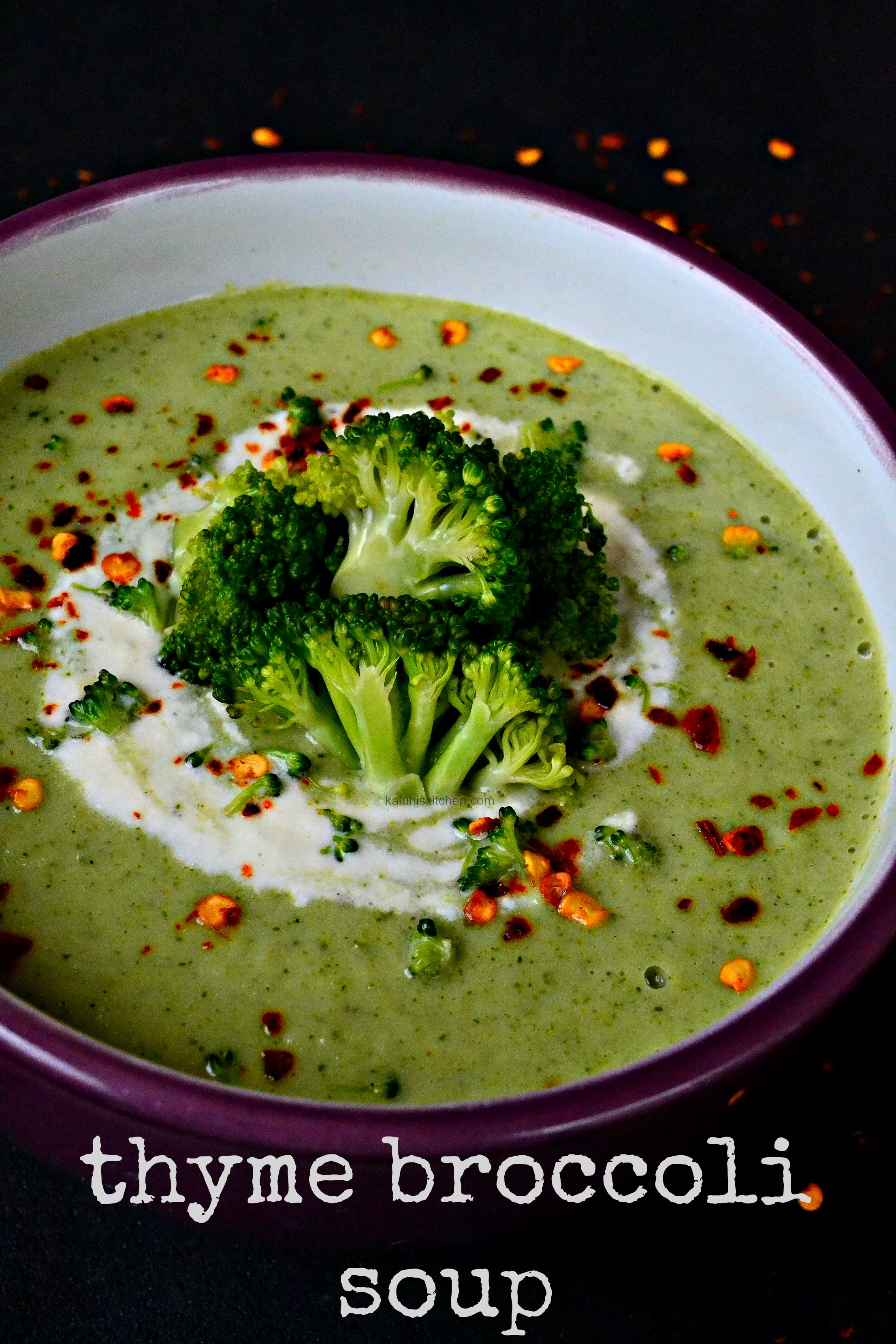 PREP TIME: 10 MIN        COOK TIME: 20 MIN     SERVES: 1
Ingredients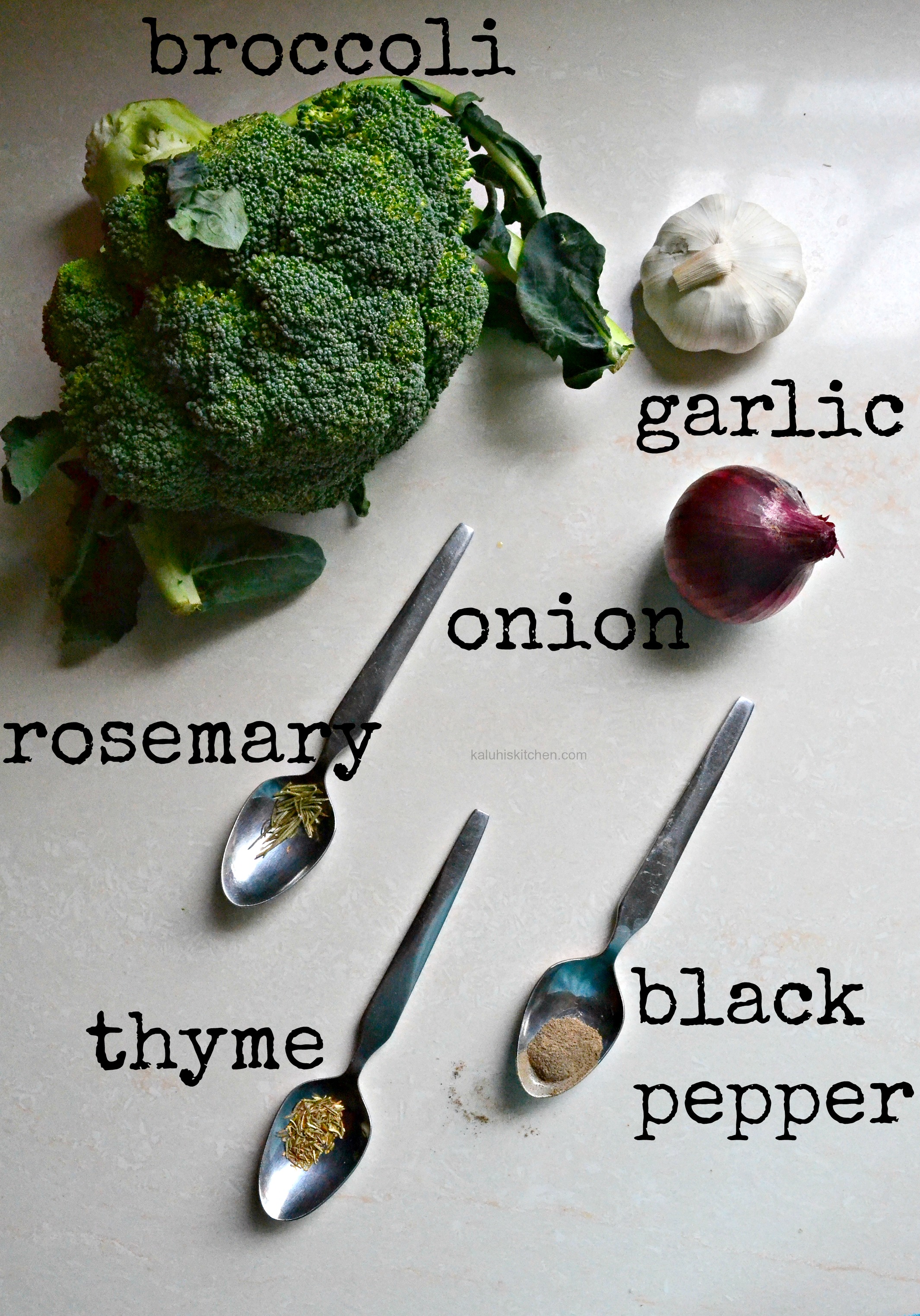 1 head of broccoli
½ a teaspoon of thyme
¼ teaspoon of chili flakes
1 teaspoon of finely chopped rosemary
1 red onion
5 cloves of garlic
Salt to taste
Heavy cream for garnish (optional)
Method
In a pan, add your red onion, garlic, thyme and rosemary to cook until fragrant. This helps really develop the flavors and help everything come together as opposed to simply mashing everything together uncooked. Very important step! I used dried thyme which I purchased form our everyday supermarket at 120 bot a can. Besides soup, you can use it in veg and meat stews, dry fries, in marinades…literally everywhere! It is my current favorite ingredient.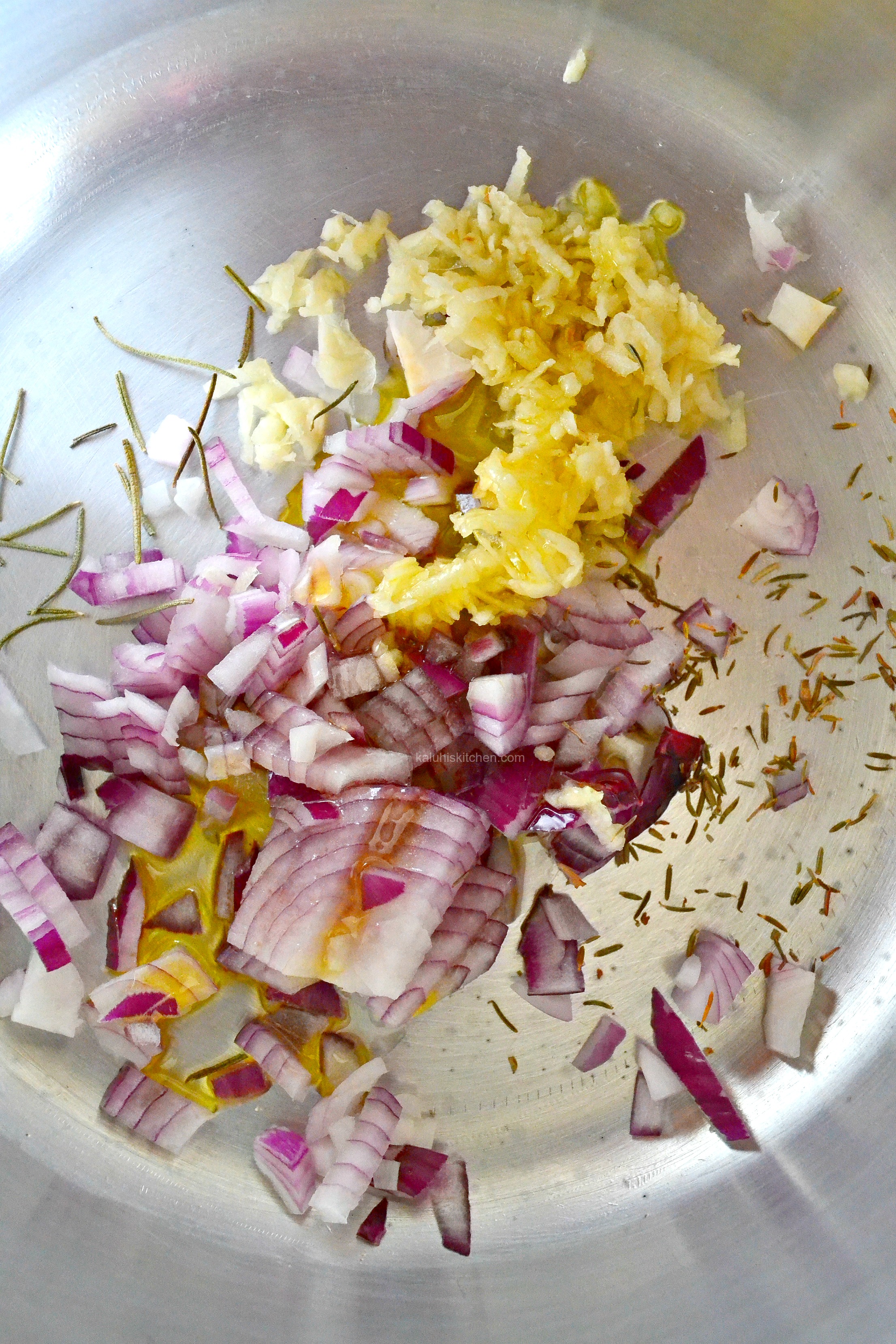 After the oniona have softened, add the broccoli florets and let then cook in the herbs for about 3-5 minutes add some water or vegetable stock (remember when we made vegetable stock here?) then let this boil until the florets are **just** soft.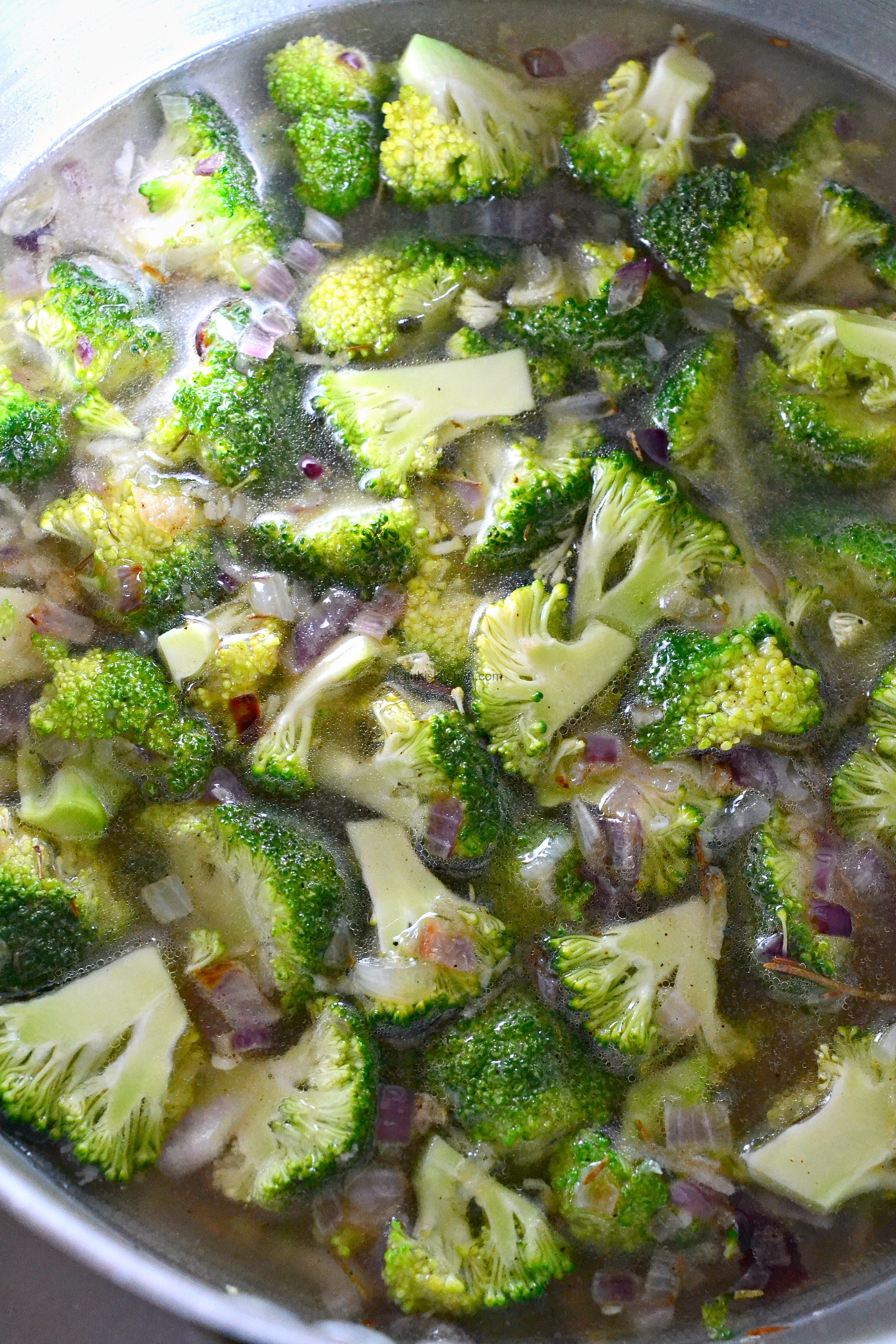 Drain the water into a cup for later use and let the vegetables cool for about 5 minutes. This water, otherwise known as stock has a ton of flavor, and using it in the soup will capture and retain all that flavor as opposed to using just water.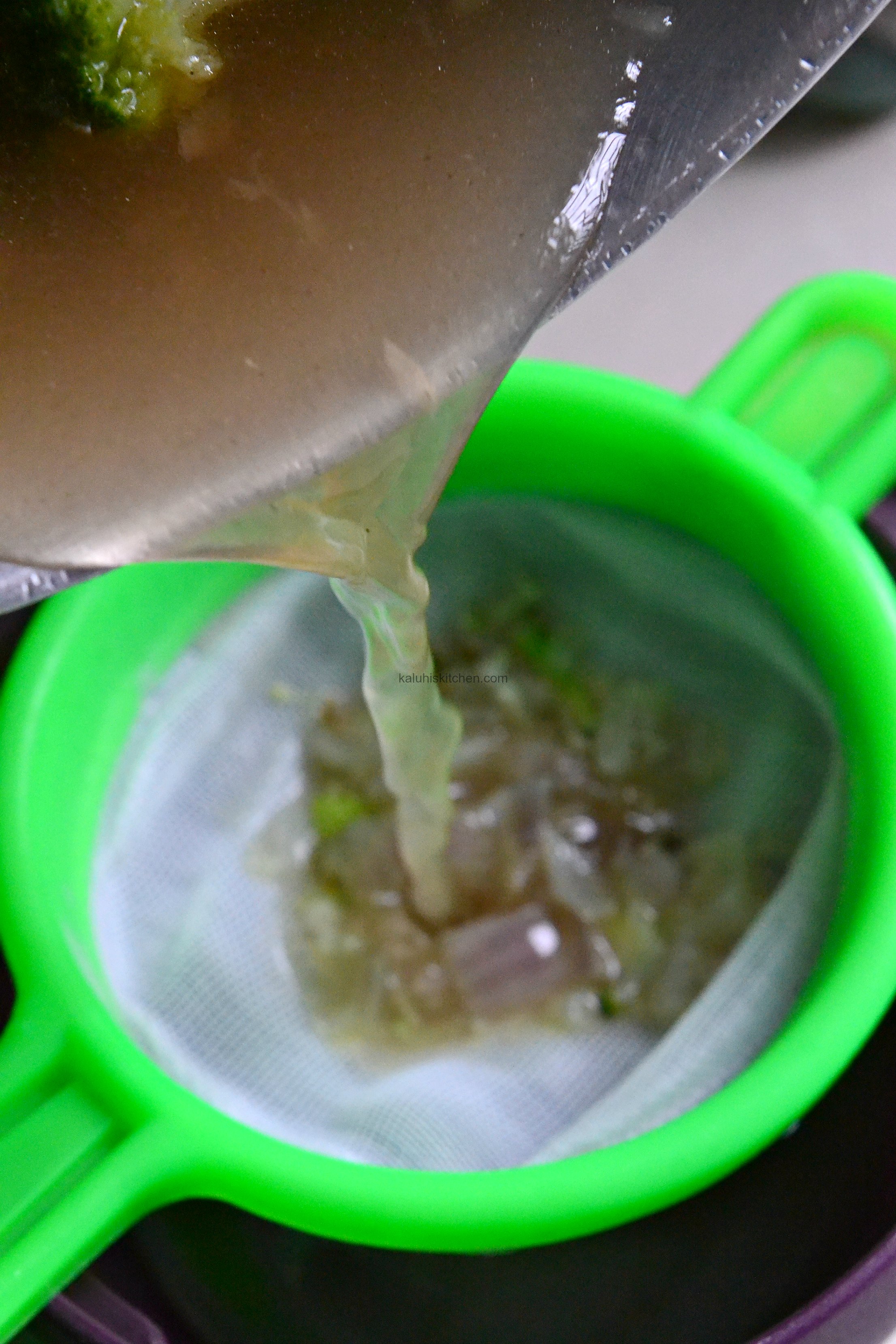 Place the veggies in your blender and blitz while pouring the stock bit by bit until you reach the level of consistency you prefer. I like my soup a bit on the thicker side so a bit of stock was ok. Some people may prefer to use milk too and that is still fine if that is what you like. Just make sure you balance the flavors out.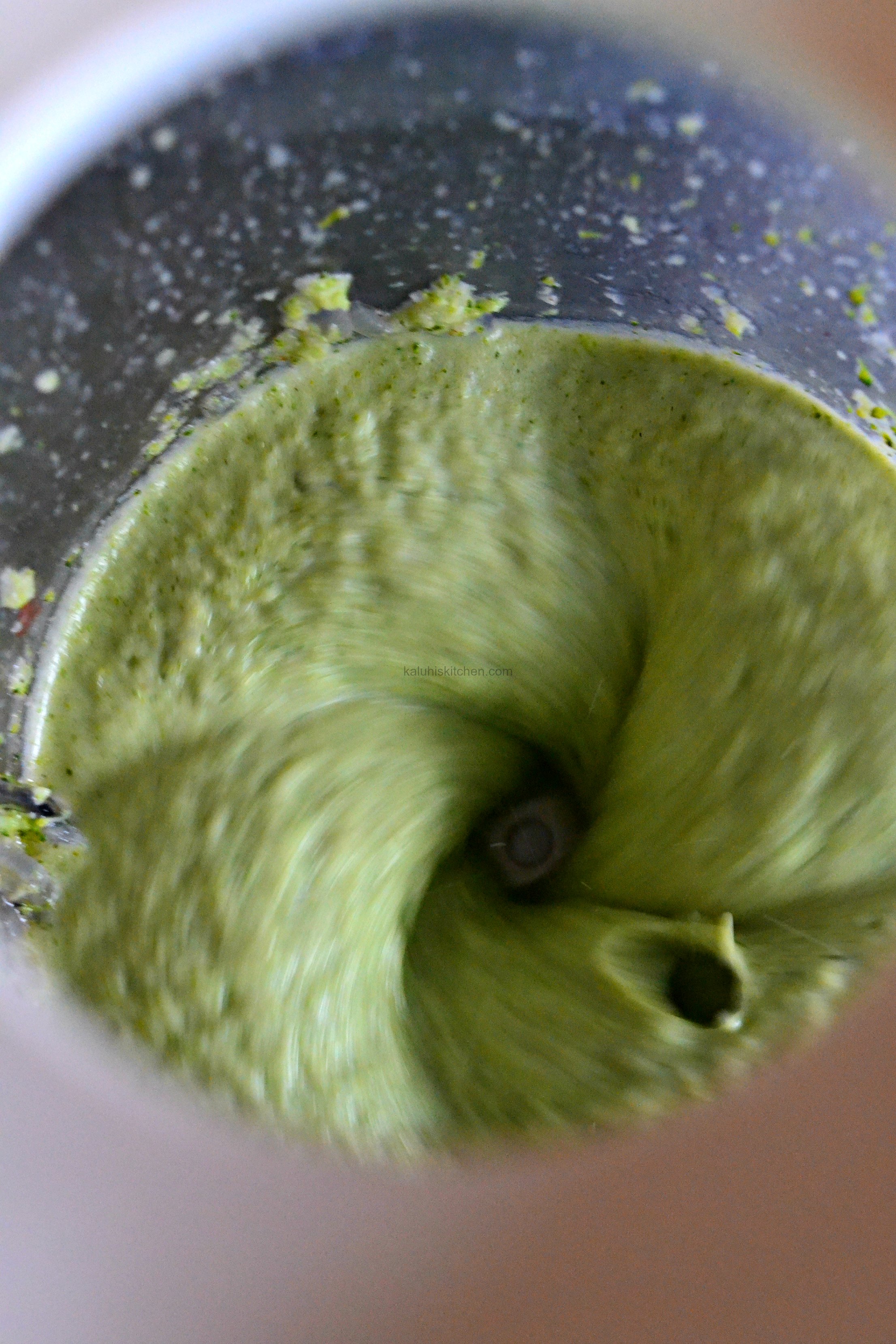 Once done, ladle this onto a bowl and garnish with some heavy cream (totally optional. Bought my heavy cream from CarreFour but it is available in any well stocked supermarket as well.), some remaining broccoli florets then sprinkle some chili flakes. You could warm your soup a little bit if need be if  it's not as warm as you'd like just before serving.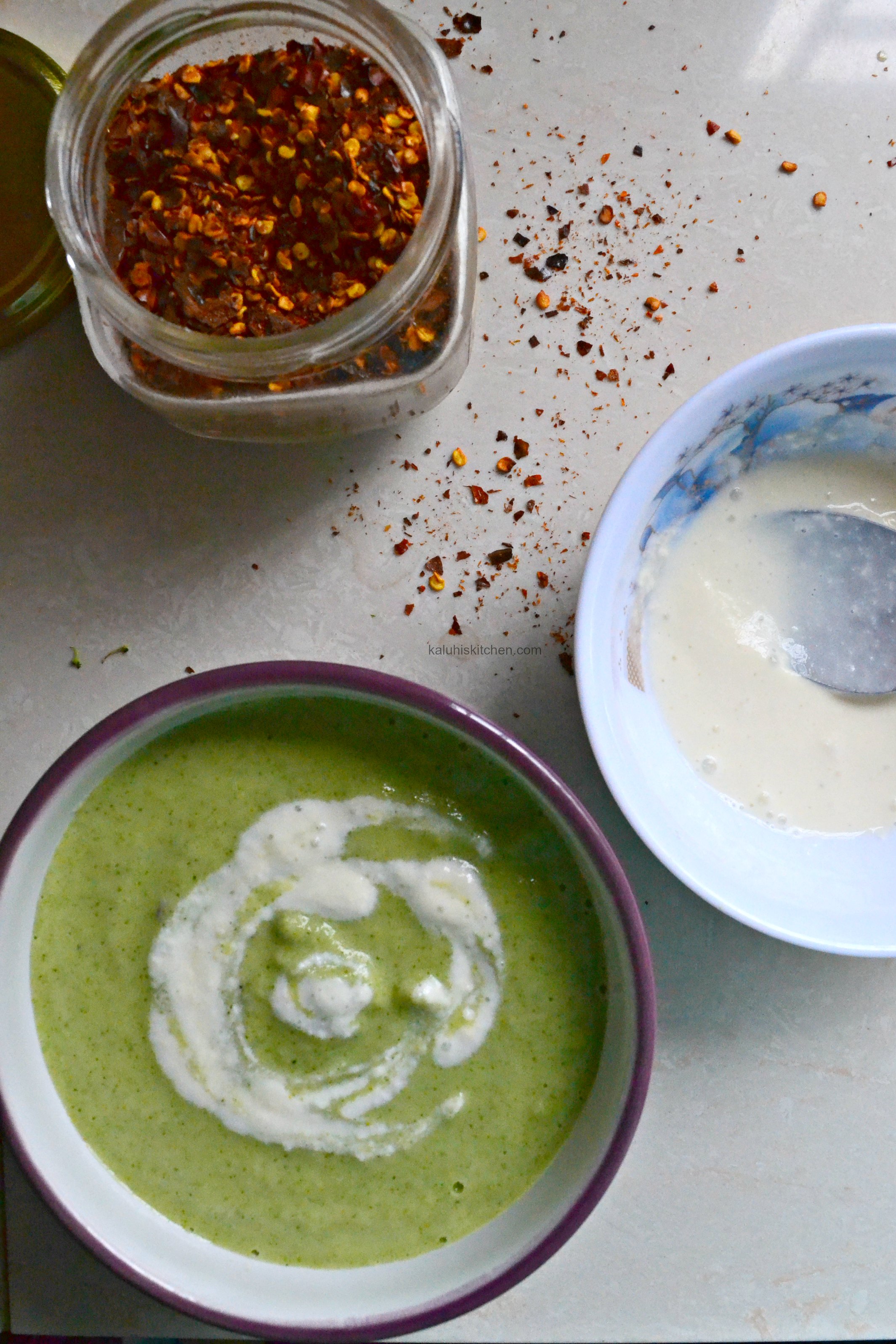 Slurp away!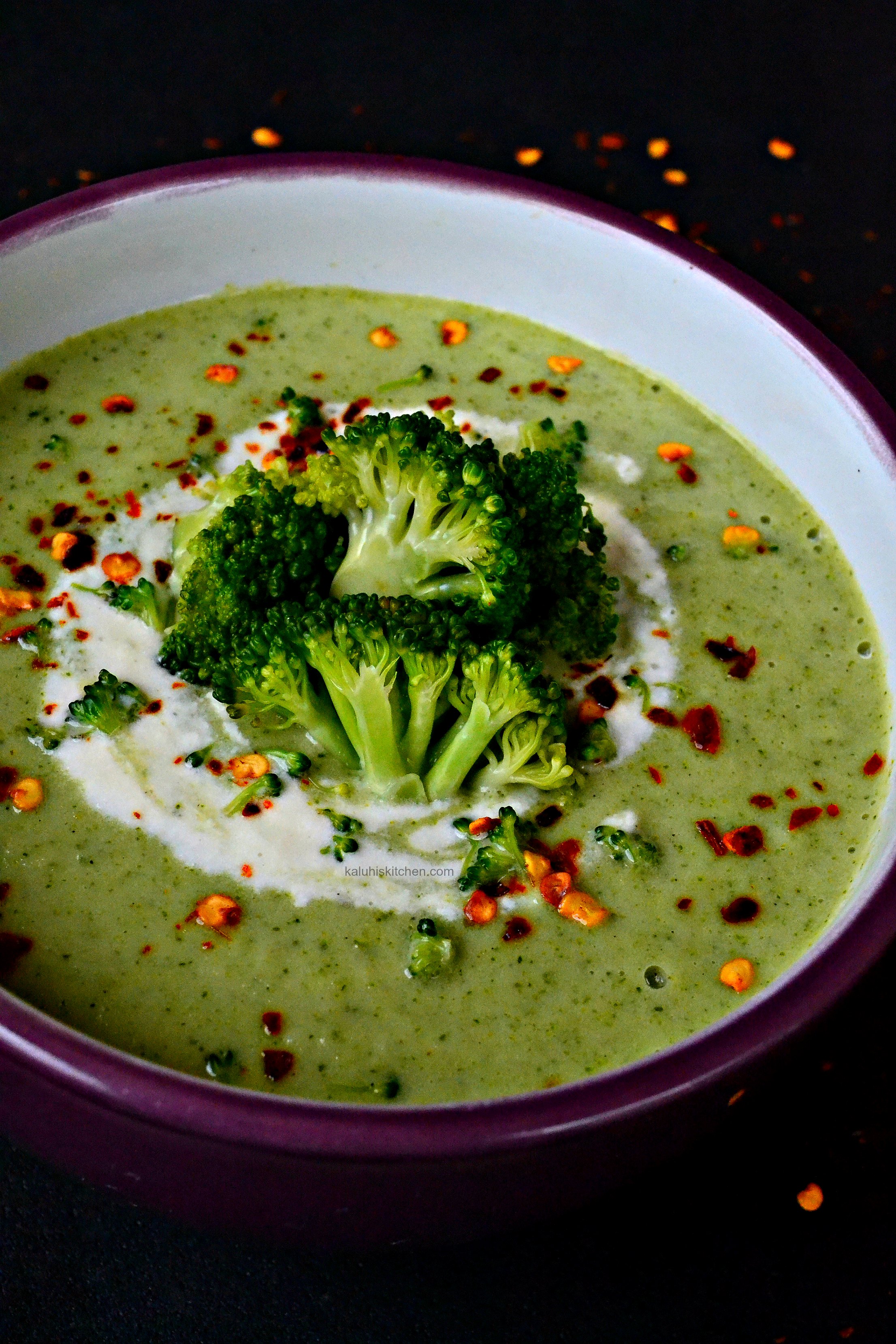 So light, so warming ans very very filling! I particularly loved the scoops that had broccoli florets as they provided such a pleasant textural contrast. The chili and the garlic brought in the warming aspects and the overall freshness of the broccoli made this one soup you will crave each day of this cold season!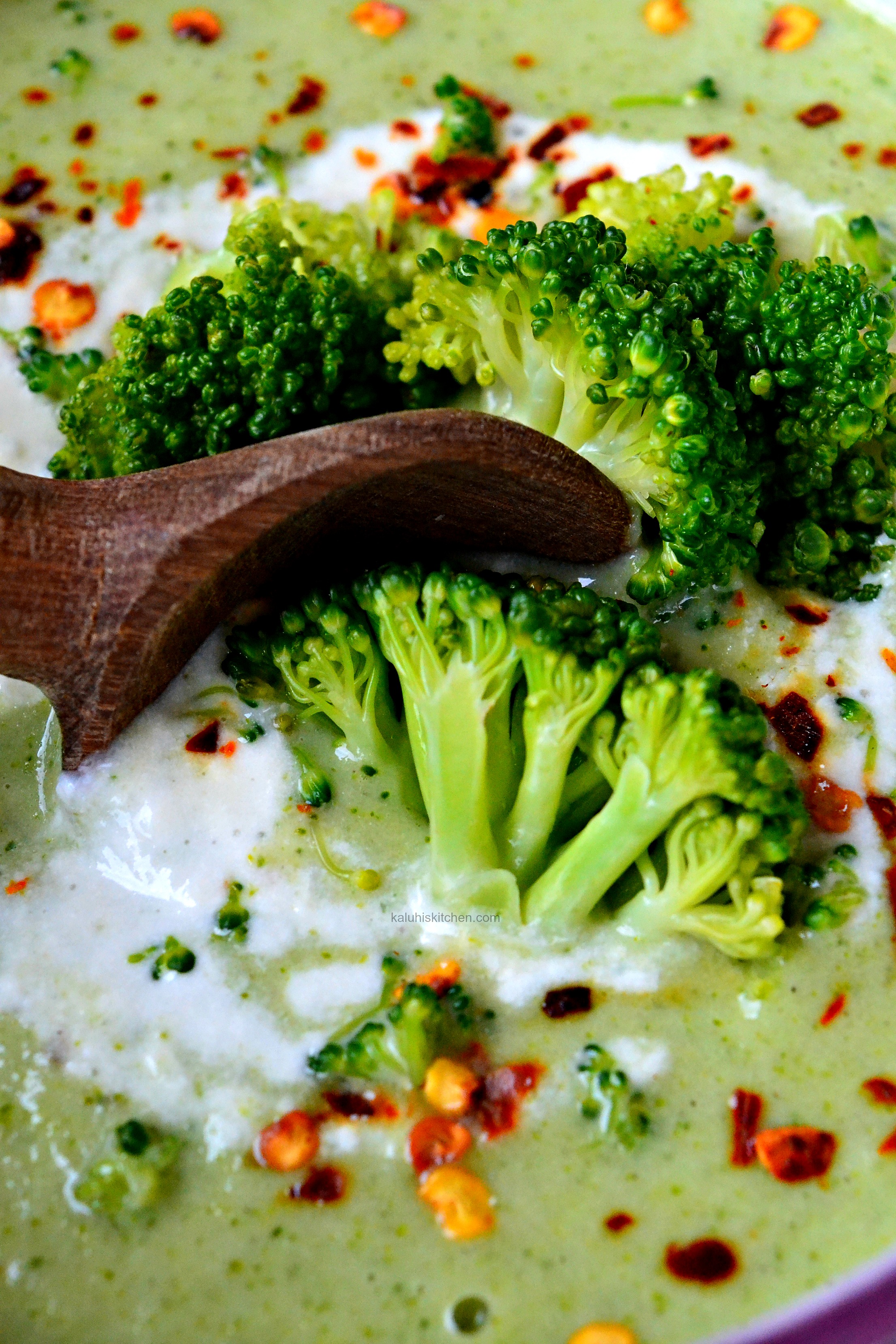 You can check out my other soup recipes: my butternut and toasted pumpkin seed soup, my tomato and ginger soup and my carrot and grilled   soup. But before you try those three out, you MUST try out my thyme broccoli soup! <3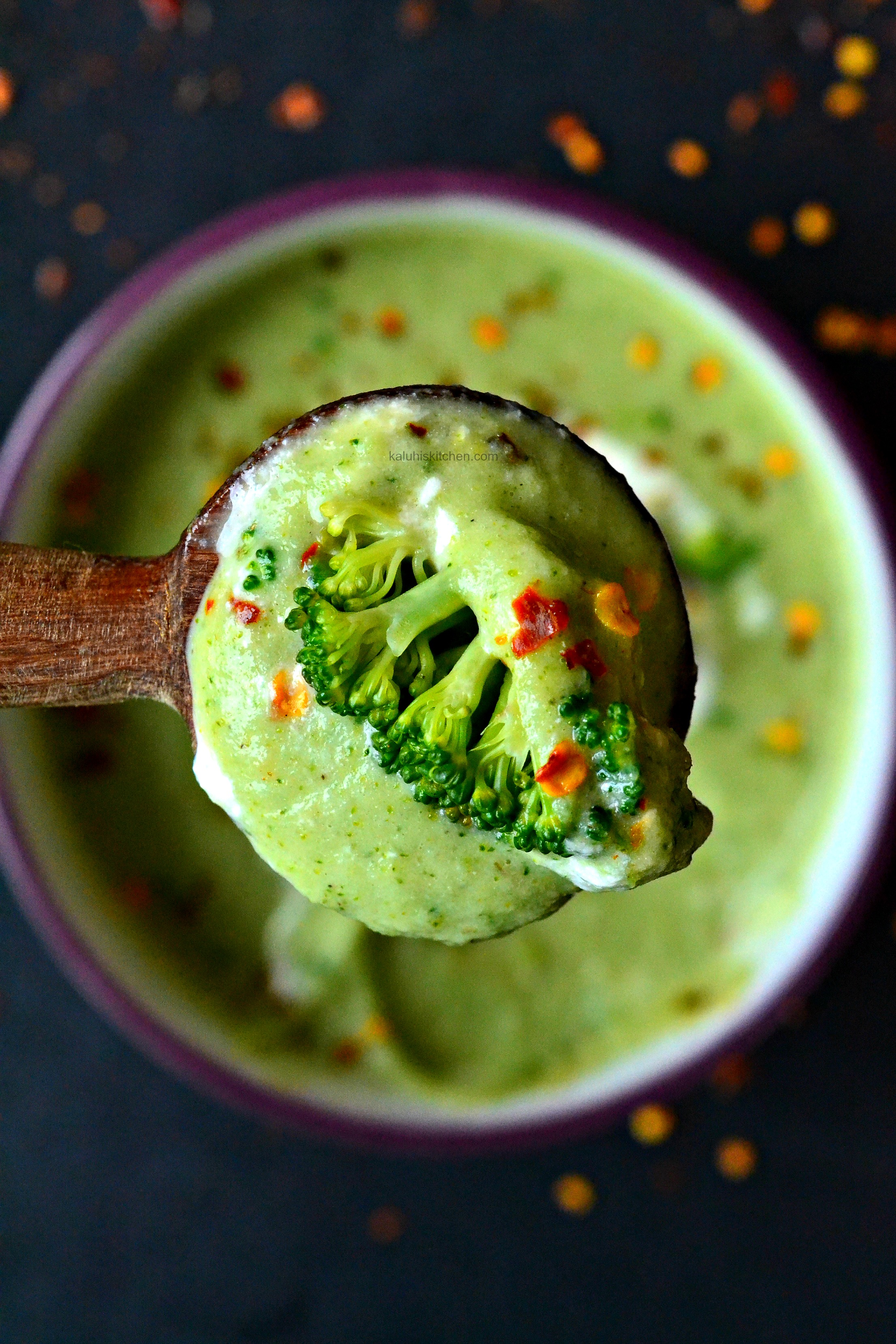 Keep warm! <3
-K
---
Get your downloadable recipe here :))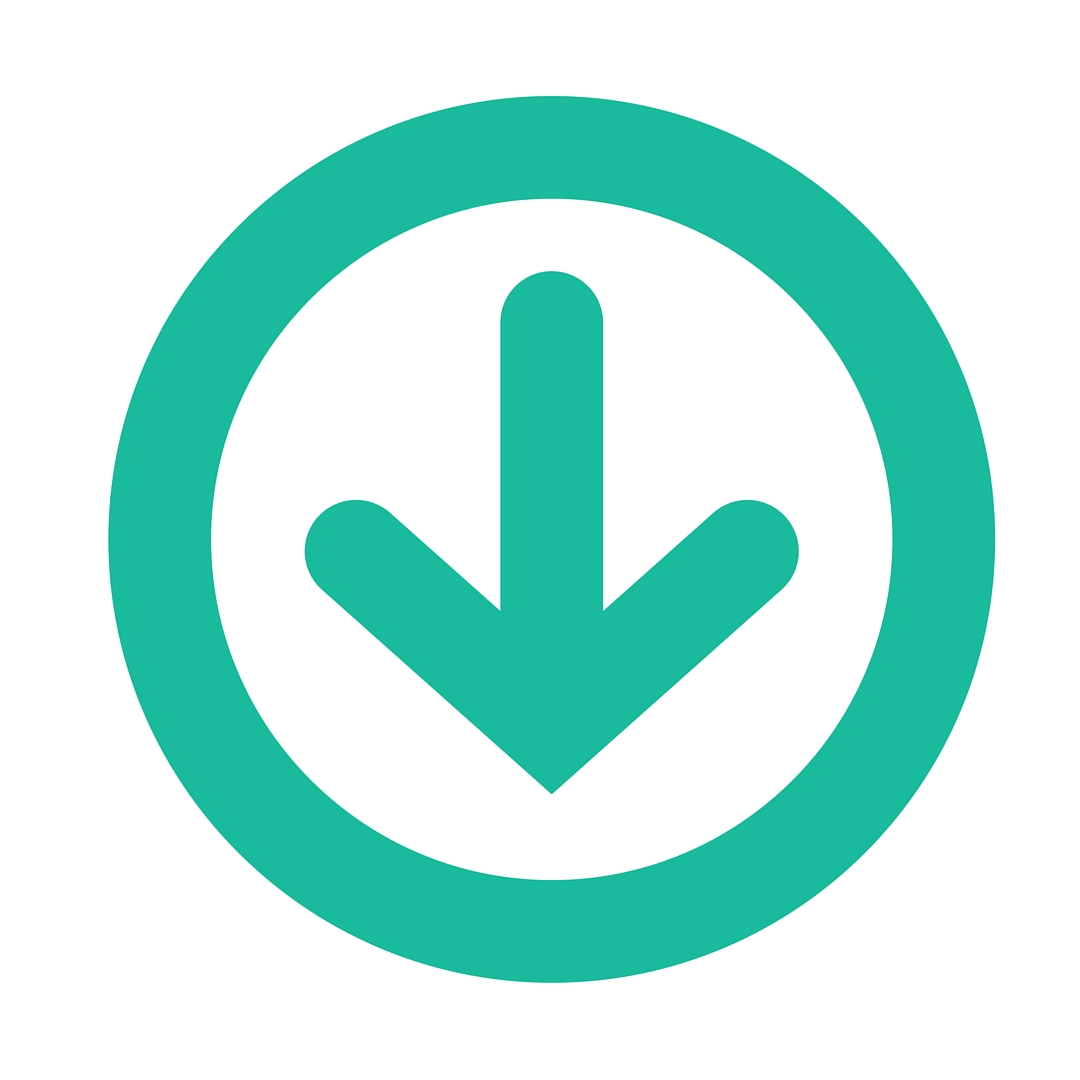 ---
All content and images are copyright protected by



Do not copy in part or whole without giving due credit.