I remember the first time I ate a kebab. I remember standing very eagerly in a sweaty, packed Kenchic, in a queue that never seemed to move any faster, and my tummy that couldn't rumble any harder. I remember passing my chance to have fries, topping up the cost with my mearger coins just so that I can buy my kebab. I remember smiling once my kebabs were wrapped and handed to me. And I remember this day in particular, not because I enjoyed my kebabs, but because I fell really sick there after. I moved form hunger pangs to running stomach really quick! My first kebab experience was pretty horrific, and such experiences really leave a mark in your psyche! I must admit, since then, I never ever EVER order kebabs form fast food joints. However, there is always a way around every issue. And for e and my kebabs, I decided to learn how to make mine at home. That way, I am 100% sure of the sanitation, their freshness, and a huge bonus being, I have complete freedom regarding the spices herbs and flavors I would like to have! Now, they are one of my fave snacks ever!
The kind of kebabs we have here in Kenya are different form the ones from other nations but delicious nonetheless. Today I am gonna show you how to make them, both in today's video and this blog post. You are gonna see how easy they are to make! <3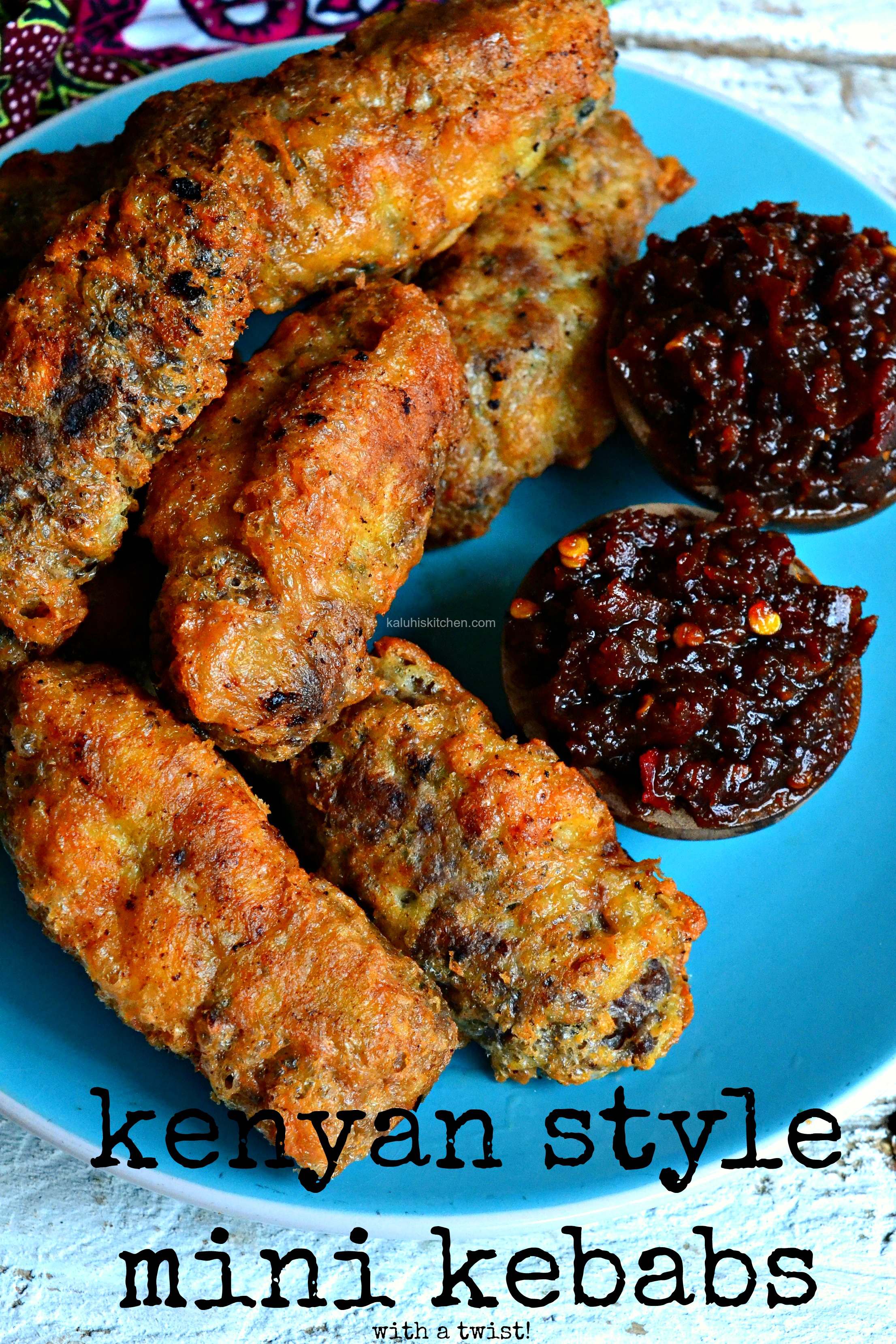 Peep the video on my channel and subscribe if you are yet to <3

PREP TIME: 20 min     COOK TIME:  30 min       SERVES: 5
Ingredients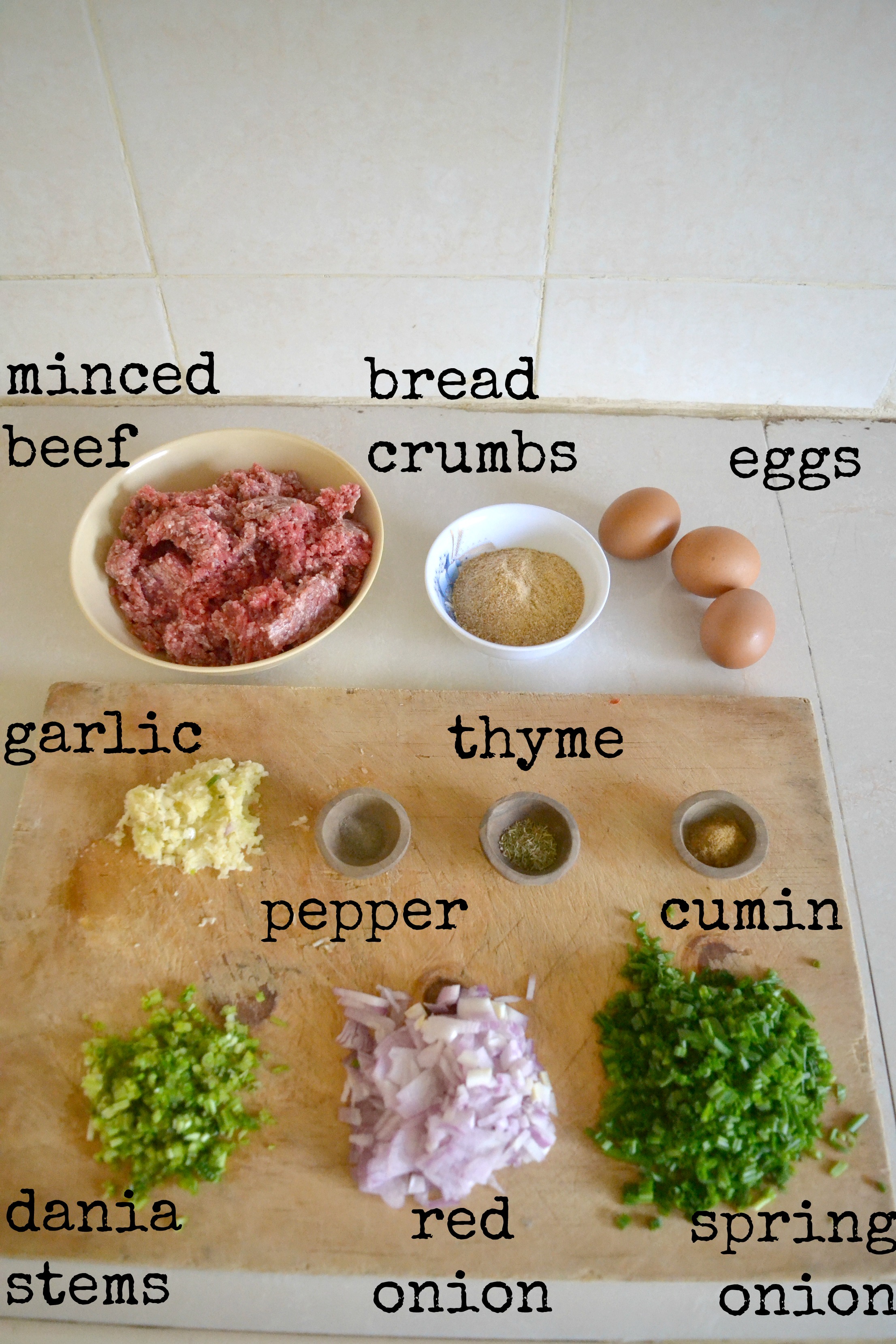 300g of minced beef
1/2 a cup of bread crumbs
1 cup of chopped spring onion
1 red onion, diced
1/2 a cup of dania stems
1 teaspoon of black pepper
1 teaspoon of cumin
1/2 a teaspoon of thyme
3 eggs
5 cloves of garlic, minced
Method
First, put the onions plus dania stems to cook. Once softened and fragrant. I used tow kinds of onions since they pack a load of flavor. Spring onion are what our mama mboga refer to as kitunguu matawi and you can very readily get locally. The reason why we cook the onions first is so that their flavor develops and the taste of the red onion specifically is not as sharp.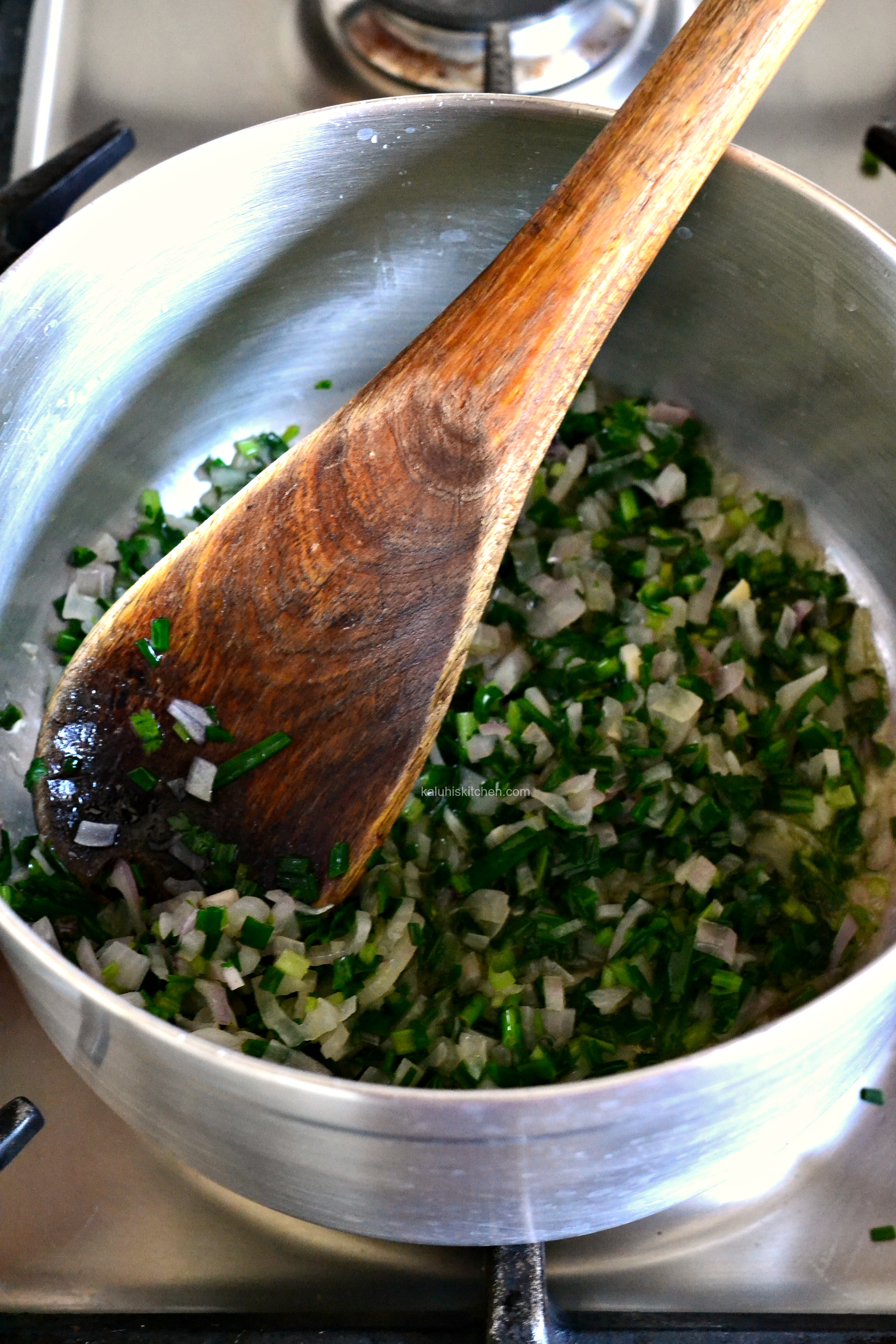 Once done, remove from the heat, and set aside.
In a bowl, add the meat, followed by one egg (The other two will be used in the coating), breadcrumbs, the cooked onions, the thyme, cumin and pepper. The bread crumbs and the eggs act as your binding ingredients; meaning they are the ones that hold the kebab together. Some people may prefer not to include either, but I like having both. To prevent them from being dense, when rolling I do not do so too tightly. Incase you need guidance on this, watch today's video.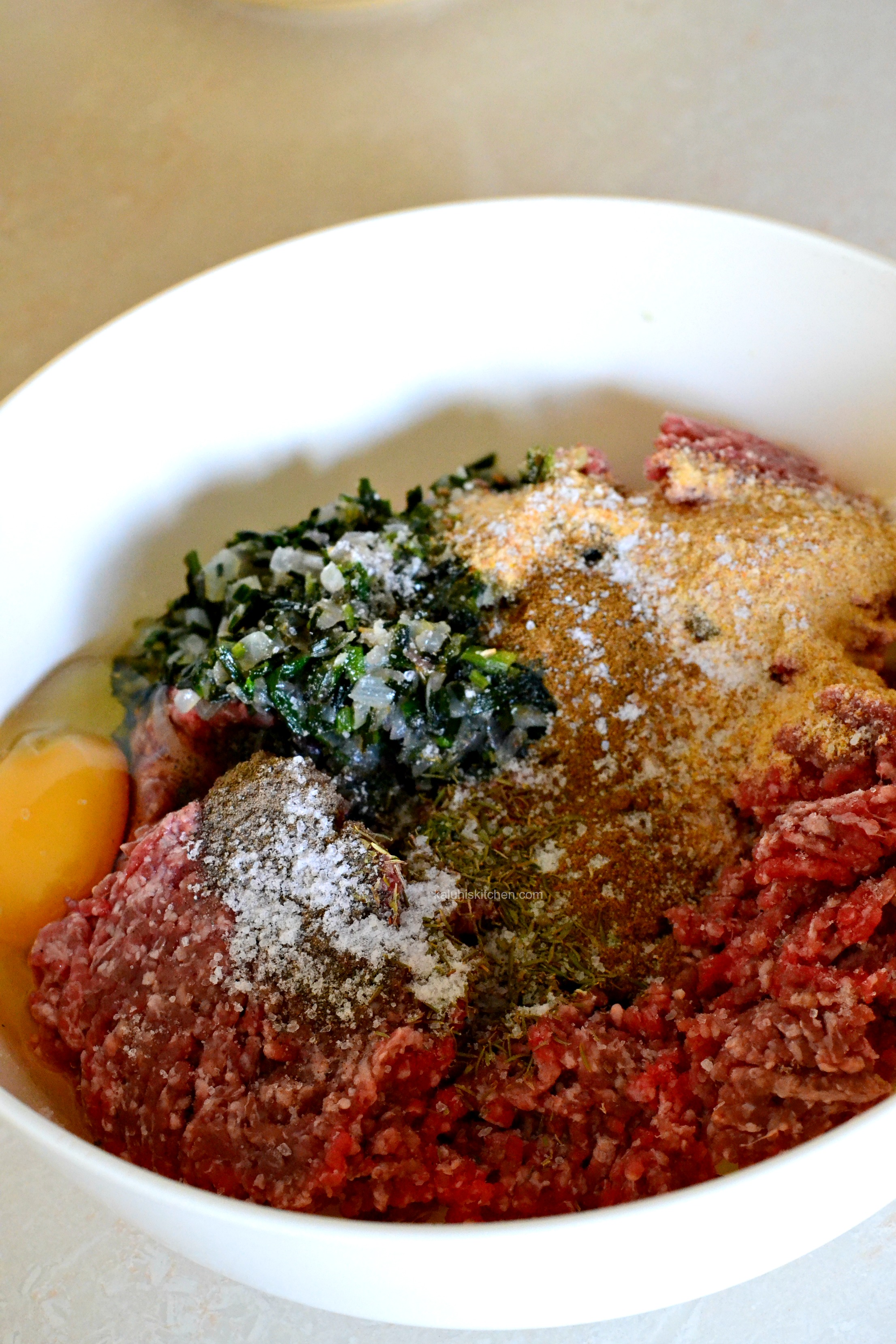 Mix everything once completely combined. Roll them into sausage shaped pieces and set aside. Remember, do not roll them too tightly. You are also free to roll them as large or as long as you fancy, I just prefer having mine as minis and that way they also get to cook really fast.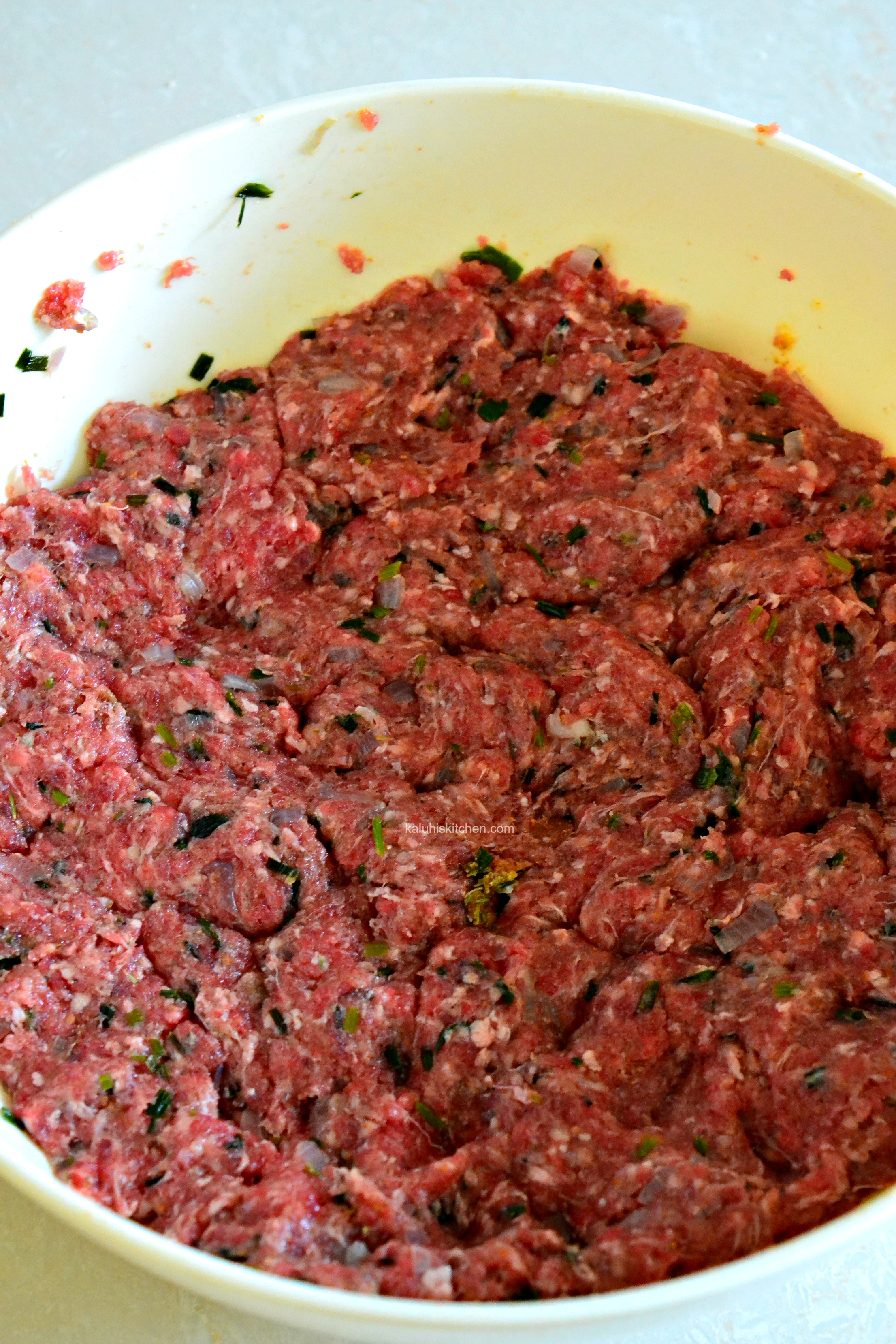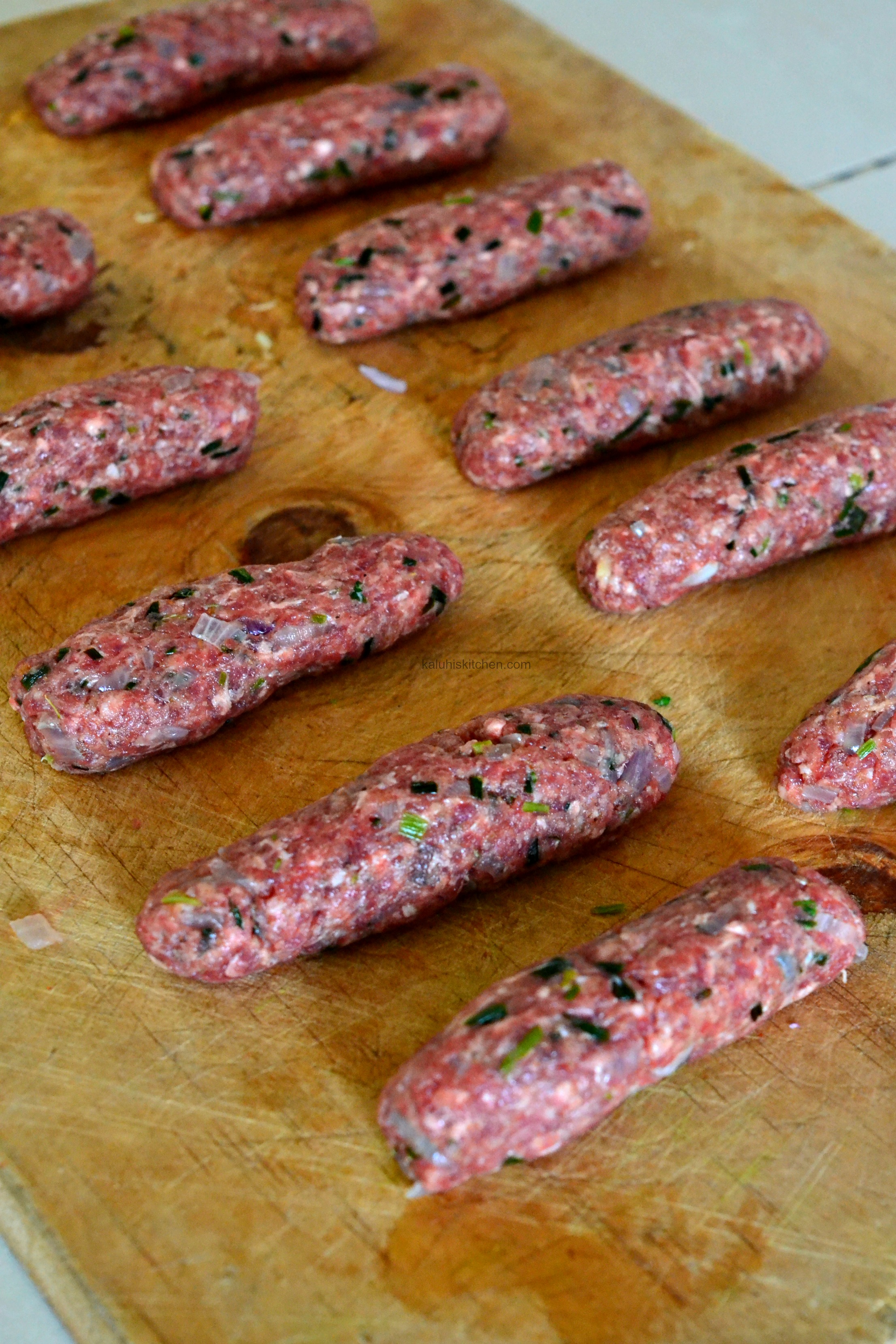 The coating is made with eggs. Remember we started with three eggs-  One went into the meat mixture (3 eggs – 1 egg = 2 eggs) – and the remaining two are for the coating . Traditionally, just eggs only. But you know we always have to go the extra mile here! For the egg mixture, crack your eggs in a bowl, and whisk them together with your minced garlic. Dip the kebab and once coated, fry in some oil on medium low heat. This is much clearly shown in this post's complimentary video. Dip the cooked kebab again and repeat the process for about three times until the coating is thick and crispy.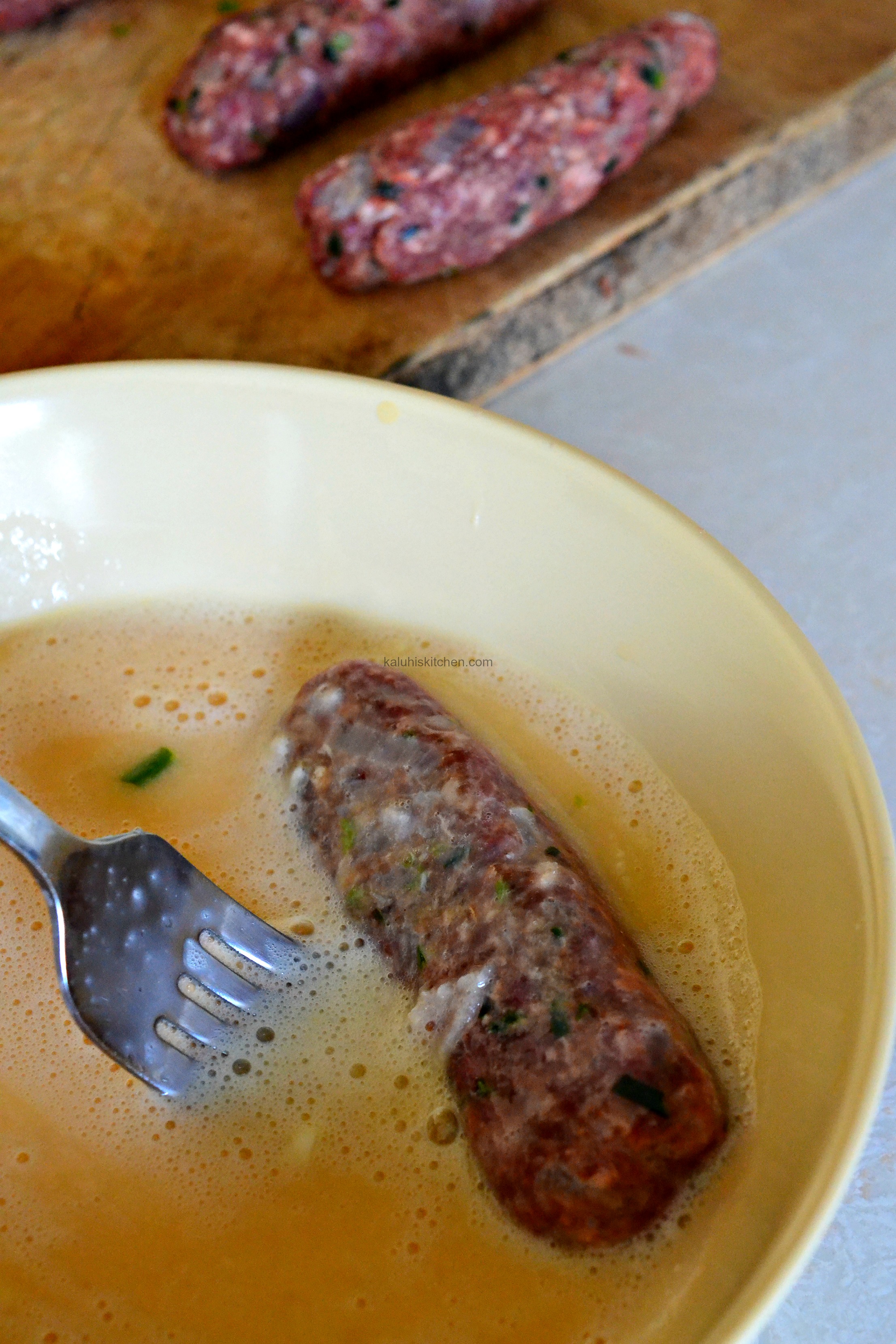 The more times you dip and fry the kebab, the crispier the coating will be. Mine went for three rounds. Make sure you keep your heat medium low for the first two rounds, then medium high on the last round so that it cooks through completely and browns well on the outside. Do not loose control over how you regulate your heat.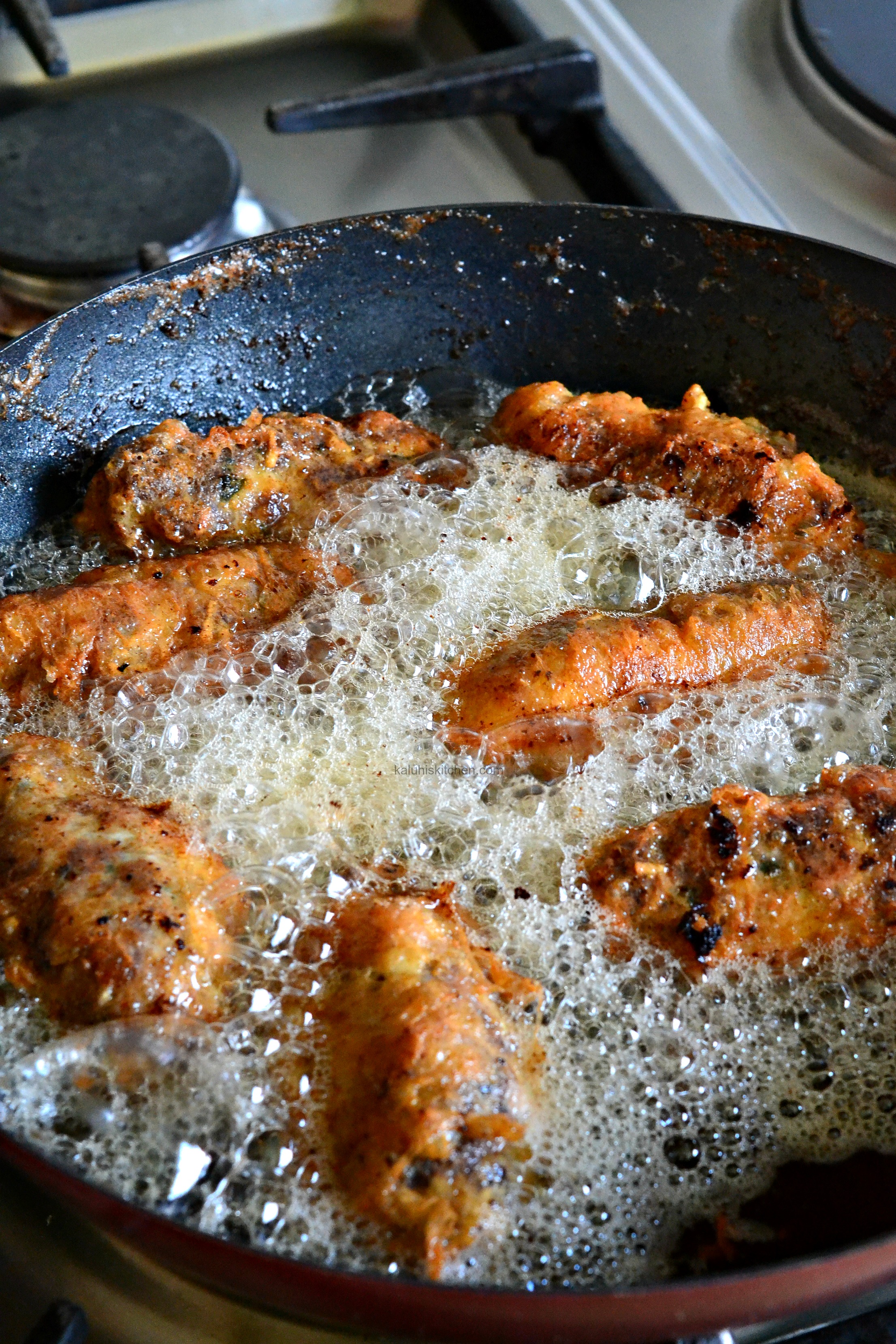 Remove from the heat and serve with your favorite condiment. I served mine with African Kaya Sweet Chili Jam, same one I had with my sweet potato fries. You can place your order by calling 0710 111 105.
Perfection in one plate! Perfectly crispy on the outside, and meaty, juicy and herby on the inside!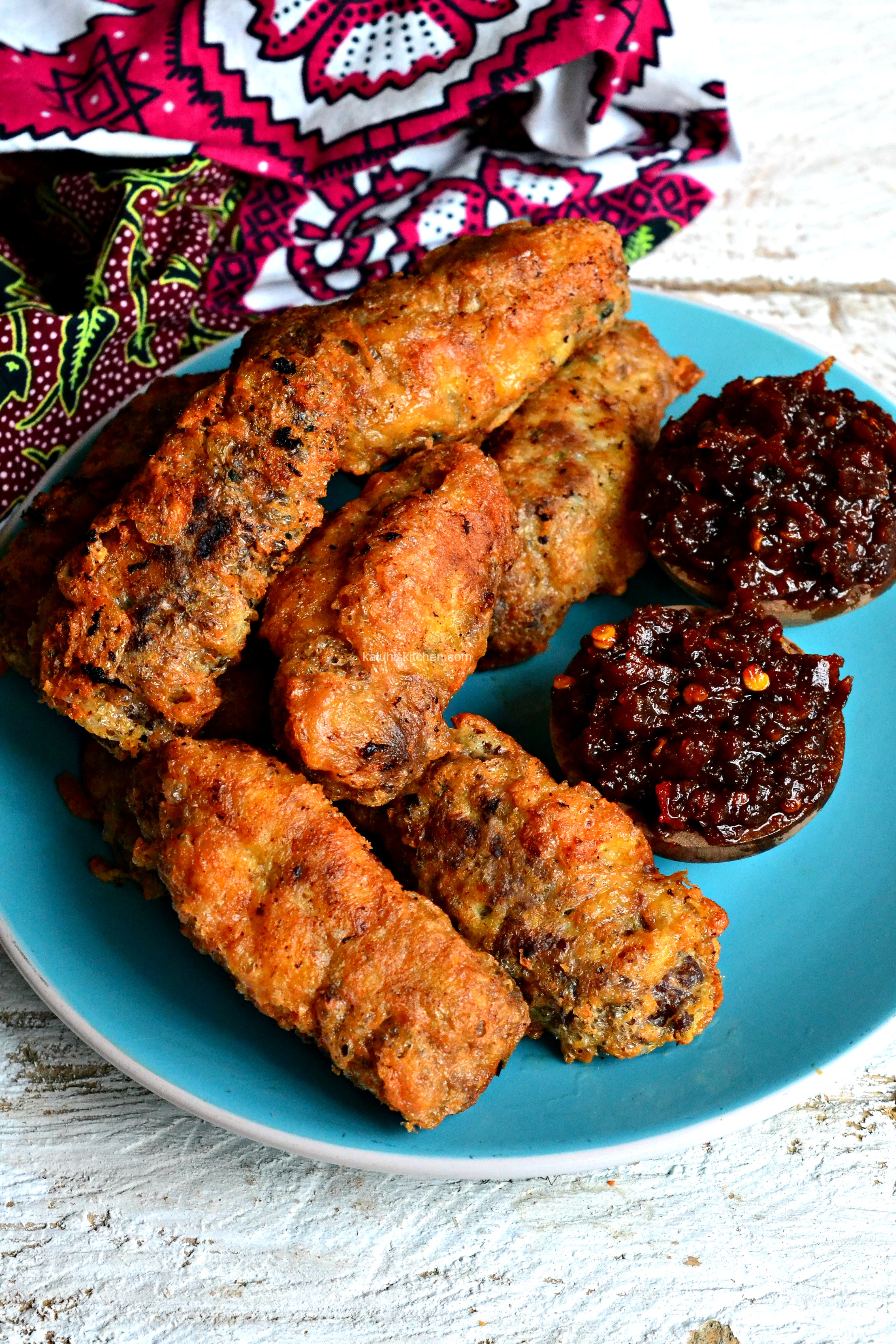 The flavor of the cumin,thyme and pepper are beyond perfect for the beef. The herbiness of the two onions and the dania stems added some much welcome freshness. fullness and flavor. The coating, with it's garlic, was complimentary to the explosive flavor of the meat. Flavorful, crispy coating and a herby juicy meaty interior make for the perfect kebab!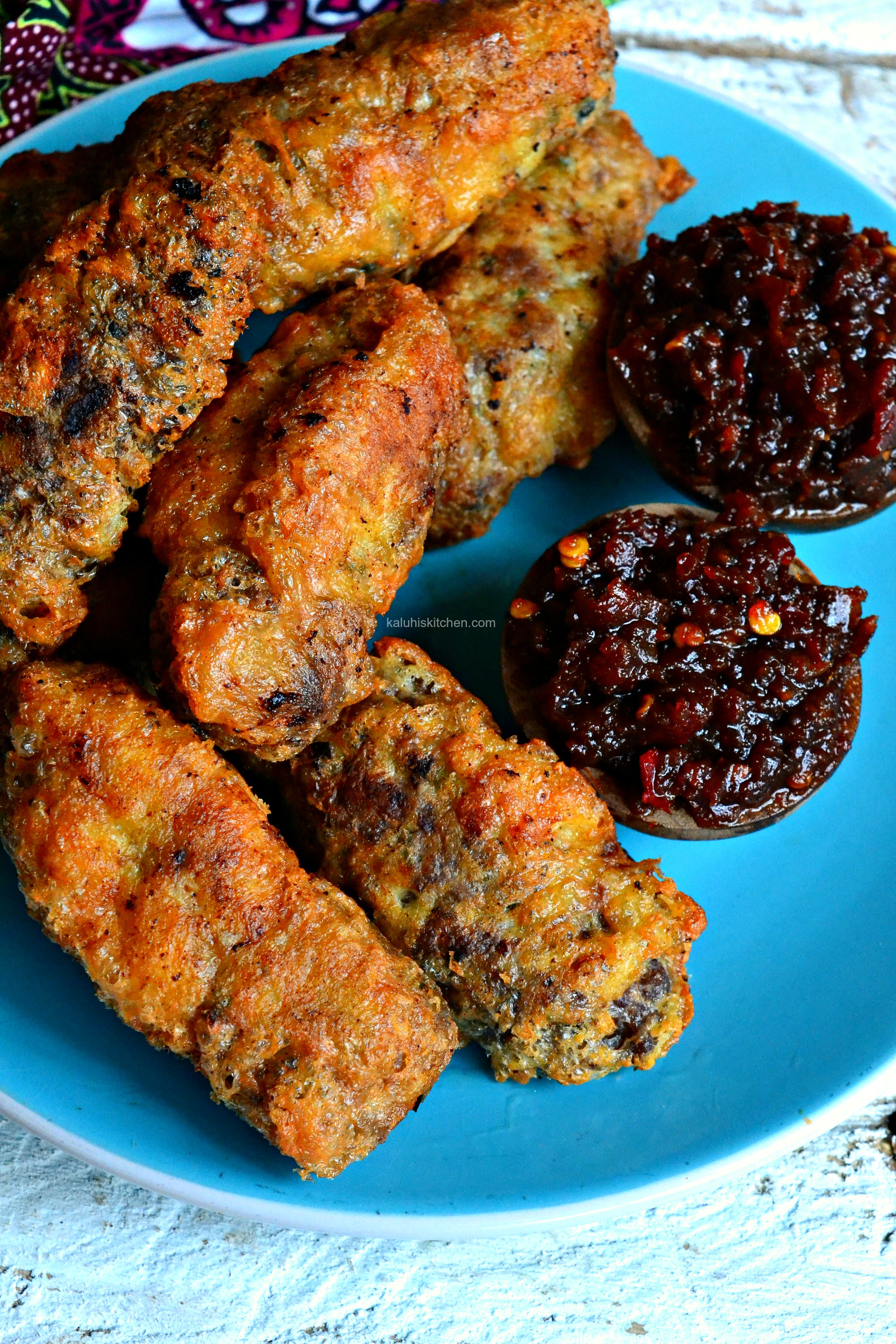 To amazing food!
-K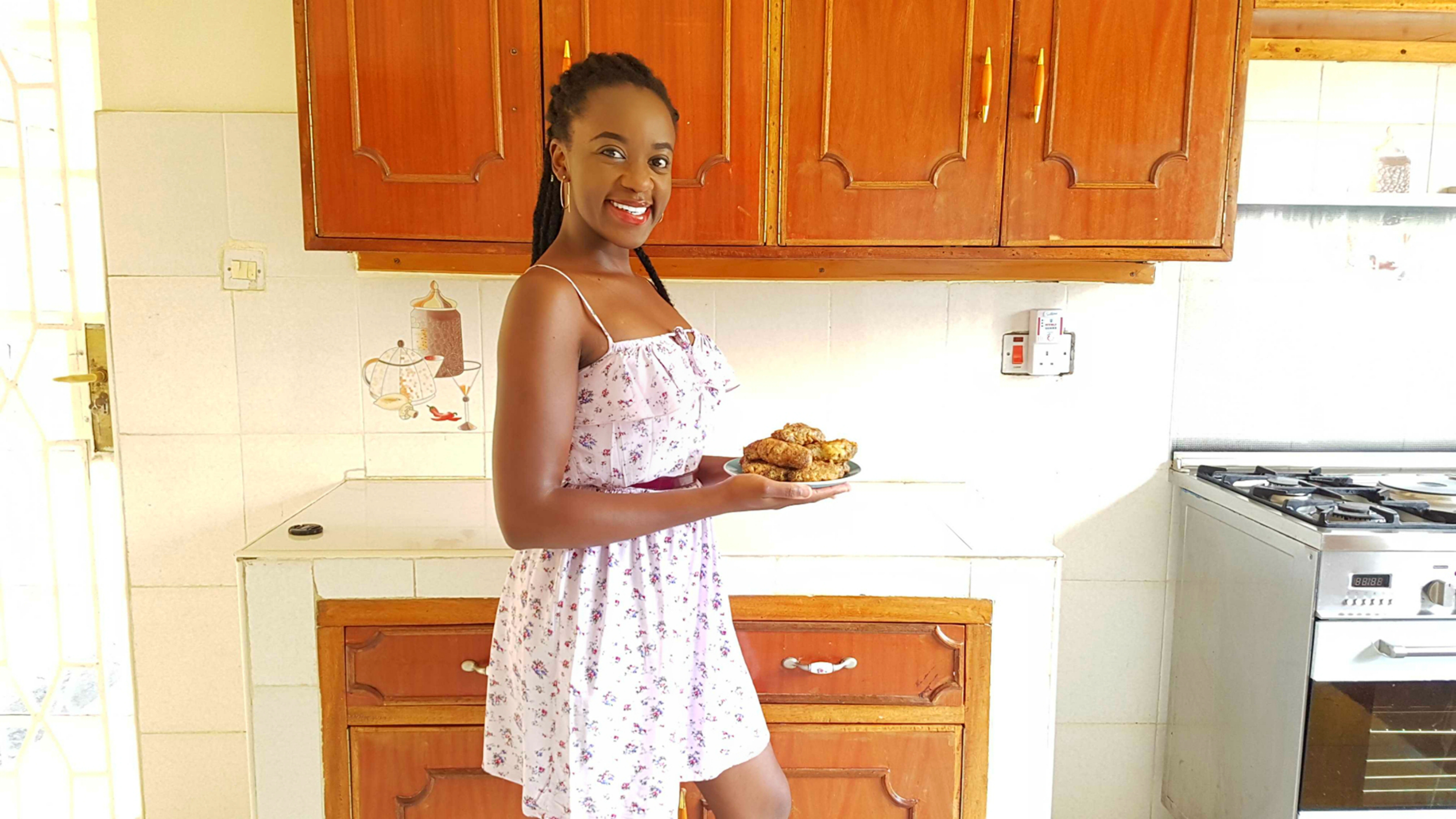 ---
Get your downloadable recipe here :))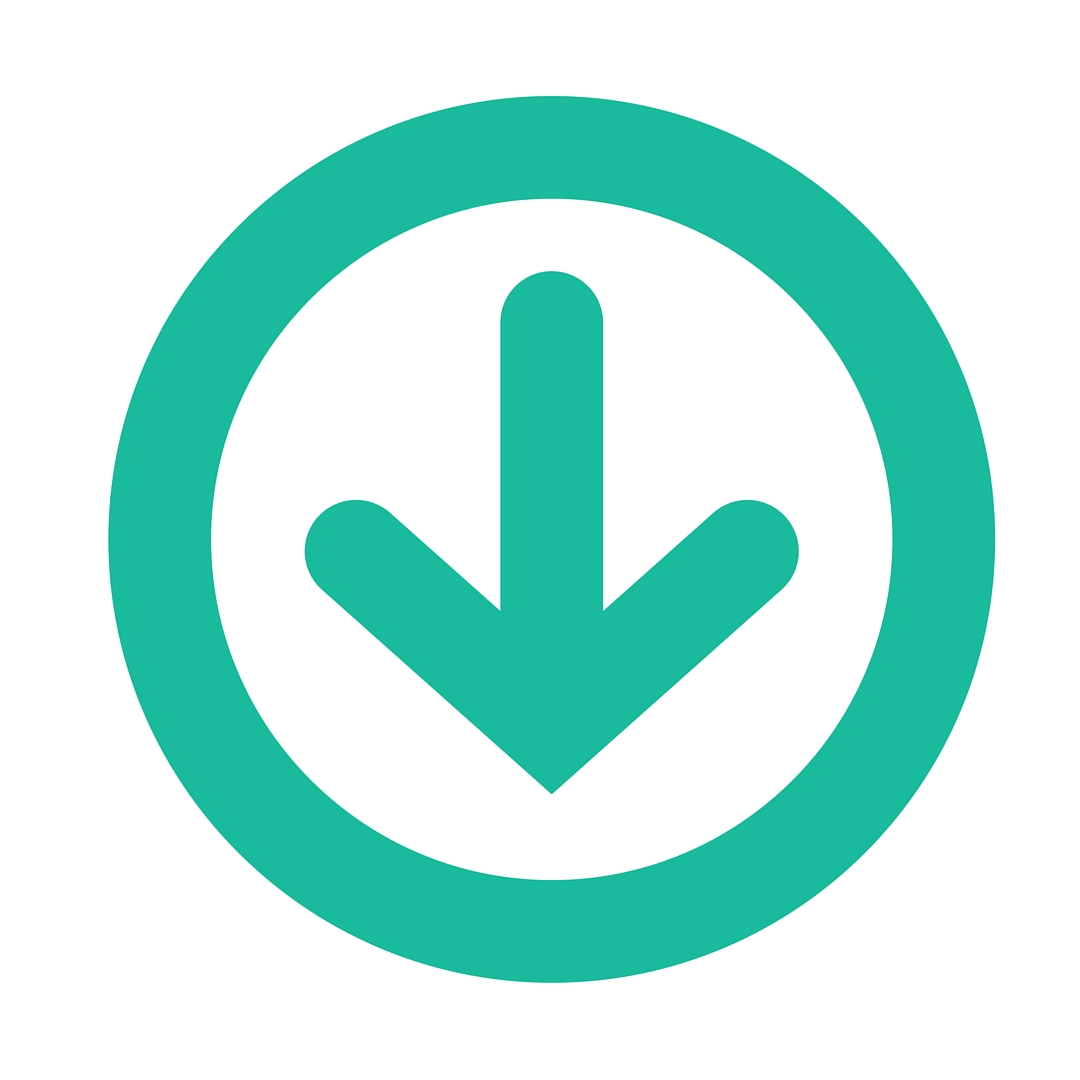 ---
All content and images are copyright protected by



Do not copy in part or whole without giving due credit.