What a brilliant year 2018 has been!! For me, it has been the year of becoming, settling into myself and growing into my full potential. It has been a year of self growth, coming face to face with uncomfortable truths about myself, learning and unlearning those that are malleable, and becoming an overall better person. It has been a year where I have become deliberately present for my friends, and finding time to catch up in the midst of work, starting families and travel. It has been a year of delicious financial gain and tangible growth of my brand. There has been plenty of self-assertion and no taking of bullshit especially from twitter trolls.  It has been a wild, thrilling ride of self discovery that I am thankful for- because it has set the stage for the incredible person I am blossoming into in the years to come!
To send off this brilliant year is an equally brilliant recipe- my lemon pepper chicken thighs in my honey ukwaju bbq sauce. Crazy easy to make and it is so good that your eyes will be rolling to the back of your head with each juicy, meaty bite!! Let's get to it!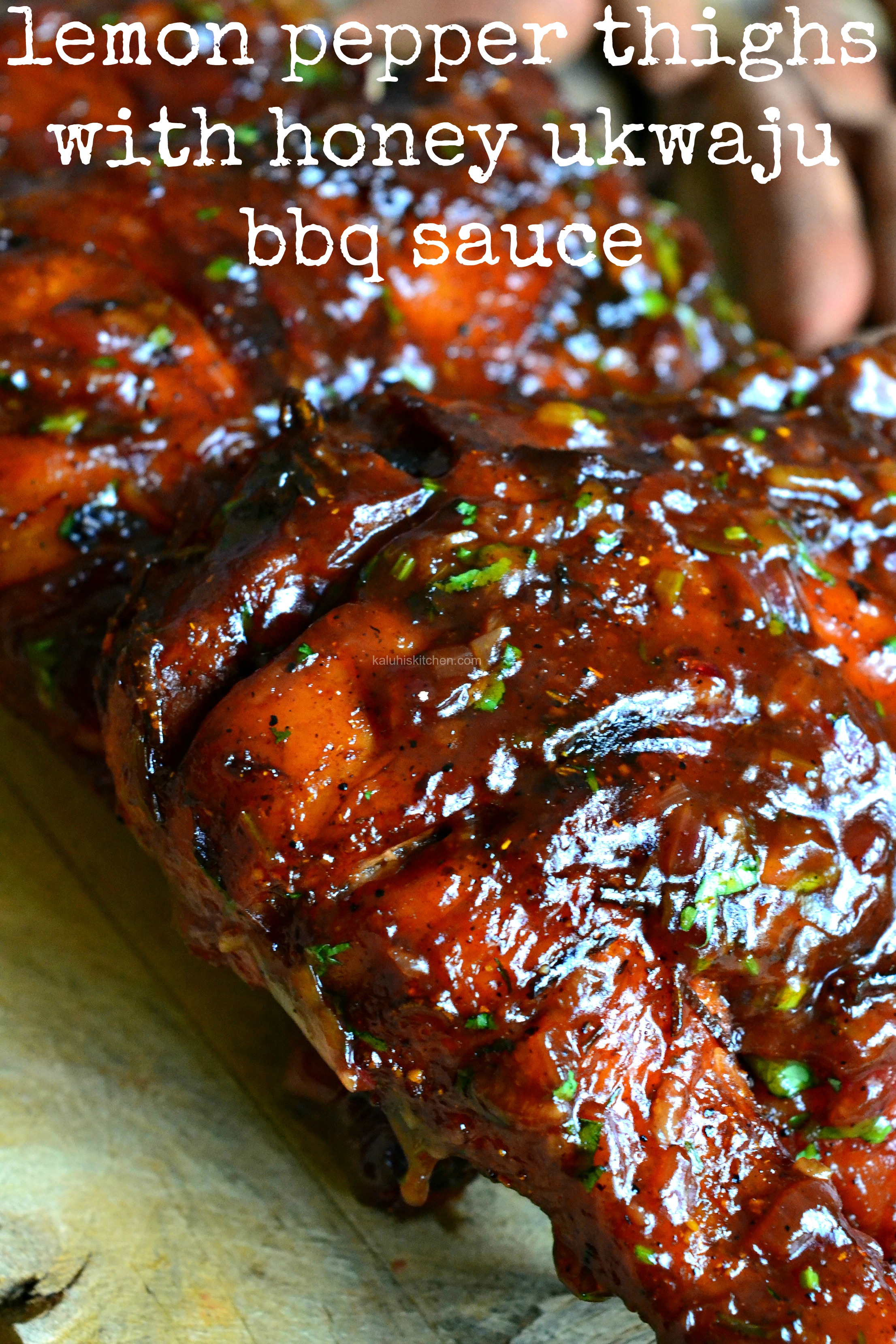 Check out the YouTube video too here:
PREP TIME:  24hrs   COOK TIME: 45min        SERVES: 3
Ingredients
For the ukwaju bbq sauce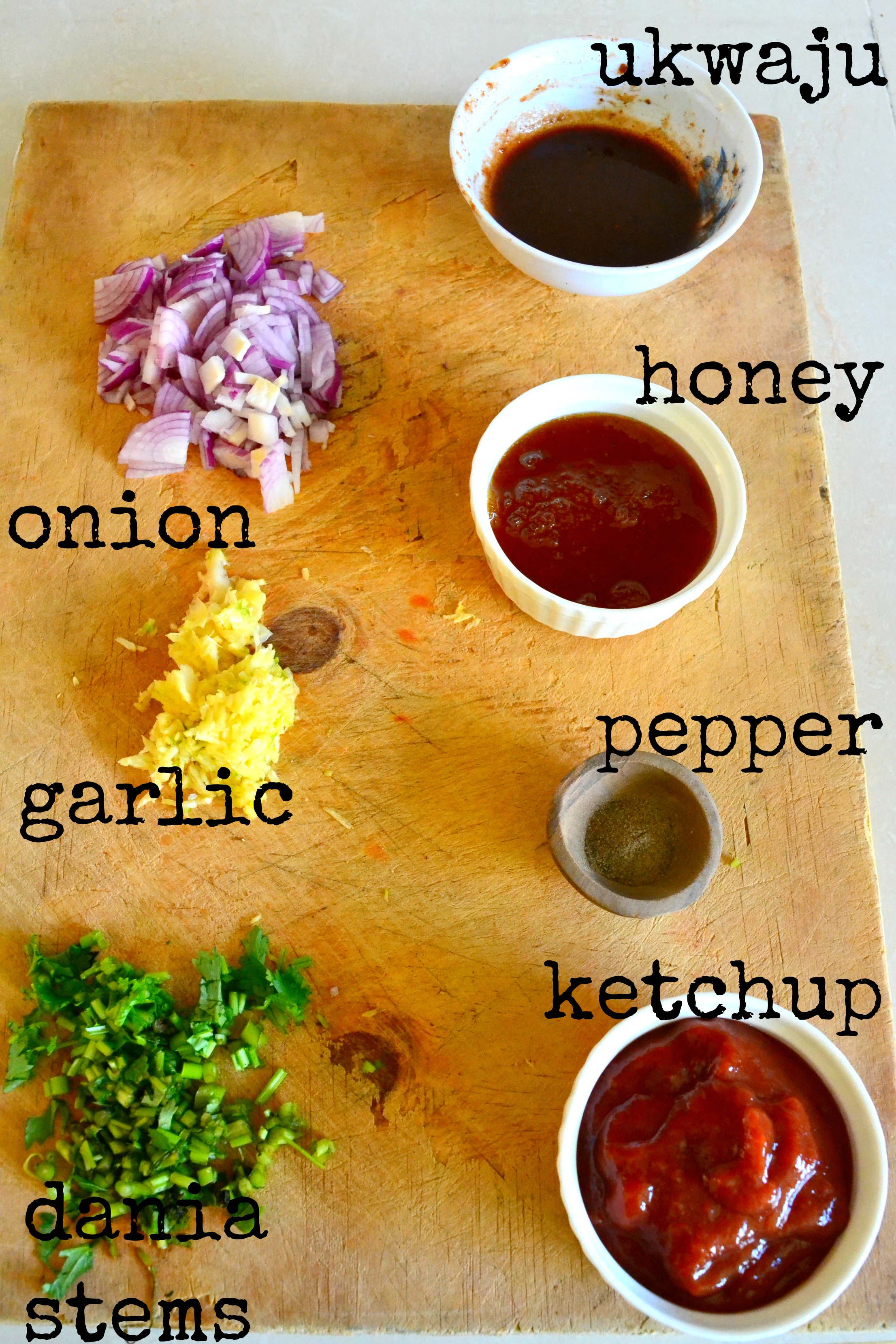 1 red onion
4 cloves of garlic
2 tablespoons of honey
2 tablespoons of ukwaju paste
1 teaspoon of ginger powder
½ teaspoon of ginger
A handful of dania stems
For the seasoning
3 tablespoons of lemon pepper
1 tablespoons of royco
For marinade
2 tablespoons of apple cider vinegar
3 cloves of garlic
2 tablespoons of dried rosemary
1 tablespoon of soy sauce
1 red onion, finely chopped
1 teaspoon of thyme
Method
For delicious chicken, three steps are mandatory: Marination, Seasoning, Basting. Let us start with the first- the marination.
Add the marinade ingredients plus your raw chicken and allow it to sit for a min of 6 hours and up to 48 hours. You can of course use any other parts of a chicken- i opted for thighs. I bought mine from city market stall 38. Remember, the longer you marinate your meat, the deeper the flavors will sink in. My base ingredients are usually just Apple Cider Vinegar, rosemary and garlic. Very simple but extremely powerful. For this recipe, I wanted fuller flavor- so I added soy sauce, red onion and thyme.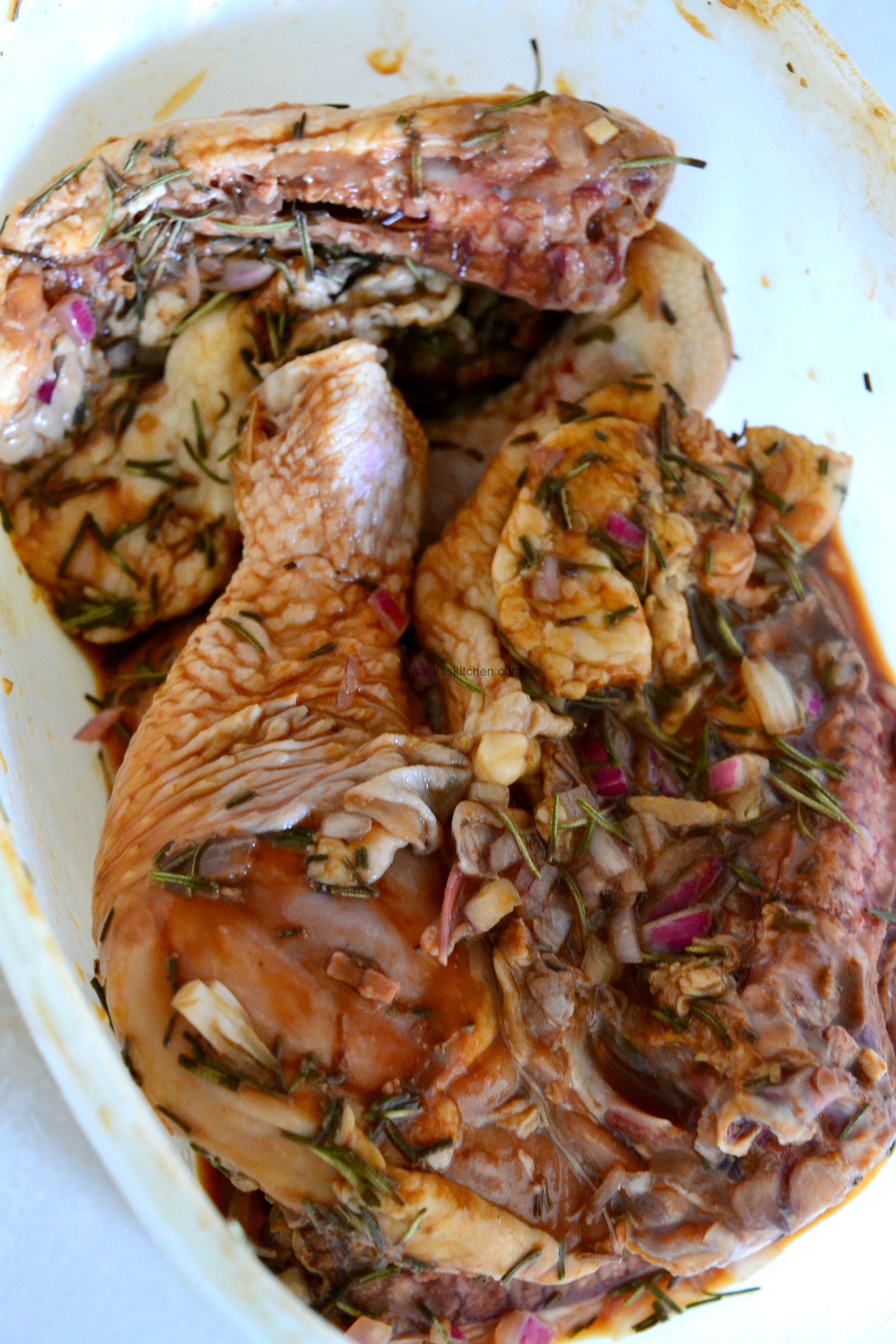 Once the chicken has marinated, let this boil with the marinate contents until cooked through and dried up. It is verrrrrry important that the liquid dries up because this re-concentrates the flavors and makes sure the flavors of the marinate are retained. I have shown you this in the video, so if you want to get it right, pass by and watch the video.
For this seasoning, I went with lemon pepper and royco. You can truly use any other seasoning as I have explained in the video, but for this recipe, I just decided to go with this. If you do not fancy any spice I used, or are missing a spice I used, you are more than free to use any seasoning you like.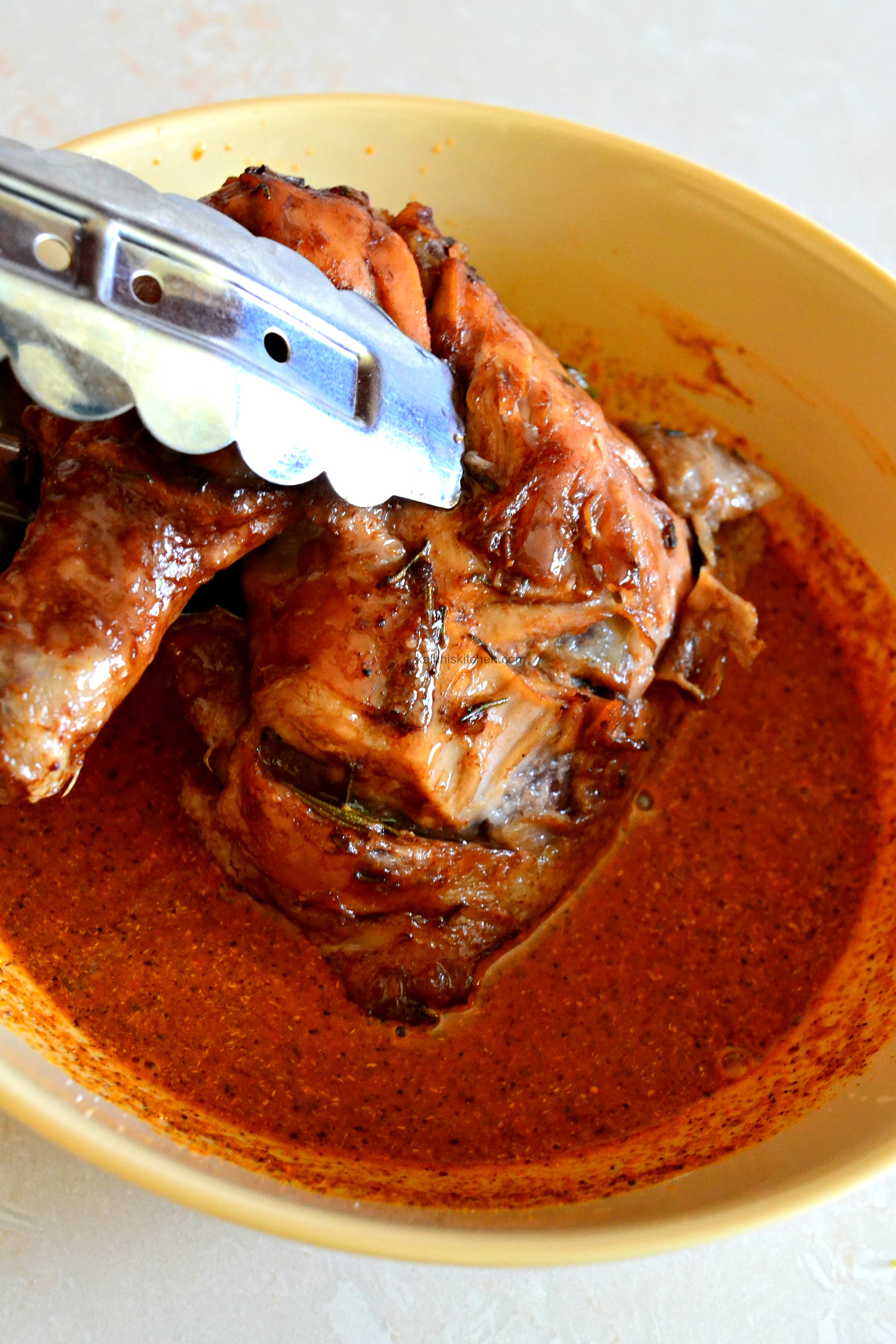 For those interested, I bought my lemon pepper from Zucchini at 150 bob a can. Make a paste with the spice seasoning and dip in the boiled chicken. Proceed to to fry until golden brown.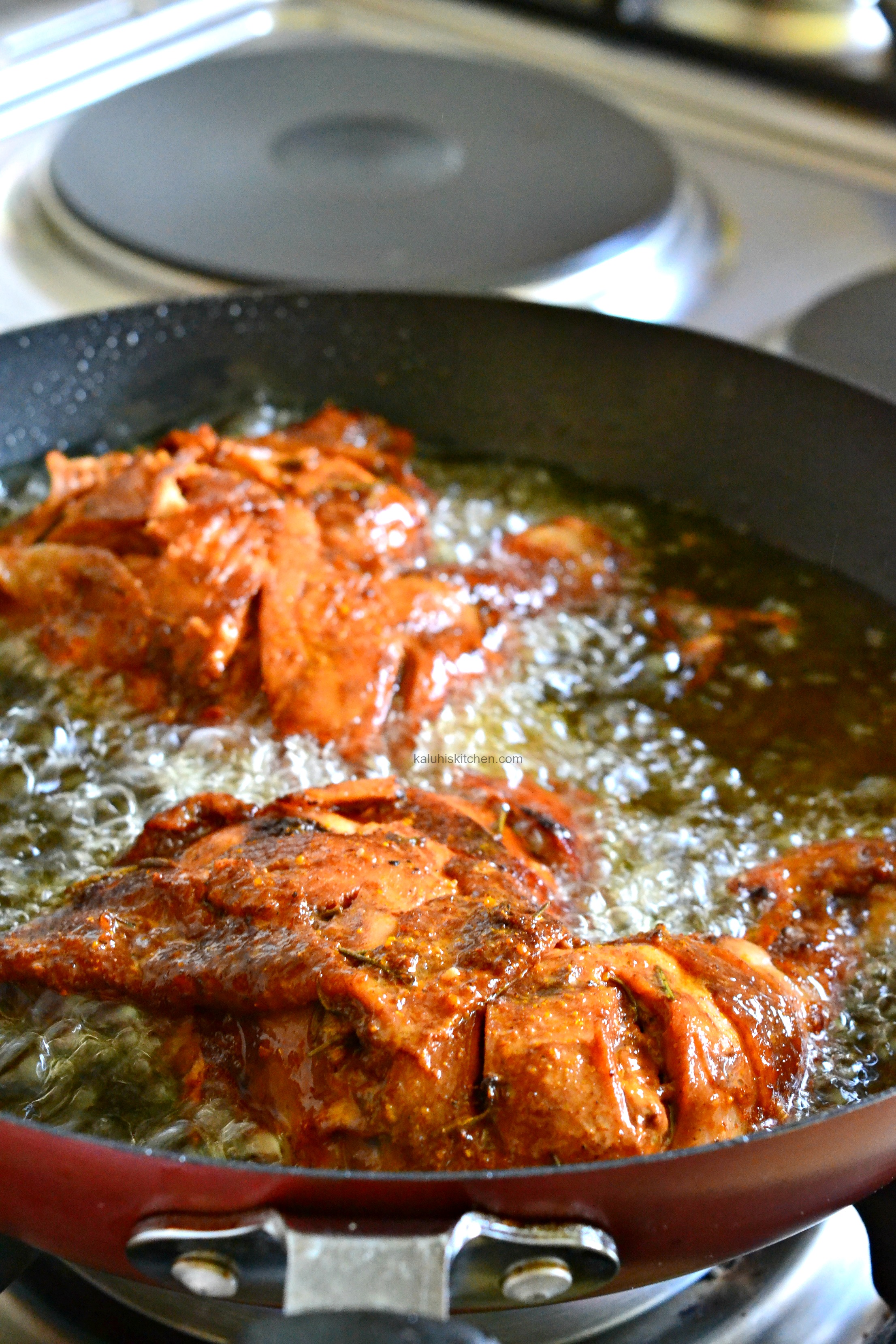 Set aside and work on the honey ukwaju bbq sauce that we will baste the chicken in.
In a sufuria, add the red onion, dania stems and garlic. Let this simmer until softened, then add the honey, ginger powder, pepper and the ukwaju paste. Ukwaju (tamarind), can be pretty tart, and a little bit goes a loooooong way. Do not be overly enthusiastic with this since adding too much will make everything unpalatably tart. Kidogo tu!
I bought my ukwaju form Ngara Market at 50 bob for a full pack. You can get some eat Bus Station, Toi and Sometimes Zucchini as well.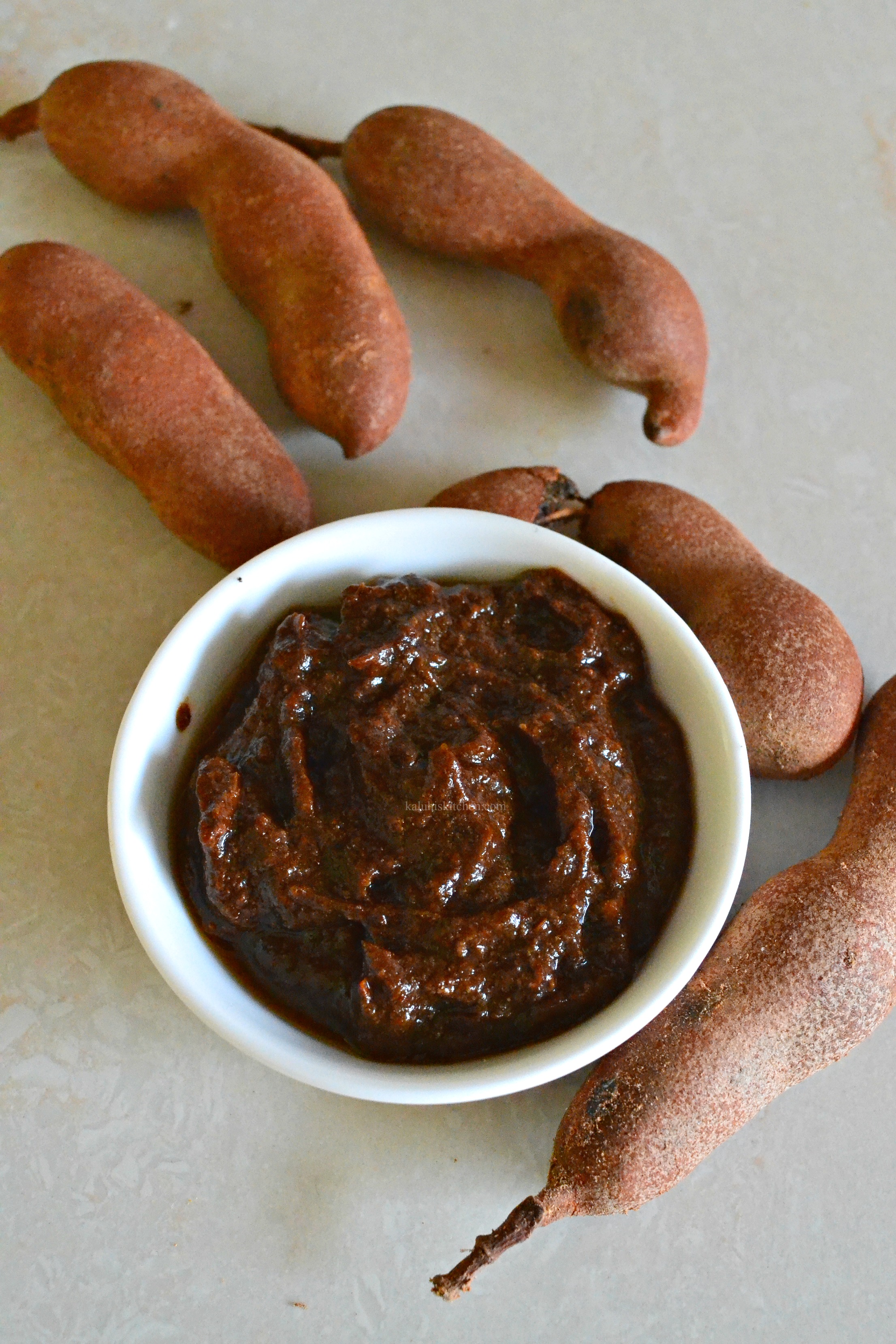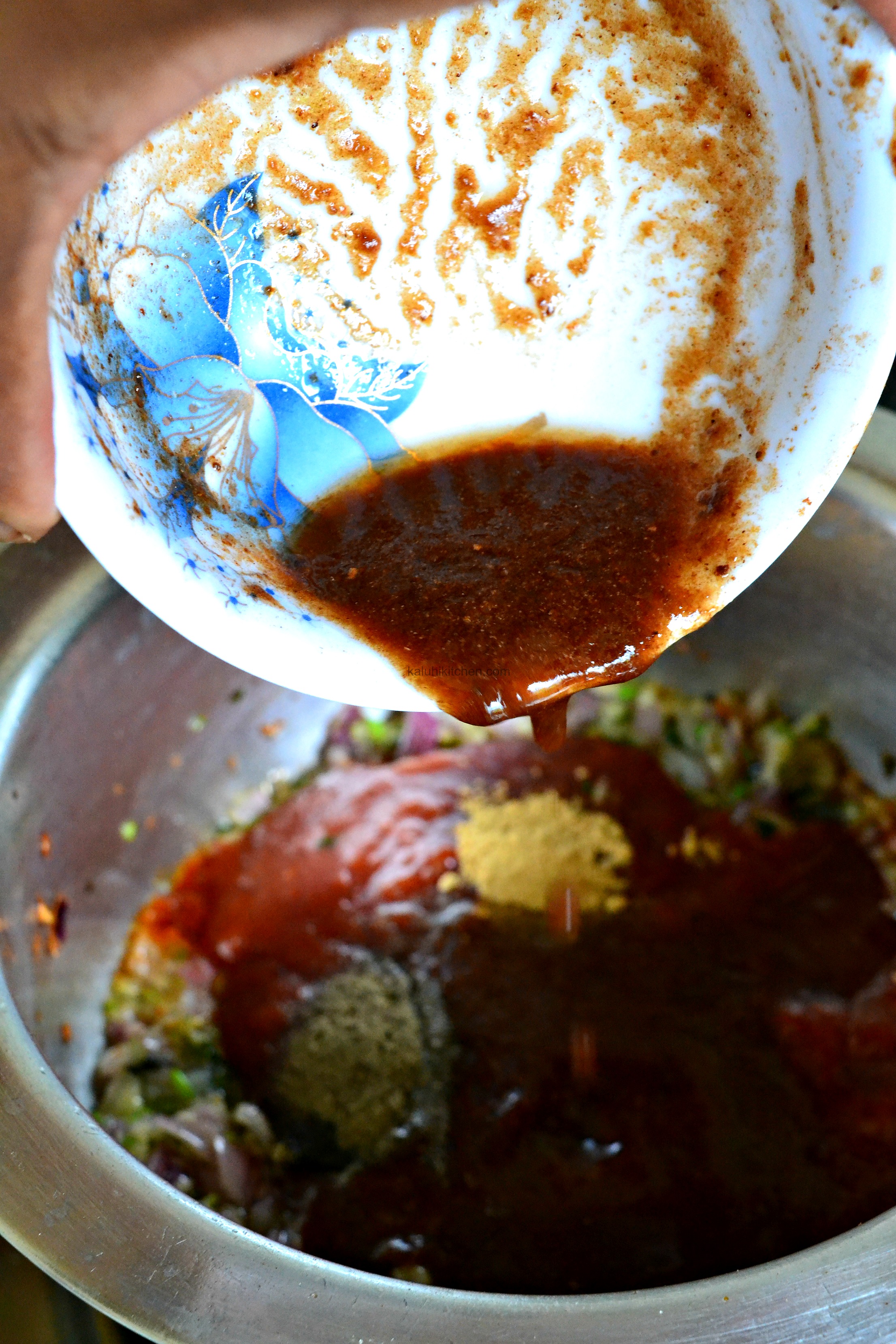 Once everything is mixed in, taste it and adjust any ingredients if necessary. If it is too tart, add more honey, if it is too sweet add more ukwaju. You MUST ALWAYS TASTE to see if there is balance before proceeding.
Let this simmer on low heat for about 15 minutes and once done, baste it over your fried chicken. How unbelievably delicious does this look??? Na wale mnasemanga ni photoshop, watch the video on my channel ndio ujionee its just about making beautiful food!! Who needs photoshop when their hands effortlessly make masterpieces!!?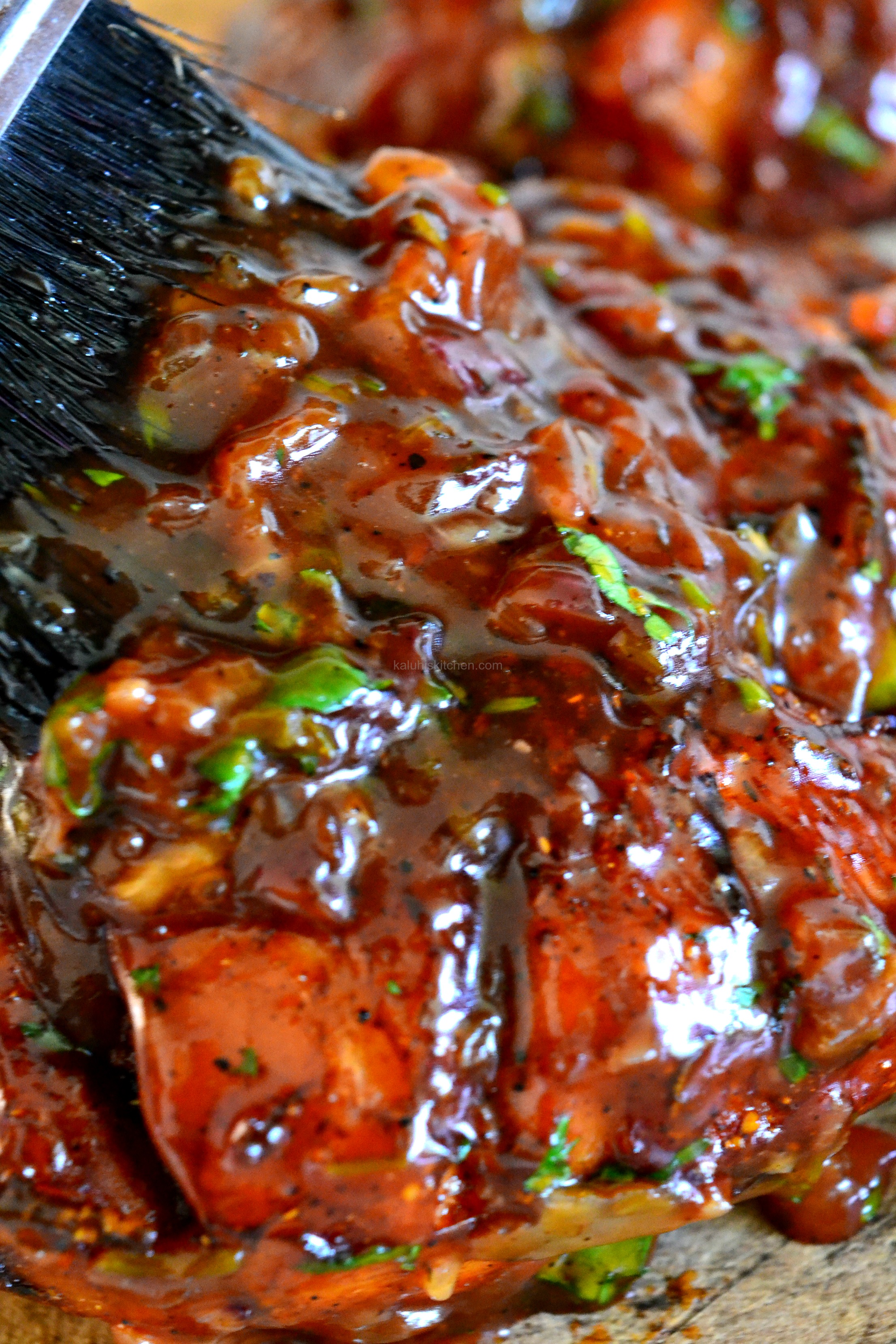 Serve with your favorite starch and a salad of choice.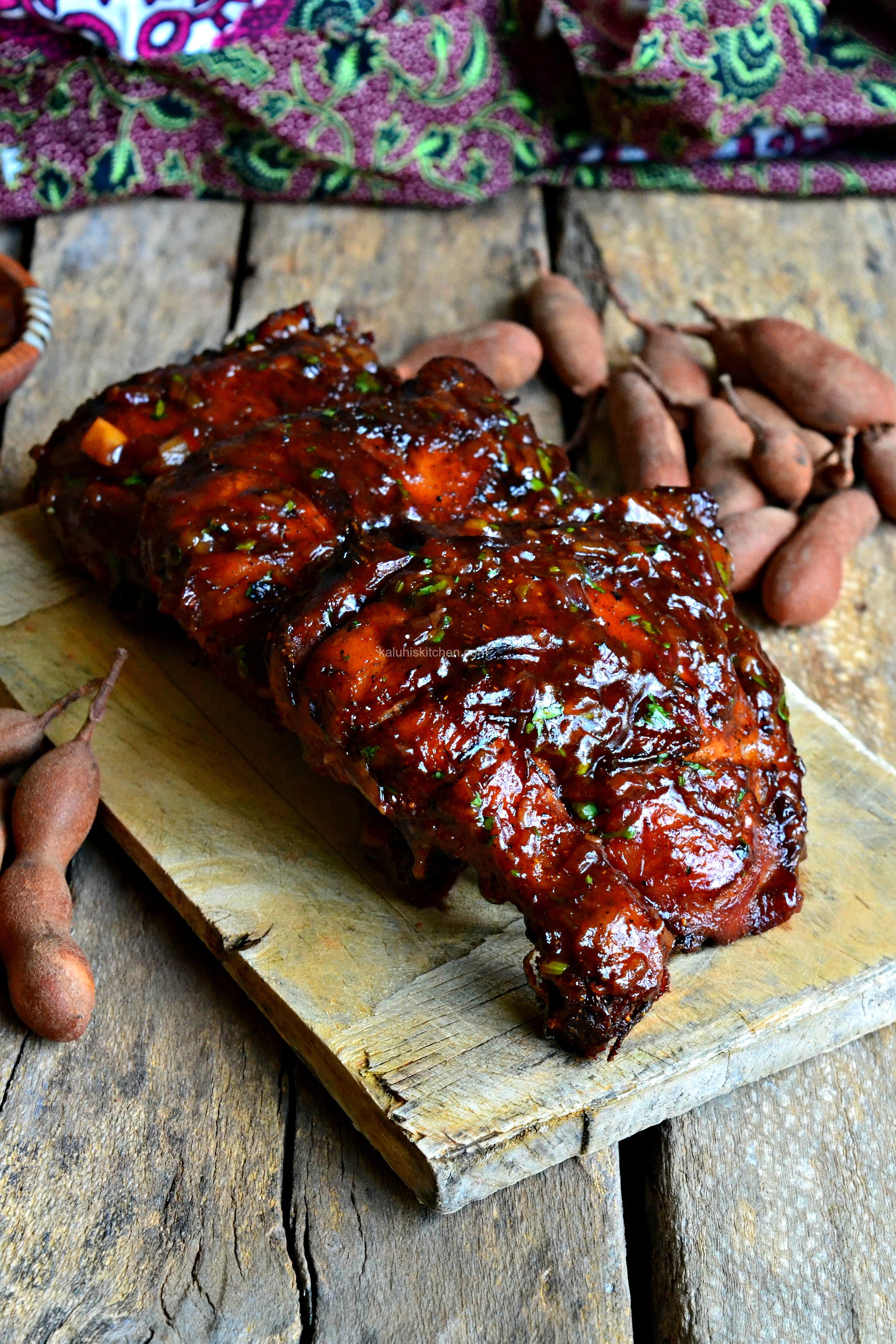 You will go through a myriad of euphoric experiences as you eat this!! First the full flavor of the honey ukwaju bbq sauce, where the contrast between the tartness of the honey and the ukwaju and the warmth of the ginger will blow you away! Next flavor layer that of the lemon pepper which always compliments the flavor of chicken. And finally the herby flavor of the flesh itself as a result of marinade tied everything together! No better way to send off the year!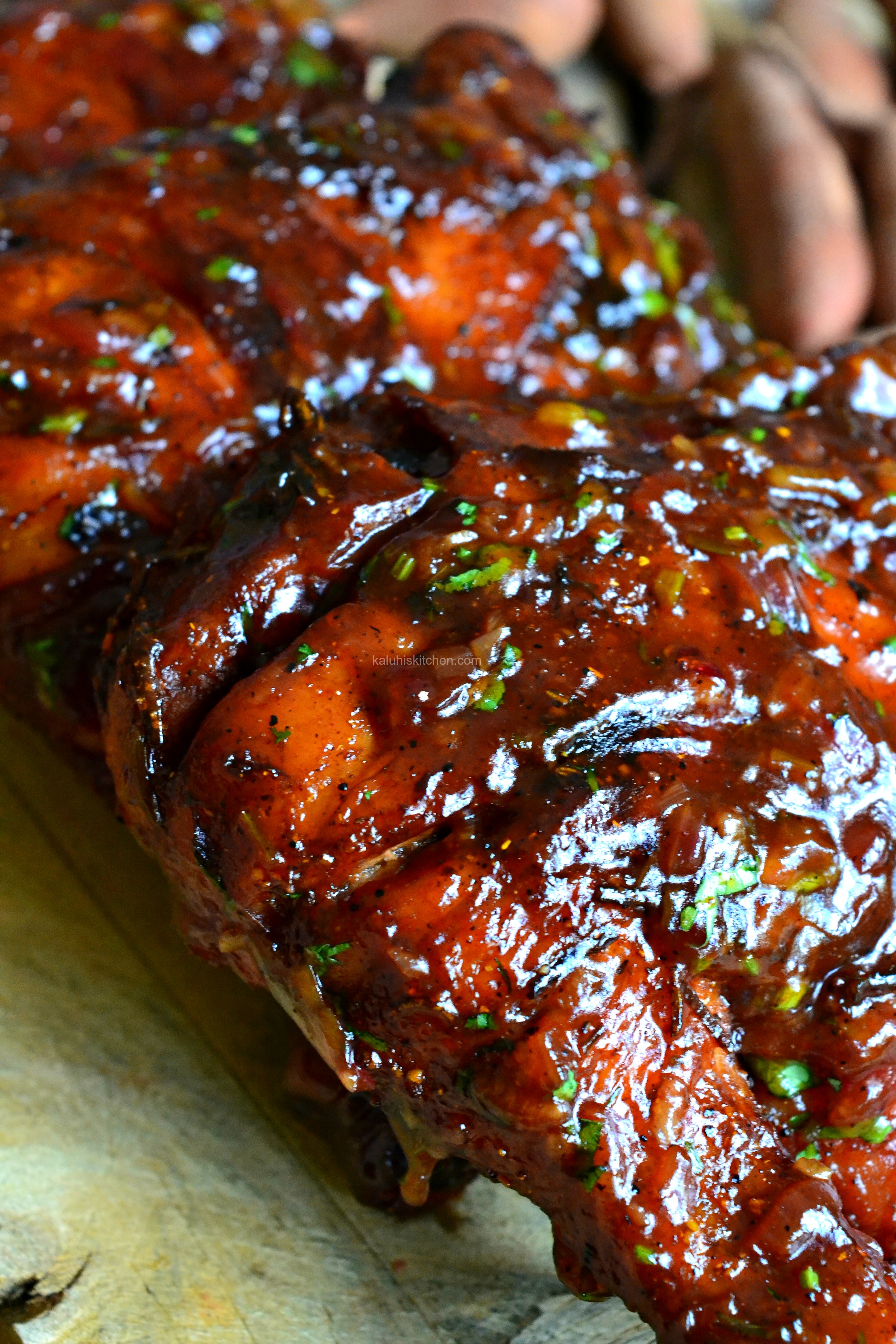 Cheers to amazing food and thank you for walking 2018 with me!
To many more!
-K
---
Get your downloadable recipe here :))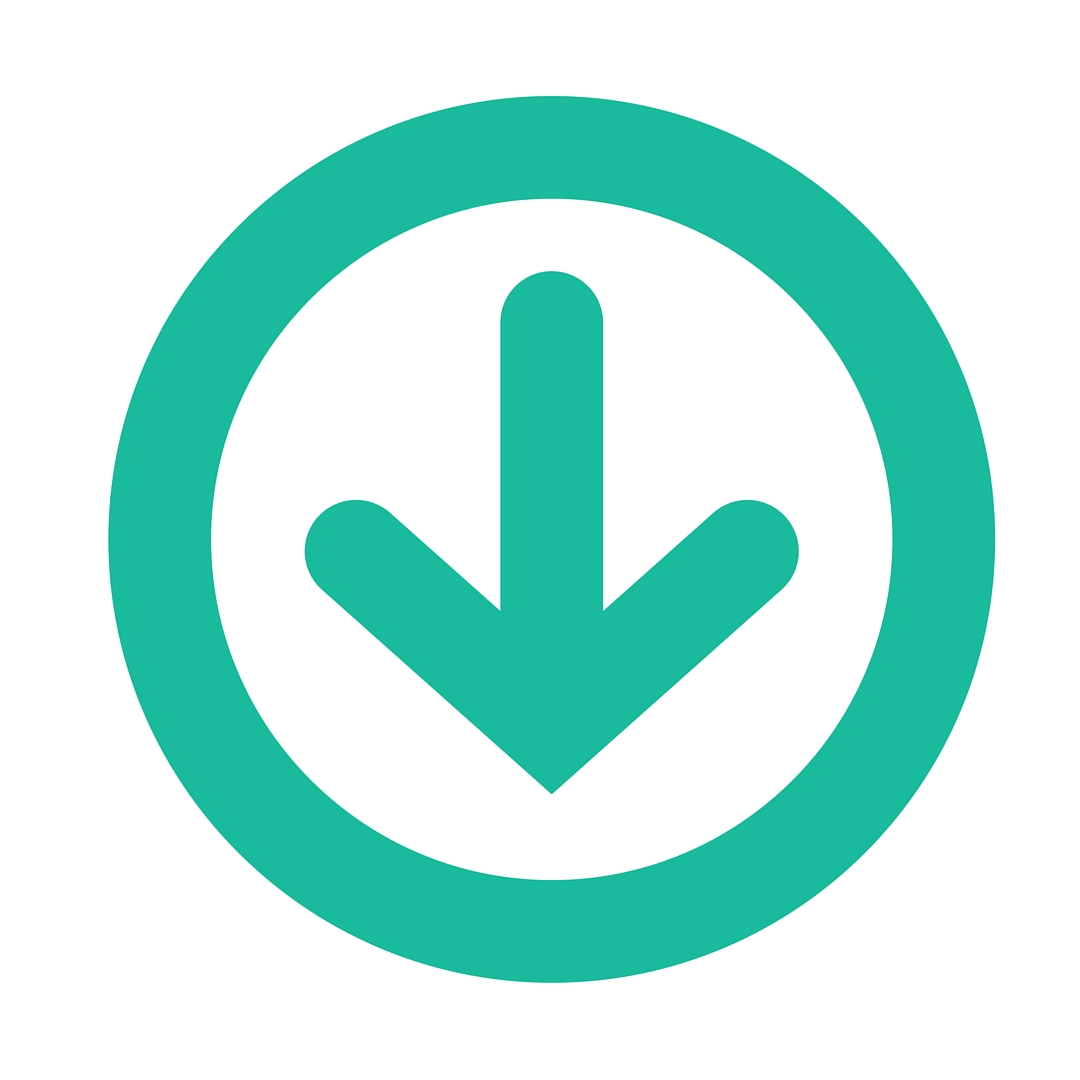 ---
All content and images are copyright protected by



Do not copy in part or whole without giving due credit.
---