So here we are: Diner en Blanc is coming to Nairobi!!! For those of you who may not know, diner en blanc is a high end dinner where all the attendees are required to dress in white, carry their finest dishes and dine under the stars in a location revealed only at the last moment. They can carry drinks, but only fine ones such as wine, no hard liquor in an attempt to make the event even 'classy'. I must be honest and admit, I find it strange that one may leave home with food and drinks, and eat at an unknown location, but as an invited blogger, I was curious to see what the hype is all about.  This exclusive event originated from France and made its way through out the globe and has left its foot print in cities such as Toronto, Sydney, Cape Town, San Diego and Boston. It claims to be an experience like no other, and I was curious to see how the inaugural one in Nairobi would pan out!
FULL DISCLOSURE: I was invited in the capacity of  blogger/media. I did not purchase a ticket, I did not bring food or book a table. My work was to attend the event and write about it. I did not partake as a guest but for exclusively for work and to review it.
Here is how diner en blanc Nairobi went down: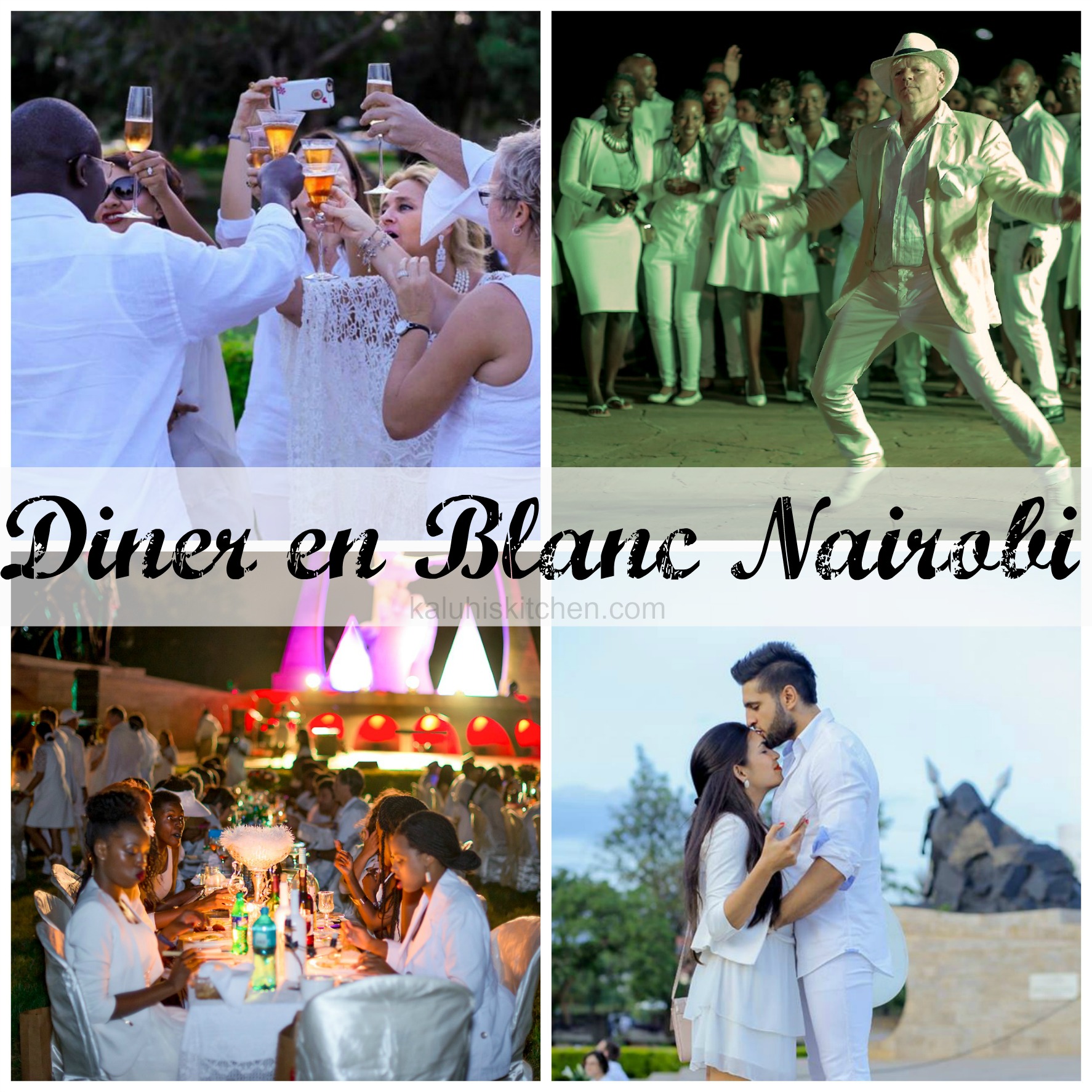 The official Diner en Blanc account on twitter hinted at the location. They said it was a place that symbolized new beginnings. I love guessing and my guess was spot on! The location was Uhuru Gardens, a place where our nation was birthed and ushered in an era where our people would live in freedom. Having our novice diner en blanc in a venue that holds such great importance to the beginning of our sovereignty and totally befitting for the first DEB. It had been rainy and in as much as the significance of Uhuru Gardens befits The first DEB, the muddy garden made maneuvering kinda difficult.
The event was to begin promptly at 5.30 p.m. on the evening of December fifth. There were some issues with the logistics, with the tables being arranged at 5.30 and lights being brought in as guests came in which was rather disorganized. But they were speedily dealt with that did not dampen anyone's spirits and the crowds kept pouring in. It was meant to be set up at 5.30, but order set in about an hour later.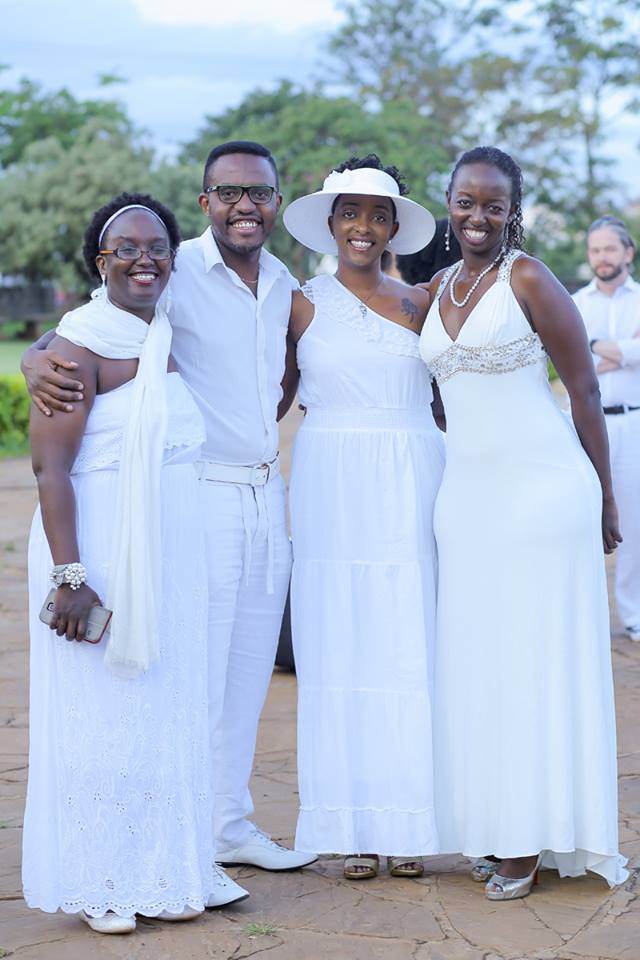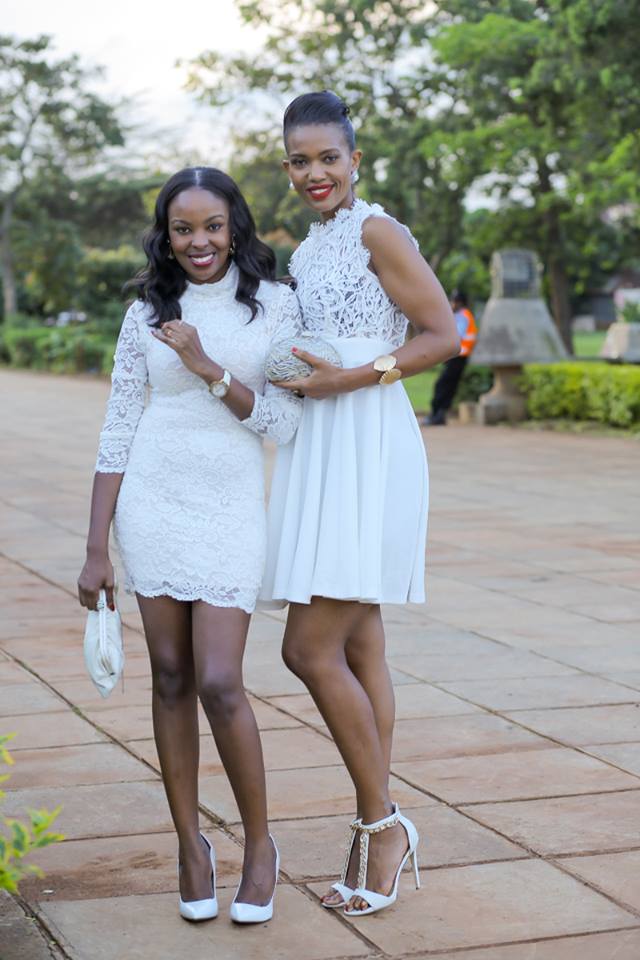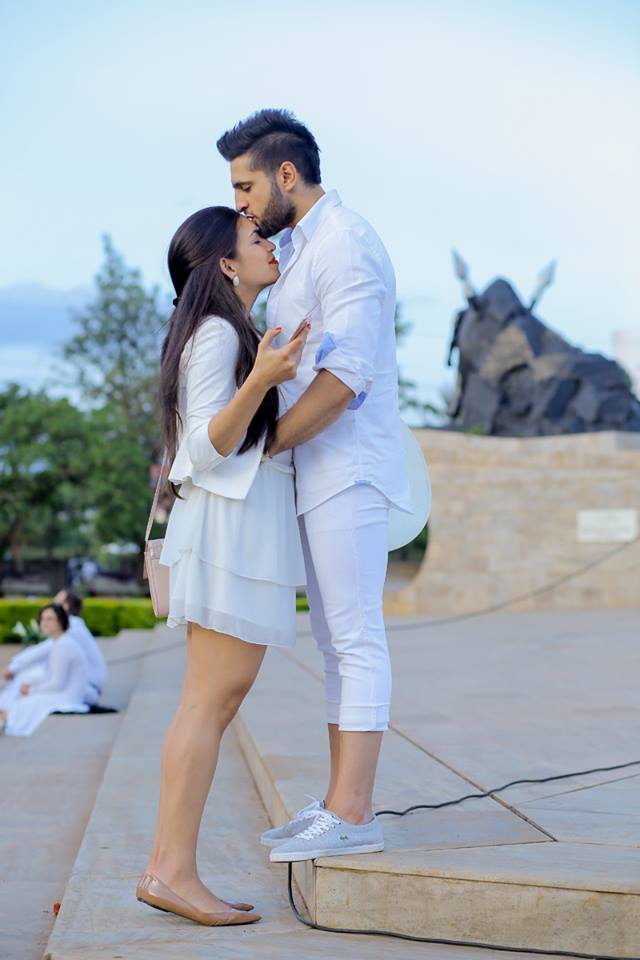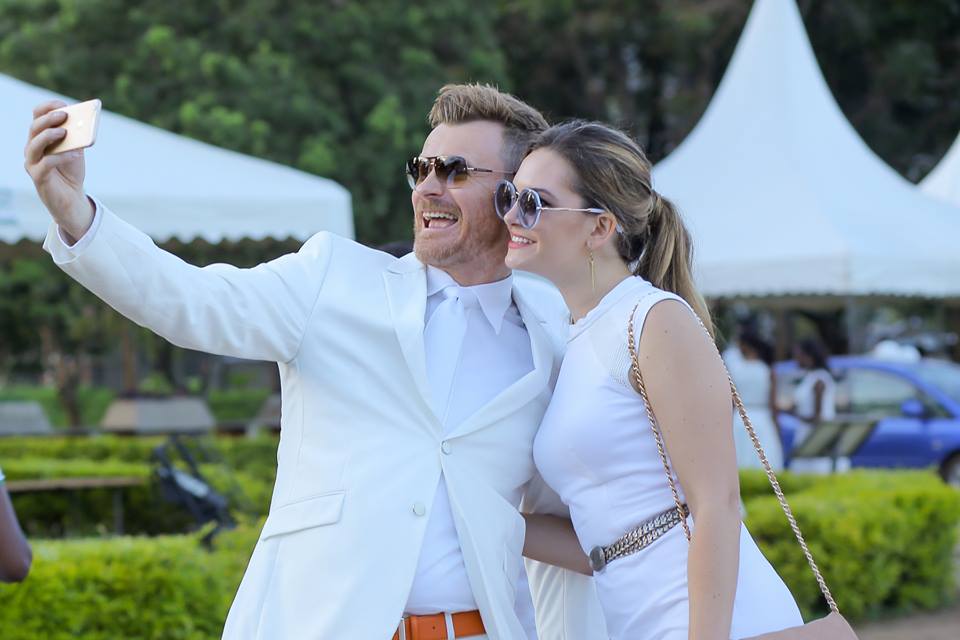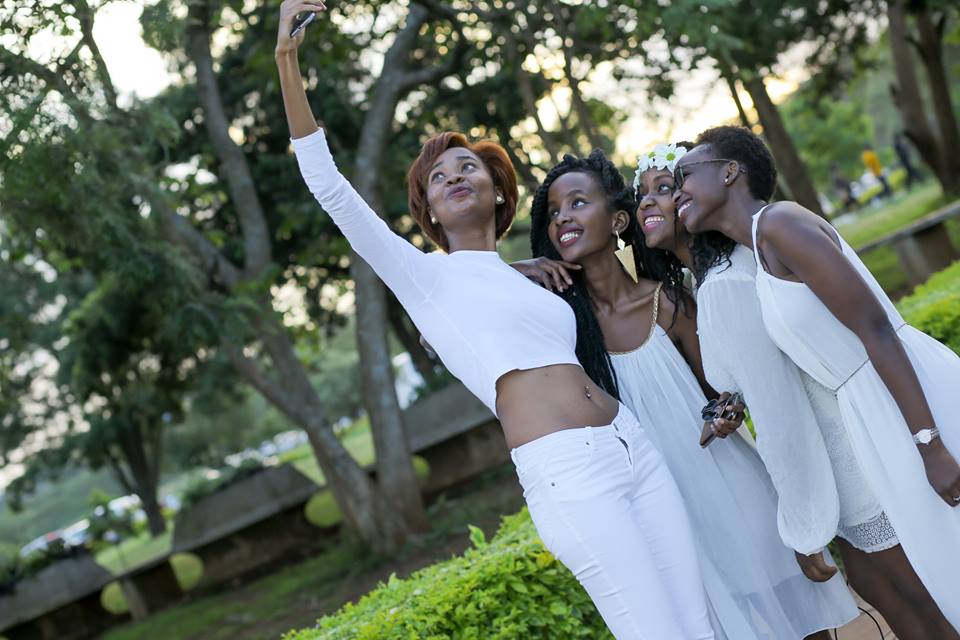 Between 6 p.m. and 6.45 p.m., all the attendees settled on their tables and began setting them. At this point you could see everything come together, though it would have been better if it were done earlier and on time. The grounds that were empty just a few hours earlier was now a sea of white. In all honestly, I was shocked that people took it seriously when it came to food and table decor. A few minutes past 7 p.m. (2 hrs from the original start time aaarg!) you could see each table decked out.
As I mentioned earlier, I did not have a table neither did I carry food, as I was invited in the capacity of media/blogger to capture the event, not necesarily partake in it.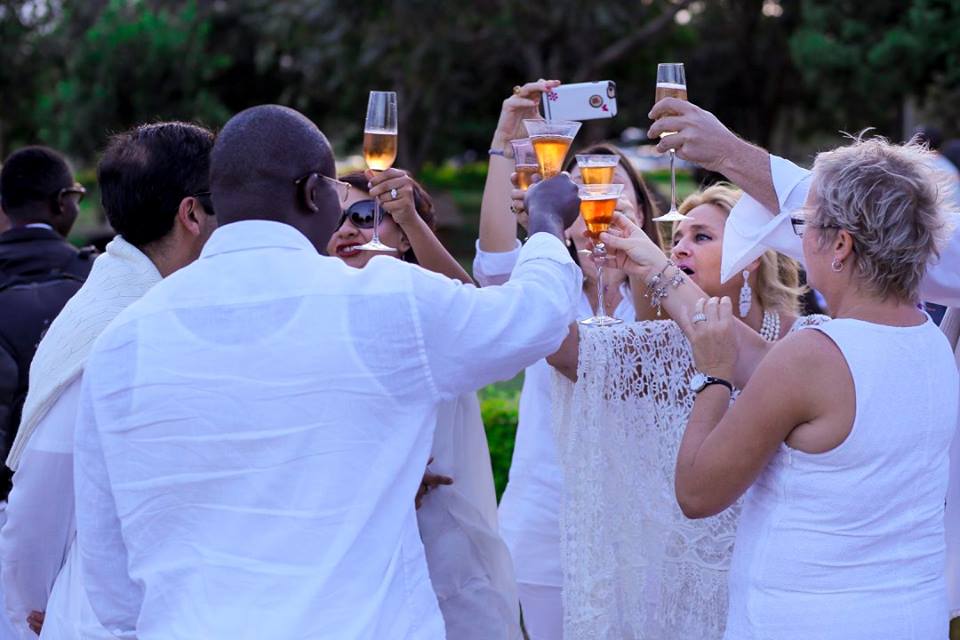 The diner was flagged off when all the attentees lit their glow sticks.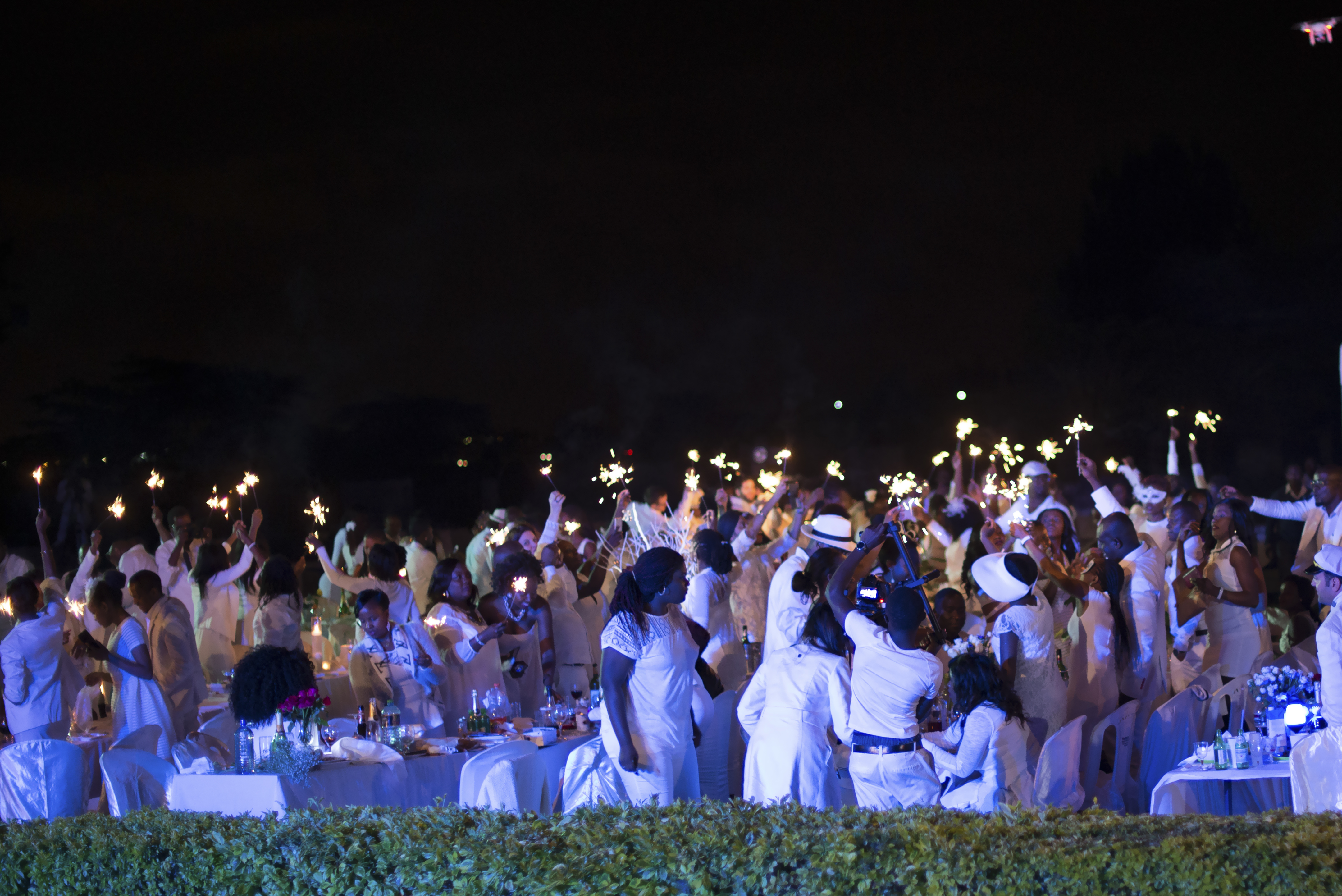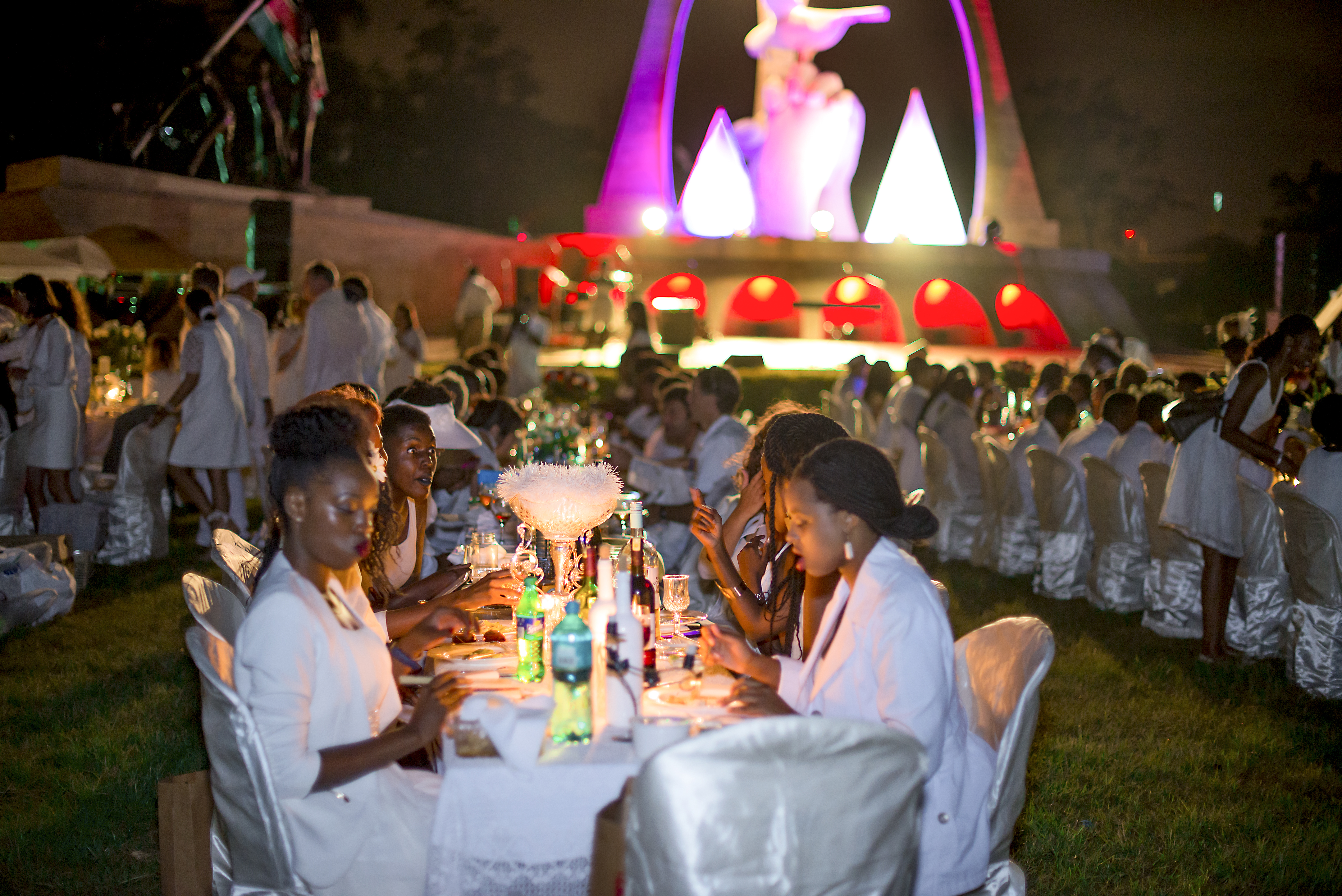 The mood turned electric when the bands started playing music, everyone's tummy was full and alcohol loosening people up lol. The music was good, but besides the tables with candles and the stage at which the bands were, the venue was DARK.
I left a few minutes to 8 p.m, having covered the work front & captured everything I needed to, plus I was hungry and was excited to go home and eat my food comfortably kwa couch, with socks lol. As per the event details on Facebook, the event was to continue until 11 p.m. where the crowd dispersed and those who fancied then went to an after party at K1.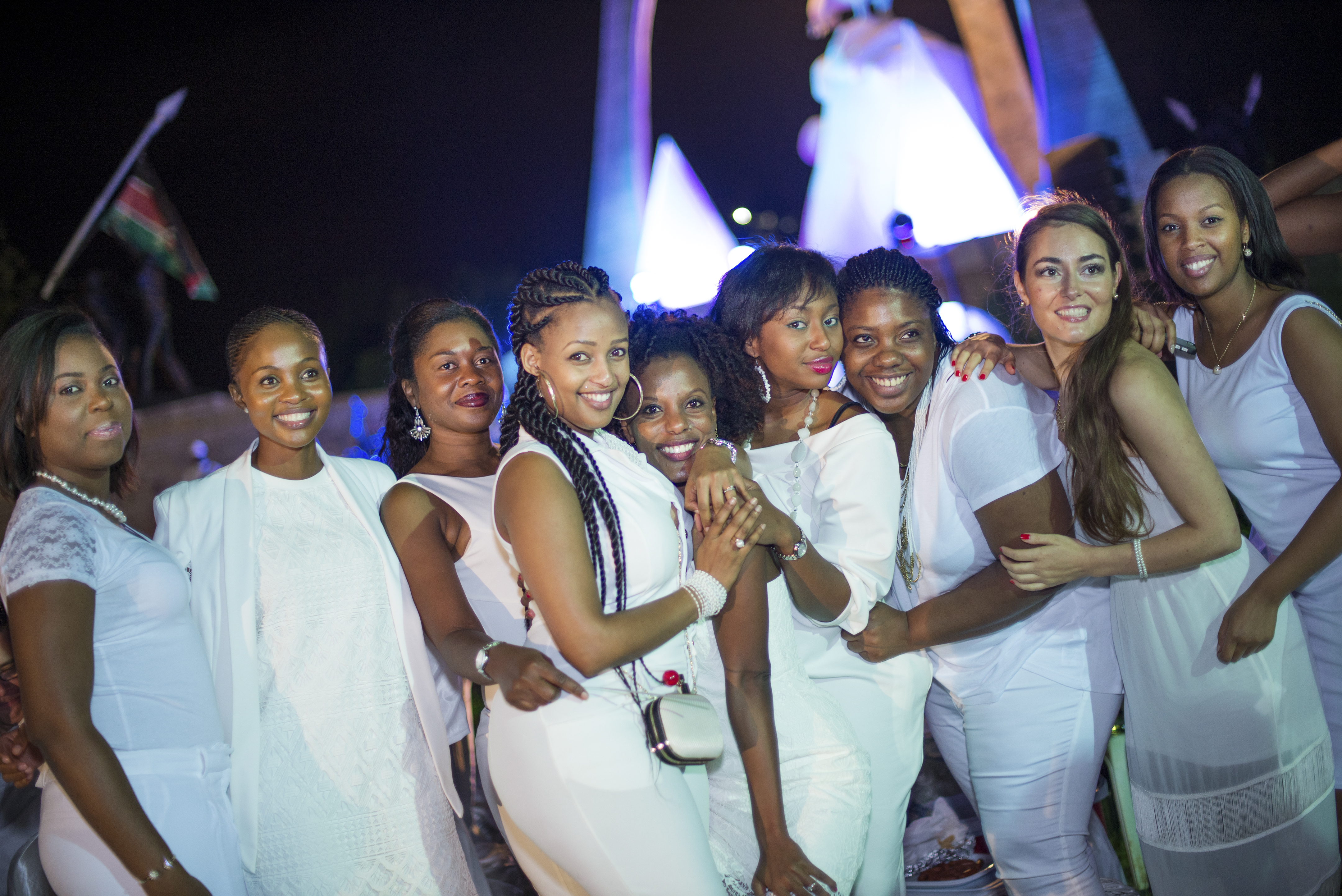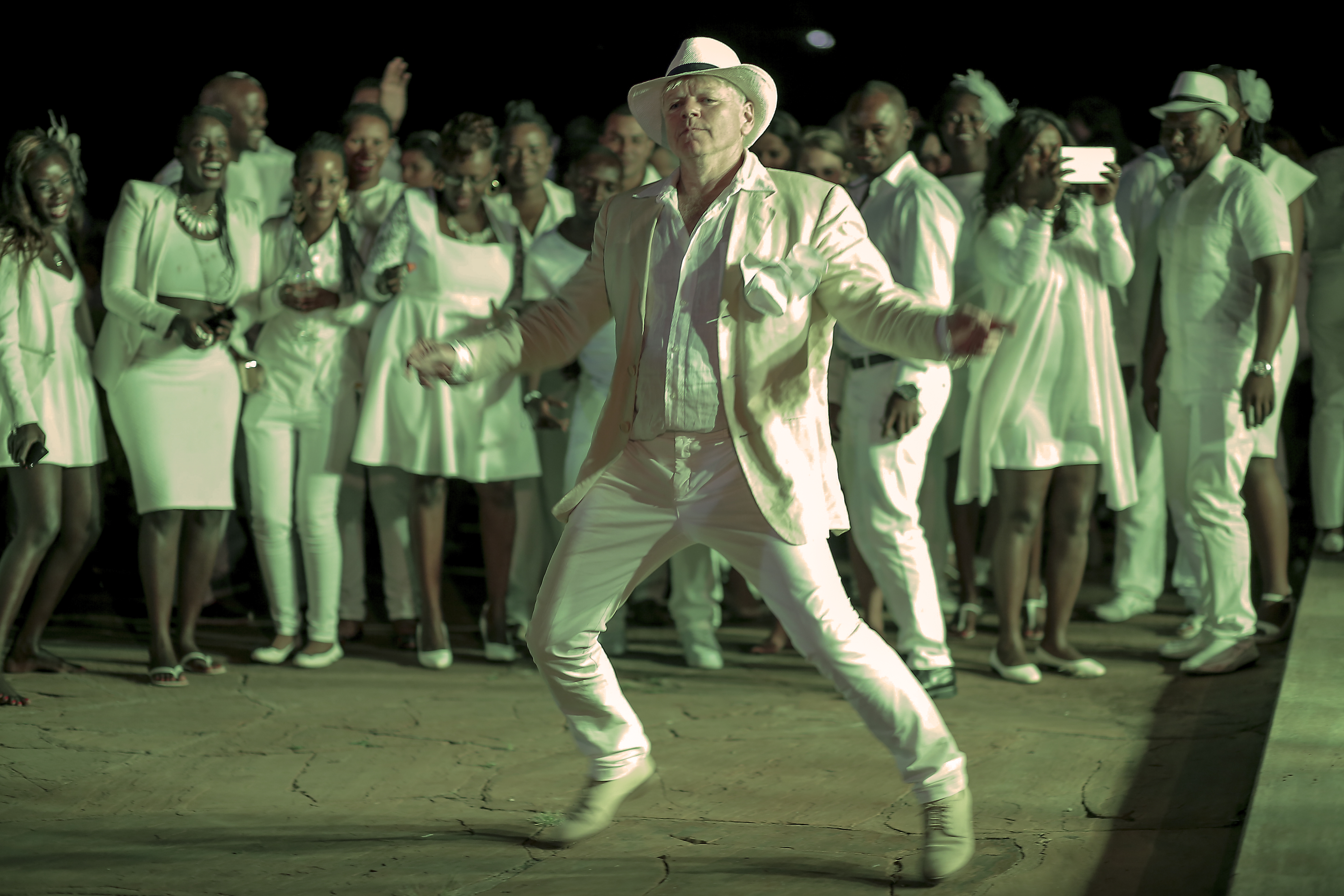 MY REVIEW
For the first ever Diner en Blanc in Nairobi, the turn out was pretty good. I forsee them doing it even bigger in the years to come though I am not sure if the whole concept is in line with the Kenyan demographic. It is quite expensive, yet you are bringing with you everything. If I am bringing my food, my plates & cutlery, my alcohol, my tablecloths, my candles, my roses and a lot more, what EXACTLY is the ticket price for? You get? I asked the organizers what exactly the ticket price is for, and I was informed it was for the experience. But if you think about it, is it not that different of an experience as it is a kawaida picnic you've been invited to? That you pay to bring your own food to?
In future events, MAYBE the ticket price would make sense if they provided food. But not just any normal unexciting food, but high end, well cooked, explosively flavorful food. Coz it kinda does not make sense for me to cook at home, dress up and go eat in the cold & dark. If the ticket prices can atleast cover one thing – DELICIOUS, unforgettable food – it would make sense kidogo.
Another thing I found peculiar – though one I know will not be changed because it is this way in all countries – is telling attendees the venue an hour to. It's peculiar but I understand that cannot be changed. I am a planner and I like having my ducks in a row before anything so knowing the venue an hour before would wreck my nerves lol. Plus in this Nairobi, knowing in advance helps planning the commute and dodging traffic so knowing an hour before time almost guarantees people will be late.
What I liked:
Areas to improve on next time (if there will be a next time):
Better lighting in the venue or at least look for a venue with better light
If the next one shall be done during rainy season, look for a venue with solid ground and not a garden. The muddy grounds made walking difficult, stained clothes and had people's seats sinking when they sat. Alternatively, can it be done during drier months like February?
Not sure if this is possible but – could the next organizers think what exactly they can offer to make the event MUST ATTEND? If I can invite 4 of my friends to my home, cook for them, set a table in the back yard and tell them to wear white, how different is that from DEB? If the DEB experience can be redone anywhere – including home – and by anyone, why would I pay to have it done elsewhere?
FINAL THOUGHTS:
I loved dressing up, I always do, but I am so happy I did not get a table or go through the trouble of cooking and getting my food there. I was happy to go back home and eat in comfort and save money that would have otherwise be used for a ticket.
Seeing that this time I attended as media/blogger, would I attend next year as a guest and buy a table?
Honest answer: NO
Reason being, I do not see the value of paying money yet I am bringing everything.
Secondly, the experience is cute but you can recreate it anywhere for free. Can I cook bomb food at home, wear white, light candles and eat in my front yard? Absolutely! So if I can do it for free at home, why should I pay to do it elsewhere? I could change my mind next year, or in 6 years, but that will be dependent on the experience offering me something I cannot easily replicate in the comfort of home for free.
In conclusion, I would love it if the next Diner en Blancs would be customized to fit the Kenyan demographic, if possible. It would be amazing if we could tangibly see what would make it different from eating at home while dressed in white.
I am thankful to the DEB team for allowing me to cover and review the inaugural Nairobi Diner en Blanc.
-K
---
All the images used in this post were taken by the official photographers
of the novice Diner en Blanc Nairobi
---