Am I the only one who gets mesmerized when someone speaks fluent Swahili with the coastal accent. It sounds almost musical; almost like poetry.  Granted, we Nairobi folk fully understand Kiswahili, but we mix it we so much English and sometimes our vernacular languages so it sounds like a whole other language. I was purchasing some produce from a certain coastal lady and I just spoke to her so that I could listen to her speak. She was a talkative lady and spoke with so much theatrics that I just couldn't get enough of. It was lunch time and she was eating some meat with chapati. She asked me if I know how to cook and I told her that I in fact love cooking. We exchanged tips and later told me that I have to taste meat cooked with kaarafuu. "Karafuu?" I asked. "Nyinyi wanabara mwaziita cloves" (None coastal people refer to them as cloves.)  I told her I had not tried that yet, but promised to cook more with it. Hence the birth of my button mushroom and karafuu spaghetti. Cloves have a very very assertive taste. But when used right and in moderation, it brings out the taste of whatever it is cooked with so so well.
For today, some spaghetti, with button mushroom and the amazing flavor of karafuu (cloves).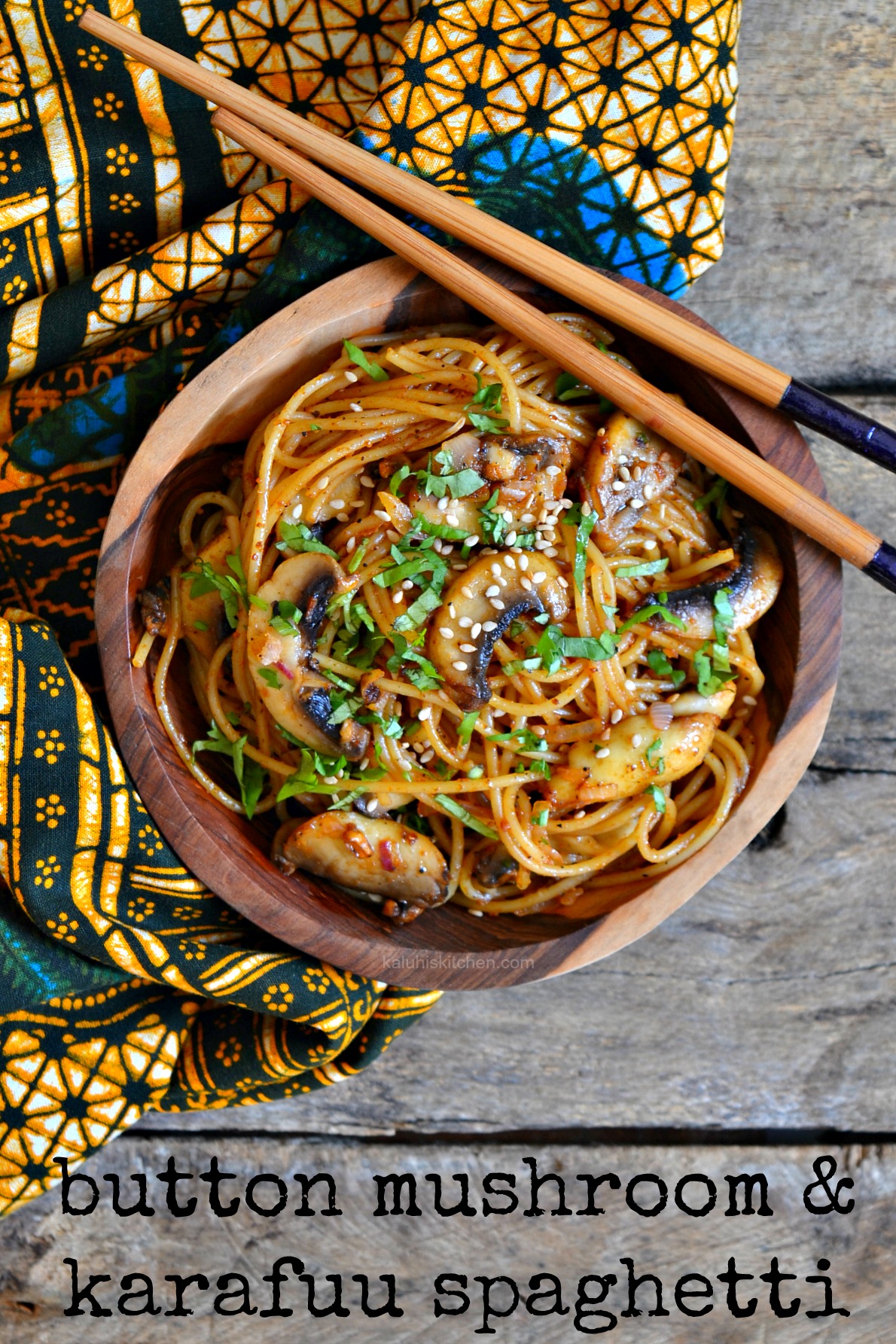 COOK TIME: 30 MINUTES                                       SERVES:3
Ingredients: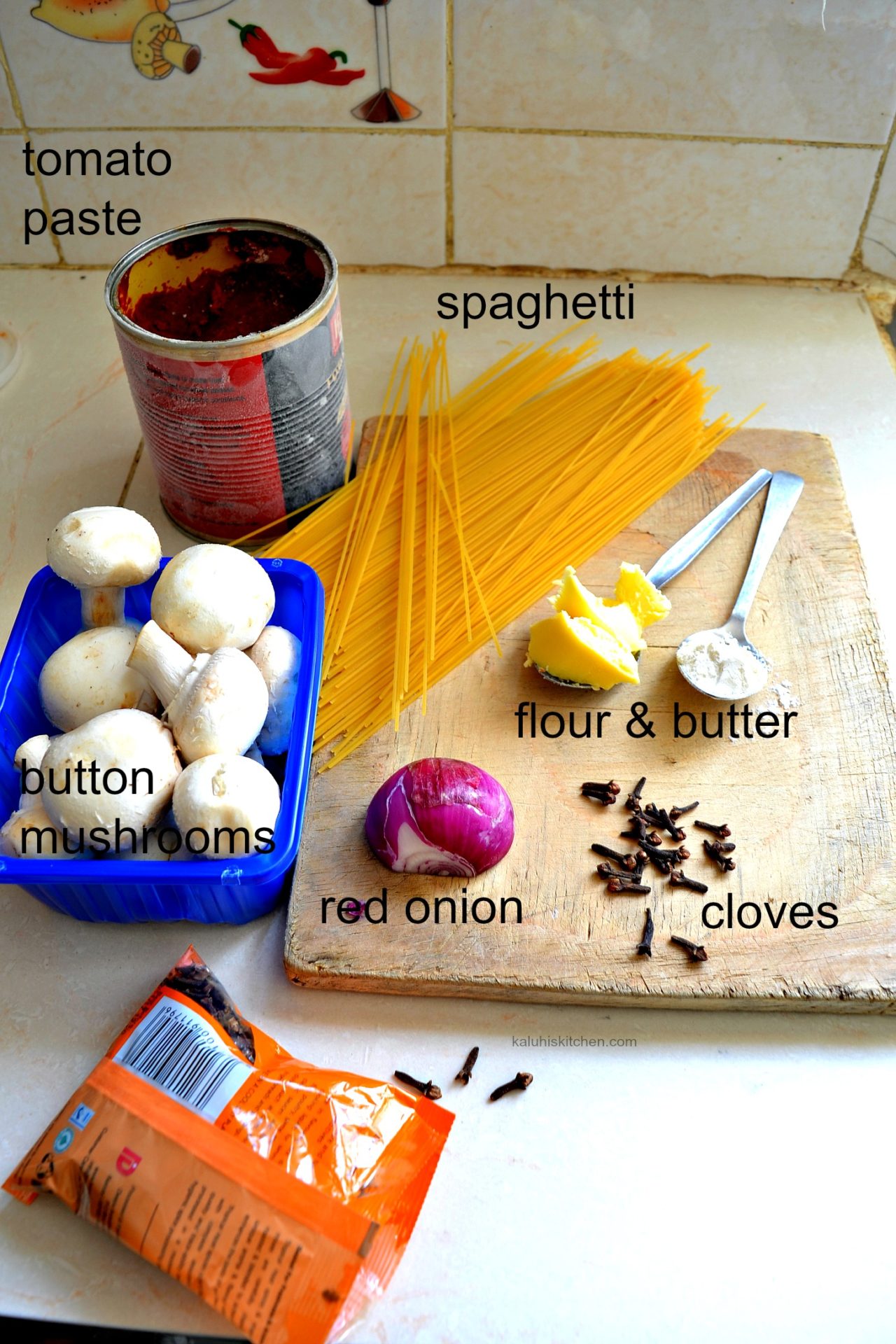 4 tablespoons of butter
1 tablespoon of all purpose flour
200 g of Spaghetti
200 g of Mushrooms
1 tablespoon of soy sauce
3 cloves
1 red onion, finely chopped
1 tablespoon of tomato paste
4 cloves of garlic, minced
1 tablespoon of sesame seeds
Finely chopped coriander, for garnish
1/2 a tablespoon of coriander powder
1/2 a tablespoon of black pepper
Salt and pepper to taste
Method:
Cook your spaghetti the usual way. Once it is done, remove from heat and run it through some cold water.  This will prevent it from sticking together.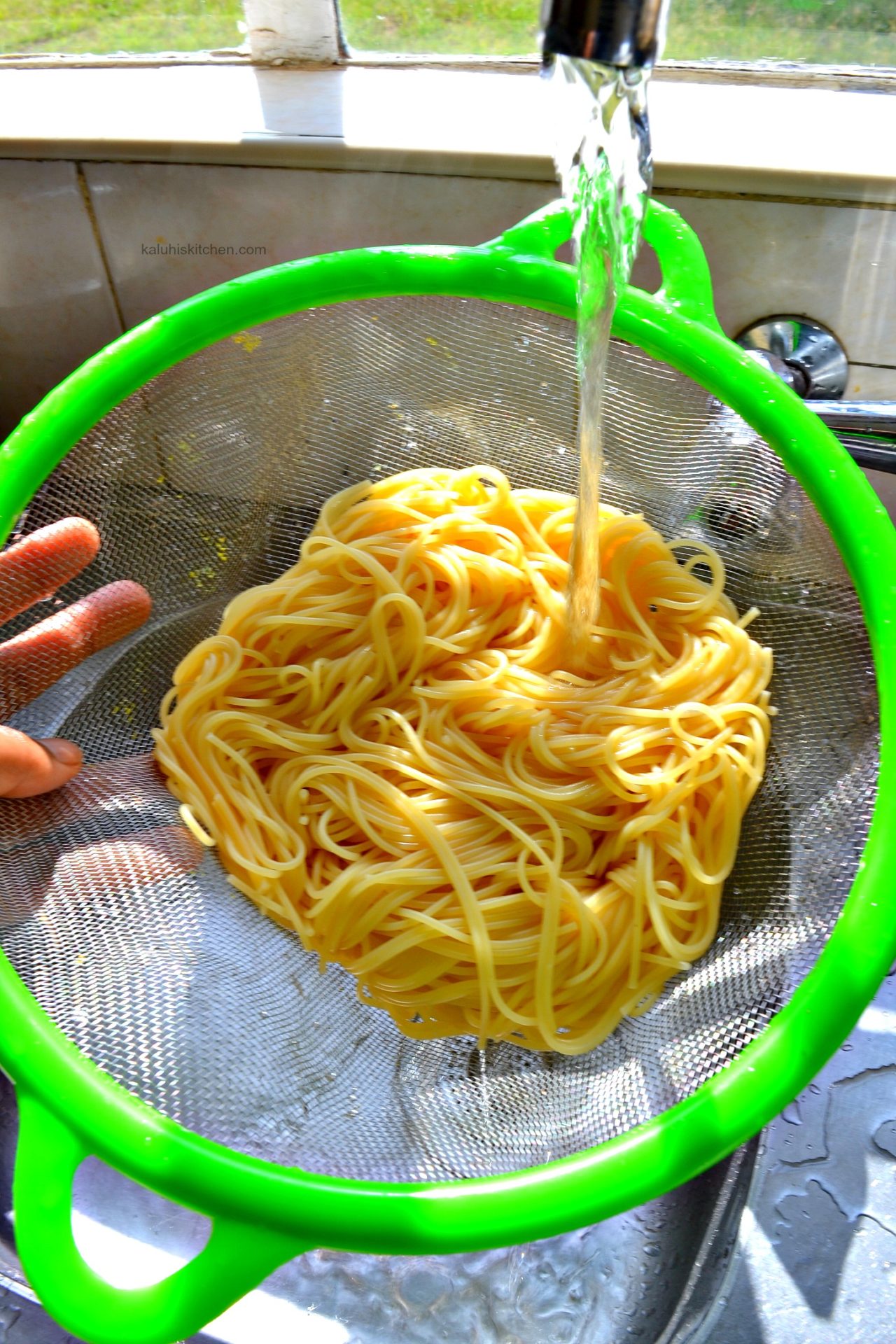 As the spaghetti is cooking, you can prepare the other ingredients. I was looking for chestnut mushrooms, but found only button mushrooms. They are just as delicious! I bought both my mushrooms and cloves from nakumatt. Its amazing how we have so much freshness readily available to us.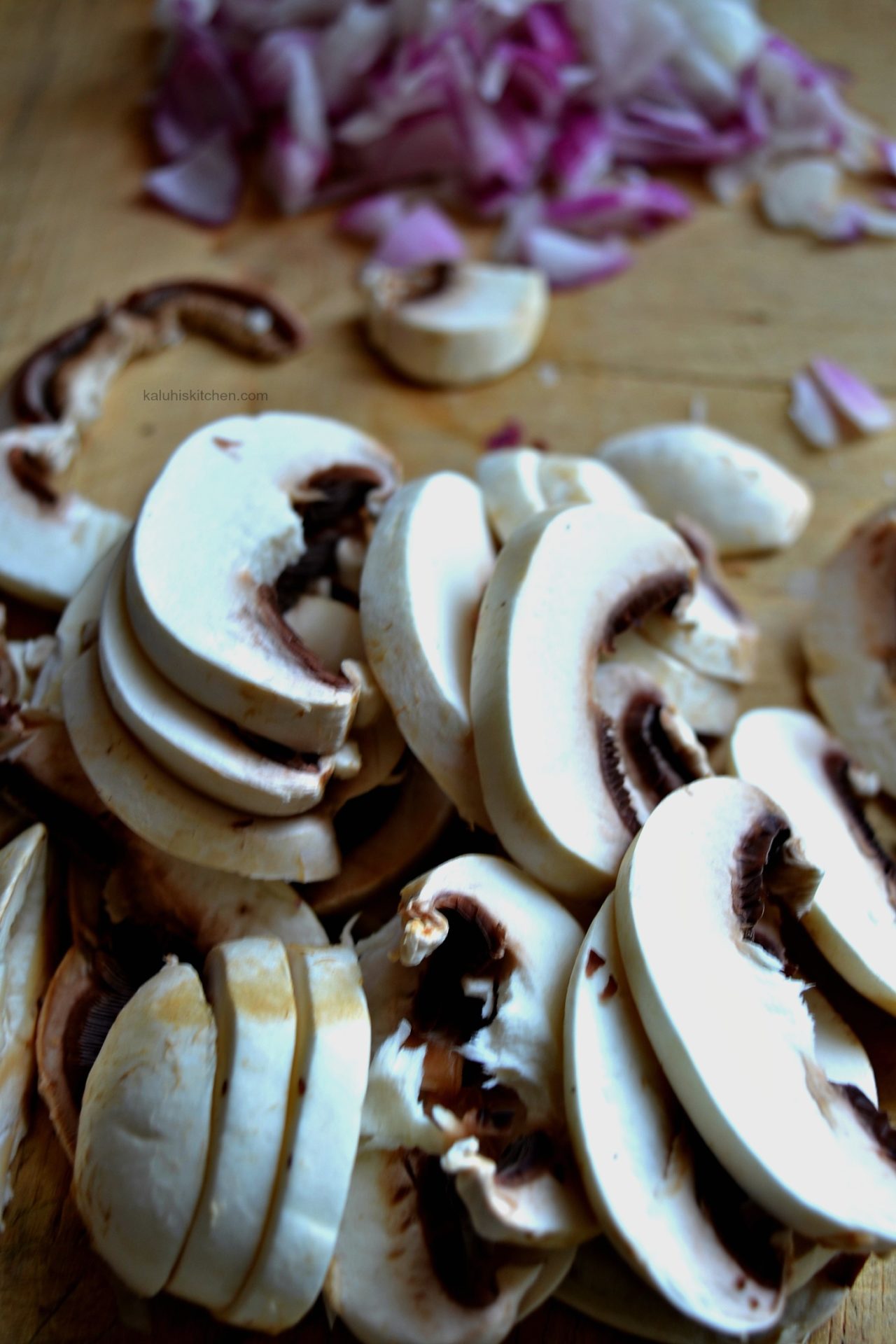 In a pan, add your butter and flour and mix these on low heat until they are just combined. Then add your red onion, cloves, coriander powder, tomato paste, black pepper and  garlic and cook  those until they soften and are fragrant. Add your mushrooms and tomato paste. Let this cook for about 4-6 minutes or until your mushrooms have just softened.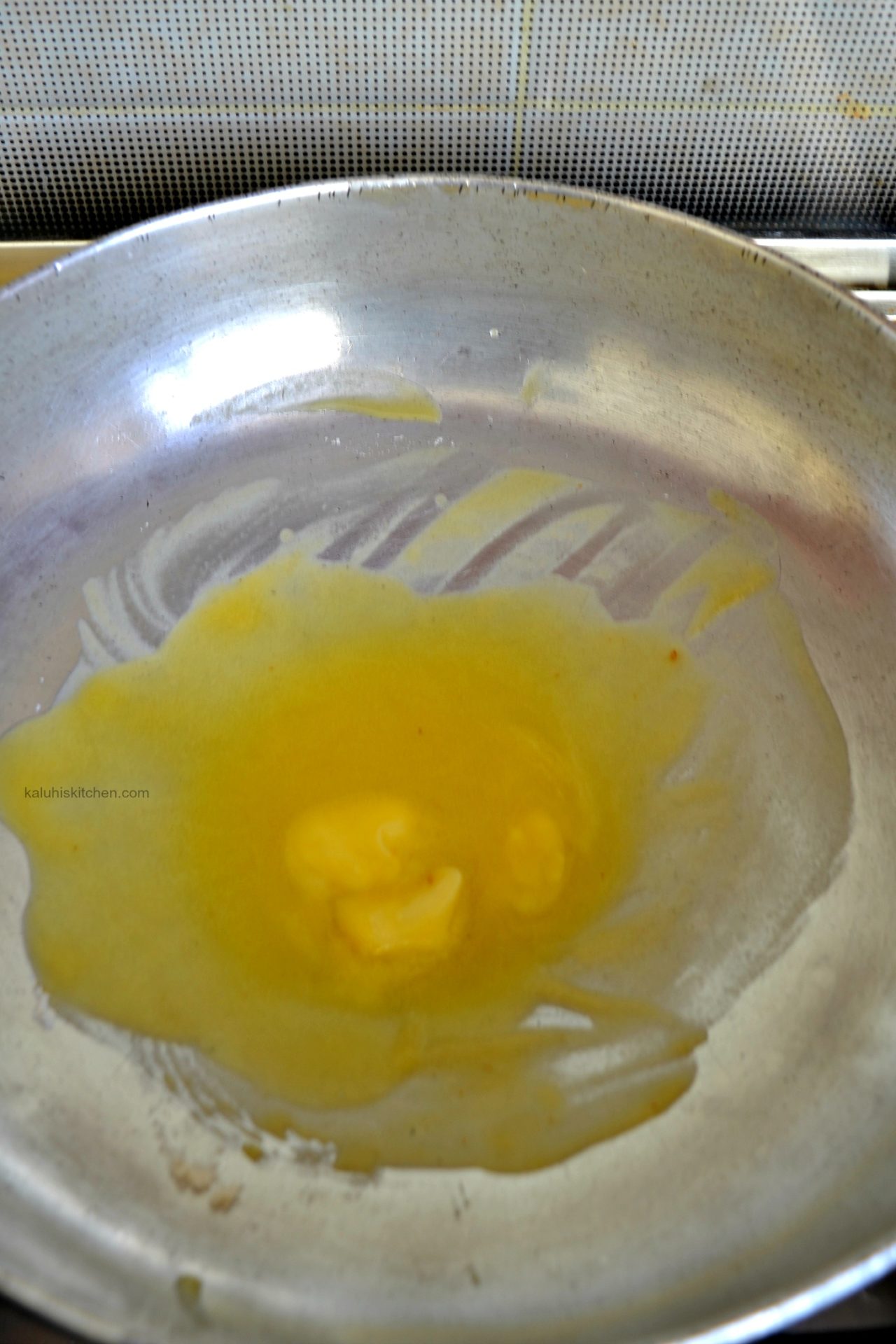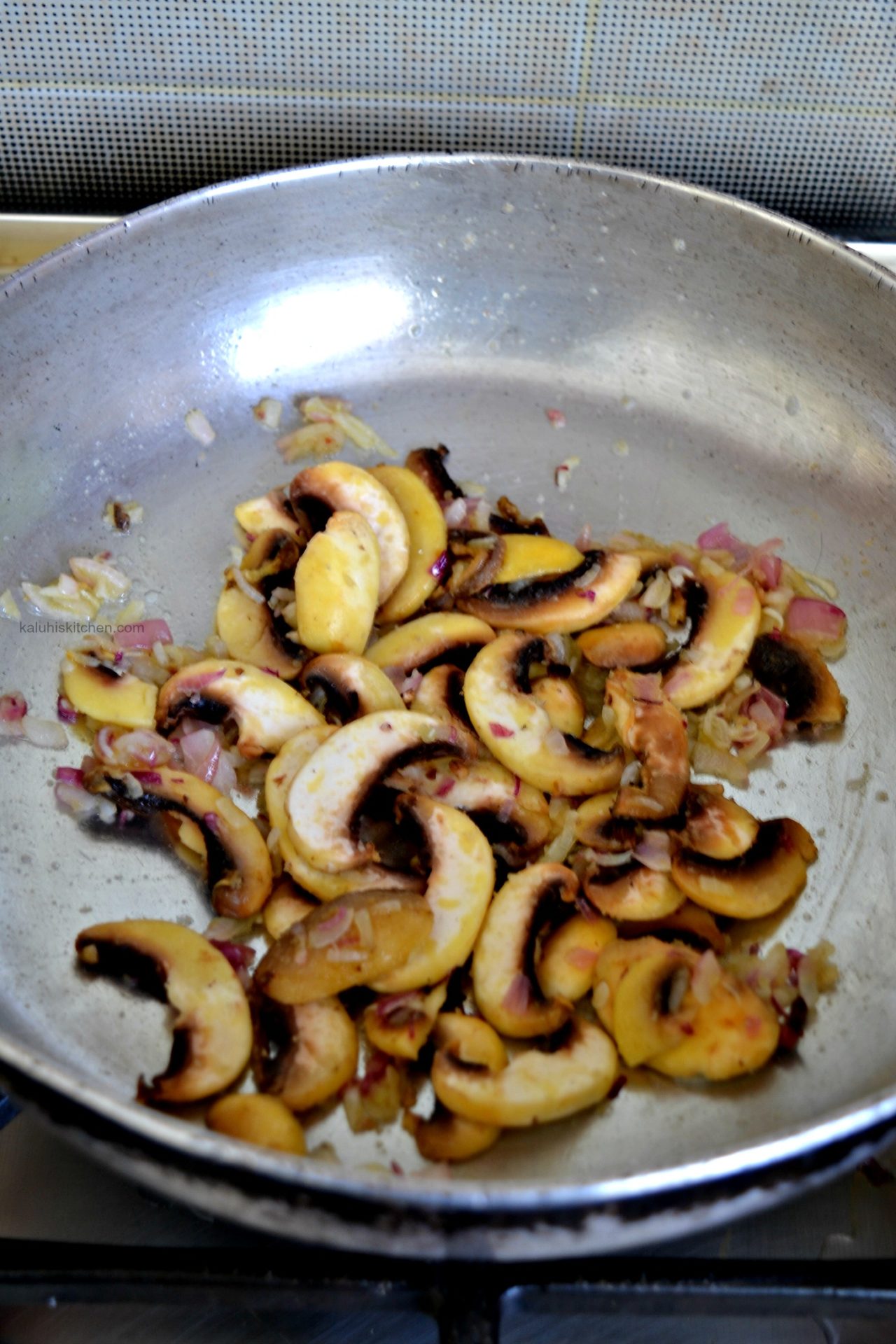 Add the cooked spaghetti and your tablespoon of soy sauce. Mix this and give it a minute more on the heat then plate. I made a mess this time while cooking. oopsie!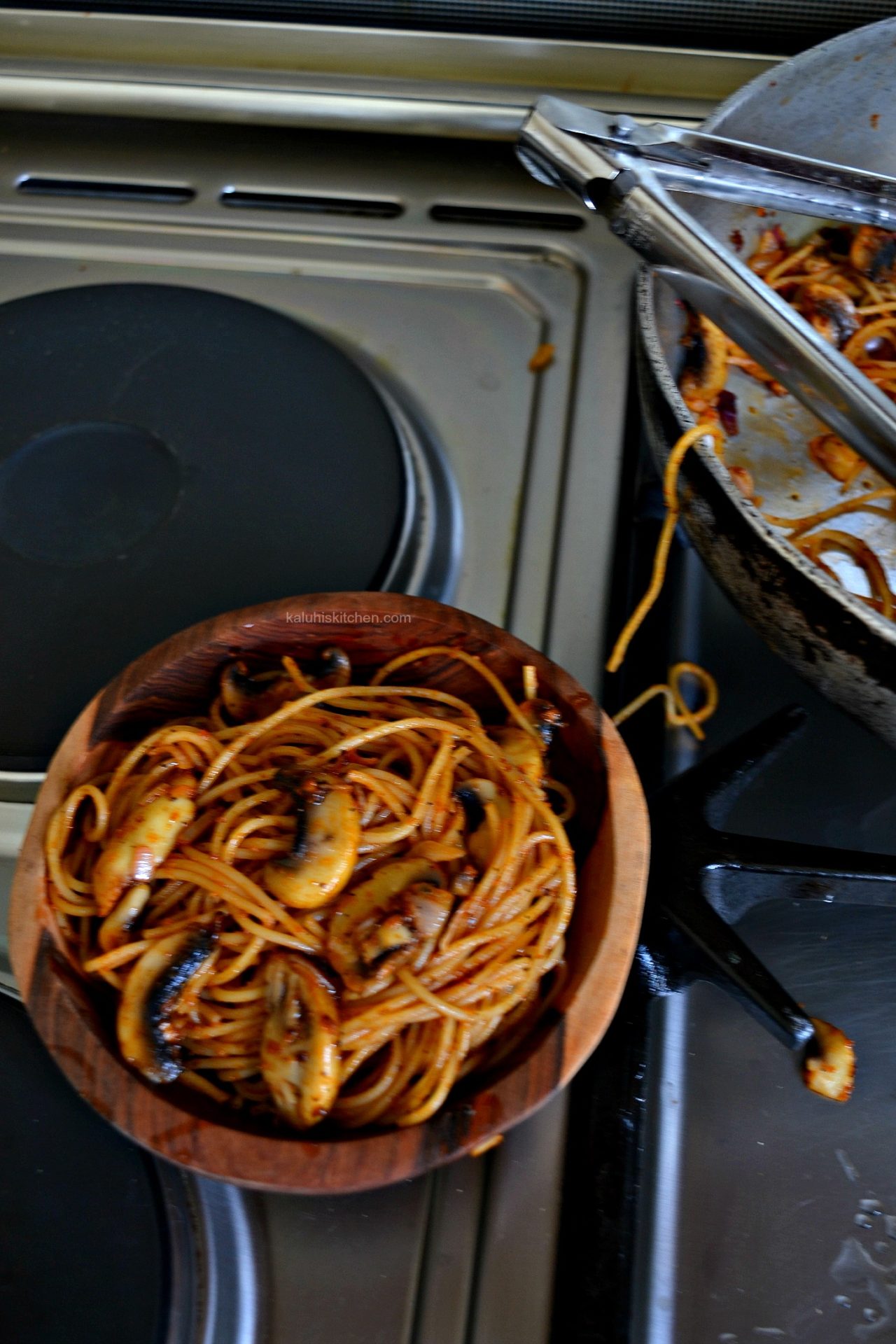 Garnish with your coriander and sesame seeds and serve.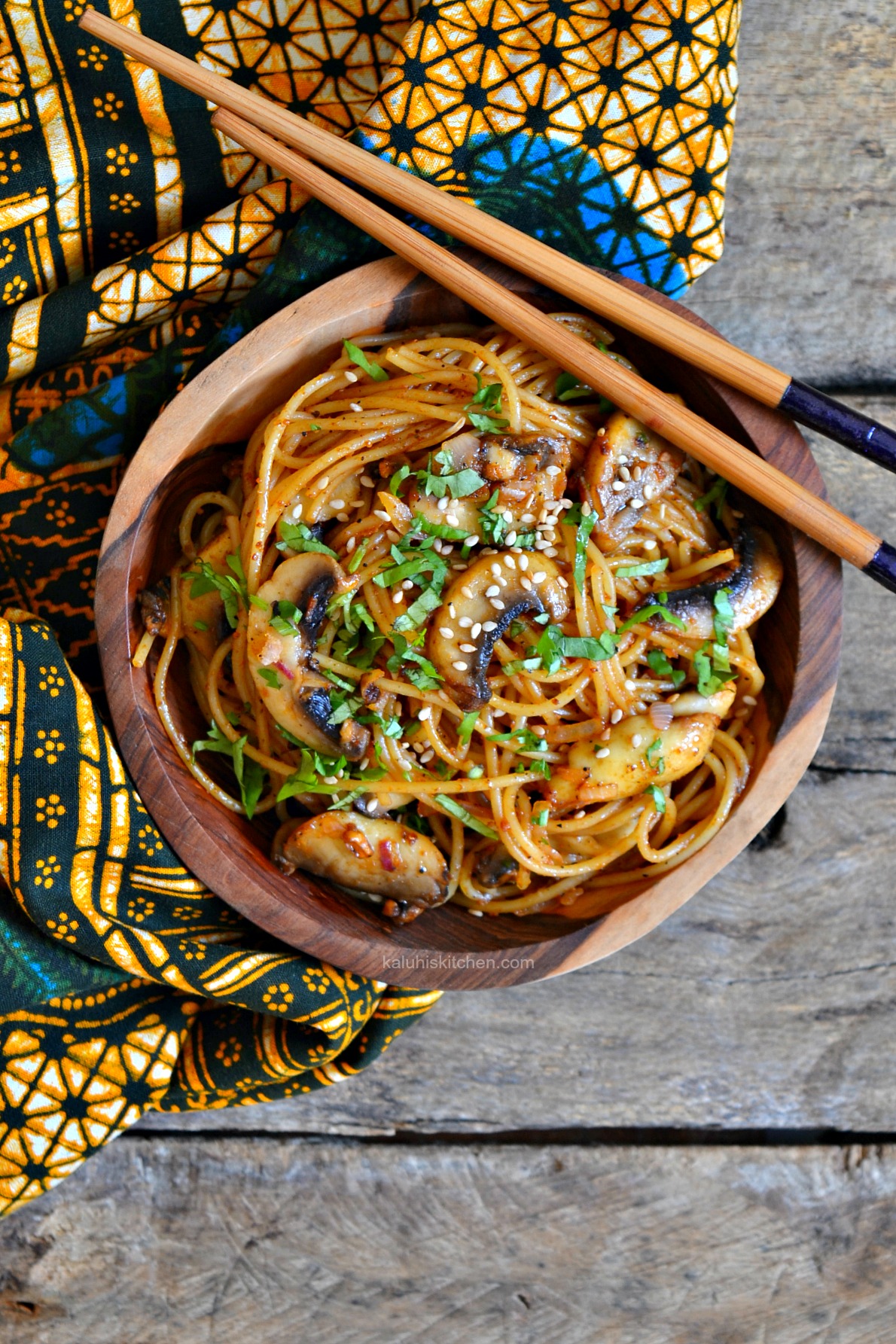 If you love mushrooms as much as I do, you will totally dig this! If you do not like mushrooms, this is the dish that will forever change your mind. Creamy, flavorful, mushroomy and filling. And it takes a short time to cook so that's a plus!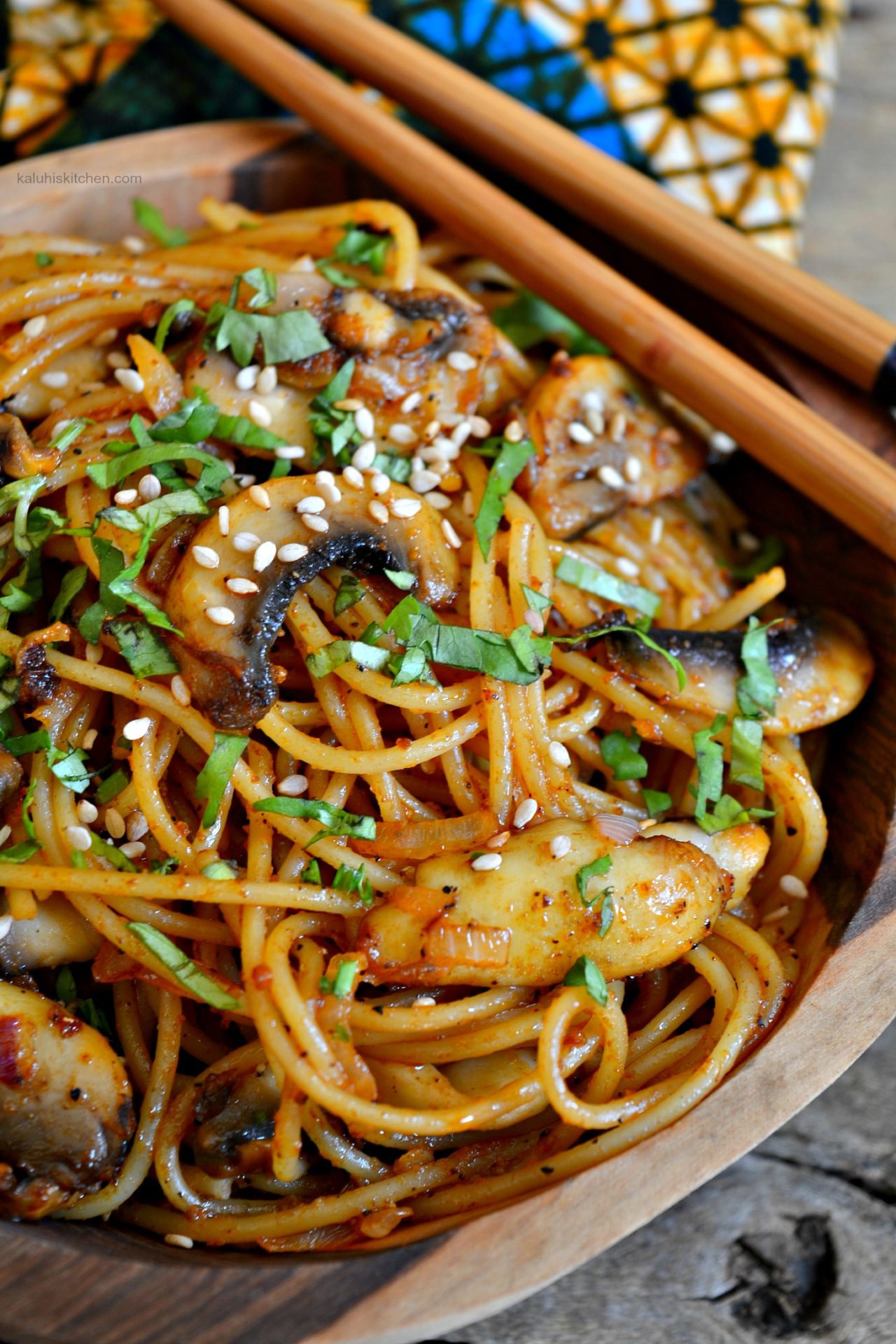 The meaty texture of the button mushrooms tastes so good with the spaghetti. It is also fabulously complimented with the Karafuu which adds a coastal feel to this. With your karafuu (cloves), please be moderate. The flavor is pretty strong and a little goes a long way.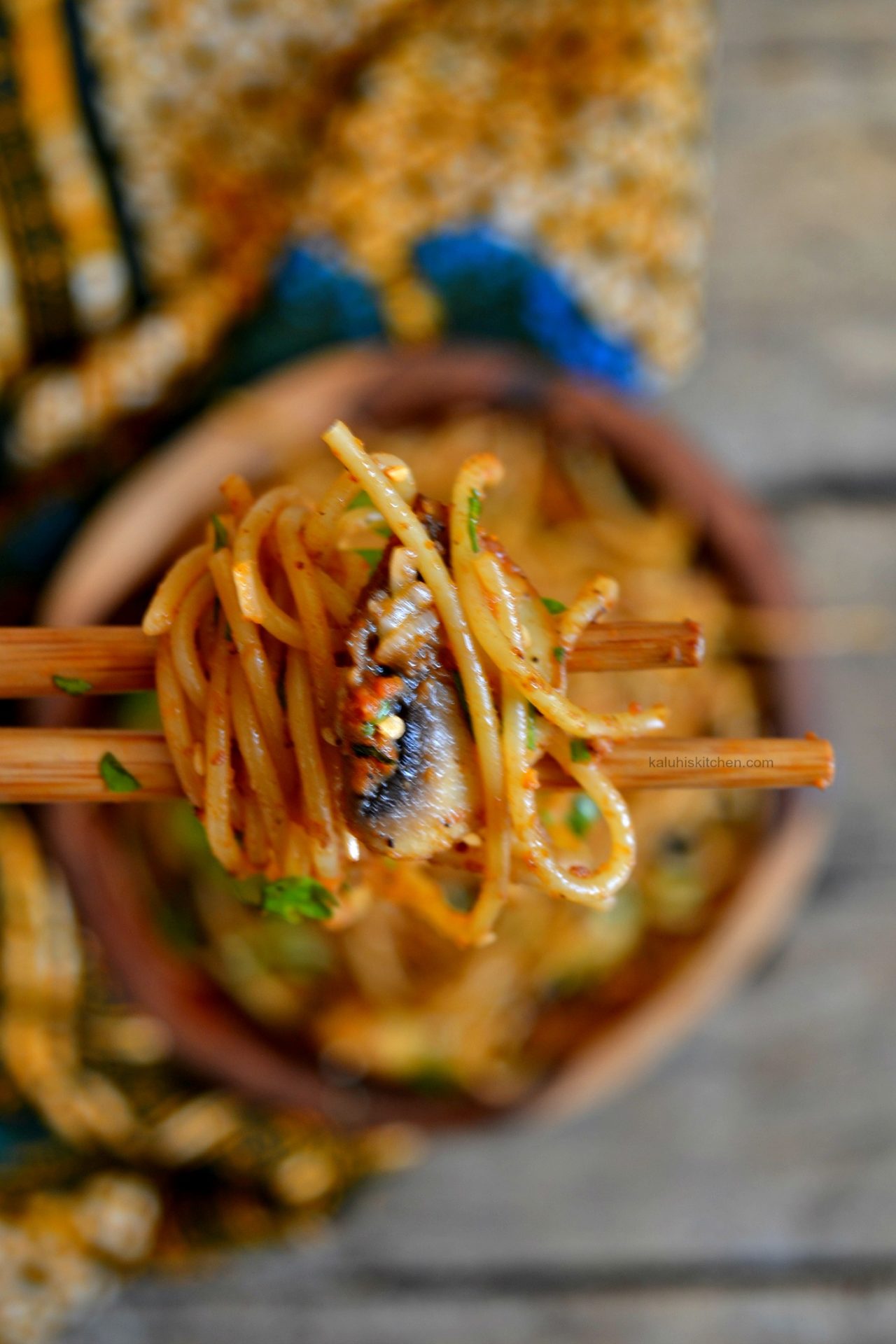 Be adveturous in the kitchen, have an open mind and try something new :))
TGIF
<3 Kaluhi <3
---
Download the full recipe here: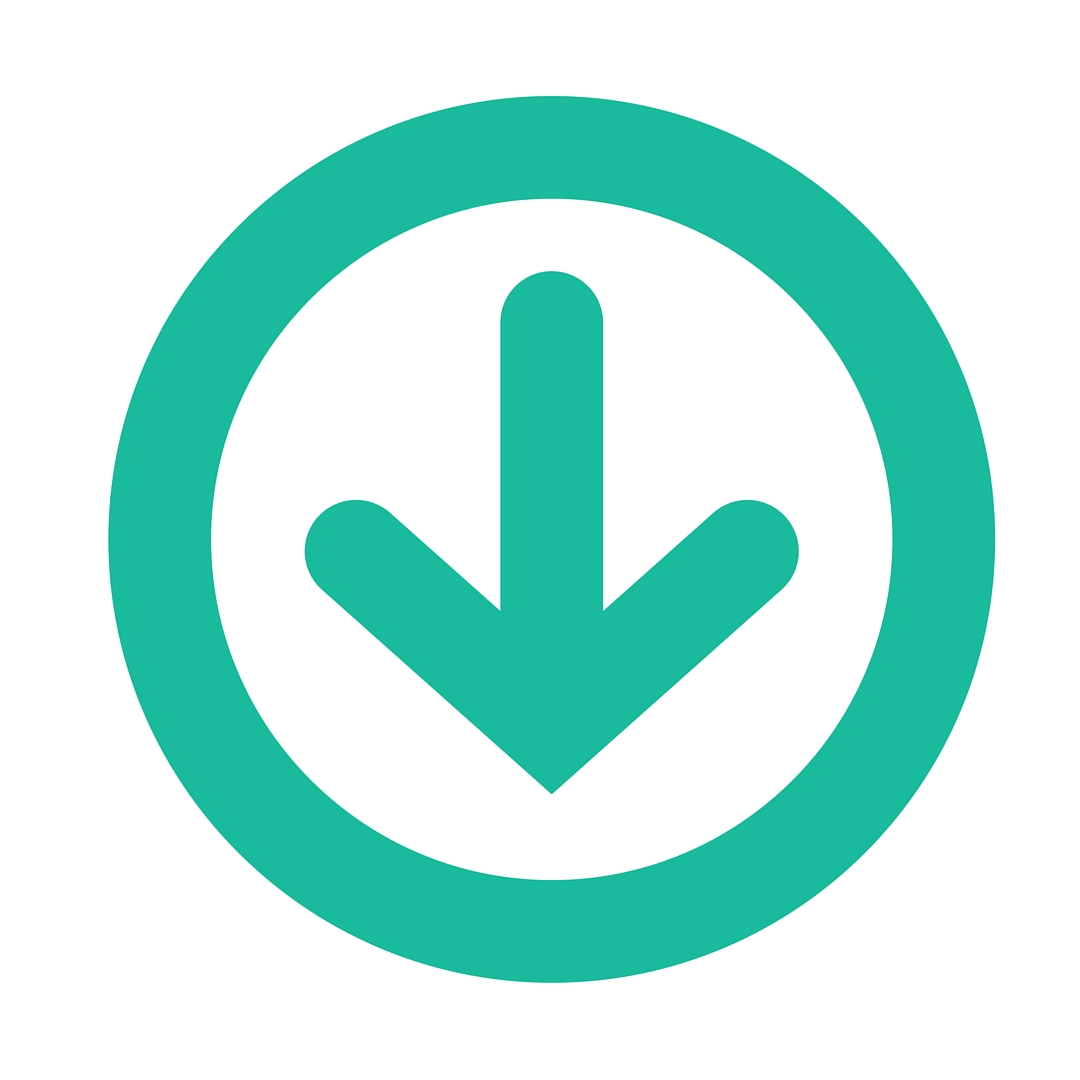 ---
All content and images are copyright protected by



Do not copy in part or whole without giving due credit.