With 84 posts behind me and a jumble of recipes in my head, it is time to take a pause and smell the roses… or the food.. or whatever we want to smell :D. Here we go: Taking Stock 5.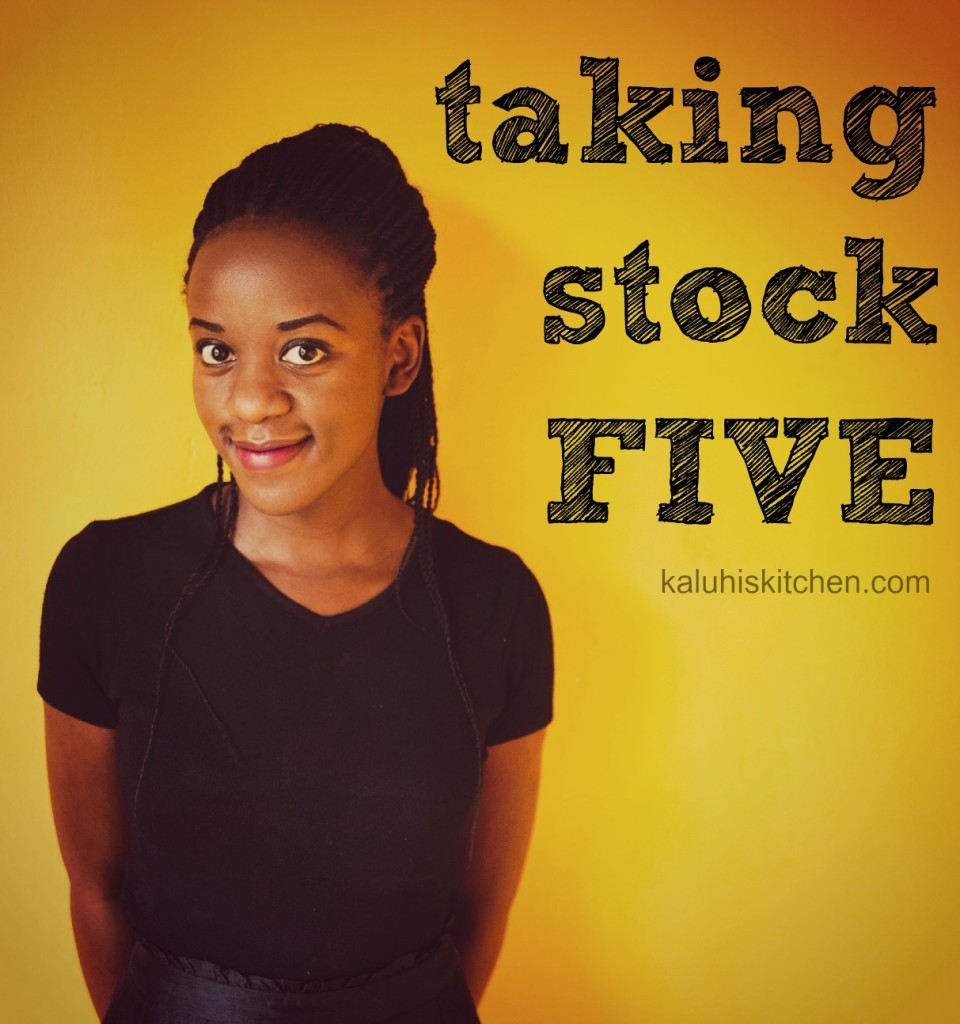 Making: More videos for you guys.  I shall initially start uploading bits and pieces on Instagram. Hopefully in the very near future I will make full videos as I cook.
Cooking: or rather, making some butternut soup this evening. I am anxious to see how this will turn out.
Reading: Nothing at the moment… That's a bad sign.. But I am working towards reading 'We Need New Names' by Noviolet Bulawayo.
Drinking: Green Tea. And loving the overall change I can see and feel in my body.
Smelling: (and trying not to lick) my strawberry lip gloss that is sitting pretty on my lips which was a gift from my younger sister Kadesa. And also my Honey and Apricot shampoo by Herbal Essences….Oh Lord! If  you ever wonder what heaven smells like, this is it!!
Wearing: Nothing. Just Kidding :D. A navy blue skirt which was also another gift from my eldest sister, Cheredi.  Maybe my sisters spoil me too much :D.. But I aint complaining…
Following: my gut feeling a lot lately. A lot of which involves taking crazy risks and making bold decisions, and still, most of the time really really pay off. Trust that gut feeling!
Thinking: together with my sissys of gifts for Father's Day for our Papa Bear. Any Ideas?
Wanting: A good canon camera. But my bank account is telling me a different story 🙁
Admiring: these boards on Pinterest for interiors and home decorating ideas. I cannot wait to begin styling my future mansion.  It shall be so!
Learning: To take all negative comments thrown my way as motivation to grow. One of the most disturbing remark I get is that my pictures are downloaded, yet I work so hard to take them and make them look presentable. So I choose to turn this around. I will take it as a compliment that I take pretty nice pics. So much so that they look downloaded :D. And I will work even harder to make them look even better. There is still plenty of room for improvement. Food photography standards have been set pretty high. *rolls up sleeves*
Wishing: that i can find the strength to give up my near daily chocolate binges….NOT!
Wondering: How we got to May 22nd this fast yet we just celebrated New YearsDay just yesterday. 2015 is speeding by too fast.
Enjoying: More than ever being a woman, and growing into one. And finding it just as beautiful to wear my vulnerability on my sleeve as proudly as I do my confidence. To be creation's epitome of strength and sensuality…. A being who strikes a right balance between meekness and  assertion. Beautiful contradiction isn't it!?
Excited: That one of my photos has been accepted by Food Gawker. If you have ever tried submitting pics there, you know how difficult it is. And after 10 months of trying and being turned away, getting one to be accepted is quite validating  and quite the victory! *moon walks*
Giggling: At this. #ILoveKids LOL
Liking: the freshness and crispness of the air the rainy season brings with it
Loving: leather jackets which go perfectly with nearly everything in my closet and with this weather.
Hoping: To buy my first bonds before August.
Bookmarking: Cake Festival 2015. Hope to have fun (and take lots of pics) with you guys then
Reminiscing: How good it felt receiving letters while in boarding school. And I secretly wish letter writing can make a comeback.
Marveling: At this engagement story (all over again,sigh!). I know majority of you guys already read it, but it wouldn't hurt if you read it again. (but maybe I need to move on now :D…seriously!) I love the surprise element of it all. Surprises create the best of memories.
Knowing: That I have what it takes, to do whatever it is I want. But it will also take all I have. And sometimes I think I focus more on all the effort or the obstacles  in and less on my capability, potential and impact I can make. Do you relate? Sometimes we need to remind ourselves that we really are all that…
Feeling: Good. Healthy. Smiley. Grateful.
Love and Hugs
-Kaluhi