Time to take a little breather. Allow myself to reevaluate myself and let you in on my life as we continue on this culinary journey together :). Today: Taking Stock 4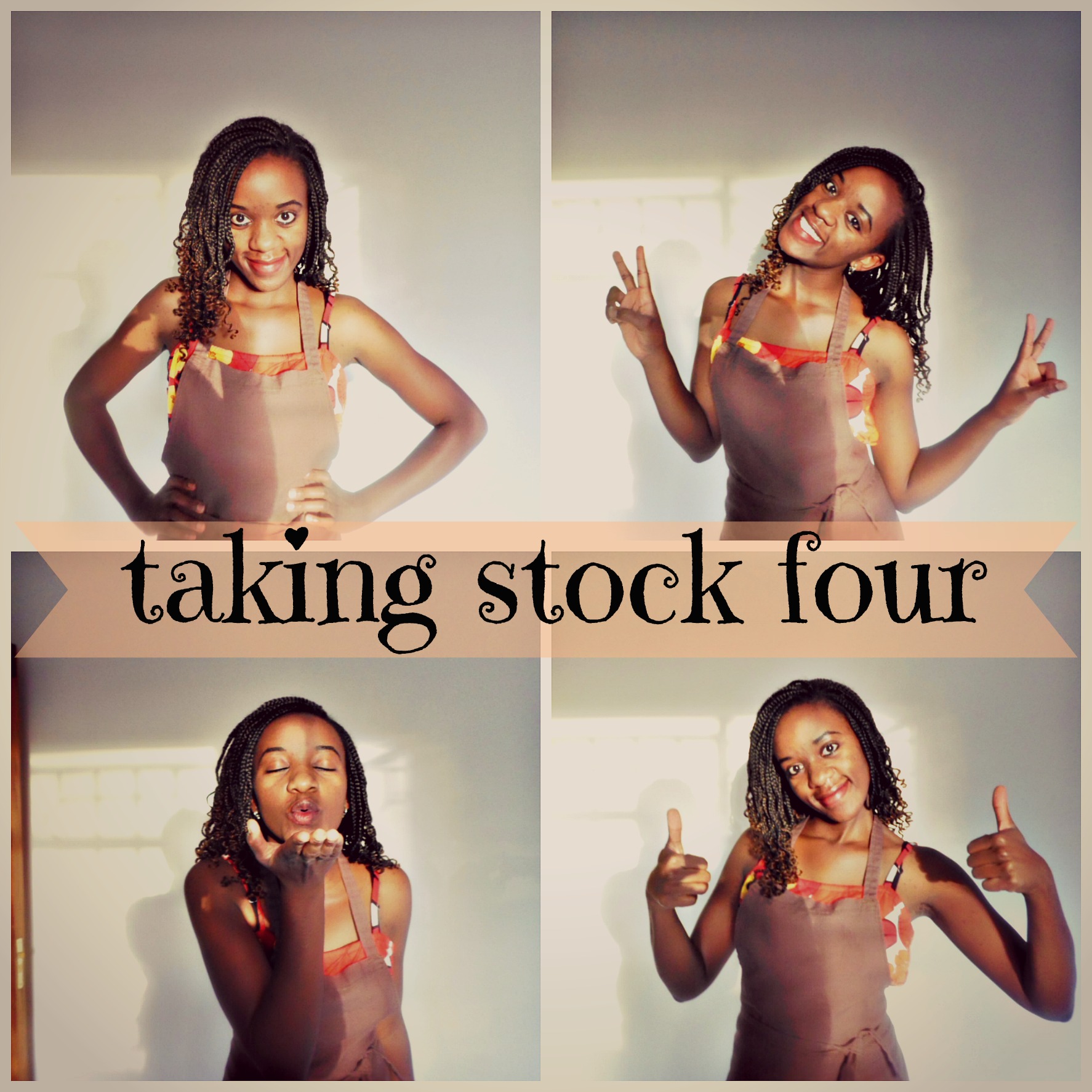 Making: Many more bolder decisions this year. As I have realized the absolute worst that could happen is simply rejection. But with that too, comes a world of experience and  know how.
Cooking: A lot of matumbo these days. And loving every bit of it.
Reading: Sense and Sensibility… And looking for 'All American Girl"
Drinking: or rather, wanting to drink a thick, chilled, delicious vanilla milkshake from Kaldis. The best I have had in the CBD so far.
Smelling: My luxurious body butter: Passion fruit and shea butter by Fruttini range of products. It is one of those lotions that make you feel absolutely gorgeous and edible :), and the smell lasts for sooo long. Nothing feels better than smelling yummy. I hope to give their chocolate and cranberry body butter a try soon too.
Wearing: The cutest black dress that belonged to my mum, but I had it reduced to fit me. I am so lucky that my mom has great taste in clothes that my sisters and I can take and wear. I have marked some clothes that I shall be taking soon :p
Following: R.M Drake on Instagram (@rmdrake). I have fallen in love with his writing..
Thinking: and realizing that the size of my dreams, or anyone else's for that matter, cannot be limited to the opinion of others. I have realized that some people will hate your work no matter what, want to see you fail or give up, flood you with constant negative criticism, but continue anyway and turn all that into a motivating factor :). It is the dreamers, the doers and the risk takers who bring change and are remembered.
Wanting: To treat my friends who I am missing so much to a major food fest… (yes, Diane and Eddah that day is coming 🙂 )
Admiring: Sharon Adongo. To me, she just has an aura light and intelligence. As an African woman techie, who traded the things that would otherwise be perceived as success by the society at large, went against the grain and established her very successful IT company here in Nairobi. And as an aspiring entrepreneur, she is one to watch. I am proud that I was in highschool with her.
Learning: To accept that my timing is adversely different from the timing that God has for things in my life. And in the end, He knows what works best.
Wishing: I could teleport to the charming  Alba Hotel in Meru. I do not know why, but I have a thing for Meru. Perfect Get Away
Wondering: What goes on in the minds of all the people we meet but never talk to moreso after reading Humans of New York. This made me notice once more that everyone has a story, and humanity still has so much goodness.
Enjoying:The mango season while it lasts and hoping it last a little bit longer… But still excited that the pear season is just around the corner.
Excited: About all the opportunities that are open this year for this food blog. And I just cannot wait to share them with you.
Giggling: At this article. It captures the things that visitors to our city find peculiar, which to us are very normal. Or some other things that have always been happening but thought not to be happening.  And I am happy that this was not written in an offensive manner, it is actually very funny when you think about it…
Liking: that I am feeling more comfortable in my skin as days go by
Loving: My new millebaci lipstick shades: vibrant and enchanting scarlet shade no.46 & deep and rich plum shade no.6
Hoping: To go for more hikes this year. Longonot, Menengai and Hell's Gate were to much fun!!
Bookmarking: This article, which I read over and over, and love it each time. Spare a minute or two and read through this. 🙂 <3 <3   We all want this…
Reminiscing: About how much laughter we would have in a single day while in high school- Precious Blood Riruta. And feeling appreciative of the friends who made boarding life so much fun.
Marveling: At the glorious sunrises  and the marvelous sunsets that this sunny season has to offer. It makes me think if the creation is this spectacular, how more spectacular  is the creator?? <3
Knowing: That I shall be driving this beauty sooner than I expect. I am just totally like all things Mercedes. #validdreams
Feeling: A lot more content in my own abilities, my own potential and my own self. With that, I leave you with this quote:
"Dare to take yourself as Beloved. Dare to be brilliant and  seek the light in everything. Dare to believe joy is revolutionary: it goes straight against the way this dark world spins.  Dare to Give Big because this is how you Live Big. "
Sending  love your way:
-Kaluhi