I love making pancakes, not because they are easy to make (but that's def part of the reason ;)), but because they take up flavors so well and leave plenty of room for experimentation. For these pancakes, I made them with the flavors I enjoy most in my cocktails: mango, cardamom and a hint of ginger. I did not foresee the warmth and explosiveness that I experienced, and for sure I must try this out soon once again. Nothing makes my breakfast more thrilling than knowing what I am going to eat has a combination of my three favorite flavors: sweetness of mango, very subtle warmth of ginger and spiciness of freshly crushed cardamom. Bite after warm flavorful bite and an empty plate later, my pancakes fit tightly but happily in my tummy. I gave one more thanks to the Lord above for a beautiful breakfast and gratefulness for a high metabolism. The best way to start your day is with some good food right? Make sure it my mango ginger pancakes!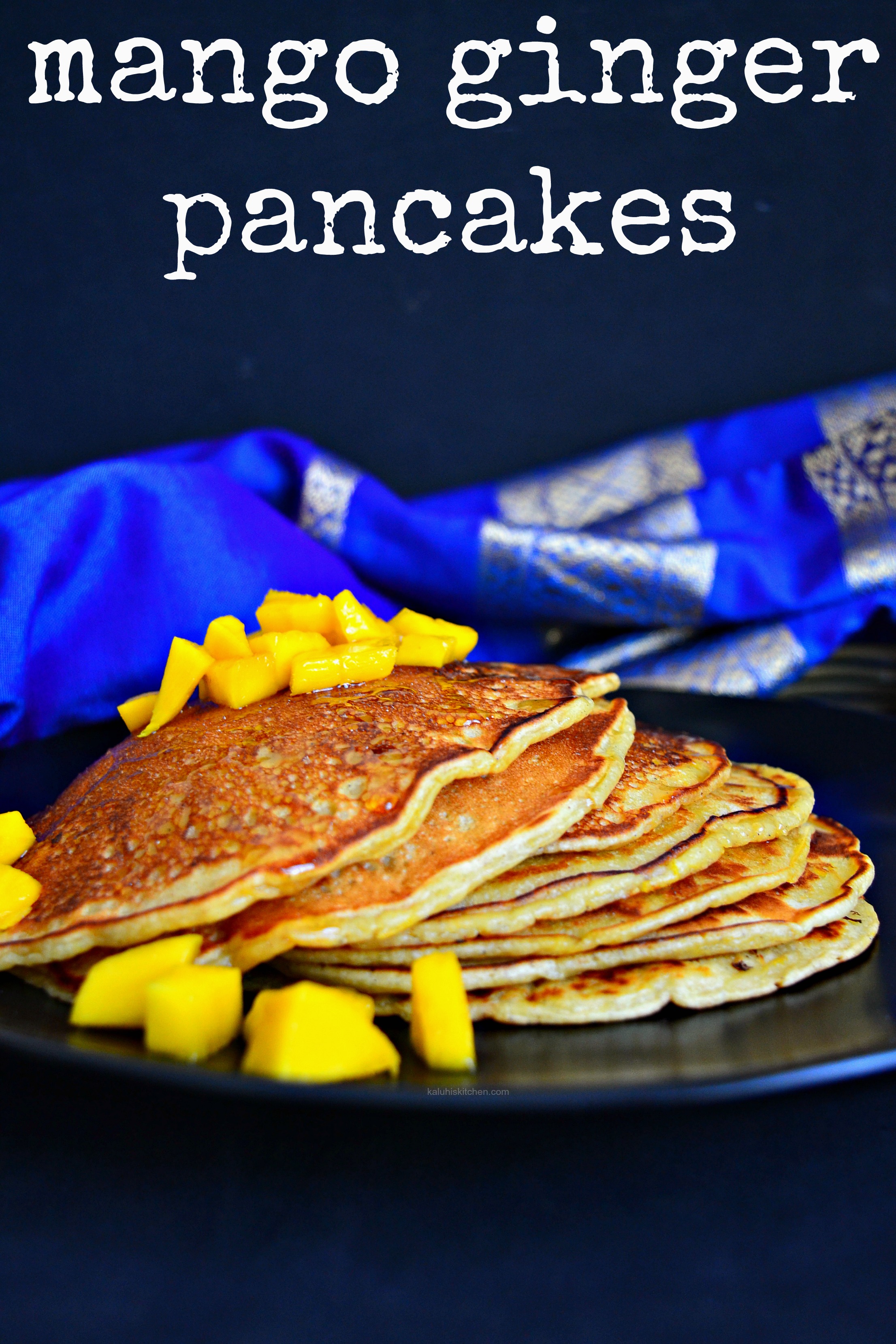 PREP TIME: 15 MIN       COOK TIME: 20 MIN             SERVES:2
Ingredients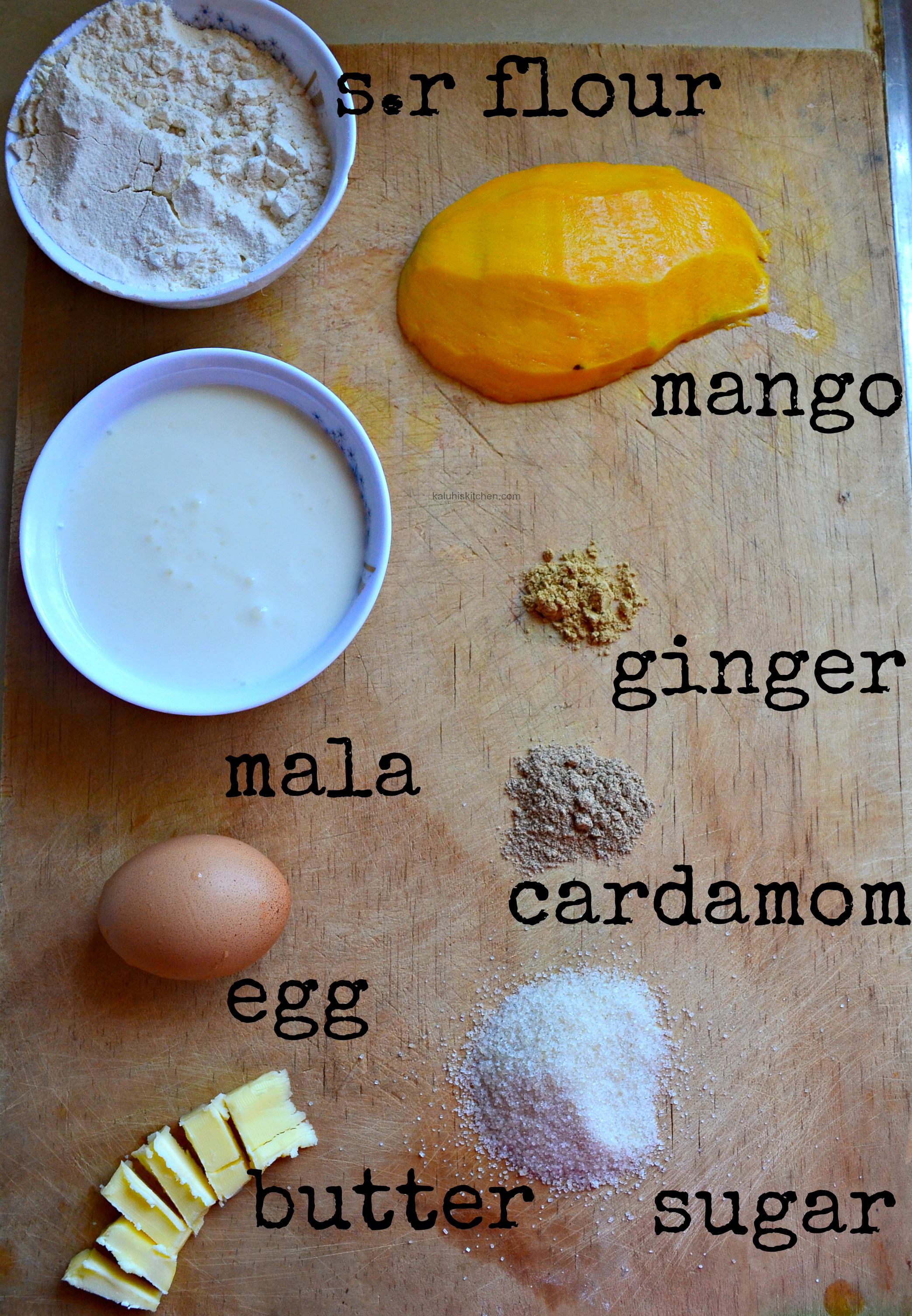 1 cup or flour (self raising)
3/4 cup of mala (or buttermilk)
4 tablespoons of sugar
1 tablespoon butter
1 egg
1/4 teaspoon of ginger spice
1/2 a teaspoon of ground cardamom
1/4 cup of mango pulp
Method
Beat the egg and the sugar for about 4-7 minutes or until it becomes frothy and becomes pale yellow.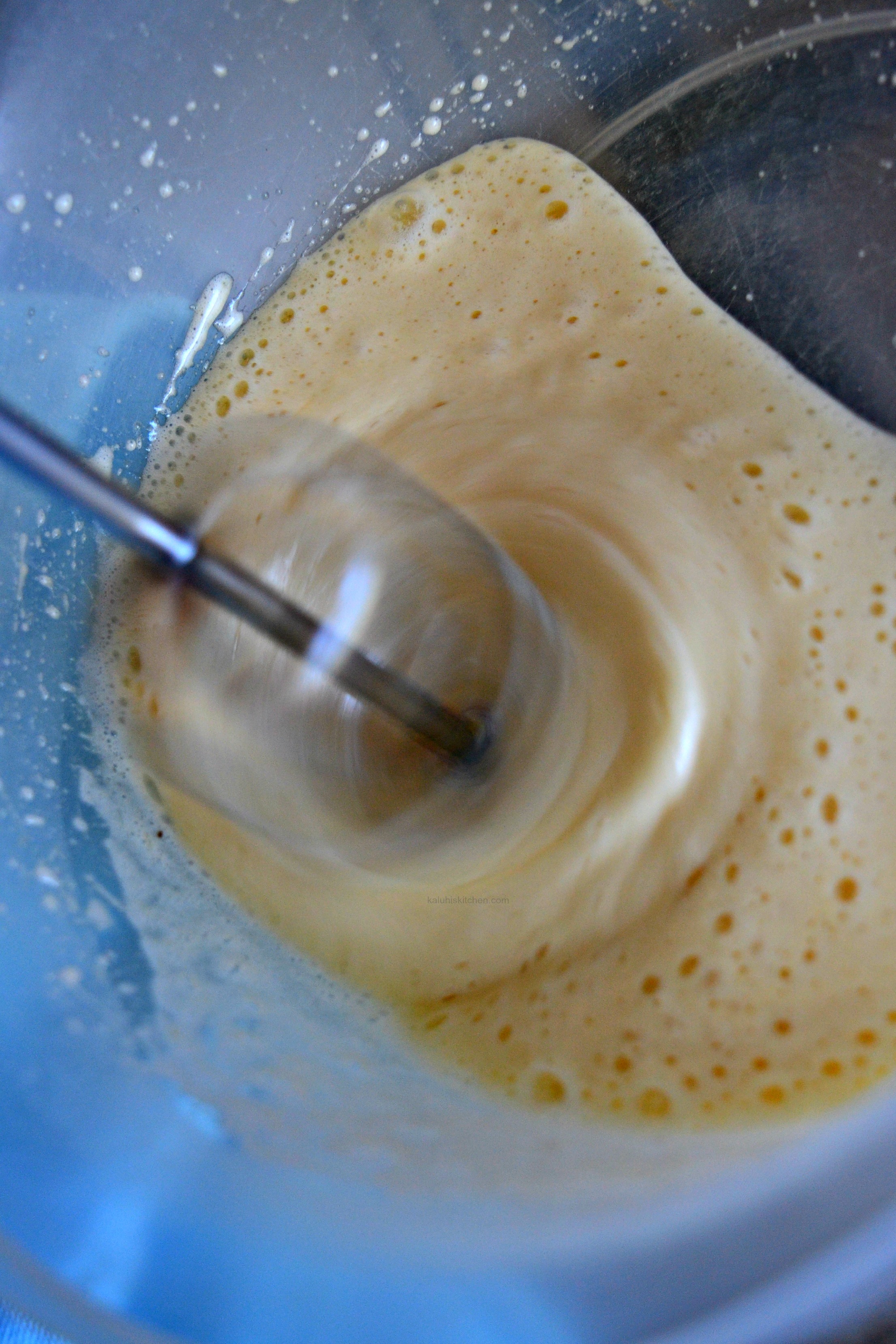 Then in a separate bowl, mix all the dry ingredients (flour, ginger spice, cardamom) then add  the egg-sugar mix to this. Bit by bit, add the mala until thick, then followed by the melted butter.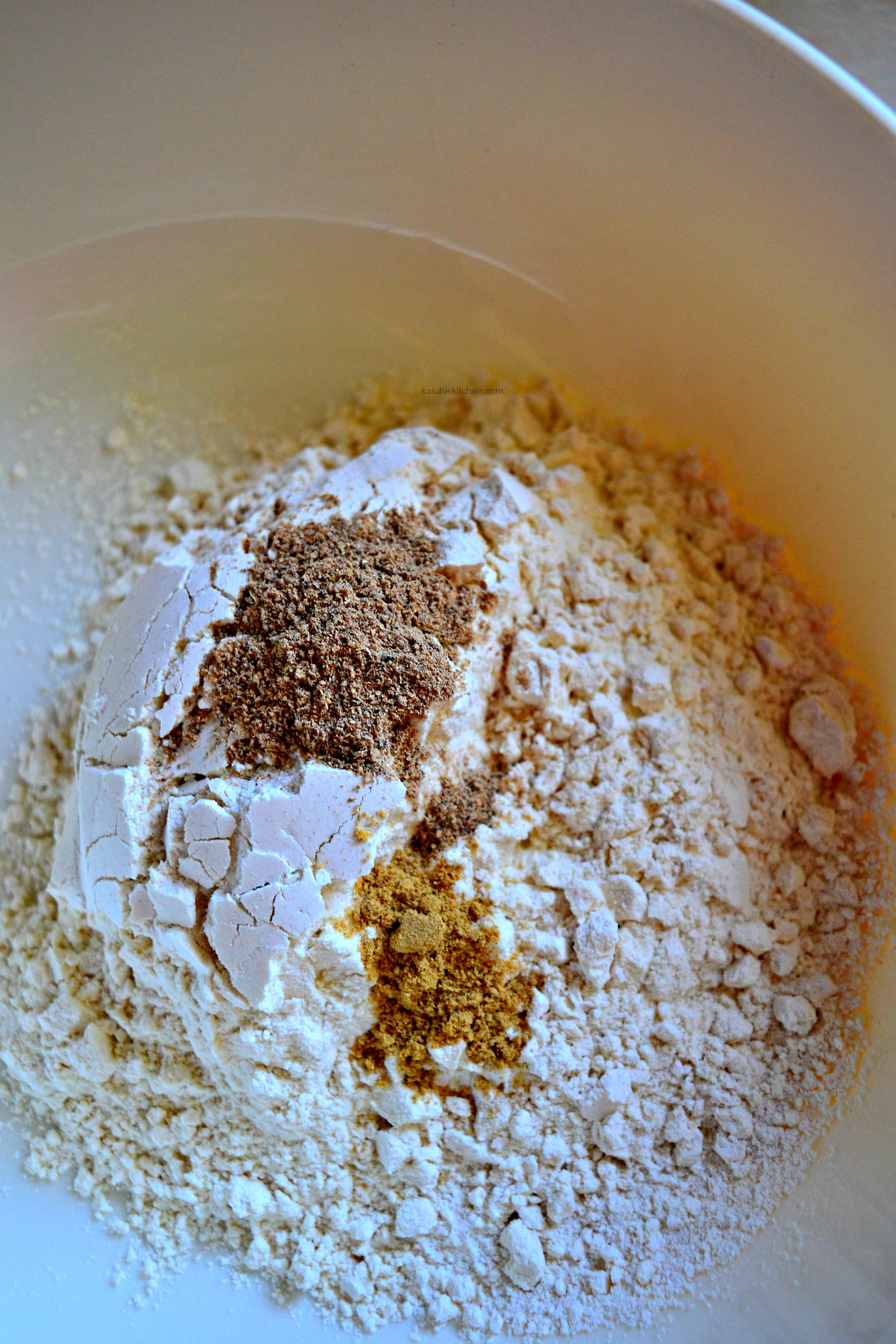 Do not over mix, or try to smooth out the lumps. Make sure your batter is thick enough so that the pancakes are nice, light and fluffy. After that, add in your mango pulp. If you do not have a hand held blender to make this pulp, you can use a fork, albeit with more effort, but the result will be the same. Make sure there are no lumps and that the pulp is smooth but thick. We want a smooth pulpy mixture, not a mango juice, and not lumpy mango cubes.
This is the consistency we want: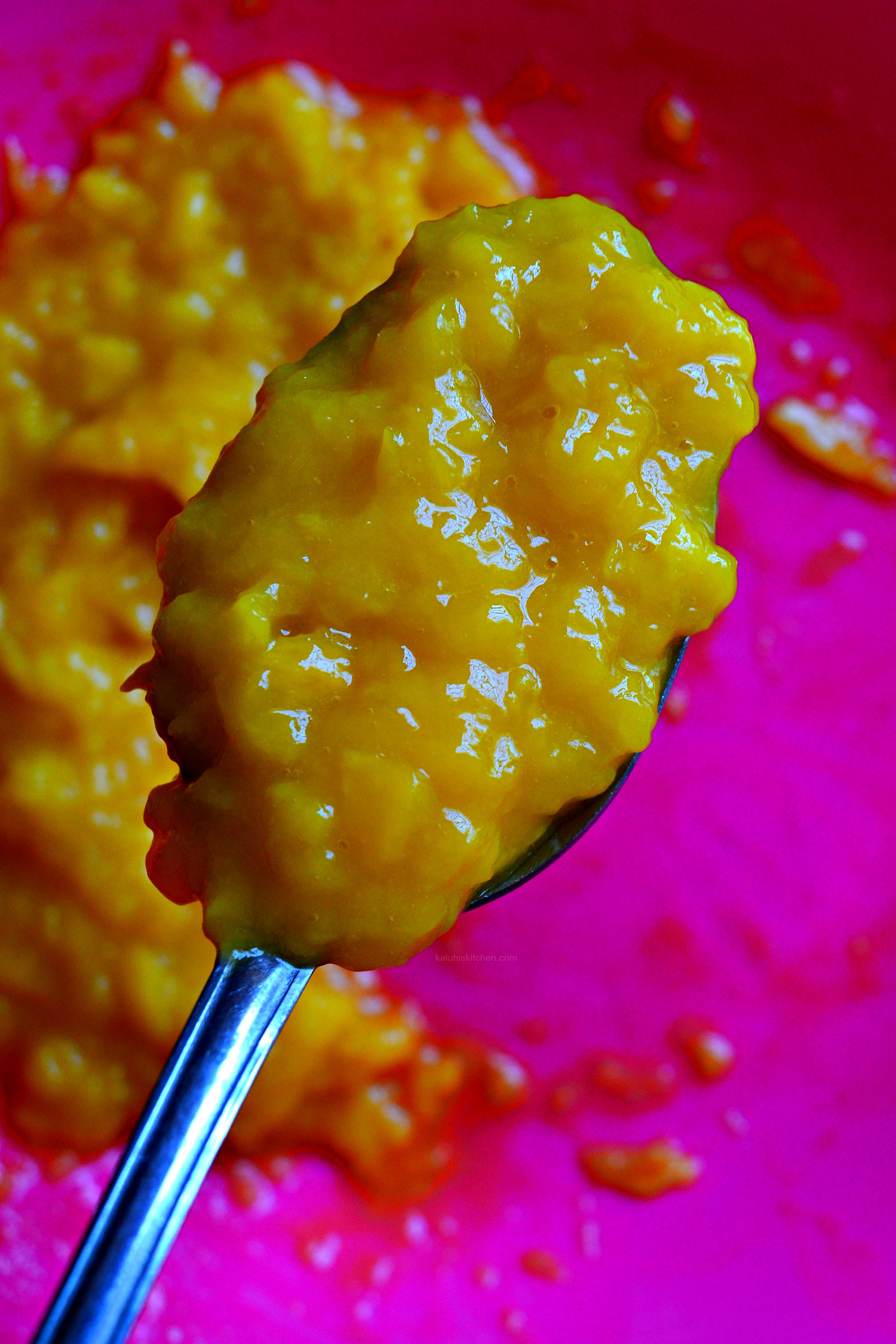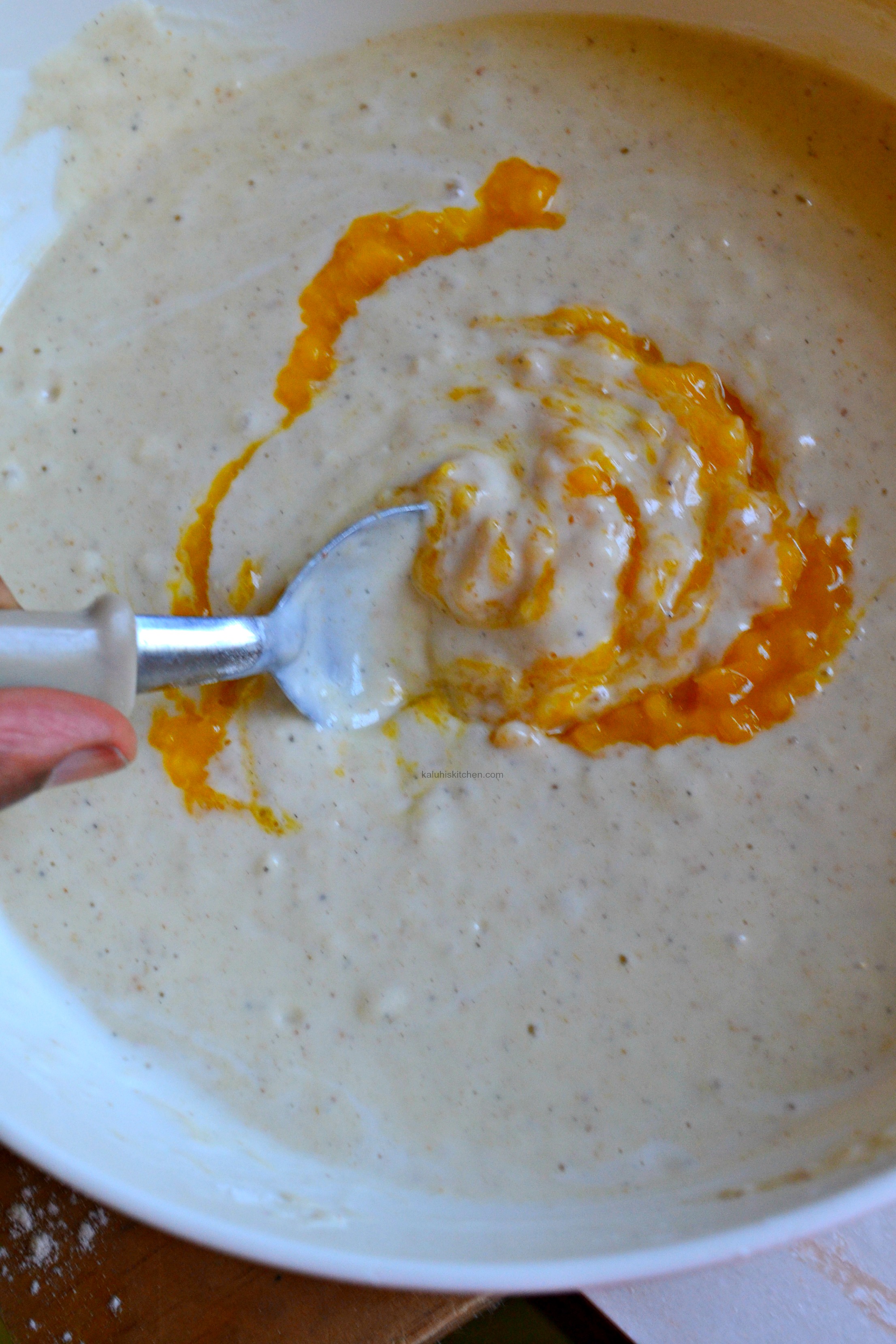 Once combined, you can you can begin cooking.
Lightly grease your non stick pan, and ladle your batter on it once it is hot enough. Allow at least 2 minutes on each side, with your pan on medium high. This allows the inside to cook and the outside to have an appetizing golden brown color.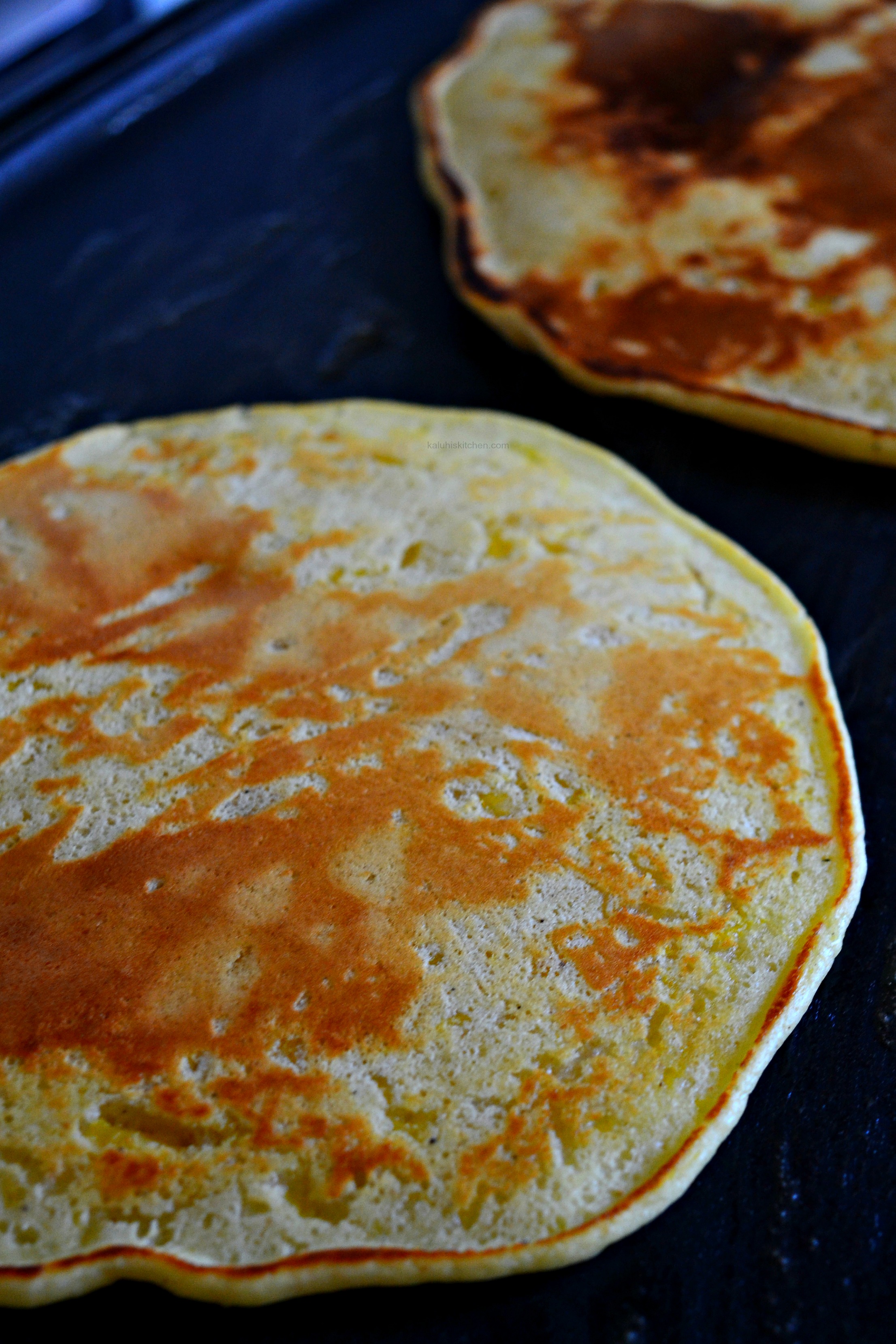 After your pancakes are done, remove them from the heat, stack then up, garnish with some fresh mango and serve!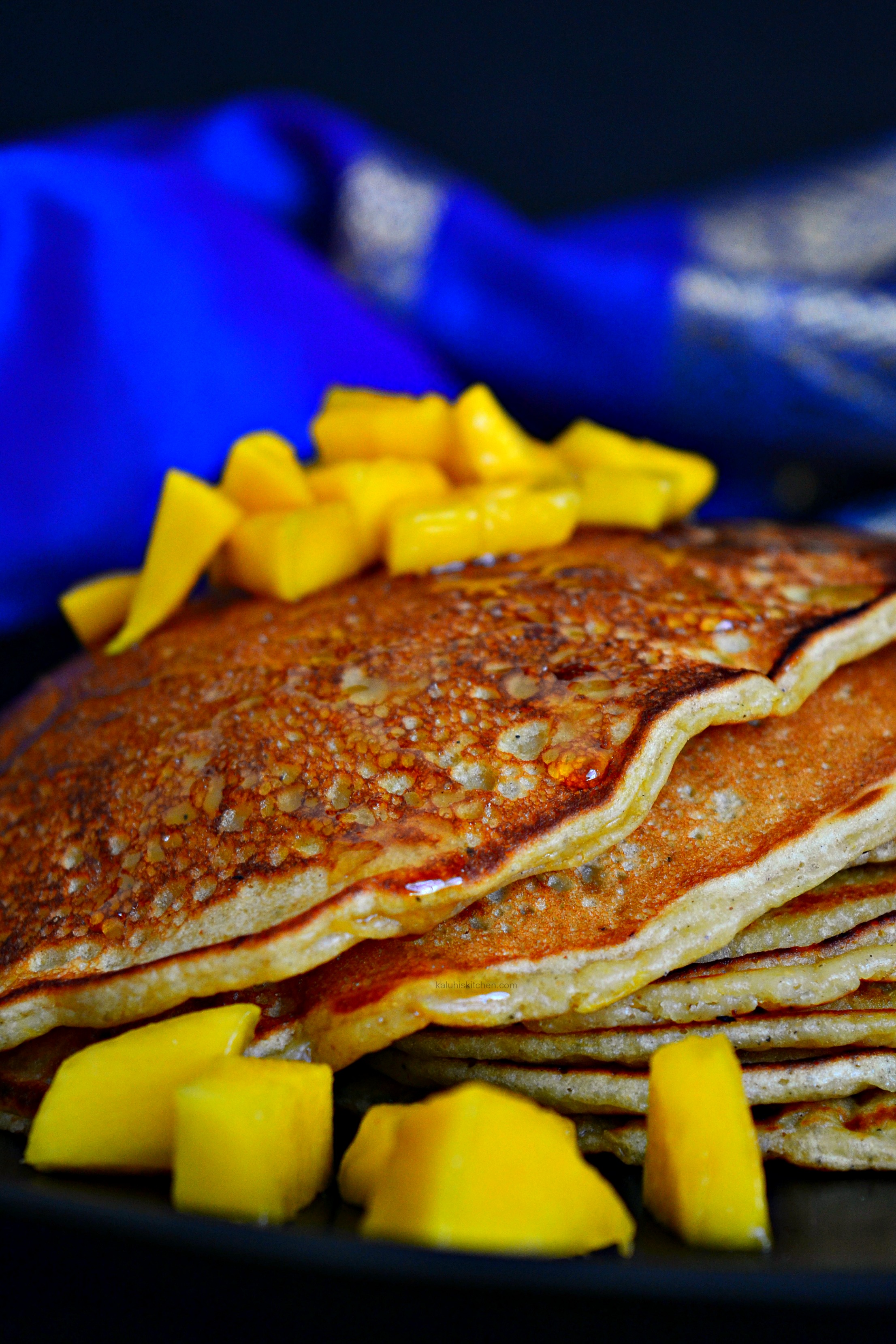 Filling and delicious and with beautiful layered flavors that will set your taste buds alight! Pancakes with a fruity taste are always delicious, and using my favorite fruit made them even more unforgettable!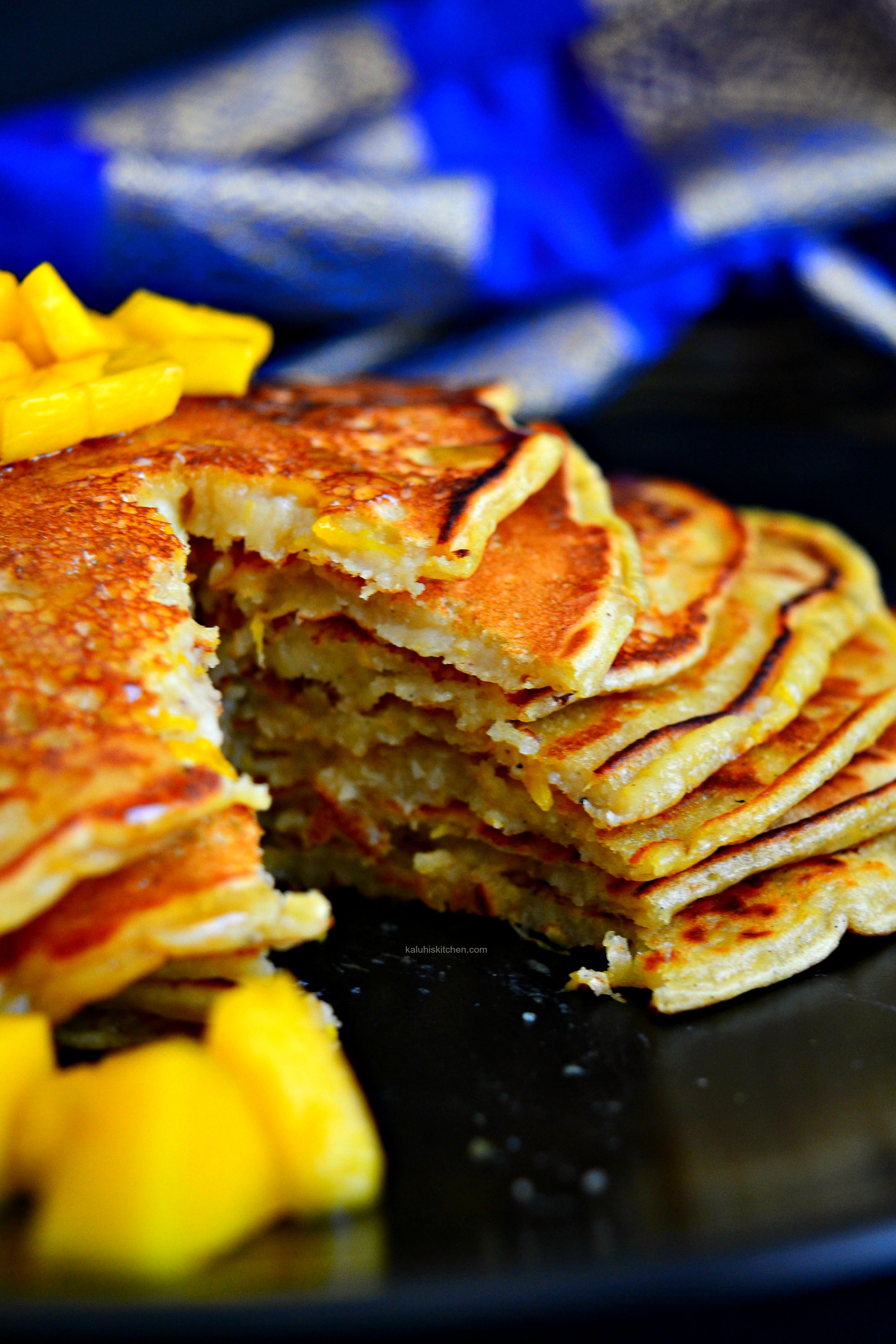 To many more!
-K
---
Get your downloadable recipe here :))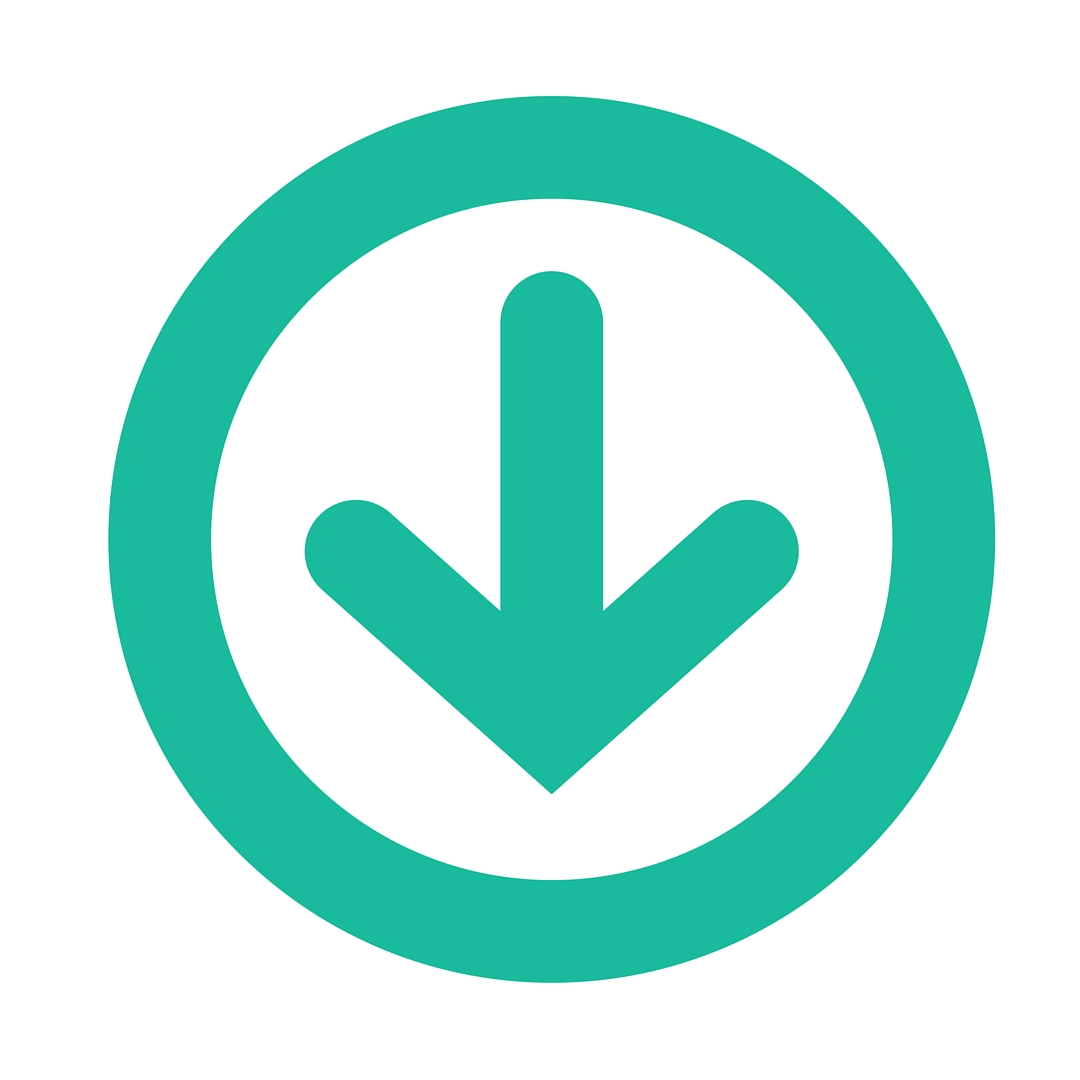 ---
All content and images are copyright protected by



Do not copy in part or whole without giving due credit.