If you have been following me for quite sometime now on Instagram, You know how much I love mangoes. This love dates back to  my primary school days. As we go through the final weeks of mango season, I am taking full advantage of this and eating as many of my favorite fruit as I can and incorporating them in my food and snacks too.
I love parfaits because they are the easiest things on earth to make. They make the perfect post-meal indulgence and can also make the perfect snack. There are infinite variations to a parfait but here is mine. It is sweet, fulfilling and pretty healthy too :)) This mango and dark chocolate parfait just shows you you can make the perfect snack or dessert without spending too much and with ingredients you can easily obtain.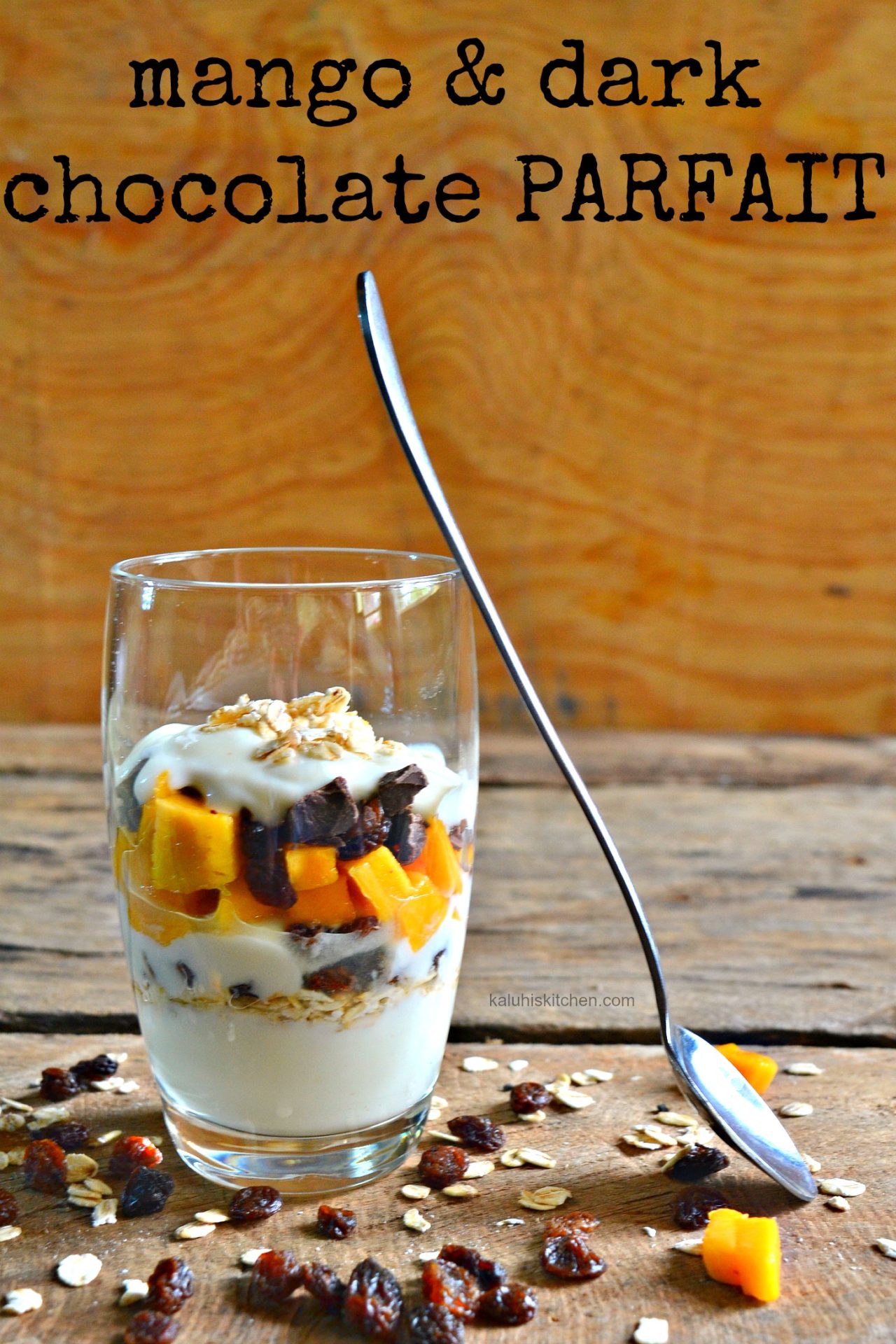 PREP TIME:5 MIN                  MAKE TIME:3 MINUTES               SERVES: 1
Ingredients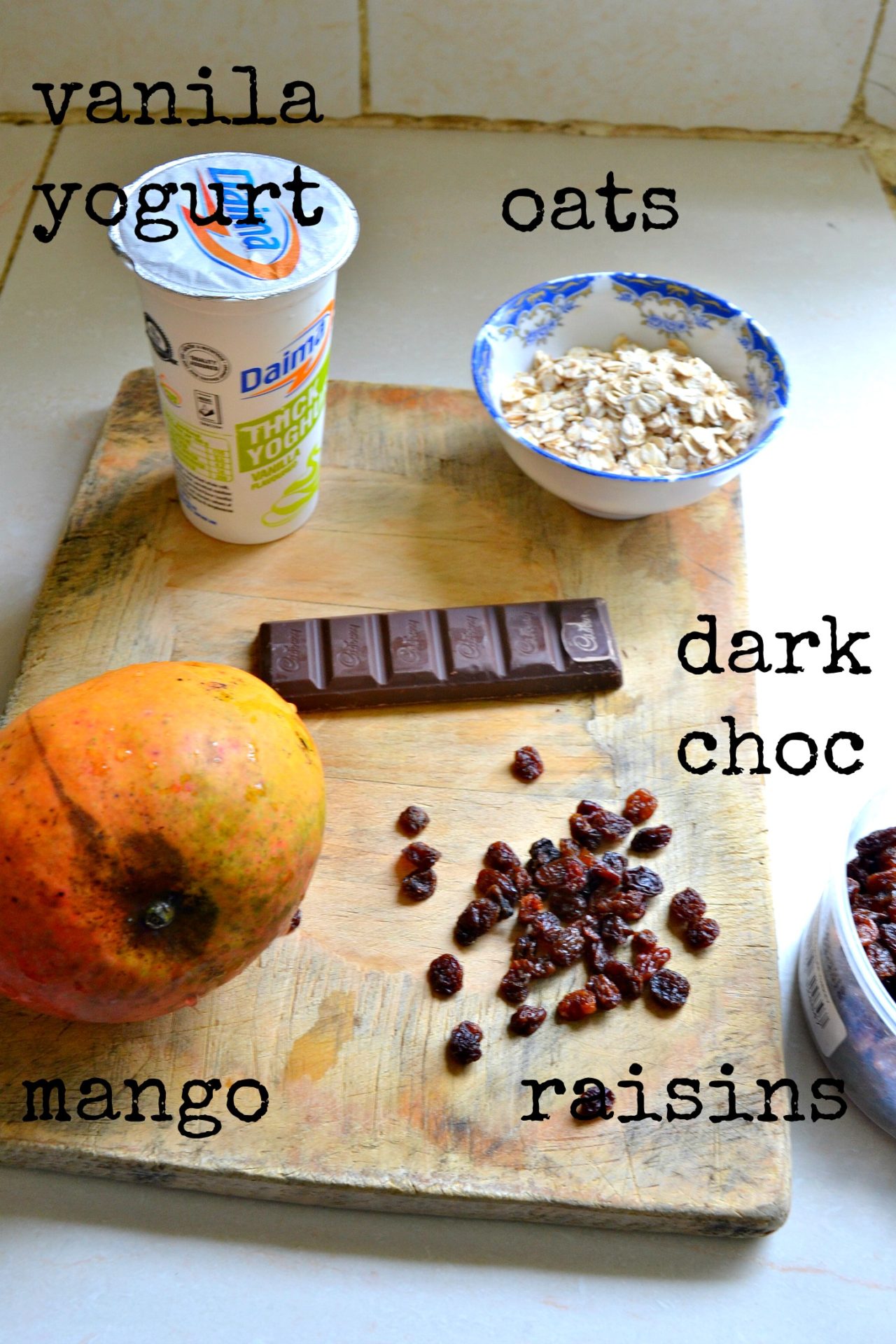 1 apple-mango cheek, diced
150 grams of dark chocolate
150 g of vanilla yoghurt
1/2 a cup of oats
A handful of raisins
Method
Peel and cut your mango into neat cubes and start eating them and finish it all even before layering begins set aside. Ensure your mango is ripe but still quite firm so that it cuts cleanly. How gorgeous does this juicy mango look?! I wish mango season was all year round!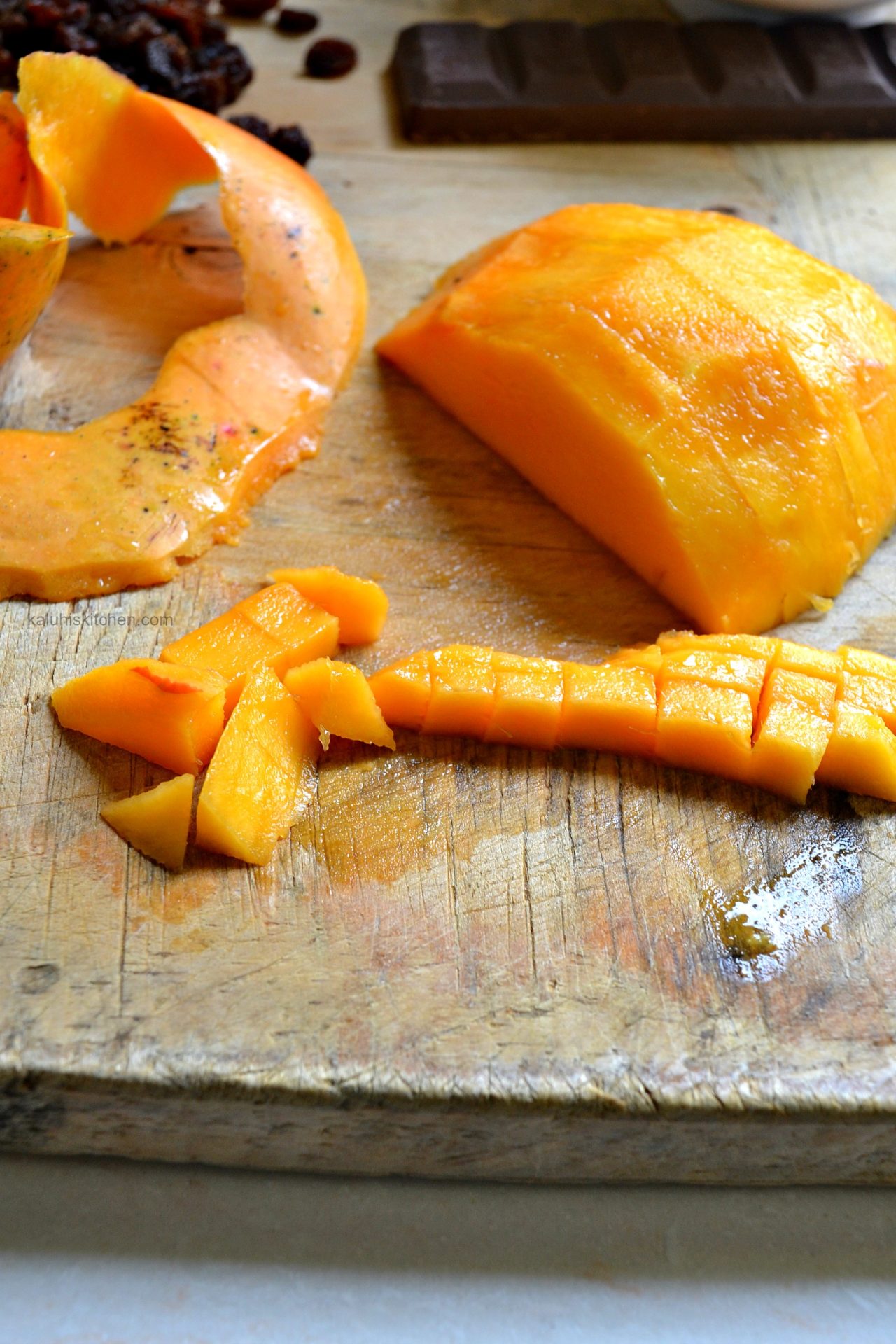 Roughly chop your dark  chocolate and set aside. I used dark chocolate because it has more health benefits than milk chocolate. It is packed with antioxidants, lower fat content and plenty of other benefits. It is simply perfect for desserts and snacks when you want some sweetness but still want to keep it moderate.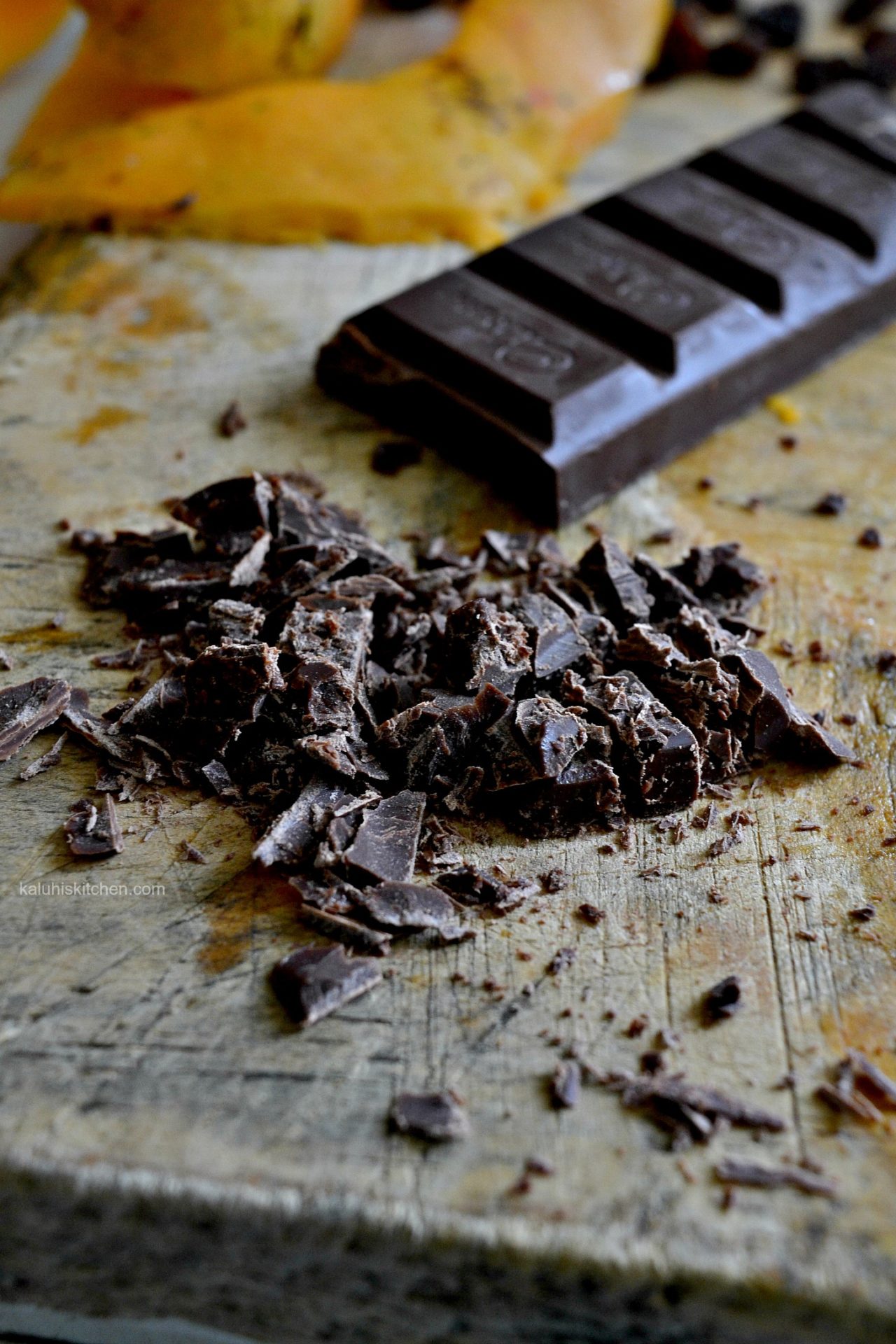 Take a tumbler and begin layering all the ingredients for your parfait as you please. I layered mine in the following sequence: vanilla yoghurt then oats and raisins. Followed by another layer of my yoghut then my mango and then the dark chocolate. Lastly, a final layer of yoghurt and garnished with some oats and raisins.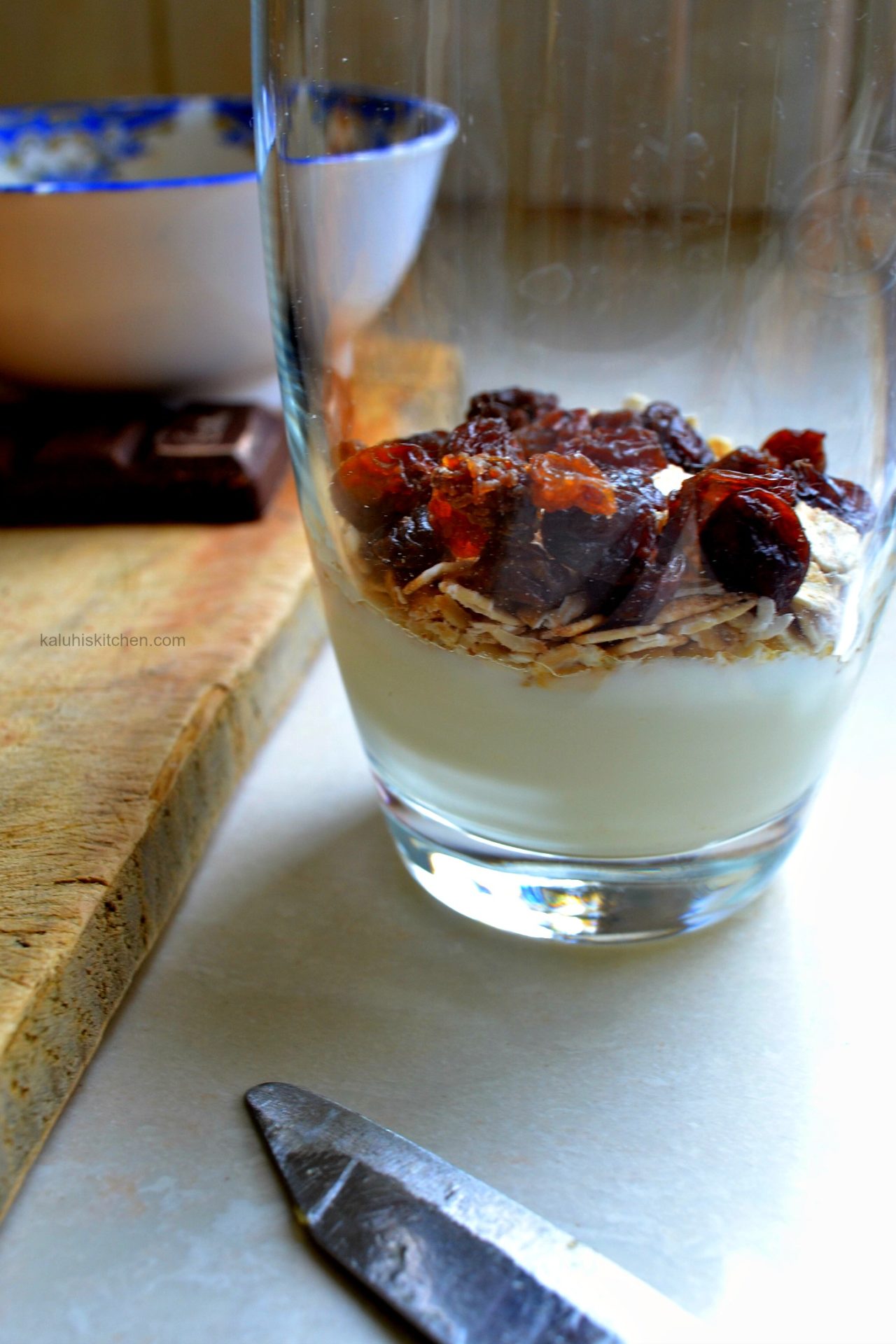 Ensure the yoghurt you choose to use is thick. Runny yoghurt will run and the layers will not be as appealing. I recommend Daima, Bio or frusion. For this , I used Daima since it is very pocket friendly and has that amazing thickness I was going for. Bio and Frusion are excellent too but my wallet always tells me to look the other way and keep walking LOL.
If you want to make this even healthier, you can substitute vanilla yogurt with plain yogurt or greek yogurt.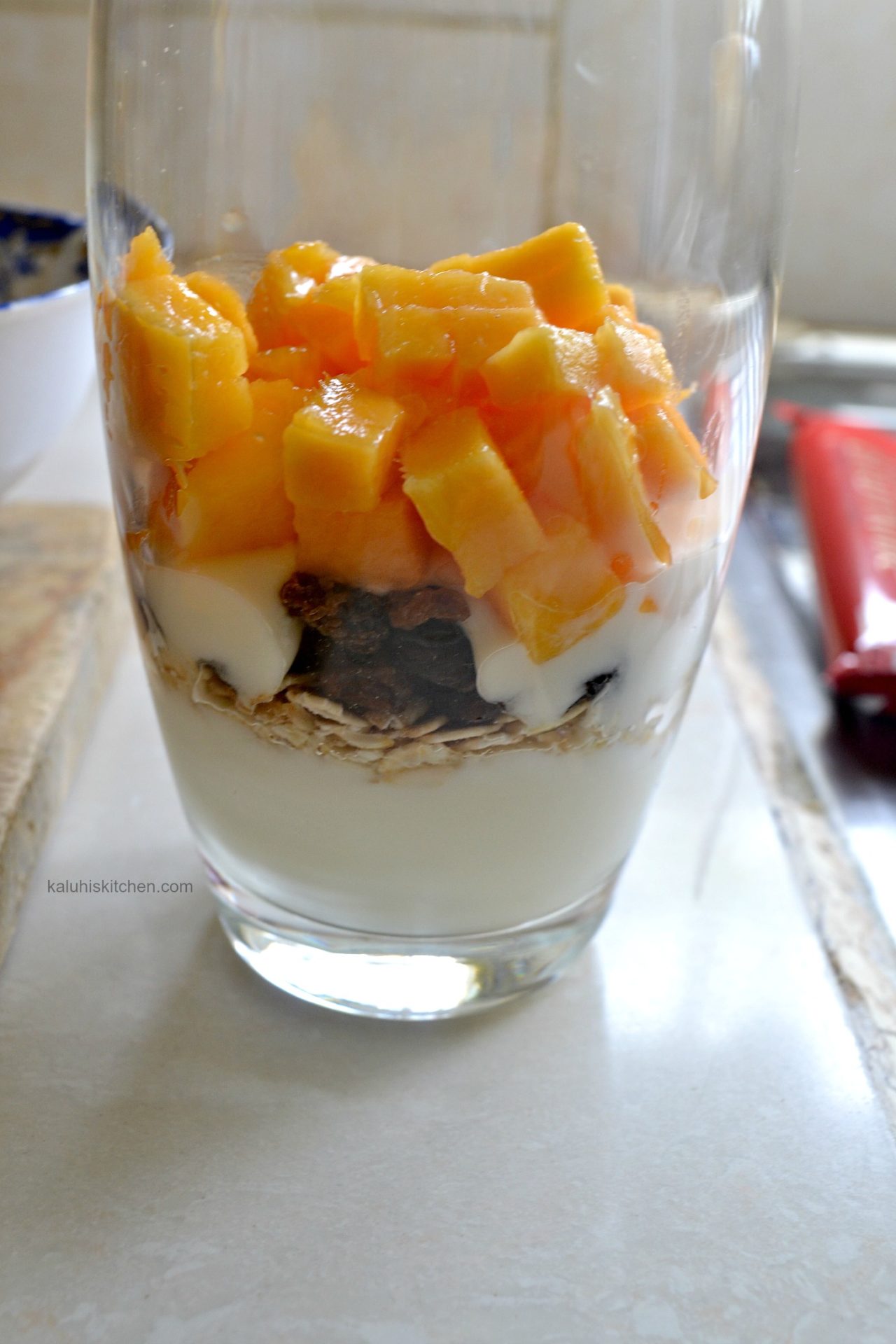 Once you are almost at the top and all the components are incorporated, serve.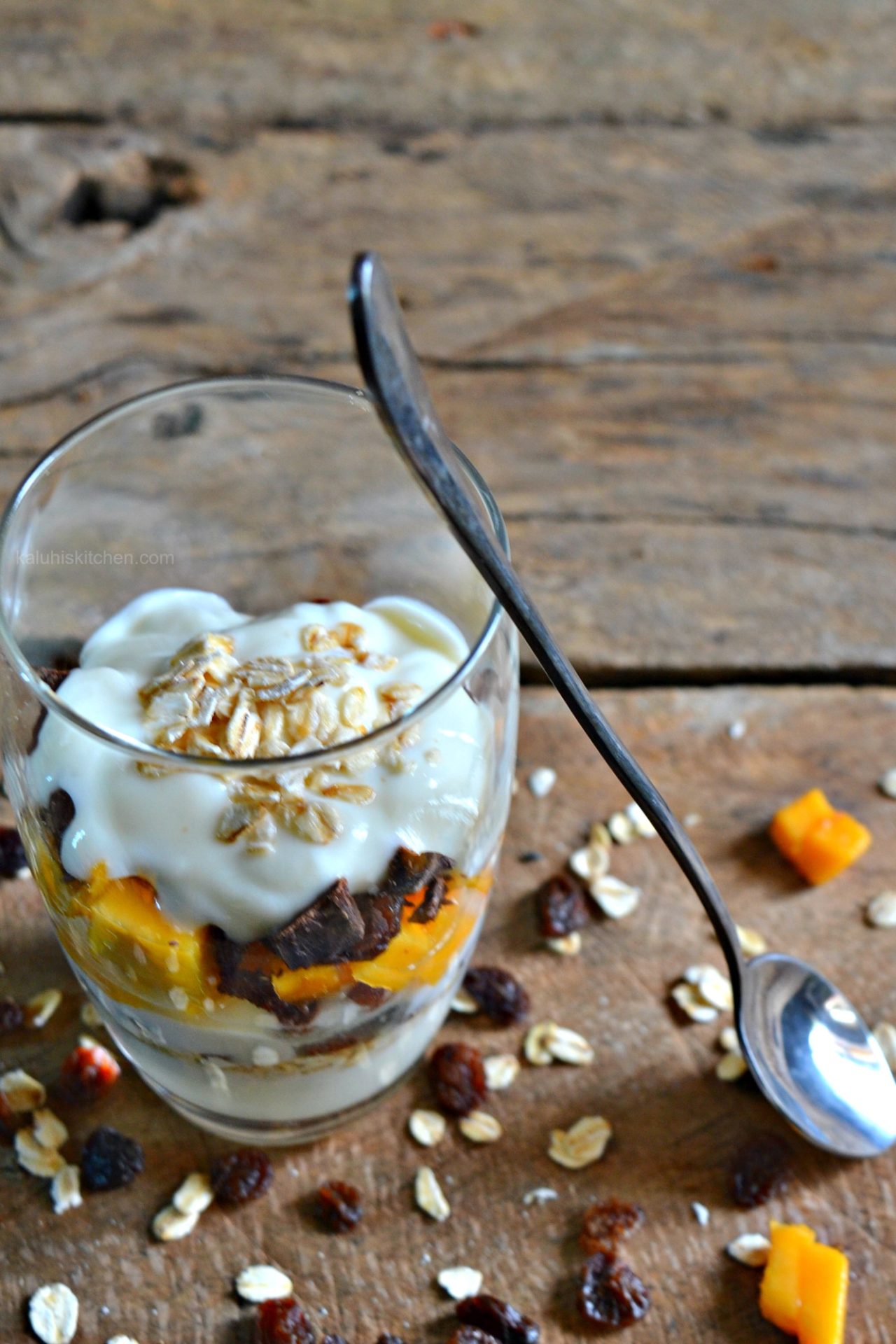 Doesn't your mouth just water looking at that?! If you do not have any mangoes where you are reading this from, you can use any berry or sweet non-acidic fruits such as peaches, apricots or nectarines. This is one snack you can indulge in and enjoy without those extra feelings of guilt. WIN!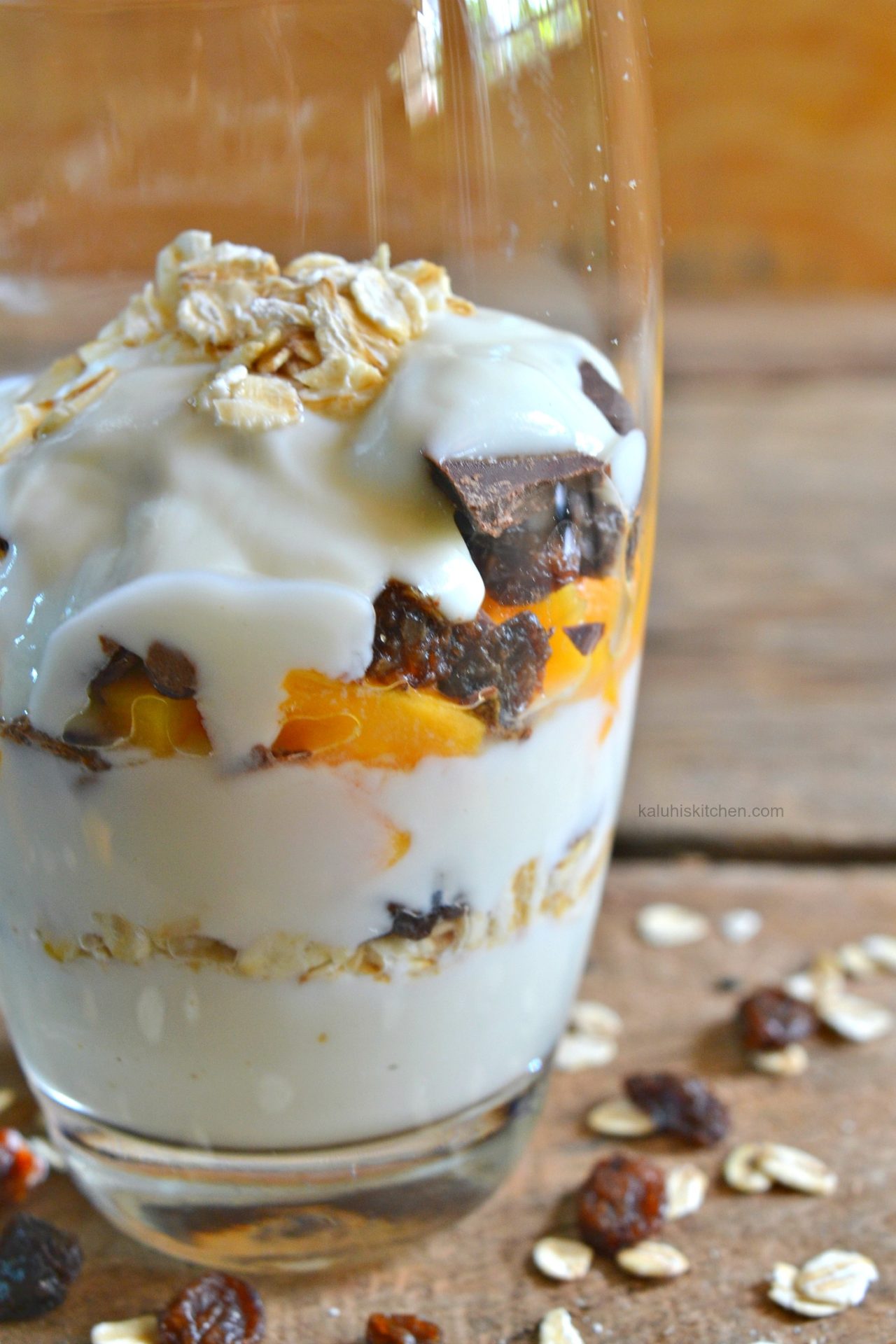 The oats and the roughly chopped dark chocolate provide an excellent textural contrast. The mango goes surprisingly well with the raisins and their sweetness is complimented perfectly by the creaminess of the yoghurt. This is perfect for both adults and kids.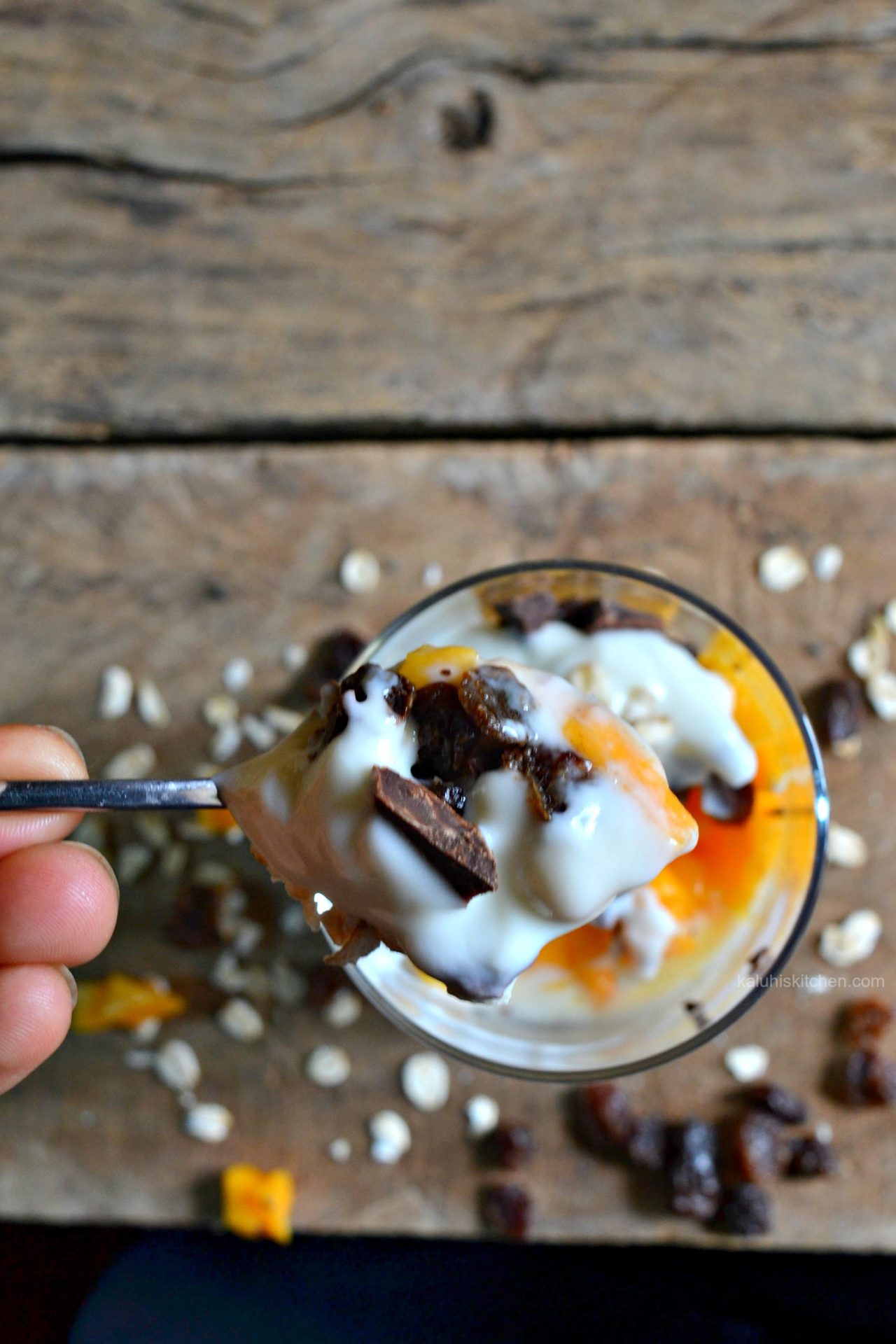 Perfect bite!
TGIF!
-K
---
Get the downloadable recipe here: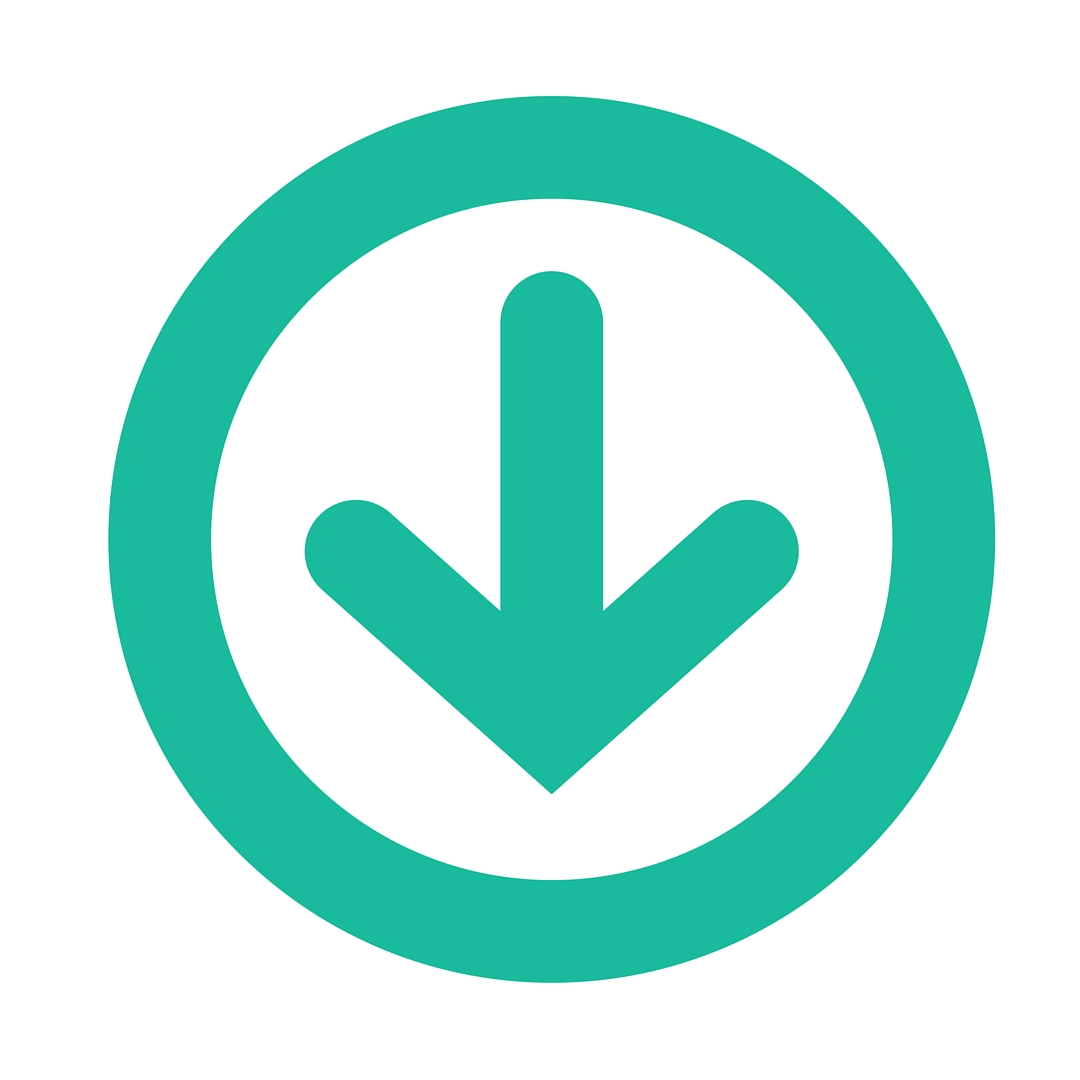 ---
Vote for #KK  'Best Food Blog 2016'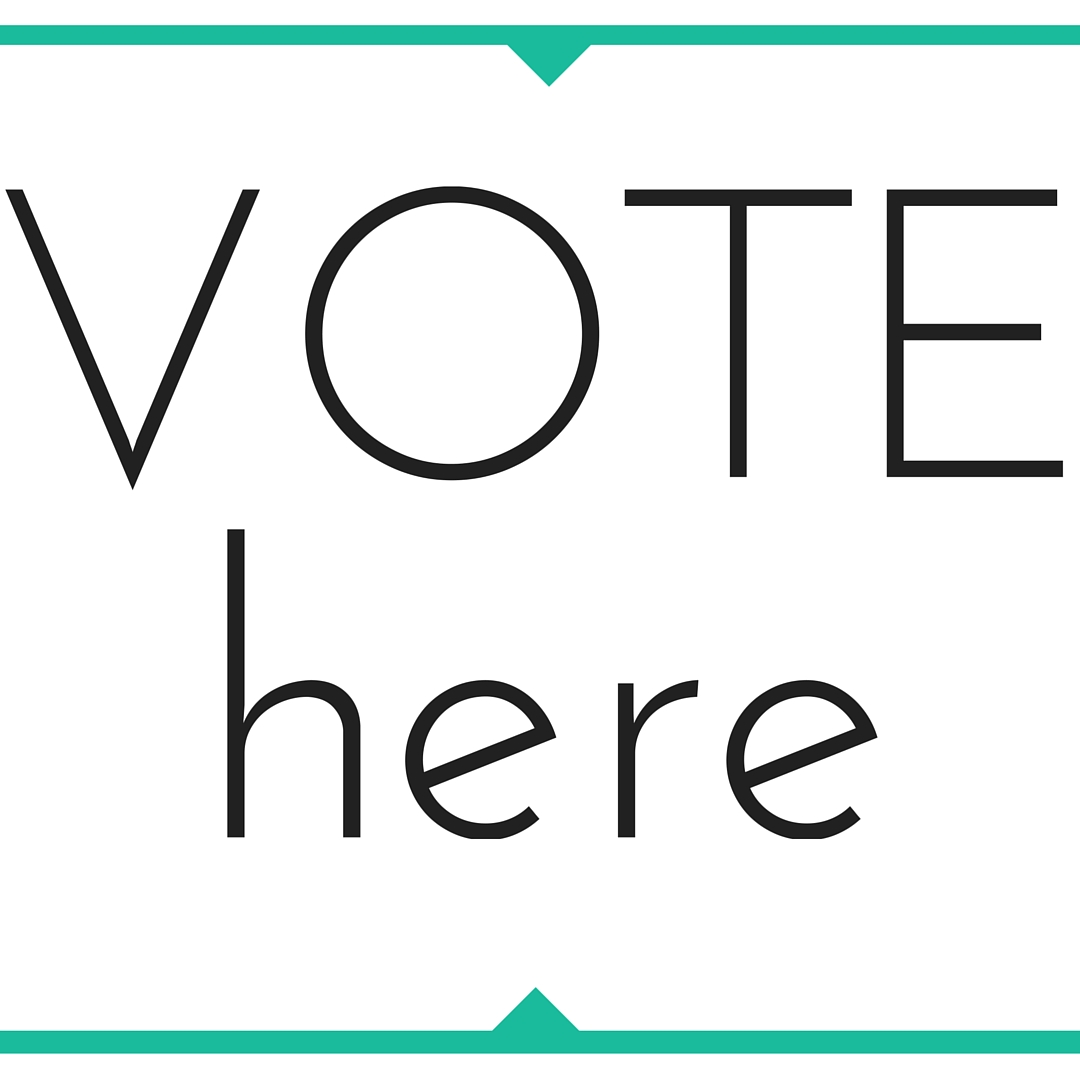 ---
All content and images are copyright protected by