Every new years eve (and the eve of my birthday) I always review the year that is coming to a close. I  highlight my favorite moments but especially moments that I drew so much wisdom from and life lessons I take with me to the next year.  These typically come from things people said or did or I things I personally experienced.
I feel compelled to share some of the things that were learning points for me. I wanted to do a 'taking stock' but I could not bring myself to summarize anything LOL. I hope you can relate to some of them and draw some wisdom from this busy 24 year old mind of mine on the final day of 2015.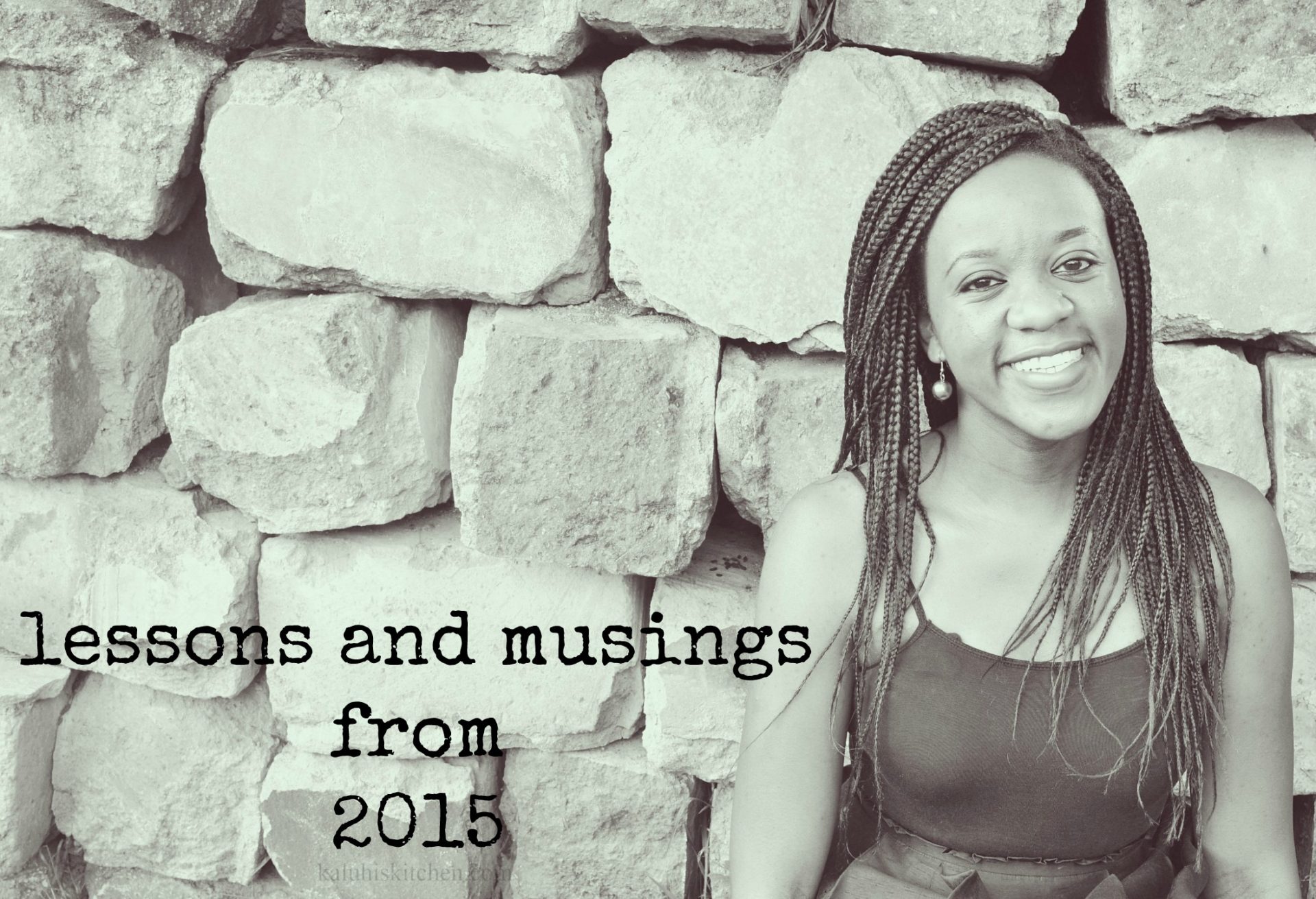 On God
The two most important things I have learnt this year is to trust Him and to let go of control. To trust Him to take me where I should be even though things may not be too clear at a given point. I have learnt to let go of control and hand it to Him because worrying about things I cannot change/ haven't happened gives me unnecessary anxiety and could turn me crazy in a few years to come.
On Relationships
Just like everything else in life, relationships require hard work. One moment you are really happy, then it sort of plateaus, then suddenly there is this raging cold war. You feel me? The feeling of love will always fluctuate. But love is not a feeling, but an action. It requires you to choose that person over and over again. It requires  plenty of forgiveness more than anything too. It requires celebrating having that person in your life when they have done things that make you a bit mad just as you would when they make you happy because you wouldn't have it any other way. But that does not mean date an asshole and stay, don't get me wrong. They should be able to celebrate you too in all situations! Know your worth and know what is worth fighting for and what isn't.
There are the stages you discover their difficult characteristics. The moments you must have those awkward but necessary conversations. The time where your selfishness , and maybe their's too, is revealed. It is most difficult  at the cold stages, but it is also the most critical stage for your growth as a couple and for you as a person. It is not the time to give up, or run away or call a certain morning radio show and broadcast your problems. But a time to streamline everything, like adults, make your concerns or fears heard, make the choice to love and carry on. It is always worth it in the end.
I have also learnt the beauty of not over-sharing in a world where we are almost expected to display every moment and detail about your relationship. I understand we are all different and that some people enjoy sharing their love life with the whole of humanity. But I personally feel there is this beauty about keeping special, almost sacred moments about the two of you to just two of you. You don't have to share everything. You do not owe the world anything.
On Cooking.
I once read on a blog sometime late this year that women should read because men find it attractive. One of the readers on that post's comments chimed in that they  should also learn to cook because it is also considered attractive. Here is my opinion: Cook because you want to, cook because you like to, not because someone else makes you to. That applies to BOTH men and women. Do not cook because society decided for you that that will make you attractive, or to get attention of a girl. Do not cook for people because you want something from them in return, but simply out of love. I personally enjoy cooking. But I do not do it to become attractive in society's eyes, but just because I love it. Even if society decided today that cooking is a bad thing, I would still love cooking and I would still do it. You owe it to yourself to make yourself great food. Learn how to treat yourself to good food such that once you cook for others, it becomes your gift to them. Cook for people because you love to, because you enjoy giving them an experience, because you want to be a blessing to them, not to get something in return.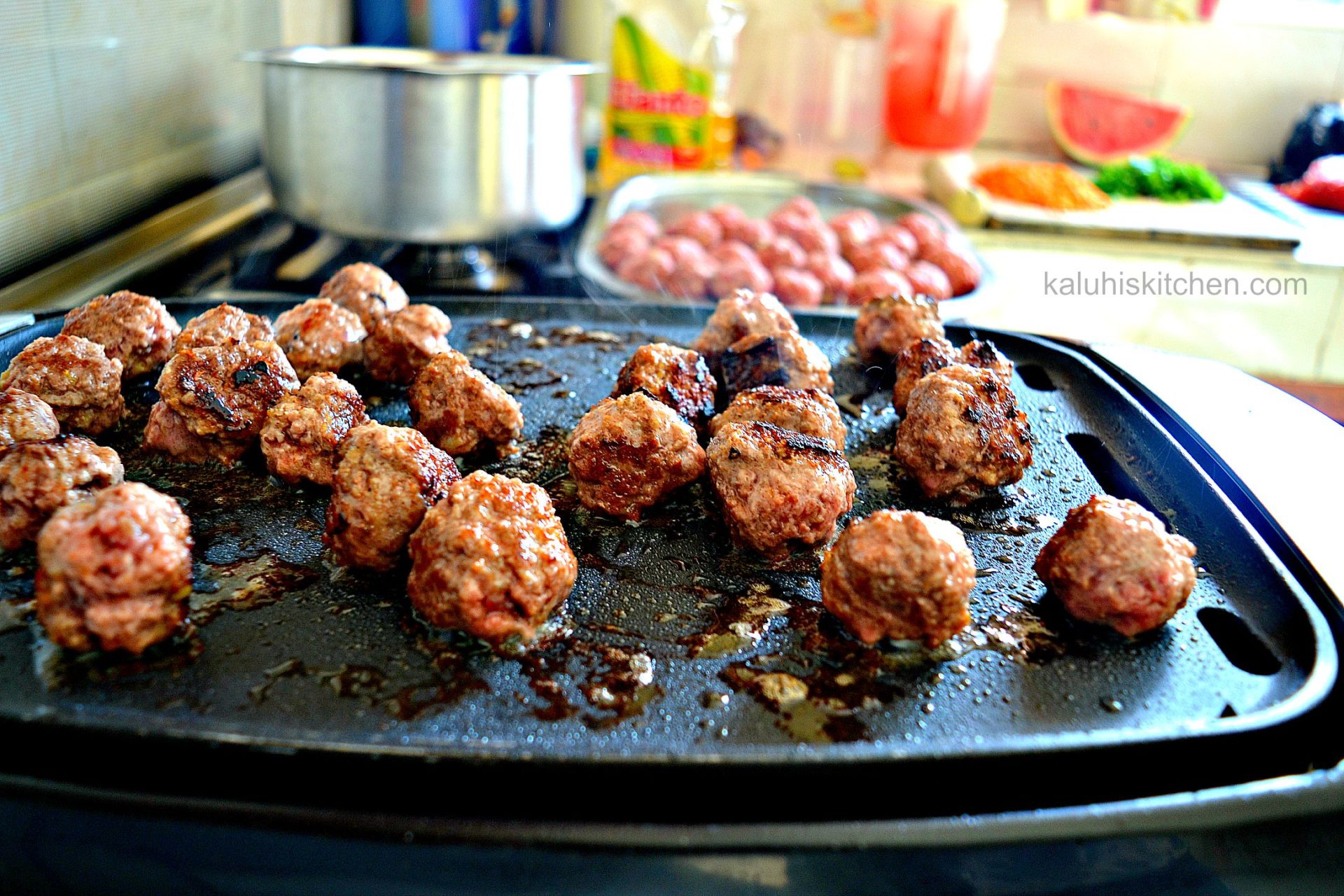 On dreams and ambitions
Your dreams can be anything! Your ambitions can surpass everything! That may sound old, but the more I free my mind, the more I see possibilities. This year I have seen people make it and go hard after their dreams, inspiring me so much in the process to go after mine. Yes, you can be a lawyer who changes course and becomes the most influential fashion minds the world has ever seen. Who says you shouldn't?? Who says you can't??! You can smoothly break from corporate life into entrepreneurship. Why not? Do not allow society to dictate to you who you should be. You only have one life, live! And you can have it all, the only thing is you have to believe. Telling you to believe in yourself is easy. But having you (and me) actually believe is the catch. It is not as easy, but it is very powerful. This year I have seen, felt and lived the full force of belief. That which makes you go forth even though it does not make too much sense. And by the grace of God, everything falls into place. But before everything falls into place, you MUST put in the hard work. You must put in the hours. You must deliberately strive to be your best and top your best. Do not be that person who says "I believe I  am so capable" or "I am waiting on God" but is too scared to make the first step towards the direction of their dreams.
On Body Image and Self Love
On October 3rd 2015, this article by Njoki Chege set off the entire country. It is one thing to tell someone to lead a healthy life, but another entirely different thing to body shame. Some people told me, oh you are so lucky to be tiny. But in reality, I totally understand what it feels to be body shamed. Is the grass really greener on the other side? We shall get back to that question.
Body shaming affects both sided of the divide. Heck it affects everyone! Growing up as a thin girl in Africa is not the easiest thing since being slender is not what is considered beautiful on this continent. The idea of beauty in this country in particular is curves. More is More is More is…. I remember all through adolescence and early adulthood being laughed at and ridiculed because I am slim. I have been told countless times I am "not African enough" since I have the body of a white girl SMH. I have been "advised" to fill up my skirts while in high school and more recently to work on going up 3 dress sizes. At some point, I dreaded family reunions, all reunions actually, since I would always be asked why I am still a size 6 yet it is not by choice that I really do not gain weight that easily.  I have endured constant comparison. I will not lie, it did get to me. One day, I think during my 22nd year of life, I did some serious soul searching and asked myself "But do I really want to change?" The answer was no! Because if I did change it was  for society. A society I will never satisfy and loose myself in the limbo of pursuit of the ever elusive body perfection! I let society tell me who I should be. How dare I?! Society will shame fat girls, in the same breath still shame thin girls. There is no winning! There is only loving yourself as you are. I have since stopped giving body shamers room in my mind and just loving life (and myself hehe #vanity). I am happy, content and above all healthy! Nowadays, the thing about myself that the Kenyan society told me was bad about myself (i.e. having a healthy appetite and remaining slim), is the thing I love MOST about myself. I dare you too, to embrace, love and even celebrate that thing that society tells you is "bad".
Whether you are thin, fat, short, tall, dark, pale e.t.c., rest assured that someone will ALWAYS have a problem with your body. You will always be physically inadequate in someone else's eyes. It is your CHOICE to love your body as it is, no one will do that for you. And lucky for all of us, loving yourself as you are is the most liberating thing to do. I can say that from experience. I love me, with my small thighs, and pretty much small everything. Back to our question, is the grass greener on the other side?  You shouldn't even be looking at the other side. Water your own lawn. Cultivate some plenty of self love. And whenever someone points out your 'flaws', punch them in the mouth and drag their face in the soil ask them why they have a problem with the body a perfect God gave you. Regardless of your body shape/size, you were made by a perfect God, and he never erred when he gave your you body and your features.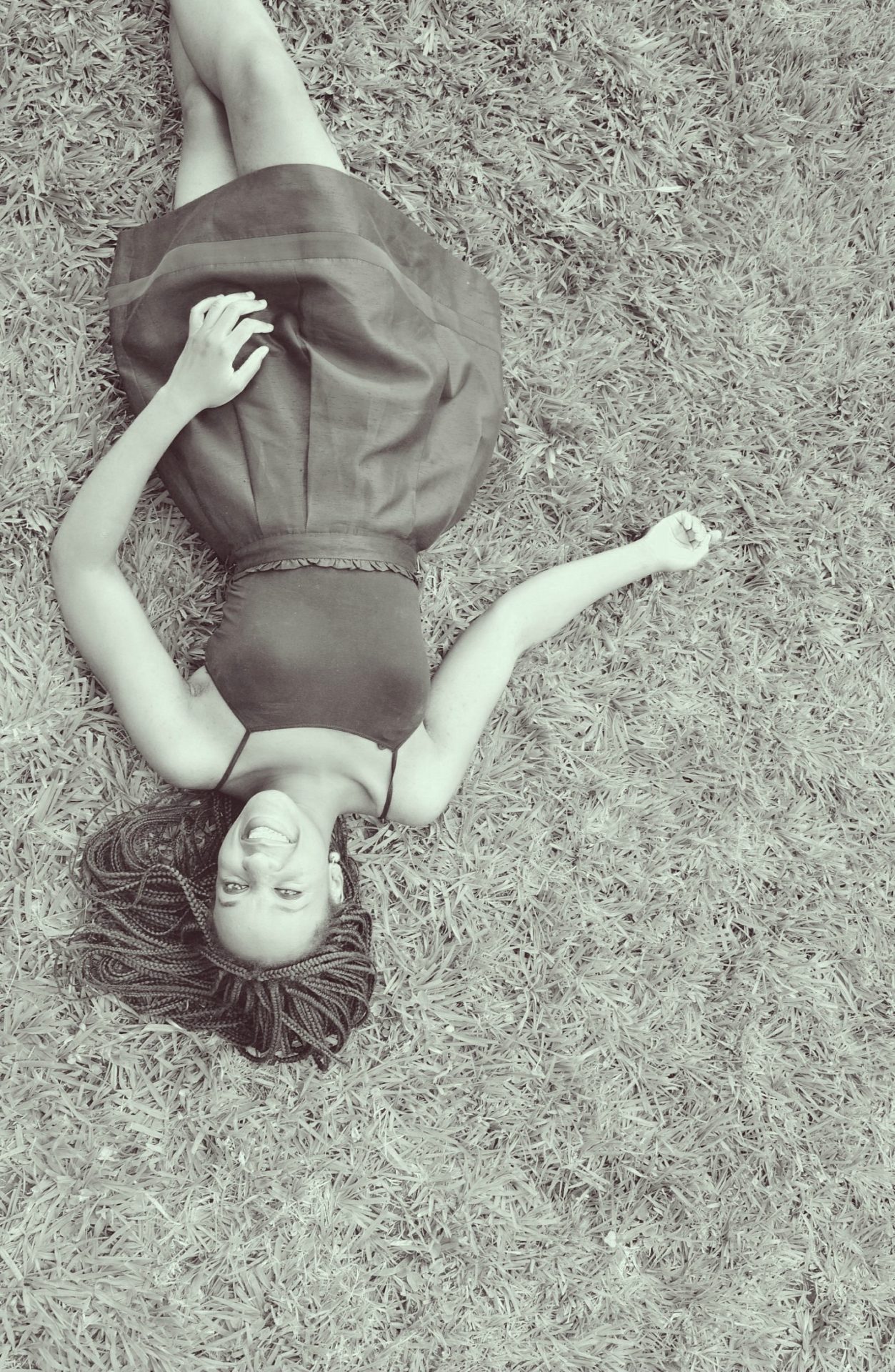 On Success
I finally knew with clarity what success means to me, and the kind of success I am chasing. On a personal scale, success is peace in my mind and Happiness in my soul. We have been hard wired to believe accumulating things is what will make us happy. Money is a great thing, and we all want some, but it is not all that is. I know without doubt someone is reading this and saying they would rather be filthy rich and miserable. But if you really think about it, it is better to have enough and have peace and happiness in abundance.
On a societal scale, success is making a positive difference and leaving a mark, as cliche as that sounds. Adding value to someone else's life is success to me. It does not have to be a huge thing like building a Lake-Victoria-Size dam reservoir in the middle of the Kalahari.It can be small, but still make a huge difference. If we all left our small marks on this earth, the change would be great collectively. Haba na haba hujaza kibaba.
What does success mean to you?
On blogging
Plenty of people have blogs. Many more may be wanting to start one too. I am not a blog super star or anything, but I can contribute some knowledge for your journey based on my own.
If you want to start a blog, find your own voice in your niche. Be original. DO NOT try to copy anyone. I repeat, DO NOT COPY ANYONE, be it their writing style, content or feel. That is suicidal and self depreciating. Starting a blog is the easy part, sustaining it is the tough part. But if you love what you will be/are blogging about, you will always make time for it. Be relentless with the quality of content you put out. It is either excellent or inferior. No in between. Do not compete with anyone. You are your only competition. Only aim to top yourself and improve yourself. If you focus on another person's journey, you will find yourself obsessing over them and loosing site of your vision. Focus!
Then, as much as possible, train yourself to be self sufficient. Learn how to handle  as much as you can on your own. You can handle nearly everything on your own, do not make your blogging experience an expensive one. I handle everything, from content, to photography, to site management, to social media. Doing everything on your own also allows you to have things exactly as you want them.  You alone understands your vision, so that means you are best suited to execute it. But when you need help, ask. You are only human and you do not know everything and that's ok too.
***
Which lessons have you learnt this year? I would love to know below :))
xx