I had not anticipated to be cooped up at home the entire week, last week. I thought we would have a maximum of 2 days off for the election break then everything would be back to normal. With a full week of having nothing much to do, I decided to put off my prep for September recipes and instead give myself a much needed break. And I am now recharged and ready to embark on new projects! I slept to my fill. I caught up on series I stopped watching years ago (can you believe I stopped watching Vampire Diaries at the start of season 4?!). I ate so much too! Well, I eat a lot on usual days but last week's eating was just hedonistic!  One of my FAVORITE things I ate last week were these chili chicken wings in orange whiskey sauce. Hot. Meaty. boozy and oh so perfect for cool August! I know you will fall in love with this recipe as much as I did! <3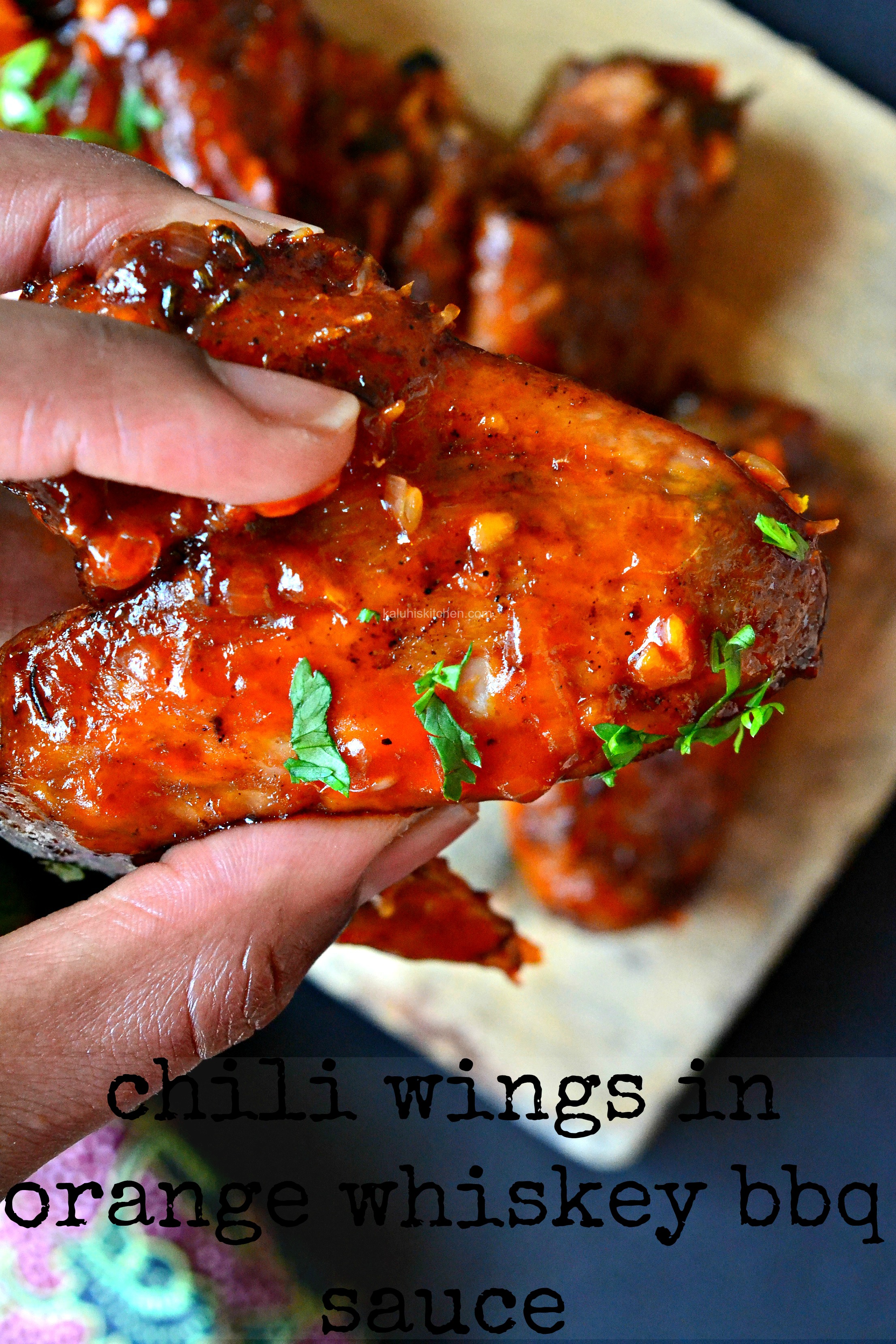 PREP TIME:24 HRS     MAKE TIME: 40 MIN      SERVES: 4
Ingredients:
8 chicken wings
1 tablespoon of dried rosemary
5 cloves of garlic
5 tablespoons of Apple Cider Vinegar
1/2 a teaspoon of chili flakes
1/2 a teaspoon of black pepper
2 heaped tablespoons of royco
For the sauce
1 red onion, finely chopped
4 cloves of garlic, finely chopped
1 cup of ketchup
3/4 cup of whiskey
3 tablespoons of brown sugar
1/4 a teaspoon of cayenne pepper
1/2 a tablespoon of black pepper
1 teaspoon of orange zest
1/2 an orange, juiced
Salt to taste
Method
For the chicken, place them in a container and add the rosemary, four minced garlic cloves, and apple cider vinegar. Let it marinate for 24-72 hours refrigerated. Once done, boil your wings with the contents of the marinade until cooked through. Put your royco, black pepper and chili spices in a bowl and add a bit of water to make a paste. The chili is optional and you can remove it if you prefer your wings not as hot. Check out this post where I showed you how to make your own chili flakes. I did not make mine this time round, but instead bought them from Kez Organics.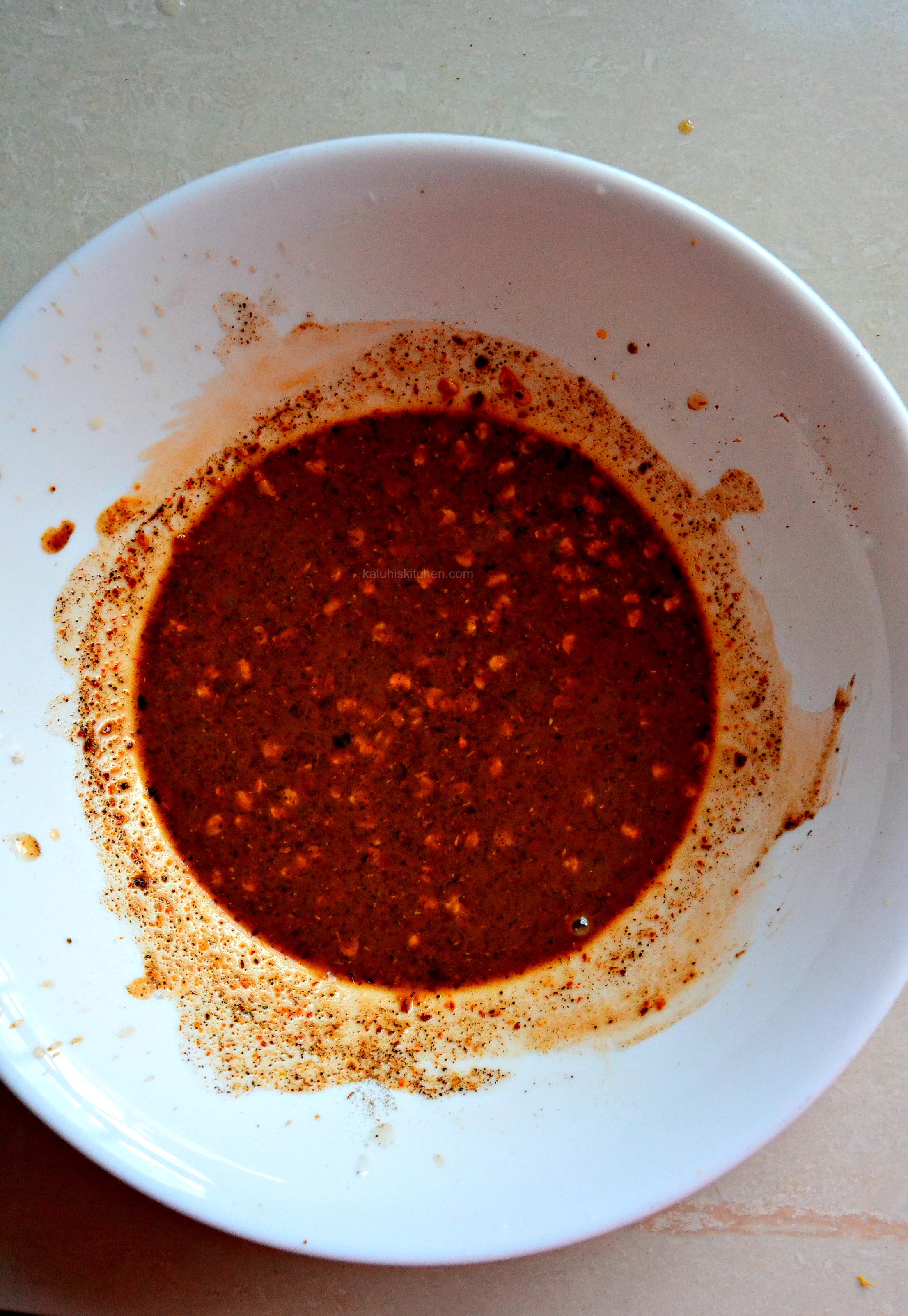 Dip your wings into the spice paste until coated and proceed to fry. Same thing we did here.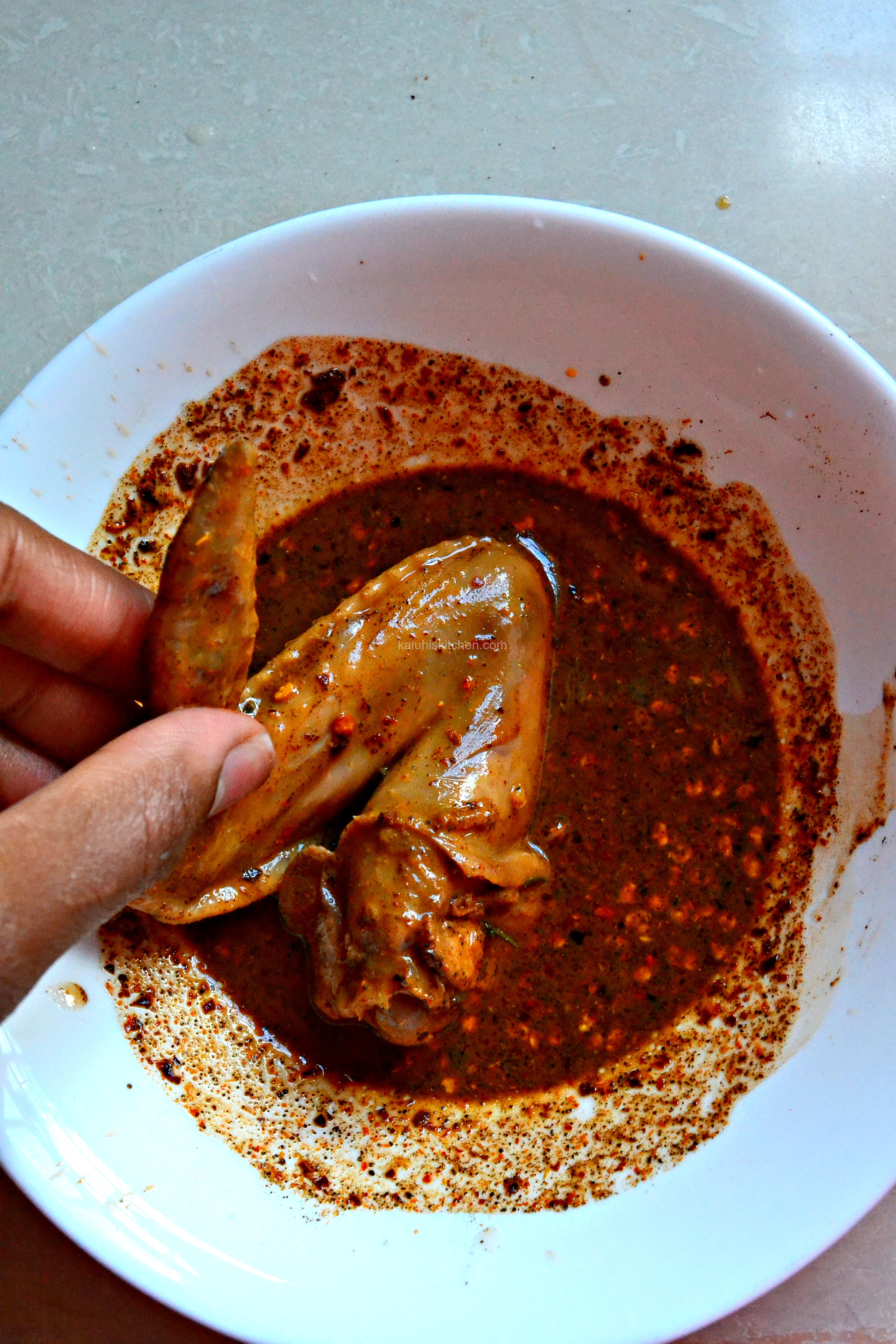 Once done, set aside.
For the sauce, add the garlic, red onion, chili into a sauce pan.  Let this simmer on low heat until cooked so that the flavors really develop. Do not rush it <3.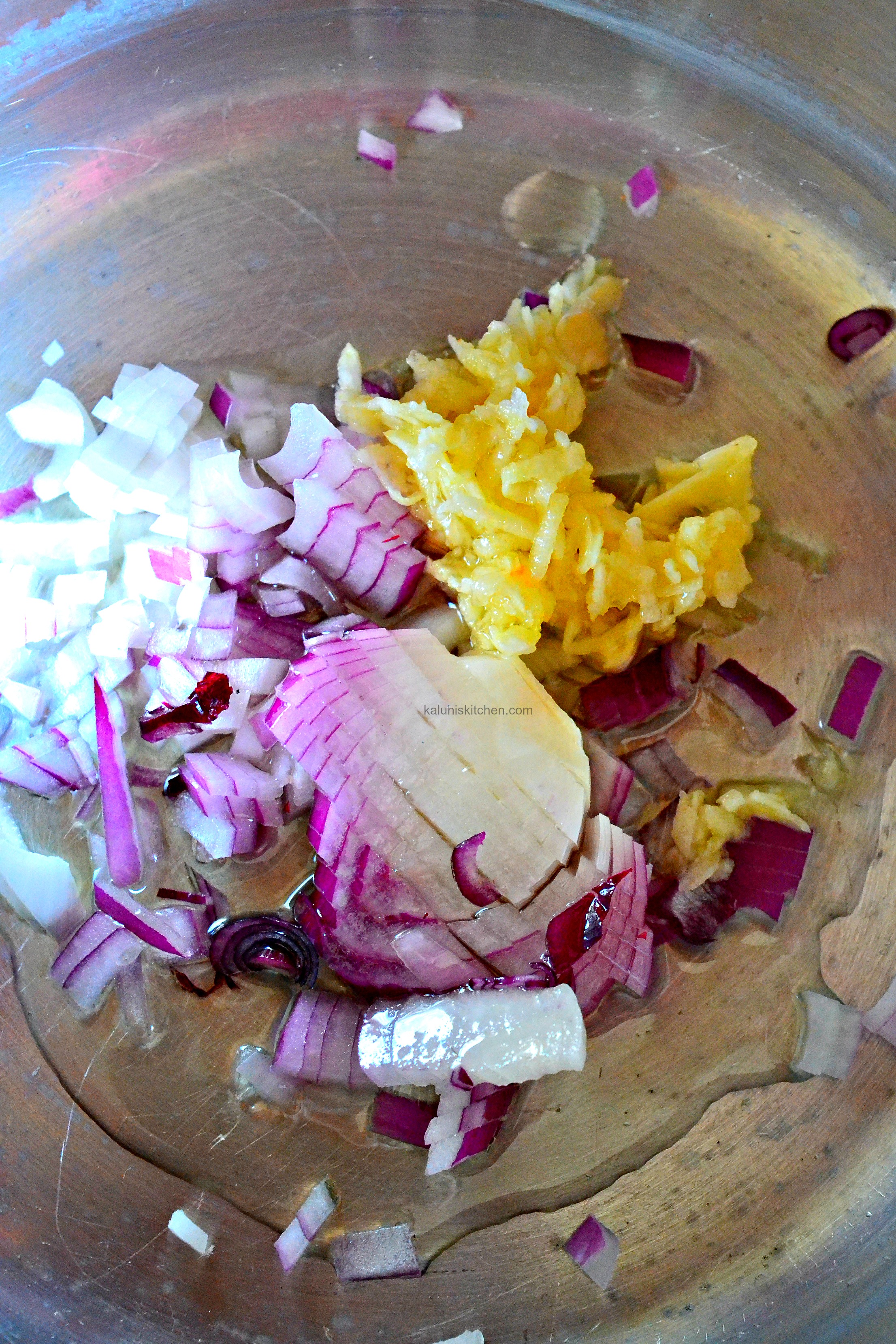 Once softened and fragrant, add the ketchup, orange zest,chili pepper, and orange juice then let this simmer for about 5-7 minutes. Make sure you use FRESH orange juice and not boxed orange juice since the sugar in the latter will throw everything off.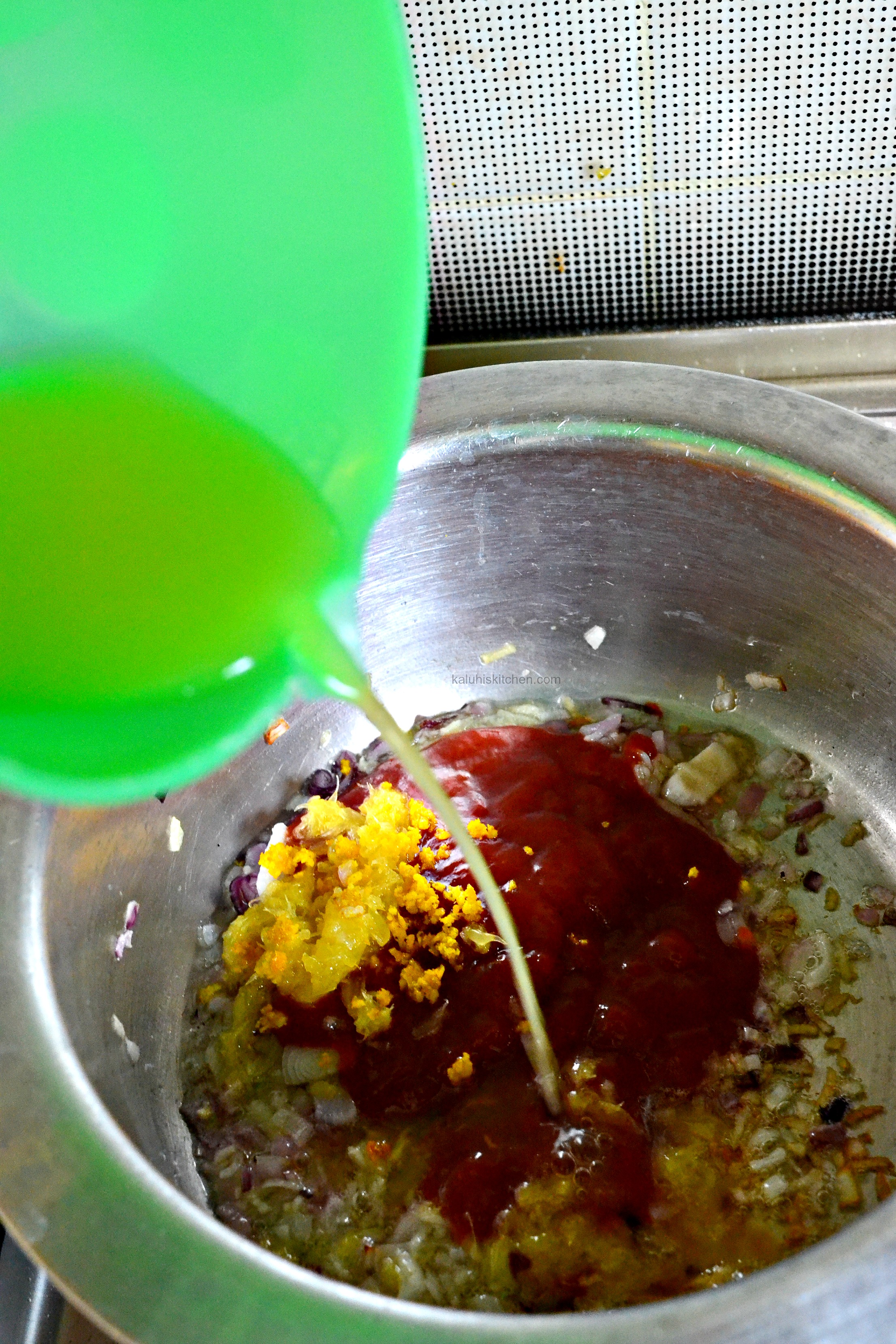 You can use fresh chili for this step. And just like the chicken above, if you prefer less/no chili, you can eliminate it. Then add your whiskey and let this simmer for another 7 minutes on low heat until all the flavors come together.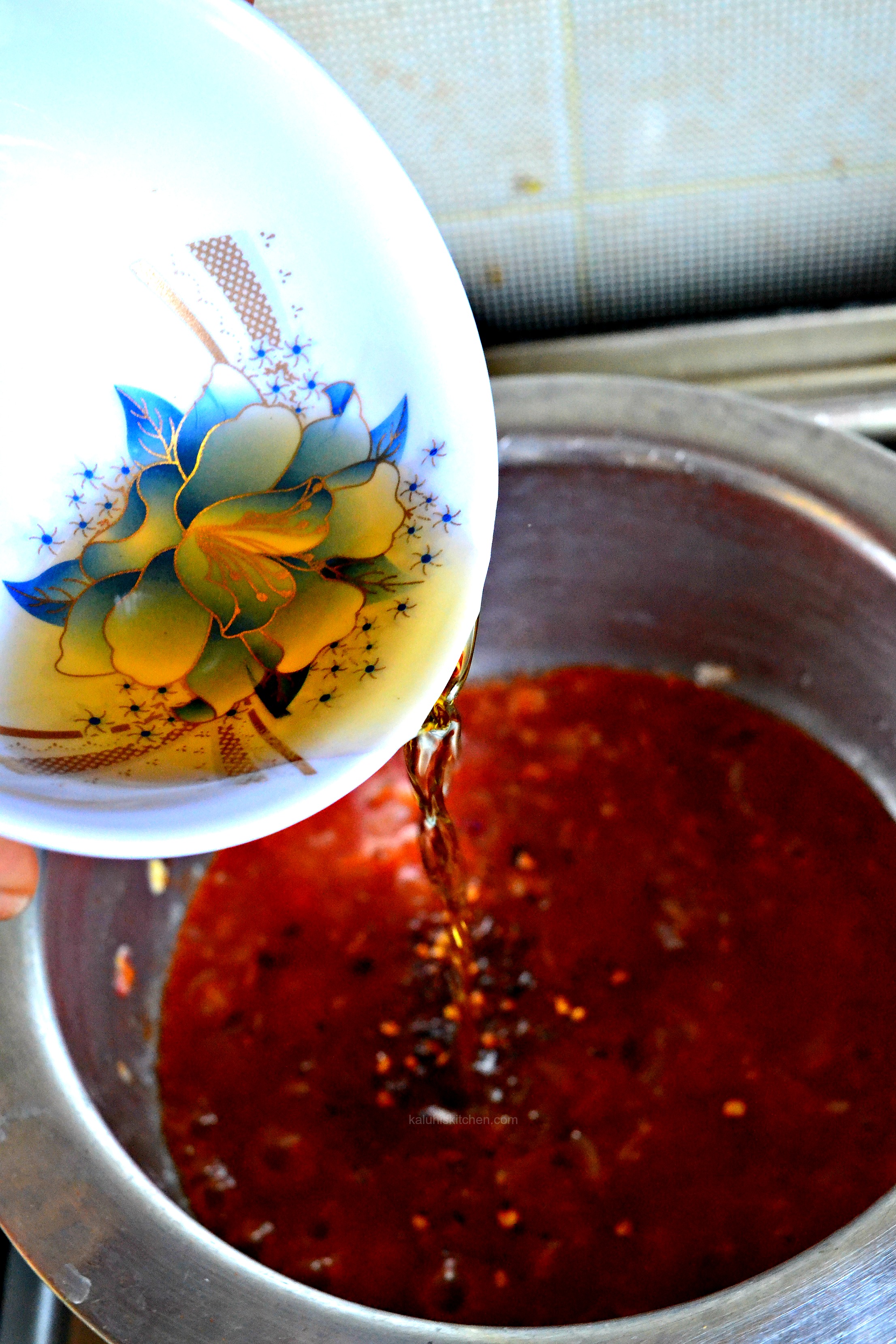 Whiskey makes A WORLD of difference and adds that extra kick that would otherwise be missing were this a regular sauce. You can use any brand you personally like, just make sure the quality is nice. If you do not like whiskey, you can use beer or rum which would be excellent for this sauce as well.
***
I often get asked: "So, will I get drunk when I cook with an alcoholic drink? "
The answer: NO
Cooking is very much a science as it is an art. Do you guys remember when we were learning about various liquid boiling points during Chemistry class in high school? We learnt that alcohol has a very low boiling point. Meaning, it evaporates very fast when heat is applied. Now, when you cook with an alcoholic beverage, the alcohol evaporates in the very early stages of cooking. It is cooked off. What is left behind is the other ingredients and flavors that were used to make the alcoholic beverage; and that is EXACTLY what we are after. We cook with alcohol not to get high (which doesn't even happen), but to get to the other layered flavors there in. Please please remember this! When someone tells you they got high after eating food cooked with alcohol, just know they are lying because you know and understand the science behind what happens when you cook with alcohol.
***
Once this is done, add the wings into your pan, coat them in your sauce. This orange whiskey sauce would also be SPECTACULAR with pork!!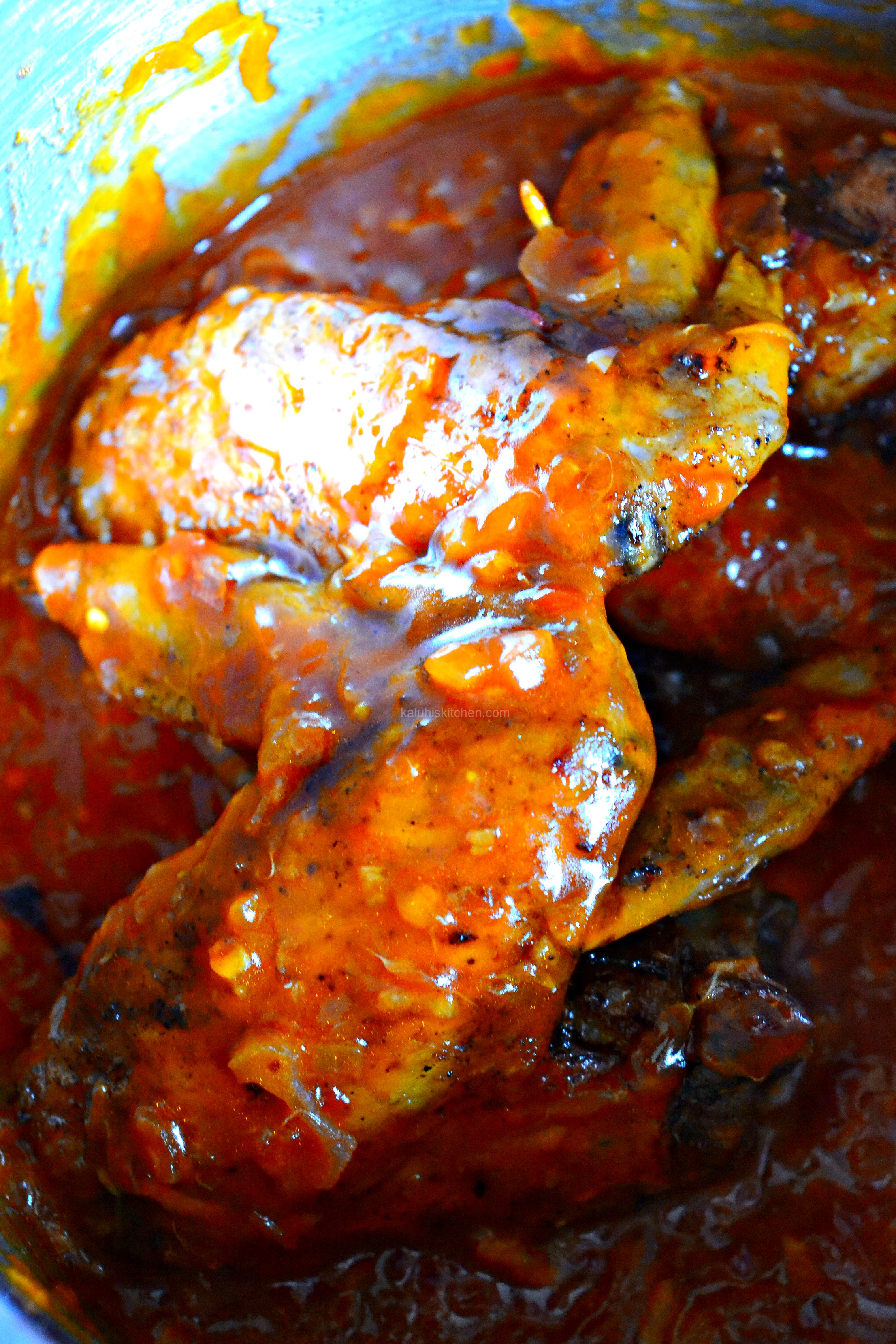 Once they are coated evenly and richly, garnish with some fresh dhania and  munch away!!
What I loved most about this recipe is how well the sauce complimented the chicken! I love my chicken saucy and this orange whiskey sauce has got to be among my top 3 sauces yet!! The orange and whiskey of the sauce complimented the garlic and rosemary of the flesh itself as a result of the marination. The chili is so perfect for this time of year as it warmed me up but it would be just as nice any time of year!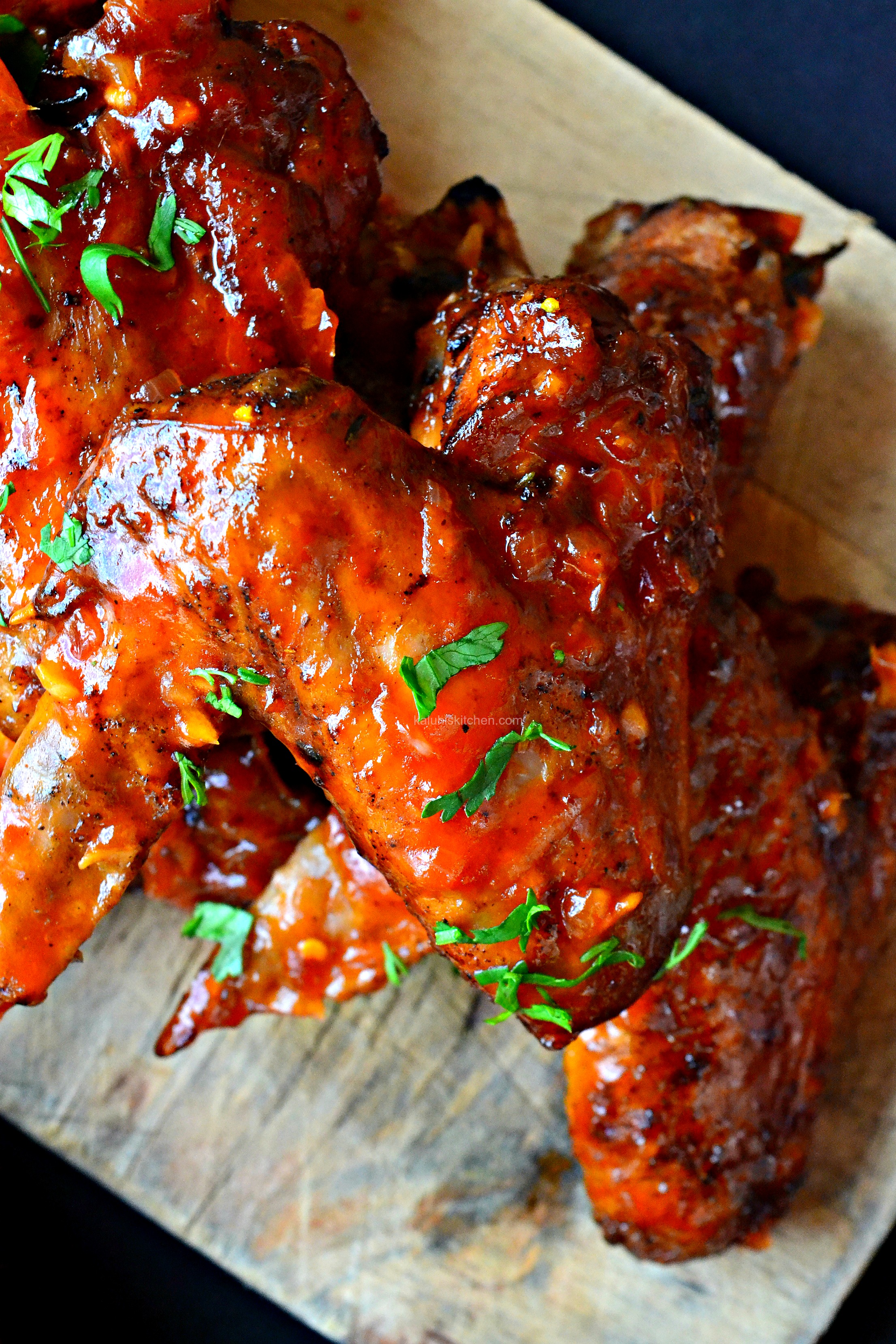 How perfect does this look though?? Must try for everyone!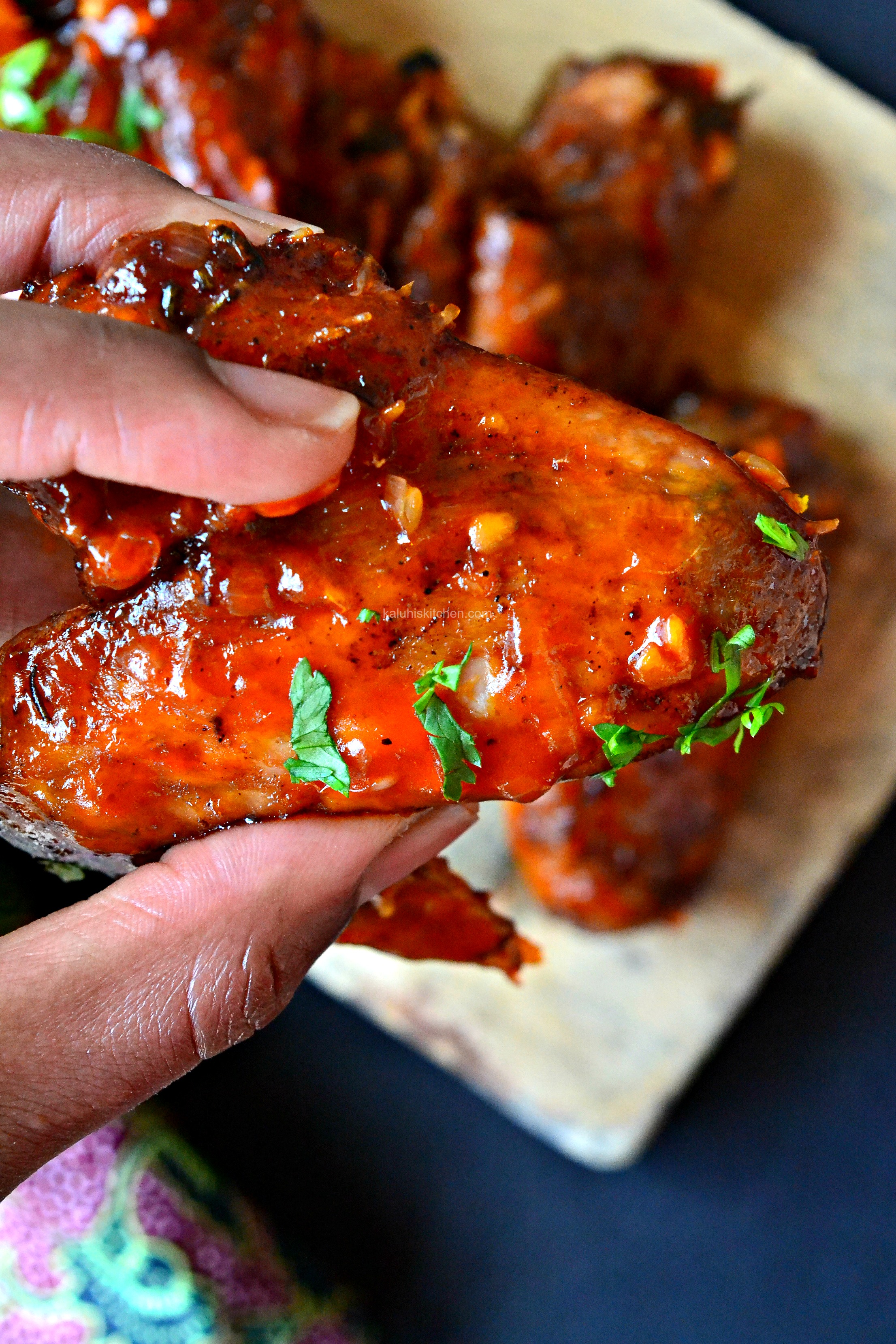 Cheers to all things delicious!!!!
-K
---
Get your downloadable recipe here :))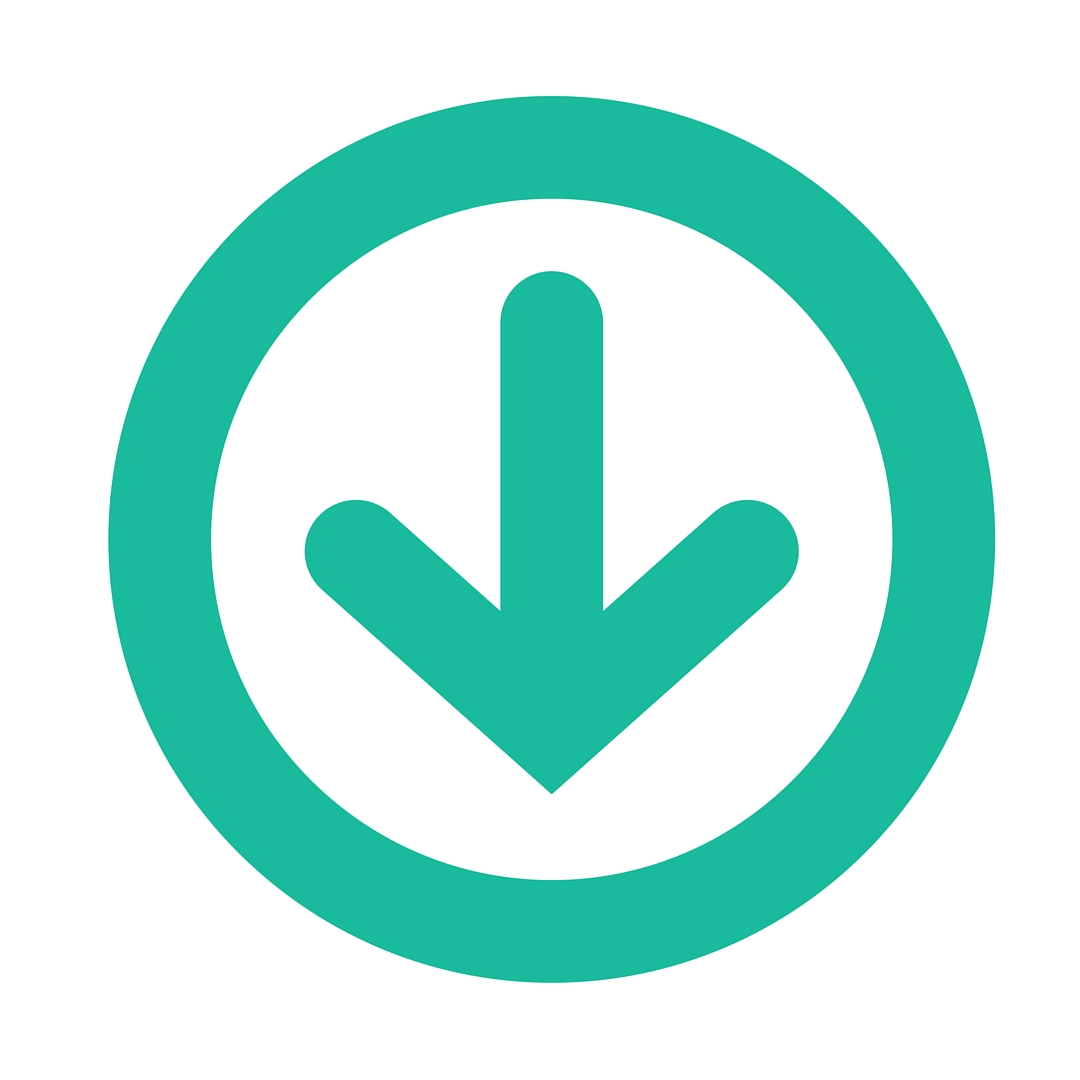 ---
All content and images are copyright protected by



Do not copy in part or whole without giving due credit.