There are some days I eat way too much and indulge more than usual. The day I went to Picazzo with my sister was one of those days. My morning began with a hearty breakfast of fresh cardamom  maandazi my mom had made, eggs and sausages. Since I had promised my youngest sister I would take her out for lunch to Picazzo that day, that also became another opportunity to indulge. Later that evening, I was taking my bestie out for dinner for her birthday celebration at my favorite restaurant in Westlands, that she had never been too. I literally spent the entire day eating. I proudly waddled all over Nairobi with my food baby and truly tried my best to suck in my food pregnancy for the photos. Can you tell? I'm sure you can LOL!
It being my first time at Picazzo, and the restaurant being pretty new, I decided to turn it to a review for you guys. Remember, a review is an opinion, hence is subjective, so remember what one likes may be what you hate or vice versa since we are all different and that's ok and normal. I encourage you to check it out yourself nonetheless and see how you like it <3.
So here we go!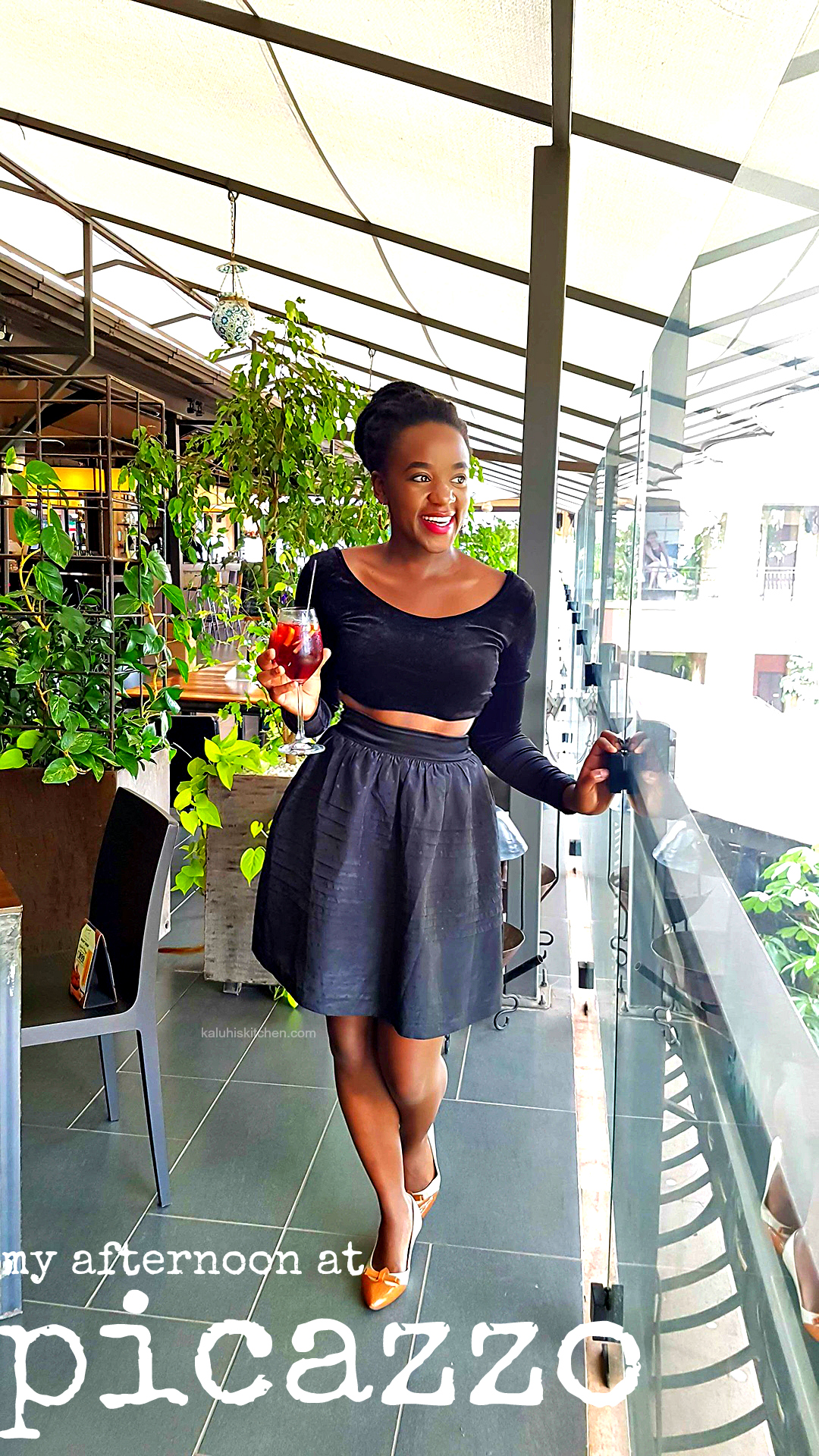 Location
Picazzo is located at The Hub , Karen. The Hub is located at the Karen-Ngong' stage, and may be quite far when one lives on the east side of the county. Now that Ngong' road is under construction, traffic may be hell however one can use Lang'ata road to get to The Hub as well and usually has flowing traffic heading upward. You can get exact location to The Hub via google maps.
Service
The service was good; nothing out of the ordinary that would set them apart, but still nothing detrimental that would make me never return there again. The waitresses and waiters are warm and are always on stand by to offer assistance with what we needed. They did not dissappear to the back end even when not too many guests were present and ensures our needs were met. They also are very informed about what the restaurant offers and were in a good position to offer recommendations on what we could have.
Ambiance
I would describe the ambiance as modern contemporary with some rustic elements thrown into it but still blends together. It was not mesmerizing as it is very easy to find similar decor looks all over Nairobi, but still beautiful and inviting nonetheless.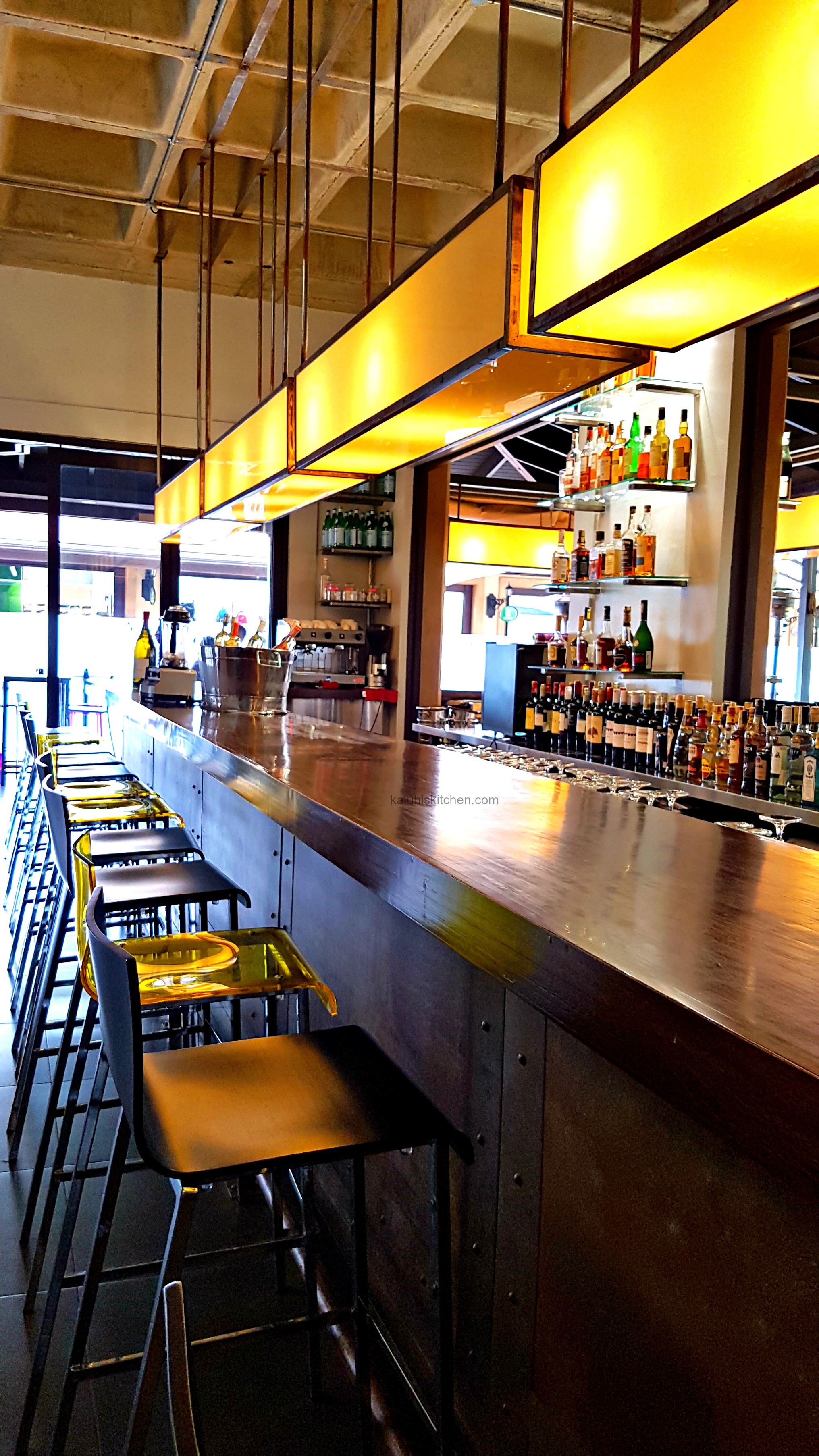 Majority of the sitting area is on the semi enclosed balcony over looking the pond on the grounds, making it such a beautiful place to sit. Because it is semi enclosed, you can take in the beauty of the greenery and also sit right there when it rains without being drenched or uncomfortable. The inside is also inviting, grey muted walls with vibrant paintings make for a nice quiet spot for a date night.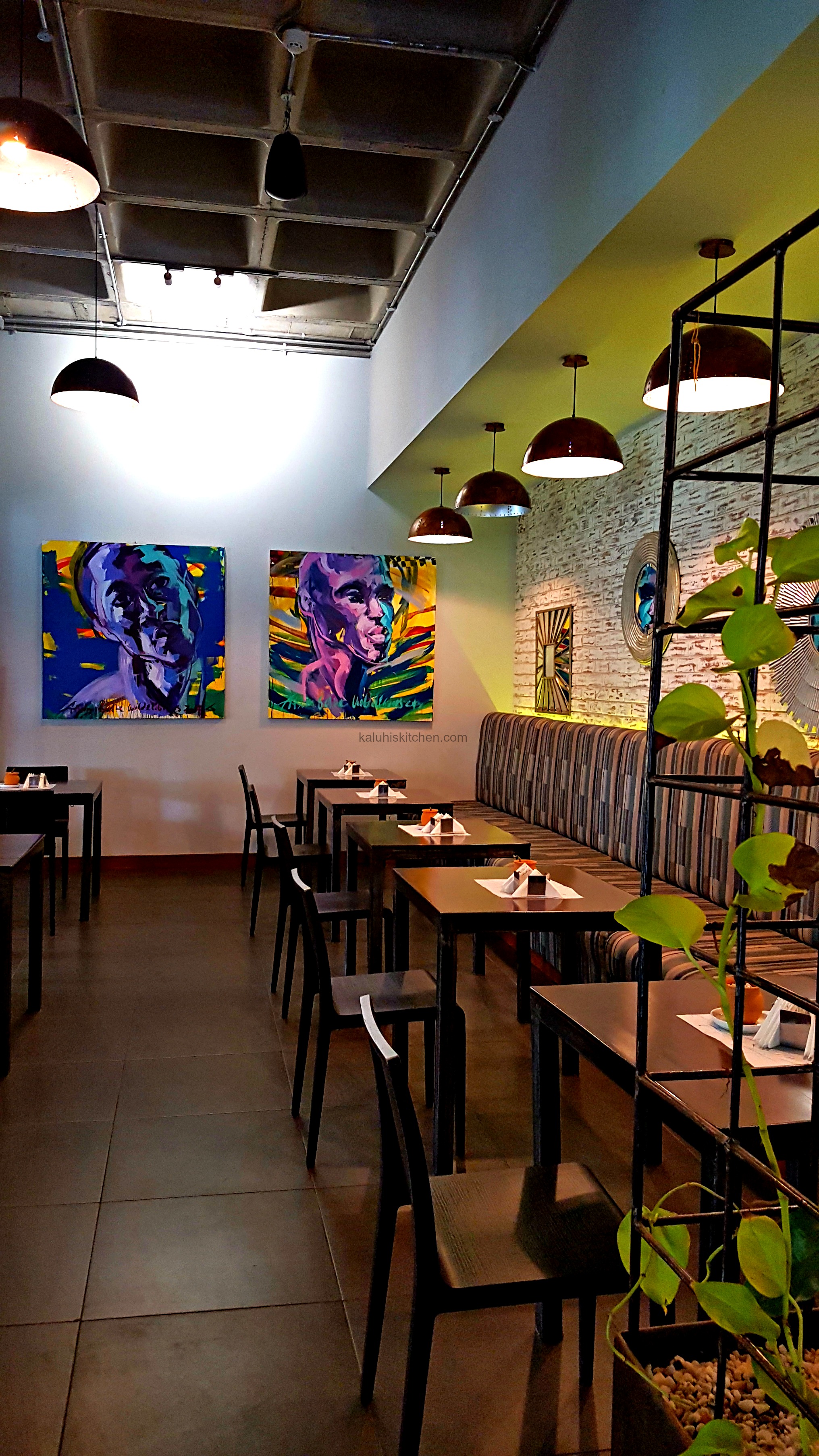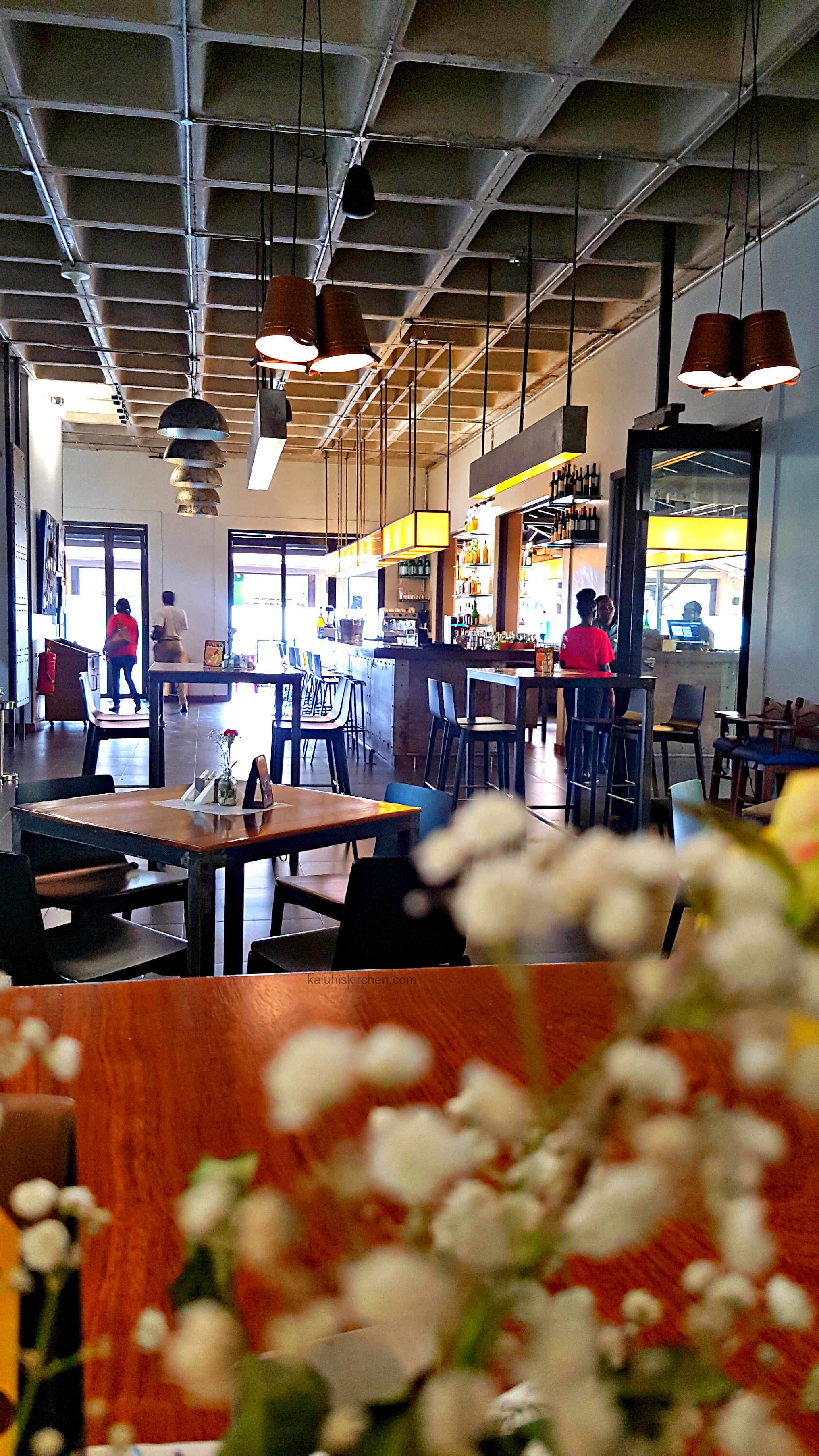 Prices
Prices range between 800 bob and 2200 bob. So with 1500 shillings, you will definitely find something to have and maybe even throw in a drink. The prices do match the portions that you will get. You can check out the main menu items here.
Food
The food took about 15-20 minutes to get to our table after we placed out order. The drinks took about 7 minutes after we ordered. Not too bad.
At first, the portions look small when they get to the table, but when you eat you realize that actually it is plenty and enough to get you really stuffed!!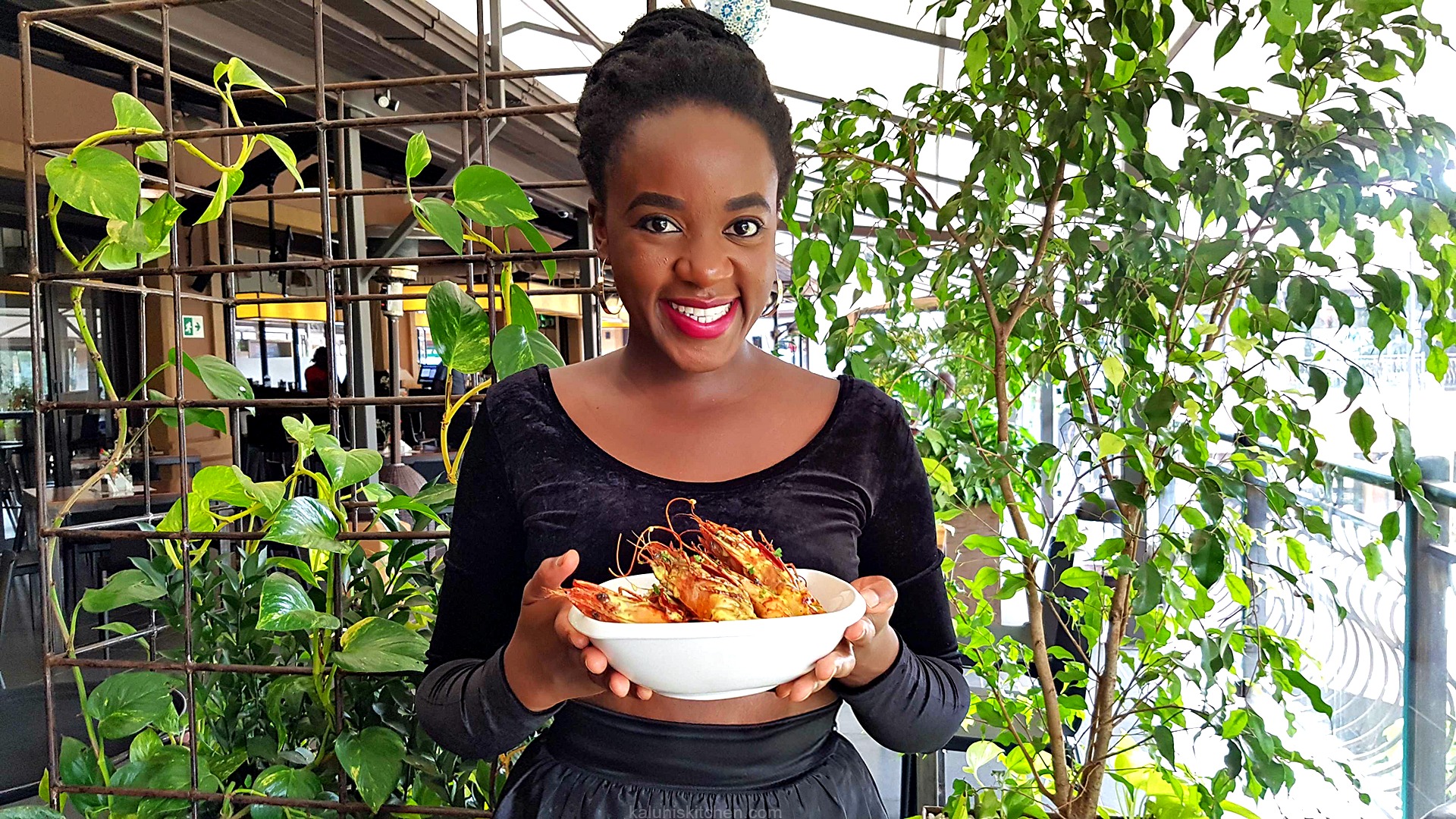 The flavors were present, but very subtle, and if you appreciate softly flavored food, you may end up really loving Picazzo. Me being someone who loved boldly flavored food, I liked the food but yearned for more expressive, more assertive, much bolder flavor in the food. It was nice, but not memorable.
I had the prawns pernod with fetta cheese terragon served with sultana rice while my sister had some grilled calamari served with pan fried black black rice. I loved the size of the prawns: huge!! Cha lazima ni kushiba so size really does matter when dining out.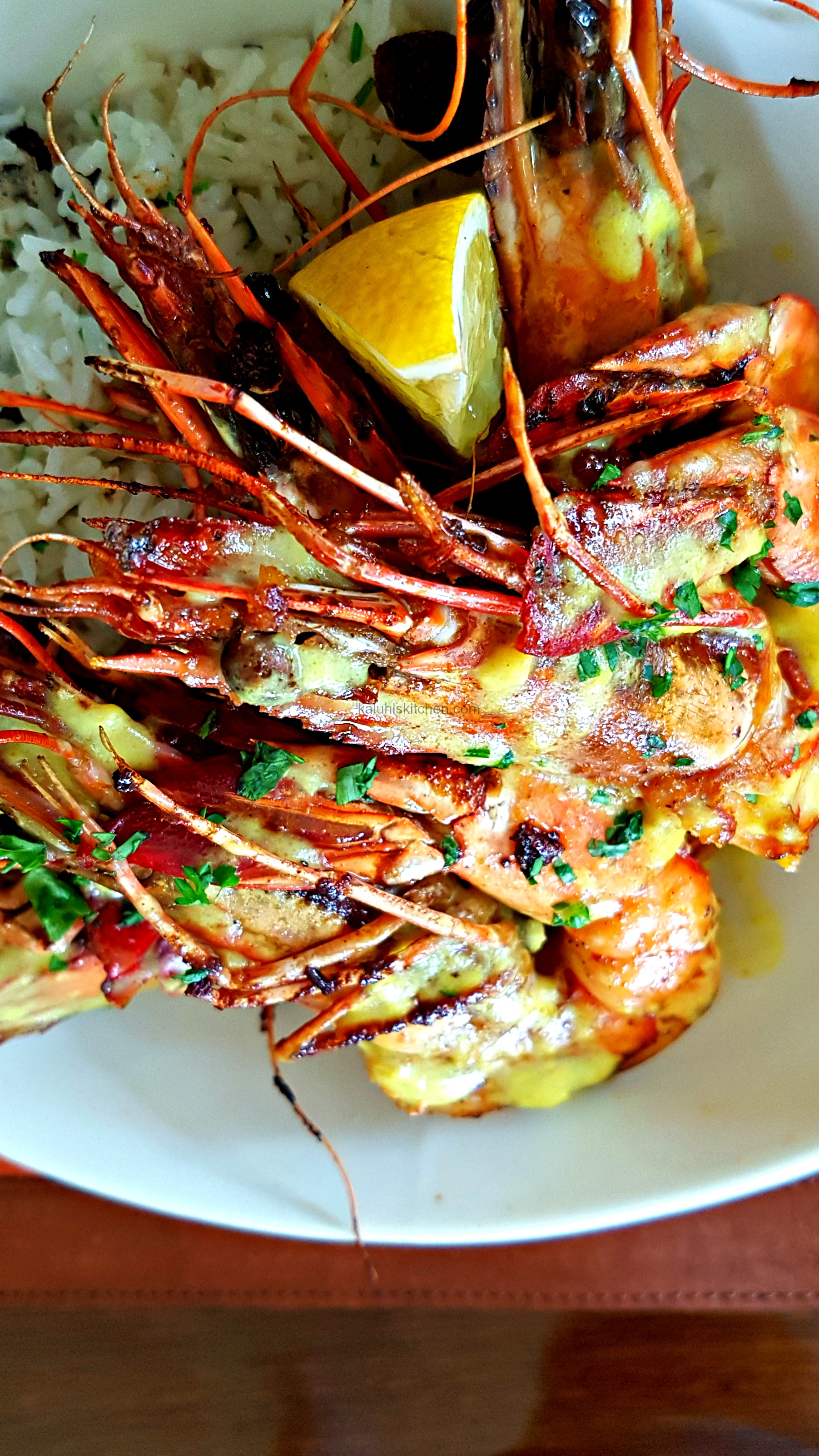 I enjoyed the creaminess of the pernod sauce which went well with the prawns especially when splashed with some fresh lemon juice. I however would have appreciated some chili or some herbiness maybe form thyme or dill just for complexity.
I had a sangria with my meal, which I unfortunately did not enjoy because of a sugar syrup that was mixed in making it cloyingly sweet and difficult to taste and enjoy the fruit notes & flavors that have infused into the wine itself. A dry red wine would have worked better and with no additional sweetening. However if you love sweet drinks, this one may be for you. Remember, what I dislike may be what you enjoy and that is completely fine. My opinion is not cast in stone for everyone to abide by.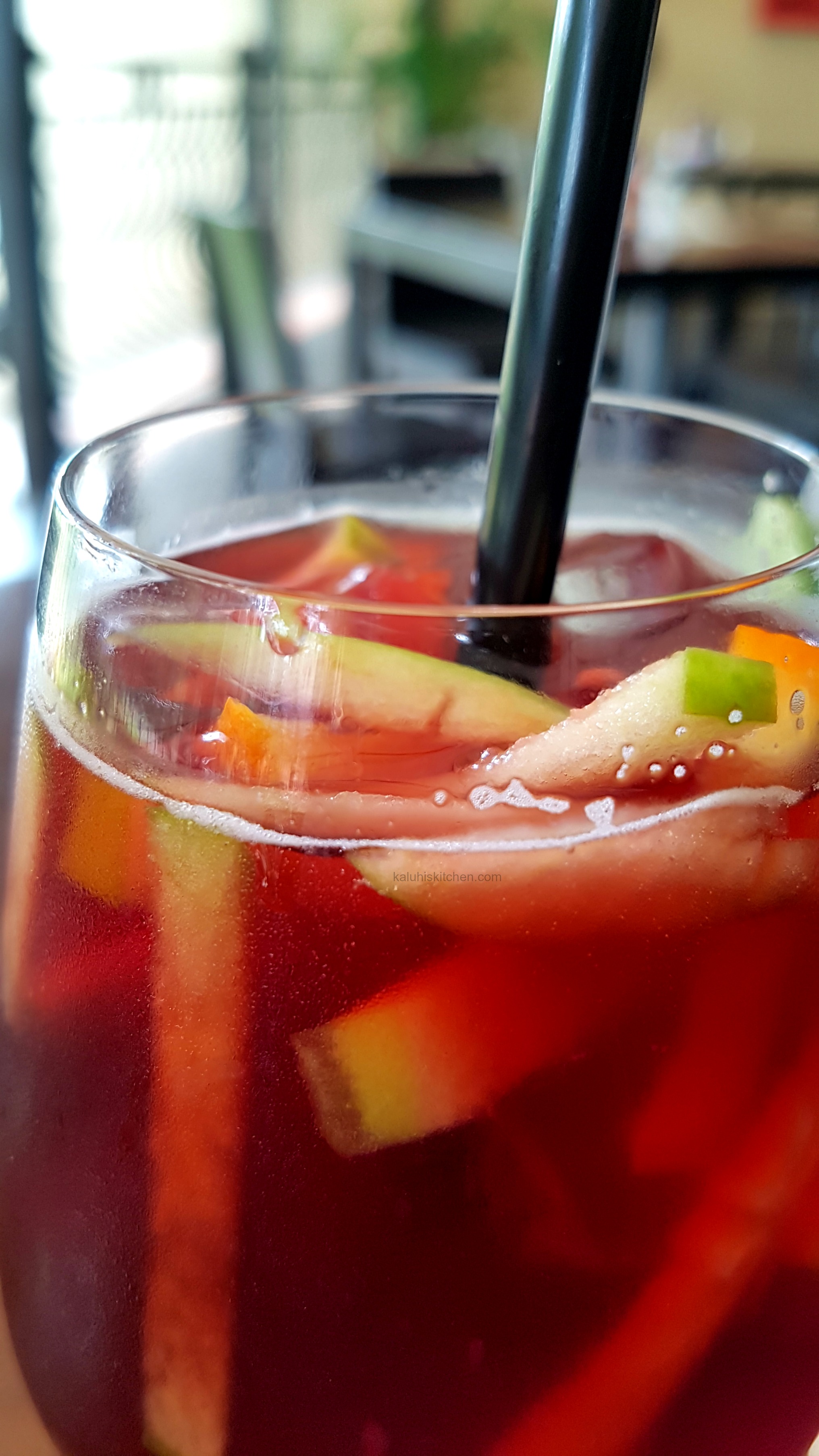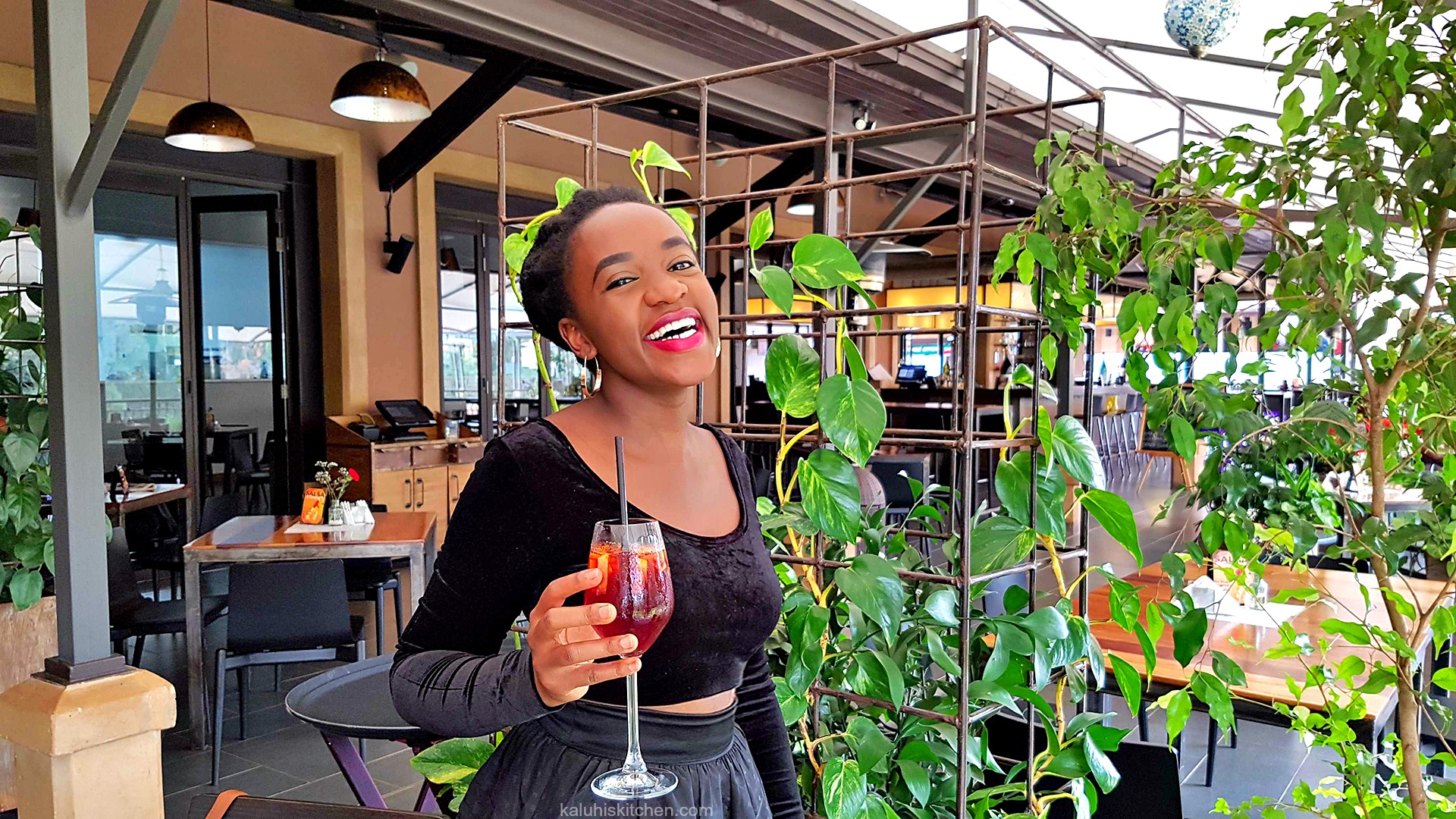 My sister liked her grilled calamari, but just like me, she yearned for something deeper in terms of complexity and we both felt a herby garlic sauce serve on the side would have been dope. She however enjoyed the freshness that the greens introduced into the dish and felt they lightened up everything. The orange slice, instead or lemon, served with the grilled calamari introduced a burst of fresh sweetness; an unexpected pairing than seemed to really work.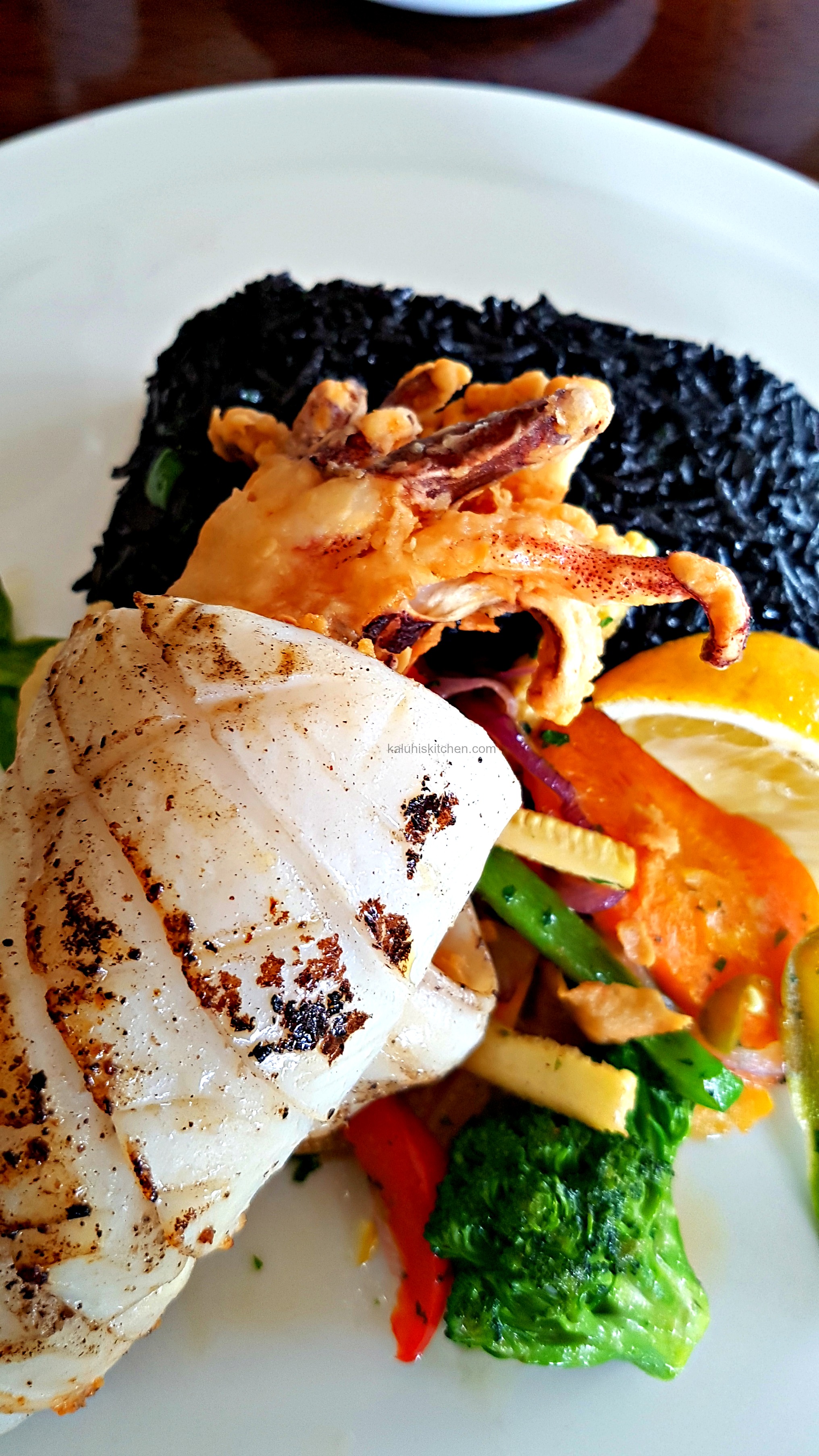 Before we get into my final ratings, do watch the video below to get a more tangible feel of the place and please please subscribe and share <3
Final thoughts
The good: The ambiance was really pretty. The space and the ample sitting area would make for a great venue for dinner with a group of friends without encroaching on the space of other guests. Prices are also pretty decent and the menu has a wide selection to choose from.
The not so good: While the food is nice, it fails to be memorable because of the lack of the assertivness when it comes to seasoning.
Out of a rating of 5, I would give:
Ambiance:4
Food: 3.4
Service: 3.7
Would I go back to Picazzo?
Probably. I still kinda want to try out their paella, so I may return. And when I do, I will definitely fill you in on how it is. If I am at The Hub and I want something hearty and filling that is not Fries or Burgers, I would choose picazzo.  However I wouldn't necessarily go out of my way to be there, or later on dream about being there, but it is a decent place to grab a meal and beautiful and calm to meet up with friends in the afternoon or get work done.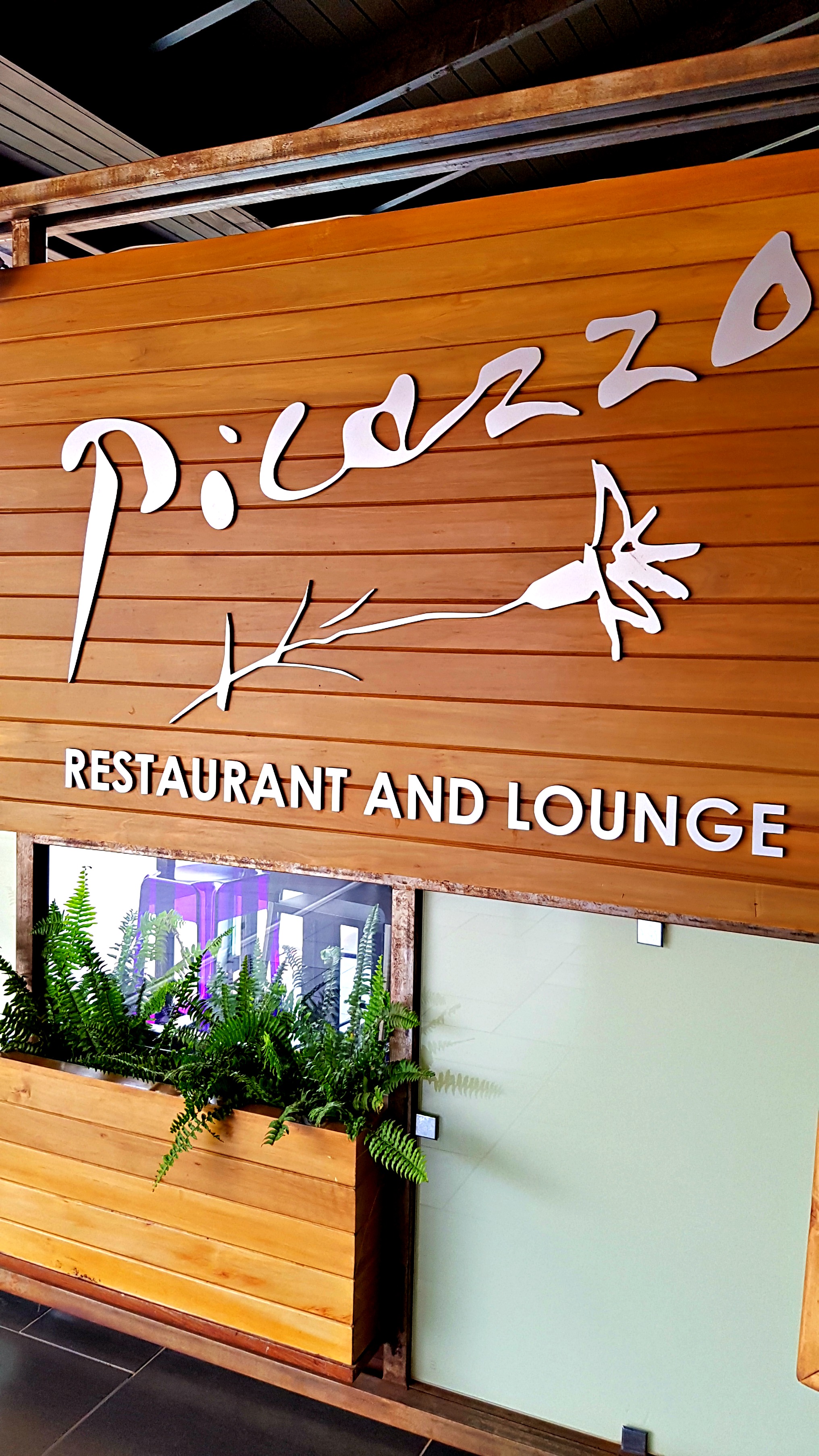 ---
My visit to Picazzo and review of the same was unsponsored, not pre-planned and the opinions contained therin, from both myself and my audience, are ours, honest and based on our experience.
---