If you follow me on Instagram, you might remember that I told you I used to enjoy walking home as opposed to taking the bus when I was in primary school. One popular shortcut was called "Wall", which was basically a section of a wall around Ngei I estate that had collapsed and allowed passer by's to cut through the estate enroute to other parts. Besides wall being a shorter route, we liked it because of the mango trees that grew close to the wall. We definitely helped ourselves to their sweet green mangoes before proceeding with our walk home. One evening, dogs from a nearby home  escaped and came furiously at us while we were lazily chowing down mangoes we weren't meant to be eating. Was it a sign form God? Maybe. The boys immediately took to their heels and left us *rolls eyes*. It was too late to start running too so we started climbing the tree (of course we never reached high enough), screaming, with tears streaming down our faces. A watch man heard us, came and chased the dogs away. We descended and went home so fast without turning back! The collapsed wall was eventually repaired and our favorite shortcut was no more. We resorted to using the long route there henceforth.
This is the memory I always have when I see green mangoes. Green mangoes are common through out East Africa. I like them so much because they have a distinct sweet taste unique to just them. I used one of my favorite mango varieties to make what is now my FAVORITE dessert yet. Just three ingredients! Trust me, you can make this green mango posset too :))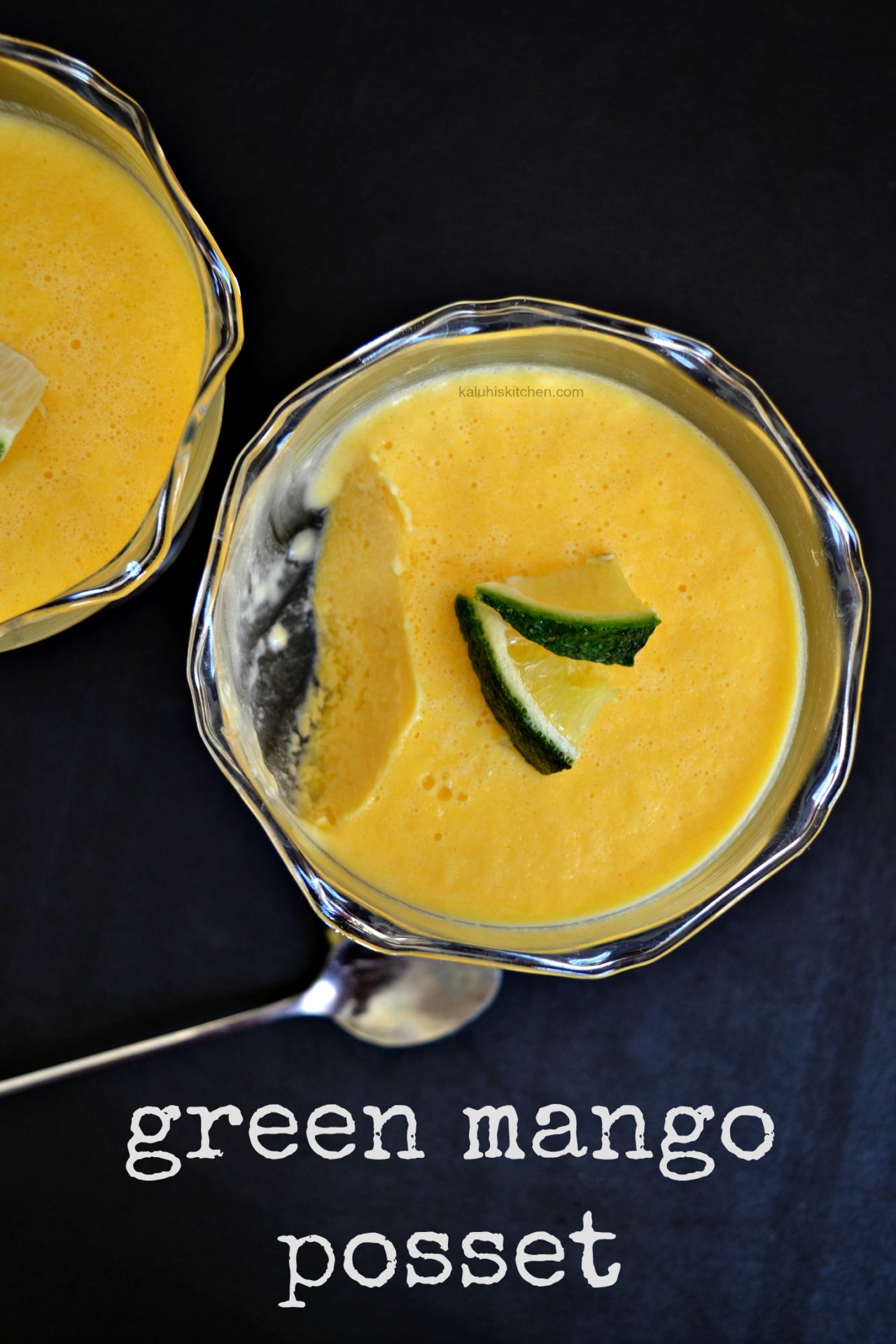 PREP TIME: 4 MINUTES        MAKE TIME:1 HOUR          MAKES: 2
Green Mango Posset Ingredients: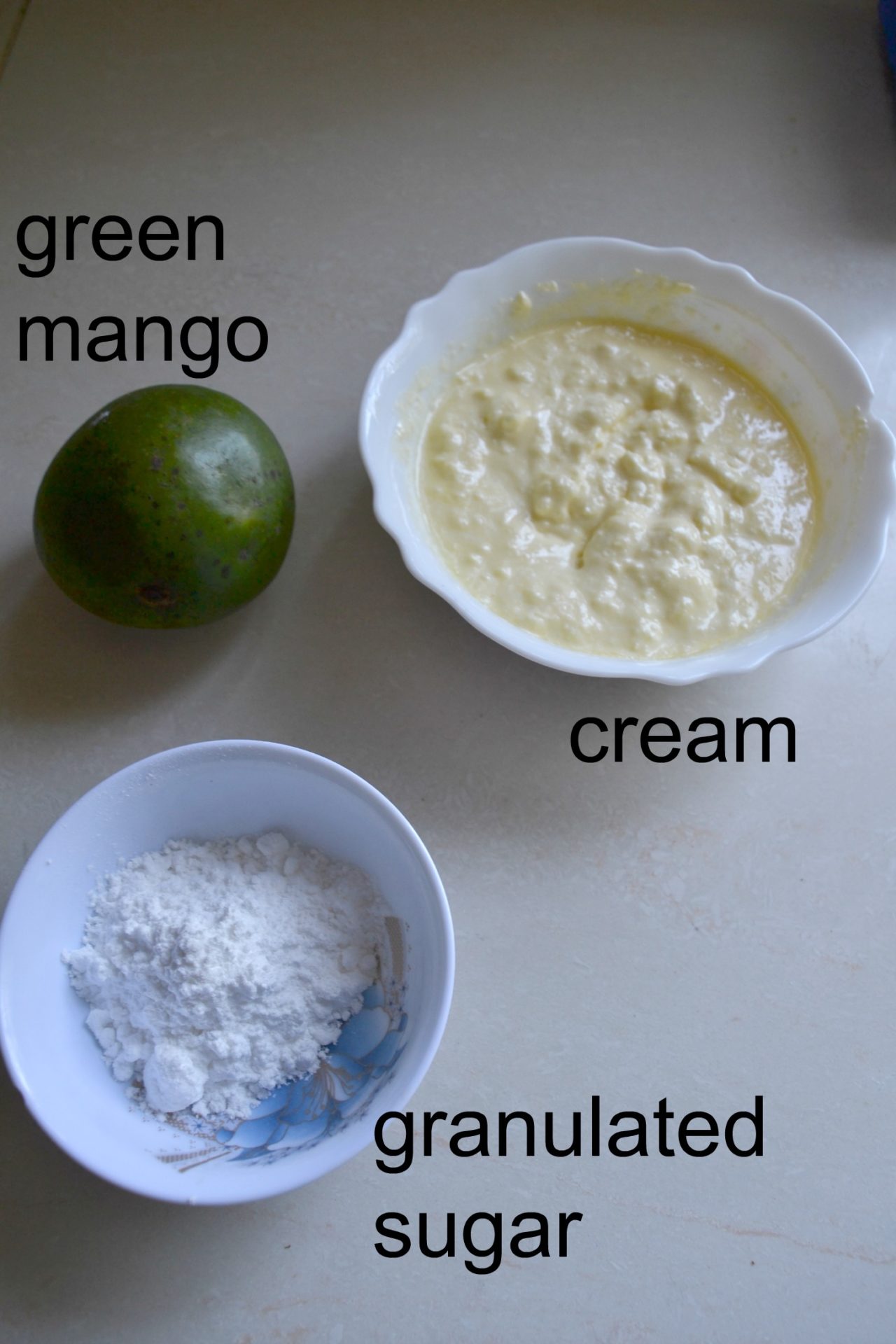 1 cup of double/heavy/whipping cream
3 tablespoons of granulated/icing sugar
4 tablespoons of blended green mango pulp
Lemon slices for garnish.
Method
Peel your mango and put it in a blender. Blitz it until it becomes pulpy. Set aside. Ensure your mango is very ripe and sweet. Green mangoes can be found all around but in the event you cannot find this particular kind of mango, you can use any other you can readily get.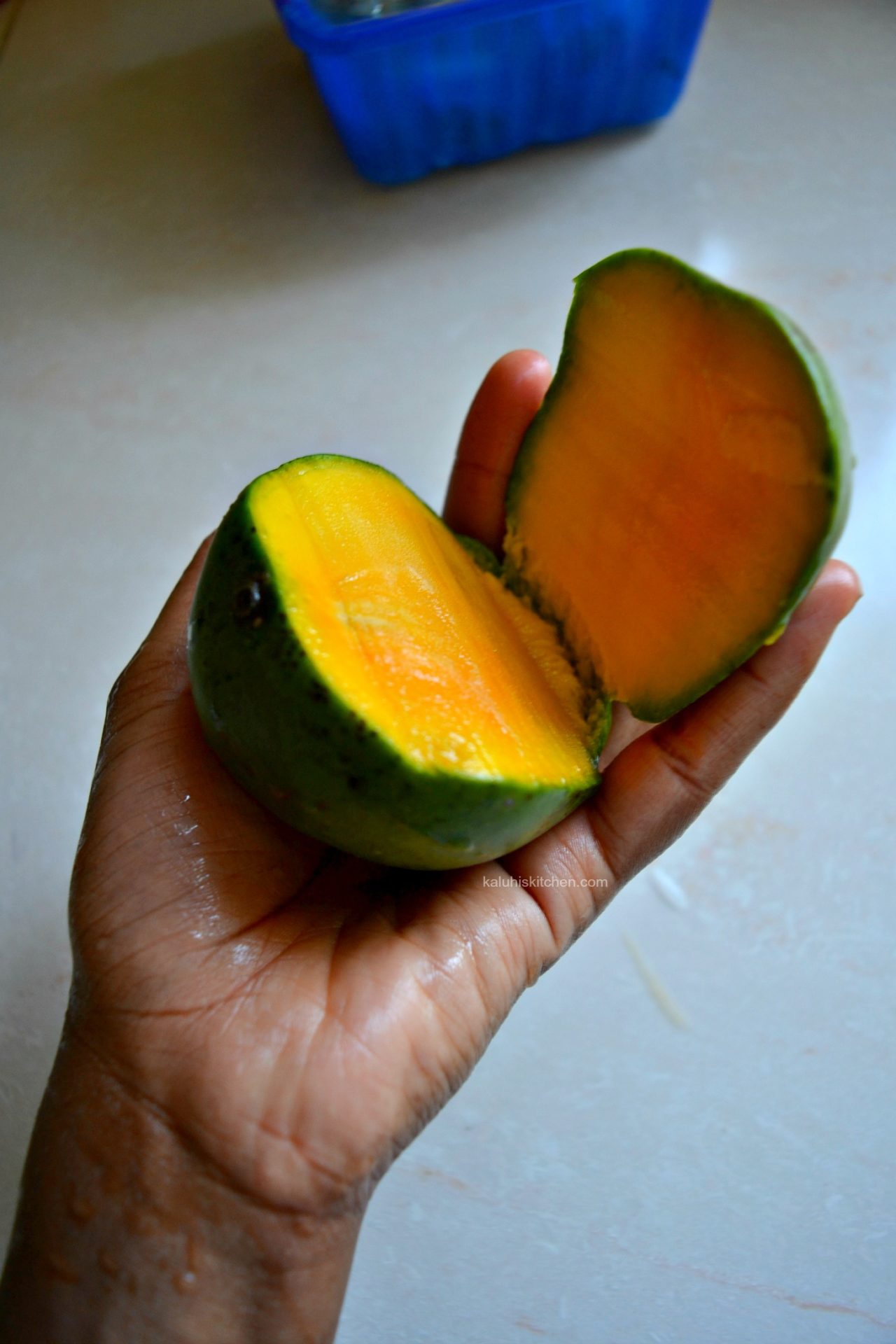 Put the cream in a sufuria, together with the icing sugar and bring to a boil while stirring on low heat. Stir continuously. You can purchase this cream in any supermarket in the dairy section. This will take about 2-3 minutes.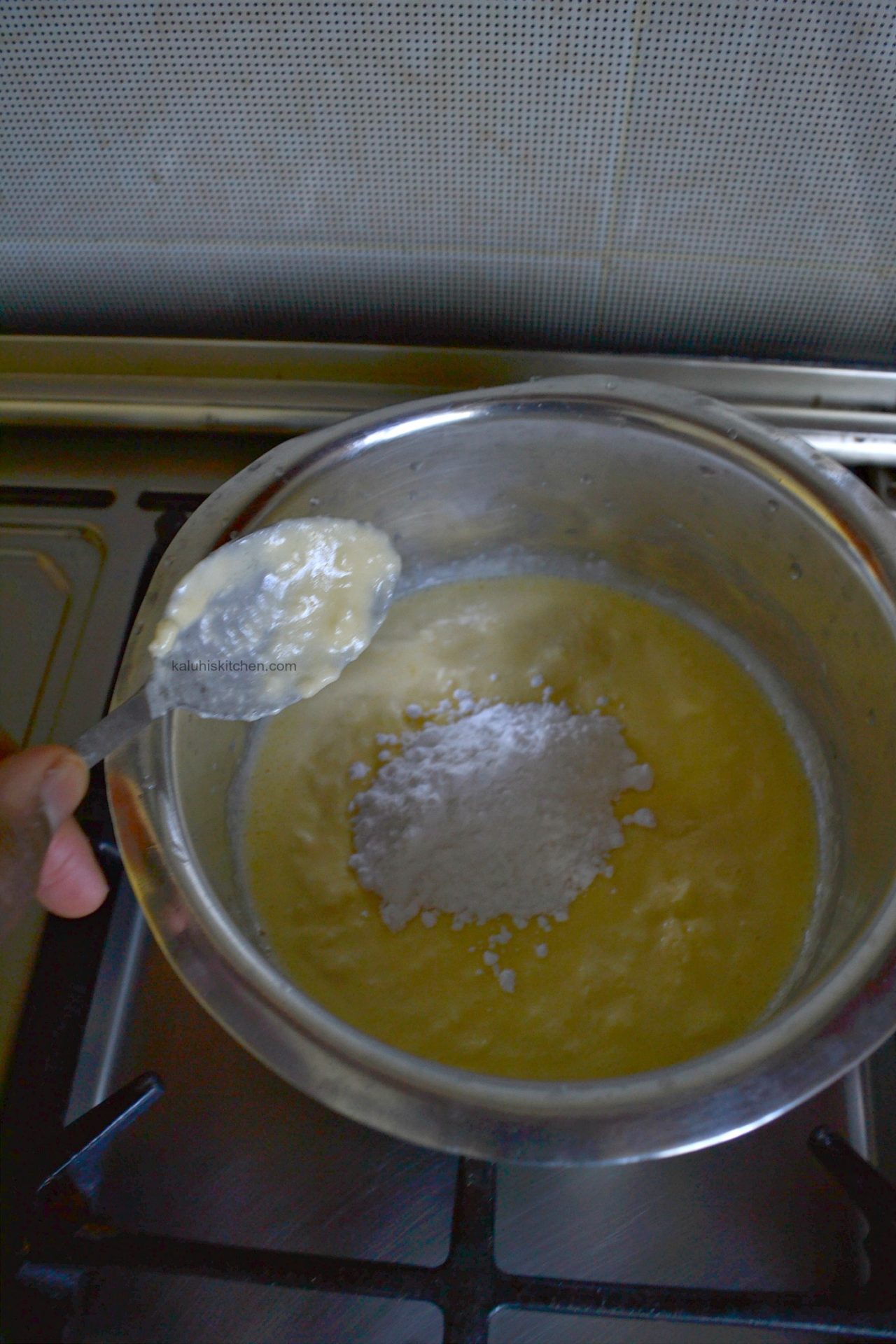 Remove from the heat once it has simmered and set aside.
Pour in the blended mango pulp and mix it in until evenly distributed. Allow this to cool slightly then pour into your glasses and proceed to freeze them.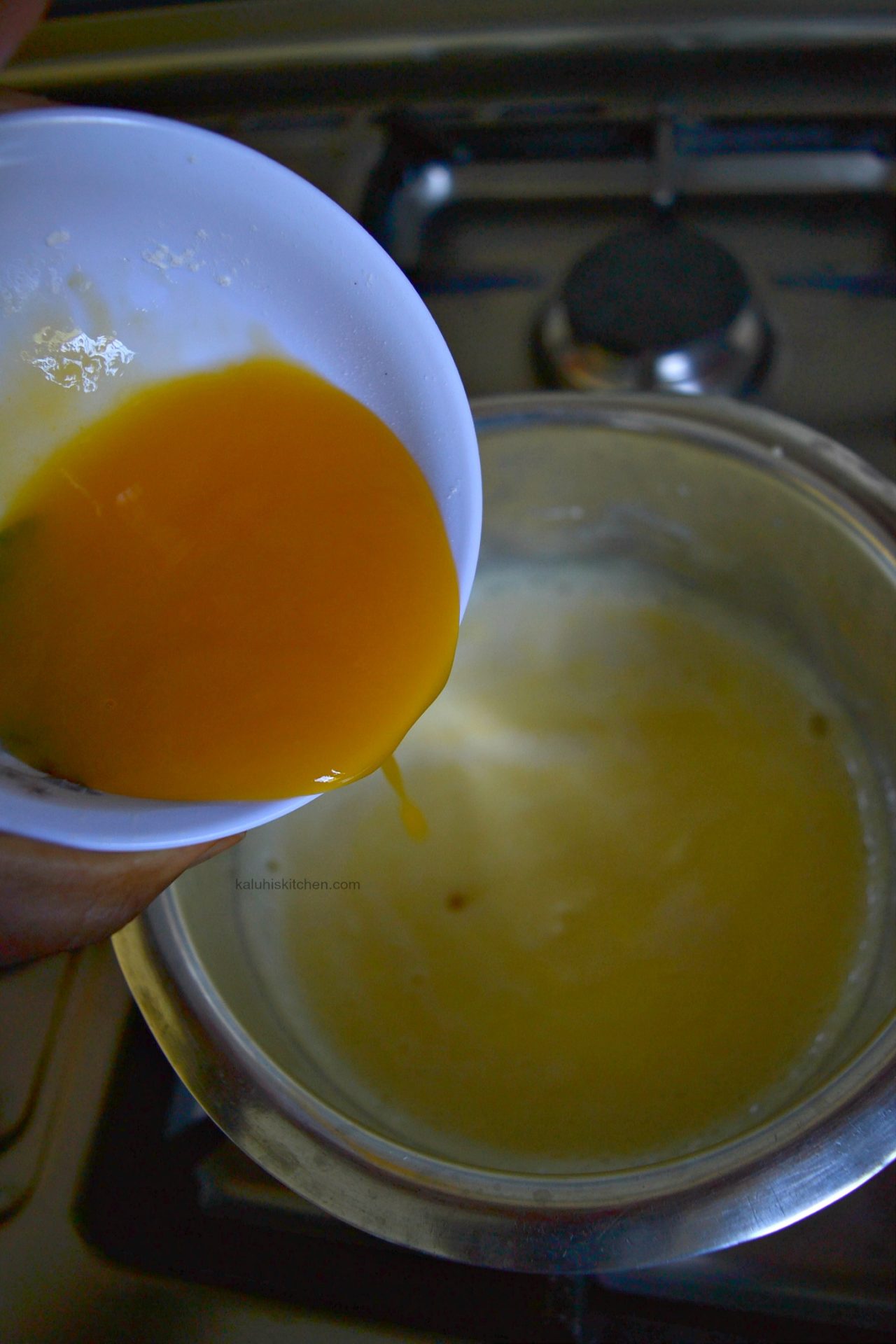 I almost drunk this mixture in a second because it was so so delicious! My kitchen smelt really great too. Be careful not to gulp yours down too, the temptation is very real.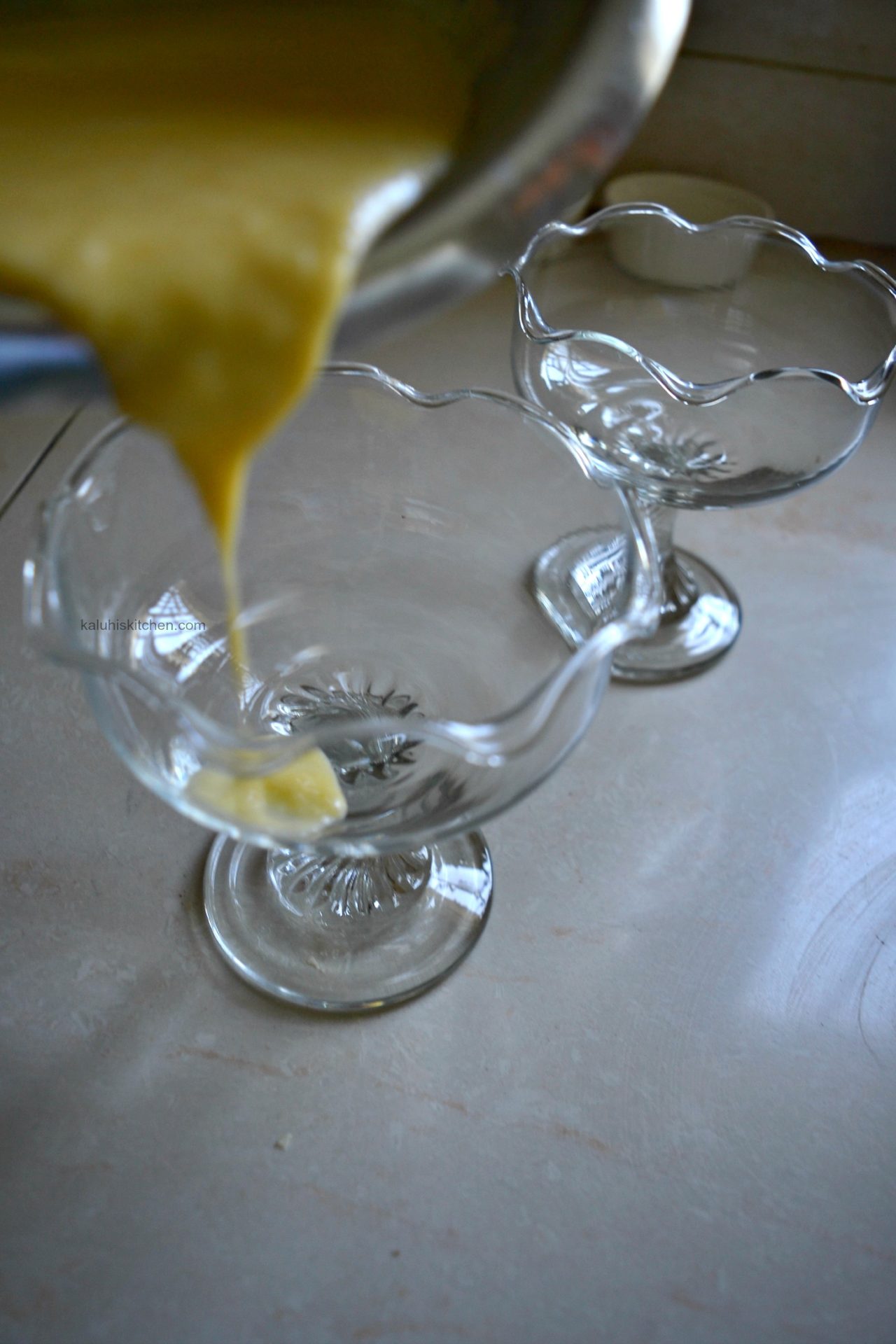 Your green mango posset  will take 2 – 4 hours for it to set depending on your quantities. So keep checking probably after 30-40 minutes. You can also make this in a bigger batch and just keep it in the freezer for future munching.
After is has set, remove from the freezer and garnish with your lemon slices or fresh mint if you have some and serve.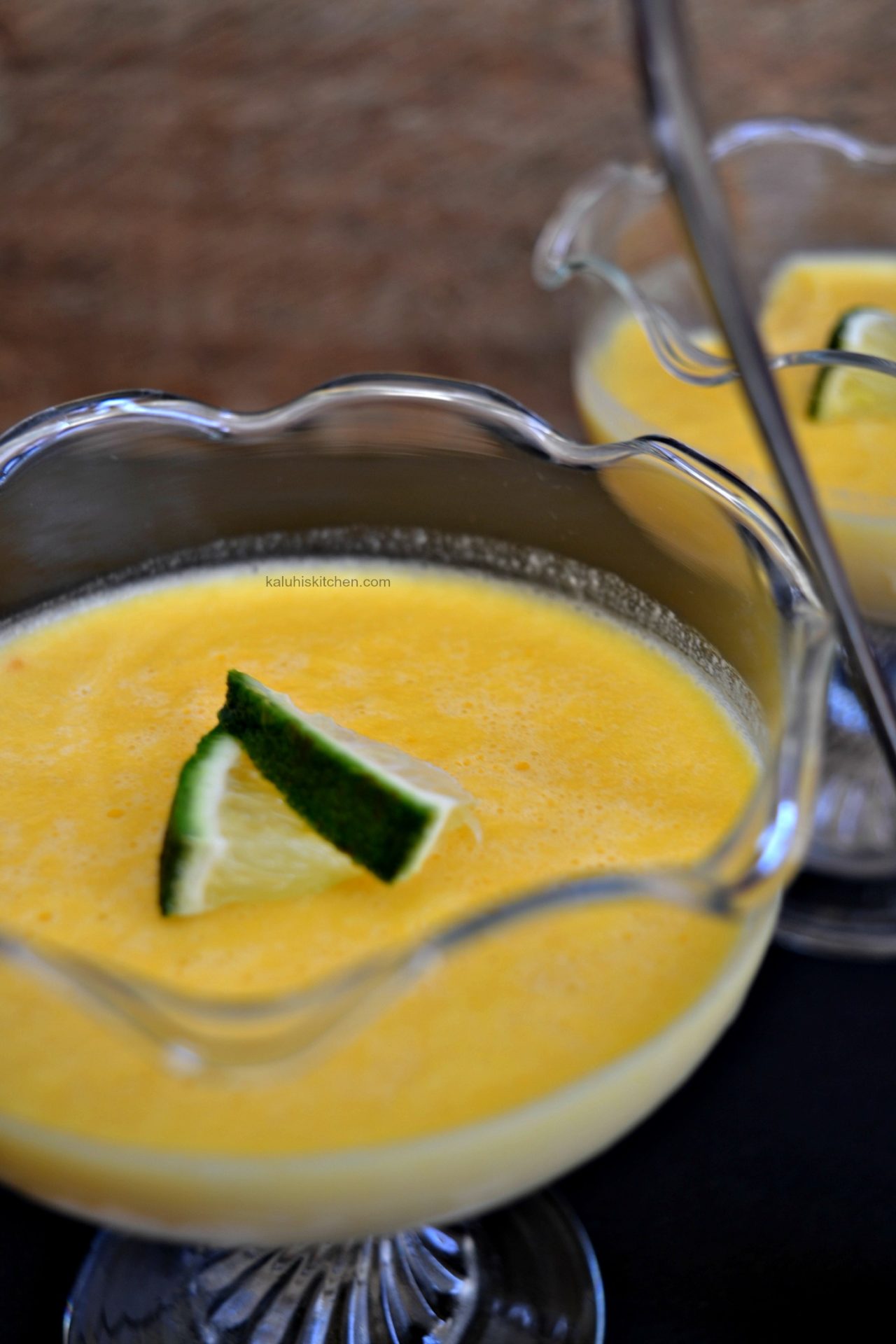 Let me say this again: This is my FAVORITE dessert yet!  And having incorporated my favorite fruit in it just made me love this green mango posset more. Really how easy was it to make? A bit too easy! I will be experimenting with different other fruits, strawberries, peaches and pretty much everything *drools*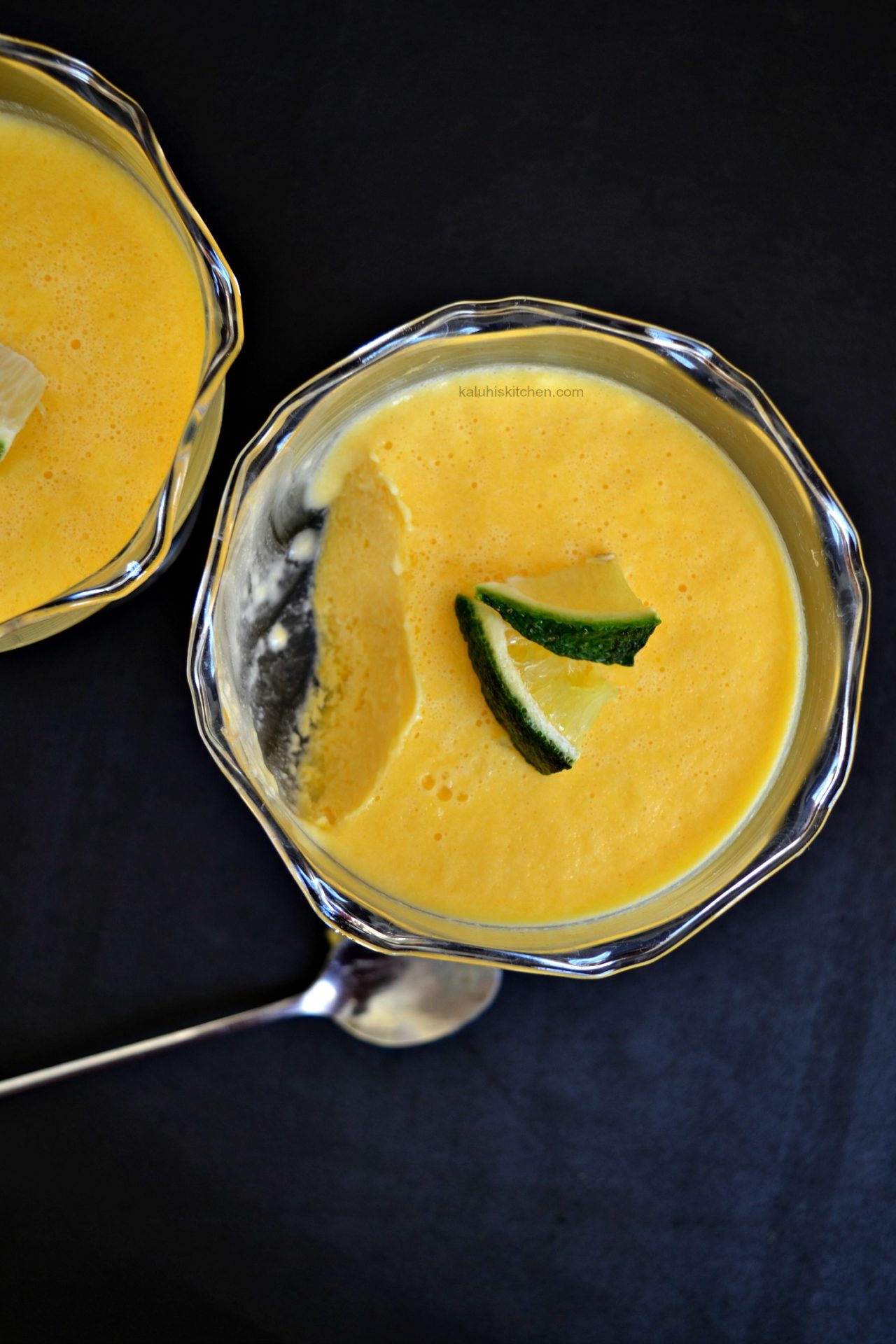 No ice cream? No problem! This is all you will ever need!This green mango posset was very creamy, rich, perfectly sweet and absolutely perfect for sunny Nairobi! Doesn't this bite belong on your tongue?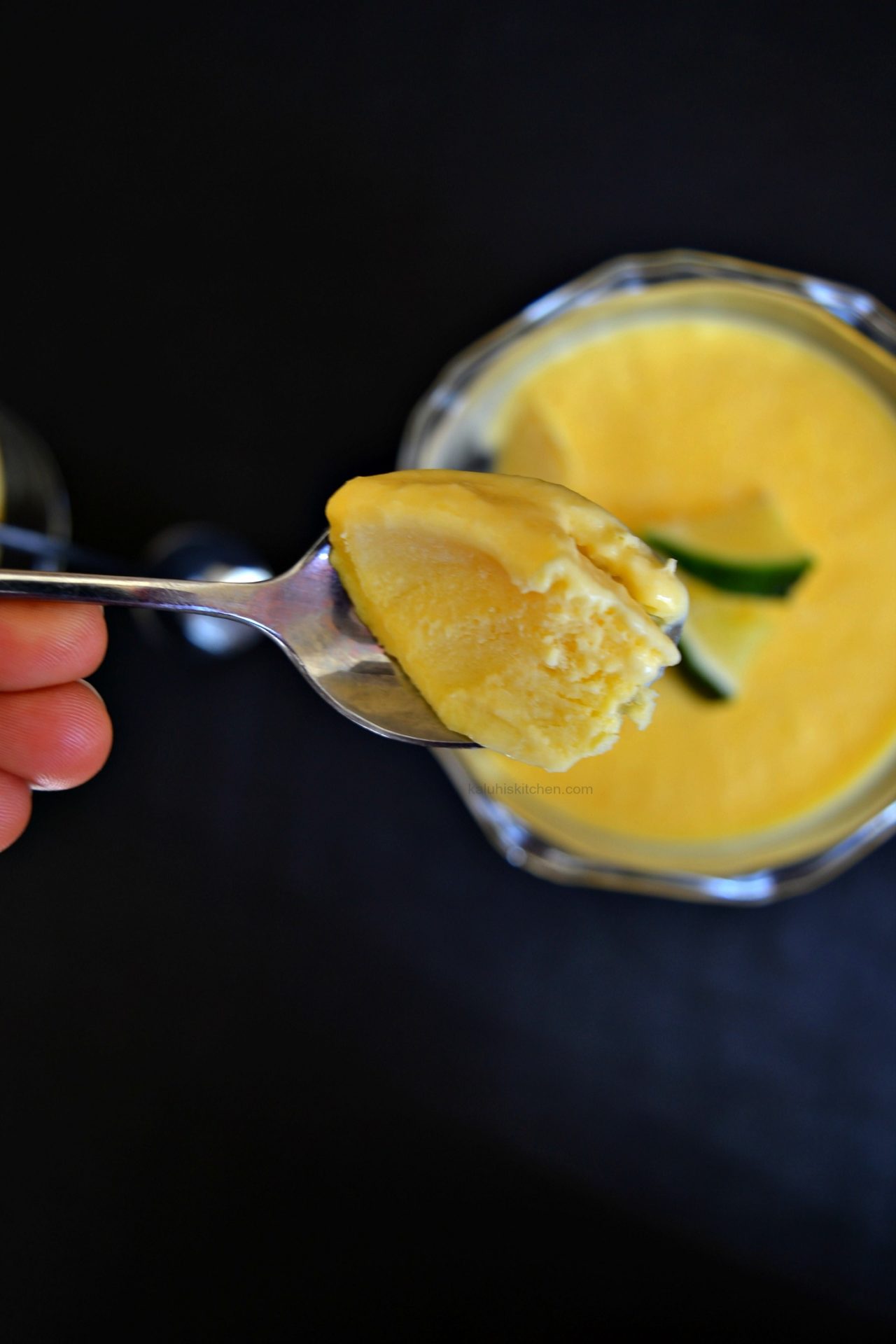 If you haven't, please do vote for my blog as best food blog 2016. I have a feeling you kinda enjoy my recipes just as much as I enjoy preparing them for you :)). I have made it super easy for you by providing a link just after your downloadable recipe below.
Keep it sweet <3
-Kaluhi
---
Get your downloadable recipe here :))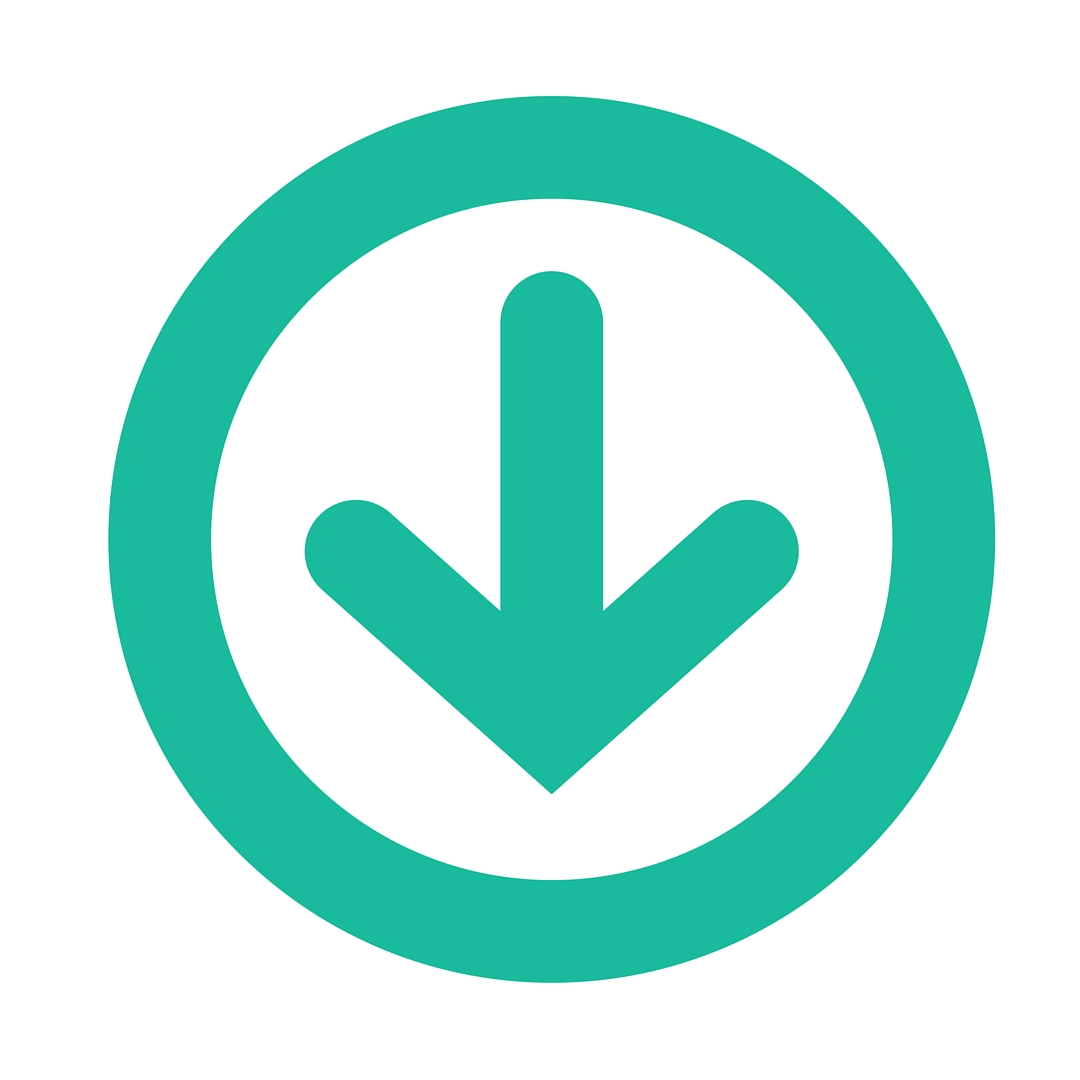 ---
Vote for #KK  'Best Food Blog 2016'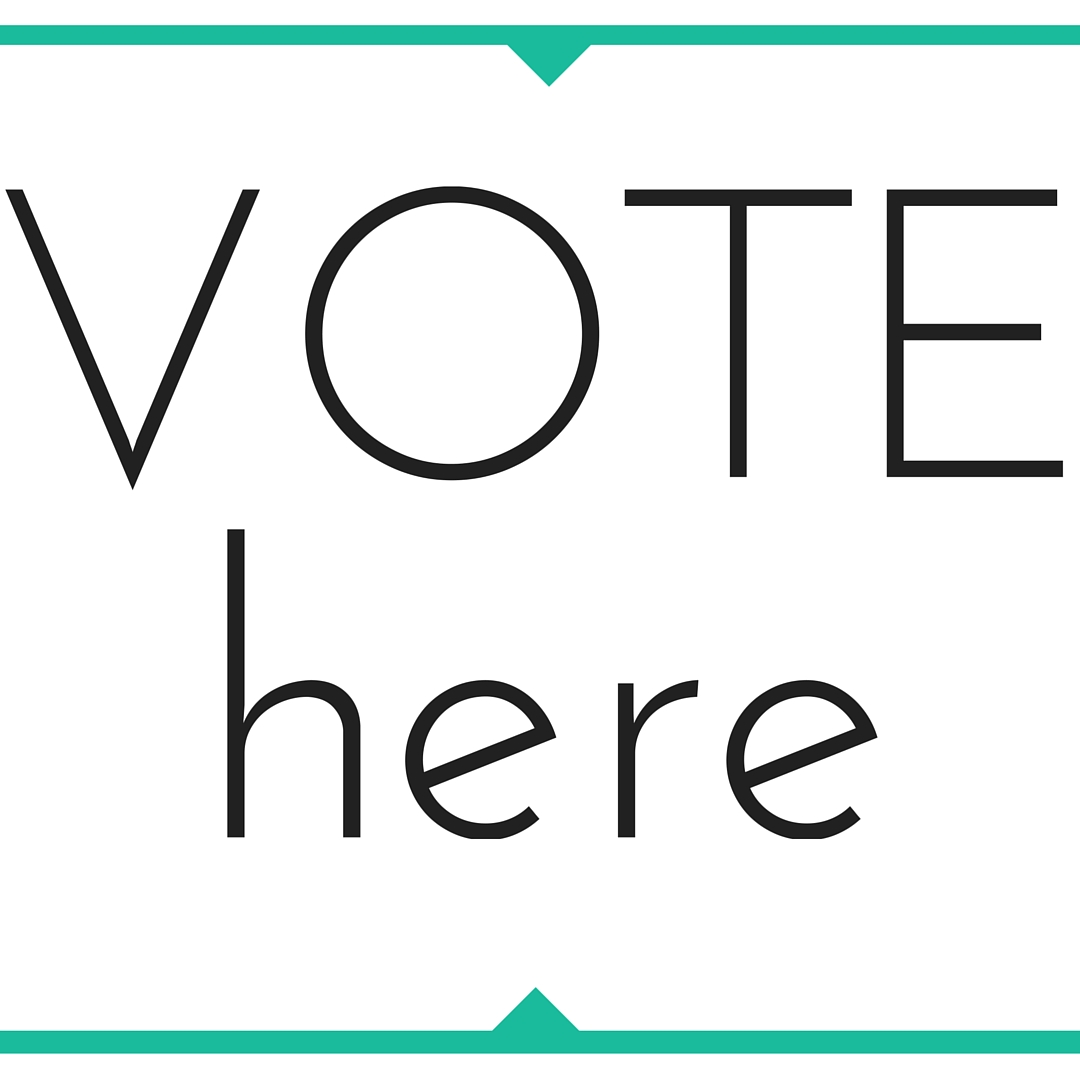 ---
All content and images are copyright protected by



Do not copy in part or whole without giving due credit.
alt=