If there is one recipe that has been requested of me a billion times over, it has got to be how to make pizza! Making pizza is very simple, and most actually do not mind simply buying, but a huge majority would also love to learn how to make some at home. For reasons unbeknownst to me or anyone, I kept postponing, until I simply decided to get it together and post one for you guys!
This post is super detailed and we are going to be making everything from scratch! I will give you all the hacks, let you in on what can be made ahead of time and how you can make this beauty at home. Doesn't this look fantastic? Let's get right into it!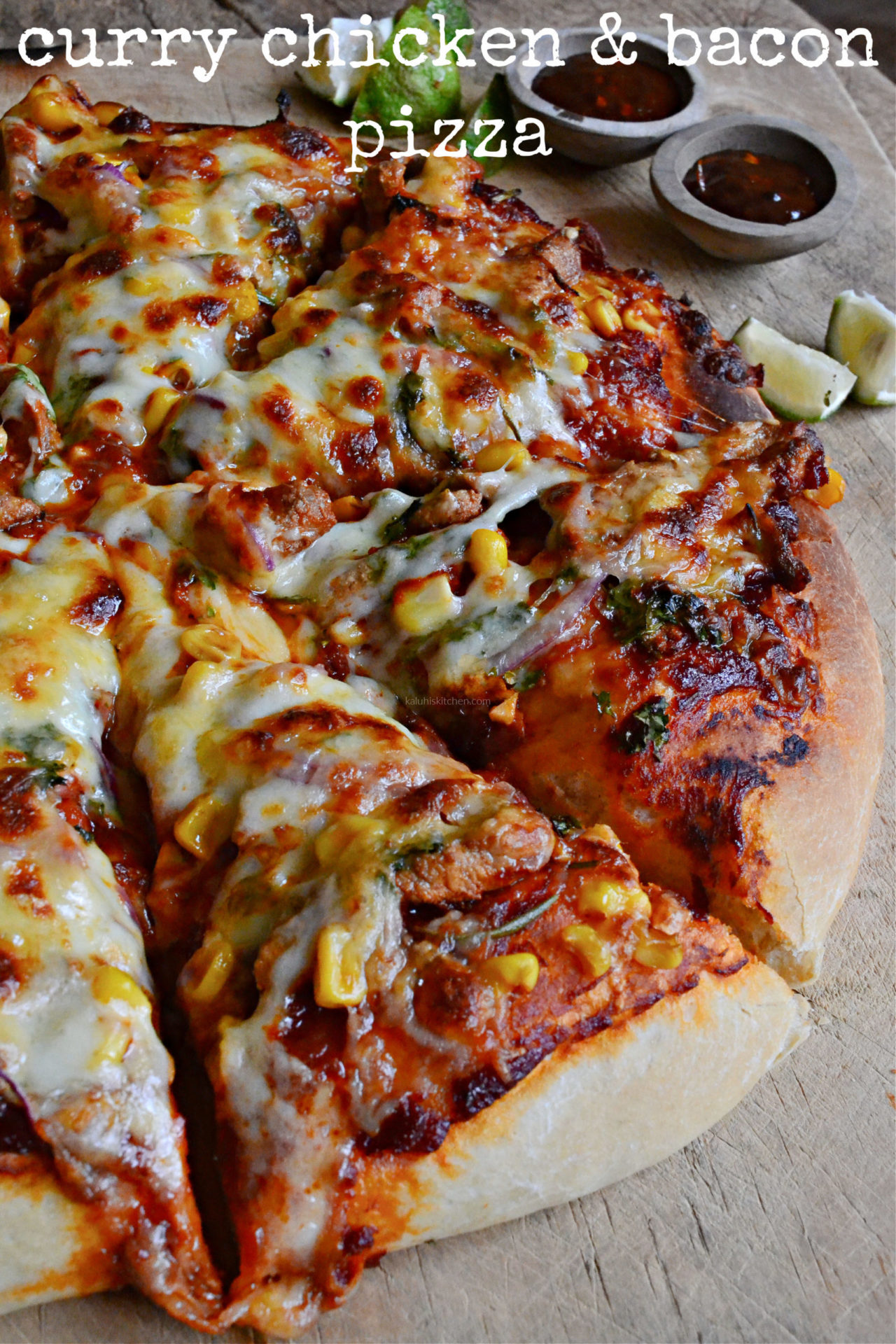 I made a dope vid to accompany the blog post. Do watch below, and subscribe!

*MARINATION TIME: 24hr
*PREP TIME: 1hr     
*COOK TIME:  10min     
*MAKES: Two 12 inch (large) pizzas (or 3 medium ones)
Ingredients
For the dough: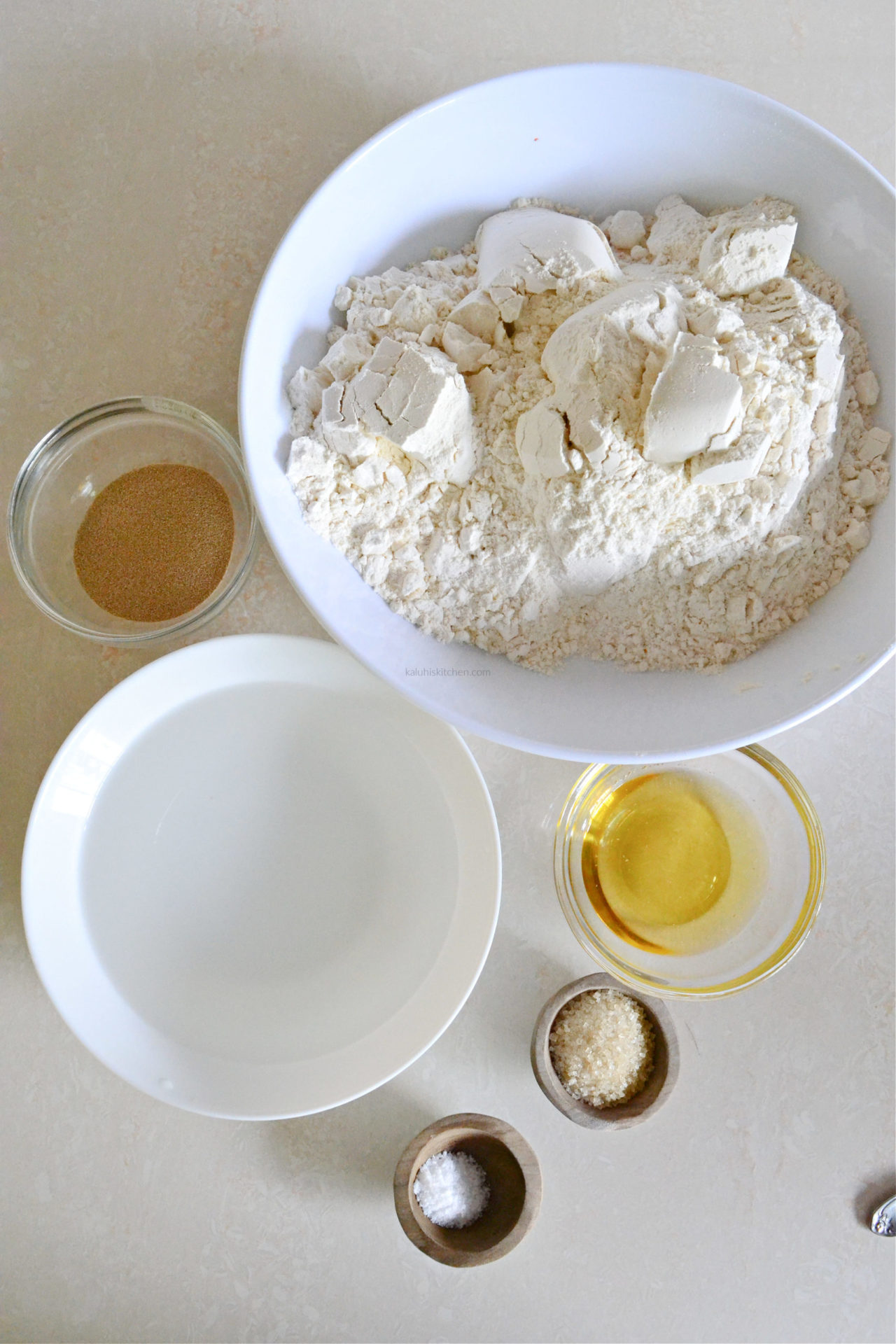 3 ½ cups of all-purpose flour
1 1/3 cups of warm water
2 ¼ teaspoons of yeast
1 tablespoon of sugar
½ teaspoon of salt
2 tablespoons of vegetable oil
For the tomato sauce: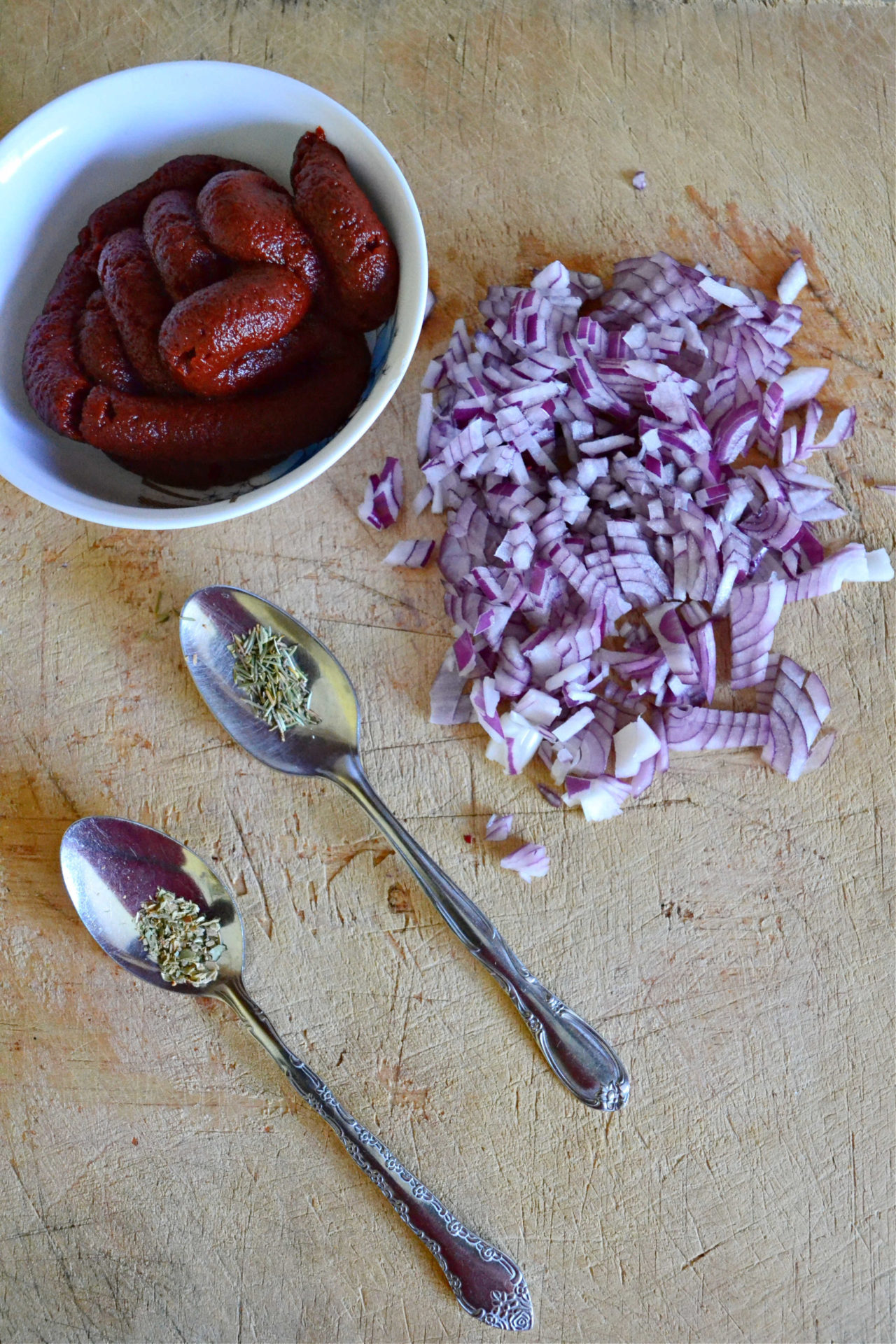 5 tablespoons of tomato paste
1 red onion, chopped
¼ teaspoon of dried oregano
¼ teaspoon of dried thyme
Chili (Optional but recommended)
For the chicken marination:
400g of chicken breast
½ tablespoon of curry
½ tablespoon of smoked paprika
½ teaspoon of cumin
¼ teaspoon of turmeric
3 tablespoons of balsamic vinegar
2 tablespoons of soy sauce
4 cloves of garlic, minced
1 sprig of rosemary
Other toppings:
250g of mozzarella
100 g of cheddar
1 small red onion, sliced
Dania leaves, chopped
1 cup of sweet corn, charred
Method
1. The Pizza Dough
from scratch
I love me a great shortcut, however this recipe we are doing it all from scratch. I did want to and nearly did purchase my pizza dough form the supermarket, but then I thought about how much more delicious fresh dough tastes so I went to work.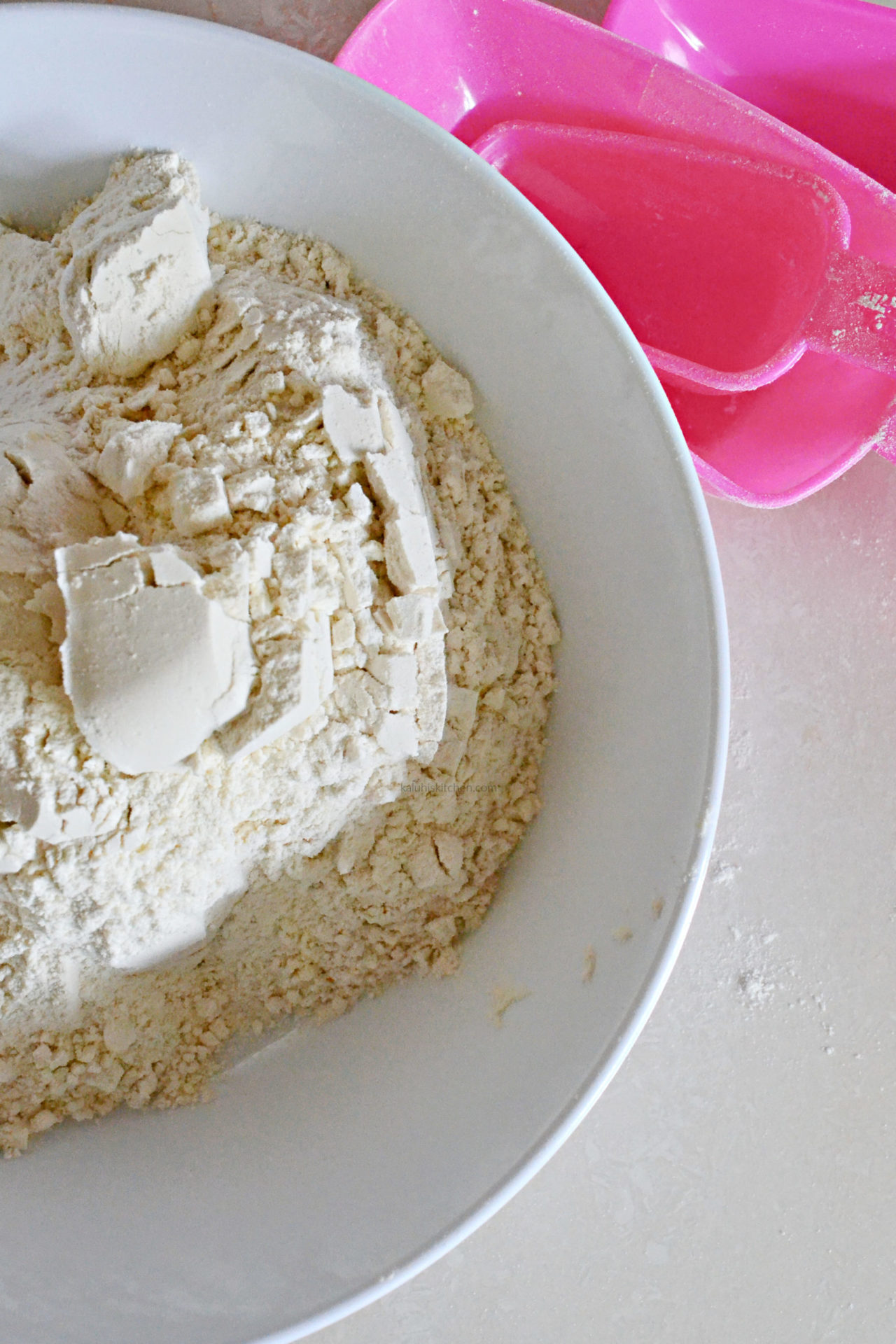 Place the all purpose flour into your bowl, mix in the yeast salt and sugar. Add the water and oil then knead for 15 minutes by hand and 8 minutes if you are using a kneading hook. You can watch the process from 2.28 – 2.55. This produces the most gorgeous, soft dough and I just knew while kneading that I would have something equally gorgeous and flavourful to eat.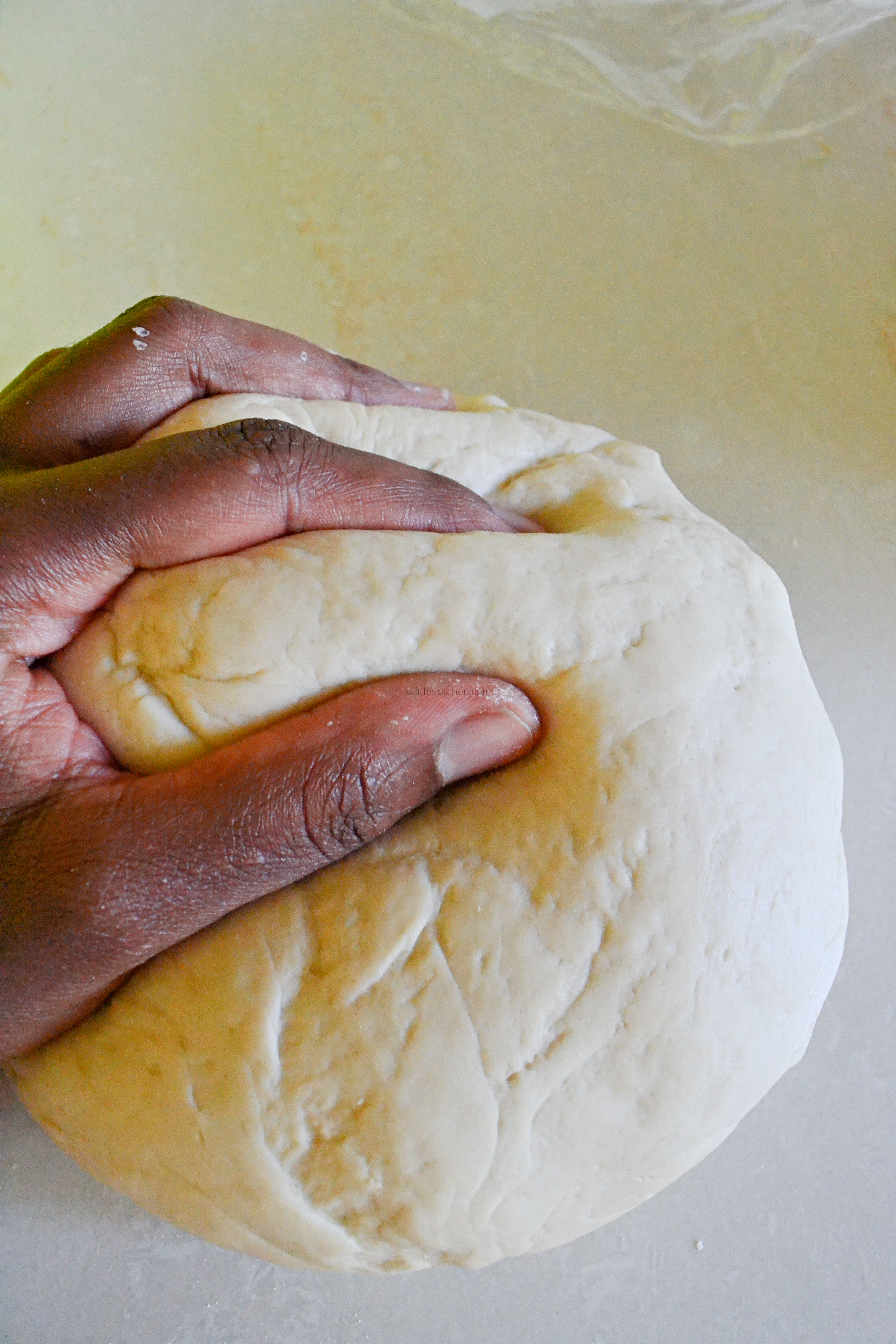 Cover and let this rise for an hour.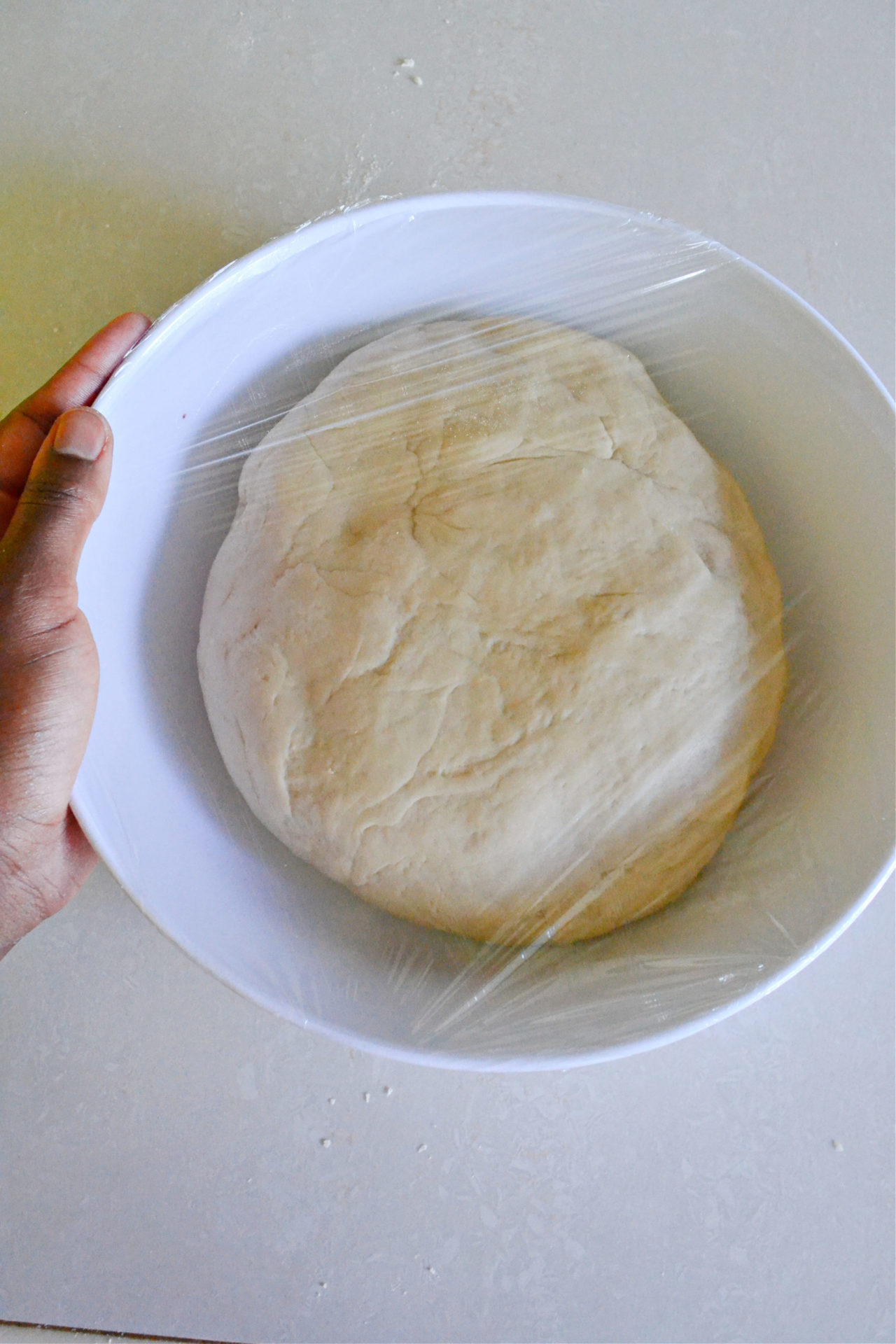 By the time the hour will have passed by, your dough will have doubled in size.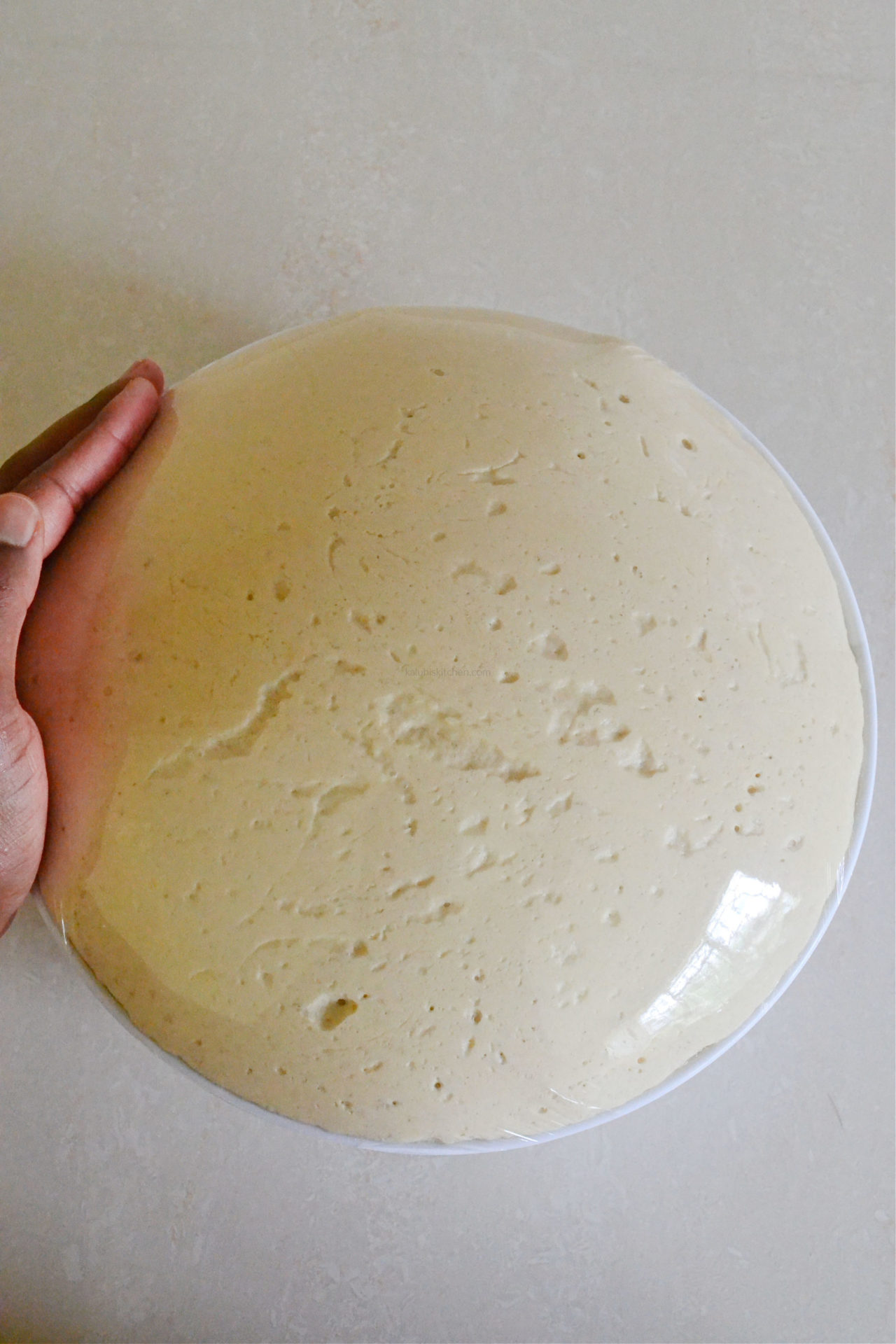 As we wait for that, within the hour that the pizza dough is rising, prepare the other ingredients and have them ready.
**
Can the pizza dough be made ahead? Yes
Make the dough as instructed and once risen, punch it down, wrap in cling film then place in a zip-lock bag and freeze. It can stay for up to 3 months. When you will need to make your pizza, take it out & let this thaw on the counter top overnight until completely soft and proceed to make your pizza as kawa.
**
2. The Tomato Sauce
I also debated on whether I wanted to buy the store tomato sauces for pizza. There is absolutely nothing wrong with reaching for the ready-made ones, however making yours at home allows you to customize the flavors according to what you want to taste. For this, I wanted oregano and thyme notes in my tomato base.
For the tomato sauce, first cook the onion, thyme and oregano.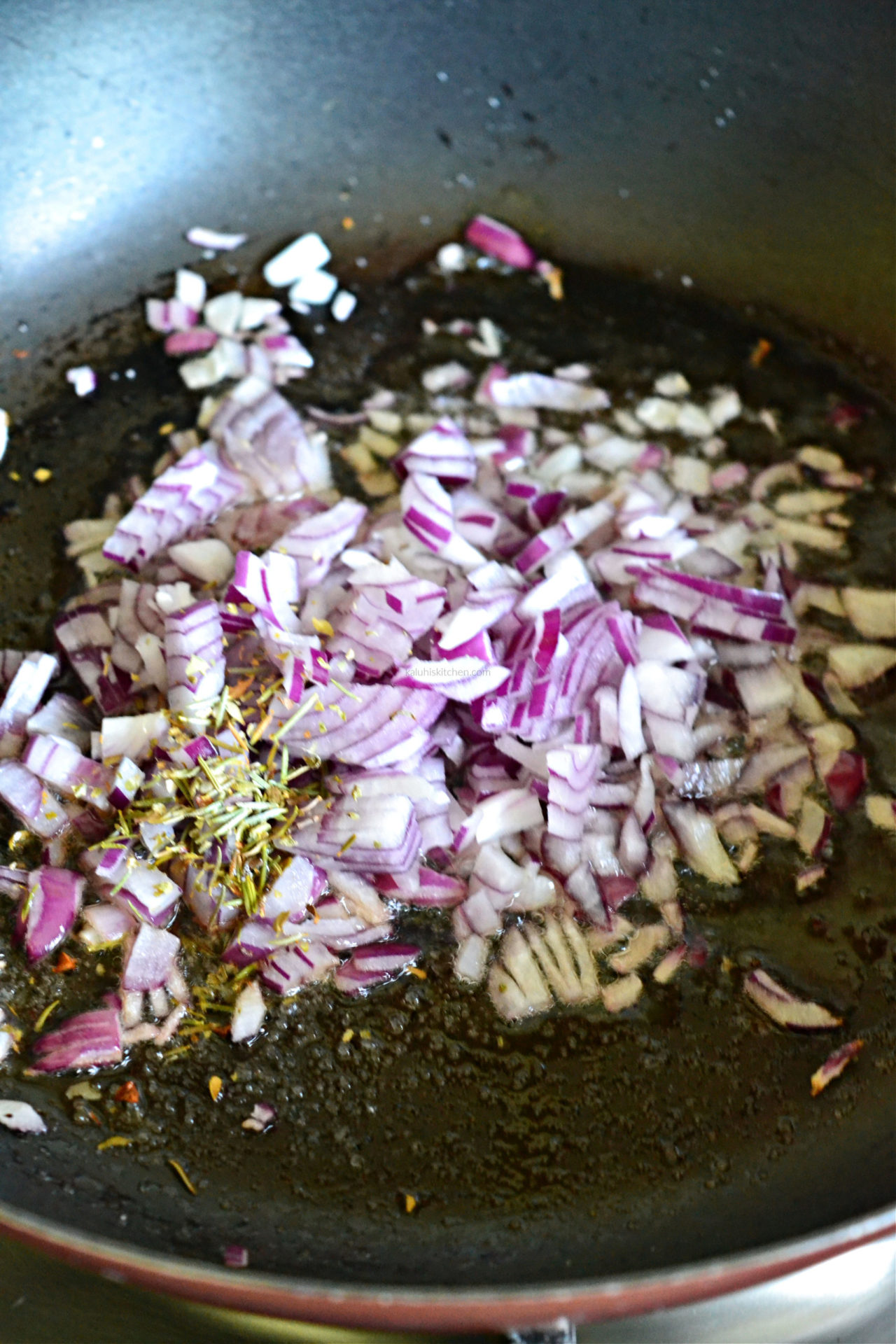 After about 4 minutes, add the tomato paste (or a cup or fresh grated tomatoes), along with some water then cook down until the flavor comes together then set aside. If you fancy some heat, add some at this stage. The simmering should happen on low heat, for about 10 minutes.
See the consistency at 4.13.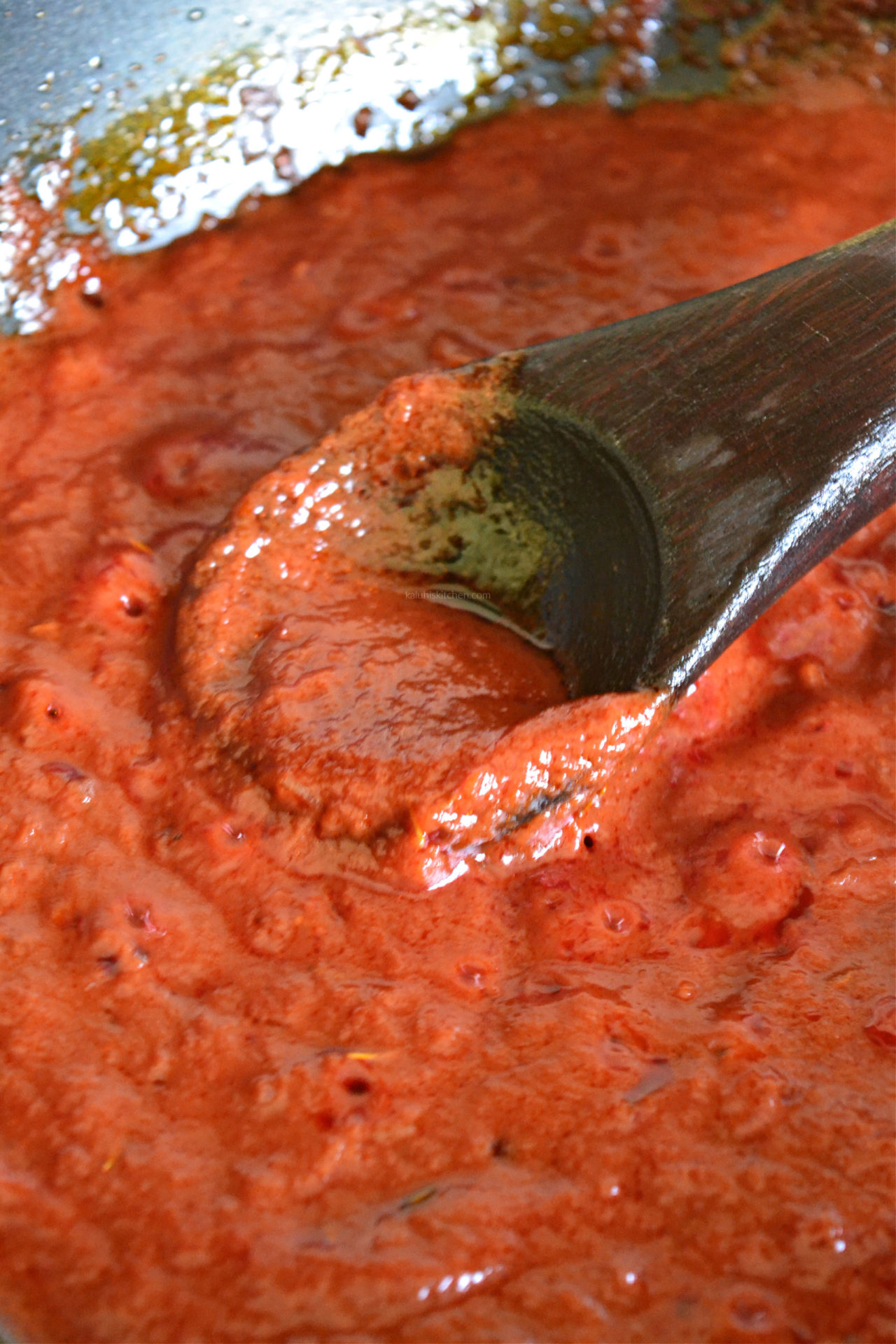 Two things you must ensure is the tomato sauce is thick yet spreadable, not soupy and thin. Secondly, ensure it cooks down well so that the flavor is not metallic as is the case for undercooked tomato paste. It will take about just 10 min, so don't rush.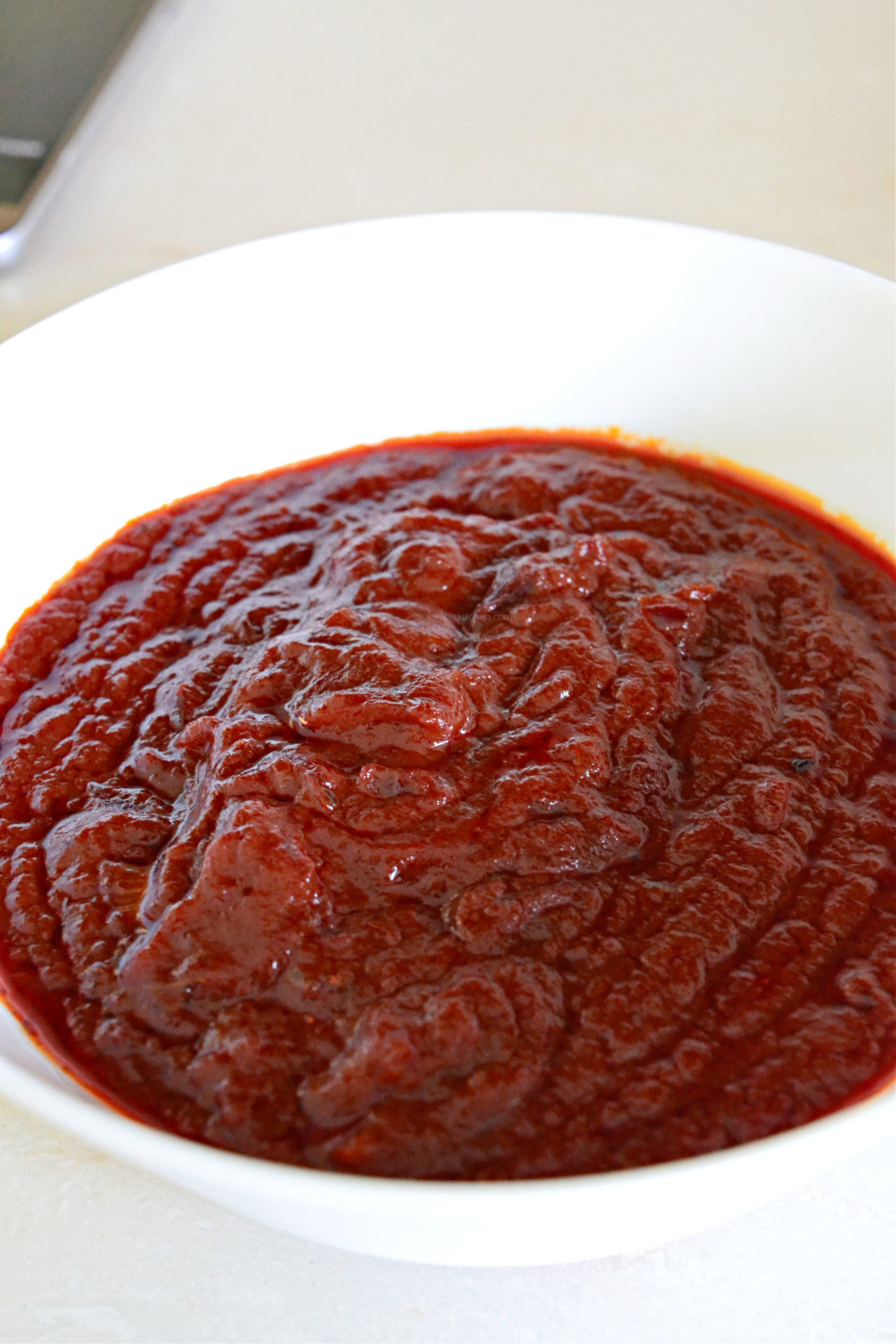 **
Can the tomato sauce be made ahead of time? Absolutely!
Prepare the sauce as instructed then place in a clean jar. Let this cool down completely, then close the jar nice and tight and place in your fridge. It can stay refrigerated up to  2 weeks.
**
3. The Toppings
The beauty about pizza is that the toppings can be anything you want your pallete to experience. I start by asking myself 'what do I want to taste?' and I run with that. For this I thought about doing mini beef meatballs and olives then thought about a honey pulled pork topping or maybe zucchini and three types of mushrooms. I eventually settled on marinated chicken and bacon as my main notes for this pizza, and to amplify that, some charred sweet corn, red onion, dania and a huge amount of cheese.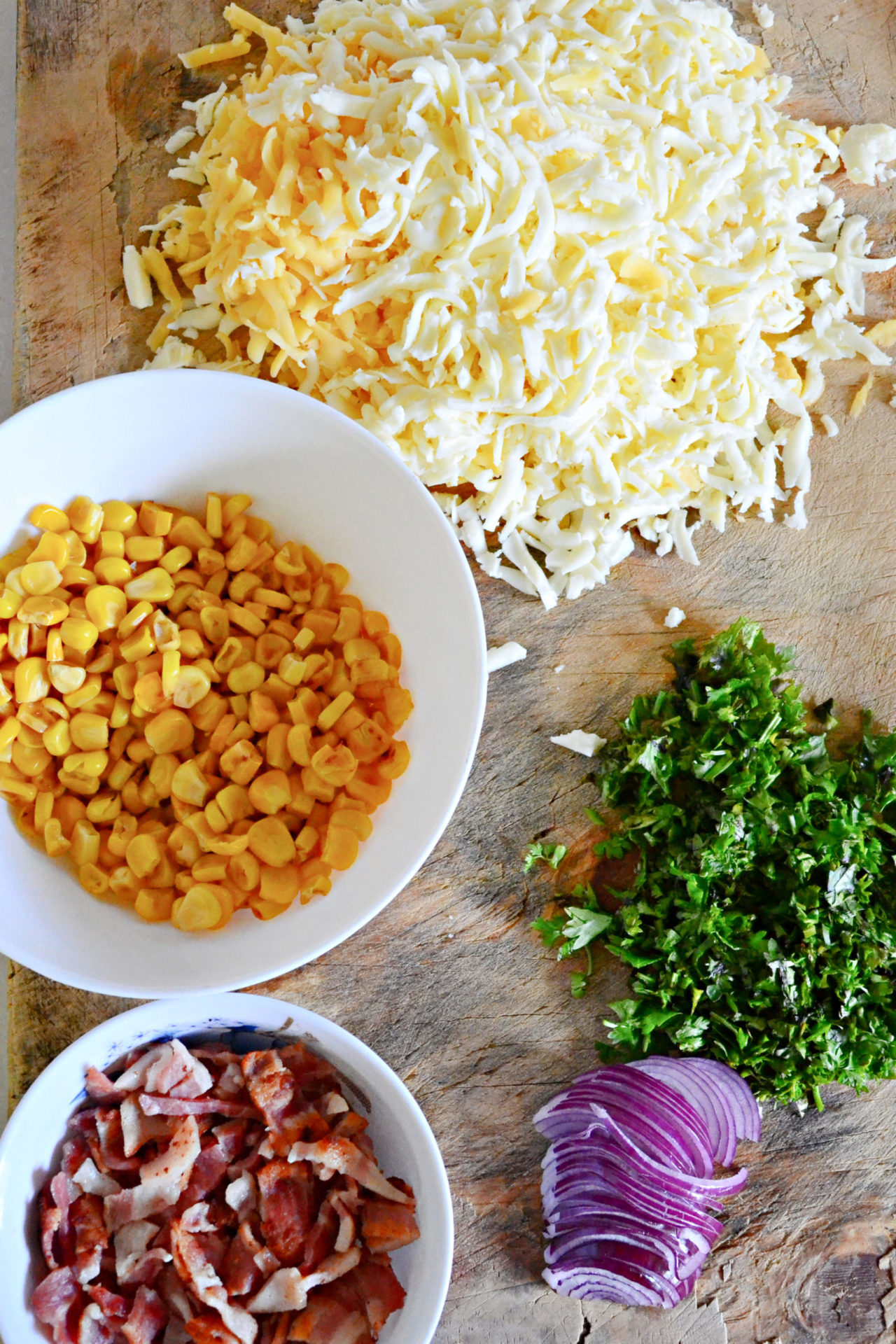 The chicken cannot be plain honey because life is too short to eat unseasoned food! Begin by marinating the chicken. Slice the chicken up and then place in a bowl along with all the other marination ingredients. Mix and let this marinate for a minimum of 4 hours but preferably 24 hours.
Mine marinated overnight.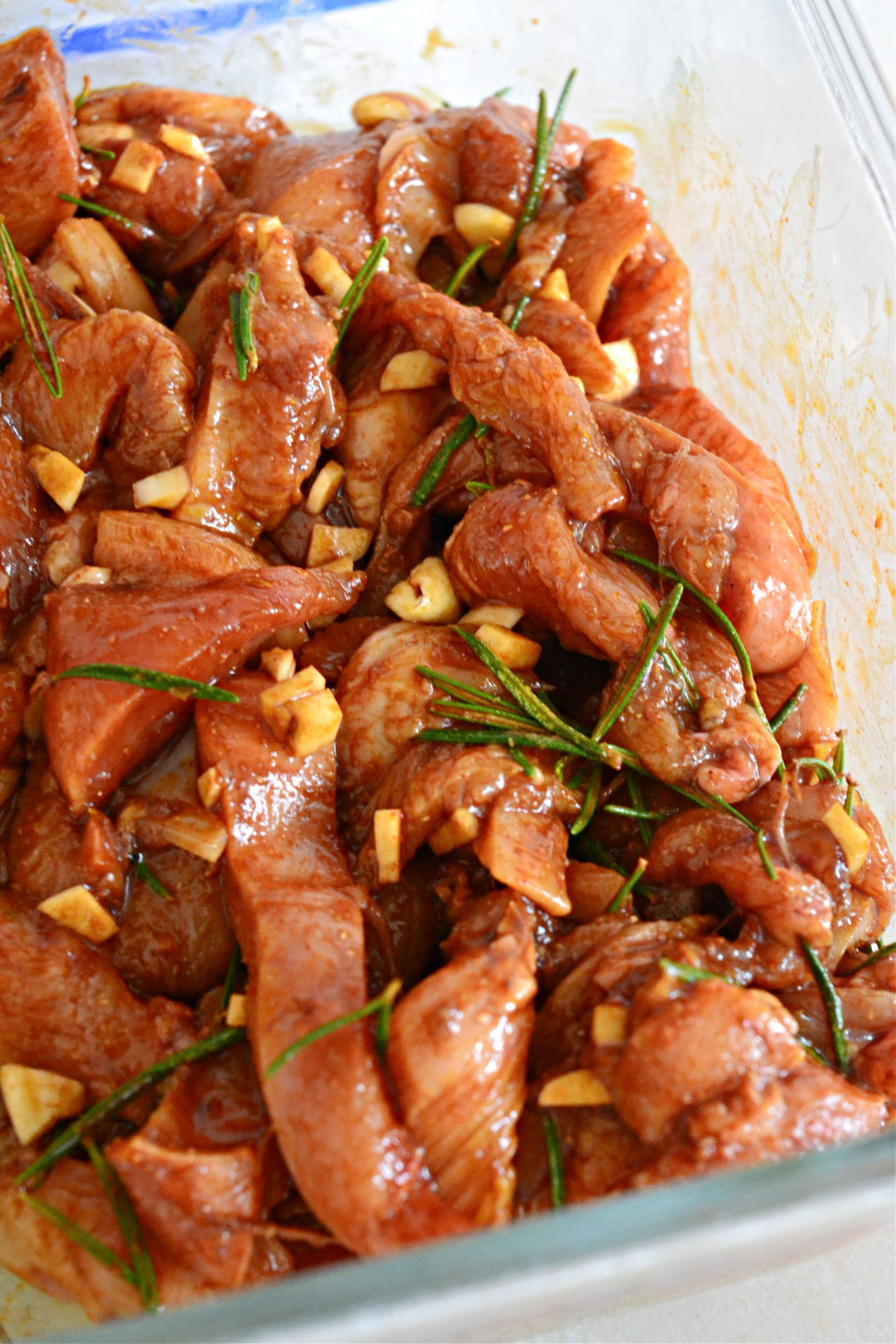 Next day, take this out, let it come up to room temp and then proceed to sear until just cooked. You do not want to dry this out, so do not overcook it. Once done, set aside.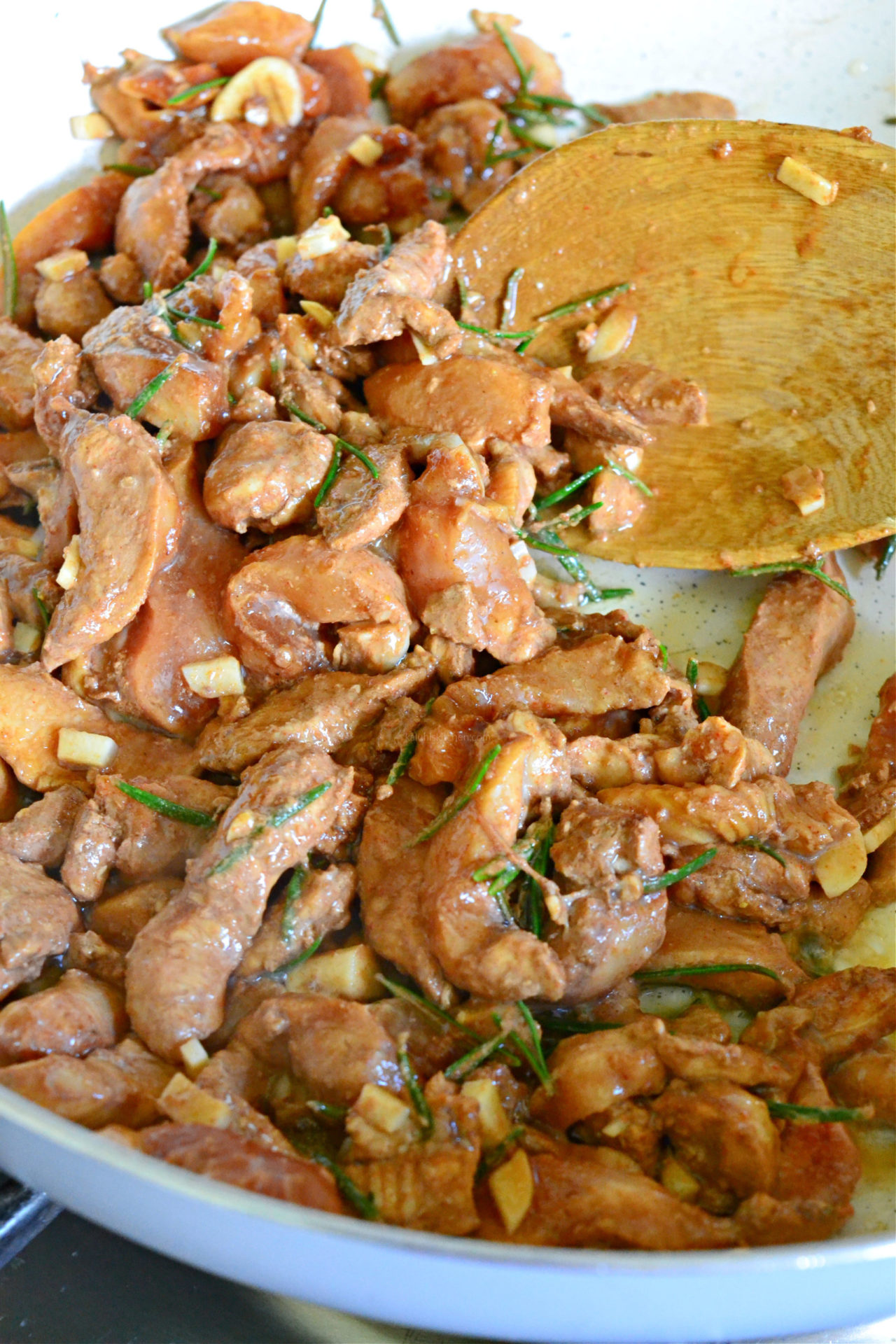 The other toppings need to be ready as well: get a char on the sweetcorn by letting it cook for a few minutes on an ungreased pan. Chop the bacon (already cooked) onion and the dania too and have everything ready. Grate the cheese too and have that ready.
**
Can the toppings be made ahead of time? Some can, some are best prepped fresh!
The chicken can be marinated and seared and kept refrigerated up to 4 days per batch. Same to the seared sweetcorn. The cheese will need to be freshly grated as well as the sliced onion and chopped dania, which wont take long so it's totally fine
**
Someone may be wondering "But Kaluhi, when I go buy pizza it takes 10 minutes tops to get it done. Why is yours taking so long?"
Reason is, your favorite pizza outlet usually always has everything prepped ahead of time and just awaiting assembly once your order is placed. Because their dough, toppings and sauce are prepared long in advance and always on stand by, the baking takes just 10 minutes. Luckily, even for you, if you have all the ingredients ready, the baking will take just 10 minutes
**
By the time you are done with the prep of the tomato sauce and the toppings, the dough will have already risen and now we are ready to go and compose. Once the dough has risen, punch it down & divide it in half and roll it out into a circle. If you fancy a thin crust, roll it thin (about 2mm) and if you fancy a fleshier crust roll it thick (about 4mm). Once rolled out, brush abit of oil over it, and then spread the basil thyme tomato sauce over it. Leave a bit of a margin all round too- do not brush the sauce all the way to the edge. Add the cooked curry chicken, the sweet corn,  the bacon the red onion and the dania, then generously sprinkle the cheese over the top. You can peep the composing from 7.36 – 8.19.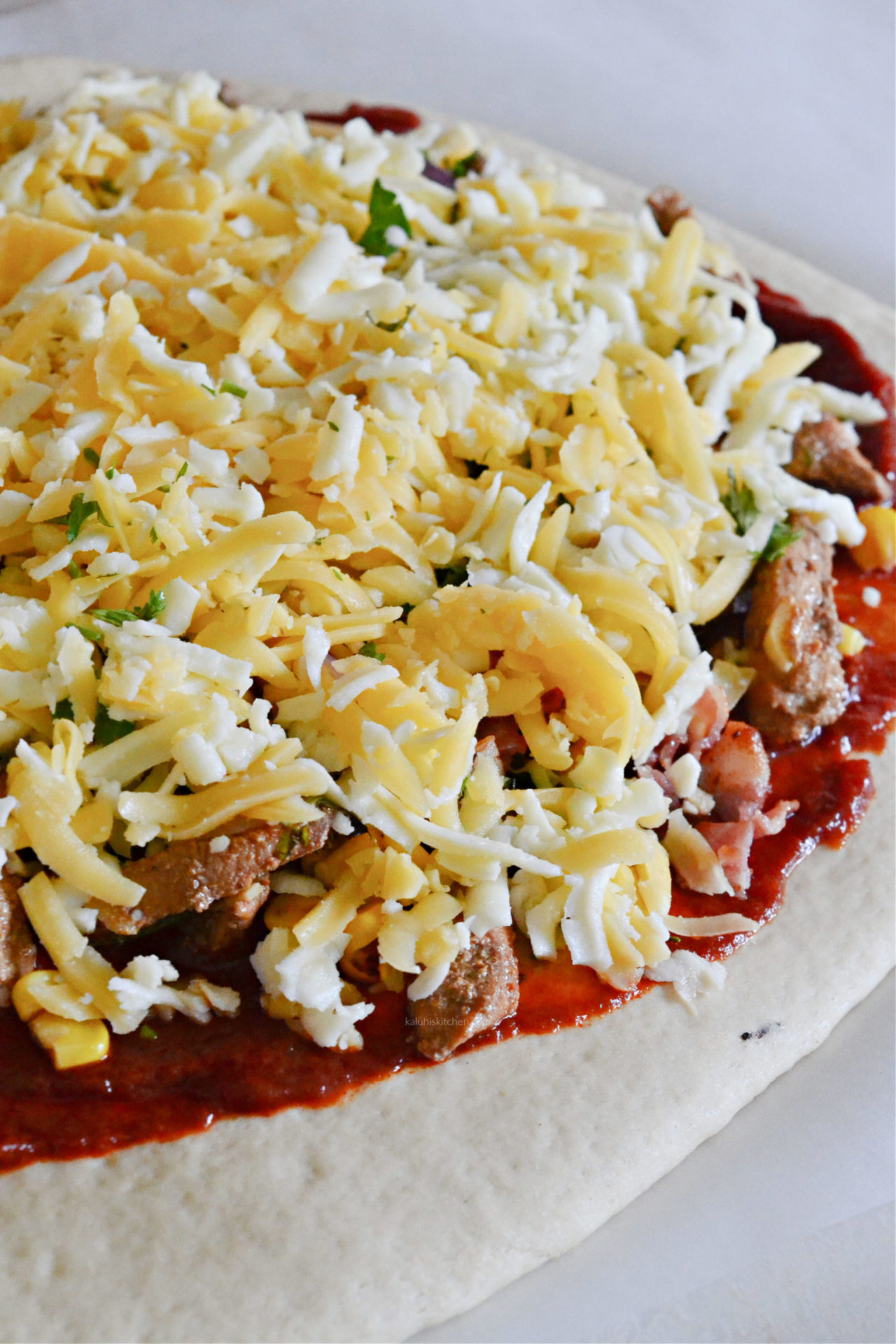 Pop this into your preheated (i.e already hot)  oven and let this bake for 8-10 minutes at 150c then slice and serve her up honey!
This looks absolutely breathtakingly gorgeous and you can bet on your life that it tastes equally as amazing!! Everything is fresh, the flavors are bold, it is extra cheese and truly nothing beats a great homemade pizza!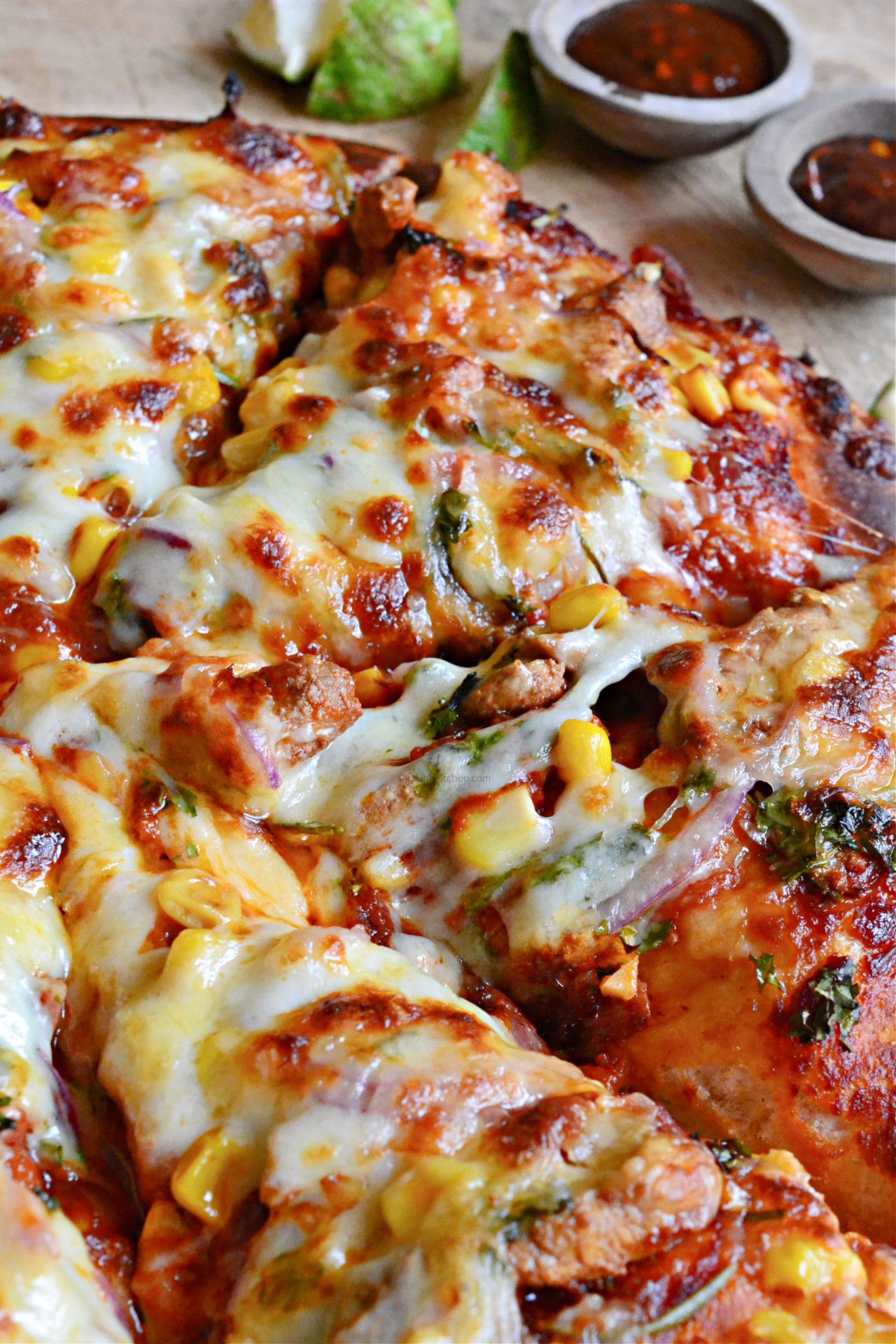 The flavor of the curry marinated chicken really comes through and goes so so well with the meatiness of the bacon. The mild sweet pop of the sweet corn as well as the smoky char it has makes this even better as it adds lots of complexity. The fresh herbs tie it all together and it is the perfect treat to enjoy at home!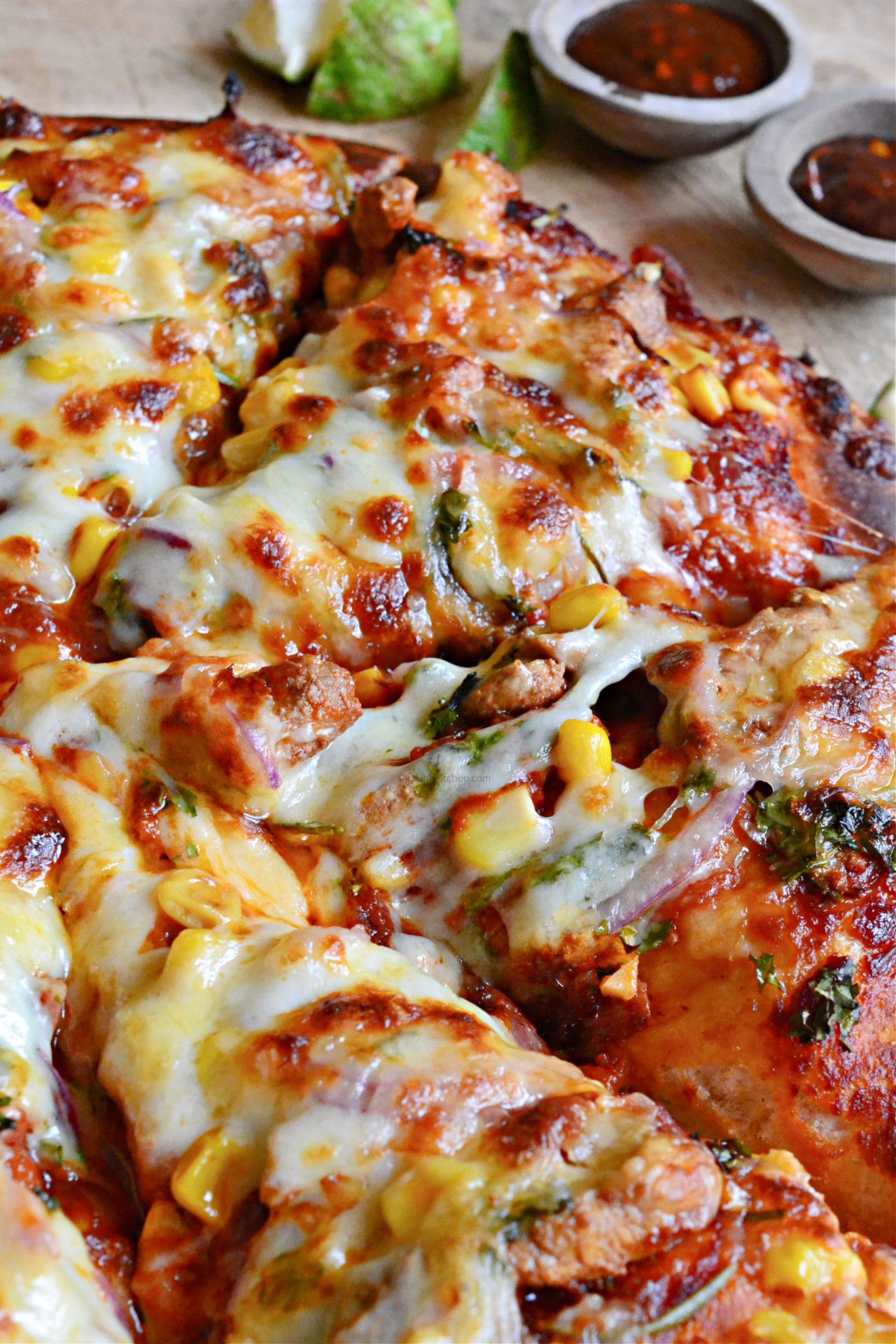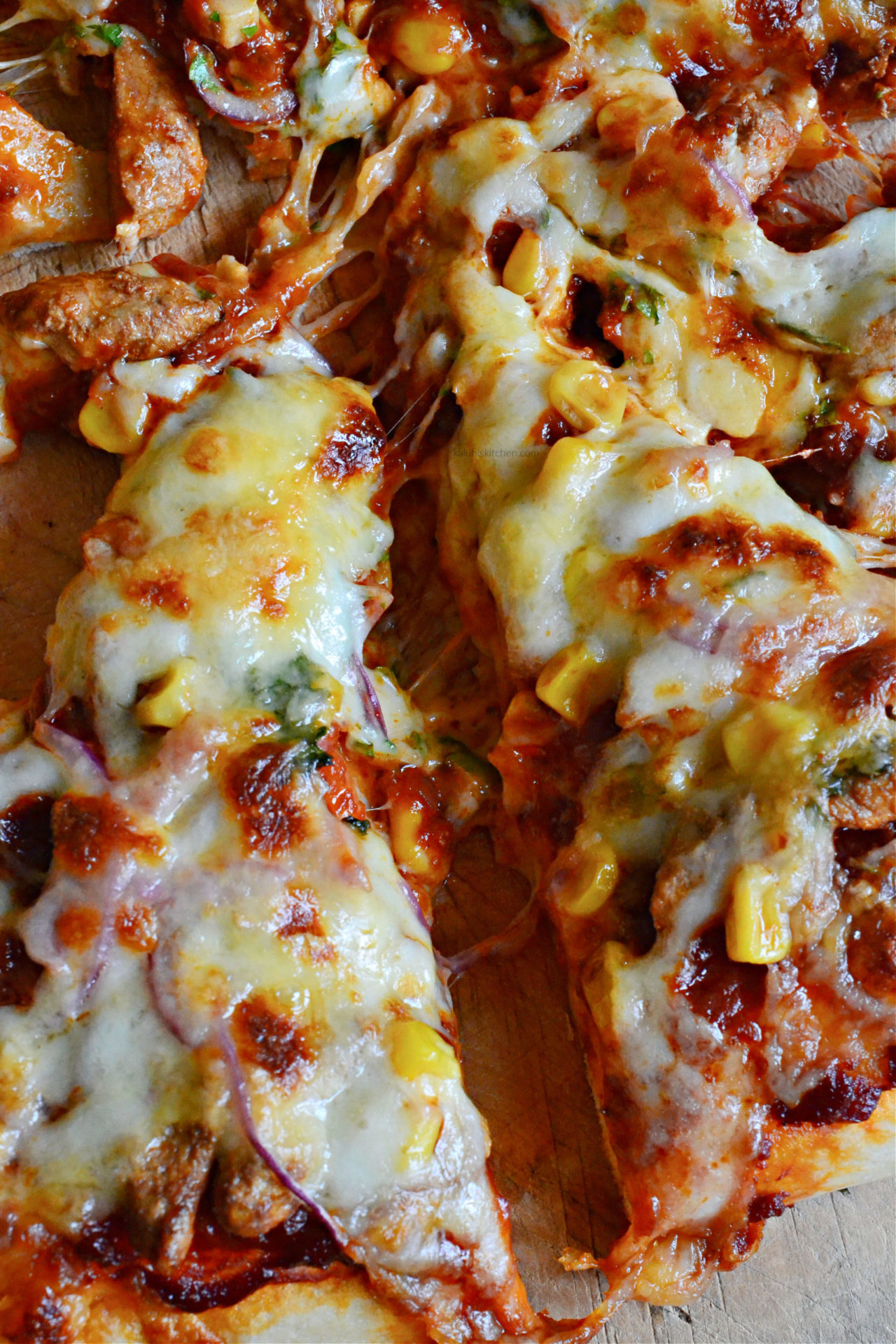 My love I CAN'T WAIT for you to try this out! I can't wait for you to enjoy this with your fam! I can't wait to see the masterpieces you will make right at home.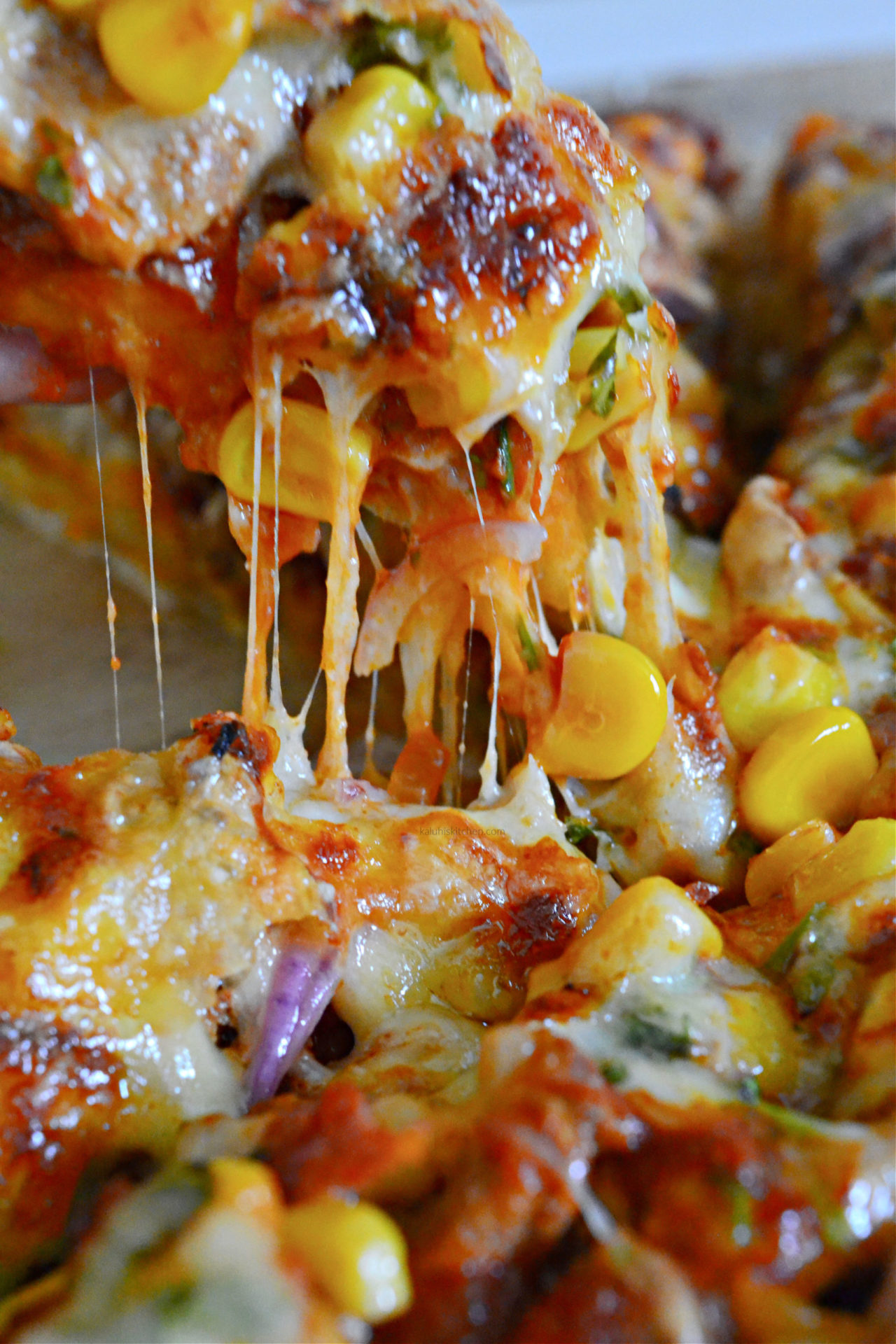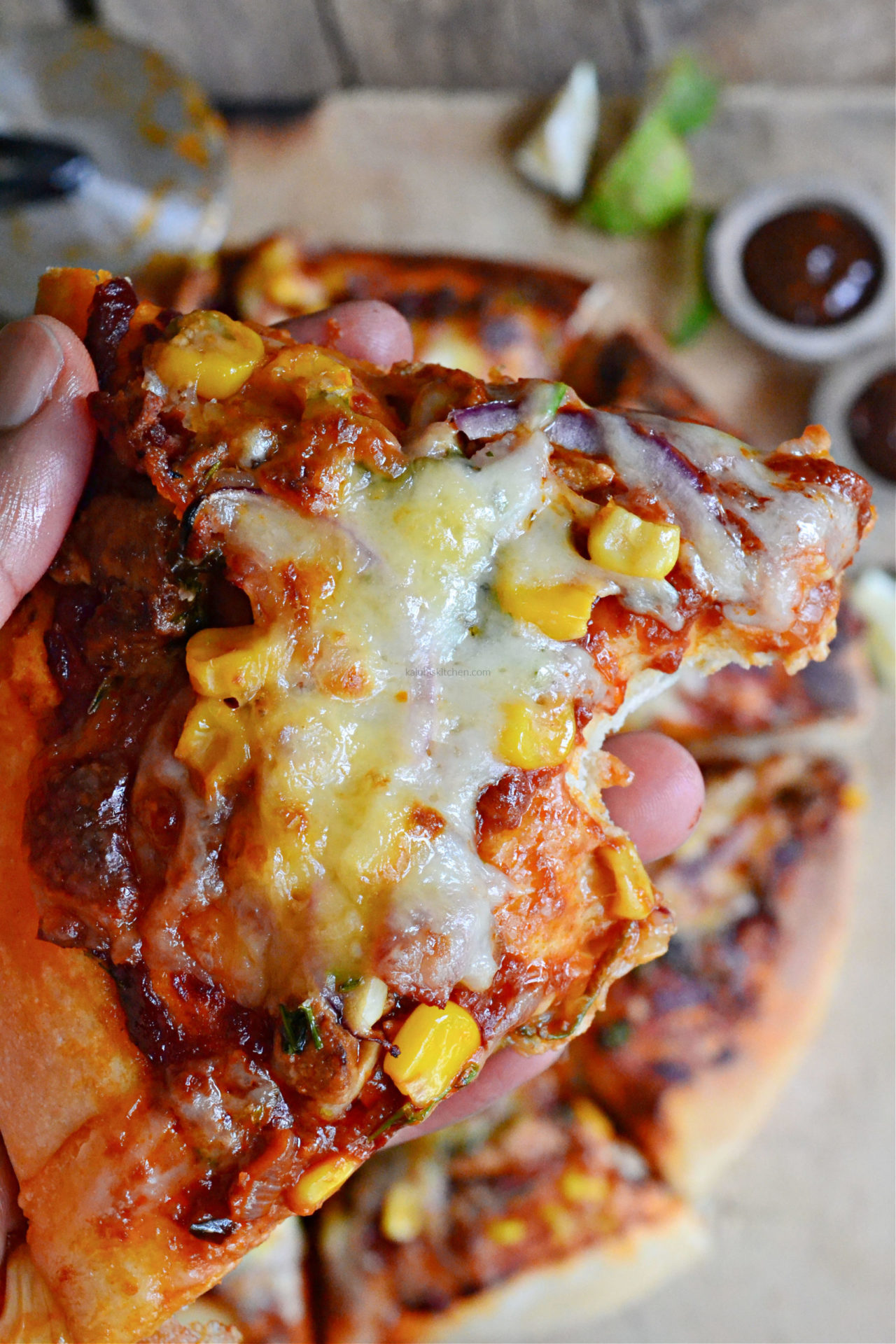 If you prefer a more visual video flow of this recipe, I invite you to watch the complimentary youtube video to this blogpost! Do subscribe as I wouldn't want you to miss all the amazing recipes already on there and delicious ones coming in the future!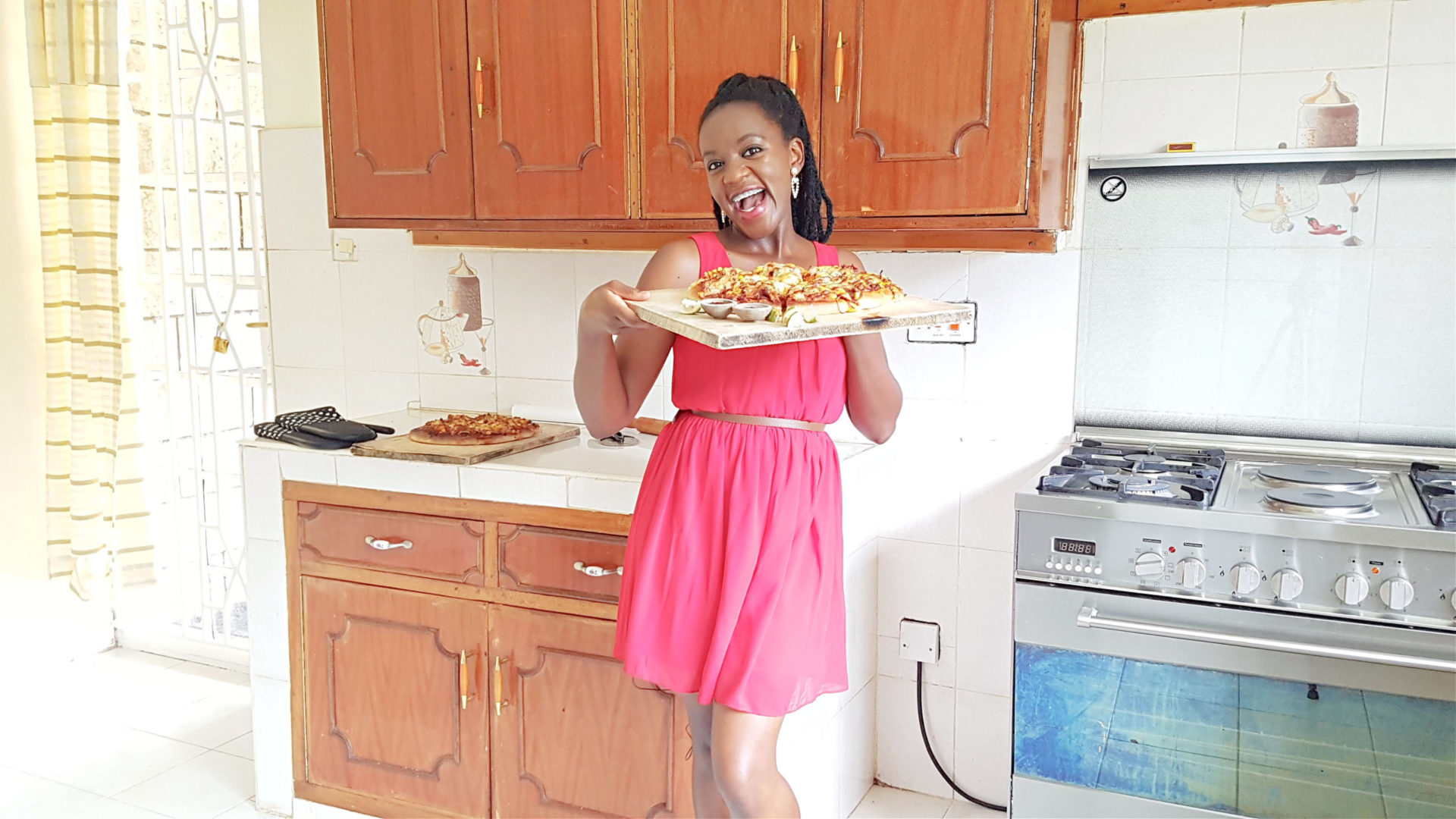 -K
---
Get your downloadable recipe here :))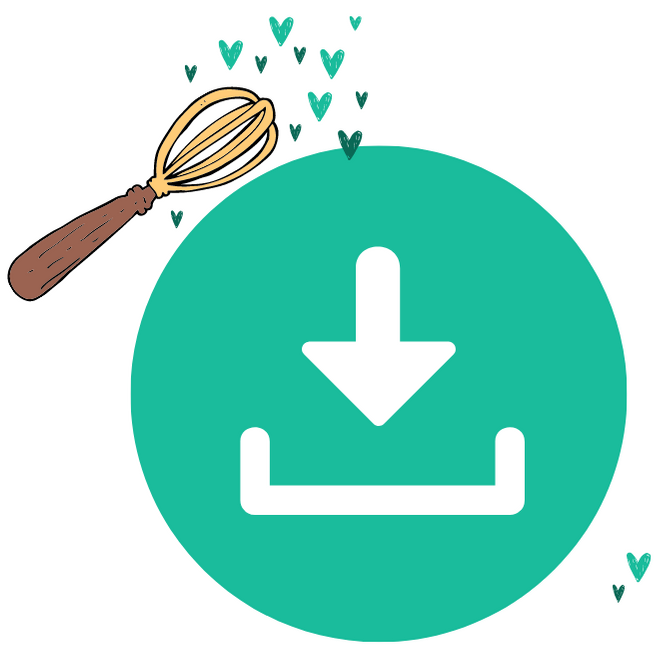 ---
All content and images are copyright protected by



Do not copy in part or whole without giving due credit.
---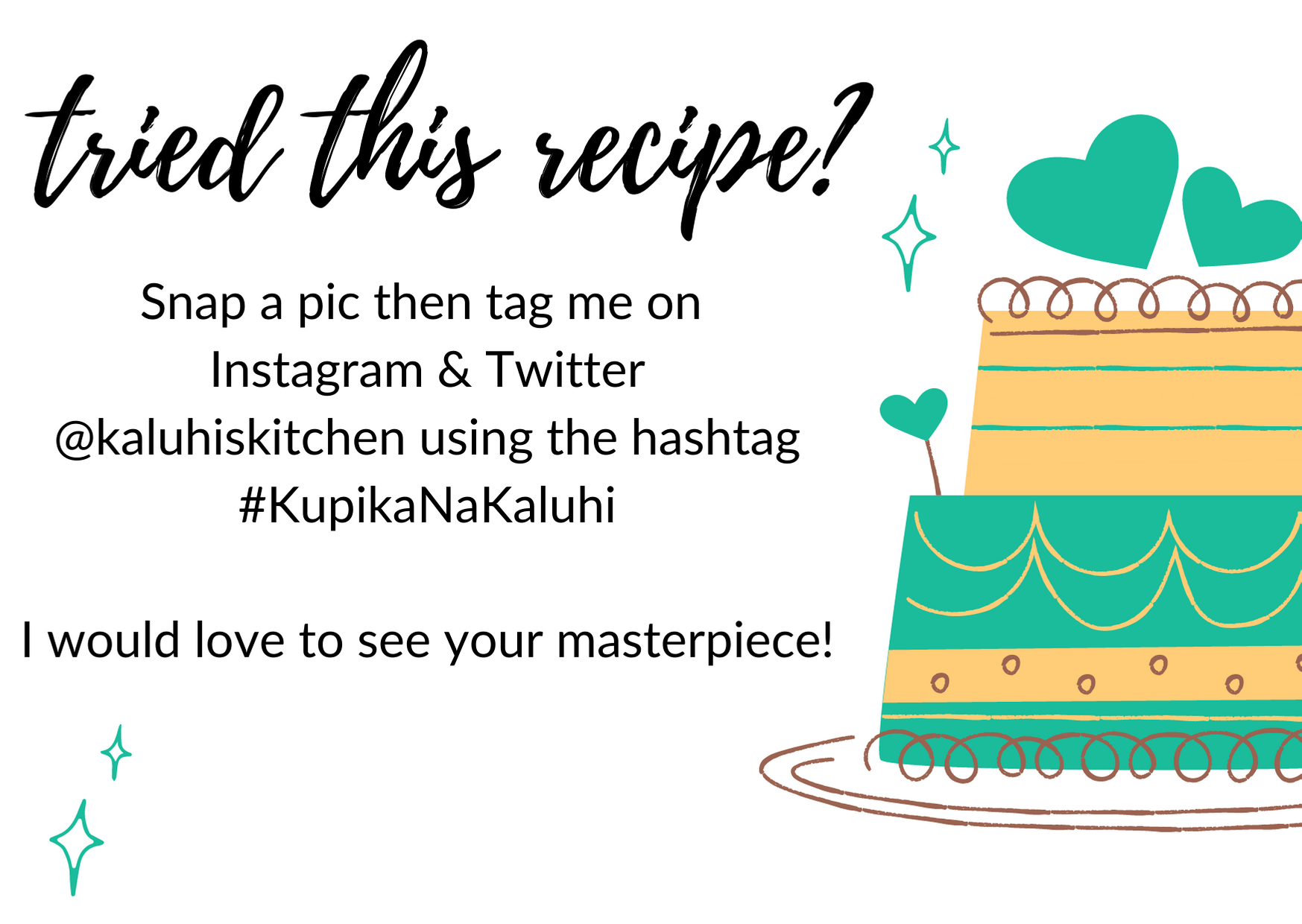 ---