My sisters' and I usual snack during breaktime in Primary School was either a mandazi or a fruit or some biscuits with some juice. It was just a small snack 10 o'clock to keep us kinda full as we waited for lunch a little later at 12.45. We just carried whatever we could find at home, and we always had something to have- which was such a blessing. Once in a while, dad would buy us swiss rolls to carry for break and we loooooooved it so much. When Langata Uchumi Hyper was in it's prime, their bakery was the world!! Literally everything they made was excellent! Don't even get me started on their delicious power sandwiches *wipes excess drool*. Dad would bring the swiss roll log home and we would slice it and share among ourselves. It often didn't make it to the next day, but when it did, it made snacking during breaktime so damn good!
For today, I am taking my childhood favorite and putting a twist of my own. Listen, you will fall head over heels in love with my chocolate swiss rolls with the richest rum whipped cream filling!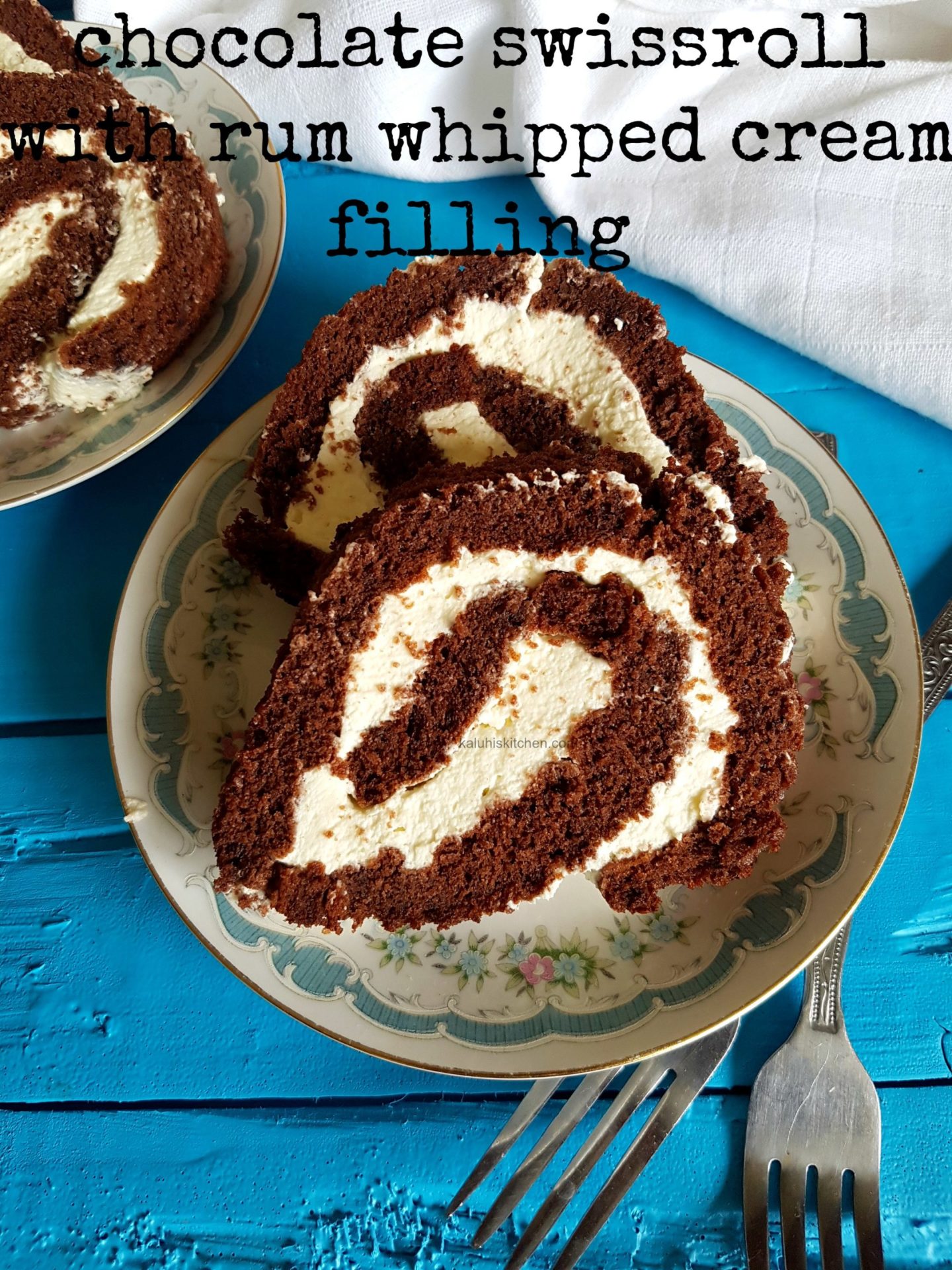 I made a dope vid to accompany the blog post. Do watch below, and subscribe!

PREP TIME: 15min COOK TIME: 3hrs MAKES: 12
Ingredients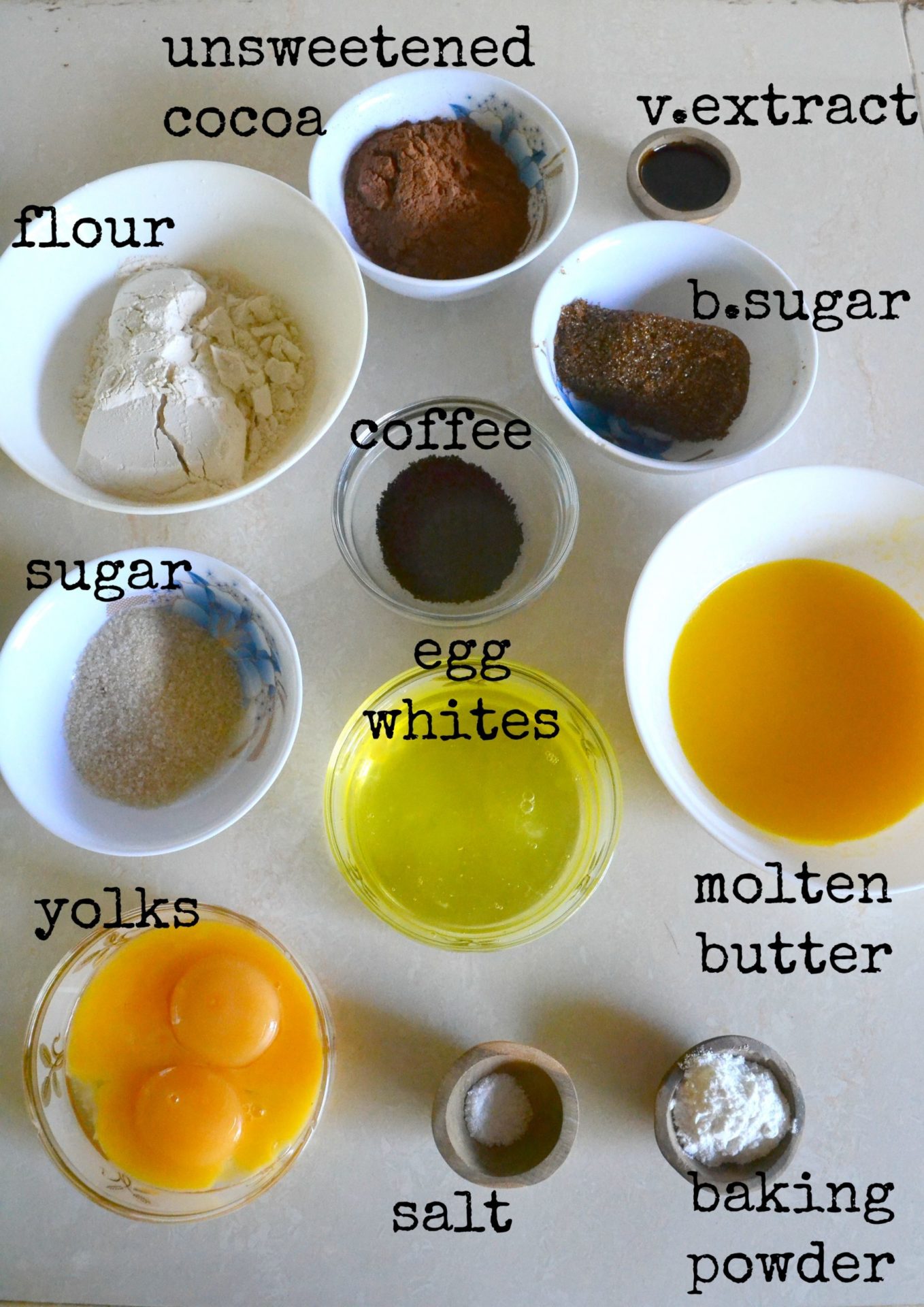 1/2 cup of all purpose flour
1 teaspoon of baking powder
1/2 teaspoon of salt
1/2 cup of molten butter
1/4 cup of unsweetened cocoa powder
1 teaspoon of coffee
4 eggs (separate yolk and whites)
1/3 cup of normal sugar
1/3 cup of brown sugar
1 teaspoon of vanilla extract
For the filling
450 ml of whipped cream
1 teaspoon of vanilla extract
1 tablespoon of rum (or creme liqueur)
2 tablespoons of granulated sugar
Method
You will need three bowls. In the first, beat the white sugar with egg whites until stiff, fluffy peaks form. That will take about 5 minutes. This is one of the components that will make our swiss roll cake really soft and fluffy. Once done, and as fluffy as mine are in the pic below, set aside.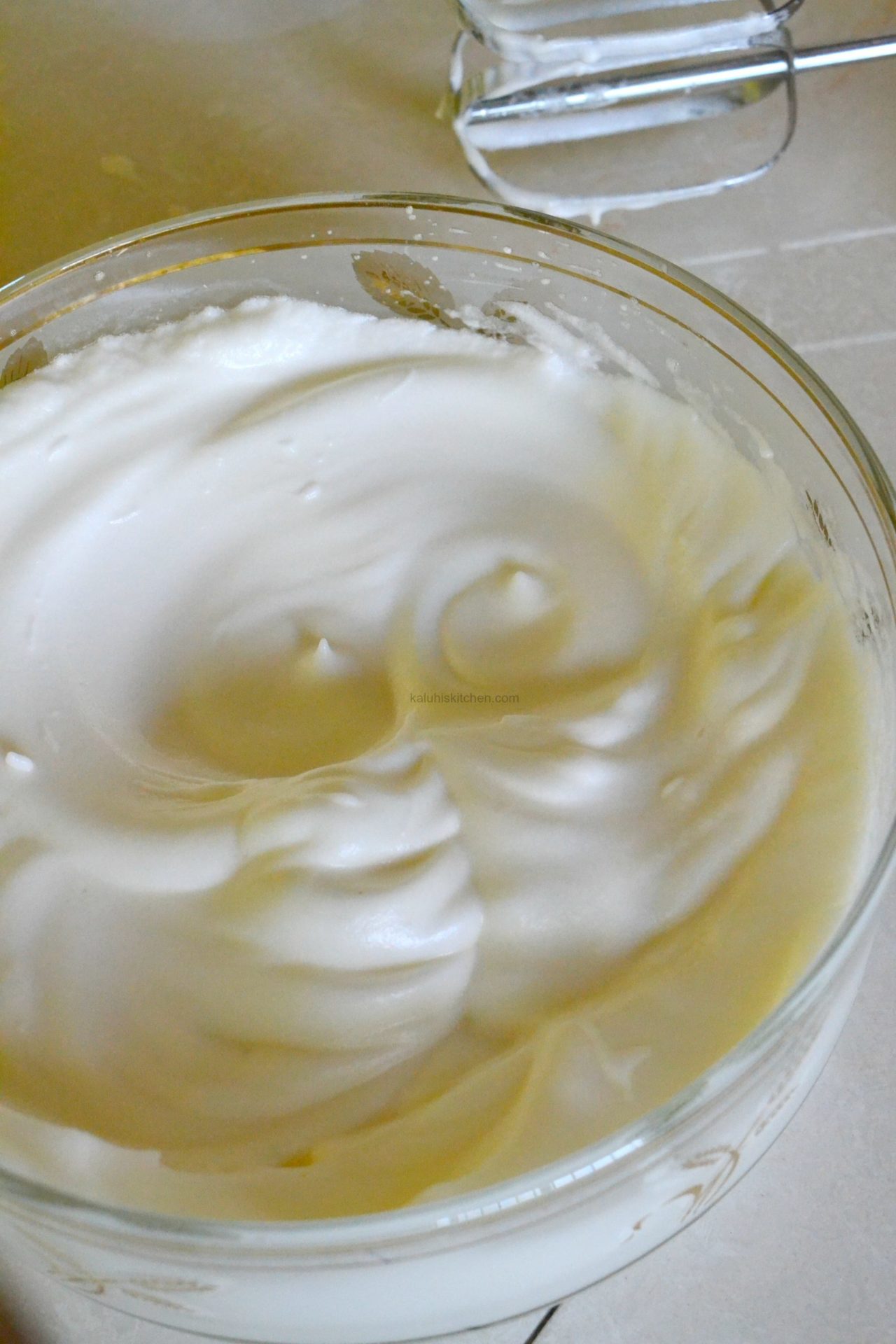 In the second bowl, whip the egg yolks, vanilla extract and brown sugar. The egg yolk and brown sugar are both very rich, and bringing these two together in this recipe will make our swill roll cake really moist and soft. Once silky, set aside.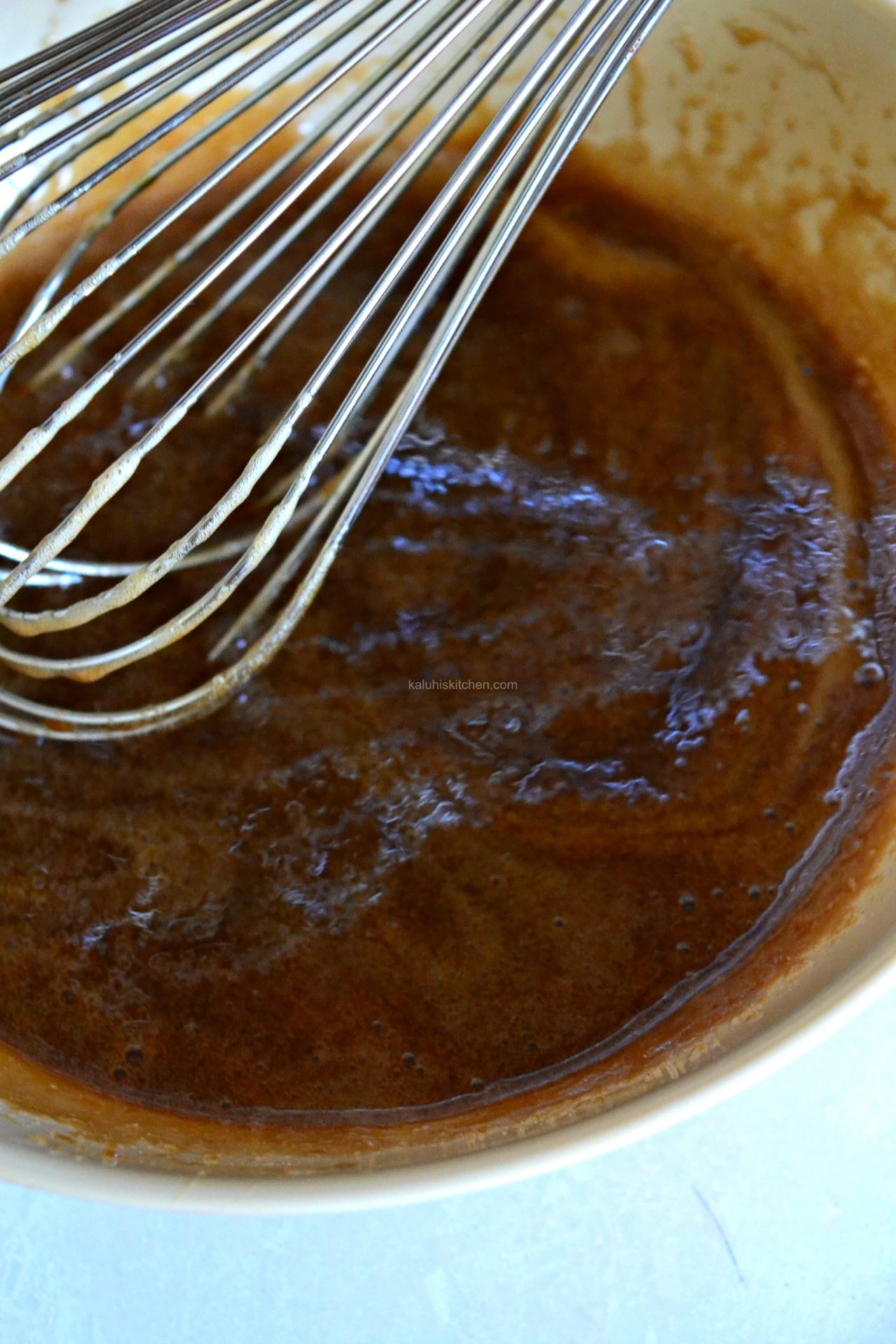 In the third bowl, sieve together the dry ingredients. With that, we have everything ready and set to bring it all together.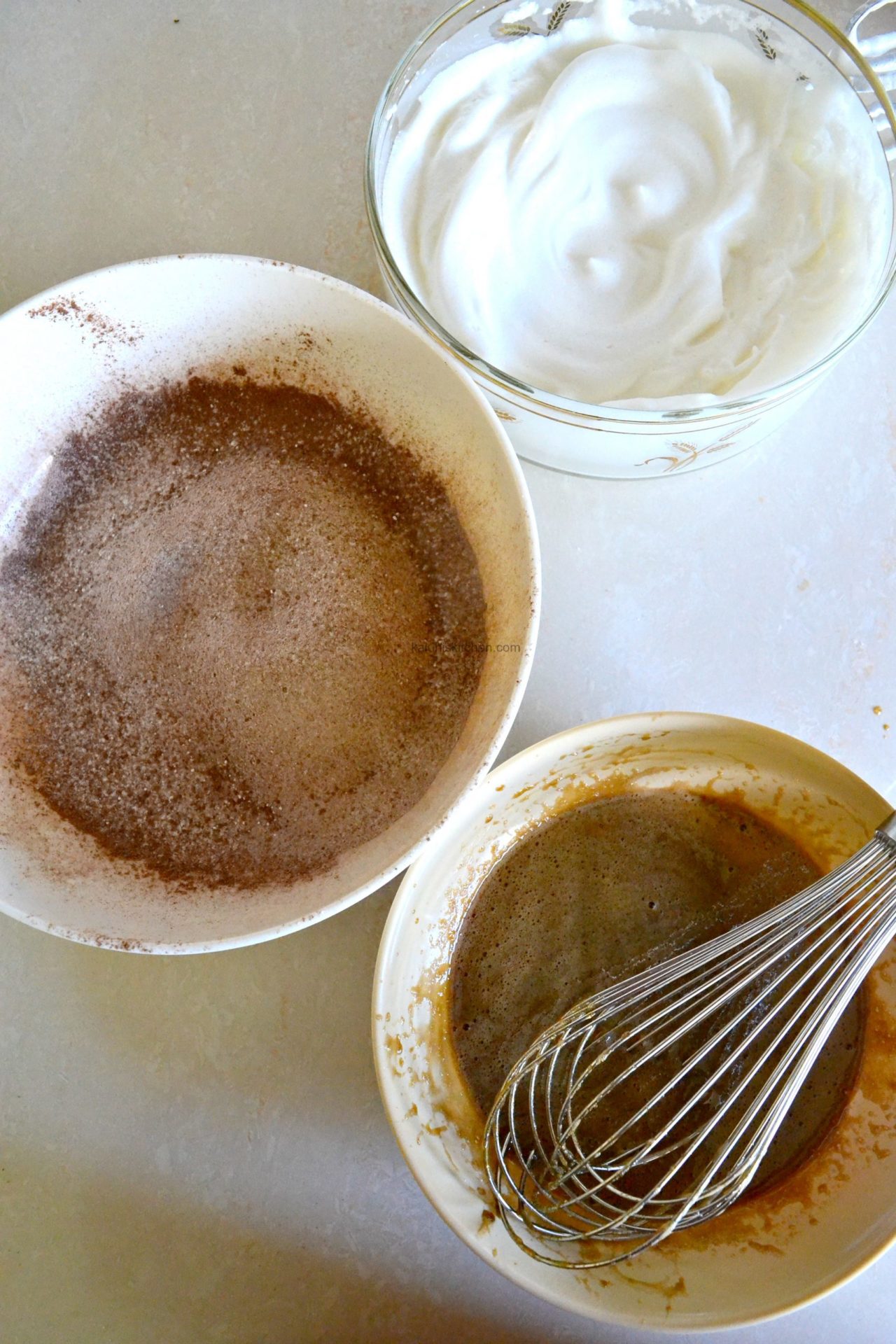 To the bowl that has the dry ingredients, fold in the egg yolk mixture plus the molten butter and the coffee. Mix that together then gently fold in the fluffy egg whites.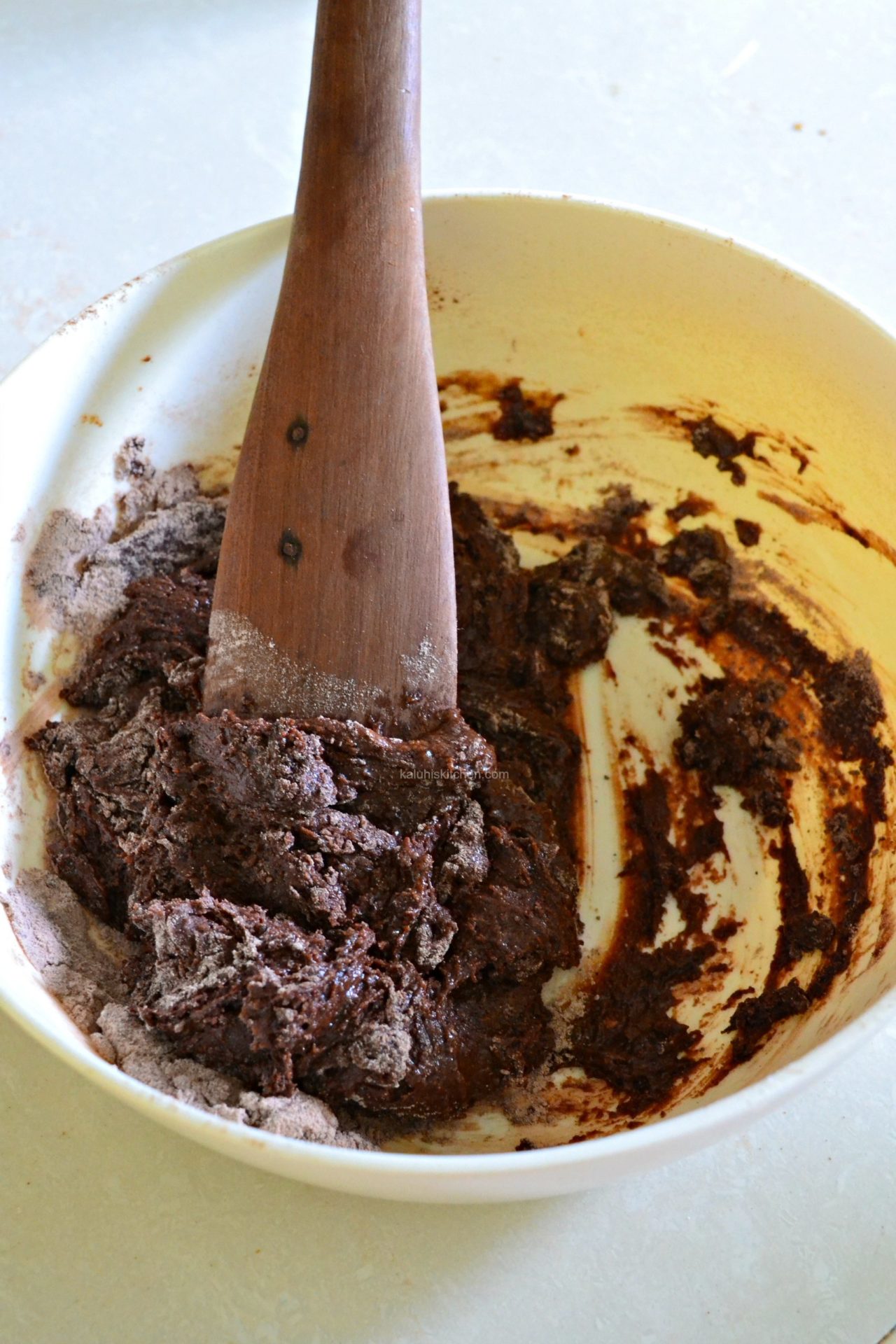 It will look really dry at first but once everything is in the bowl and mixed in, it will be very silky and smooth as my video shows at 6.26-6.42. Now that everything is combined, spread this over a 12″ by 17″ pan. The swiss roll pan is also very thin, about 2 cm thick. This allows you to get the thin cake you need for this and also one that will be easy to roll. A deep pan cannot work for a swiss roll. I got my pan from CarreFour. You can also get some from Tuskys, Shoprite and any other supermarket with baking items.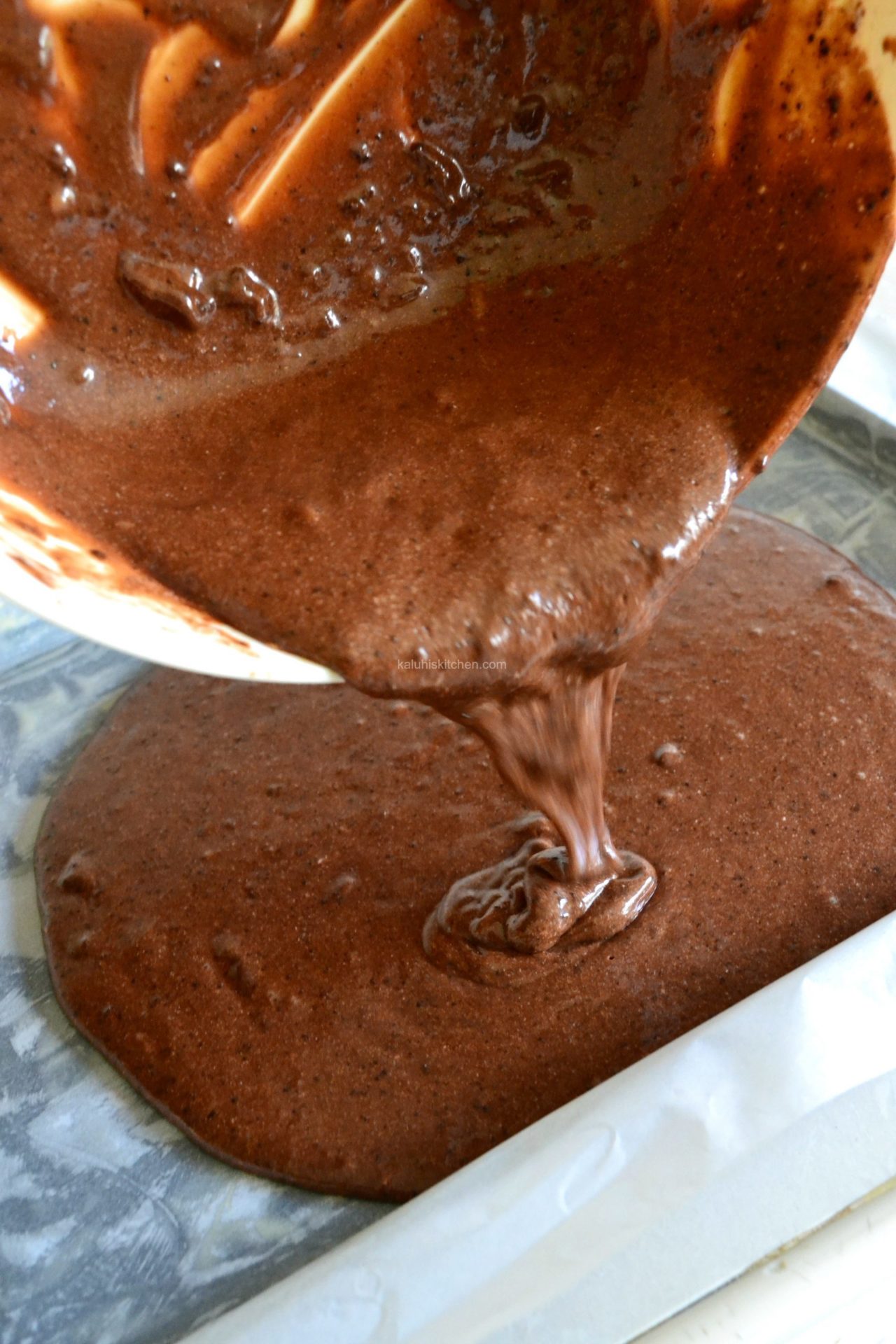 Once the batter is on your pan, wiggle it until evenly spread out then proceed to bake at 150 for exactly 10 min.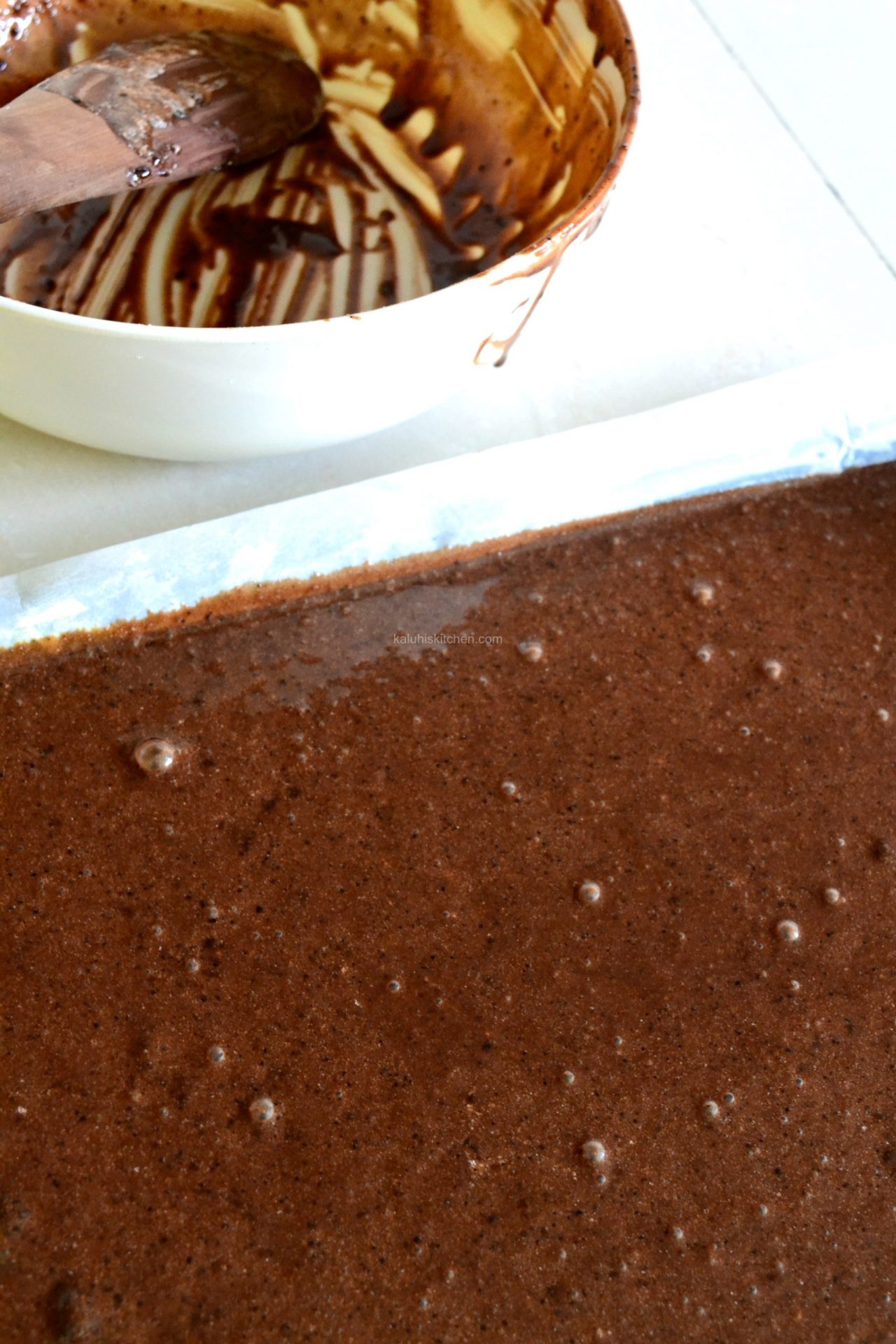 As your cake is baking, have a baking sheet dusted with some cocoa powder over your counter top. When the cake is done baking, we will flip it over this dusted sheet so have it ready as I showed you at 8.53.
Here is a very important step: Once it gets out of the oven, you MUST roll it- as fast as you can- while it is still warm then allow it to completely cool down in that rolled shape (see 9.49-9.59 ). The cooling down will take about an hour.
The reason we roll while it is still warm is because you need the rolled shape to hold after we add the filling. Also allow the swill roll to completely cool down before adding your filling because it if the roll is warm, the filling will melt. As the roll is cooling down, let us work on the filling.
The filling
The swiss rolls which we used to eat in primary school usually had a jam filling or a coconut filling. For today, I chose a whipped cream filling because i felt it's creaminess would really compliment the richness of the chocolate. When I first made these in February, it was just cream + sugar + vanilla extract. Today, I decided to add a splash of rum for abit of complexity & depth. In place of rum, a creme liqueur such as Amarula & Baileys would work so well.
Prepare the whipped cream filling by beating your whipped cream + the granulated sugar + rum + vanilla extract for about 3 minutes. I have lost the photo *face palm*, but you can see the transformation in my video from 11.35-11.49.
**
Once the swiss cake is completely cooled down, unroll it then spread the whipped cream over it.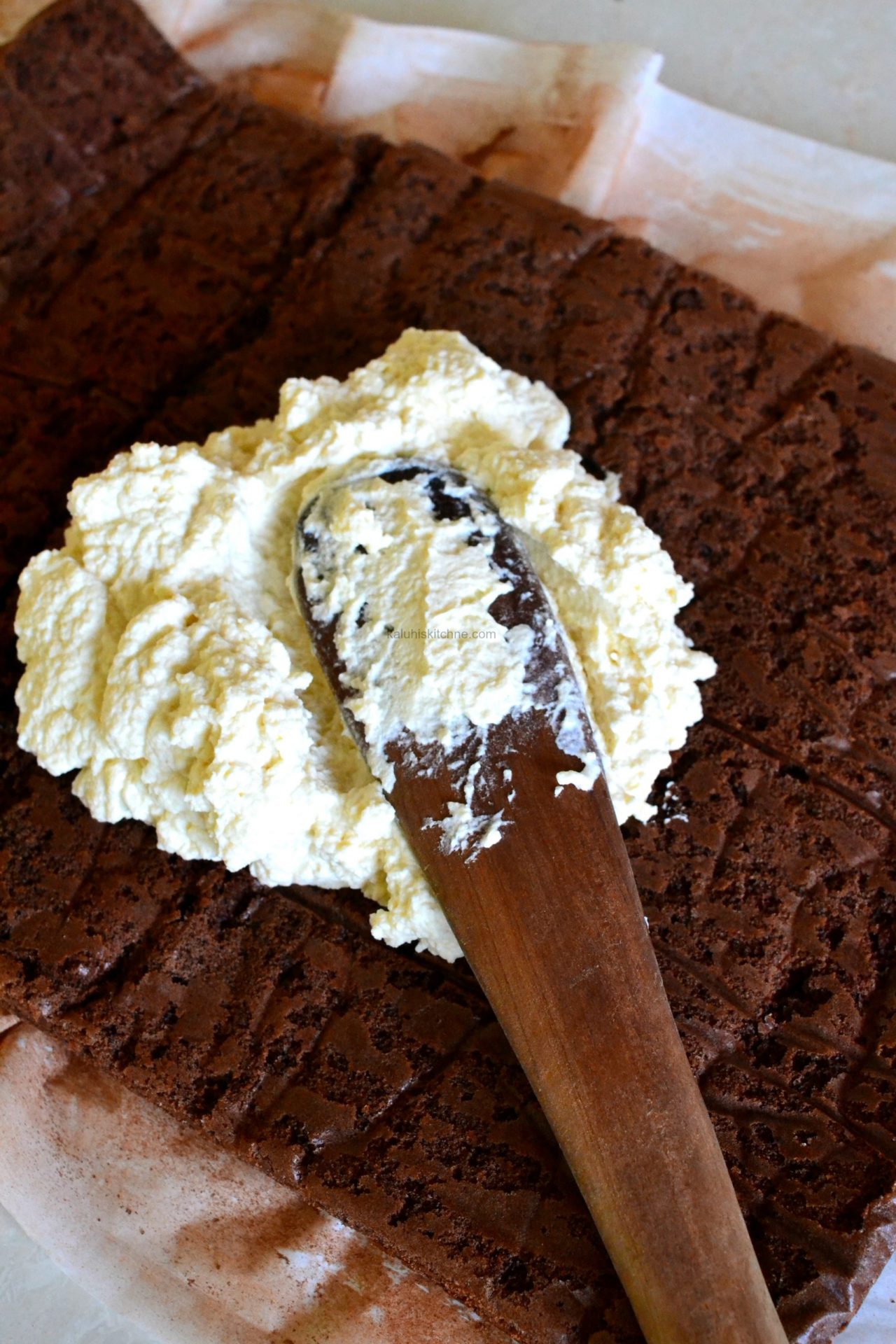 Now here comes the hardest part:rolling it back *wipes sweat from neck*. You need to roll it back as fast as you can so that it does not crumble and come apart. Some few cracks may form (mine cracked) which is fine, and if yours rolls perfect and crackless, makofi kwako!! It is quite a challenge, but doable. Because the rolling happens so fast, it's best you see the process in video.
Once the log is filled and rolled back, slice the log into your individual pieces and we are ready to dig right in! These (almost) perfect chocolate swiss rolls were a labour of love! And the flavor was immaculate!!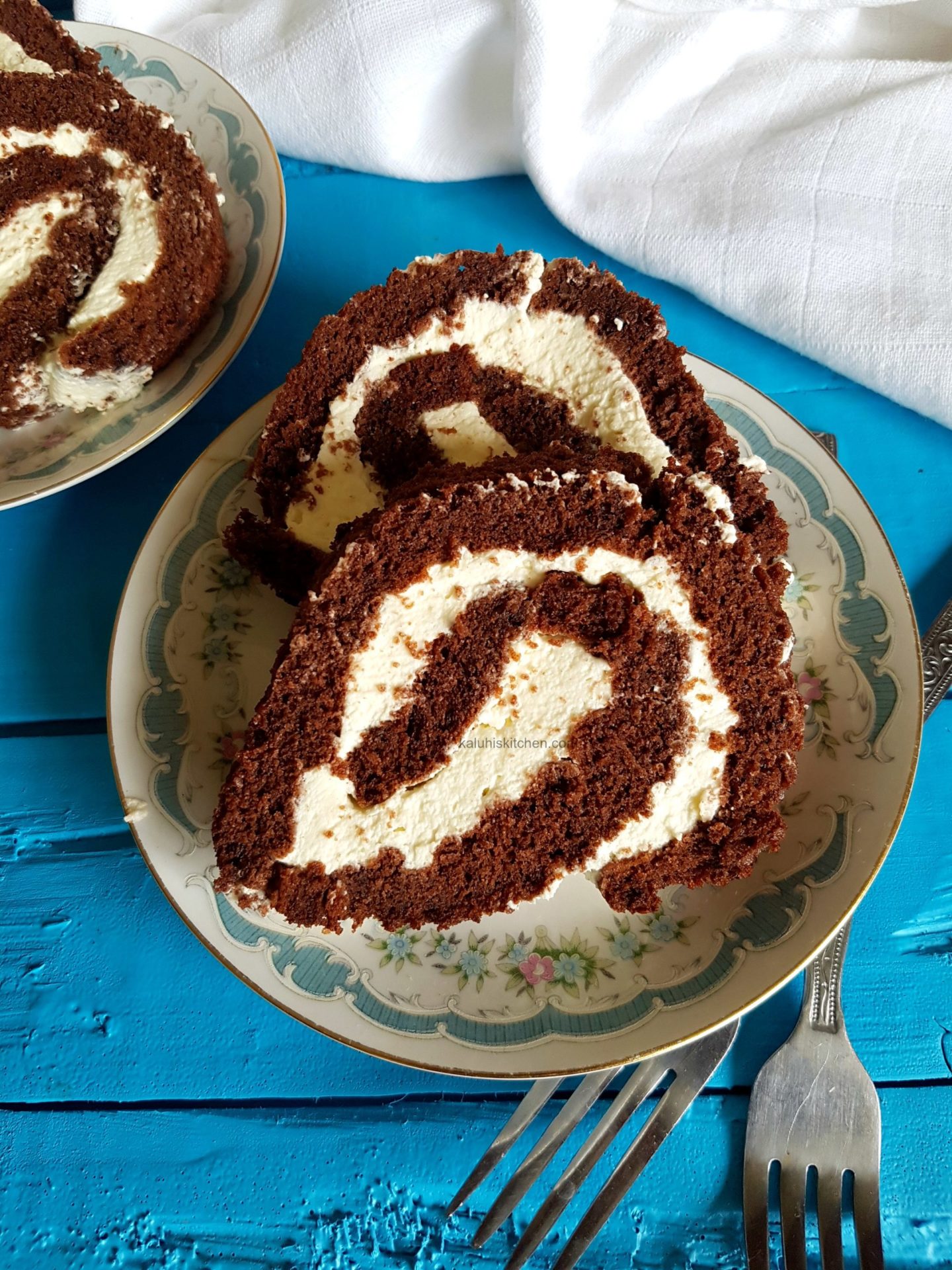 Your fork will sink into this beauty with zero effort. It is so soft, so moist, so decadent. I am not quite a sweet-tooth, but I loved these chocolate swiss rolls because I was in control of how sweet this would be. I loved that it was sweet enough allowing you to really taste and appreciate the other flavors. The creaminess of the whipped cream beautifully complimented the boldness of the chocolate and the mild booziness of the rum added much welcome depth!
I want to get married to these chocolate swiss rolls!! Nawasendia invite za harusi soon!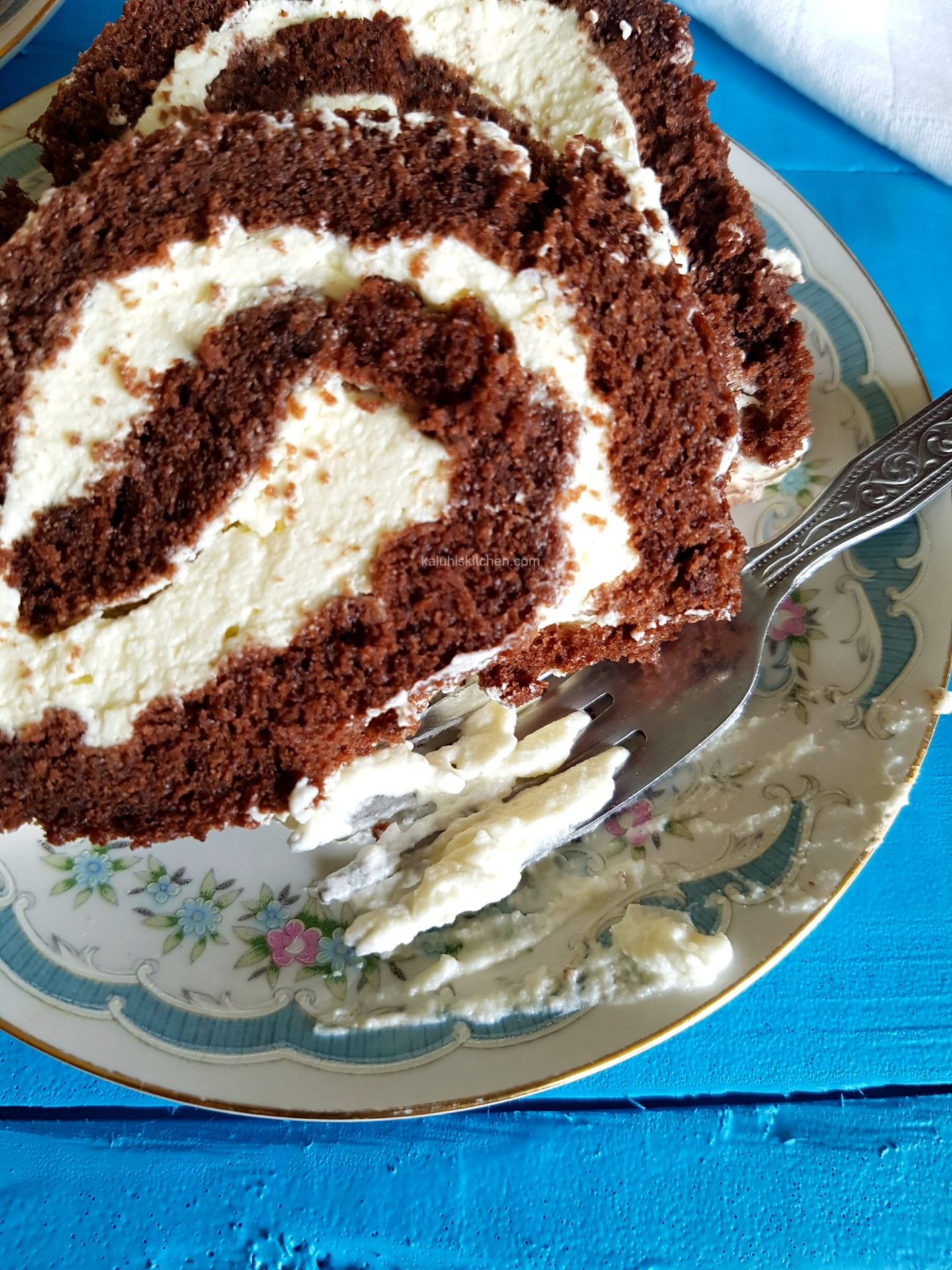 Come over to my YouTube channel and watch the video. This is one blog post that you actually must watch the video coz it is very important that you see the process in motion from start to finish. I had lots of fun filming, do give the video a thumbs up and I welcome you to subscribe as well!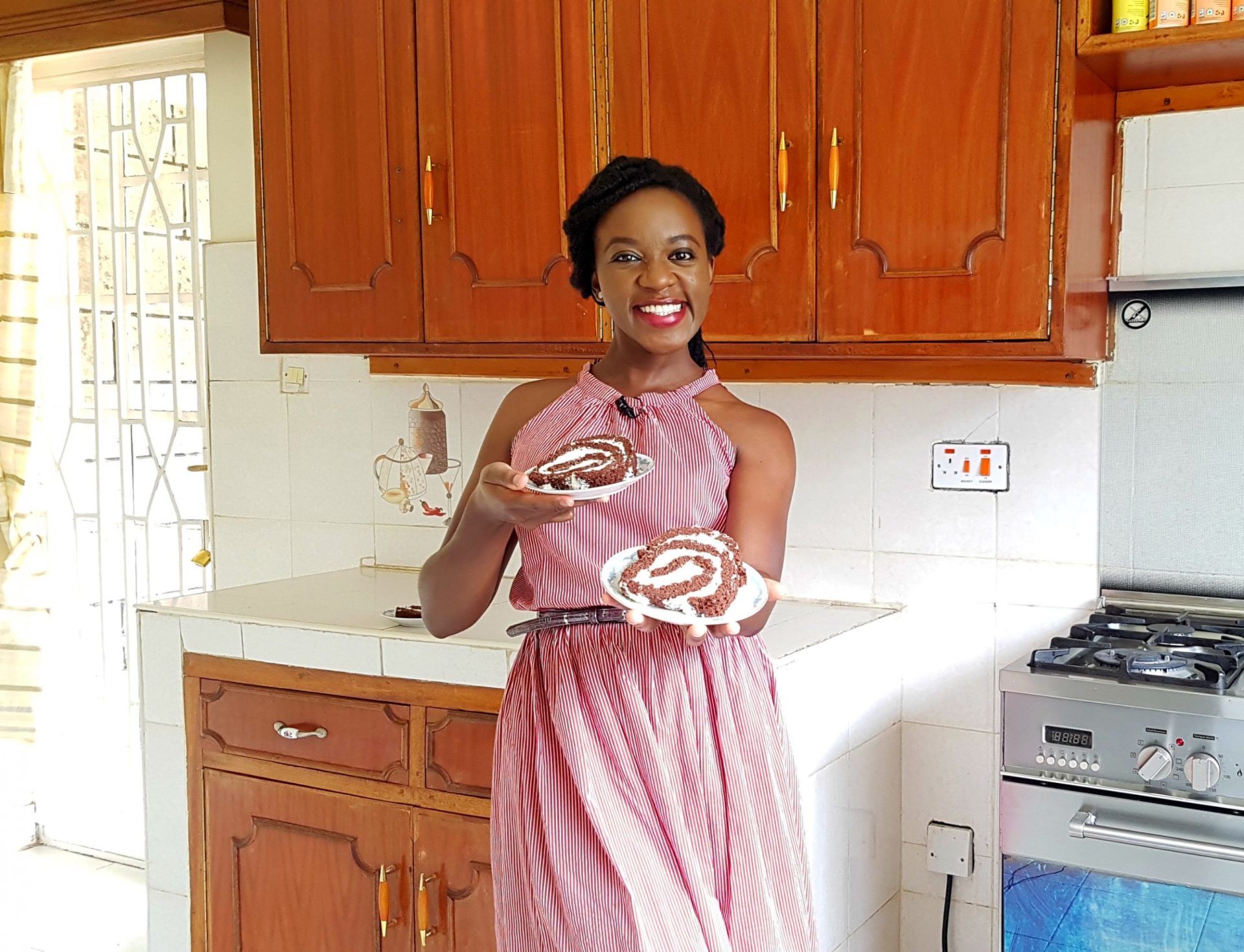 Happy Thursday my loves!
---
Get your downloadable recipe here :))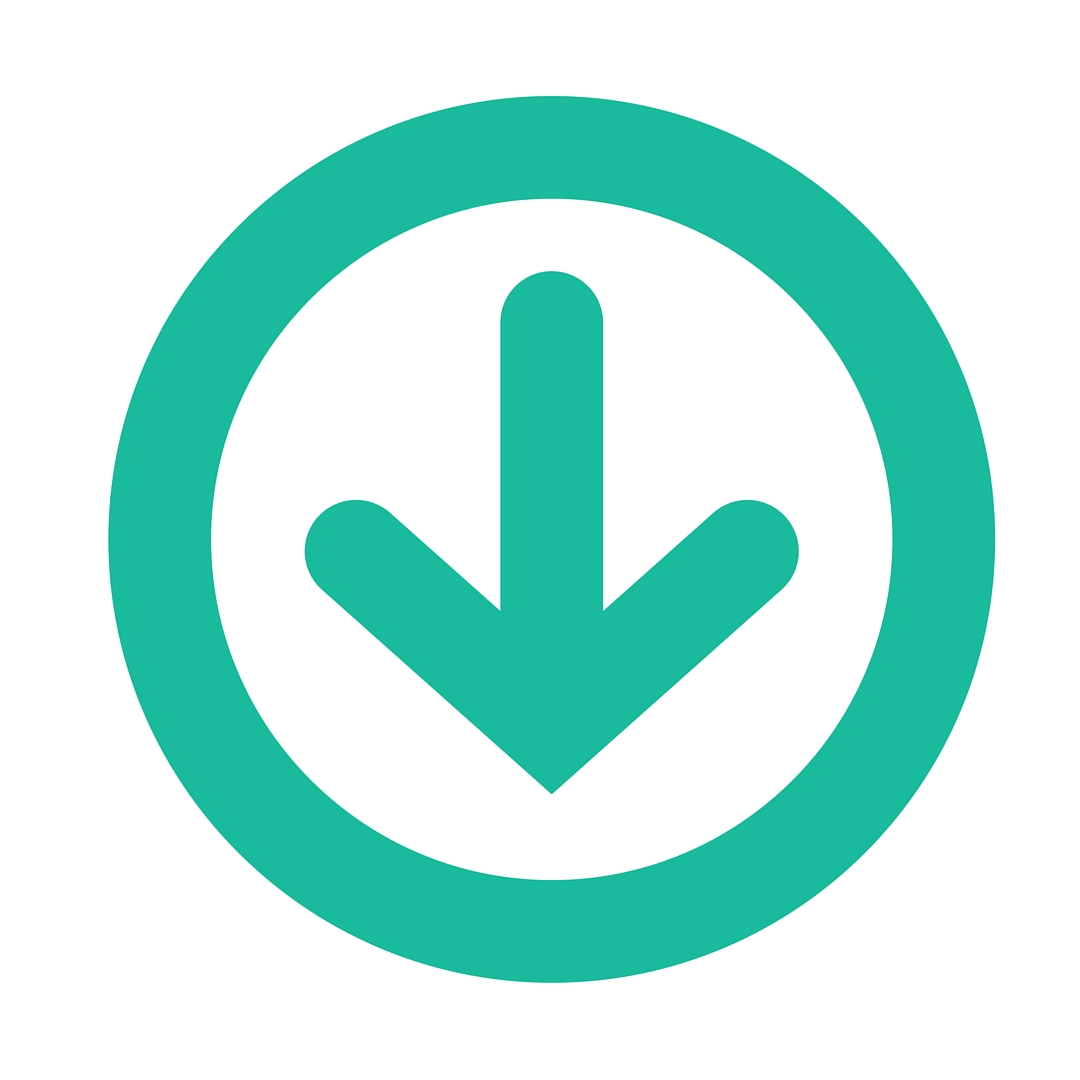 ---
All content and images are copyright protected by



Do not copy in part or whole without giving due credit.
---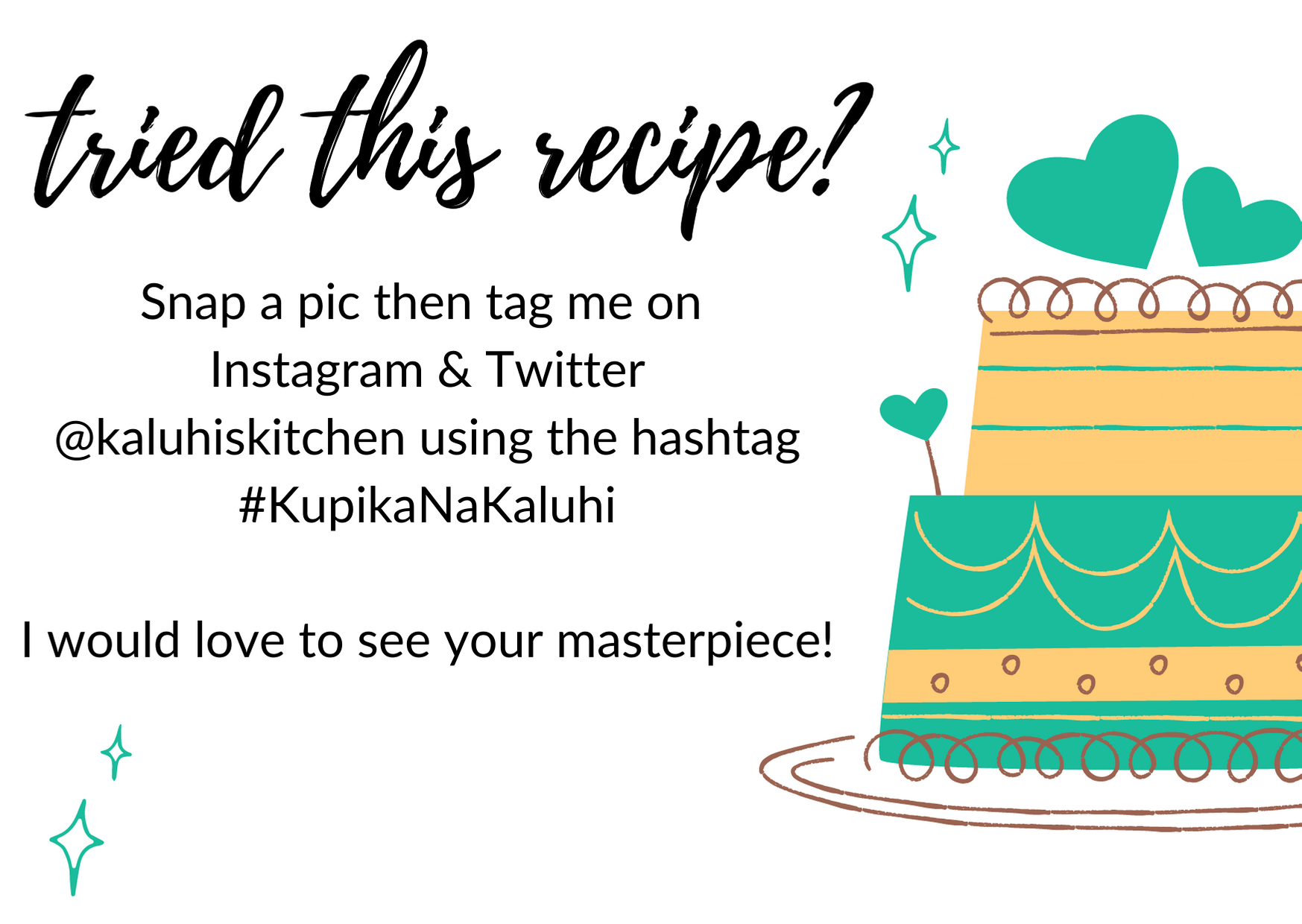 ---