If you frequent Westlands, you have definitely seen a new restaurant at Kenrail towers right from the road. And that new spot is Mercado! I had been planning to visit Mercado with my younger sister last month for  some sister time, however the day we chose, they had closed down. We postponed our date not too far off into the future. And when they reached out to me to sample their brunch menu, I was more than happy to go and try it out. My friends  had amazing things to say about Mercado, and I was excited to try out the restaurant for myself. Because we missed our chance to dine at Mercado the last time we were there, I took my sister as my plus one, and it also happened to be her birthday, so that was my treat to her!
This review (and this amazing video) also includes some of my readers' experiences at Mercado as per their Instagram DMs so that you get a balanced idea of the restaurant. These are our opinions, hence are subjective, so remember what one likes may be what you hate or vice versa since we are all different and that's ok. I encourage you to check it out yourself nonetheless and see how you like Mercado.
Let's get to it!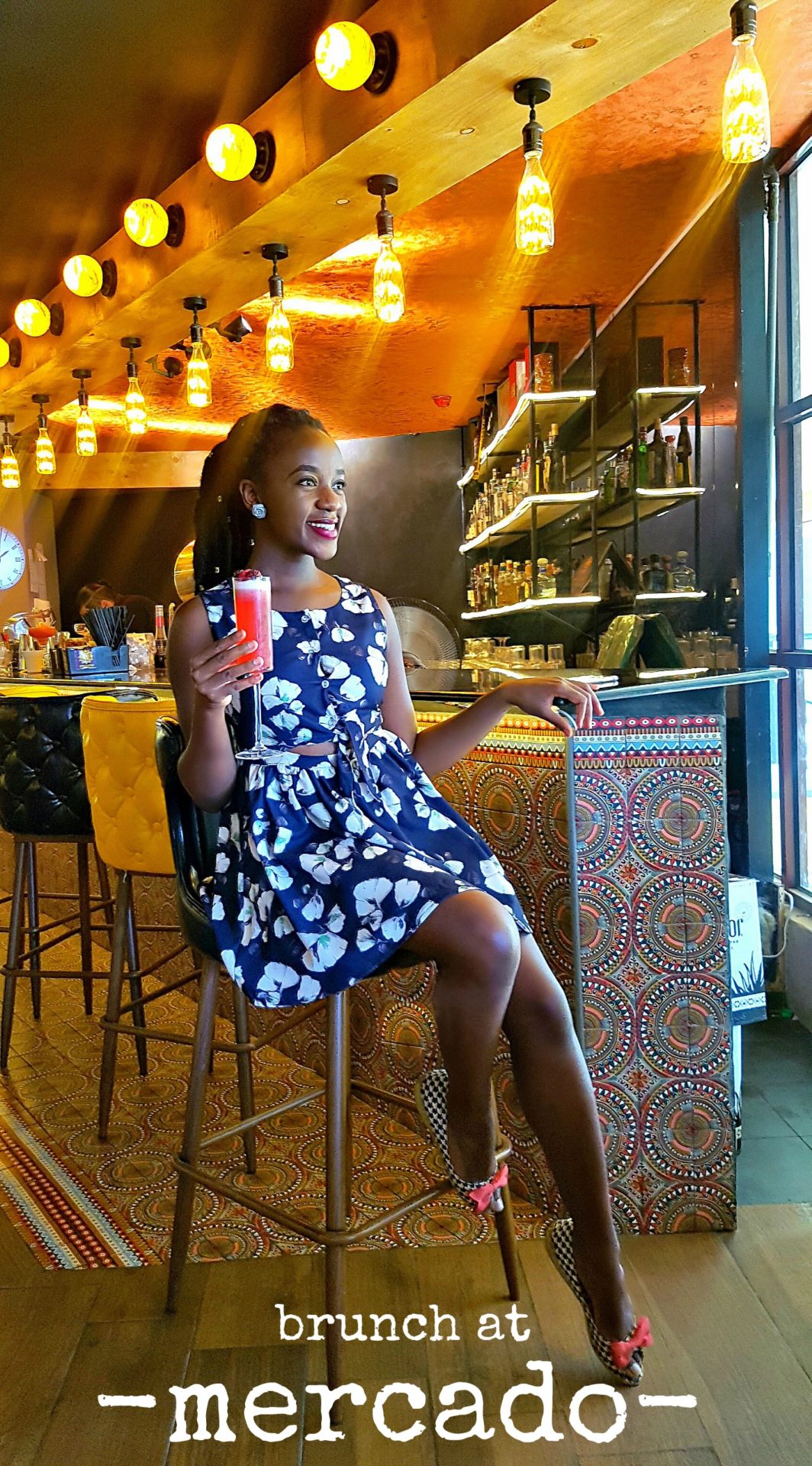 Watch the video to get the vibe of everything, then come back and lets get a more in-depth read <3

Location
Mercado is located at Kenrail Towers,, which is in the same area as Sarit Center and Sankara, and adjacent to the Westlands Masaai market and Nine West. It is a convenient place to get to both by car and my matatu. You will see the restaurant sign right from the road so you cannot get lost. For more accurate directions, google maps will always come through!
Service
I enjoyed the service. It was decent, nothing extraordinary, and the waiters were warm.  As the restaurant got fuller, the waiters and waitresses seemed to get visibly overwhelmed, with few of them seemed to take it to stride, while others fell off. Because the menu items have Mexican influence, the waiters and waitresses are more than happy to explain to you what you may not really understand. @bintygakii said that their waiter was very knowledgeable and fun; he asked them what mood they were in and what they wanted to feel and recommended cocktails depending on what they told him. Cute! @lizchira was offered chocolate pebbled as they entered and she says that won her over forever. I was unlucky not to experience the same, but still excited about that good gesture.
Not everyone got good service though, while some of my readers, who request to remain anonymous, both pointed out that the staff are very passive and completely brush off complaints when they are raised during their visit. One of the two mentioned noted that their waiteress bailed on them for about 30 minutes and when she resurfaced, she casually mentioned she went to have tea. A bit of professionalism is lacking with some of their staff. While there is nothing wrong with having a tea break, but if one has to go eat, at the very least they should let their colleague take over so that the customers are not left hanging.
Because this is a very popular place and can get quite full during the weekend and in the evenings, it is best to reserve a table just to make sure you get a spot and enjoy your food in peace. You can reserve a table on +254 700 245 795
Ambience
The ambiance is modern yet cosy and inviting. They have added warm, quirky elements to the decor that soften up the entire feel of the place making it relaxed and a place you would generally just want to hang out all day long. The colors of the furniture and the cutlery are vibrant , reflective of the expressive culture of the Mexican people. This video shows you in even greater detail! Everyone who DMd me about their mercado experience also loved the ambiance.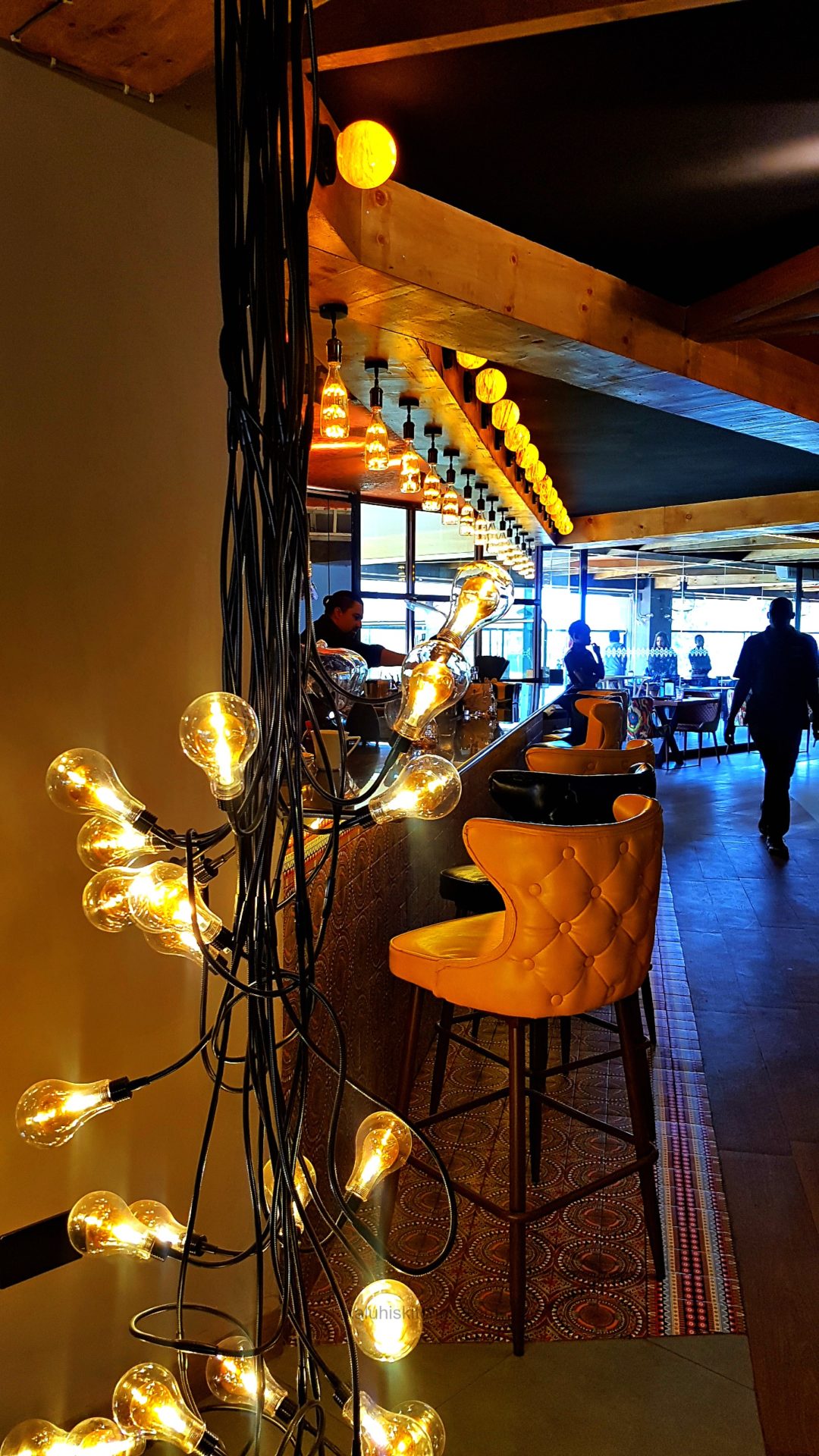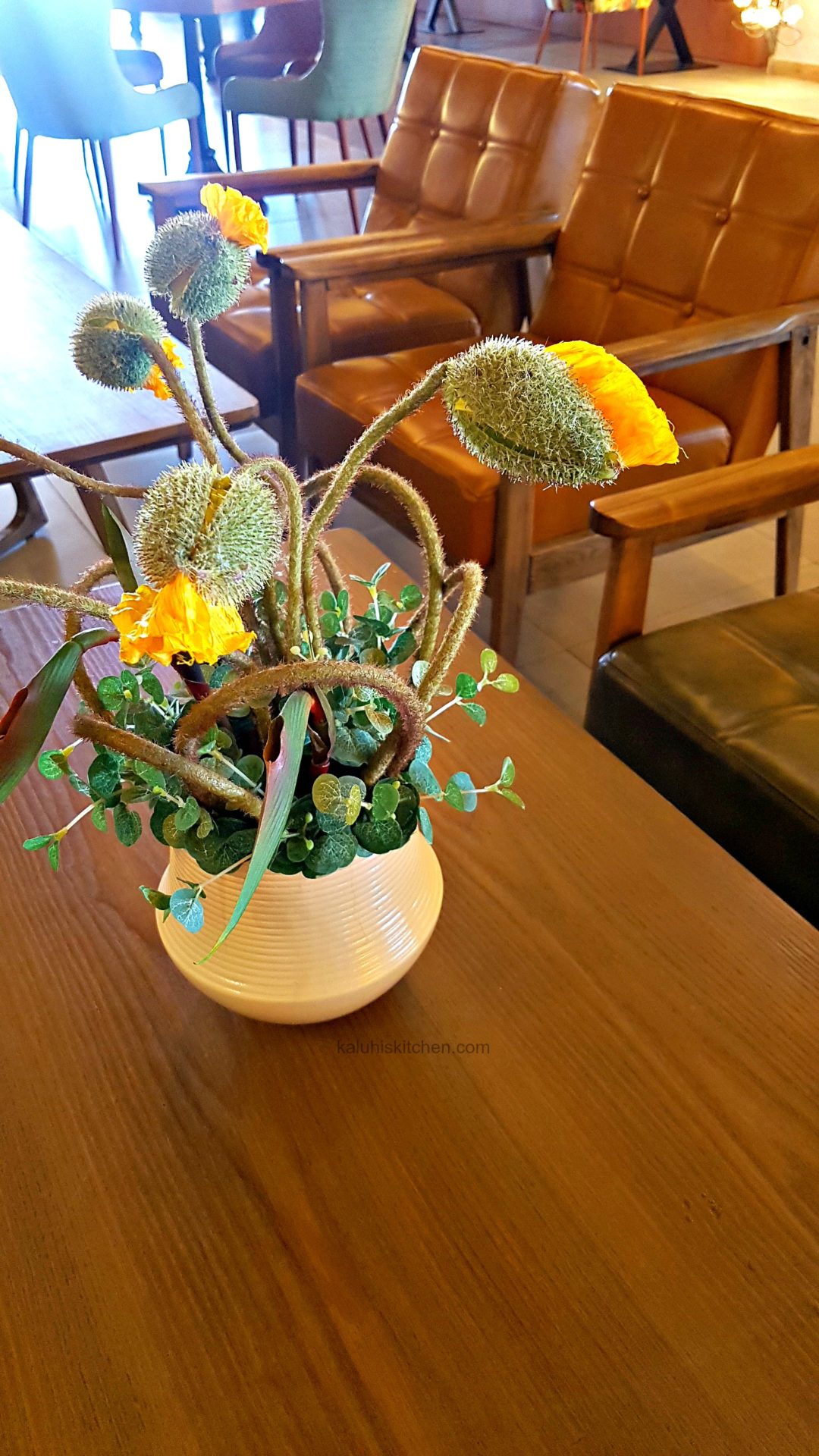 I in particular loved the swinging chairs, suspended from the restaurant ceiling, which for some reason, made me feel like wanting to cuddle on with someone's son, as we ate and enjoyed deep conversation LOL!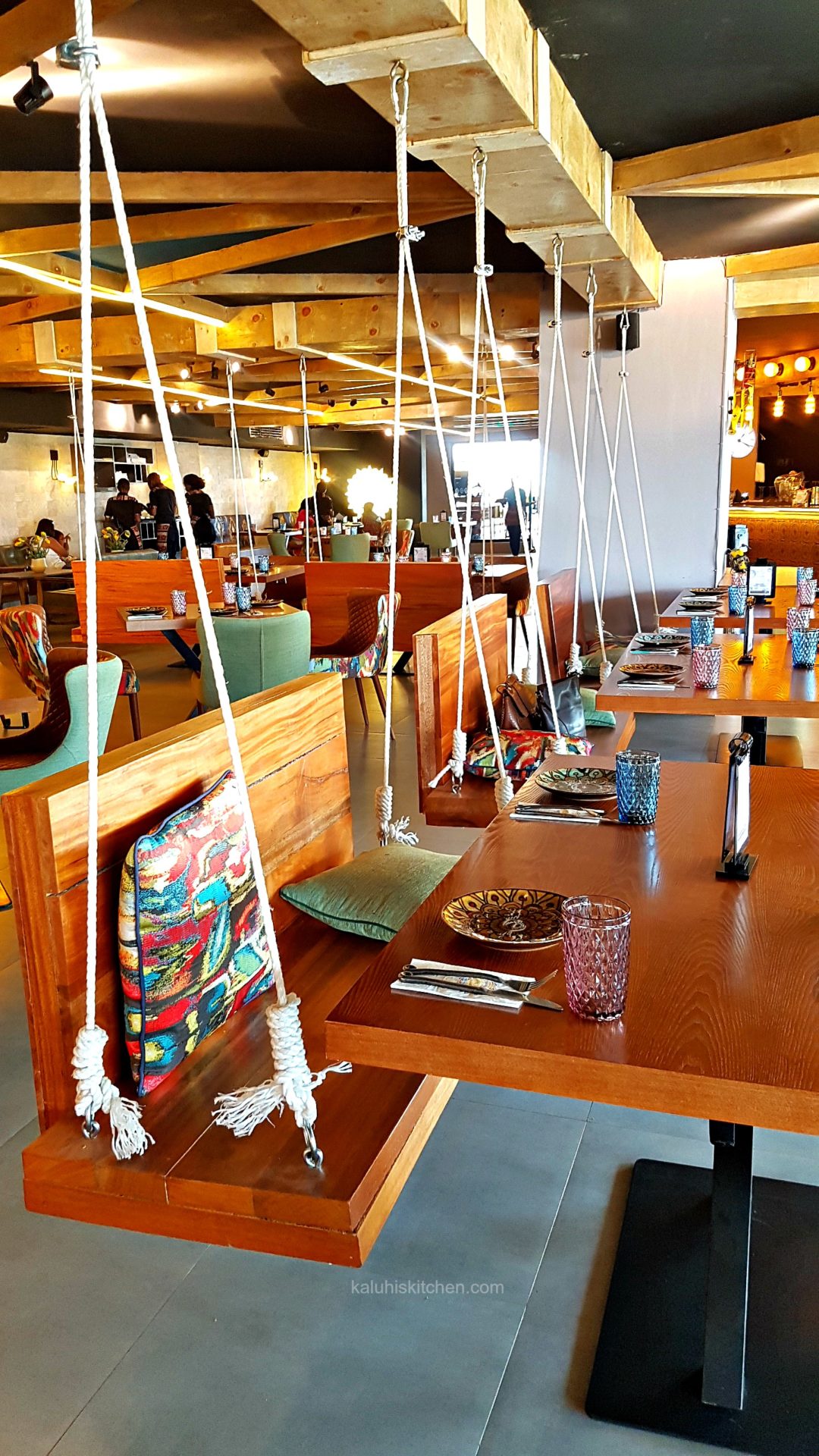 The entire restaurant has large ambient bulbs that set the tone and I feel would look even prettier at night. This is a date night spot people!!
They have a separate, very beautiful VIP room, that can sit 18 people but still have them enjoy the spoils of the restaurant, just away from everyone else. I found it perfect for a private business meeting, an intimate family lunch or even a baby shower with only your close friends.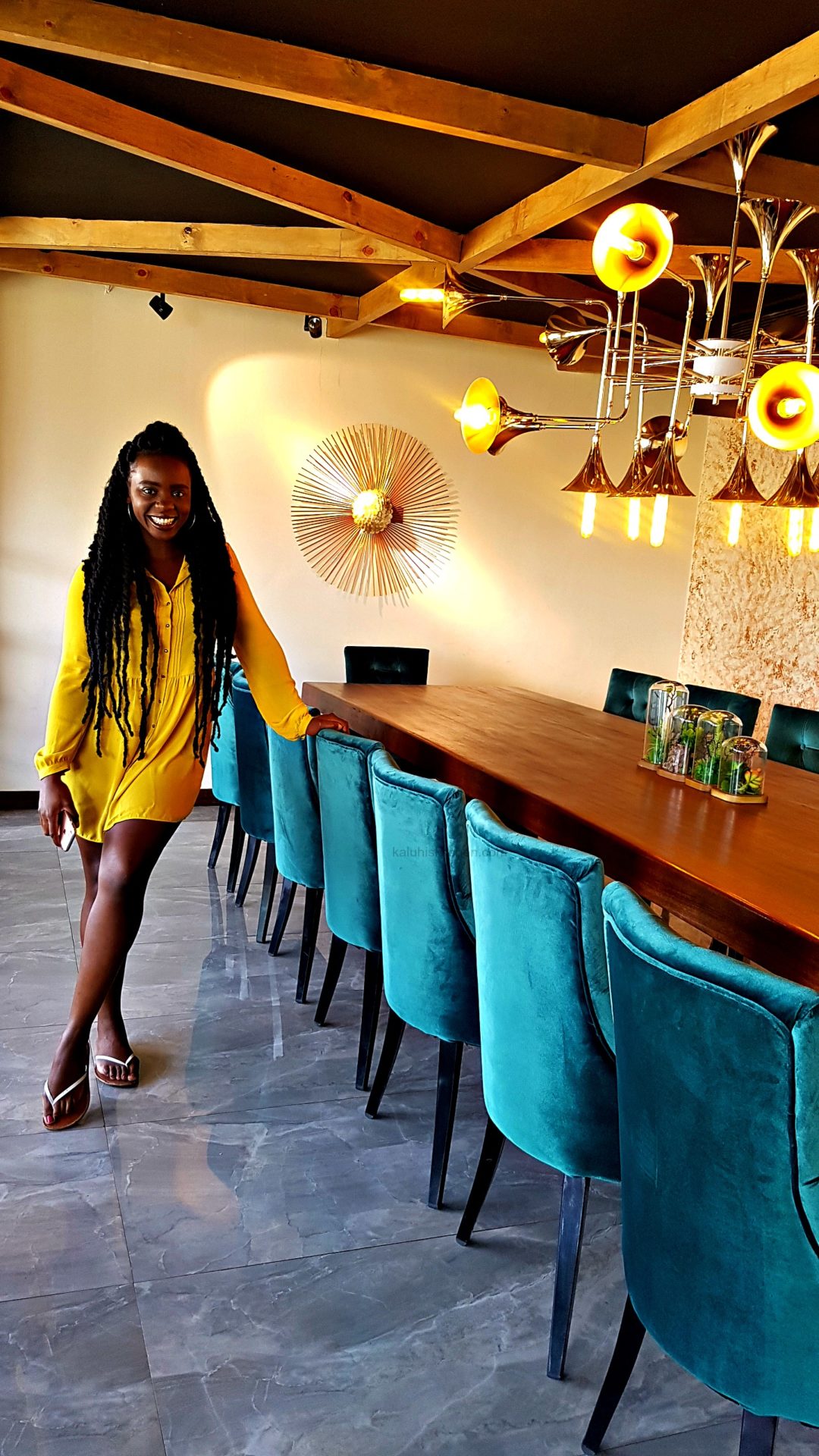 Prices
I will be honest and admit I thought a massive hole would be punctured into my pockets by eating at the newest, most popular Mexican restaurant in town. And I was glad to be proven wrong! The prices are pretty fair, with most menu items, specifically on the brunch menu, ranging between sh.500- sh. 1200. That means, with 2000 bob, you will have quite plenty to order from. The portions are not tiny, but neither are they bountiful.
Food
The food is prepared by chefs who are form Mexico, and therefore understand the intricacies of making Mexican food delicious and authentic. The brunch menu has a healthy balance between savory items and sweet items, and you know a good brunch MUST have both sweet and savory meals. Everything they serve is in house and made fresh, including the tacos, so you need not worry about getting stale items. As we waited for our food, we had some  nachos served with guacamole and a black sauce. The main dishes have a mix of plenty of red meats and seafood as well. The drinks are also a mix of fresh juices, mockails, amazing cocktails and hot beverages. I found the cocktails (I sampled three) excessively sweet which turned me off. If I return there, I would never order a cocktail. However if you like super sweet cocktails, you may enjoy them just like @misskireri who reckons they are among the best she has had.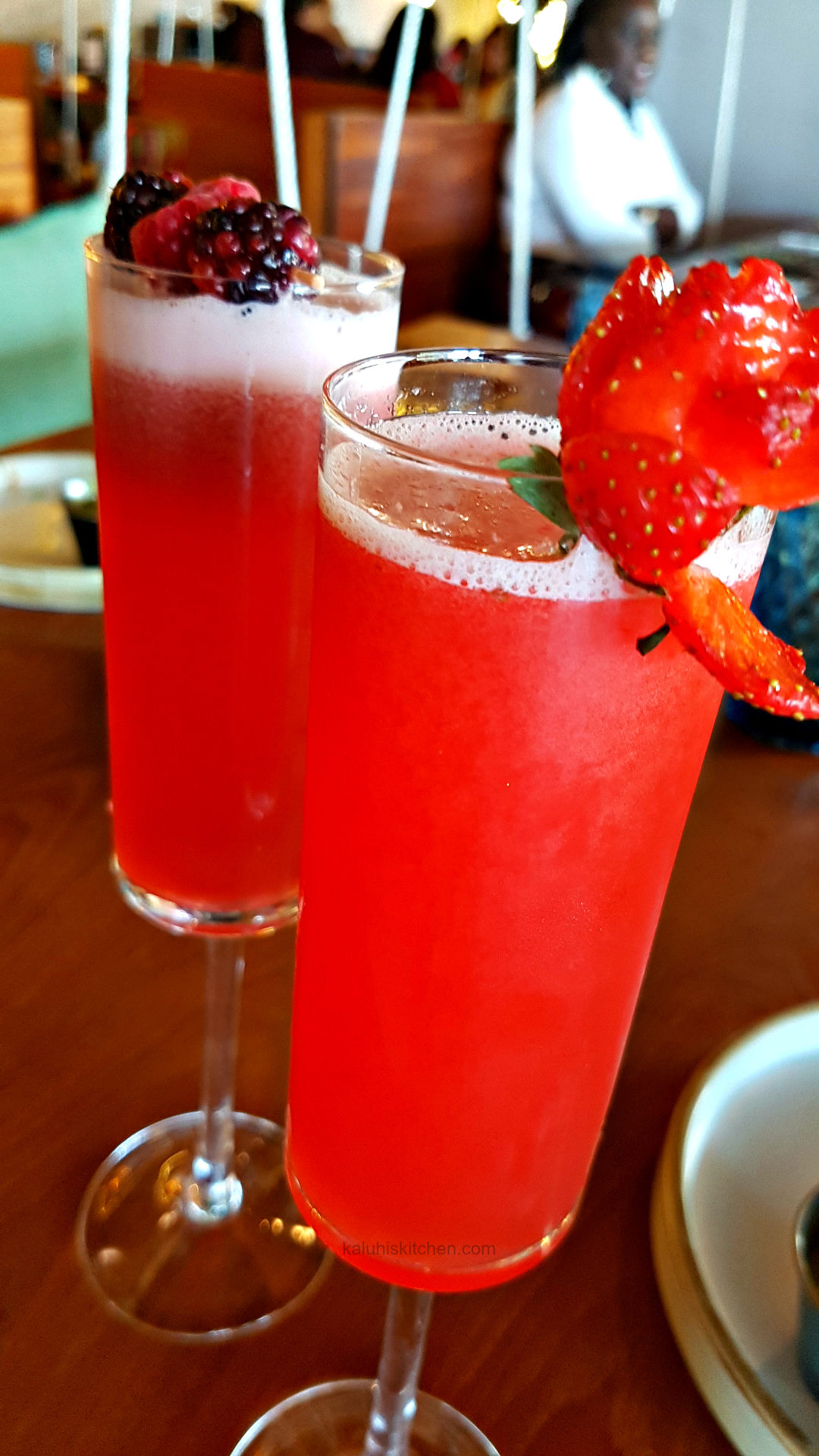 I loved that the food was prepared with a lot of eccentricity and spices were used really well to bring out their flavors. I feel so sad when I dine out and pay so much money for bland, one note food, and I was so happy my brunch at Mercado, in my opinion,  delivered on flavor. If you are vegan or vegetarian, do not worry, they also have you covered! Many of my readers who DMd me also pointed out the food at Mercado is nice, but upon sampling Fonda, the other mexican restaurant in town, the latter shadowed the former in terms of flavor. So I guess I have to visit Fonda as well and make a conclusion for myself 🙂
My favorite menu item on the brunch menu was the tacos al pastor which had shredded pork, served together with a juicy roasted pineapple  plus some fresh green tomatoes and coriander for balance. @mamaolivekm enjoyed their beef and shrimp tacos and also had a lovely waiter!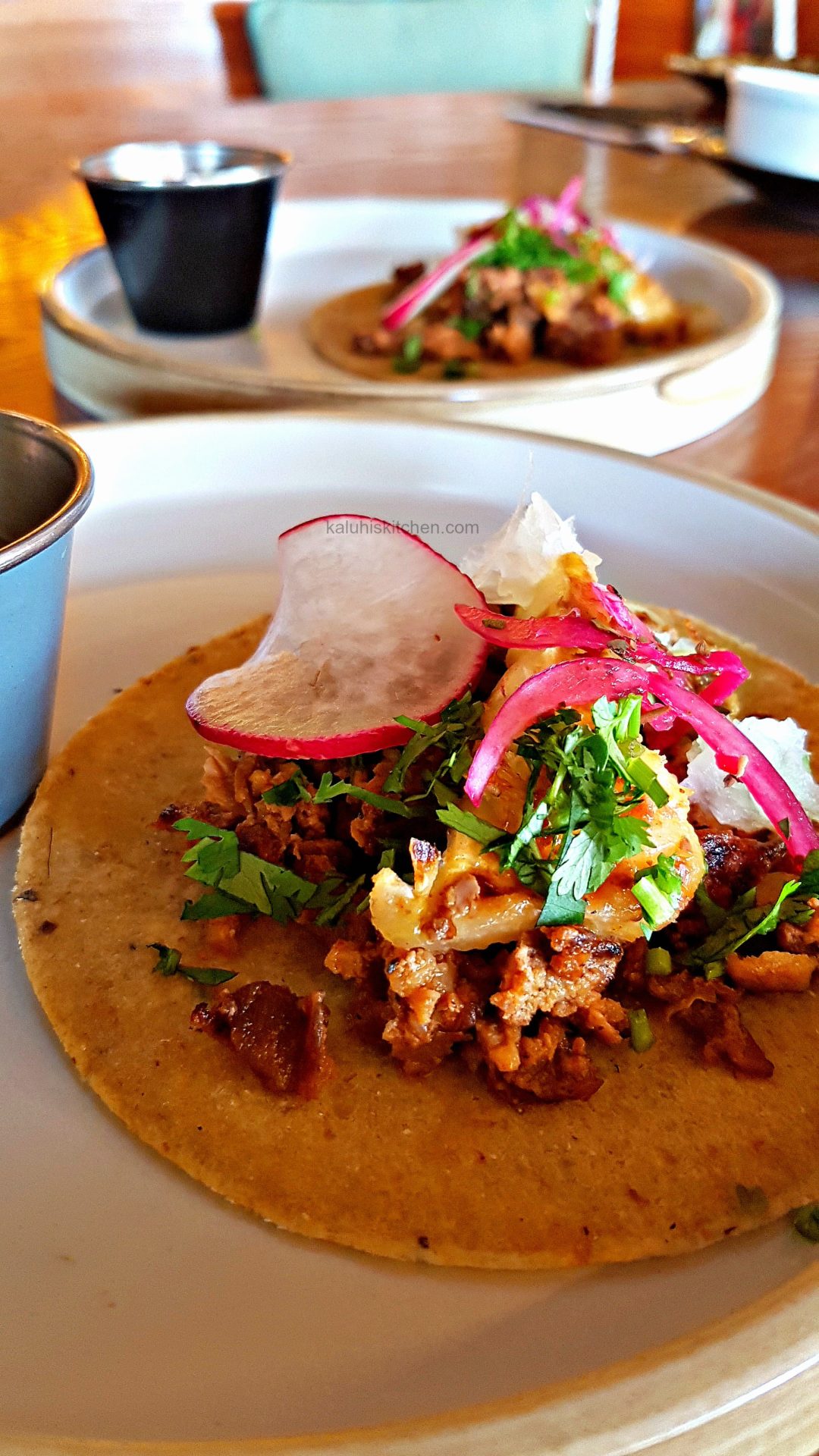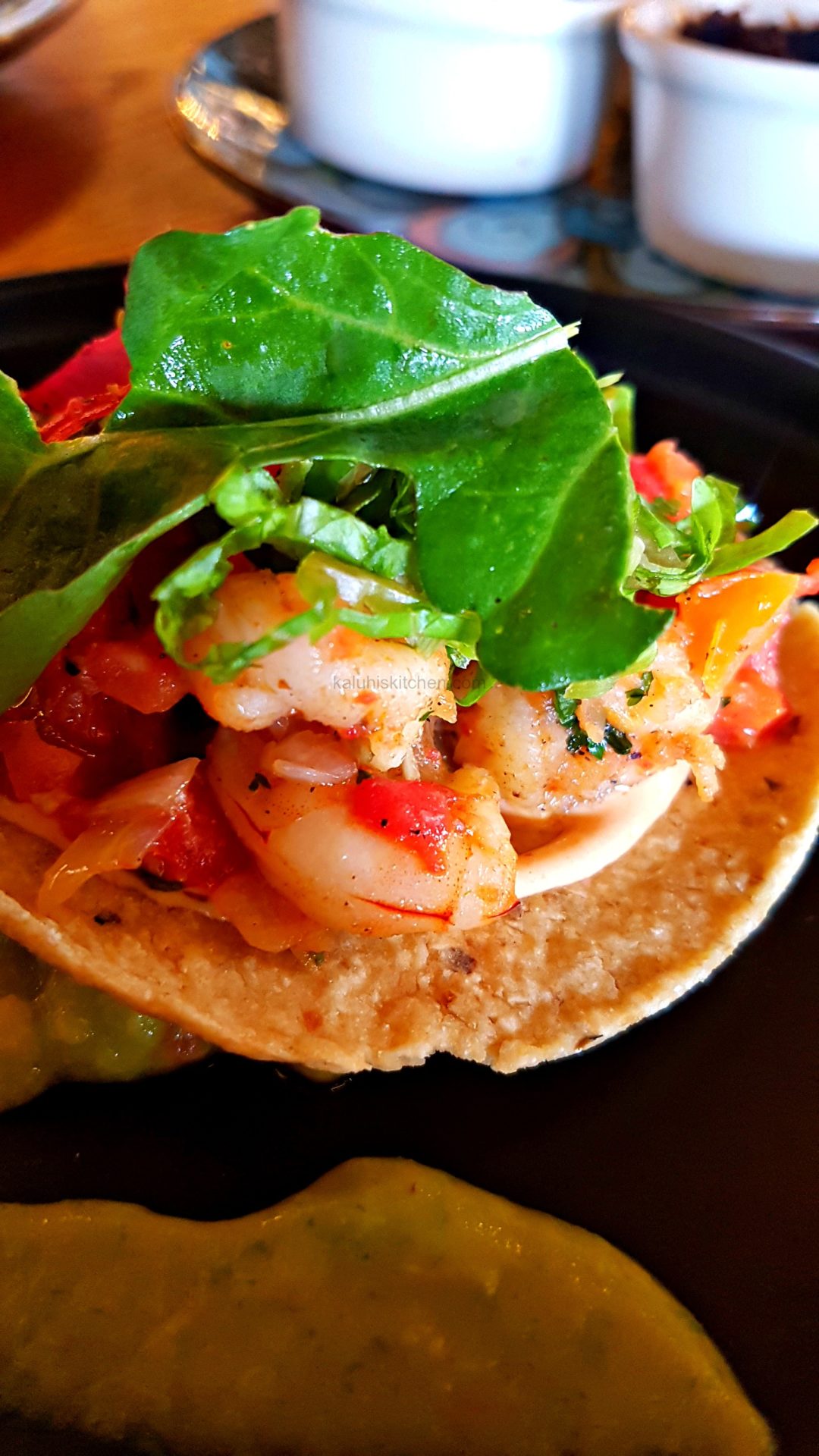 We had three dishes for breakfast and my favorite were the warm churros dusted in cinnamon and served with  molten chocolate, caramel sauce and freshly whipped cream. @debywebby and @lisabagga also enjoyed them so so much!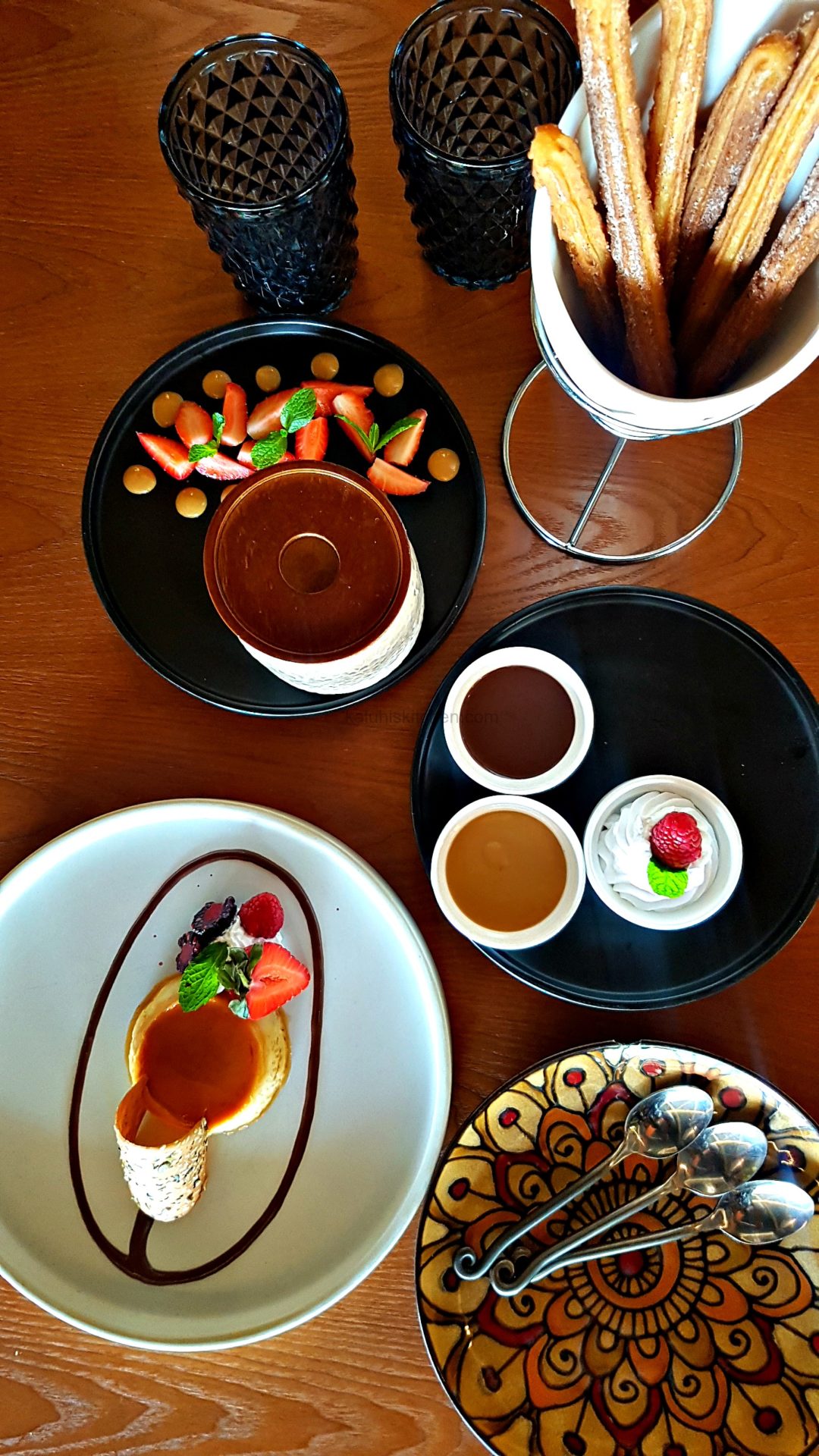 Final thoughts
The good: I loved the ambiance. The location is so convinient regardless of which side of town you are coming from. I loved the food. For me, the flavor was A1 and the service was also excellent.
The not so good: Consistency in terms of service. Some of my readers had experienced VERY poor service. And even though majority loved the service, being consistent in continuously having excellent service will keep more people coming back.
Ambiance: 5
Food: 4
Service: 3.9
Will I be returning to Mercado?
Yes. For both brunch and at night as well as it seems to be a great spot to wind down ones day. I most importantly will be going back to see if they have improved and worked on their weak areas or gone the opposite direction. Either way, when I return, I will update this post about the experience. When I visit Fonda as well, I will update this post and let you know how both compare against each other in terms of value for money and food flavors.
Check out this post by Jaini about the same and I hope mine has been helpful and that you will stop by soon.
---
My visit to Mercado and review of the same was unpaid and the opinions contained therin, from both myself and my audience, are ours, honest and based on our experience.